AND THE EMMY NOMINEES ARE . . .
Squid Game, the worldwide cultural sensation, has become an unstoppable awards season powerhouse: the Korean-language drama was one of the most recognized shows when the nominations for the 74th Emmy Awards were announced July 12. The nine-episode series — which follows a group of contestants who risk their lives by competing in a set of deadly games in the hope of claiming a 45.6 billion won cash prize — received an astonishing 14 nominations, making history with a number of record-breaking firsts, including being the first non-English language Drama Series and Outstanding Directing for a Drama Series nominated by the Television Academy.
"We had no idea Squid Game would become this big," star Lee Jung-jae told Queue earlier this year. "I remember when I first read the script, I asked myself, What is this? I had never seen anything like it before."
Lee was among the performers nominated for Outstanding Lead Actor in a Drama Series for his turn as Seong Gi-hun, a divorced chauffeur who enters the competition to pay off his debts and provide a better life for his elderly mother and his daughter. Lee's co-star Jung Ho-yeon was nominated in the Supporting Actress in a Drama Series category for her performance as North Korean defector Kang Sae-byeok, a petty thief desperate to raise funds to claim her younger brother from an orphanage. Additionally, the series' Park Hae-soo and Oh Young-soo received nominations in the supporting actor category for their work on the drama: Park as Gi-hun's childhood friend-turned-white-collar-criminal Cho Sang-woo; Oh as Il-nam, the elderly contestant who harbors a surprising secret. Even Lee You-mi, who plays the pessimistic Ji-yeong, was nominated for Outstanding Guest Actress in a Drama Series. All but Park Hae-soo are the first native Korean actors to be nominated in these respective categories.
Director Hwang Dong-hyuk — who is the first native Korean writer-writer nominated in the Drama Writing category — initially wrote Squid Game as a feature film in 2009, in the wake of the global financial crisis, but the storyline's observations about the ravages of economic disparity have strongly resonated in our tumultuous modern moment. "These participants are trying to survive, like many people trying to do just the same in today's world," director Hwang told Queue. "The people in Squid Game are average Joes we may see on the news or around us in everyday life. The show tries to convey the message that we're not that removed from the participants of this survival game, and on top of that, the possibility that we, too, may be beholden to this future."
Squid Game was only one of Netflix's fan-favorite programs to find favor with the Television Academy, which honored the network with 105 nominations across 35 titles. From Stranger Things to Ozark and beyond, here's how all the nominations broke down.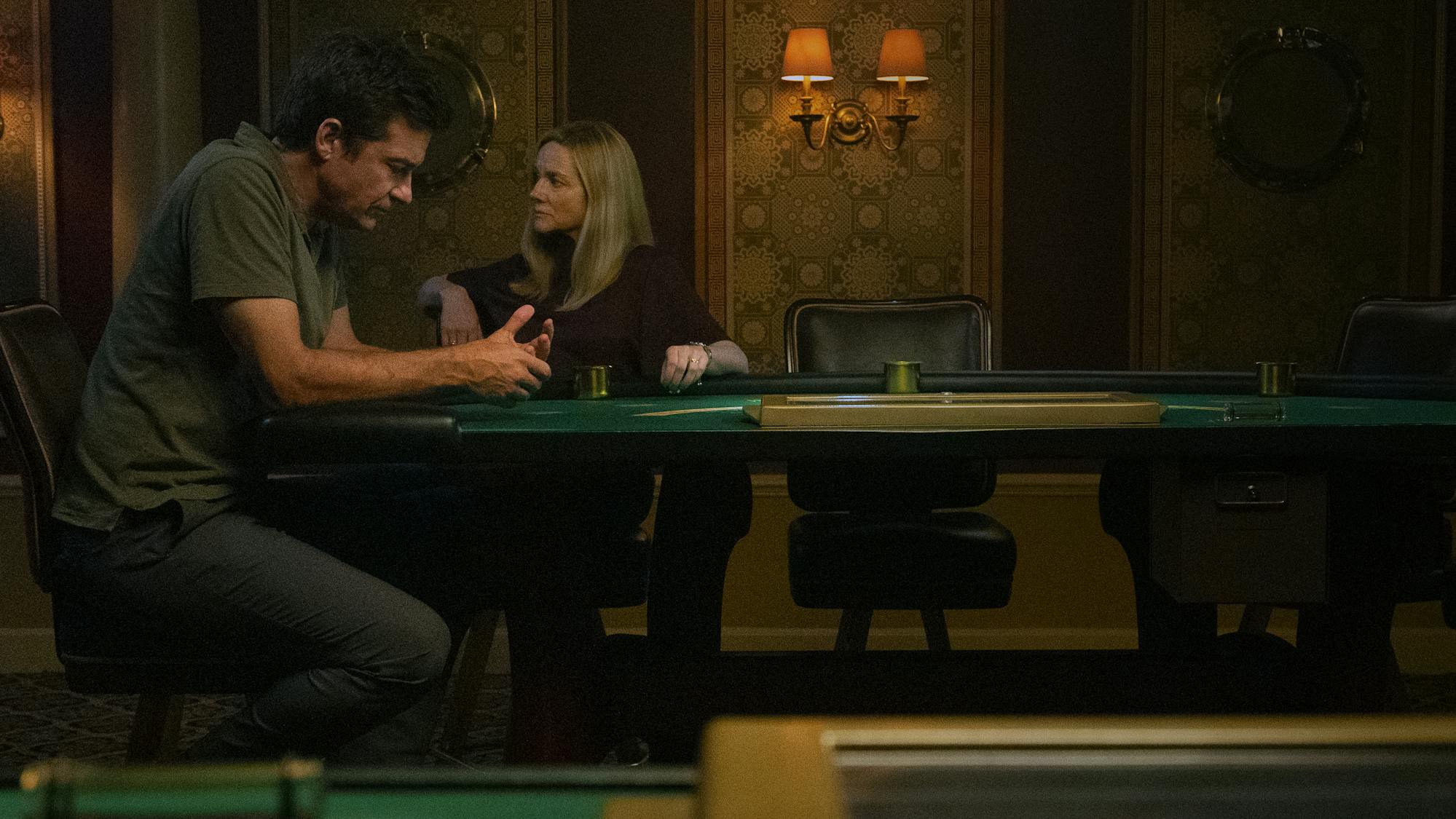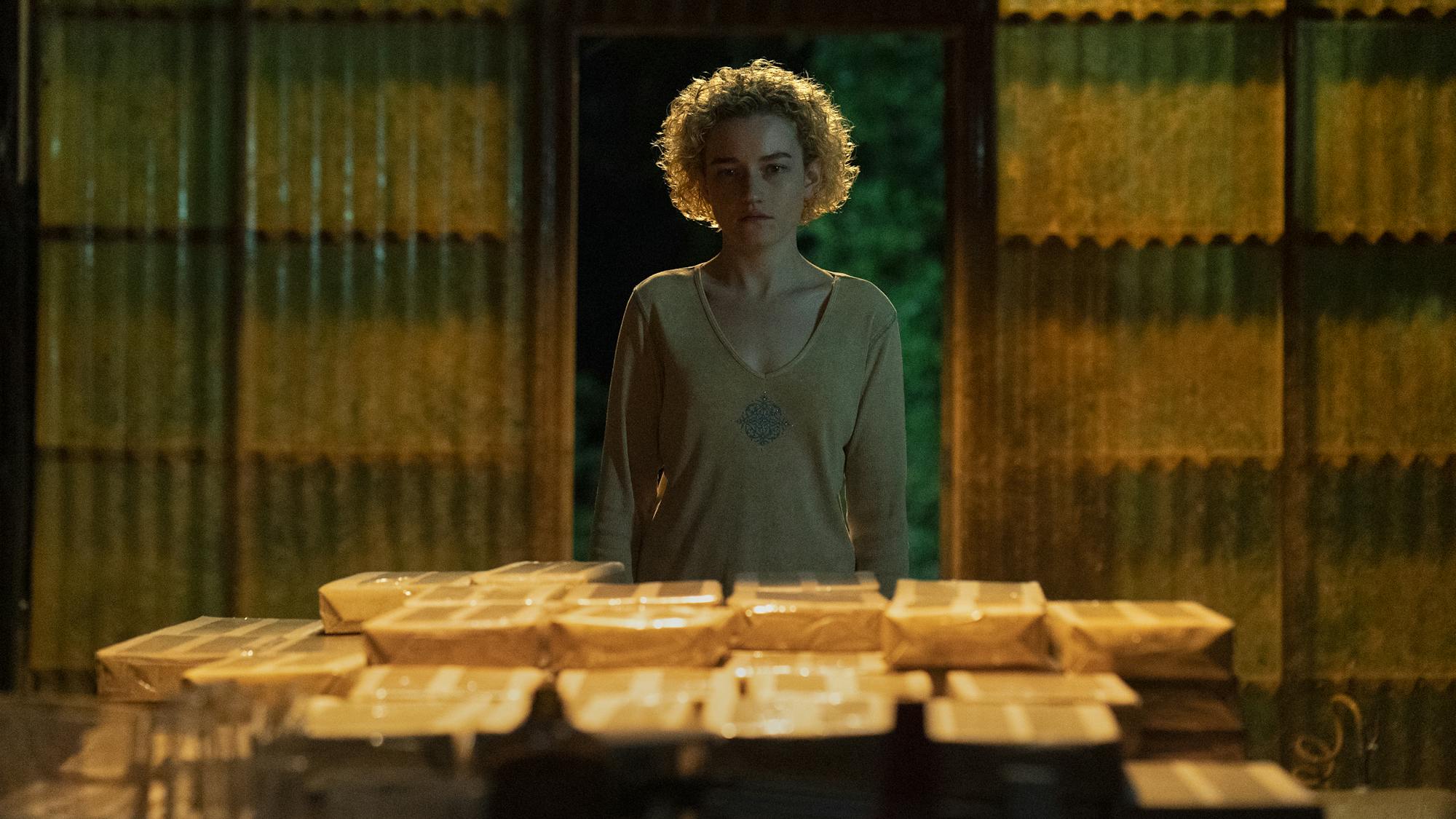 With the fourth and final season of their critically acclaimed crime drama Ozark, showrunner Chris Mundy and star, director, and executive producer Jason Bateman deftly steered the narrative to a satisfying if shocking close — with the Byrde family potentially poised to return to their lives in Chicago, and their longtime ally-turned-rival Ruth Langmore eliminated. "I think it was right, but it was hard," Mundy told Queue of the choices he made for the finale. Their hard work was rewarded with 13 nominations across a wide range of categories, including Outstanding Drama Series, Lead Actor in a Drama Series for Bateman — who won for Outstanding Directing in 2019 — Lead Actress in a Drama Series for Laura Linney, and Supporting Actress in a Drama Series for Julia Garner, who's won the honor twice previously for her scene-stealing portrayal of the ill-fated Langmore. 
"Ruth does feel like a part of me," Garner told Queue. "Ruth gave me a sense of confidence that I've never had, something that I've struggled with my whole life. There's something really beautiful about putting yourself completely out there. I'm very grateful that I played her. Not only because it was an amazing part, but also because I got something that you don't get every day, which is a sense of true confidence, not this facade."
STRANGER THINGS'S TRIUMPHANT RETURN
After nearly a three-year wait between seasons, Matt and Ross Duffer's supernatural juggernaut Stranger Things 4 premiered in late May to record-breaking viewership (1.15 billion hours watched, making this season the second most-watched season ever, after Squid Game) and glowing critical appraisals. Now, Volume 1 of Stranger Things 4 — arguably its most ambitious and most terrifying season — has racked up 13 nominations. "In Stranger Things 4, the kids are in high school," Matt Duffer told Queue. "Ross and I had a bad high school experience like a lot of kids. So to me, high school is dark. That's when a lot of teenagers are dealing with real emotional issues, like anxiety and depression. We wanted to tackle all of that and have this supernatural threat represent that. High school naturally lent itself to what is — without question — the darkest season yet."
The series was recognized in a variety of below-the-line categories: Notably, makeup effects department head Barrie Gower earned a nomination for his work transforming actor Jamie Campbell Bower into the series' bloodthirsty otherworldly villain Vecna, a process that took upwards of seven hours and required extensive prosthetic effects. 
Shonda Rhimes' buzzy Inventing Anna, which charts the rise and fall of Anna Delvey, the social chameleon who conned wealthy individuals and large-scale financial institutions out of hundreds of thousands of dollars, landed a nomination for Outstanding Limited or Anthology Series or TV Movie. (Along with Inventing Anna, Rhimes had cause to celebrate with three noms for her lavish Regency-era soap Bridgerton, which was recognized for its period costumes, hairstyling, and Julie Andrews's stellar voice-over performance as the all-knowing Lady Whistledown.)
Inventing Anna also netted Julia Garner her second nomination of the day for her transformative performance in the title role. "That worried me a little bit, to be honest — playing a real person, especially when they're alive, hoping that they'll like the performance," Garner told Queue of taking on the challenging part. "When I met Anna, she asked what I [was] hoping for with the project. I told her — because at this time, she was just a Page Six poster child — "I want people to be willing to understand why you did [what you did]. I just don't want you to be a character anymore, rather than a person."
Joining Garner in the race for Lead Actress in a Limited or Anthology Series or TV Movie is Margaret Qualley, nominated for her starring turn in MAID, in which she plays a young woman who takes a part-time job with a cleaning service to support herself and her child as she deals with an abusive relationship. Qualley told Queue that reading Stephanie Land's memoir Maid: Hard Work, Low Pay, and a Mother's Will to Survive, which inspired the limited series, was key to unlocking the role. "Before I auditioned, I burned through the book — it's one of those that, once you sit down, it's hard to close," Qualley said. "Stephanie's account is at once incredibly upsetting and inspiring. I was like, This would be a huge opportunity for me to really sink my teeth into something and give my heart to something. I was so happy to be able to do it." 
The feel-good series we all need right now, Queer Eye, is in the running once more for Outstanding Structured Reality Program after claiming the top prize in the category the last four years — the series has received a total of six nominations. Additionally, the second season of Love is Blind scored some Emmy love with a nod for the top prize. In the Unstructured category, Selling Sunset, Love on the Spectrum, and the second season of Cheer each earned nominations for the most coveted award, while Nailed It! was nominated in the Reality Competition Series category. The latter series' star Nicole Byer — who also earned a nomination for writing her stand-up special Nicole Byer: BBW (Big Beautiful Weirdo) — will face off against the Queer Eye team — Bobby Berk, Karamo Brown, Tan Frace, Antoni Porowski, and Jonathan Van Ness — in the Outstanding Host for a Reality or Competition Program race.
In the documentary series contest, The Andy Warhol Diaries received a nomination for the top honor, in addition to nods for Writing, Directing, and Cinematography. Directed by Andrew Rossi, executive produced by Ryan Murphy, and posthumously narrated by A.I.-generated Warhol voice-over, the six-episode documentary series recounts the artist's early days in Pittsburgh and charts his rise in the New York and international art scenes. But it also offers a more personal examination of Warhol himself, including the artist's seldom discussed intimate relationships, revealing the man behind the larger-than-life persona. 
Also competing for the top prize is jeen-yuhs: A Kanye Trilogy, the years-in-the-making three-part chronicle of Kanye West's storied rise from rapper to cultural lightning rod from directors Clarence "Coodie" Simmons and Chike Ozah. "When I first started filming Kanye, I was like, O..K., I'm just going to document and see how far he's going to take his career," Simmons told Queue. "It's funny to see all the hours of footage that were shot, all the places that we went. Because we were following our passion, it felt like we were just kicking it. It didn't even feel like we were working, and looking back, I had the camera in my hand the whole time." 
Additionally, the awe-inspiring docuseries Our Great National Parks received two nominations, including Outstanding Narrator for none other than former President Barack Obama.
In the feature category, The Tinder Swindler, an exposé of the man known as Simon Leviev, who scammed his dates out of hundreds of thousands of dollars via the popular app, received five nominations, including for Outstanding Documentary. The inspirational films 14 Peaks: Nothing is Impossible and Return to Space were both nominated for Outstanding Music Composition for a Documentary. 
The eye-popping sci-fi inflected adventure Arcane, inspired by the expansive mythology of the wildly popular multiplayer online battle arena game League of Legends, received a nomination for Outstanding Animated Program for the episode "When These Walls Come Tumbling Down," while in the Short Form Animated category, "Jibaro," from the third volume of the highly acclaimed anthology Love, Death + Robots, was nominated for its breathtaking marriage of beautiful visuals and compelling storytelling. 
The short, from Spanish filmmaker Alberto Mielgo, sees a deaf knight pursue a golden siren who can't understand why the warrior is immune to her deadly song. "It was inspired by those videos on National Geographic where there is an alligator fighting a jaguar for food," Mielgo told Queue. "It's a crazy, toxic relationship between two characters, two predators, who both want and need each other."
Also in the short form space, sketch show I Think You Should Leave with Tim Robinson was recognized with two nominations for non-stop hilarity, in the Short Form (Comedy, Drama, or Variety) race and for Robinson's performance. Equally compelling and silly is Maya Rudolph, whose voice-over performance as Connie the Hormone Monstress in the ribald animated series Big Mouth earned Rudolph her third consecutive nomination for the role, which she has won in both of the previous years. Last year Rudolph became the third Black woman ever to win back-to-back Emmys. 
The 74th Emmy Awards will be presented on September 12.