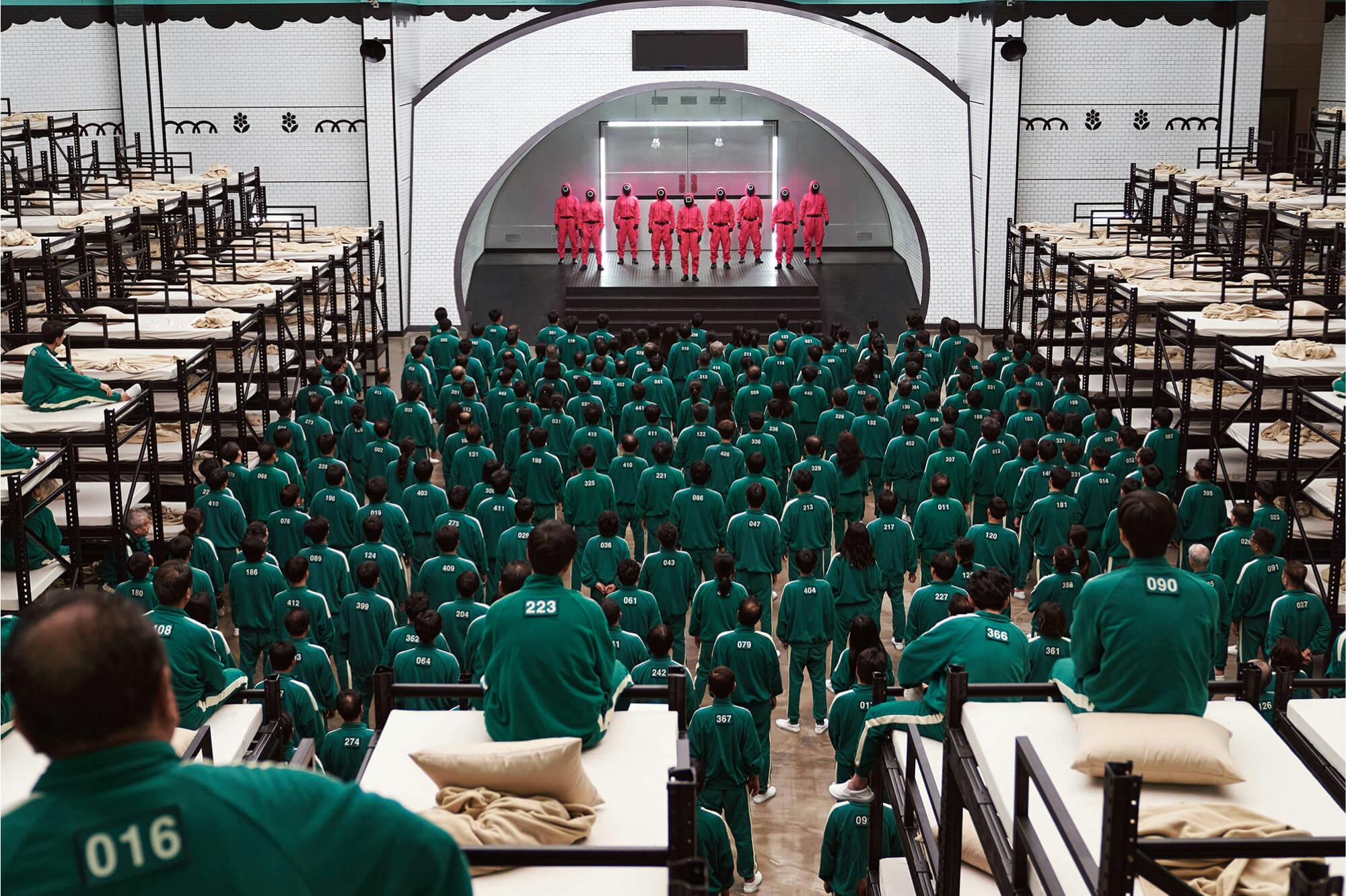 Queue unpacks Netflix's most watched show of all time: The Korean drama watched around the world.
Imagine if your favorite childhood game became a deadly competition for a cash prize that could change your life. That's the premise of the latest Korean drama, Squid Game. If you've been online over the last few weeks, you've probably heard of it.
Squid Game is on track to become Netflix's biggest series ever. The show, which premiered on September 17, shot to number one in 90 countries just 10 days after its debut. Everywhere from Qatar to Ecuador, viewers watched as 456 down-on-their-luck contestants were locked in a secret location and forced to play children's games — such as Red Light, Green Light — for a chance to win 45.6 billion won (around $38 million USD). They connive, betray, and form alliances in nine episodes of gritty, heart-pounding competition — it's hard to look away.
As it turns out, the survival genre — stories of human struggle against all odds— is one we typically love to watch (think Cast Away, The Midnight Sky). Squid Game turns the concept up a notch, pitting gore and rivalry against the backdrop of childhood play and singalongs. The contestants choose to participate, and to stay, which lends to the greater philosophical point behind the show: As director Hwang Dong-hyuk says, "I wanted to write a story that was an allegory or fable about modern capitalist society, something that depicts an extreme competition, somewhat like the extreme competition of life. But I wanted it to use the kind of characters we've all met in real life."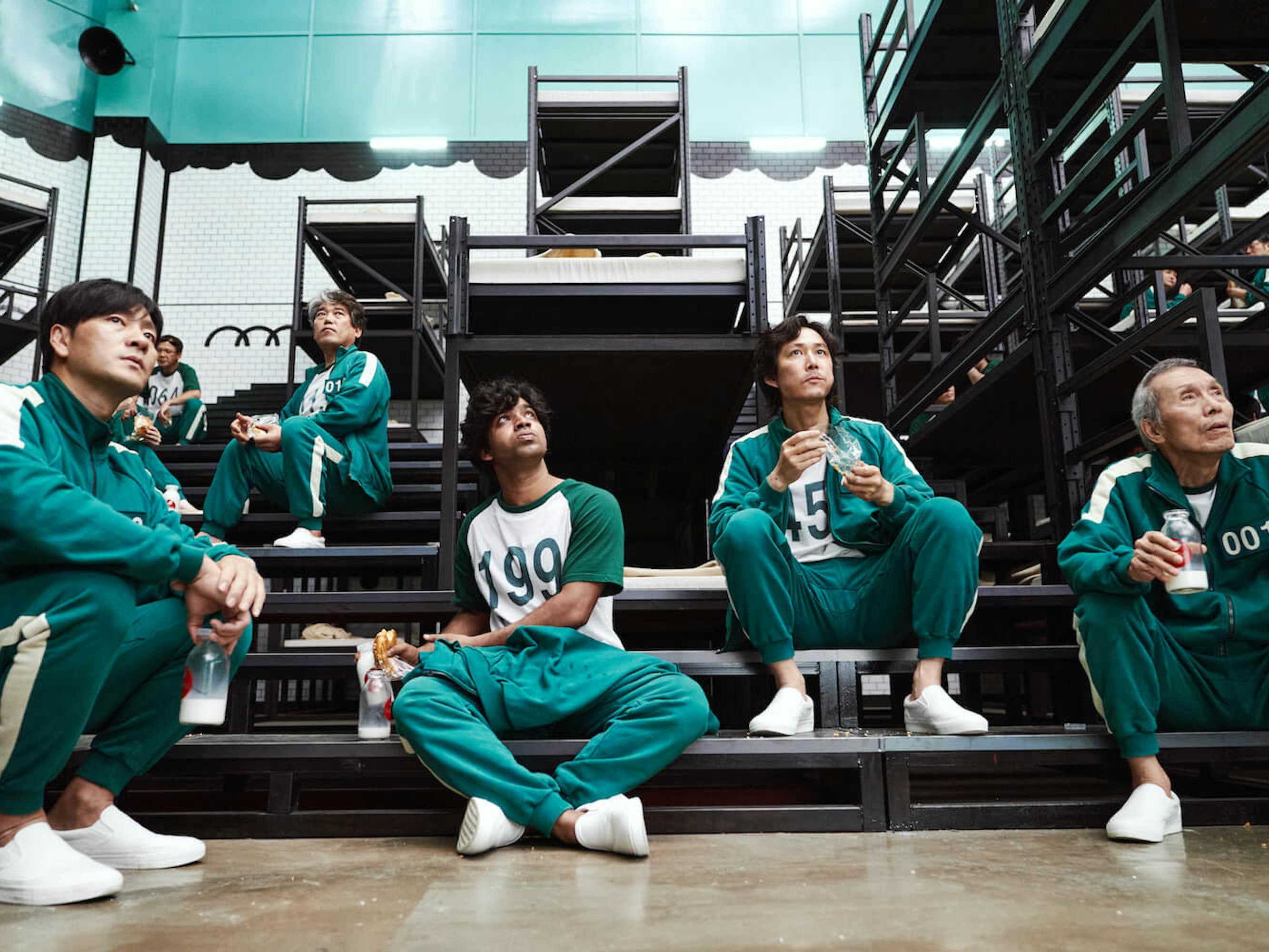 Inspired by Korean comic books, Dong-hyuk first conceived of Squid Game in 2008 and finished it the following year, as a movie screenplay. He put the project on the back burner while he went on to make three other features, convinced it would be too unfamiliar and violent for a global audience. But 10 years later, he moved forward with the concept, one that is uniquely Korean but with a universal message.
Squid Game is a gripping story with brutal consequences but in its short lifespan, it has already inspired countless memes, recipes, and Halloween costumes — from the teal tracksuits that participants wear to the guards' boiler suits and masks. The show's fashion has even infiltrated day-to-day style with articles such as "8 Track Pants We Want Thanks To Squid Game" and "Squid Game Has Made Tracksuits Hot" highlighting its omnipresent influence. It helps that the show's aesthetic is altogether unique. The large-scale sets resemble idyllic playgrounds and pastel labyrinths — they're designed in such a way that blurs the line between reality and fantasy. Guards wear stark red suits and their masks are adorned with what can only be described as Playstation buttons. The soft, playful tones only make the contrast between play and survival more stark.
You can also find dalgona recipes and cookie cutters online, directly inspired by the ones featured in the show. A street vendor in Seoul who makes the honeycomb sweets has seen demand surge: He now sells more than 500 dalgonas a day, up from less than 200 before Squid Game premiered. The show has even sparked a dalgona candy challenge on TikTok, with viewers carving shapes onto the cookies, similar to one of the games played in Episode 3.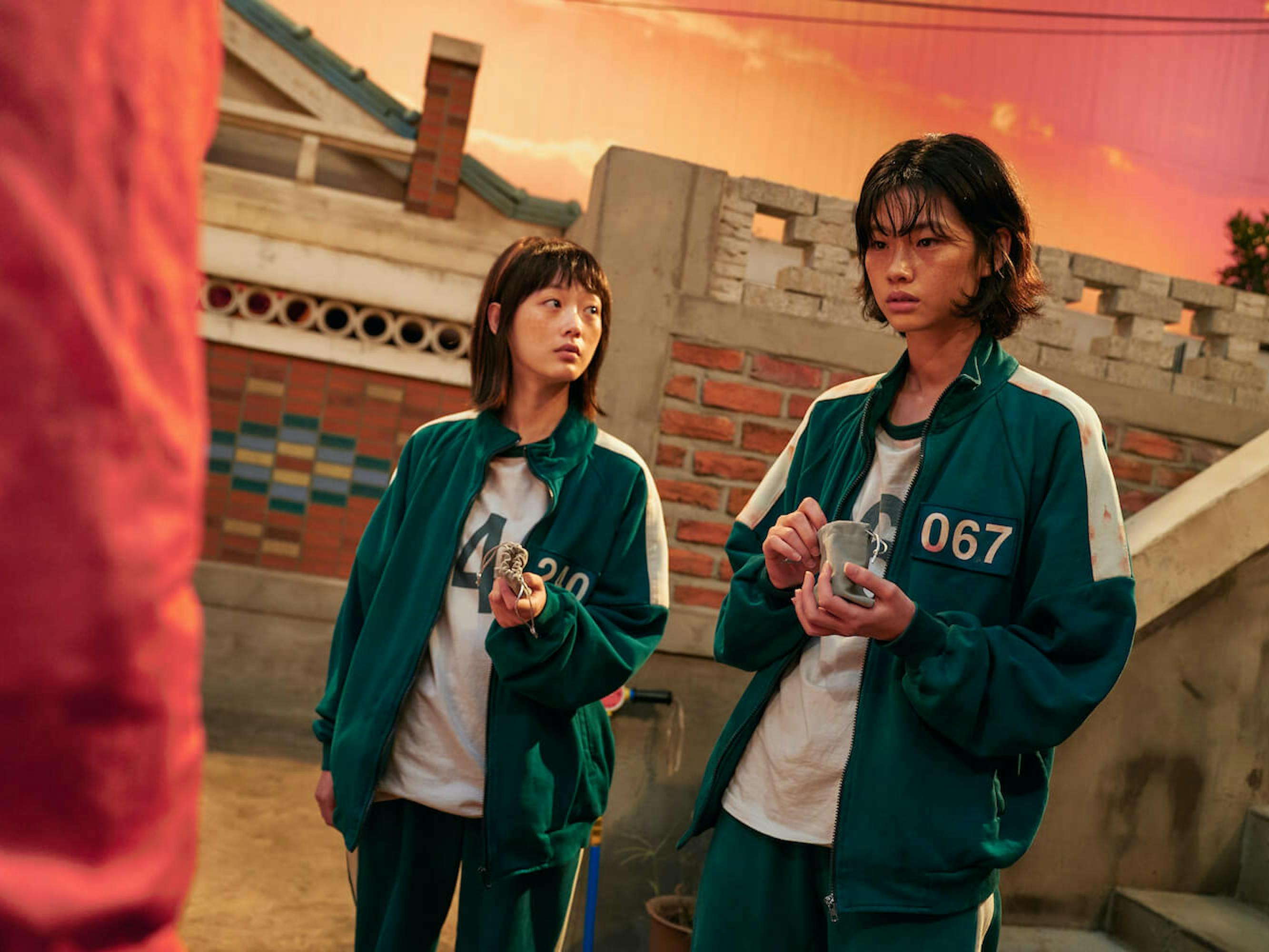 But it's not just the sets and props that fans are making their own. The cast, too, has given us both new and familiar talent for which to root. The competitors at the center of the series all come from different walks of life — a chauffeur, an investment banker, a North Korean defector — but they're all here for the same reason: to risk their lives for the prize money and a shot at a better future. It's enough to draw us into their relationships and history, and to the real people behind the characters.
Lee Jung-jae, who plays Seong Gi-hun, a chauffeur and gambling addict, has starred in movies like The Thieves and Svaha: The Sixth Finger. Park Hae-soo, who plays Cho Sang-woo, Gi-hun's childhood friend and a disgraced investment banker, can also be seen in Prison Playbook and Persona. But Korean model Jung Ho-yeon, who plays Kang Sae-byeok in her first onscreen role, has quickly become a fan favorite. She was a runner-up on Korea's Next Top Model, and her Instagram has blown up, climbing from 410,000 followers to 19.3 million (and counting). That's nearly 19 million new fans in under a month.
Squid Game has leapt from the screen to our social media feeds and text chains with lightning speed, thanks to Dong-hyuk's vision offering entertainment and depth in equal measure. As kids, we love backyard childhood games because of the amusement, not the outcome.
Squid Game plays into that nostalgia, reminding us of what we lose when we're so focused on who ends up on top. As Dong-hyuk says, "Rather than the game itself, Squid Game focuses on how [participants] act and how they respond. Usually, we look at the winners in survival games but in Squid Game, we look at the losers. Without losers, there are no winners."