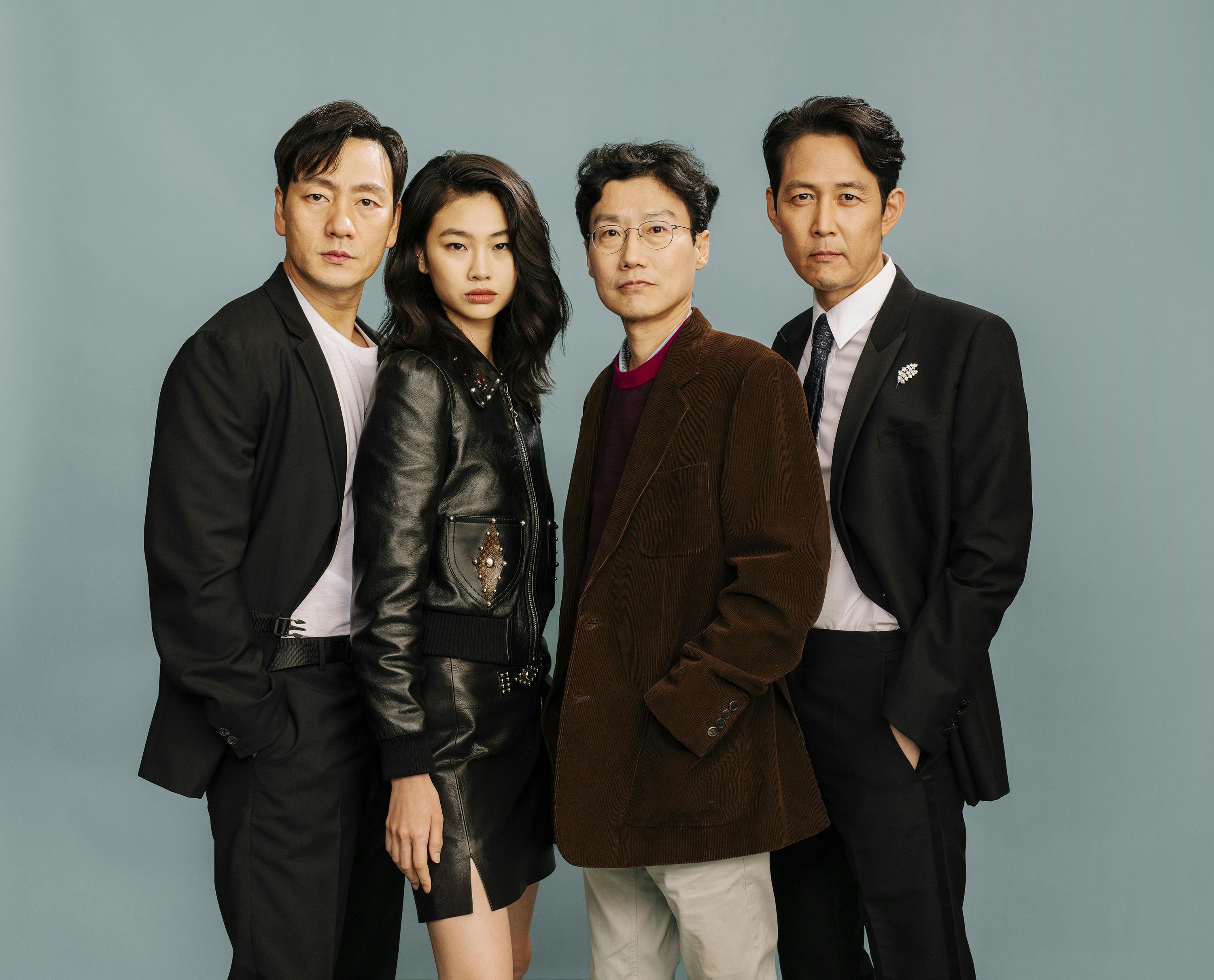 Park Hae-soo, Jung Ho-yeon, Hwang Dong-hyuk, and Lee Jung-jae on creating the biggest show of the year, Squid Game.
Who doesn't want a second chance at life?
It's the central question underpinning the biggest television phenomenon of the year: Korea's sophisticated battle royale Squid Game. The nine-episode series became the most watched program in Netflix history, holding audiences around the globe rapt with its imaginative, unsettling premise: Hundreds of strangers, all trapped beneath the suffocating weight of crushing debt, agree to risk their lives by competing in a series of deadly contests. The winner will take home a 45.6 billion won cash prize — but only one person can emerge victorious.
For Squid Game creator and director Hwang Dong-hyuk, the series served not only as a visceral, white-knuckle thriller but also as a powerful social critique, an all-too-relevant comment on the growing economic disparities between the upper class and everyone else. "These participants are trying to survive, like many people trying to do just the same in today's world," Hwang says. "The people in Squid Game are average Joes we may see on the news or around us in everyday life. The show tries to convey the message that we're not that removed from the participants of this survival game, and on top of that, the possibility that we, too, may be beholden to this future."
Although there's no question that Squid Game's eye-catching visuals helped drive interest in the show, it was the relationships that developed among the principal characters — gambling addict Seong Gi-hun (Lee Jung-jae), his childhood friend, investment banker Cho Sang-woo (Park Hae-soo), North Korean defector Kang Sae-byeok (Jung Ho-yeon) and elderly player Il-nam (theater veteran Oh Young-soo) — that kept fans most invested.
In a recent interview, Hwang and Lee recalled a memorable scene between Il-nam and Gi-hun from the pivotal sixth episode "Gganbu," a Korean word roughly translated to "what is yours is mine." In this tragic chapter, pairs arrive only to discover that they must play marbles against their partners, in one case pitting husband against wife. Gi-hun finds himself in the grips of a moral quandary, whether to take advantage of Il-nam's dementia to win the game.
"What I wanted to do here was to show, through the character Il-nam, how low Gi-hun would go, where the rock bottom would be for us humans," says Hwang. "The most humanistic character Gi-hun — how helpless he becomes when his life's on the line. I wanted to bring that out of Gi-hun through Il-nam."
After becoming the most tweeted about TV show of 2021, Squid Game is now collecting plenty of other accolades — including a Gotham Award for Breakthrough Series-Long Form and three Critics Choice Award nominations for Best Drama, Best Foreign Language Series, and Best Actor in a Drama Series for Lee. Queue chatted with Lee, Jung, and Park to learn more about their backstories and what it feels like to be at the center of a pop culture maelstrom.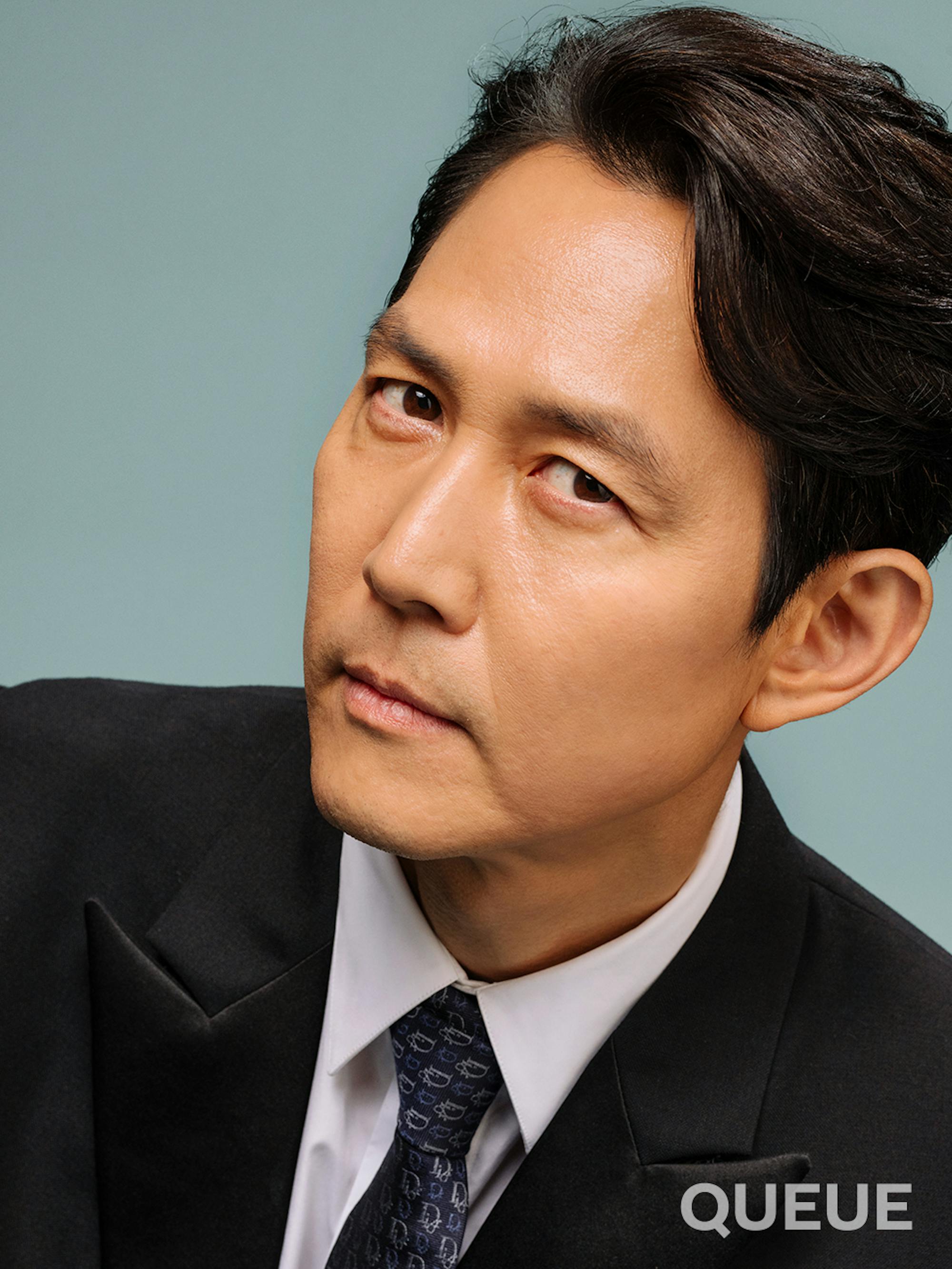 Lee Jung-jae
Character: Seong Gi-hun
Squid Game's protagonist Gi-hun, is a divorced chauffeur with a penchant for gambling who lives at home with his elderly mother. When he learns that his ex-wife is planning to take their daughter to the U.S. to begin a new life, Gi-hun becomes desperate to do whatever he can to help keep the child close. His situation only grows more precarious once his mother falls ill and can no longer pay their bills, and the loan sharks he's borrowed from come calling to collect his debt. 
So when the opportunity to participate in the mysterious games arises Gi-hun agrees to go, heading off to the remote island where he will fight for his life, and the prize money. He becomes the unlikely moral center at the heart of the story, someone who endeavors to treat his fellow contestants with kindness, even though empathy isn't likely to put a player on the path to victory.
Lee is an industry veteran with a nearly 30-year career. The actor played a gambler once before in City of the Rising Sun, for which he won Best Actor at the Korean Association of Film Critics Awards. He also starred in the dramatic thriller The Housemaid, which screened at both Cannes and the Toronto International Film Festival. The actor's genre-defying roles span comedy, drama, romance, and blockbuster films and set him up for success in his demanding role as Squid Game's Gi-hun. Of Lee's skill in the "Gganbu" episode, director Hwang says, "Gi-hun, almost like Charlie Chaplin, pulls off both tragedy and comedy, and the emotional climax in the last scene is possibly the most diverse and powerful emotional journey an actor could give us."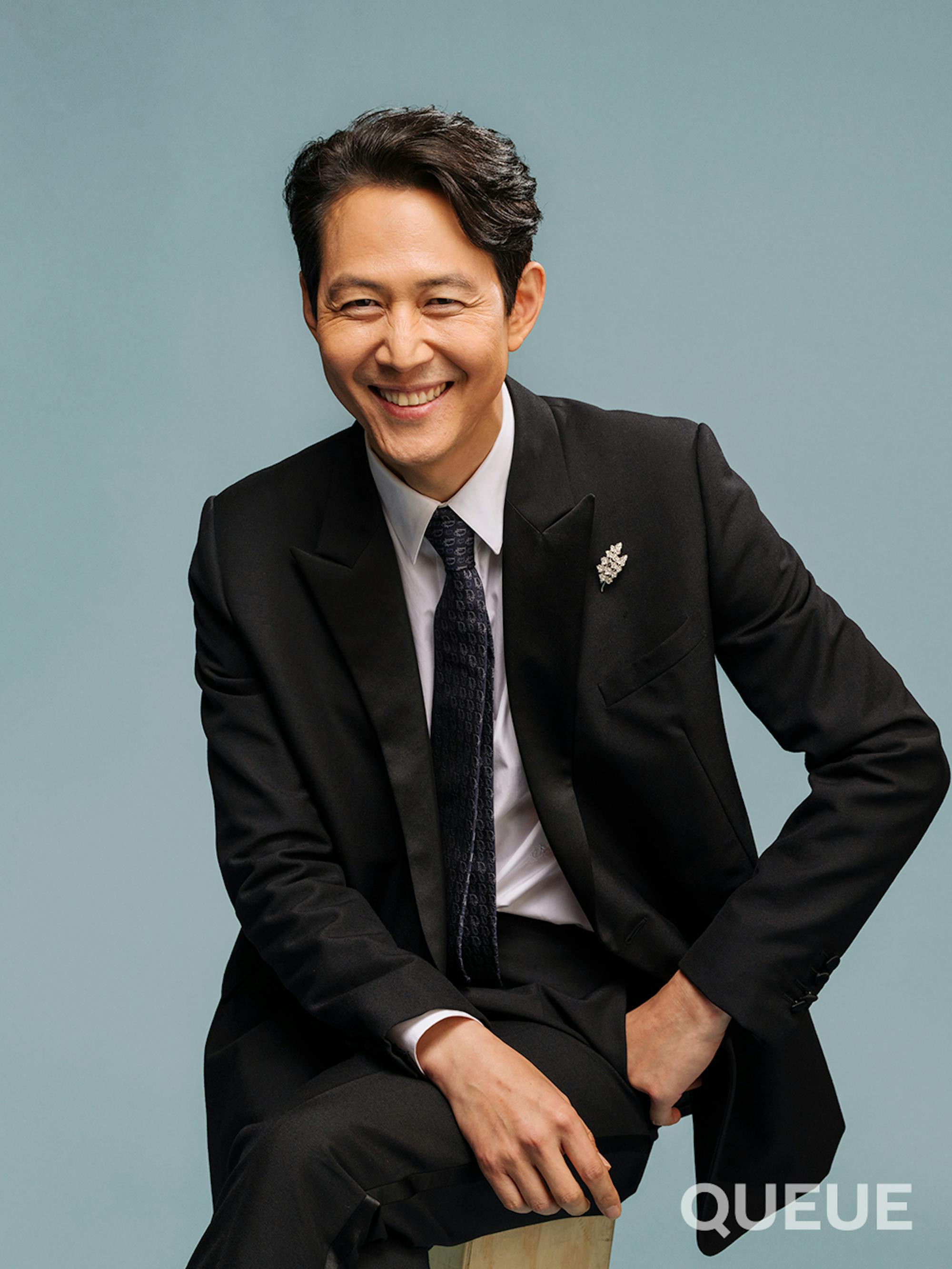 Squid You Know?
— Lee is an avid art collector, favoring conceptual artists like On Kawara, Fred Sandback, and Jenny Holzer, and has served as a goodwill ambassador of the National Museum of Modern and Contemporary Art, promoting Korean art around the world. 
— Like his co-star Jung Ho-yeon, Lee Jung-jae began his career as a fashion model before transitioning to acting. 
— Lee starred in time-travel romance Il Mare, which was remade for American audiences as The Lake House, starring Keanu Reeves and Sandra Bullock. 
— Despite his love of acting and extensive career, Lee started out pretty unsure of himself. "Back then, rather than dreaming of becoming an actor, there were people who suggested I try it out. And because I was young at the time, I thought, Really? Is this something I can do? I had no idea how to do it, so at first, I didn't enjoy it, and I wondered if I could do this long term. But I started enjoying it and began wishing I could do this as long as possible. The set became one of my favorite places to be."
— Lee was recently named one of GQ Korea's men of the year alongside heartthrob Jung Jae-in, Reply 1988's Ryu Jun-yeol, Seoul Searching's Yoo Teo, and recording artist Simon Dominic.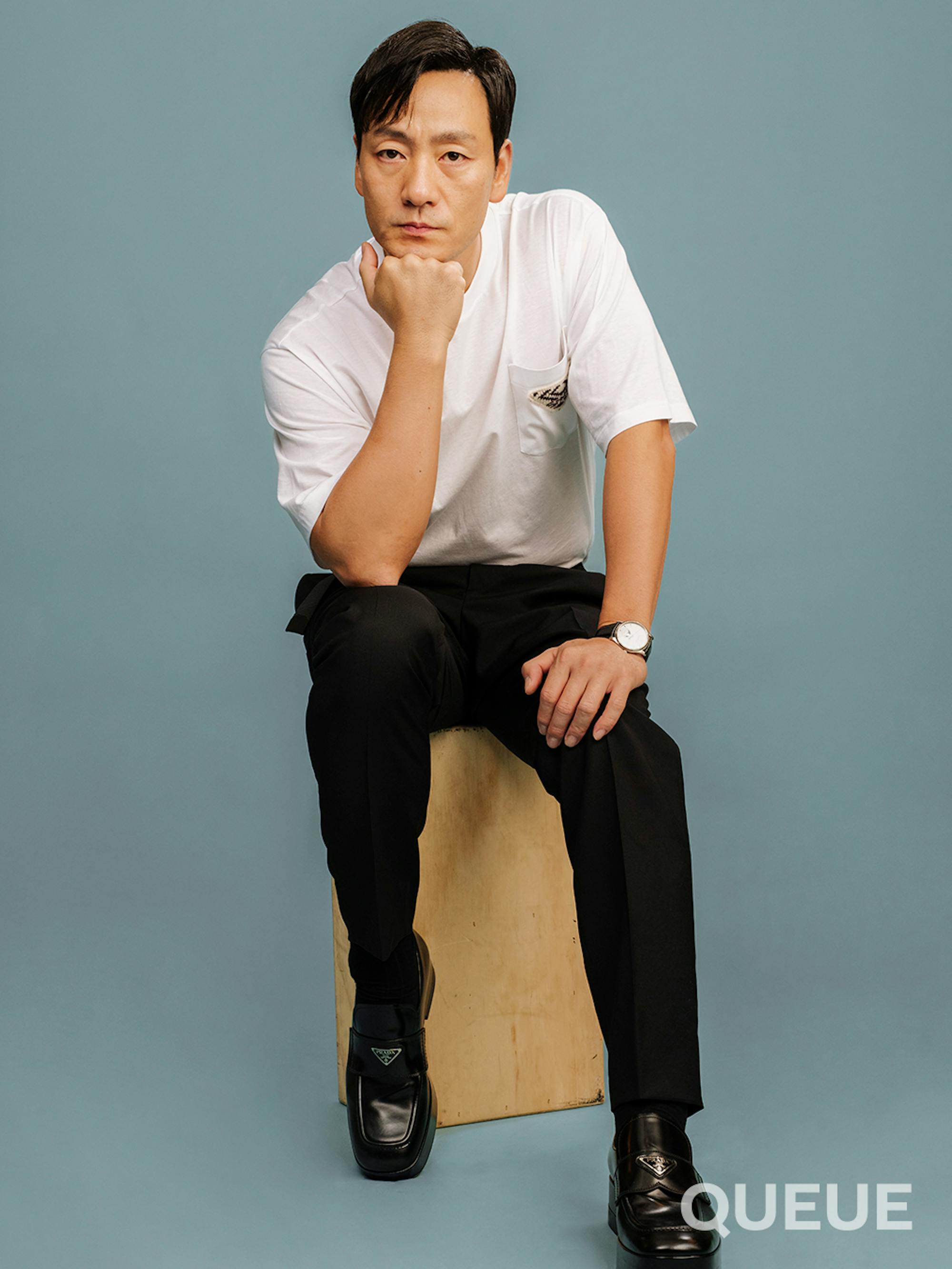 Park Hae-soo
Character: Cho Sang-woo
Gi-hun refers to his childhood classmate Cho Sang-woo as a prodigy, but the handsome investment banker is living with a shameful secret: He's stolen money from clients at his securities firm and is on the run from the authorities. Coming from the same hardscrabble neighborhood as Gi-hun, Sang-woo is cunning and resourceful; throughout the games, he holds his cards close to his chest, building alliances and sussing out opponents' weaknesses day by day to press his advantage. 
Park is well-known for his starring role in K-Drama Prison Playbook, for which he earned a Best New Actor Award at the Seoul Awards. To get into character for the shifty Cho Sang-woo, Park did what his character does best: He studied. "I like to experience and learn through my body," he says. "I went to a library in a prestigious university and observed people." Hwang recognized that Park had the perfect look for the role: "Park Hae-soo's face has a strange charm that manages to walk the tightrope between good and evil."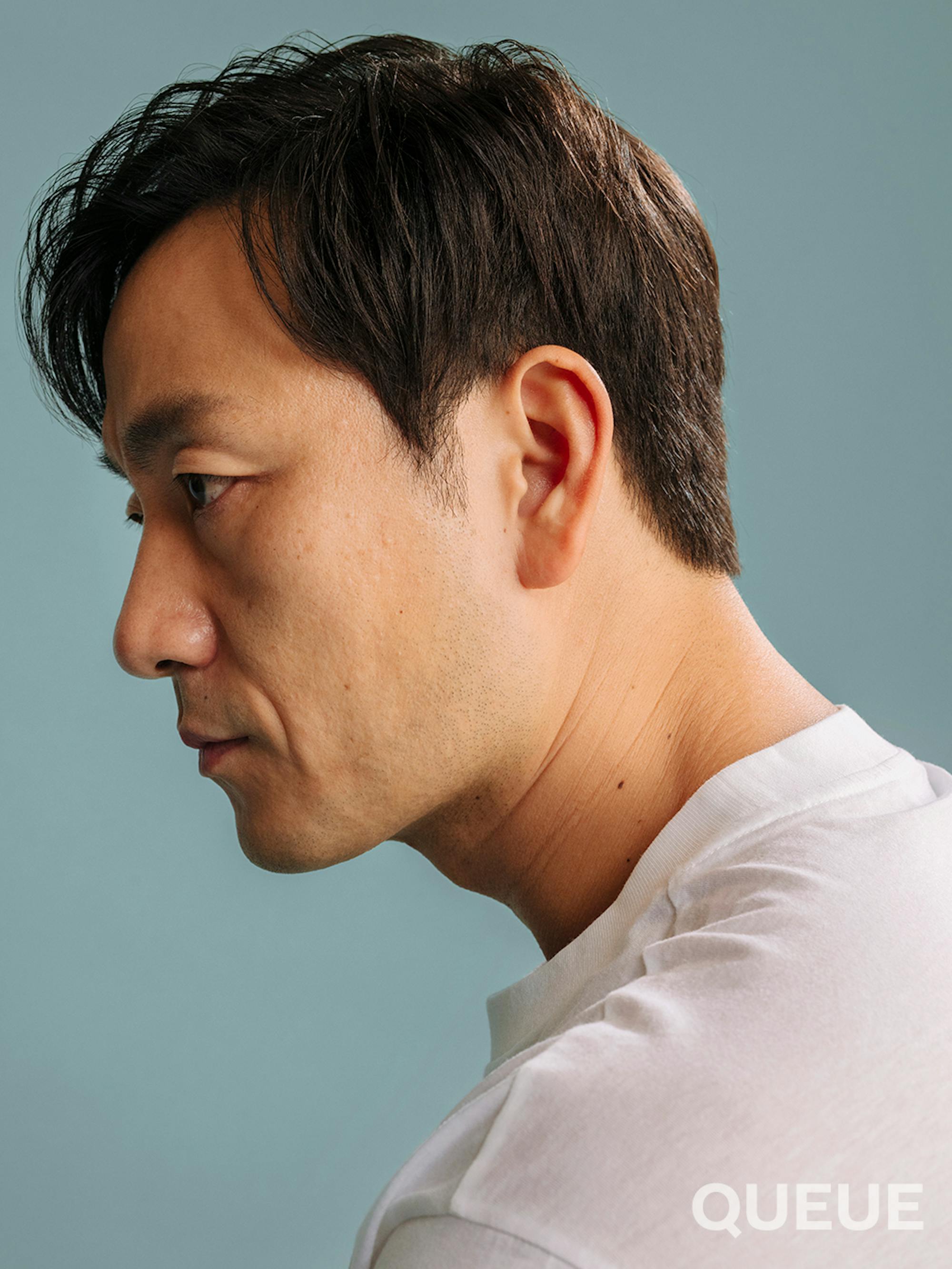 Squid You Know?
— Park began his acting career in the theater. "The first role I played was Konstantin in the play The Seagull, in school. This role made me admire Anton Chekhov and fueled my dream for theater. I was first introduced to the classics. I loved learning about the different types of people and their instincts and desires."
— Park is slated to star in a Korean version of La casa de papel, the hit Spanish heist show.
— Like millions around the world, the actor is a huge fan of boy band BTS. Welcome to the BTS army, Hae-soo. 
— If the actor found himself in Squid Game, he'd be ready: "I played all the physical kids' games — there's one called Tonkatsu, and when I was even younger I played Gonggi . . . and I really like basketball."
— After Squid Game aired, the actor gained more than 800,000 Instagram followers in a single day.
— Park cites acting as helping him become confident. "I've always been a shy person, but when I started theater, I broke out of my shell and felt something there. And it has brought me here."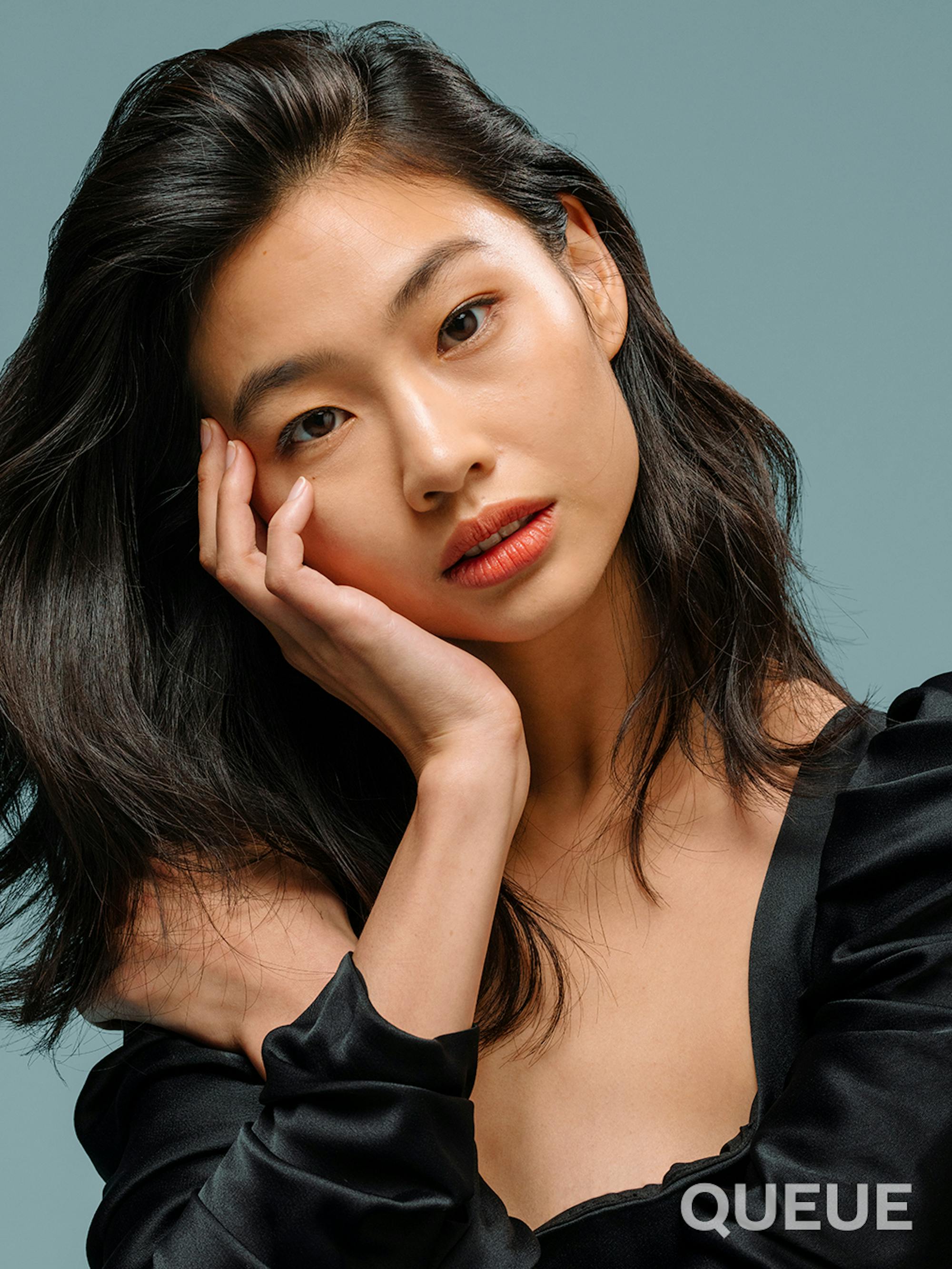 Jung Ho-yeon
Character: Kang Sae-byeok
Tough and untrusting Sae-byeok won over audiences with her story: As her family fled North Korea, her father was killed, her mother captured, and while she and her brother successfully crossed the border, he's been forced to live at an orphanage until Sae-byeok can earn enough money to provide a proper home for him. Turning to petty crime to raise the funds, she pickpockets Gi-hun's gambling winnings in the series' first episode. When she arrives in the player's dormitory and is spotted by a gangster, Deok-su (Heo Sueong-tae), she's crossed, all hell breaks loose. Her hard exterior begins to soften when she aligns with Gi-hun, who tells her, "You don't trust people because they're trustworthy. You trust them because there's nothing else to lean on."
Sae-byeok's popularity has extended to the actor who portrays her: Jung Ho-yeon, a fashion model in her first major acting role. Soon after the release of Squid Game, Jung Ho-yeon became the most followed South Korean model on Instagram. Known for her signature fiery red hair, Jung has modeled internationally, and it was on those trips abroad that she began dreaming about an acting career: "I was in a foreign country by myself, in an unfamiliar environment, so I searched for things I could do," she says. "Watching films and reading books was what I found. I began to think I'd like to express myself in that artform someday. So every time I returned to Korea I'd take month-long acting lessons and slowly grew my dream." Co-star Lee was surprised by Jung's talent as a rookie actor: "Her performance of the emotional scenes were way beyond my expectations and I thought, 'She's not just any new actress.'"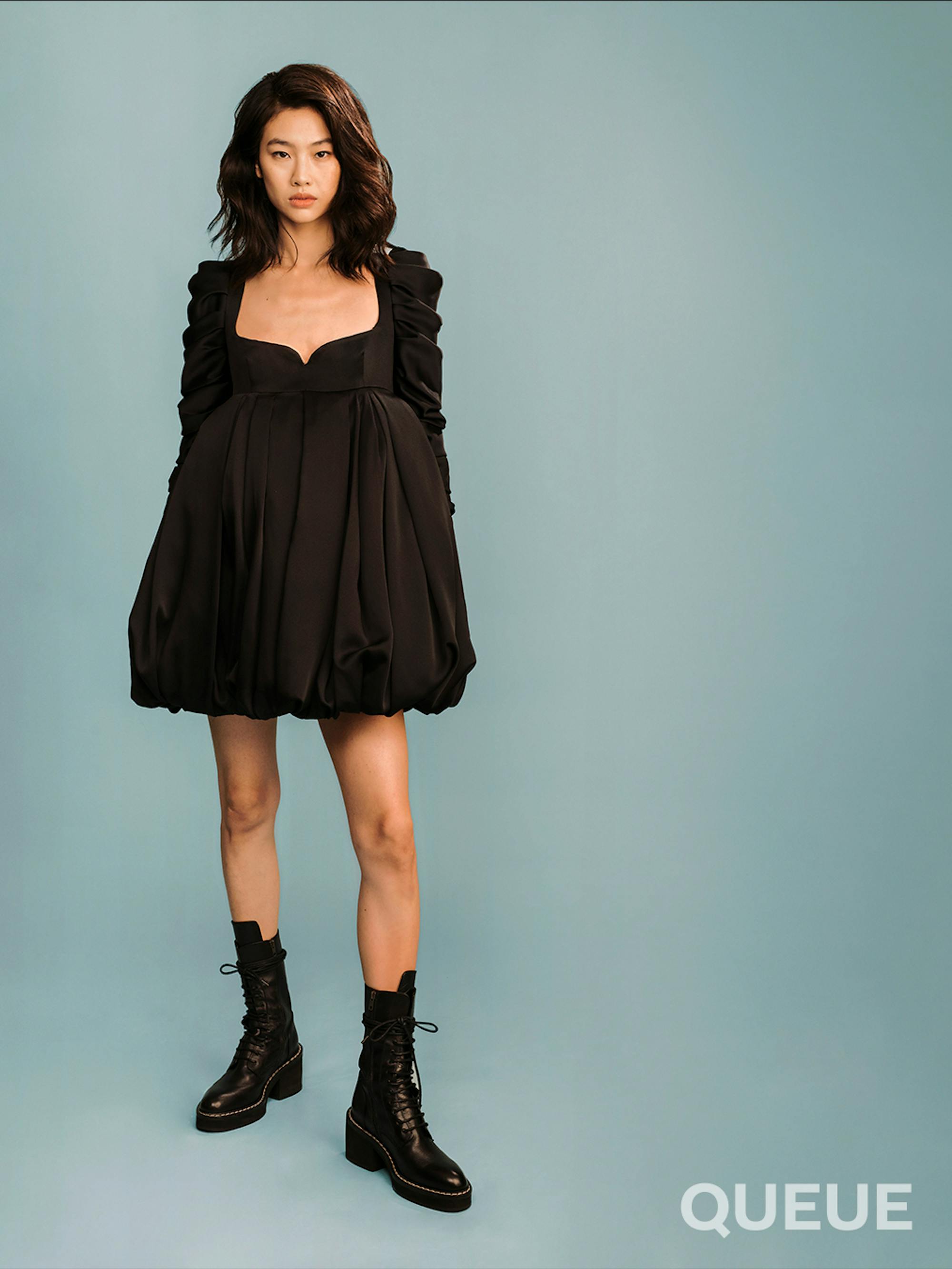 Squid You Know?
— To embody her North Korean character, Jung consulted an acting coach and watched documentaries: "There's this one titled Madam B, and it's about a woman who fled North Korea. Watching it, I felt, It's love. At the end of the day, it's love, all the choices she makes in her life. I also had a North Korean dialect tutor, whom I asked about the process of defecting."
— As a model, Jung has walked the runway for brands such as Chanel, Louis Vuitton, Gucci, Marc Jacobs, and Miu Miu. Back in 2013, Jung placed second in Korea's Next Top Model. 
— Jung's bestie is rapper Jennie Kim from K-pop group Blackpink.  
— The newcomer was so nervous for her first scene, she found comfort in an unlikely support animal. "I remember I couldn't make eye contact with anyone there, I was so extremely nervous," she says. "I tried to find something I could hold on to for that day, something in nature. So I found this cute caterpillar and took a picture, and looked at it to calm down. Weird, right? But that's what I did."