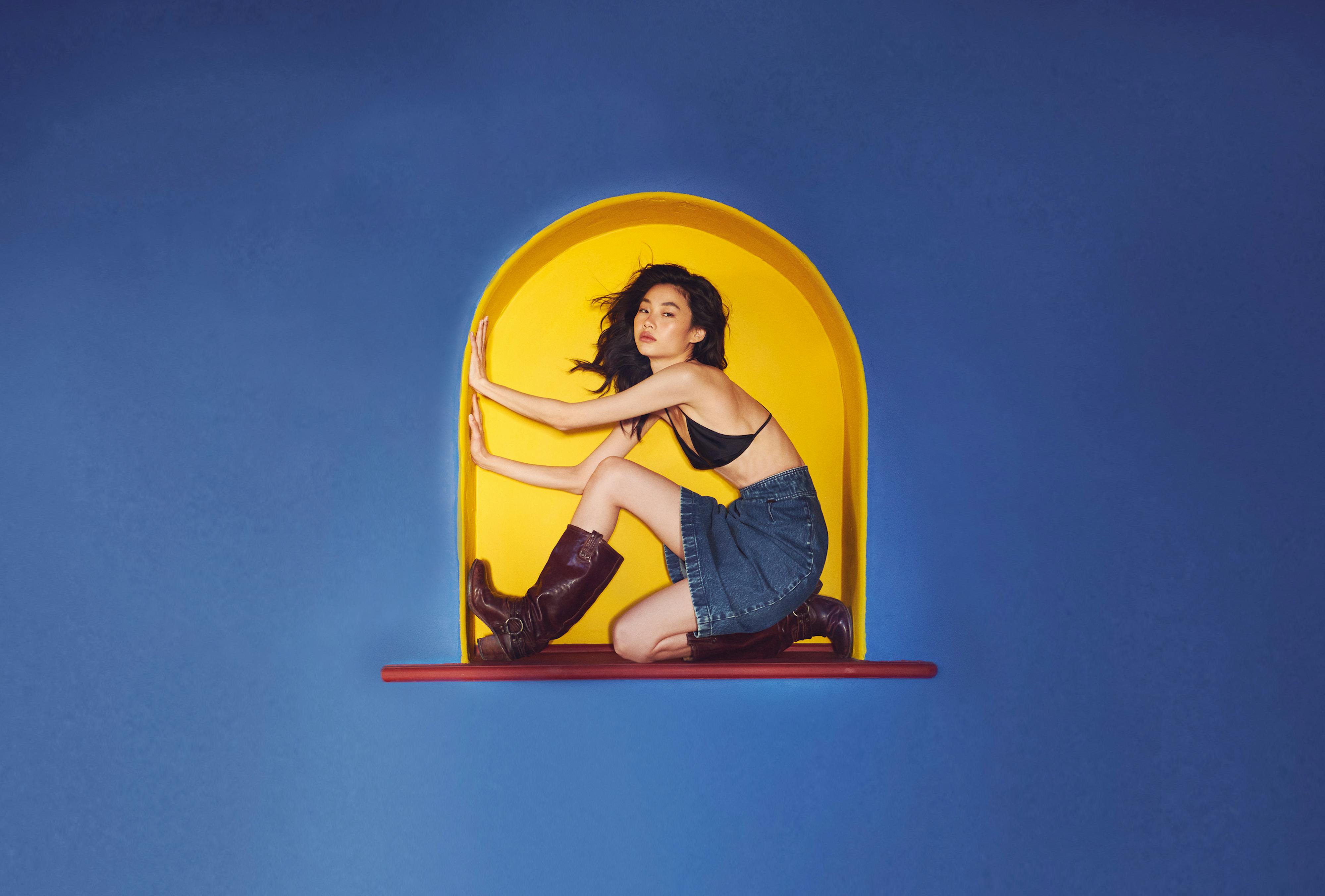 In the mid-2000s, Squid Game actor Jung Ho-yeon was a runway model, working shows around the world and known for her signature fiery red hair. But when Jung suddenly hit a speed bump in her career, she had a moment of reckoning: What did she truly want to do for the rest of her life? 
Jung describes that experience: "As soon as I came to America, I became an exclusive model for Louis Vuitton. My career went off beyond my imagination. I got a lot of jobs, and a lot of people recognized me. But I didn't know what I had until I started losing them. Those opportunities started to disappear one by one, around 2018. Louis Vuitton wouldn't call me anymore. Chanel wouldn't call me anymore. And then reality hit me. Who am I? What am I doing? What do I want to do? I started having these questions." 
As the model pondered her next steps, she did what so many of us do in moments of stress: She turned to entertainment. "I started feeling very lonely and needed to escape. I started watching movies and reading books to relieve stress and forget about my insecurities. Then I discovered the appeal of the [entertainment] world, and started taking acting classes." 
Jung's curiosity about acting blossomed into a passion and a talent for transforming into characters. When she was cast in Squid Game, the new actor not only made her first onscreen impression — she took the world by storm, winning Best Actress awards from the Screen Actors Guild and Critics Choice. And Squid Game, once thought to be a regional title, swept the globe to become Netflix's most-watched series ever. 
Though we now know Jung had nothing to worry about, the actor was nervous to portray the stoic and fierce North Korean defector Kang Sae-byeok for her first major acting role, having never experienced anything comparable to Sae-byeok's brushes with criminality or her struggles to reunite her family. But by studying documentaries and through long conversations with her North Korean dialect coach, Jung slowly but surely came to embody the character for which she is now beloved. Here the star explains how she embraced the loyal and determined Sae-byeok, and what it was like to film her very first series.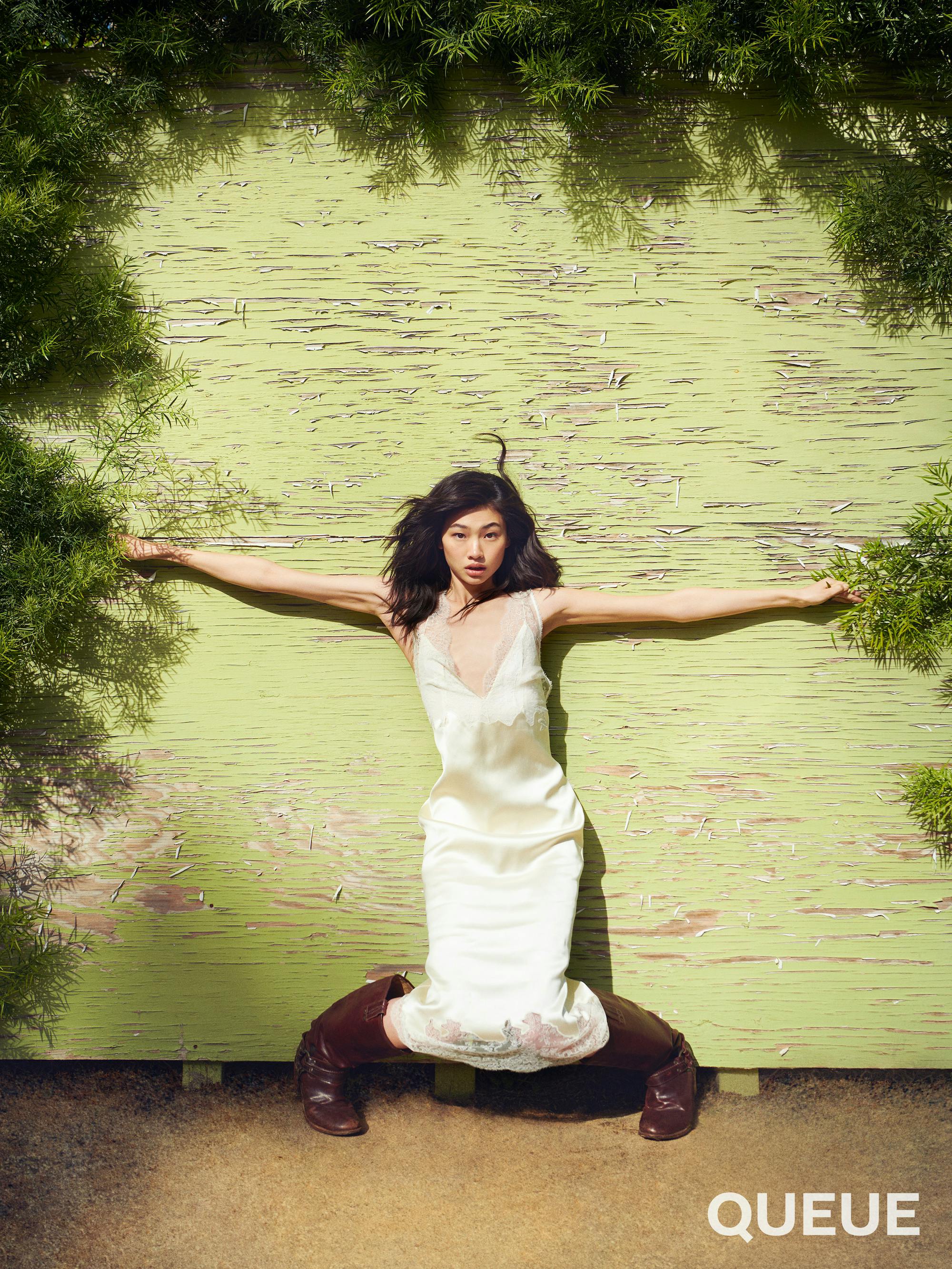 Queue: How did it feel entering the set for Squid Game?
Jung Ho-yeon: My first scene was the one with my character's brother. I remember I couldn't make eye contact with anyone there — I was so extremely nervous. All I remember of that day is that I tried to find something I could hold on to, maybe something in nature. So I found this cute caterpillar and took a picture, and I looked at it to calm down. Weird, right? But that's what I did. 
How did you prepare for your role?
JHY: Because I'm not someone who has studied acting for a long time, I had no idea what techniques or direction I should take to prepare. So I did something that's maybe a classic: I started writing a diary for Sae-byeok, about everything that she went through. The smells, the emotions, the sounds she heard. I began adding more and more detail. It actually started out more like a memo, but as I added more information, I found that it became a diary. But despite those efforts, I realized I still didn't know Sae-byeok that well when I set foot on set. So I wrestled with that. But with the help of the director and fellow cast, I tried to experience the filming process as Sae-byeok herself, and gradually I got to know her. I just enjoyed the whole process. I wonder if I ever got to know Sae-byeok fully even now, but I certainly enjoyed it.
What were your inspirations for Sae-byeok? 
JHY: I watched many documentaries on North Korean defectors. There's this one titled Madame B, and it's about a woman who fled from North Korea. And watching it I felt that all the choices she makes in her life are about love. At the end of the day, it's love. I also had a North Korean dialect tutor, whom I asked about the process of defecting. These efforts and the documentaries were the most helpful.
How would you describe your character Sae-byeok in one word?
JHY: I think it's nearly impossible to describe anyone with just one word. But even so . . . "firm"? I think it's rather difficult to choose a word that can be easily translated into English, to describe Sae-byeok. So I'm going to choose the Korean word, "dan-dan-ham" [which means firmness or toughness].
How was the chemistry between the cast? 
JHY: They were all so great. All the experienced actors told me, "Ho-yeon, it's highly unlikely that you'll get to work on a set like this again." But I wish I could! It was that amazing.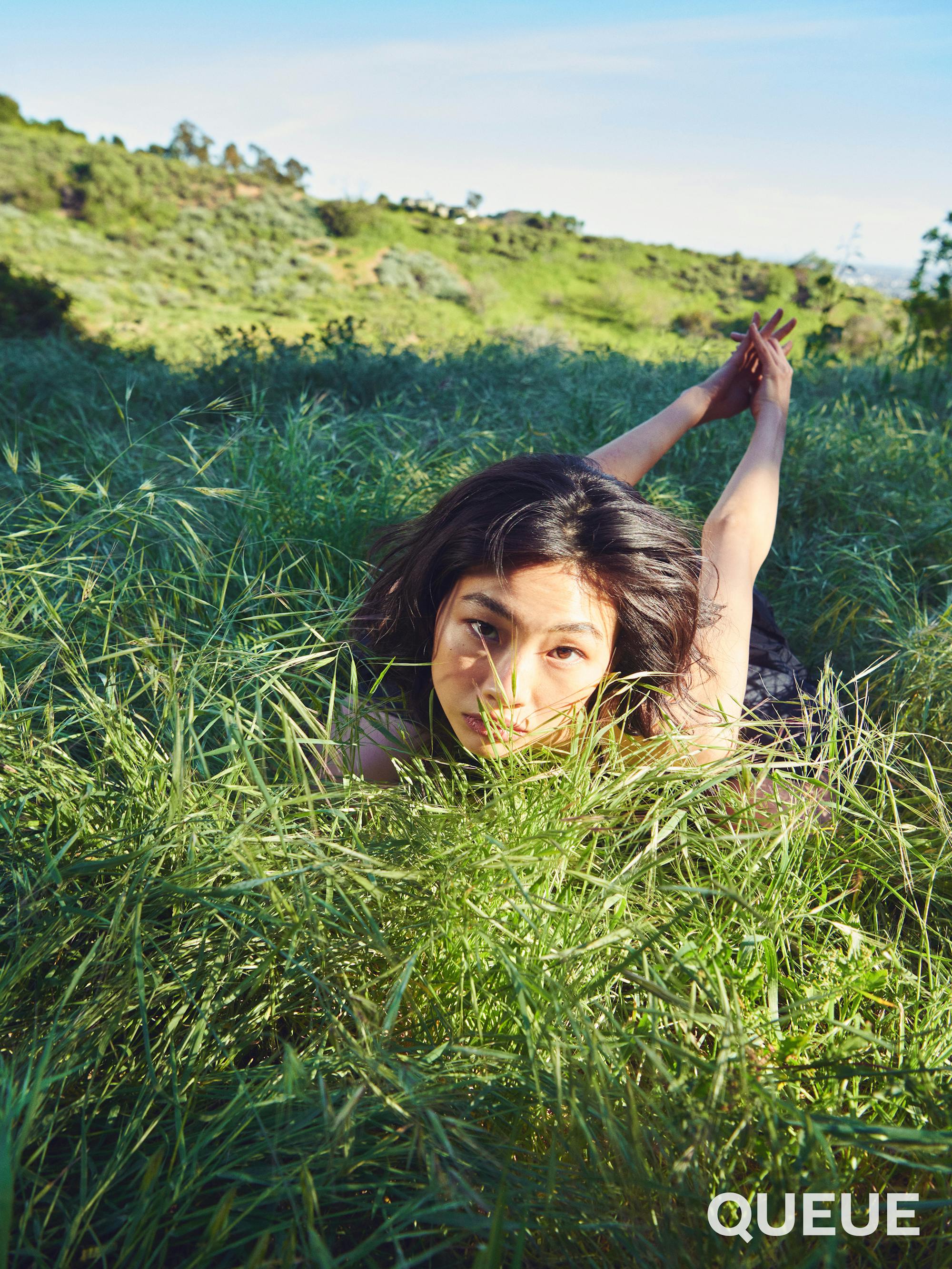 What was the most challenging scene to shoot?
JHY: There were so many. There's this scene where Sae-byeok is alone in the bathroom, which doesn't come until later in the show, but we filmed it relatively early in the process. Most of what Sae-byeok's been through, I haven't been through, but this scene in particular was so far away from my personal experience. I was so nervous and couldn't eat anything the day before because I was so concentrated. Fortunately, that day, when I finished my makeup and stepped onto the set, I was completely immersed in the role in an instant. I think that was the most challenging scene, but one that has brought me so close to Sae-byeok.
What was it like seeing yourself acting onscreen for the first time?
JHY: It was so embarrassing! Honestly, it wasn't easy. It was like when I was modeling, I felt like I hated every single photoshoot I did, the way I walked on every runway. That's similar to how I felt this time. 
Why did you want to be an actor?
JHY: When I was modeling overseas, I spent a lot of time by myself. I was in a foreign country by myself, in an unfamiliar environment, so I searched for things I could do. Watching films and reading books was what I found. I had even more time on my hands when my career was slowing, and I delved into even more films and books, and began to think I'd like to express myself in that artform someday. That desire started to grow. So every time I returned to Korea I'd take month-long acting lessons and slowly grew my dream.