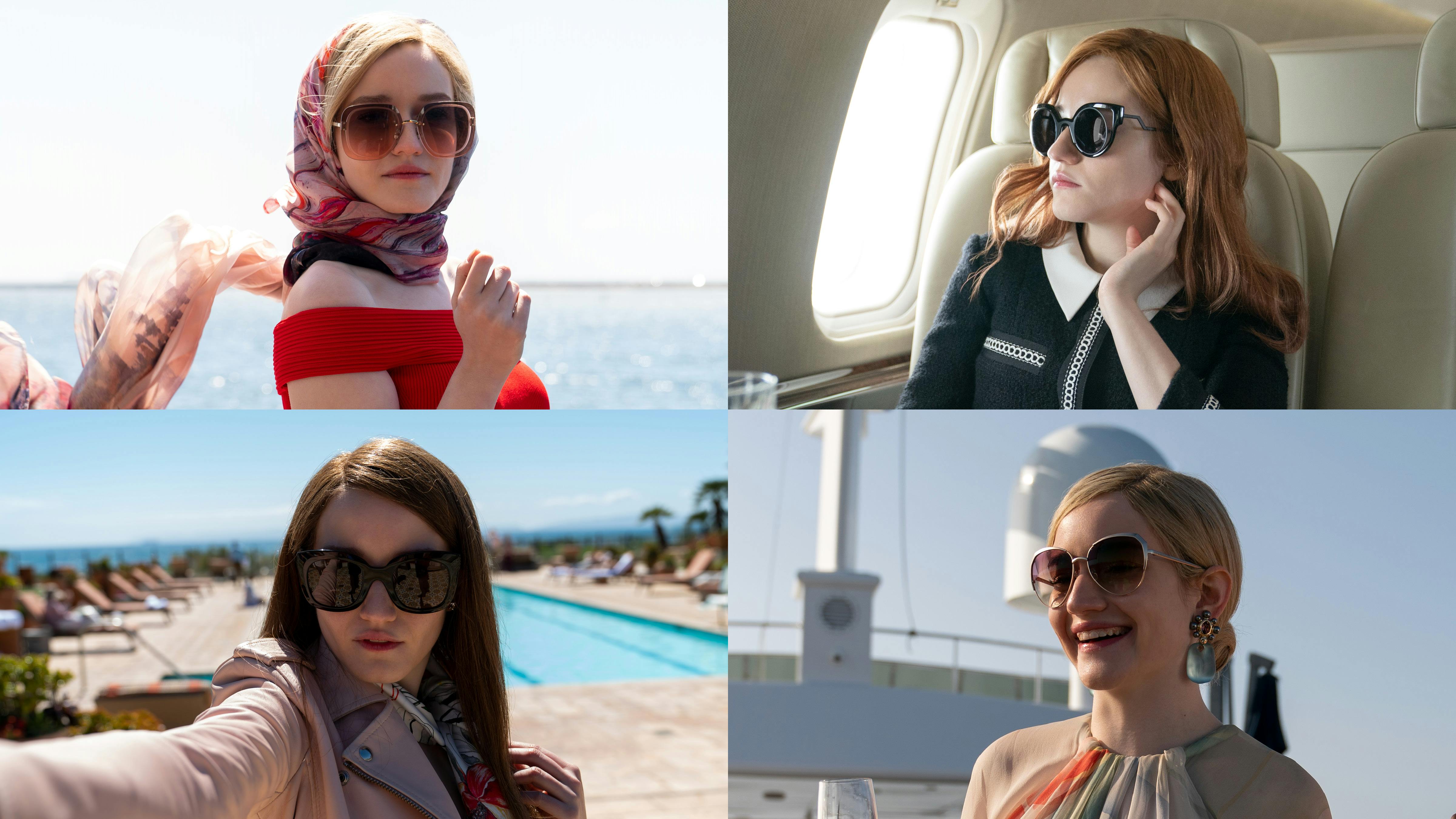 For the character of Anna Delvey in Shondaland's Inventing Anna, appearance is everything. The story is based on the real life Anna, a woman who ingrained herself in Manhattan's high society by posing as a German (ish?) heiress. Played by Julia Garner, Anna uses the fabled life she's built to persuade some of New York's power players to invest in a foundation she plans to open on prestigious Park Avenue. A crucial element of building her embellished persona comes through picture-perfect sartorial choices from the shoes up to the sunglasses. 
Anna's accessorizing reflects the iconic onscreen shades that have shielded the shifty eyes and ulterior motives of some of film's most memorable characters. Recall the gangsters of Reservoir Dogs, Brad Pitt in red-tinted lenses in Fight Club, and the editorial queen Miranda Priestly in The Devil Wears Prada. The bespectacled character Anna might bear most in common with is undoubtedly Holly Golightly, Audrey Hepburn's famed "It Girl" in Breakfast at Tiffany's. It's not hard to picture Anna standing outside of Tiffany's (or a few blocks south at 281 Park Avenue), pastry in hand, sporting thick black sunglasses, and daydreaming about actually being the person she portrays herself to be. Anna and Holly could have swapped tips as two drifters off to see the world — and climb the social ladder. 
The costume and props department for Inventing Anna made perfect picks of brands like Celine and Balenciaga that conveyed not only Anna Delvey's fashion savvy, but her adroit transformation into an heiress, easily convincing the socialites she swindled that she was the real deal. 
Read about all of the locations at which Anna Delvey was spotted, peering out from behind her sunglasses.