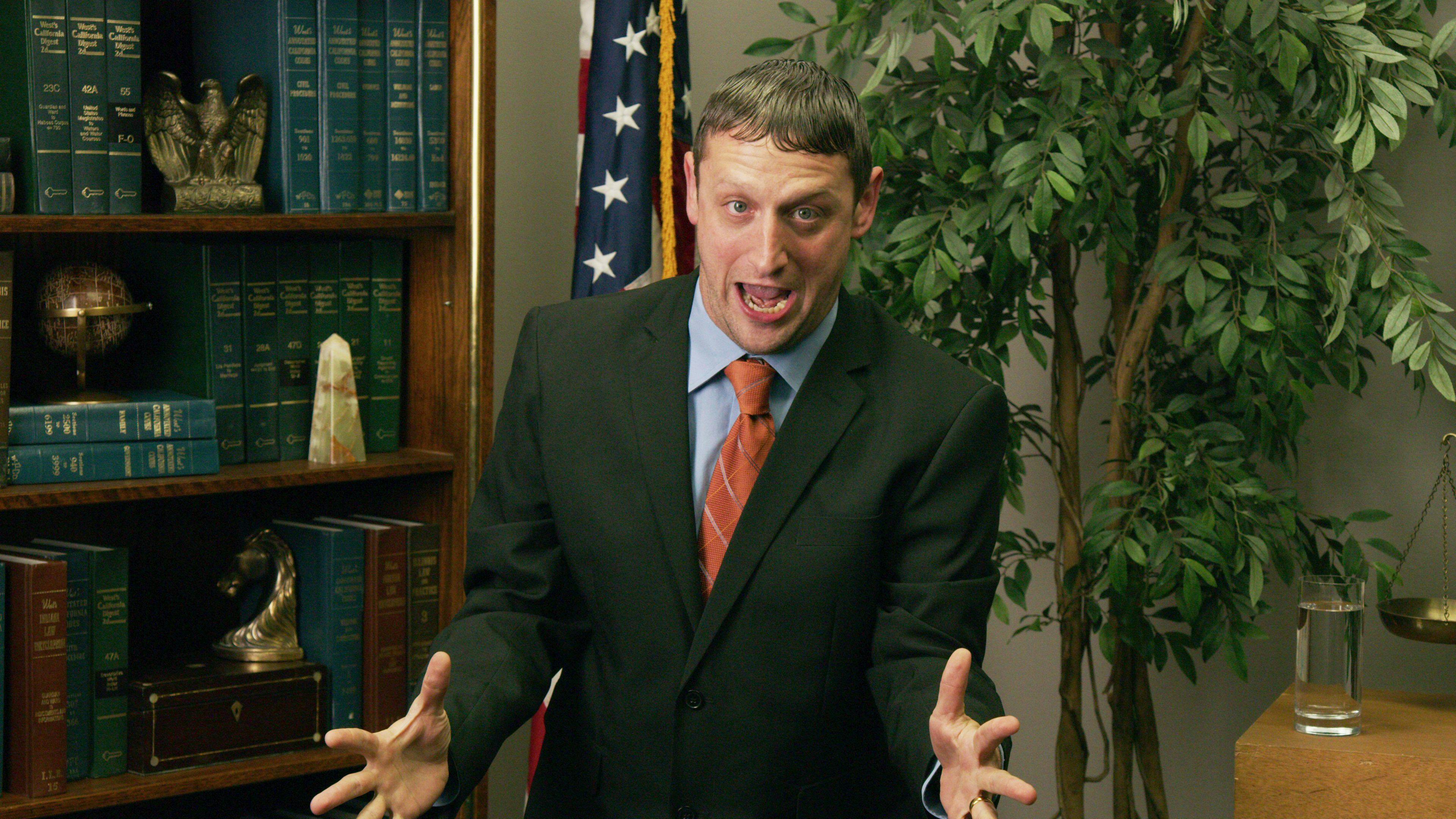 Mike Flanagan Thinks You Should Watch I Think You Should Leave
The creator of Midnight Mass, The Haunting anthology, and the forthcoming The Fall of the House of Usher discusses his obsession with sketch comedy show I Think You Should Leave with Tim Robinson.
W​​hen writer-director Mike Flanagan took to Twitter and retweeted a poster for The Haunting of Skeleton Town, his followers weren't sure what to think — was the filmmaker announcing the next installment of his popular anthology series? Next came a script page, followed by clips of actors who had starred in Flanagan's series Midnight Mass and The Haunting anthology auditioning for Skeleton Town. "The biggest surprise was how many people on Twitter thought it was real," says Flanagan, referring to his elaborate fanfiction-style project, which was inspired by a sketch from the series I Think You Should Leave with Tim Robinson. In the Season 1 sketch, "The Bones Are Their Money," a band performs a gospel tune for a discerning producer, only to be told that if the musicians really want to hit it big, they should be playing original material. Channeling music icon Johnny Cash — whose own experiences informed the bit — the singer, played by Rhys Coiro, launches into a rockabilly tune about "the day that Robert Palins murdered me." Just as the producers' interest is piqued, the bassist (Robinson) chimes in, "It was also the night that the skeletons came to life!" From there, the song becomes an awkward duet, part somber blues tale, part absurdist skeleton narrative. "That sketch is my favorite," says Flanagan, who describes himself as an I Think You Should Leave superfan. "I've watched both seasons six times apiece at this point." 
Flanagan's not the only one. Created by Tim Robinson and Zach Kanin, who've previously collaborated on Detroiters and SNL, and co-produced by the Emmy-winning The Lonely Island team, I Think You Should Leave has garnered significant critical acclaim and spawned countless memes and homages. The show features a who's who of comedic talent — Will Forte, Kate Berlant, John Early, Bob Odenkirk, Patti Harrison, Tim Heidecker, and Sam Richardson — injecting new life into the sketch comedy format. "Other sketch comedy vehicles will try to hang out in a sketch long past its expiration point," reflects Flanagan. "This show is very smart about the rhythm; the sense of timing is surgical."
Now, as Flanagan reckons with the surreal possibility of partnering with Robinson and Kanin on an actual The Haunting of Skeleton Town sketch, he nerded out with Queue's Miranda Tsang about  I Think You Should Leave, from favorite bits to the joys of fandom: "I'm not exaggerating when I say it is my favorite sketch comedy show ever. I find more to love about it every time I watch."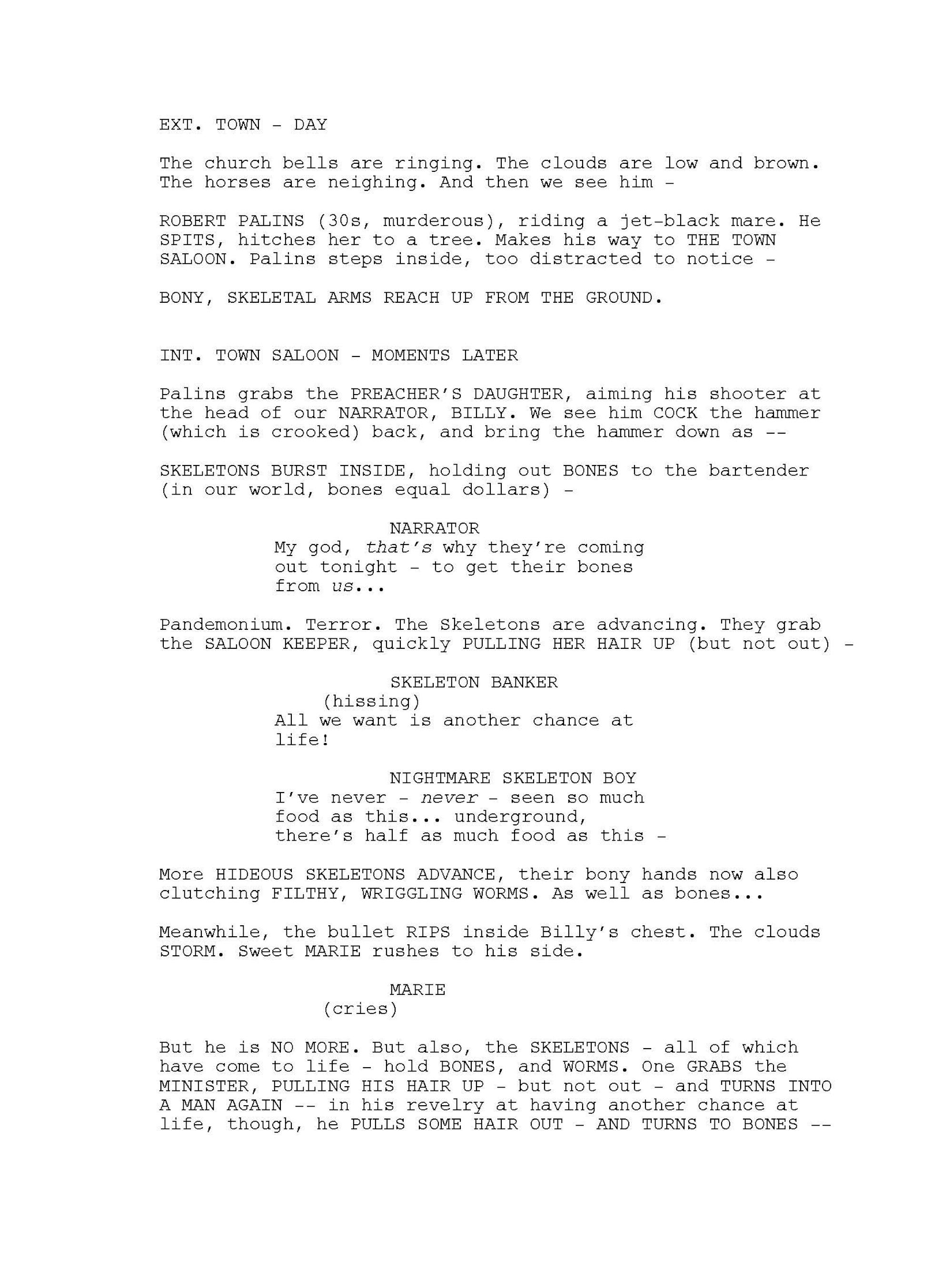 Miranda Tsang: From what I saw on the Twitter thread, this all started with artist Daniel Danger's poster for The Haunting of Skeleton Town, which you later re-posted.
Mike Flanagan: The sketch it references, "The Bones Are Their Money," I would play for the cast, and in the writer's room for [the upcoming series] The Fall of the House of Usher. It's my favorite way to initiate people into the show because that particular sketch just slays me. So, I saw the poster, and I retweeted it. I just thought it was really funny. In the middle of doing The Fall of the House of Usher, it felt like a wonderful distraction to imagine what it would actually be like if we made The Haunting of Skeleton Town. Things started to snowball from there.
Did you immediately start writing the Skeleton Town script when you saw the poster? 
MF: I was doing revisions on the House of Usher episodes, and I had shown my wife [actor Kate Siegel] the poster, and we were laughing about what it would actually look like if my company, Intrepid [Pictures], were doing the Robert Palins story. I wanted to do something fun for a minute, so I watched the sketch again, and just threw that one little scene down. I thought that would be it,
a fun little gag, and Twitter would like it. And it kept growing out of that.
Tell me about the amazing fake auditions from The Haunting and Midnight Mass actors.
MF: Kate said to me, "We should double down. If they don't think it's a joke based on the script, then we should keep playing this straight." Elan Gale, one of the writers on several of my shows, said, "You should start laying down self tapes [auditions] for it." Then, it really started to get out
of control — because if we had an actor saying these things out loud, and people still thought it was real, it would be even funnier for me.
So, we were punking everybody, but doing it with an enormous amount of love for what this ridiculous movie could really be. I wrote the audition piece for Rahul [Kohli], and he had seen the show, so he got it right away. Then I reached out to Hamish [Linklater], who had not seen I Think You Should Leave, and tried to explain the whole thing to him. He was utterly bewildered. But as [soon as]
I sent him the original sketch, he wrote back, "I'm in." Then, I'd been working on one for Kate [which we posted]. I had nothing to do with Julian Hilliard's audition; I didn't write it.  Oh yeah, he just did that. By this point, we had four actors from The Haunting universe [doing self tapes]. 
Mark Hamill and the other cast members of The Fall of the House of Usher started to get jealous, and they were like, "How do we get involved?" It was like, "Well, while we're shooting in Vancouver, why don't we get down to one of those Old West sets [on the lot], and just film them doing bits from the Robert Palins story?" I'd love to actually make that movie. It would be really, really wild. If this really happens, it's going to be an insane treat.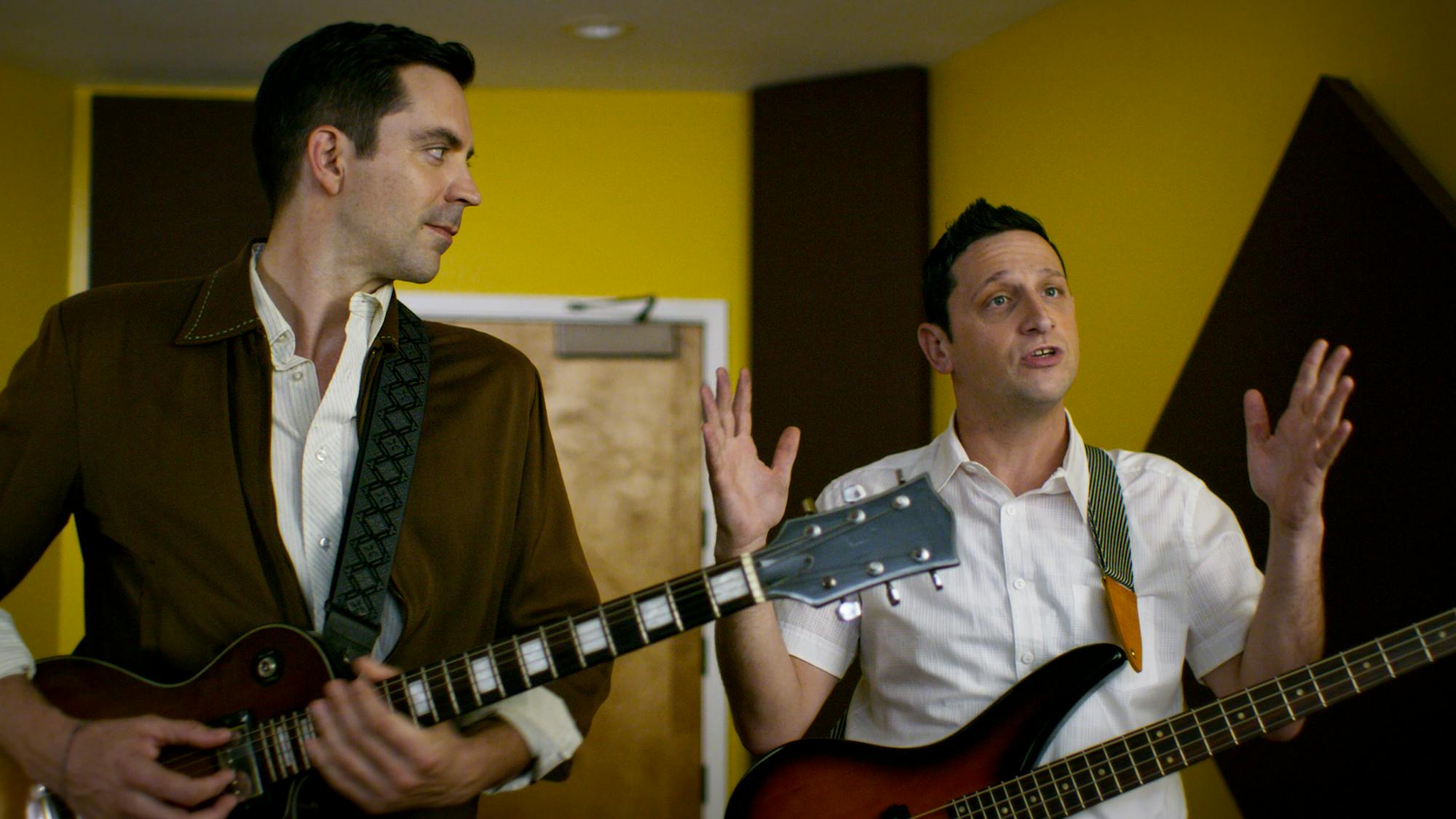 Do you remember when you first watched I Think You Should Leave?
MF: It popped up on Netflix the weekend it launched, and I hadn't seen a sketch comedy show in a while and thought, This is wonderful, diversionary stuff for me to watch late at night, while I'm working. That first sketch of him trying to get out the door of the job interview came up, and the profound commitment in that sketch — it was arresting and it was really funny, and I just fell in love with the show.
By the time we got to "Turbo Team," which is the very next sketch, I was hooked. I watched the first season four times, straight through. It became part of the vocabulary in my marriage. Kate and I will ask each other about our days and then say, "But you haven't asked me a single question about Jim Davis's house."
My favorite sketch vacillates wildly, depending on what mood I'm in. There are days I'm like, Nothing will ever top "Coffin Flop" for me, but then I'll start thinking about that incredible courtroom sketch with his hat ["Insider Trading,"] and it'll make me laugh in the middle of the day. We quote it to each other on set now. I had two crew members wearing Dan Flashes shirts when we started House of Usher. I Think You Should Leave has infiltrated the Intrepid world in a really beautiful way. 
You write horror, but it's obvious you love comedy. Have you ever considered writing comedy?
MF: I have, because the rules of comedy and horror are not at all different. It's all about timing and commitment; the timing and rhythm of a scare and a joke are not dissimilar. It's all rhythm and music. I would love a chance to play in comedy. I've been stretching my muscles over the last decade, trying to figure out how to perfect scares and how to wallow in some really heavy emotion on my shows. The chance to do something that's just there to make people laugh and to create the kind of enjoyment that I feel watching this show, that would be a real gift.
What do you think makes I Think You Should Leave so special? 
MF: The show is fantastic in its complete commitment to the most uncanny premises. It finds a joke and it's not satisfied to just let it be. It grabs onto the concept and commits so fully that it grinds that joke all the way down into a nub by the time it's over. And that first sketch of him with the door is the perfect example. It's like, Okay, I'm going to commit to this to the point that it becomes utterly unreasonable. That absurdity makes it compoundingly funny. There's no sense of formula with this show. Everything feels invented, and everything feels like, We're going to make it exactly what it wants to be, and the instant we feel like it's achieved that, we're going to leave. I love it so much.