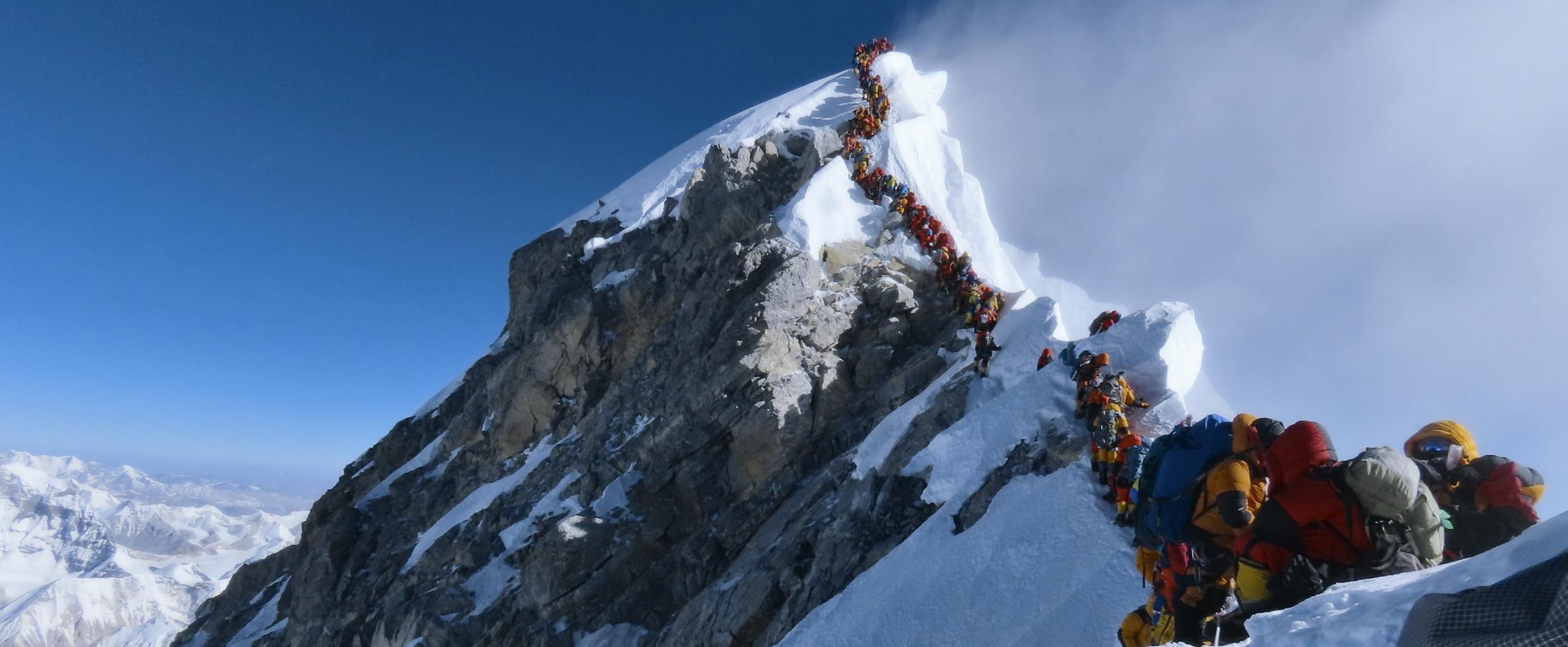 In 14 Peaks: Nothing is Impossible, Nirmal "Nimsdai" Purja and his team of Nepali mountaineers set an example for the world.
Mingma David Sherpa's backpack was already heavy when he shoved in his camera and a nylon sack full of batteries. For anyone entering the death zone, every ounce matters. He had been selected as one of the four Nepali climbers hired to help special forces soldier Nirmal "Nimsdai" Purja, who goes by Nims, in his quest to shatter the world speed record for summiting all 14 mountains that rise above 8,000 meters, where there isn't enough oxygen in the air to sustain human life.
As one of the planet's strongest climbers — something Mingma David had proven during his six ascents of Mount Everest — he understood what was at stake. Hours after leaving basecamp, Mingma David was wading through thigh-deep snow 6,400 meters above sea level on the exposed eastern ridge of Nepal's Dhaulagiri mountain. It was late in the afternoon, and dense gray-black clouds hung like heavy curtains over the mountain. The metal climbing gear and the batteries in his pack were beginning to buzz and crackle due to an electrical storm. Seeing his teammates charging ahead, Mingma David weighed his choices — was it better to risk being struck by lightning and continue, or should he abandon the mission? In the fading light, he pushed forward.
The stories behind the making of the eye-wateringly beautiful documentary 14 Peaks: Nothing is Impossible are almost as inspiring as the film itself, which chronicles Purja's attempts to upend one of the most coveted, and dangerous, records in mountaineering. His mission toes the line between visionary and life threatening, considering the previous fastest time to climb all 14 mountains was seven years. (Purja did it in less than seven months.)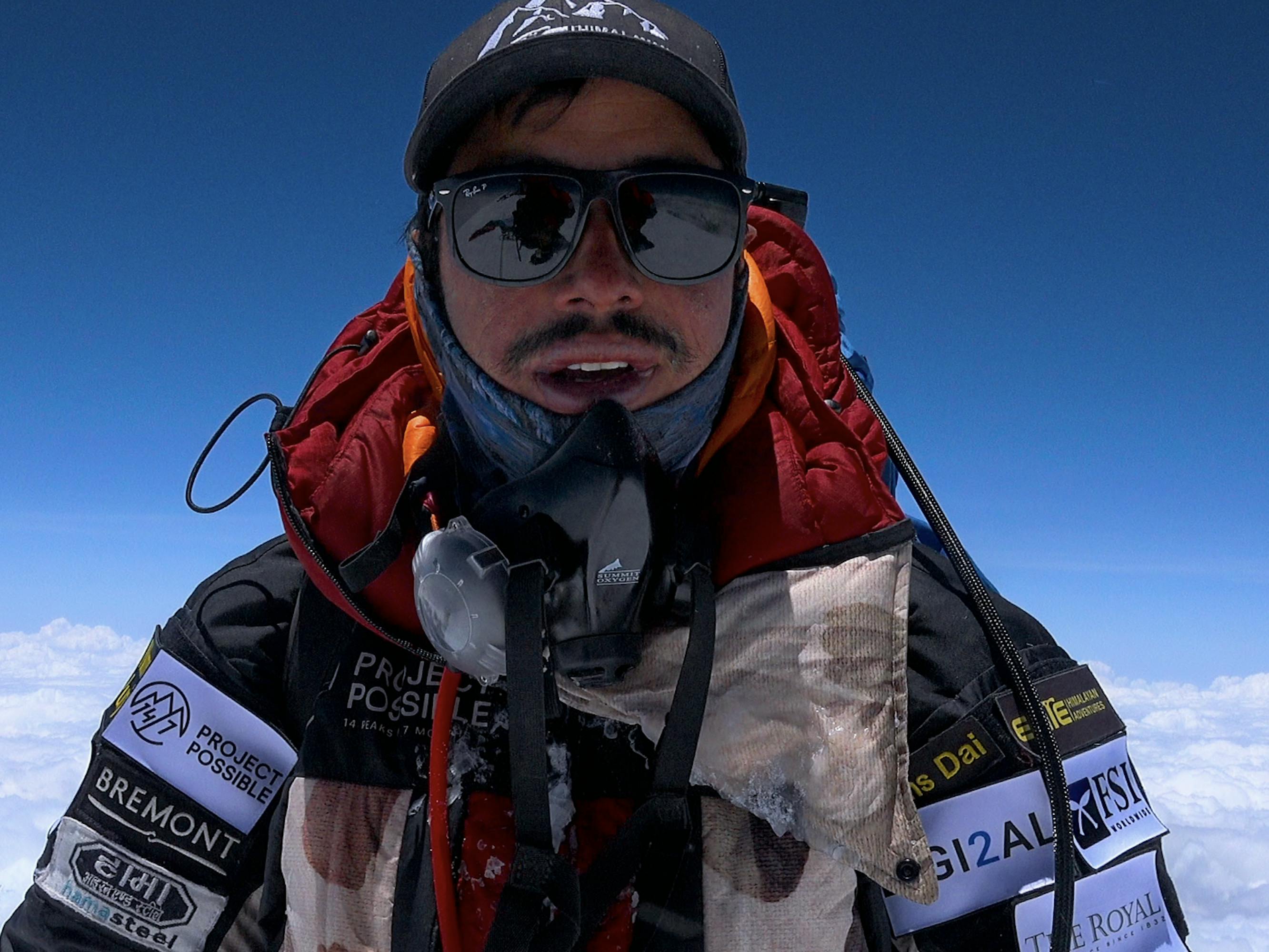 Beyond personal glory, Purja sought to shine a spotlight on Nepal's gifted climbers — Sherpa climbers have been crucial to nearly every Himalayan ascent, yet in most mountaineering films, their contributions, and Nepali culture, are treated like colorful asides. "The first time I met Nims, he said to me, 'I'm doing this because I want to uplift the name of Nepali climbers,'" says 14 Peaks director Torquil Jones (Bobby Robson: More Than a Manager). "He wasn't just talking about the film. He was talking about the entire project." 
Now 38, Purja moves through the world like a motivational figure, preaching the power of positivity to achieve even the most ambitious goals — his chief aim is to help people around the world believe in themselves, to leap away from the confines of regular life. "I wanted to make a movie as an example so the rest of the world can see that literally nothing is impossible," Purja says. "A lot of people are afraid of committing to their dreams, but without trying you won't know. You've got to commit and train hard. I didn't even have the money to go and climb all 14 peaks, let alone for the filming." Money is tough to come by for most people in Nepal; the country ranks as one of the poorest in the world. For those unable to seek a better life abroad, the mountains offer an alternative source of income, with the brave working as porters and high-altitude climbing Sherpas.
When Purja came of age in the late 90s, Nepal was engulfed in a brutal civil war caught between Maoist guerrilla fighters and heavy-handed security forces. Purja joined the elite Gurkha regiment of the British Army in 2003 in search of a better life, but even that act placed him in peril. "When I was training [to join the British Gurkha forces] it was dangerous," he says. "If I got caught running, the military would think that I was training for the Maoists, and the Maoists would think that I was training for the military. I could have been shot dead, but I had to take that risk because I always wanted to be a Gurkha."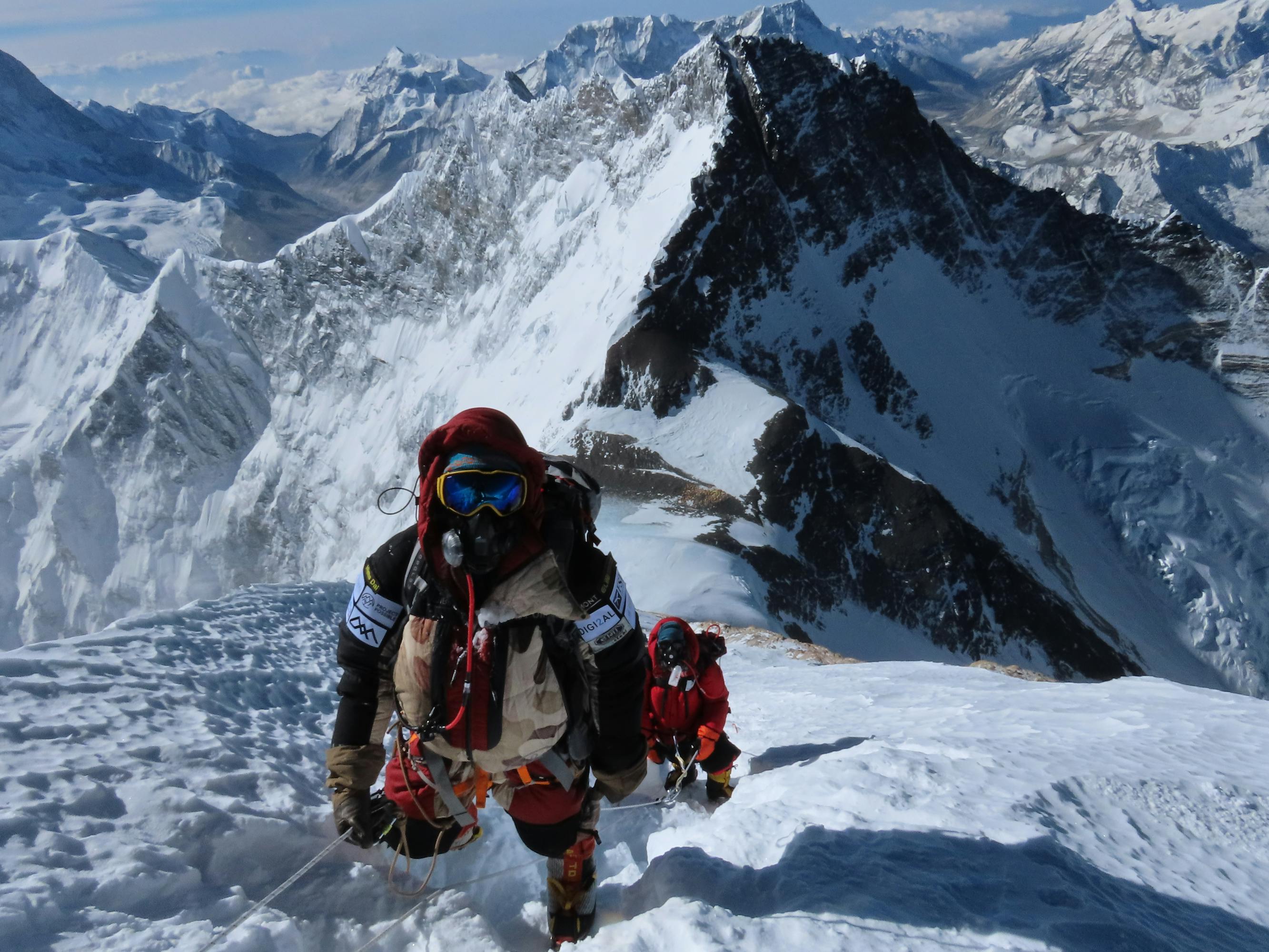 In 2008, he became the first Gurkha soldier to qualify for the elite Special Boat Service (the U.K. equivalent of Navy Seals) and began participating in special operations across the world. He climbed his first Himalayan peak at age 29 — when many professional alpinists are considering retirement — and was immediately hooked. After ticking off ascents of some smaller peaks, Purja lied on an application for a car loan and used the funds to finance a last-minute trip to Everest in 2016.
The following year, he returned to the highest point on the planet with a British Army team and almost set a record for the fastest time to summit Everest and neighboring Lhotse, the world's fourth highest mountain. He then nearly ran to the summit of Makalu, climbing the three peaks in 5 days total, a record he later broke during Project Possible when he summited all three in 48 hours and 30 minutes. When he reported back to the U.K. for duty, Purja, buoyed by the success of his previous expedition, sketched a schedule for climbing all 14 of the tallest mountains on the planet in a single push.
Dubbing his mission "Project Possible," Purja quit the S.B.S. and set out to raise money to finance the excursion, which he planned to complete with a team of talented climbers who would perform multiple roles, alternately filming, climbing, carrying loads, and appearing in front of the camera. Purja settled on a core team of Gesman Tamang, Lakpa Dendi Sherpa, Geljen Sherpa, and Mingma David Sherpa. (The latter three climbers are members of the ethnic group hailing from the valleys beneath Mount Everest, which gave name to the job title "climbing Sherpa.") Each of these men shared a similar background to Purja, hailing from poor farming families in Nepal's isolated middle hills. After approaching dozens of sponsors, Purja mortgaged his house as he set off for the Himalayas, assuming that as he proved to the world that his goal was possible, additional financing would fall into place.
Mingma David, Purja's main climbing partner and camera operator, describes the risks the team faced while working to get the right shots on the roof of the world: "You can't operate the cameras with gloves on, but taking your gloves off means risking frostbite. To get the exposure right, you have to take off your goggles, which could lead to snow blindness. But the hardest part is controlling your breathing so that you're not messing up the shot."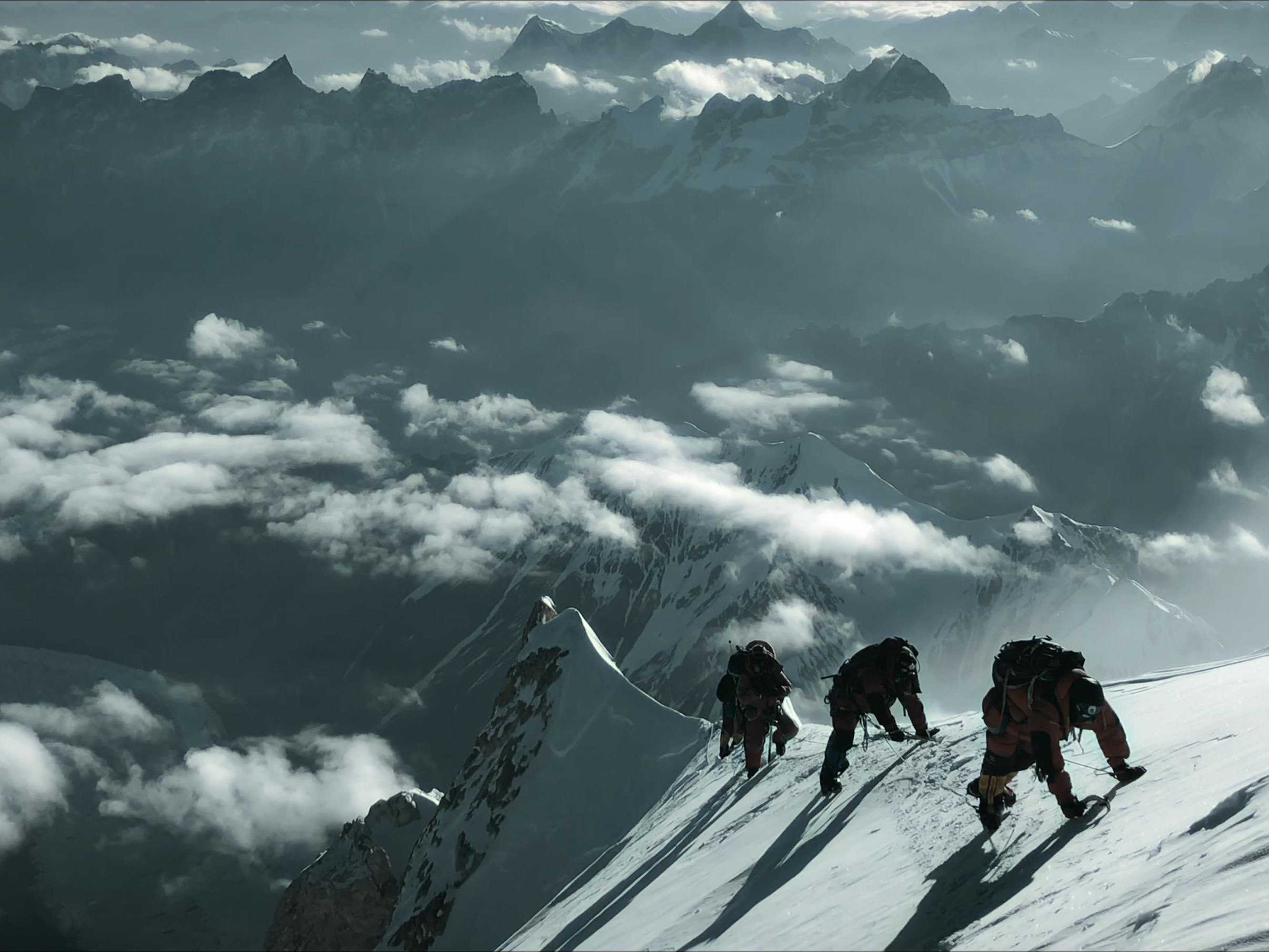 On October 29, 2019, Purja and his team reached the summit of Shishapangma (8,027 meters) — 189 days after the project began. Afterward, Purja returned to England, where he invited Jones to his home to discuss how to translate the hard drives of high-altitude verité footage he and the team had captured into a documentary. "He lives on the flattest, most suburban street in the world," says Jones. "You'd have no idea that the world's most famous mountaineer lives there."
It didn't take Jones long to understand that they had something special to work with. Purja showed him a series of sequences from a dramatic rescue on Annapurna, the first mountain of the project. "Immediately, the first thing that comes into your mind is, Okay, so you were still filming while you were trying to do these rescues? The last thing you think about [at extreme altitude] is how am I going to frame this shot, when you're in the midst of trying to save yourself and trying to save a teammate."
As he began to piece the film together, Jones wanted to stay true to the intimacy and authenticity of the footage that Purja and his team had captured during the climbs: "We wanted to include the team and so much Nepali language, as well as the scenes with [Purja] and his family interacting naturally," Jones says. "We didn't want to just have a narrator giving perspective on mountaineering and the history of mountaineering and the history of Nepal." Despite the massive volume of footage, there were a number of crucial moments in the story that weren't captured on film:
"I felt there were two choices: film reconstructions of the scenes in the mountains or use animation," Jones says. "My fear with filming reconstructions is it could potentially lead the viewer to doubt the authenticity of other sequences in the film. I wanted it to be very clear that the mountain footage in the film had been shot by Purja and his team during Project Possible."
14 Peaks premiered at the DOC NYC Film Festival in November of 2021, with Jones, members of the climbing team, and Purja then traveling to Kathmandu to screen the film at a special Nepal premiere, where they were joined by the other members of the climbing team. "The Kathmandu premiere was the one I was most nervous about," Jones says. But Purja was as brashly confident as ever: "The film was mind-boggling for the Nepali audience," the climber says. "It reached them from the inner core of their heart, you know, to see the film. Some people were in tears and all that. It was crazy."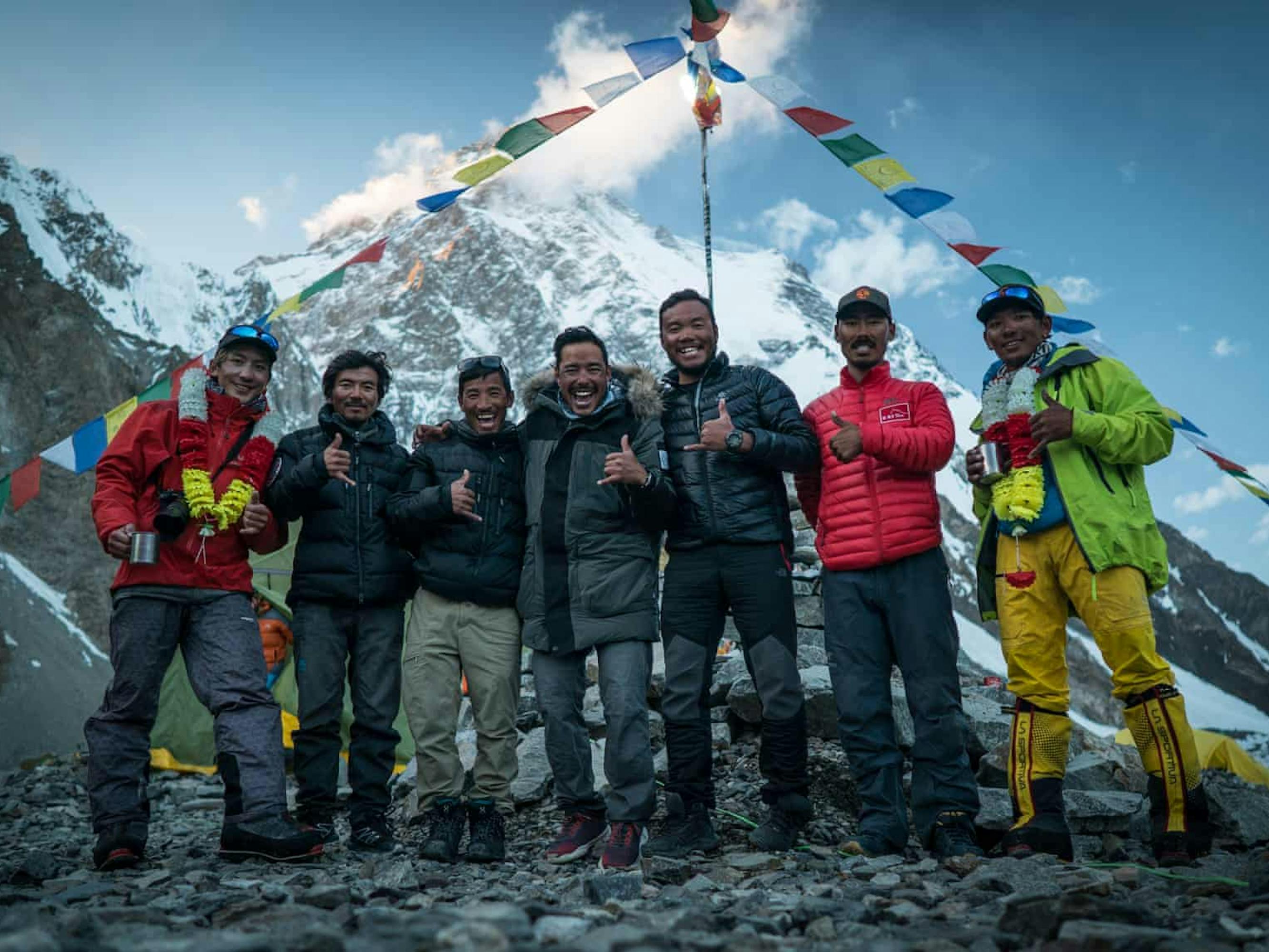 There's no question that Purja's passion project has impacted the climbing community. This past winter, Geljen, Lakpa Dendi, and Gesman formed an all-Nepali team determined to forge a new route up the sheer southeast face of Cho Oyu, the sixth tallest mountain in the world. But the hurricane force winds, brutal cold, and sheer difficulty of the climb weren't their biggest challenges. In true Purja style, they committed to the climb without having raised any money aside from a GoFundMe campaign that barely covered the cost of the yaks needed to get their gear to basecamp. Purja and Mingma David also provided logistical support, communications, money, and equipment.
Although they ultimately didn't make the summit, Geljen, Lakpa Dendi, and Gesman set records on their ascent and made personal gains: "I was inspired by Nims to realize that I shouldn't be following what others do," says Geljen Sherpa. "He motivated me to make my own name in history and showed me that you have to work extremely hard to get there." Adds Gesman Tamang: "If it wasn't for Nims, I probably wouldn't be talking with you now. He taught us the importance of speaking up; he gave us a voice."
Which brings us back to that first electric moment with Mingma David, high on the shoulder of Dhaulagiri. After climbing through the bristling electrical storm, he reached their second camp — a few lonely tents, buffeted by the worsening weather. "Once I started climbing again, I had a singular focus," he says. After resting for a bit, the team set off in the deep of night, pushing through a raging storm, leaning into a steady 45 mph wind for more than 20 hours to reach the summit and return. Miraculously, along the way, Mingma David kept the camera rolling.
Looking back on the experience, Mingma David says, "I'm so proud of what we accomplished. The film has inspired people from all backgrounds in Nepal to go into the mountains and experience nature. It's opened their minds. I learned that I could do so much more than I thought possible." After a pause, with a wide smile radiating across his face, he continues, "I'm also proud that we showed everyone that Nepali mountaineers and filmmakers can reach the same platform as anyone in the world."
The Sherpas Behind it All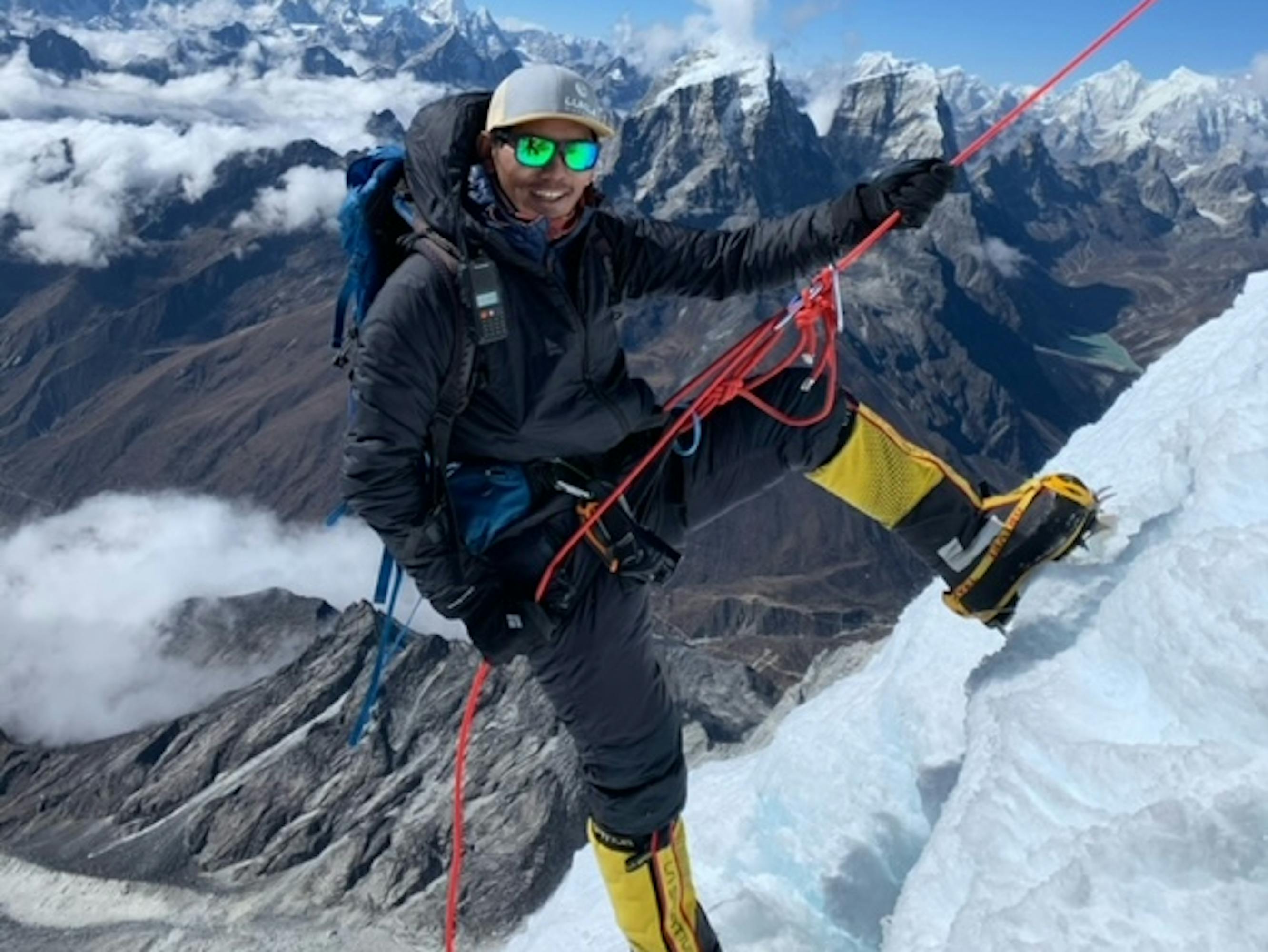 GESMAN TAMANG
Gesman fled forced recruitment into the Maoist army and started working as a porter. He's now summited Mount Everest 4 times, in addition to 6 other 8,000 meter peaks, and is certified in longline helicopter rescue. Gesman has recently started his own equipment company Ukalo with his American girlfriend.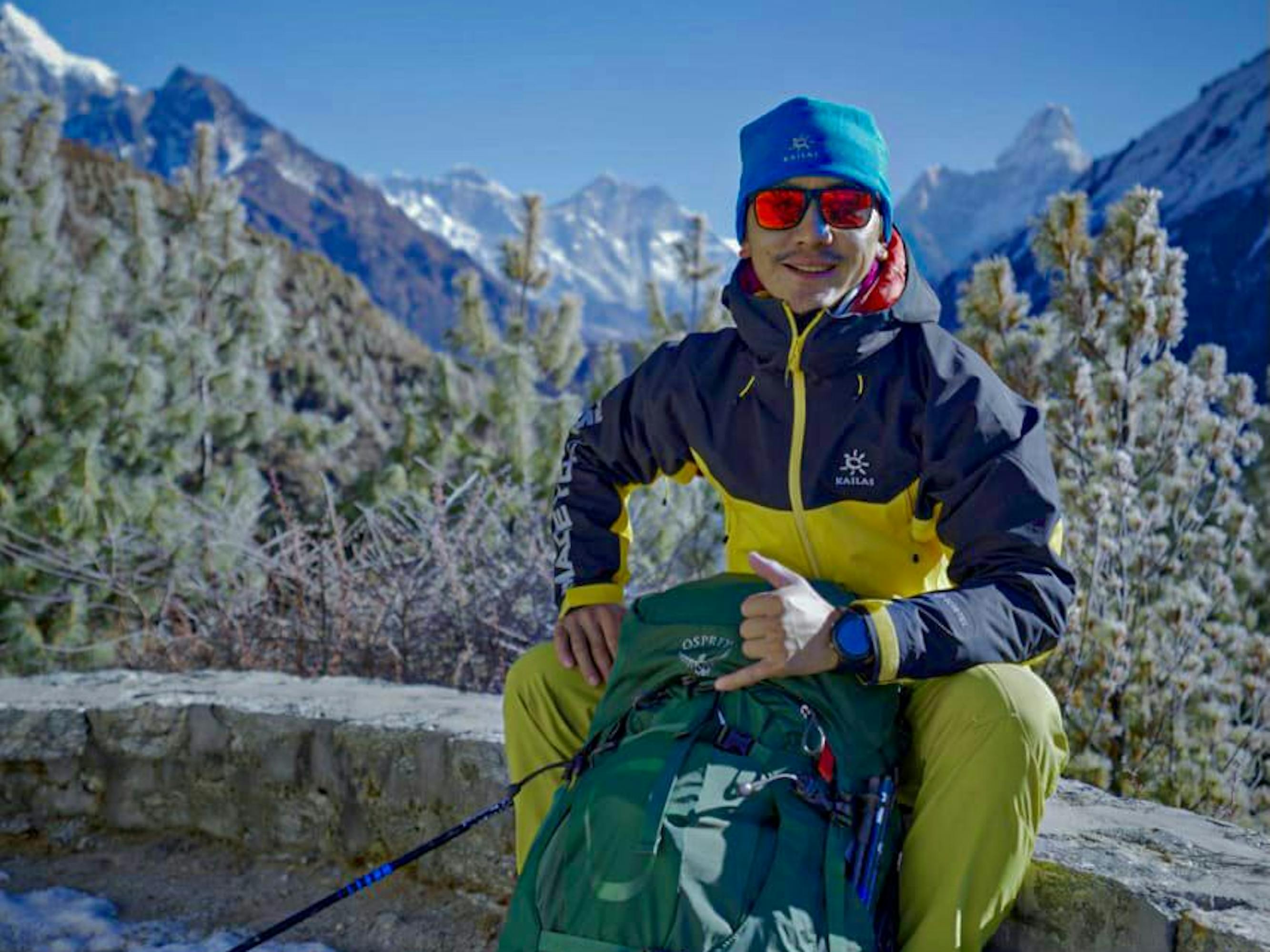 LAKPA DENDI SHERPA
After being kidnapped by Maoist fighters at 13, he escaped and worked carrying crates of eggs to Everest Base Camp. He went on to summit Everest 7 times, K2 twice, and aims to complete all 14 peaks within 3 years. His favorite shot in the film is of Nims reaching the summit of K2. Lakpa Dendi led hikes for the last 50 meters, then turned and filmed Purja as he joined him on the summit.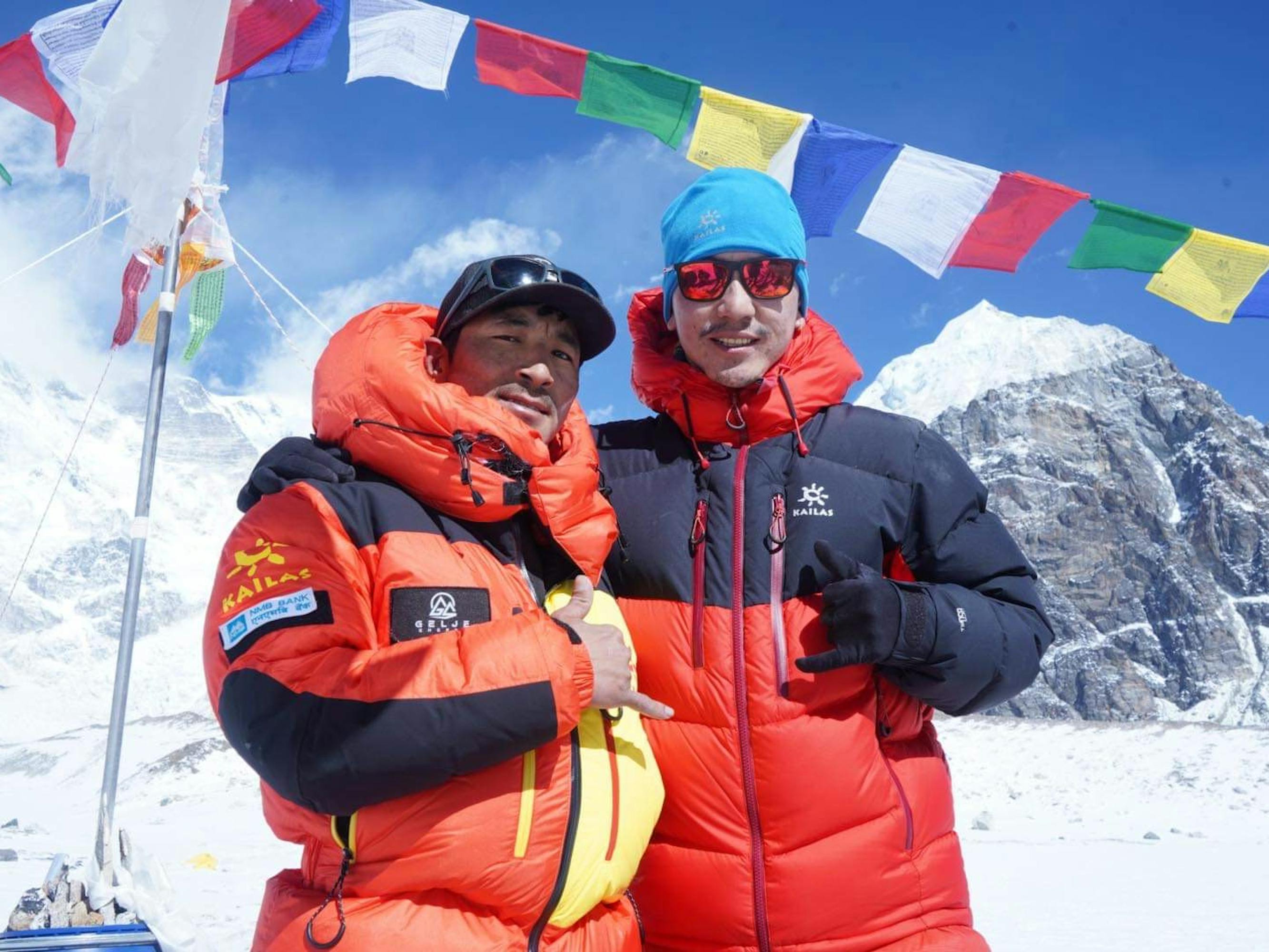 GELJEN SHERPA
Only 2 summits remain before Geljen takes the record for the youngest climber to complete all 14 peaks from his friend and partner, Mingma David. When he was 14, he claimed his first summit: his father ordered him to spend the night in a snow cave, and because he was afraid of ghosts, Geljen ran after his father to the top of Mera Peak with no equipment.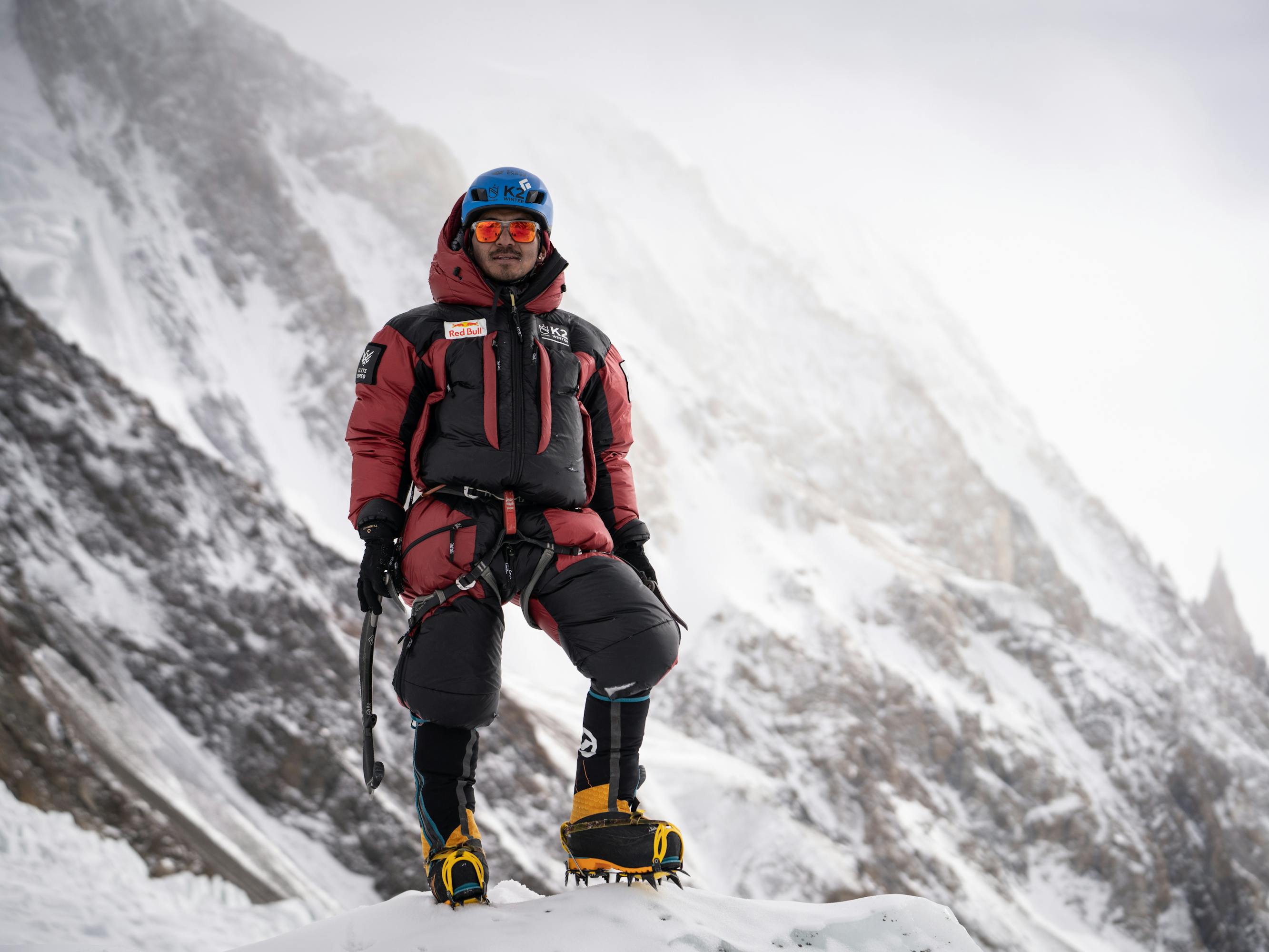 MINGMA DAVID SHERPA
Mingma David is the youngest person to summit all 14 peaks. He has 26 ascents over 8,000 meters and more than 100 high-altitude rescues. Mingma David has partnered with Nims to run the Elite Exped climbing outfitter. This spring, Mingma David plans to summit Everest for his eighth time as part of a clean-up campaign with Purja.