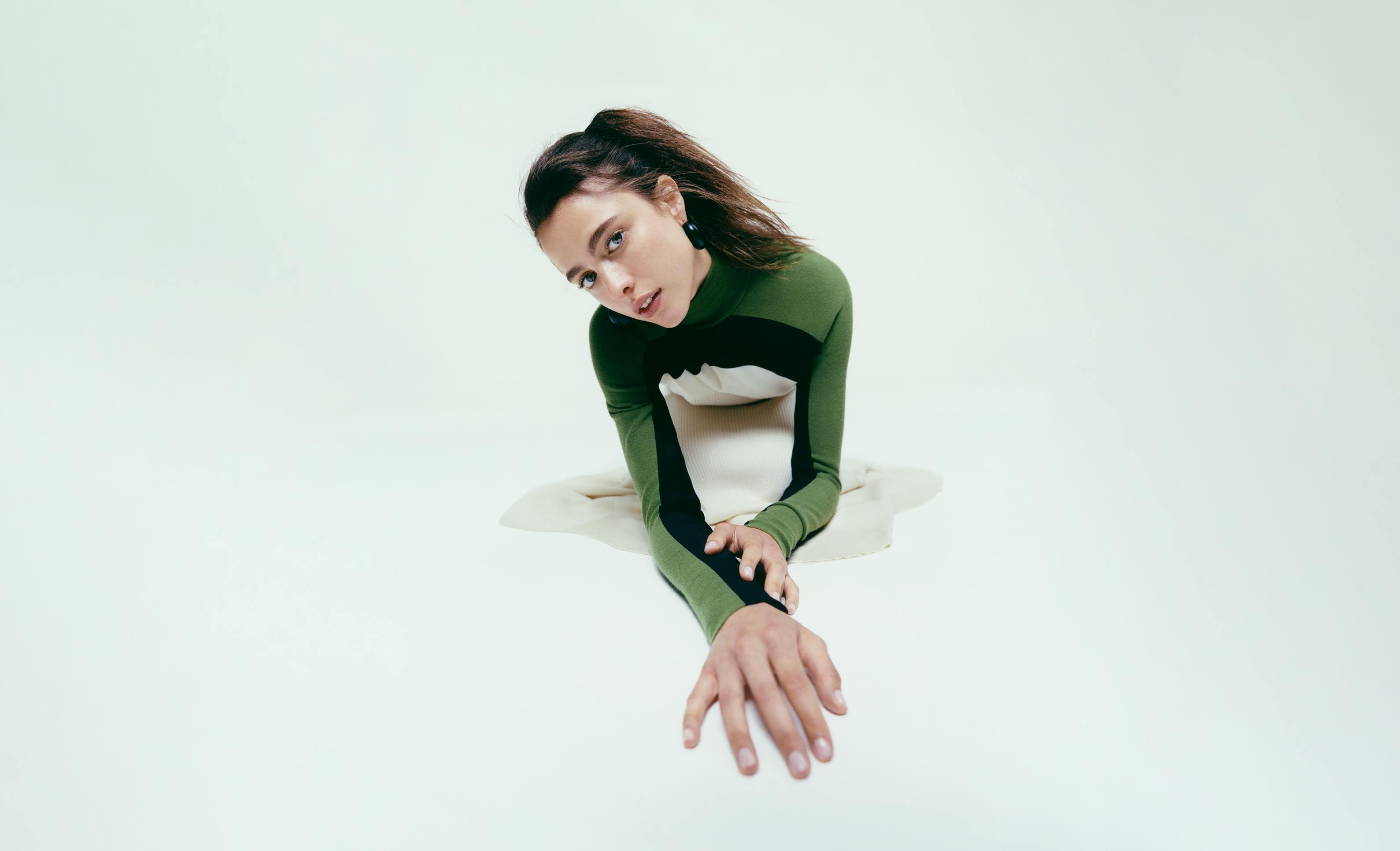 Margaret Qualley, star of the celebrated limited series MAID, talks about playing a young mother alongside her real mother, Andie MacDowell.
Before she accepted the starring role in acclaimed limited series MAID, Margaret Qualley had heard the Hollywood adage about never working opposite animals or children. Yet as she spent months on Vancouver Island, Canada filming the powerful drama about a young mother struggling to build a life for herself and her daughter, the actor found her four-year-old co-star Rylea Nevaeh Whittet to be a true source of comfort. "When you're away from home working long hours, sometimes you're lonely and insecure about your performance or just about being a human," Qualley says. "Having a little kid to hold was great."
In MAID, Whittet's character Maddy serves as an anchor for Qualley's protagonist Alex Russell, who flees abusive, alcoholic boyfriend Sean (Nick Robinson) and finds herself homeless with just $18 to her name. After landing a part-time job with a cleaning service, Alex faces numerous bureaucratic hurdles trying to obtain public assistance. Despite her determination, the daily challenges become overwhelming.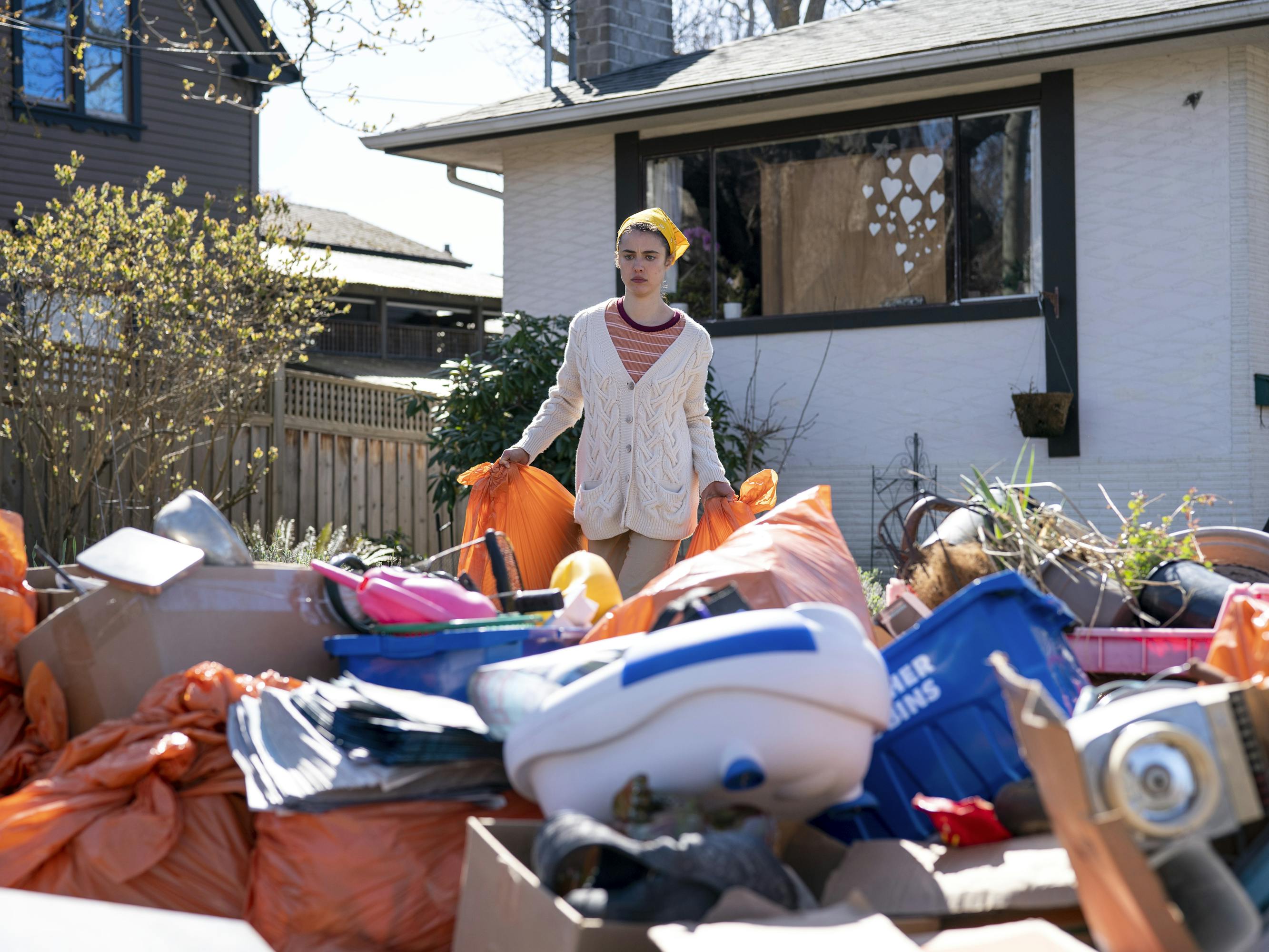 Inspired by Stephanie Land's book, MAID: Hard Work, Low Pay, and a Mother's Will to Survive, MAID has earned critical raves since its October 2021 release: praise for both its insightful examination of life below the poverty line and its skilled cast. At the heart of the series, created by Molly Smith Metzler (Shameless), is Qualley's multifaceted, naturalistic portrayal of Alex — relatable and admirable, but also imperfect and adrift. 
Of course, Qualley's been doing plaudit-worthy work for years now. Following her outstanding performance as surly, traumatized adolescent Jill Garvey in The Leftovers, the young actor found back-to-back success in 2019. She had a memorable turn as a member of the Manson family in Quentin Tarantino's Once Upon a Time . . . in Hollywood and earned her first Emmy nomination for her role as dancer Ann Reinking in the miniseries Fosse/Verdon. Reinking had been a childhood hero for Qualley, who came to acting through dance — though, as the daughter of model Paul Qualley and actor Andie MacDowell (who also portrays Alex's exuberant mother Paula in MAID), there's no doubt performance is in her blood. 
MAID marks Qualley and MacDowell's first experience working alongside each other. "I learn so much from everybody I work with," says Qualley, "but to be able to learn from my mom at the thing that I love doing the most is pretty extraordinary."
An edited version of the conversation follows.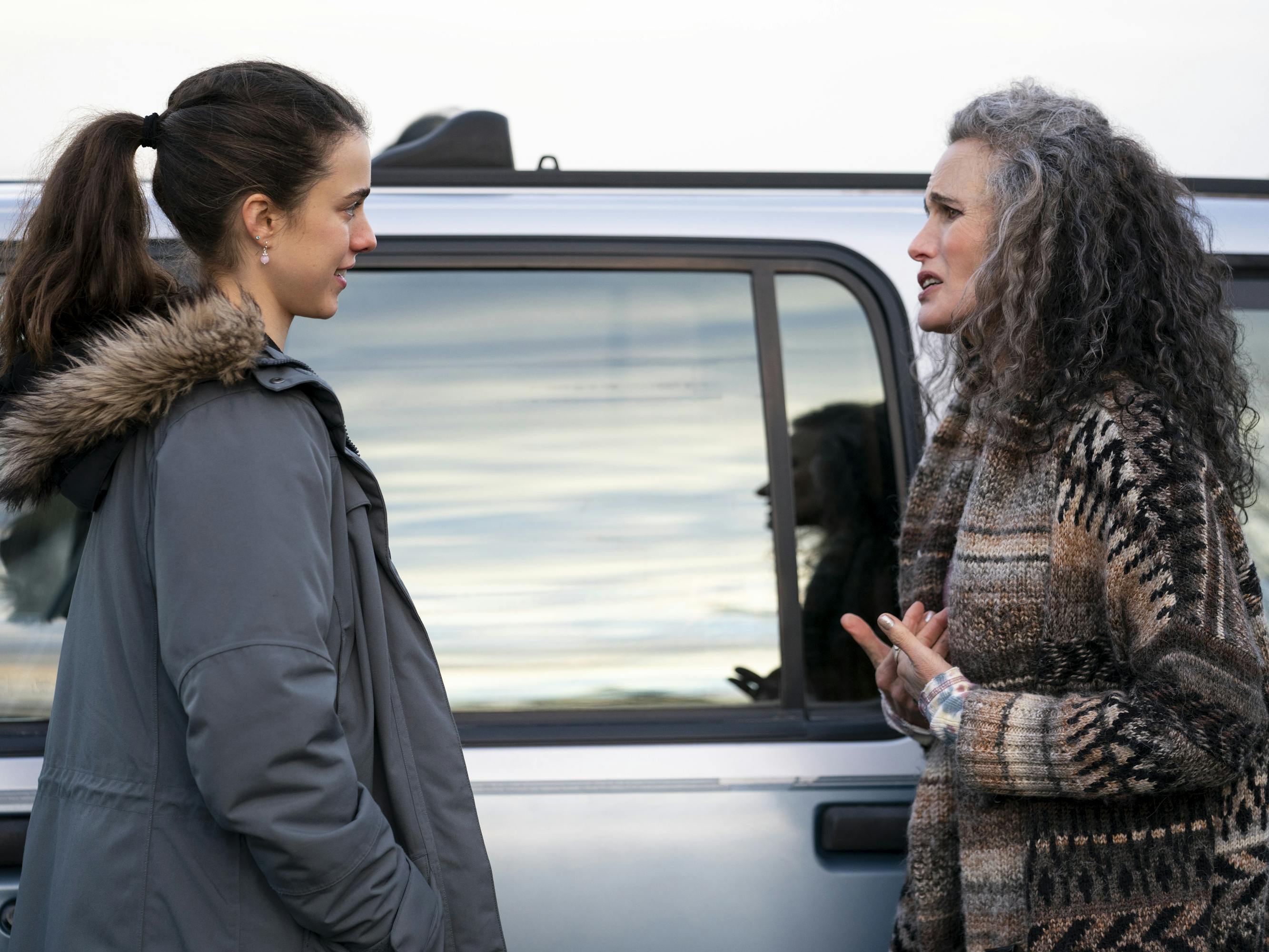 Krista Smith: What was your relationship to Stephanie Land's book? 
Margaret Qualley: Before I auditioned, I burned through the book. It's one of those that once you sit down, it's hard to close. Stephanie's account is at once incredibly upsetting and inspiring. I was like, This would be a huge opportunity for me to really sink my teeth into something and give my heart to something. I was so happy to be able to do it. 
What kind of prep do you do as an actor before taking on a role like this? 
MQ: It's like flight traffic control, What about me playing this could go wrong? Being a convincing mother seemed [like the biggest] obstacle. Usually, when you're signing up to work with another actor, you both come to an agreement on what your relationship will be onscreen. Working with a four-year-old, I can't be like, So, I'm your mom. Just rest your head here, be super chill, and relax. I had to make her feel safe so that she really could fall asleep in my arms, so that she could really cry with me, laugh with me. From the beginning, I did feel like I had permission with Rylea. She put her arms around me, and I felt like, Okay, she's down for this. I hung out with her all the time because it's a scary thing for a four year old to be on a set. It's a lot of pressure for a little kid.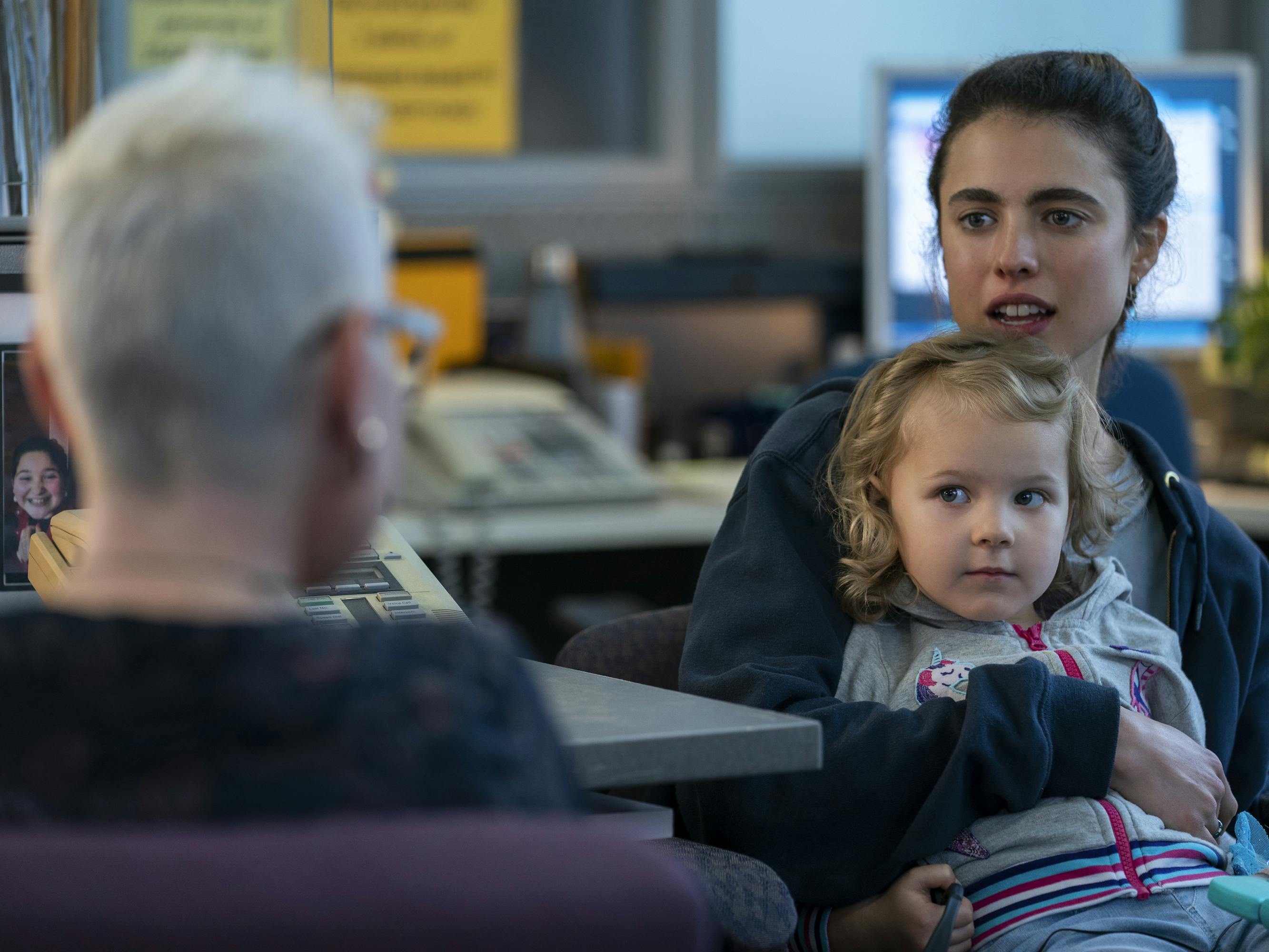 MAID shows the reality of how hard it is to live below the poverty line and to need assistance, but it's also amazing to see that warmth and that feeling of security Alex has at the domestic violence shelter. It's an extraordinary journey.
MQ: There's no time for Alex to do anything. She's got to be the best mom she can be and she's got to somehow pay for her kid's life and her life, and then try to navigate the system both as a person dealing with poverty and also domestic violence. It's so incredibly complicated. The crazy thing is that despite the fact that Stephanie Land went through all of this and had  so many obstacles put in her way, she's still incredibly lucky because a lot of people don't survive it.
Had Stephanie been a person of color, the chances of her ending up in the place where she is today [would have been] incredibly slim because so many of the systems that MAID explores are especially rigged against people of color. It's so upsetting that so many people are having to deal with this every single day of their lives. 
We have to talk about your mom, of course.
MQ: I've always wanted to work with her. I was up in Canada, quarantining already, and they were still [casting Paula]. It hit me — My mom should play my mom. It's time. This is such rich material. So I called [MAID producer] Margot Robbie and pitched her the idea. It was such a special experience for me to be able to work with her and to put so much of my heart into something — same with my mom. She was really excited about the part, too. To be able to tell this story and to do it together was a once-in-a-lifetime experience, for sure.
What did you learn about each other during this process? 
MQ: It was my first time seeing my mom on set where I was working. The greatest gift is just walking [onto a set] and saying "Mom" and having it be your mom. In the same way that I was talking about getting permission from Rylea, there's no one I'm more comfortable touching as a mother than my own mother. She was the greatest acting partner I could ever ask for. She goes a hundred percent every time. I learned so much from watching her. 
And she is terrific in it. So, you grew up in North Carolina, which is where you discovered dance. What was it that planted the seed of dance, specifically ballet, for you at such a young age?
MQ: I was one of those two year olds in some form of dance class. My sister [Rainey] was a dancer, and I wanted to be just like my sister because she's the coolest person ever. She still is. I would always go straight from school to dance. I was lucky enough to spend five, six hours a day there every day. It was my whole life. Honestly, the reason why I did ballet is just because I grew up in North Carolina, and I was doing competition-style dancing. Ballet was more prestigious, and it seemed like a career path — it seemed like the epitome of perfection. I was one of those teenage girls plagued with the idea that
I should probably be perfect. Weirdly, acting is actually a lot less pressure because the more imperfect that you can be, the more messy in yourself and the more okay you can be with that, the better off you are. It's what makes people lovable and human and relatable. I'm certainly not there. I've got to keep working to be okay with it all. But I think that acting is such a great medium for me to try to figure that out.
How do you look at your craft now? What are you seeking out for yourself as an artist at this point?
MQ: I just want to keep putting my heart into things. I want to keep pushing myself. I want to keep occupying spaces I've never occupied before and exploring and becoming a bigger version of myself. Something that I learned through the experience of doing MAID and playing Alex was that we're made to feel like standing up for yourself is bad. Specifically as women, we're often made to feel that way. I'm trying to be my biggest self, love the most, take up all the space, and not apologize for any of it — and do that in my work.