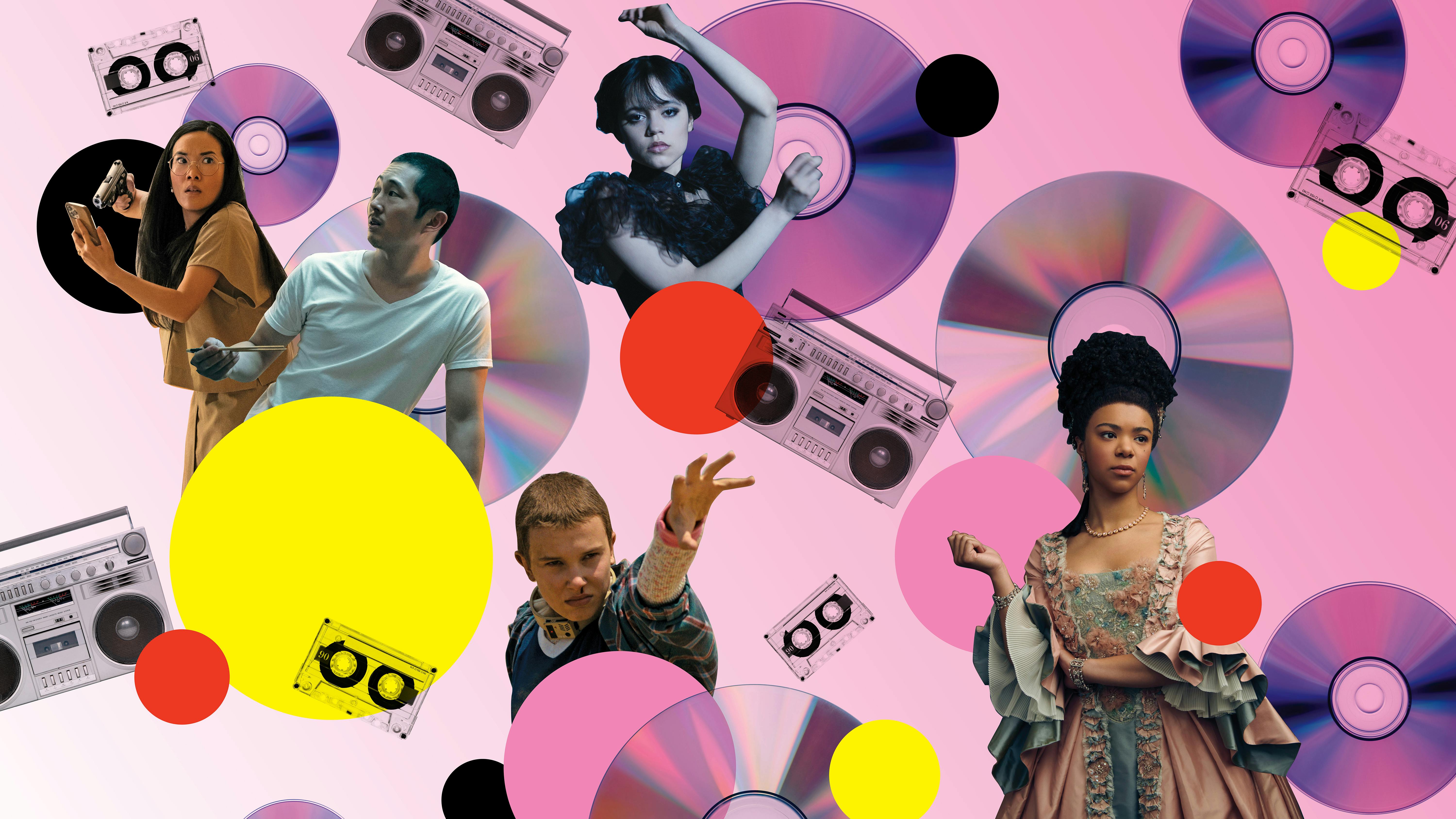 Sound On
WHAT'S IN OUR FAVORITE MUSIC SUPERVISORS' QUEUES
The music supervisors of Stranger Things 4, Wednesday, BEEF, and Queen Charlotte: A Bridgerton Story share the inspirations for their zeitgeisty soundtracks.
If there were any doubts about the pivotal role that the right song can play in a television series, Stranger Things 4 put them to rest permanently. Shortly after creators Matt and Ross Duffer released the ambitious chapter of their record-breaking series, Kate Bush's anthemic 1985 track "Running Up That Hill (A Deal with God)" was suddenly everywhere, dominating music libraries and Gen Z's TikTok videos. The song — which, when played on Max's (Sadie Sink) Sony Walkman, acts as the only antidote against psychic villain Vecna (Jamie Campbell Bower) — landed in the top 10 in 34 countries around the world, eventually becoming the 12th most consumed song of the year. "I've always thought of 'Running Up That Hill' as an inspiring, relationship-probing, and soulfully-centered song," says music supervisor Nora Felder of the selection. "It seemed perfect to represent Max's singular emotional touchstone and source of strength as she simultaneously battles both personal and mythical life-denying forces." 
Felder, who has won one Emmy and been nominated for three others for her work on Stranger Things, has made an art form out of choosing the right song for the right moment — as have her contemporaries: Emmy winner Jen Malone and Nicole Weisberg, who partnered on Wednesday; Tiffany Anders, who lent her expertise to BEEF; and longtime Shondaland music supervisor Alexandra Patsavas, who used modern-day tracks to augment the Georgian-era Bridgerton prequel, Queen Charlotte: A Bridgerton Story. 
Queue caught up with each of these remarkable women to hear the sonic stories behind their latest projects — a disparate group of series that span decades, universes, and countries, yet nevertheless illustrate the power of a well-placed song.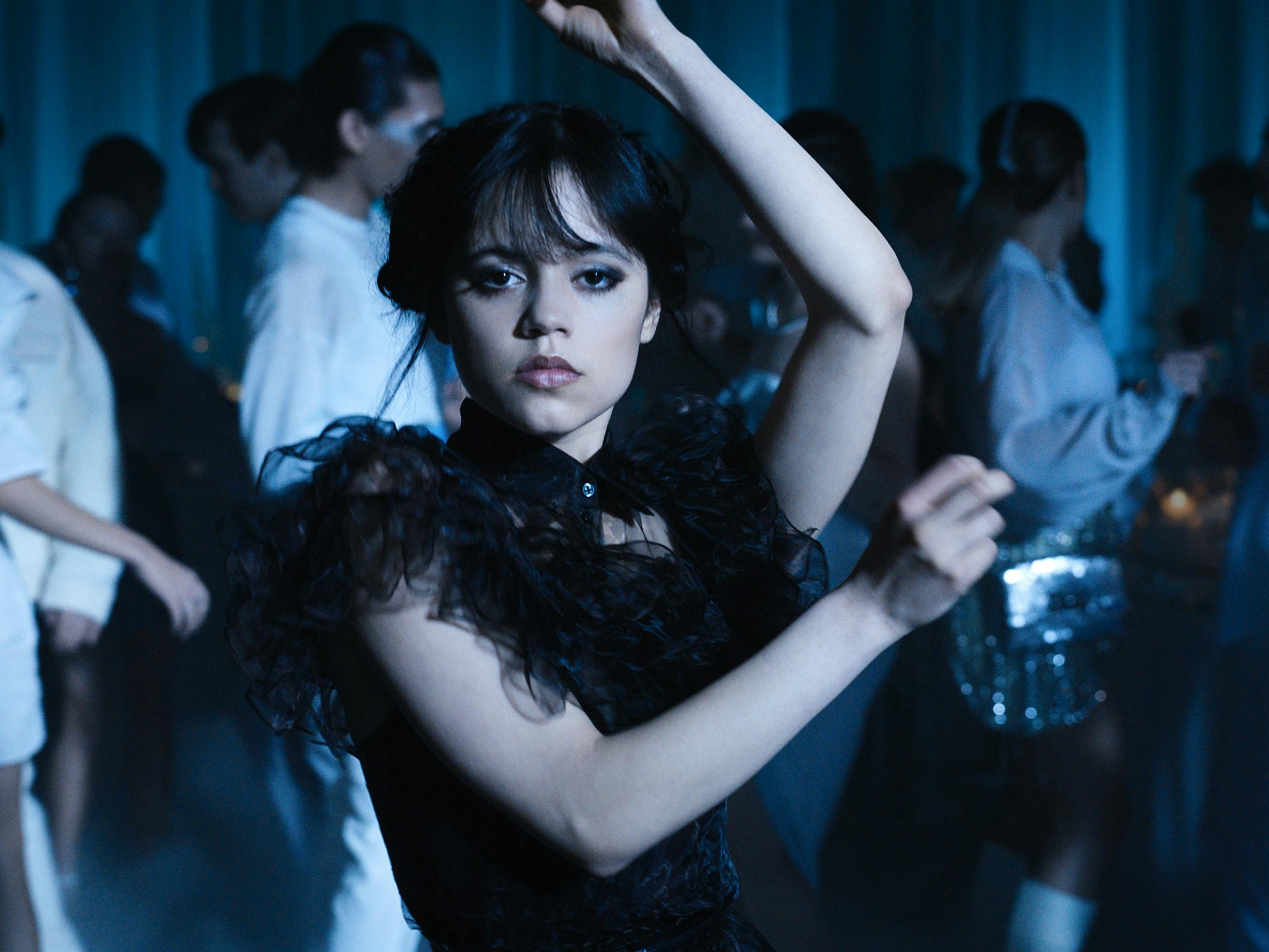 Like Stranger Things 4, Wednesday turned to an 80s bop to represent its protagonist. At the Rave'N school dance, the teenage Addams daughter gets down to The Cramps's "Goo Goo Muck" with moves that have since inspired such a viral social media craze that even Lady Gaga has paid tribute to the dance. "The Cramps felt right from the get-go," offer Malone and Weisberg. "The band's psychobilly tendencies lent themselves so well to the dance, with nods to the 80s goth scene." As they created the aural world of Wednesday, helmed by Alfred Gough and Miles Millar and executive produced by Tim Burton, Malone and Weisberg worked with Danny Elfman and Chris Bacon, who wrote an original score for the series. "It was amazing to watch their contributions elevate each moment so perfectly and reimagine the beloved world and sound of the Addams family," the music supervisors note. With the score, Elfman, who has worked with Burton on 19 different projects, sought to capture the tone of Charles Addams's original cartoons, while also using a harpsichord reminiscent of the Addams Family TV show. Ultimately, Malone and Weisberg wanted the series' musical landscape to feel as though it was emanating from the lens of Wednesday herself: "She's an old soul. She wouldn't really be listening to current music and would gravitate toward songs that are off the beaten path. Also, given the character's proficiency at the cello, we included famous classical works by Elgar and Vivaldi that she performs throughout the season."
Standout Musical Moment:
"We love 'Non, je ne regrette rien' by Édith Piaf as the introduction to the character, when Wednesday's dropping the piranhas in the pool. She's embodying her sinister self while the music plays triumphantly — it creates a playful juxtaposition. The 'Paint It, Black' cover was so fun to bring to life in the style of Wednesday, and Jenna nailed performing on camera for someone who had never played cello before. Of course, we loved her choreography to 'Goo Goo Muck' and how that moment has taken off!"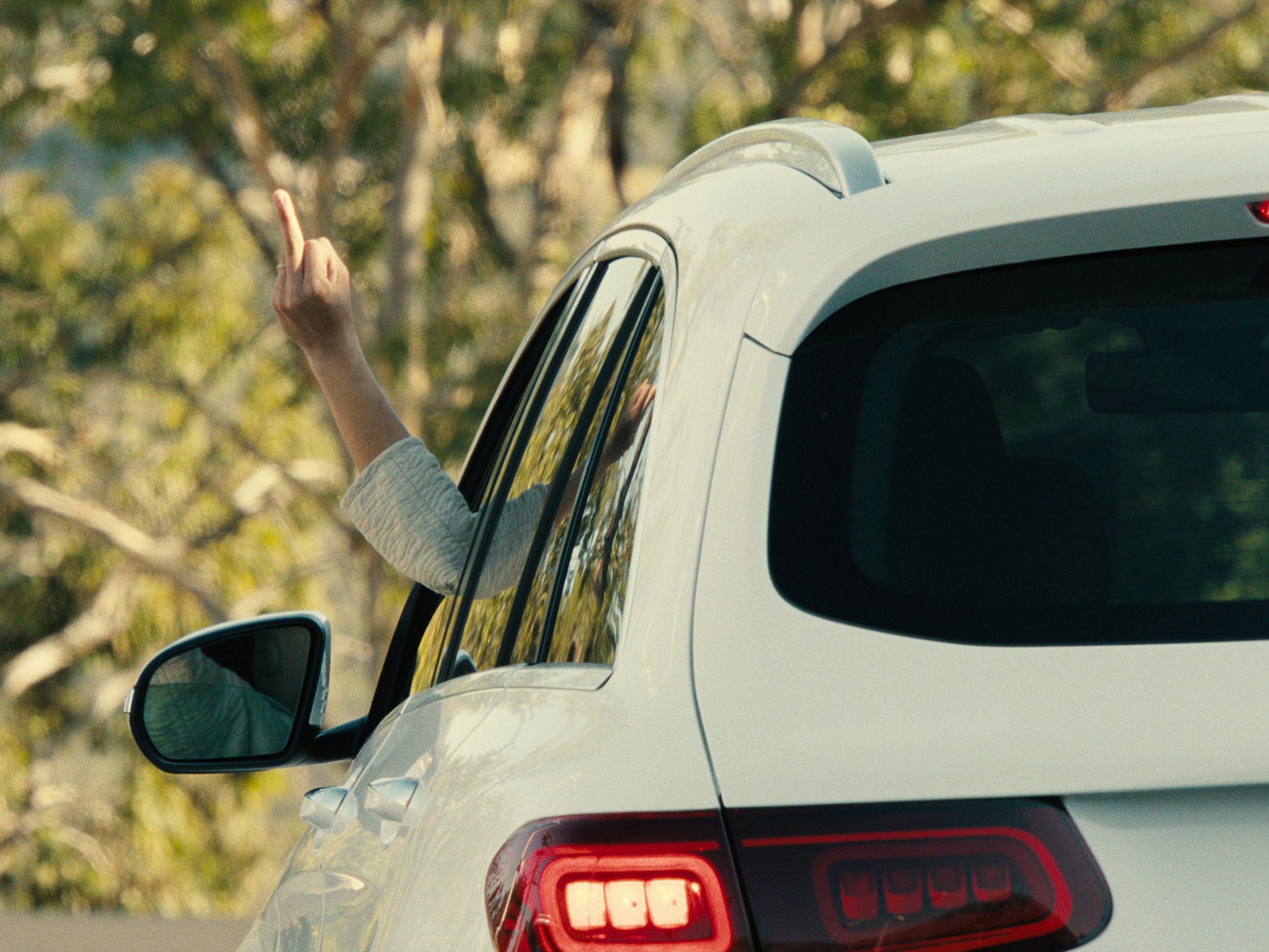 It was a different decade that inspired Anders's approach to the soundtrack for BEEF, the 10-episode series from creator Lee Sung Jin (Dave). BEEF follows the psychological unraveling of two strangers, Danny Cho (Steven Yeun) and Amy Lau (Ali Wong), after their diametric lives intersect because of a road rage incident sparked in a hardware store parking lot. "The original idea behind the soundtrack was to use 90s music, even though it's set [in] present day," says Anders. "The 90s had a lot of rage in the music, but it was a different kind of rage than metal or punk in the 80s; it had more emotional context to it. It was self-aware to the point of being self-indulgent, so it fit this story and these characters." 
Although a range of emotions is captured in the soundtrack and series — which also stars Emily in Paris's Ashley Park, Maria Bello, Young Mazino, and Joseph Lee — rage remains at BEEF's core. "Rage ultimately comes from a place of how you're feeling about yourself, so the sound can take on many different forms, not just angry, loud, and fast, but maybe even somber and slow," Anders says. "I think the song selections walk a very fine line of reflecting what is happening, while not ever being on the nose or leading a viewer in any way."
Standout Musical Moment:
"I love the use of 'Self Esteem' by The Offspring at the end of Episode 4."
QUEEN CHARLOTTE: A BRIDGERTON STORY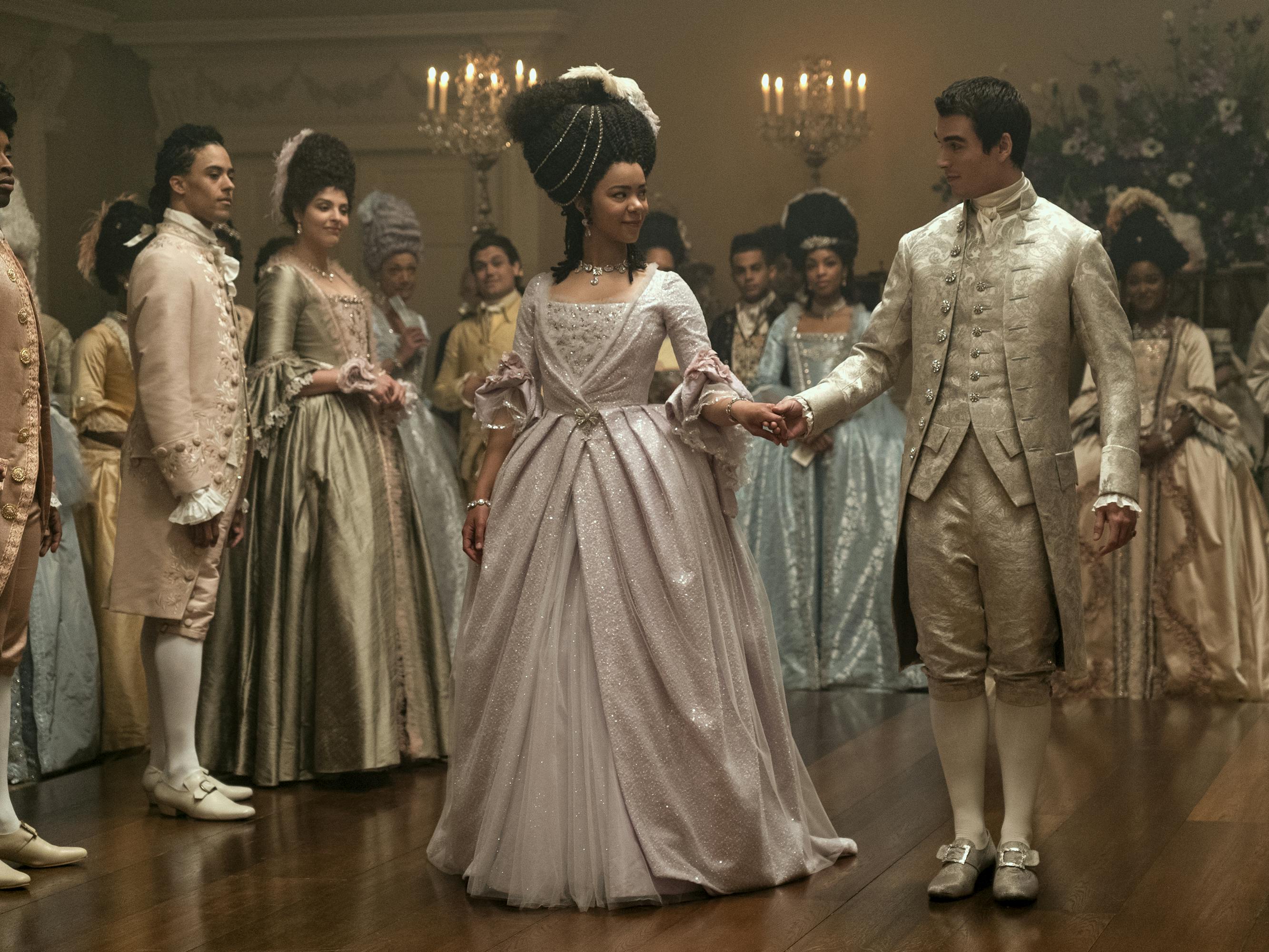 The emotions embodied in the orchestral soundtrack of Queen Charlotte may appear more restrained on the surface, but the Bridgerton prequel is far from tame. Written and created by television maestro Shonda Rhimes, Queen Charlotte takes us back to the early days of the beloved eponymous character (India Amarteifio) and her husband King George III's (Corey Mylchreest) reign. Patsavas came equipped with an intimate understanding of the Bridgerton sonic universe, having worked on the first season, and a singular relationship to the musical worlds of Shondaland. "It has been 19 years since I started work on the Grey's Anatomy pilot," says Patsavas, who has worked on every Shondaland project since. For the new prequel miniseries, Patsavas selected songs by Beyoncé, Alicia Keys, and SZA, among others, to help tell the incredible story of the younger incarnation of the character. "I am beyond thrilled that we were able to license iconic songs created and performed by women of color — covered by small instrumental ensembles and quartets — to be seamless in a Georgian environment but recognizable and beloved by a modern audience," she describes. Of composer Kris Bowers, who translates Patsavas's music selections into refreshing string arrangements, she says, "Bowers's beautiful score underscores the complicated and beautiful relationship between King George and Queen Charlotte, as only Shonda Rhimes can tell it." While the catchy, contemporary string covers are hard to miss, Patsavas also incorporated "Georgian icons" Handel, Mozart, and Haydn and leaned on the music of Joseph Bologne, Chevalier de Saint-Georges, a French Creole violinist and composer.
Standout Musical Moment:
"Kris Bowers and Tayla Parx wrote an exquisite original song for Charlotte and George's wedding. I also love Vitamin String Quartet's emotional version of 'I Will Always Love You' at the conclusion of [the series]. It captures the heart and soul of these love stories."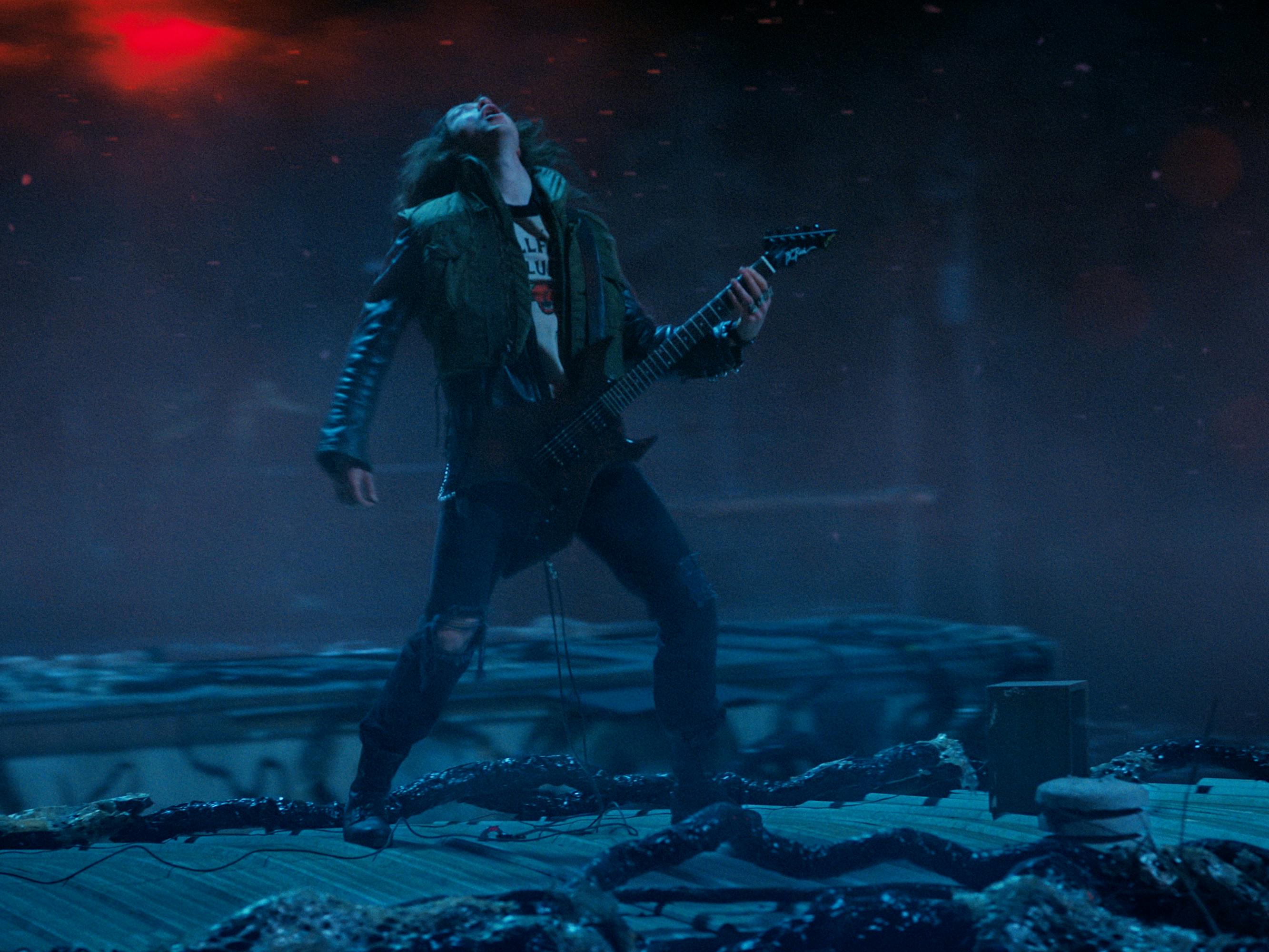 "Running Up That Hill" is not the only 80s track enjoying a resurgence since Stranger Things 4's release. Metallica's "Master of Puppets," which Eddie Munson (Joseph Quinn) cranks on his guitar to distract Vecna and save his friends, also resurfaced as a result of the show. "It was one of those 'It has to be this song!' moments. No other song was discussed further," says Felder. "The high octane driving sonic elements can be understood as not only metaphorically amplifying the episode's most epic scene, but also powerfully accenting Eddie's character evolution that led up to this point of the season."
The misunderstood character's triumphant moment marks the birth of a new generation of fandom: After the finale's release, "Master of Puppets" topped streaming platforms and appeared on Billboard's Hot 100 for the first time since the song came out in 1986. Felder is in awe of how the song has won over a new generation: "Metallica is gaining many new fans. Some people say 'metal is back.' Metal has never left!"
"Like the townspeople misunderstanding Eddie as a satanic demon, people misunderstood metal's aggressive nature as dark, anger-evoking music," Felder describes. "I'm so pleased that the song's use in this scene demonstrates a supportive message for those that struggle with various demons in their lives." 
Standout Musical Moment:
"I can't just choose one! I'd say 'Running Up That Hill,' 'Master of Puppets,' and [the Moby track] 'When It's Cold I'd Like to Die.' They each deal with beloved characters who are fighting with every ounce of emotional strength. 'When It's Cold I'd Like to Die' plays as the viewer goes back and forth between two scenarios involving one friend desperately trying to save the other."