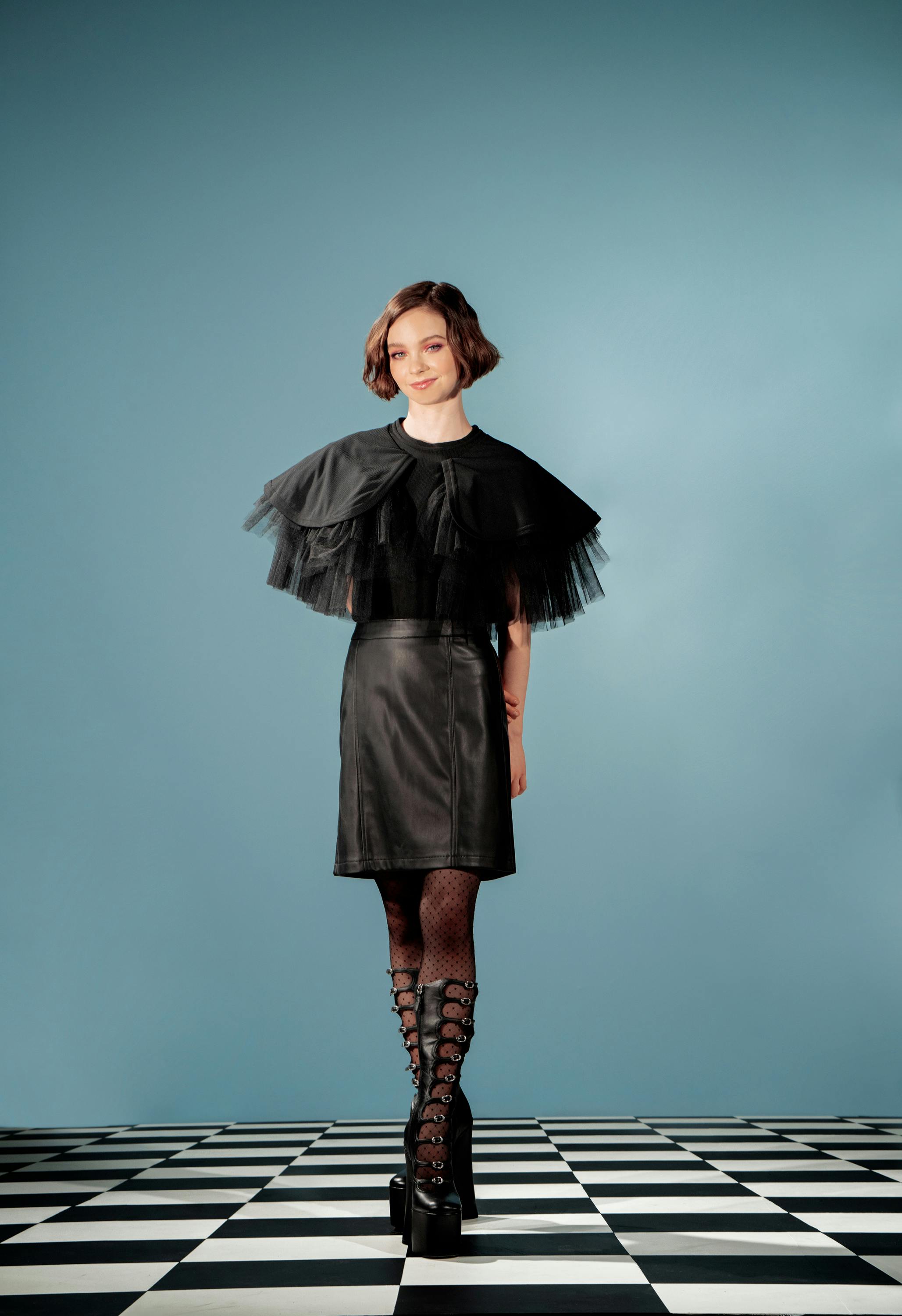 Emma Myers Keeps up with the Pack
As Enid Sinclair, Wednesday's technicolor roommate, the young actor sparkles.
A monstrous killing spree, dark psychic visions, and meddling parents should be Wednesday's biggest concerns in the hit series Wednesday, yet her roommate Enid Sinclair's obsession with rainbows and hugs is far more disturbing to the eponymous character. From werewolf Enid's bubbly welcome —"Howdy, roomie!" — upon Wednesday's arrival to Nevermore Academy, the girls' differences are stark, both on the surface and in how they approach the many ups and downs that take place over the eight-episode series created by Alfred Gough and Miles Millar and directed and produced by Tim Burton.
Peppy Enid, played by Emma Myers, quickly proves herself to be the perfect foil to Wednesday's (Jenna Ortega) pigtailed macabre. "They form a really impactful and beautiful bond where they don't have to say much, but the respect that they have for one another is known," Ortega says. The opposites-turned-best friends at the heart of the series learn from each other's differences, with Wednesday prompting Enid to stand up to her parents as they pressure her to "wolf out" (the puberty-like coming-of-age transformation that werewolves experience) and Enid encouraging Wednesday to not see the world in black-and-white. 
For Myers the show's celebration of differences was what resonated most: "[The friends' dynamic] humanizes Wednesday, giving a deeper look into her personality and what is in her head," says Myers. "As someone who always felt like I never really fit in anywhere, it's really good to see that onscreen. I hope that a lot of people will relate to that as well." The 21-year-old actor got her start on the crime drama The Glades, which ran from 2010 to 2013, and has made appearances in many films including an upcoming project, Family Leave, in which she stars opposite Jennifer Garner. Even in Wednesday's cast of such standout faces as Fred Armisen, Christina Ricci, Luis Guzmán, and Catherine Zeta-Jones, Myer's Enid keeps up with the pack.