Jenna Ortega discusses her affinity for horror, working with Tim Burton, and navigating unfamiliar territory.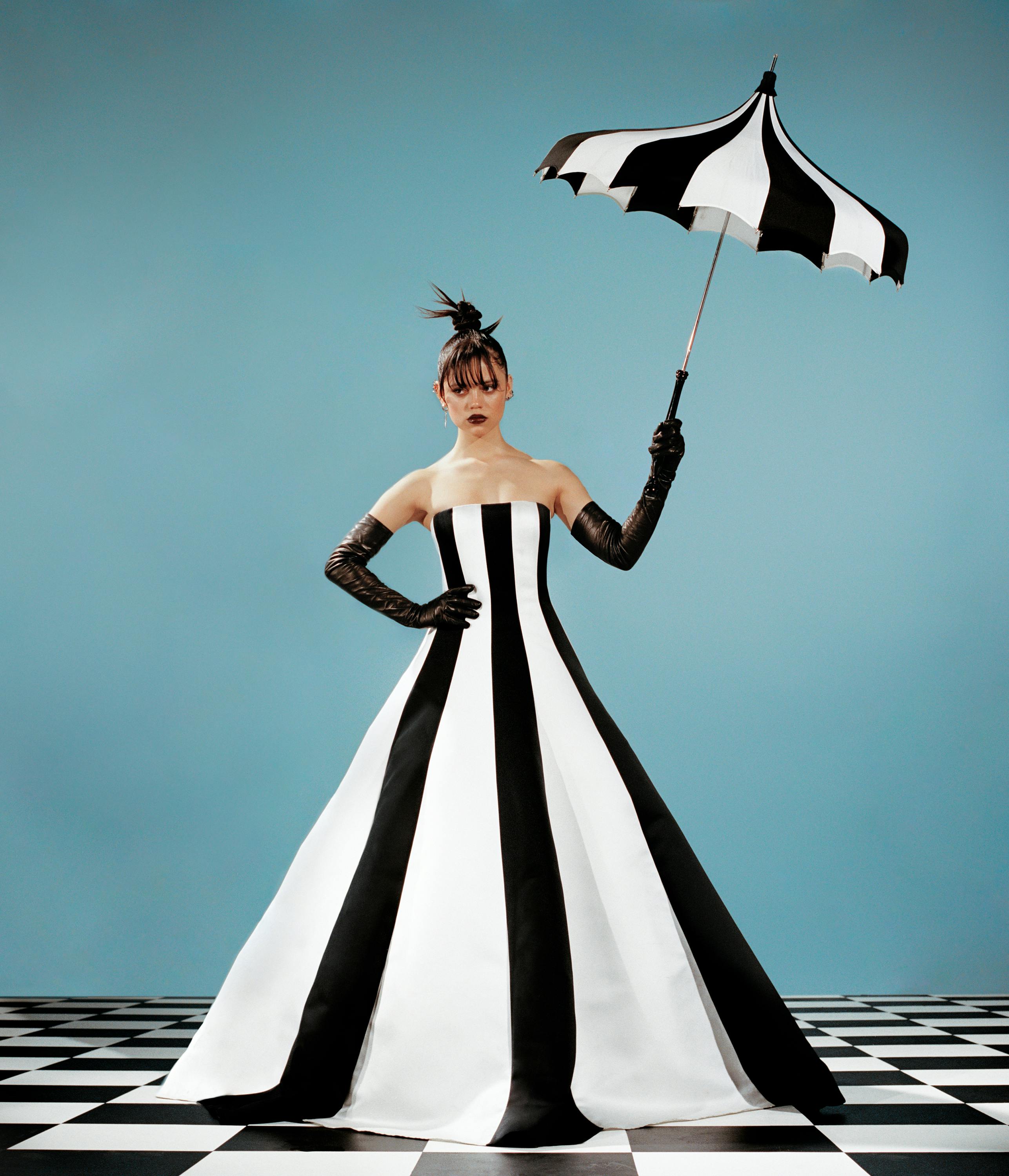 Jenna Ortega would like to make one thing clear: "I love having blood thrown on my face."
It's precisely the sort of statement one might attribute to her deadpan doppelgänger Wednesday Addams, the staunchly nonconformist character at the heart of the hit series Wednesday. But in Ortega's case, the 20-year-old actor was offering a teasing retort to why she's drawn to horror-inflected material — including the blockbuster mystery sensation in which she stars. "My favorite thing about being a woman in horror is that [the characters] are always written [as] strong," Ortega elaborated during a recent appearance at Netflix's Tudum Theater in Los Angeles. "You're put in unbelievable situations, and they try to throw as many genres into one, so you get to do comedy, drama, and occasionally romance."
Thanks to the inventive storytelling of series creators and showrunners Alfred Gough and Miles Millar, Wednesday is harrowing, funny, and moving as Ortega's heroine enrolls at her parents' alma mater, Nevermore Academy, a haven for outcasts of all kinds. There, she promptly finds herself contending with mean girls, brooding boys, and a monster on a murderous rampage, not to mention a meddlesome principal (Gwendoline Christie) and an extroverted werewolf roommate, Enid (Emma Myers), who becomes her best friend. Fortunately, Wednesday has her devoted hand, Thing, to help navigate the unfamiliar territory.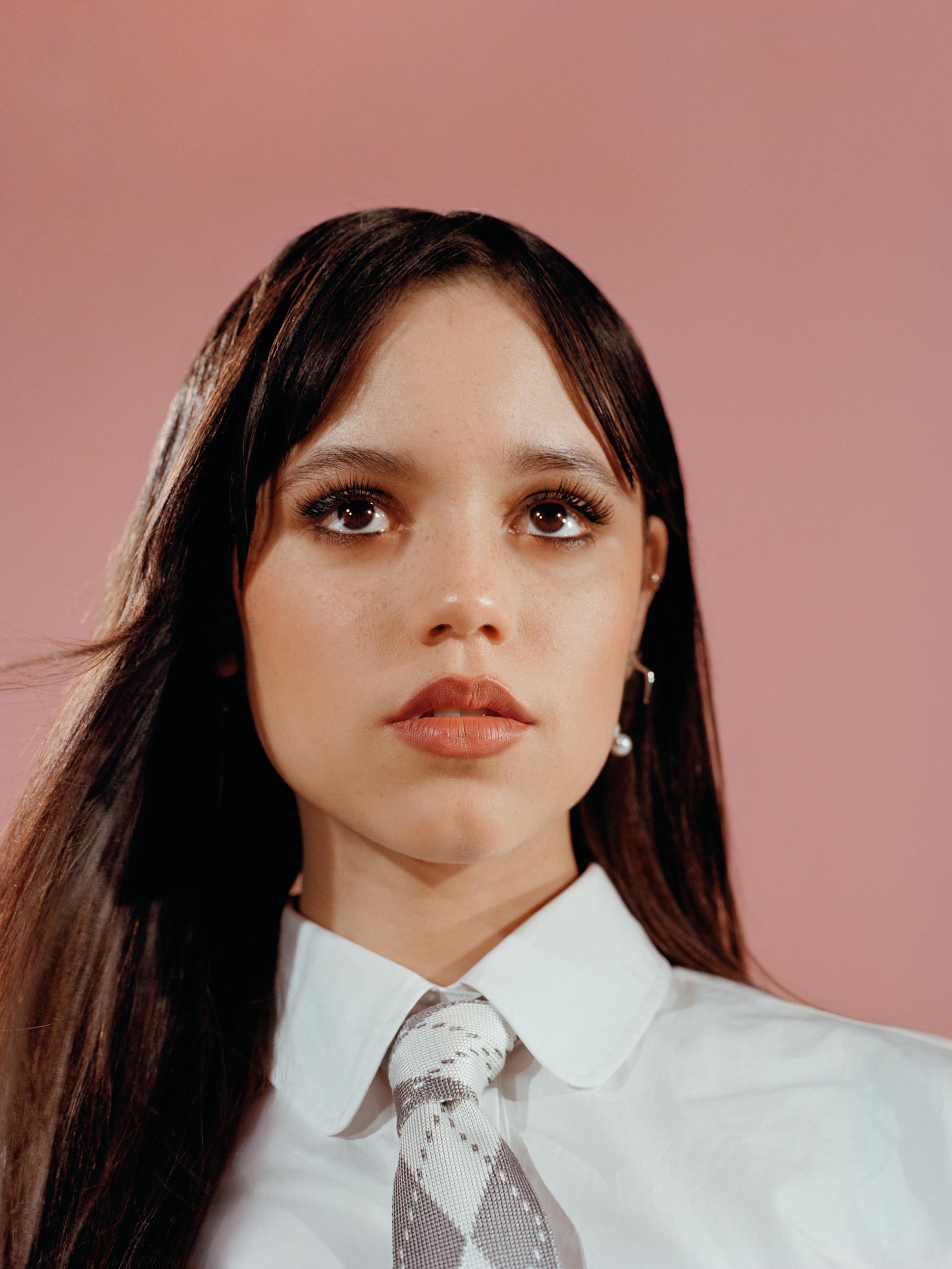 Executive produced by Tim Burton, who also directed the first four episodes, the supernatural coming-of-age tale has launched Ortega into the celebrity stratosphere. The show, particularly Wednesday's dance to "Goo Goo Muck" by the punk band The Cramps, has also dominated social media. Apart from the pop culture fervor, she's received plenty of critical acclaim, earning Golden Globe and Screen Actors Guild nominations for her wickedly clever and sardonic performance. "I don't think I was anticipating that many people tuning into the show, nor the reaction being so positive," Ortega describes.
Ortega was hardly an overnight success, however. The Coachella Valley native wanted to be a performer from an early age, making her onscreen debut at age 10 in the CBS sitcom Rob. The show's set became not only a place to develop as an actor, but also a place to explore everything that went into television and filmmaking. "I felt like I wanted to ask as many questions as I possibly could," she says. "I would carry around this notebook and I would ask the gaffer, 'What are you doing with that stand,' or, 'What is that light called?'"
Throughout Ortega's teenage years, she played young Jane in the CW series Jane the Virgin and landed a starring role in Disney Channel's Stuck in the Middle. Her parents, who had no experience with or connection to the entertainment industry, had clear expectations for Ortega: "I had to have all A's, and if I was given a platform, I had to use that platform for good. If I ever started to abuse it or didn't give back to my community or wasn't engaged in the things that I was always interested in as a kid, I shouldn't be here." By the time Wednesday came along, the young actor had joined the Scream franchise and played Lorraine in filmmaker Ti West's horror film X.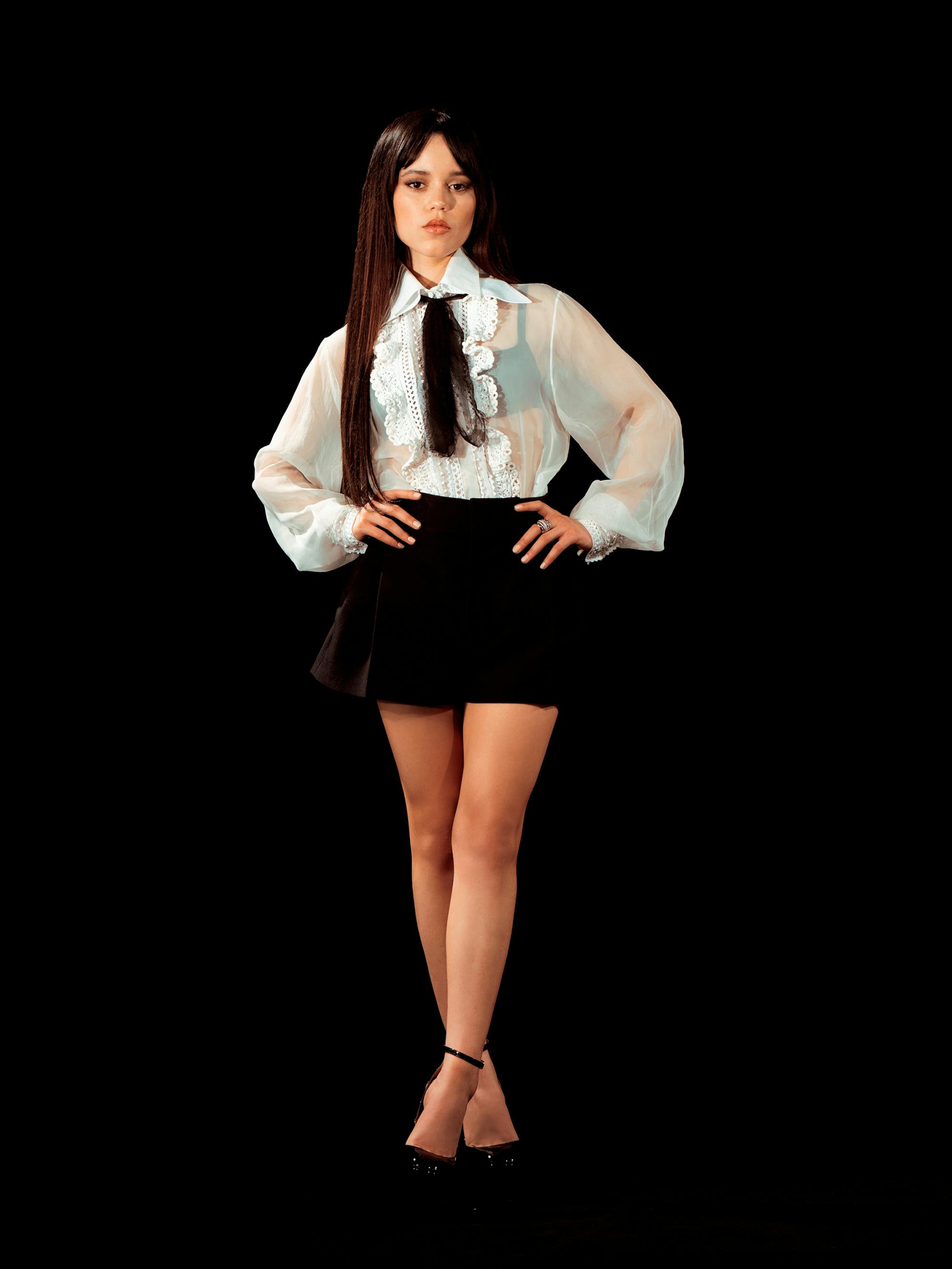 Ortega did have a certain amount of trepidation about signing on to portray the member of the Addams clan; in her mind, the character — who, along with the other members of her morbid family, was the brainchild of cartoonist Charles Addams in 1938 — had an intimidating lineage. Lisa Loring first brought Wednesday to the screen on The Addams Family television show, while Christina Ricci immortalized the character for a generation in the Addams Family films (Ricci appears in a key turn on Wednesday as "normie" teacher Marilyn Thornhill).
"I was very hesitant to do the show, and I actually turned away from it a couple of times because it's been done so perfectly," Ortega says.     
The opportunity to shine a new light on Wednesday's cultural heritage helped change Ortega's mind. "The fact that Netflix was so adamant about a Latin person being cast in a position like this . . . I can't think of a Latina character who has the same reach [that] Wednesday Addams does," the actor says. For the other Addams family members, Catherine Zeta-Jones and Luis Guzmán were cast as parents Morticia and Gomez, and Isaac Ordonez plays brother Pugsley.
For Gough and Millar, Ortega was the only choice for the role. "Al and I first met Jenna over Zoom," Millar says. "She was on the other side of the world shooting a horror movie in New Zealand. She had been up all night running through the woods. But even though she was tired, we knew she was special."
Burton strongly agreed. "No matter how good the writing was, without the right Wednesday, the show wouldn't really exist," says the director. "I can't imagine any other Wednesday. She's like a silent movie actress in the sense that she's able to convey things without words."
Despite Ortega's years of experience and her considerable gifts as an actor, she found that putting a modern spin on the iconic role was daunting. "The thing about making Wednesday a teenager is that it's really funny when an eight-year-old is saying morbid, horrifying things because they're so cute. When you're 16, it's 'get a grip,'" she says. The challenge, Ortega explains, was finding a way to make Wednesday charming, despite her proclivity for the dire. "[To have a] deadpan character have an emotional arc and never betray her natural instinct was really difficult," she describes.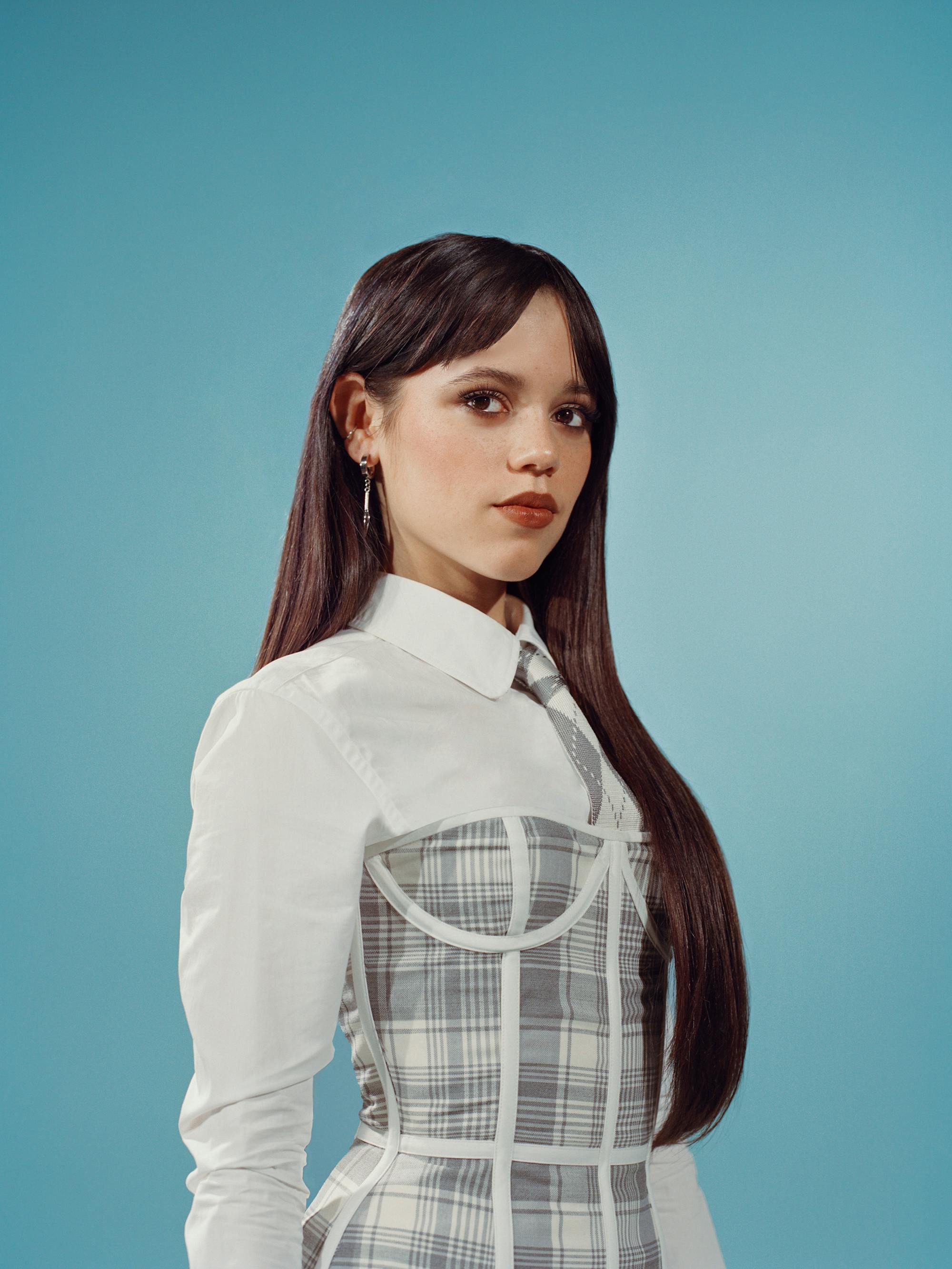 The actor began preparing for the series' eight-month shoot in Romania by exploring who Wednesday was in her everyday life. "Sometimes, when I get characters and I have time to sit with them, I just like to wake up and pretend like I'm them," Ortega says. "So, I'd walk as Wednesday, [trying] to be as still as possible. It was difficult because I naturally am very expressive. My face makes a lot of reactions before I even realize it." Eager to do Wednesday's hobbies justice onscreen, Ortega also studied cello and fencing. "I was very adamant about being as well-prepared as possible," she says of her lessons, which continued throughout filming. "I wanted cellists to be able to watch it and feel like it was actually done right," Ortega says.
Working with a filmmaker like Burton — a "legend," per Ortega — was another new experience for the performer. "I remember being really overwhelmed by how kind he was, but also being really scared working with him," she says. "I would go to work and ask for criticism, but Tim was always so supportive and so encouraging of any sort of decision [I] made."
Clearly, Ortega's instincts for the character were spot-on. Her Wednesday has been embraced by audiences around the world, not only inspiring a renaissance in goth fashion but also serving as a specific kind of role model. "Wednesday Addams is a very aspirational character," says Millar. "All too often in stories about teenage girls, the heroine starts out as weak, and then she blooms into a butterfly. This is not that." Adds Ortega: "Strong people can cry and can have emotions."
Although the series has been renewed for a highly anticipated second season, what happens next for Wednesday is anyone's guess. Ortega is certainly staying mum about her character's further adventures. "I know nothing," she says with a Wednesday-like smirk. "I thought that the show was going to lean into the horror aspect. I don't want to scare away young viewers, but at the same time, it could be interesting."
We can't wait.
All interviews included in this piece were completed prior to July 14, 2023.