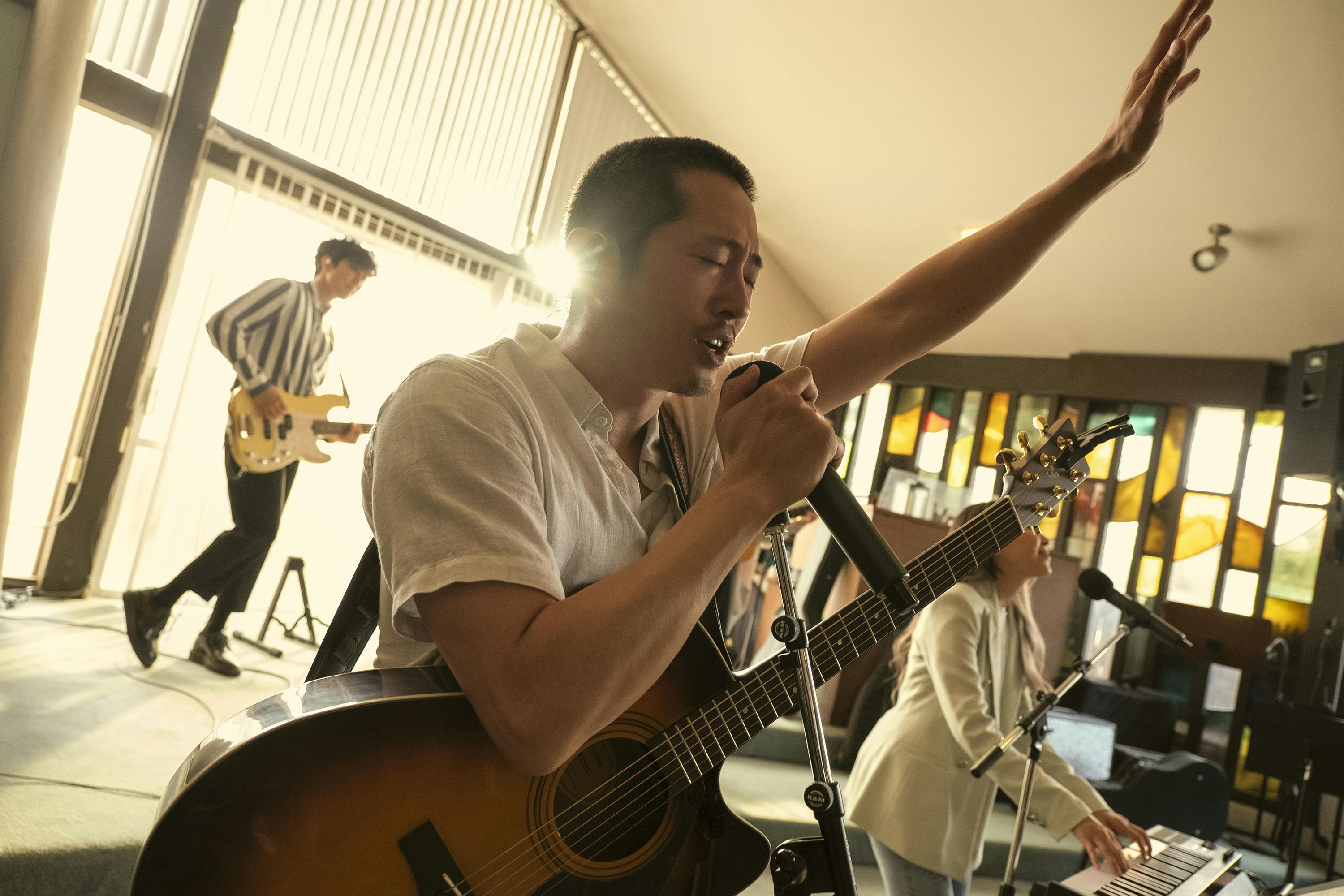 BEEF's star, Steven Yeun, and creator Lee Sung Jin channeled their experiences with the Korean church for the hit series.
Lee Sung Jin's new series BEEF primarily charts the rage-fueled relationship between Steven Yeun's Danny and Ali Wong's Amy. But the show also takes viewers down a very interesting side road when Danny, braving L.A. traffic, drives all the way to Orange County to attend a service at his ex-girlfriend Veronica's (Alyssa Gihee Kim) Korean church — and is pulled into a not-so-subtle rivalry with her praise-team-leading husband Edwin (Justin H. Min).
Veronica's past and present love interests are cut from the same cloth: Edwin's not pleased to welcome his wife's highschool sweetheart to the parish, and unhappy Danny, who led praise band in his teens, sees Edwin living a life that could easily have been his own. Though struggling financially, Danny begins to offer his contracting services to the church at no cost to show off his kindness and Veronica invites him to take lead on a few praise team hymns — to Edwin's dismay Danny croons "Amazing Grace" like an angel. 
In a riotous scene, Danny and his crew even end up dominating Edwin's prized domain: the church's basketball league. "For the Lord!" screams Edwin, missing a jumper as his pregnant wife looks on, concerned. "Word of God!" he shouts, missing again before losing the game and uttering some less-than-holy phrases.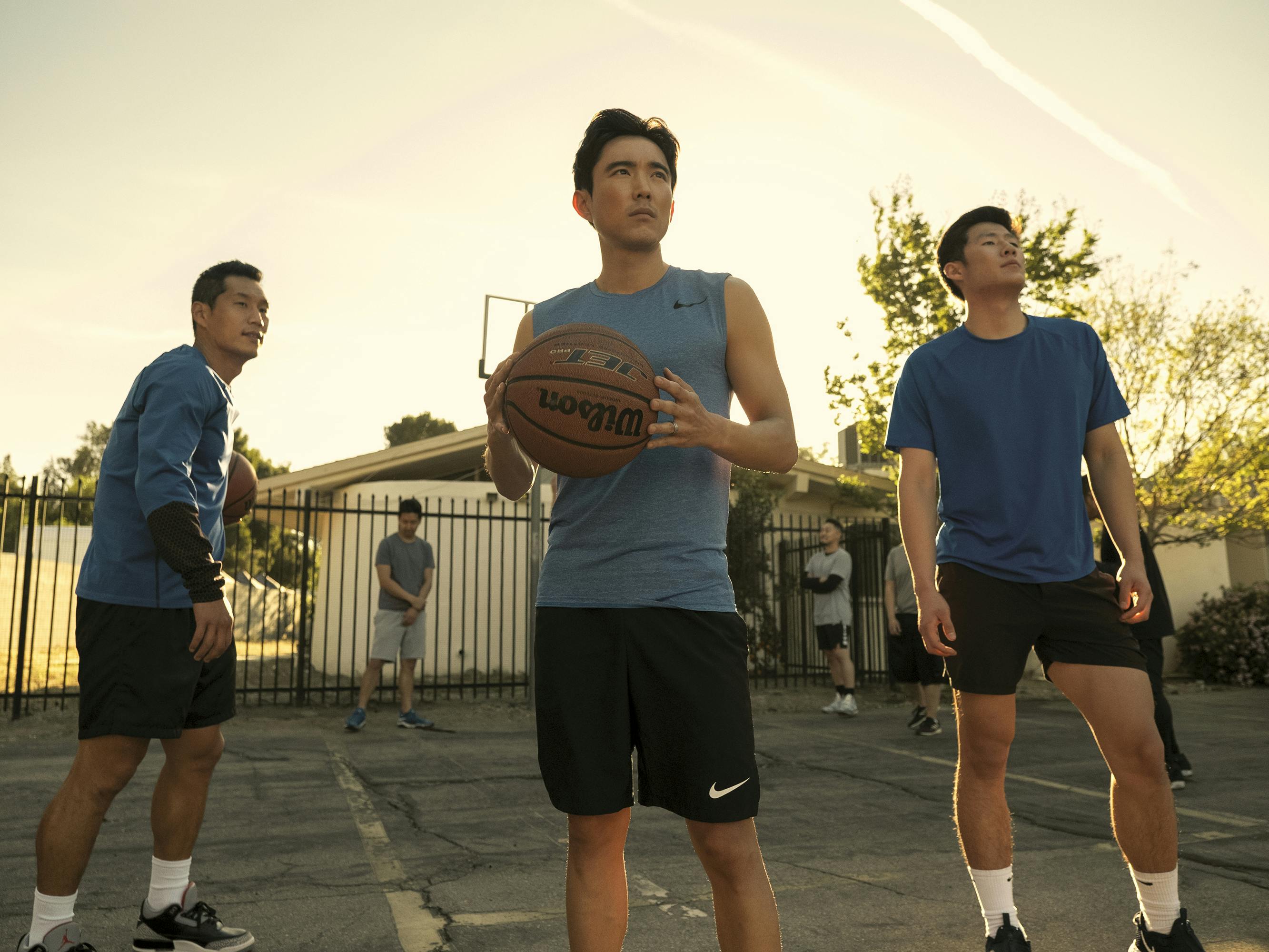 The specificity of the church and its parishioners has resonated with audiences, just as it did for Yeun when he read the script. The Oscar nominee, who had attended a Korean church while growing up in the Midwest, reflected on his time there in his Skip Intro interview with Krista Smith: "I used to lead praise at church. It was surprising to see the final rendering that was captured on camera and to watch myself, because it wasn't a calculated thing where I was like, I'm going to make sure I jump this much, or I call out this much, or I play this like this. It was just like, What will it be if I just try to go back to what I used to do back in high school, and let's just see what that looks like on camera. That's what you get." 
Yeun's singing stunned not only his fellow actors, but also the series' creator Lee, who first heard his star's stunning voice over the phone. "I really wanted to do something where [Danny]'s got everything he wanted and he's the head of praise band now," remembers Lee, "and I knew I wanted a song going over Amy's section that goes to Danny's. I had texted Steven a bunch of songs and then I got a voice note back and I clicked play, and it was him singing 'Amazing Grace' acappella — the most angelic, sweet version of it — and it was perfect. I was just wowed by what a beautiful singer he is. And I also thought that was just the funniest, perfect song choice." 
Yeun and Lee, who are both Korean American, had discussed the importance of the church as a place of belonging for their immigrant community. Said Yeun, "The two of us don't necessarily go to church anymore. But, for me, as an immigrant kid growing up in the Midwest, that was really my only real safe space. I lived in the suburbs, we were fine, but I felt like I could put down a performance at church because it was a Korean church. There was another reality happening there too, where maybe the ways in which we couldn't assert ourselves in wider America, we could at least feel for ourselves in that particular place."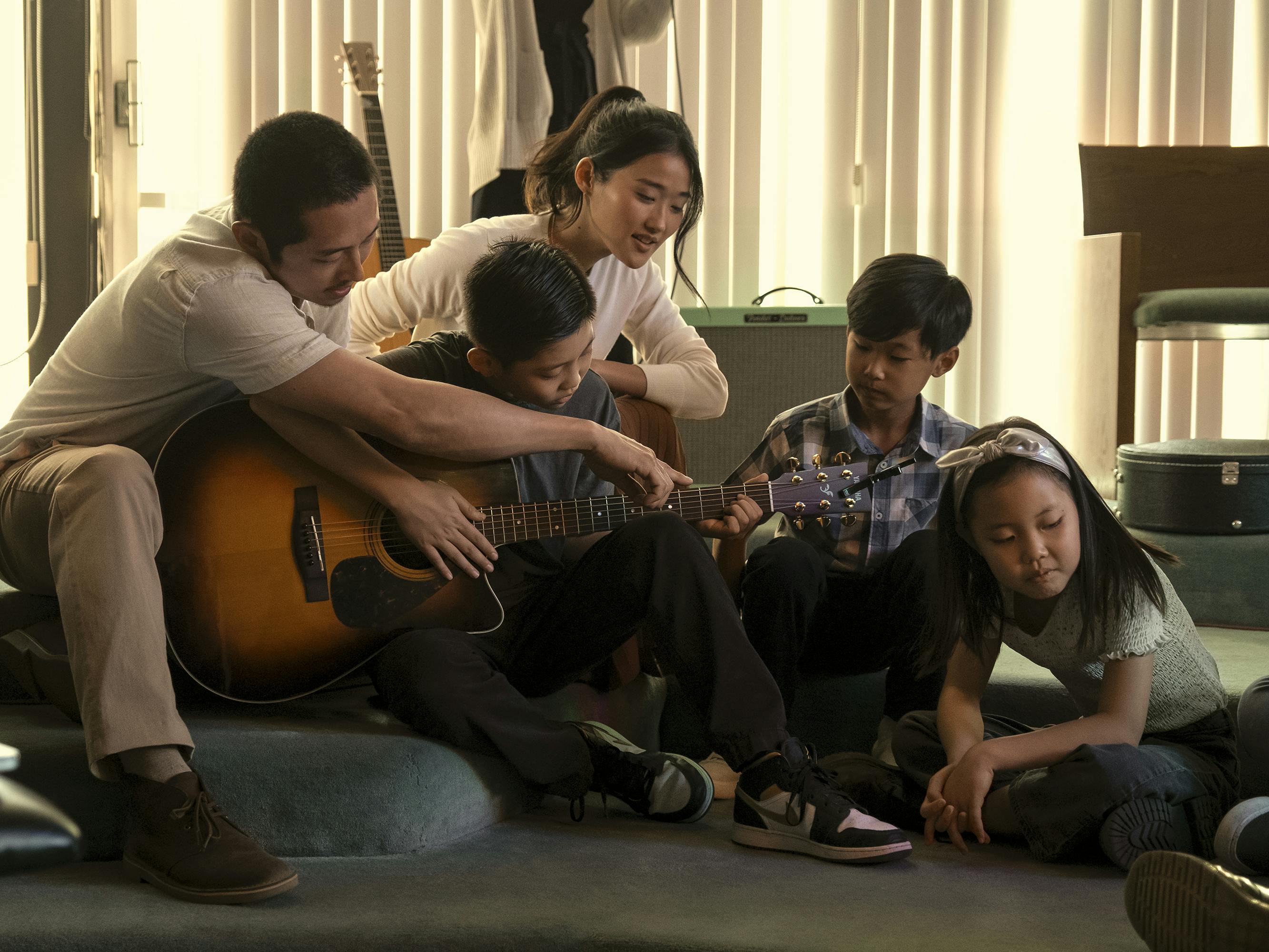 The first time Danny sets foot in Veronica's church, after years away from religion, he's moved to tears during one of the service's communal hymns. In the memorable scene, as the members of the congregation sing and wave their hands in praise, Danny begins to cry. At first tears barely escape his eyes, then as he scans the pews and sees peaceful, familiar faces around him, he erupts into sobbing and the community surrounds him with their support. 
Yeun remembers: "They had filled out this Korean church in such an authentic, real way. And so people were singing the song, and I remember coming in and just being like, Oh, I can already feel this emotion." From there, waterworks came naturally. "And I realized that everybody else stopped singing because it was my coverage. I was like, 'I need you all to continue to sing because this moment is about the collective feeling of not feeling isolated.' Once they started singing, I just started weeping. It was pretty cool."
The collective energy of the Korean church is healing for Yeun's prodigal son Danny, who rebuilds a sense of self by dominating the praise band with his dulcet vocals, through seeming acts of generosity, and some baller skills on the court — simultaneously driving his rival Edwin to a place of despair. Unfortunately for Danny, he can't live within the church's walls. "He's just carrying so much, and spinning all the dishes and all the plates, and he's just pushing all the buttons and making this machine run when he is outside," says Yeun of his character. "In that place, he can just dissolve into the back and just be there, and he's accepted."