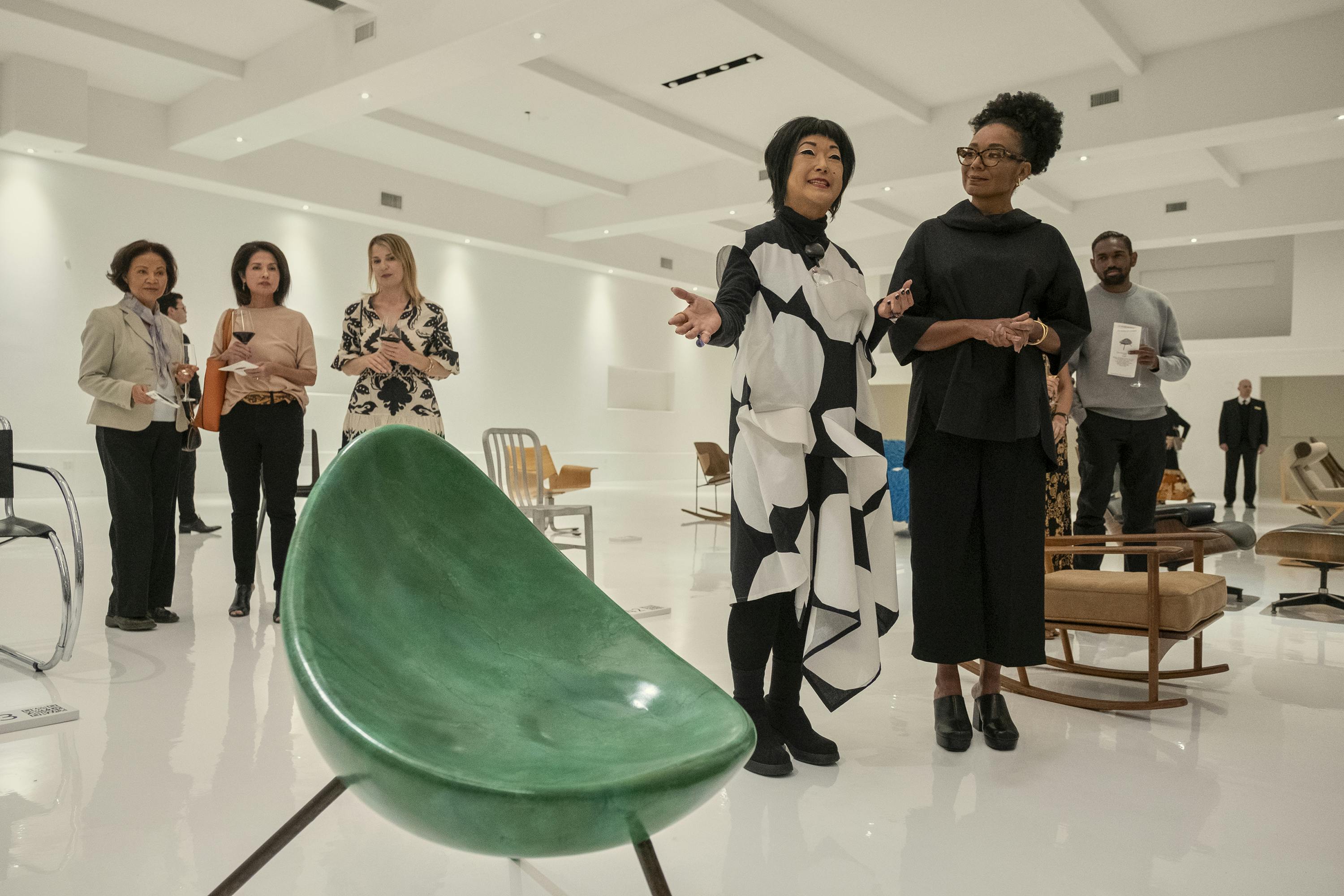 Steven Yeun and Ali Wong play a game of musical chairs with repressed misery and revenge in BEEF.
BEEF documents the distinctive rage of two tightly-wound people and the cataclysmic explosion that occurs when they collide. Created by Lee Sung Jin (Dave), the 10-episode series follows Amy Lau (Ali Wong), a self-made entrepreneur on the brink of selling her houseplant business, and Danny Cho (Steven Yeun), a contractor who is barely coping emotionally and financially. After the two face off in an incendiary road rage incident in a hardware store parking lot, they find themselves in a ping-pong rally of fanatical revenge plots through which they both channel their inner fury. 
We're first introduced to the neutrals-clad Amy behind the wheel of a shiny, white Mercedes Benz S.U.V., and it quickly becomes apparent that something more than ambient suburban ennui is chipping away at her sanity and shimmering veneer. Her percolating rage renders her illegible to her husband George (Joseph Lee), the heir of a renowned Japanese artist, who is insulated from the world's barbs by his generational wealth and privilege. The cardigan-attired George responds to any glimmer of messy emotion Amy expresses with stifling positivity and trite New Age ideology — like urging her to use a gratitude journal and using words like "emotional entanglements" — that is woefully out of step with how Amy is really feeling.
The cracks in their outwardly perfect marriage and glossy lifestyle are on full display at the "65 Chairs" event, which honors a who's who of chair designers, including Eames, Breuer, and George's furniture artist father, Haru Nakai, and his green, molded plastic Tamago chair. To a rapt audience, George's mom Fumi (Patti Yasutake) describes the origins of her husband's legendary design: "Following our marriage in the summer of 1979, Haru became deeply conscious of negative space. Oh, he fell in love with the interplay between void and substance. So naturally, the curvature of the seat is modeled after the contours of my own backside." This hilariously tense scene is only amplified by the layout of the showroom: rows of different chairs, arranged diligently like soldiers, in the hulking, white space. Chair enthusiasts mingle among the pieces, which range from a curlicue rocking chair to a plush, blue Cookie Monster lounger.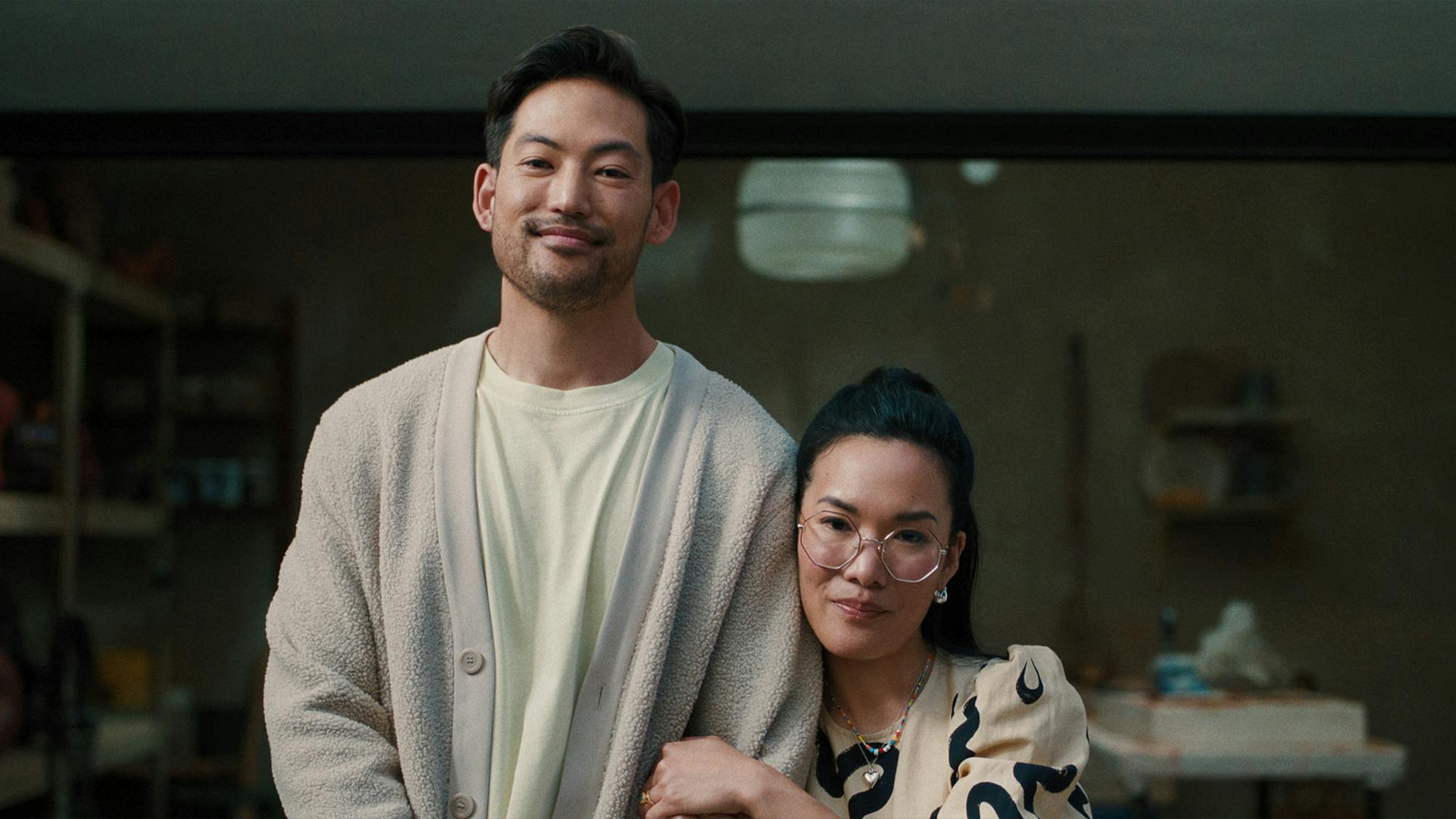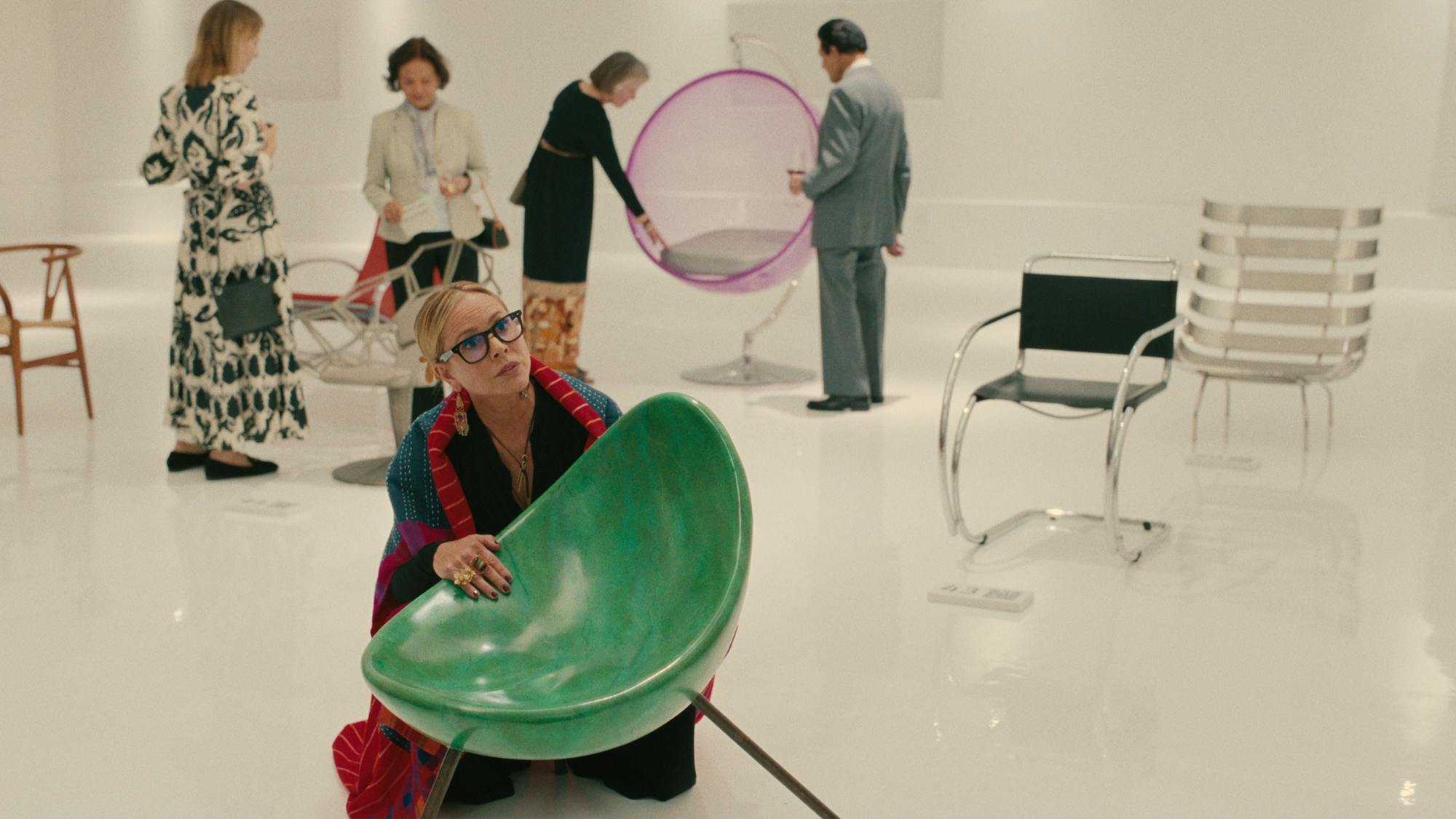 Jordan (Maria Bello), the woman poised to buy Amy's company, dismisses Fumi's nostalgic story as a marketing ploy but proceeds to make a staggeringly high bid for the Tamago chair. After George tells her the meaningful chair is not for sale, he and Amy spiral into a fight about money. Amy hisses: "You ever notice how it's only people who have money that think money isn't important? You know, the Buddha is only the Buddha because he was a prince first, right? He had stuff to renounce . . . We can't renounce because all your dad left us was tables and chairs." Oblivious to Amy's pain, George counters, "This is a celebration of chairs!" 
The exhibit is the perfect battleground for Amy and George's schism, as well as for our digital cover shoot of stars Yeun and Wong, because the furniture stands in for an overarching cause of their corroding marriage and Amy's inner turmoil. George storms out of the exhibit, but not before kicking a brushed aluminum side chair with childish, temper-tantrum fervor. The security guards quickly scramble to adjust the chair so it's aligned with the other 64 in the exhibit, and the illusion of perfection is preserved.