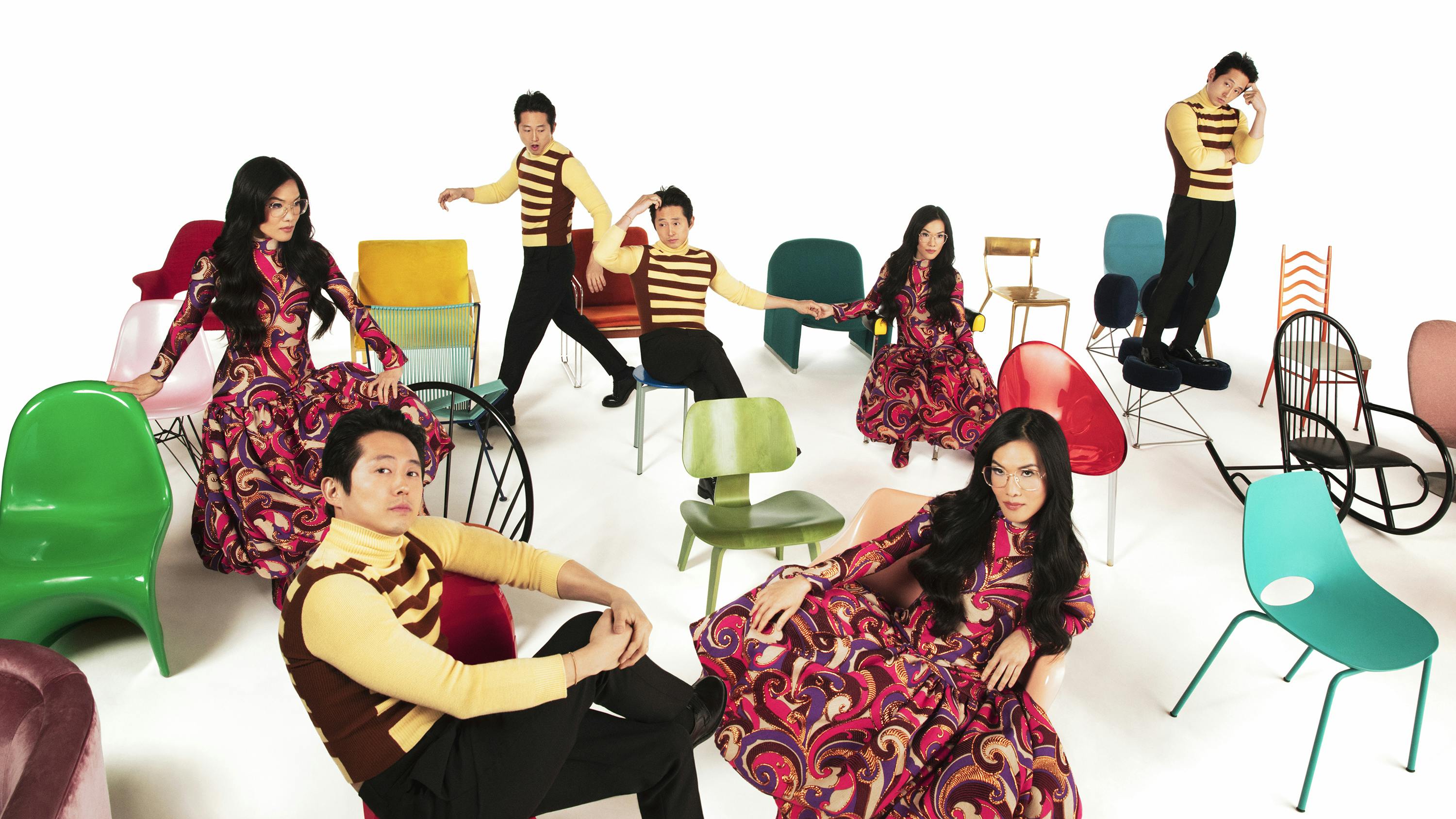 Steven Yeun and Ali Wong, the stars of BEEF, unearth a trove of emotion in Lee Sung Jin's series.
When Ali Wong was prepping to star opposite Steven Yeun in the new series BEEF, which sees two strangers caught up in a road rage incident that quickly spirals out of control, she wasn't entirely certain what to expect. Friends offscreen, the duo had already appeared opposite one another as a daydreaming songbird and her architect beau on the animated adult comedy Tuca & Bertie — but surely, working in the same physical space for the first time, playing people who have an immediate and profound hatred for one another, would be a vastly different experience.
"It was so funny because once we started rehearsing, even though we're supposed to be enemies, after every scene, I was like, 'This is so flirty,'" Wong says. "I mean, Chris Rock always says that a great stand-up special should be able to work as a drama, and I think BEEF is this dramedy thriller that could kind of also work as a romantic comedy."
Although a battered pickup truck nearly backing into a white Mercedes SUV in a Southern California Forsters hardware store parking lot does hold real meet-cute potential, BEEF is a long way from anything so conventional. Conceived by writer and showrunner Lee Sung Jin, who'd previously worked with both Wong and Yeun on Tuca & Bertie, the 10-episode series is simultaneously smart, funny, sexy, and poignant. Yet at its dark heart, BEEF is an emotionally
astute and comic exploration of both the relationship between Wong's self-made entrepreneur Amy Lau and Yeun's down-on-his-luck contractor Danny Cho, as well as the roots of their individual failings and frustrations.
While Danny and Amy come from vastly different socioeconomic circumstances, they both are deeply dissatisfied people trapped by circumstance and grappling with unspoken disappointment and simmering rage. After their vehicles almost collide, they become adversaries whose relationship is defined by unrelenting obsession and an unwavering commitment to mutually assured destruction. As each attempts to exact revenge on the other, they push one another to ever more outrageous extremes — from catfishing to out-and-out blackmail, and worse.
"They can't let it go," says Yeun of the feuding characters' intense rivalry. "That connection is so much more alive and so much more vibrant than the regular lives they lead . . . I think they're this weird, antagonistic lifeline for each other."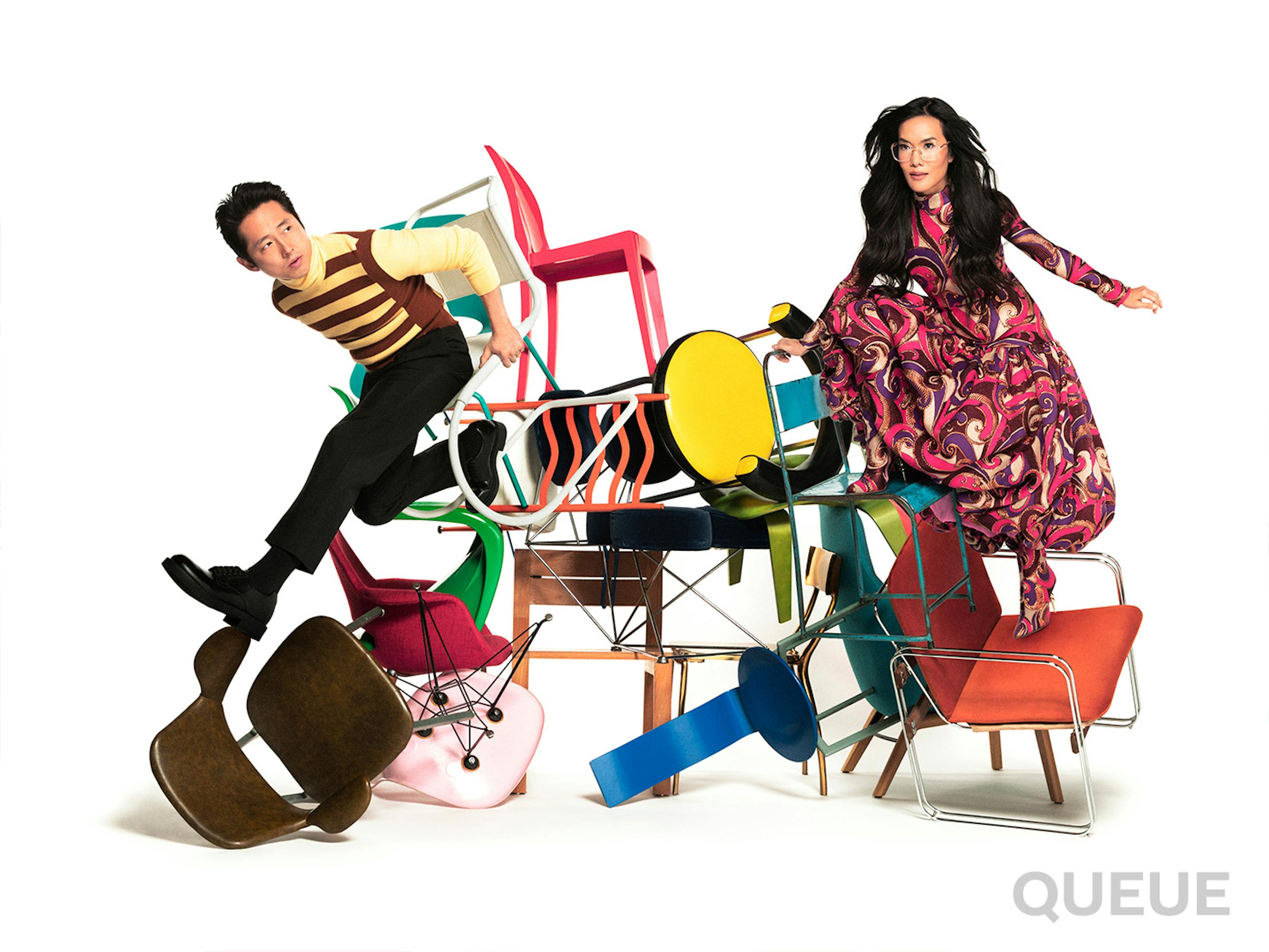 The inspiration for BEEF came from a road rage incident that happened to Lee, an Emmy-nominated writer known for comedies including It's Always Sunny in Philadelphia, 2 Broke Girls, and Silicon Valley. "It was just a normal day," he recalls. "I wasn't in a particularly bad mood or anything, but [this was a] classic stoplight road rage where someone pulls up next to you and starts honking and cursing at you. For some reason, I was like, This is not okay, and I'm going to follow you. It was a very impulsive decision. I don't condone that sort of behavior." The experience haunted Lee so much that months later he mentioned it to producer Ravi Nandan (Euphoria, Mo), who encouraged Lee to "dig in" creatively.
He began discussing the idea with Yeun, whom he'd known for years. At that point, Yeun was embarking on the next chapter of his career, after six years as Glenn Rhee on the hit television series The Walking Dead. Although he had not yet earned his Best Actor Oscar nomination for the family drama Minari or played a child star transformed by trauma in Jordan Peele's Nope, he had delivered a mesmerizing performance as the sociopathic Ben in the acclaimed South Korean thriller Burning, and he was actively engaged in voiceover work. "Once he heard what I was doodling with, he was in," says Lee. "He got it right away."
"I think it was just the relatability of it," offers Yeun. "We were sitting in the 2019 vibe of a very polarized reality, which we're still living in now. For me, where it really felt special was road rage incidents like that don't necessarily have one perpetrator and one victim. Both people feel like they're victims, and they're both perpetrators at the same time. I felt like that was such a beautiful assessment of how it feels these days — we all want to find someone to blame, but maybe we're more similar than not."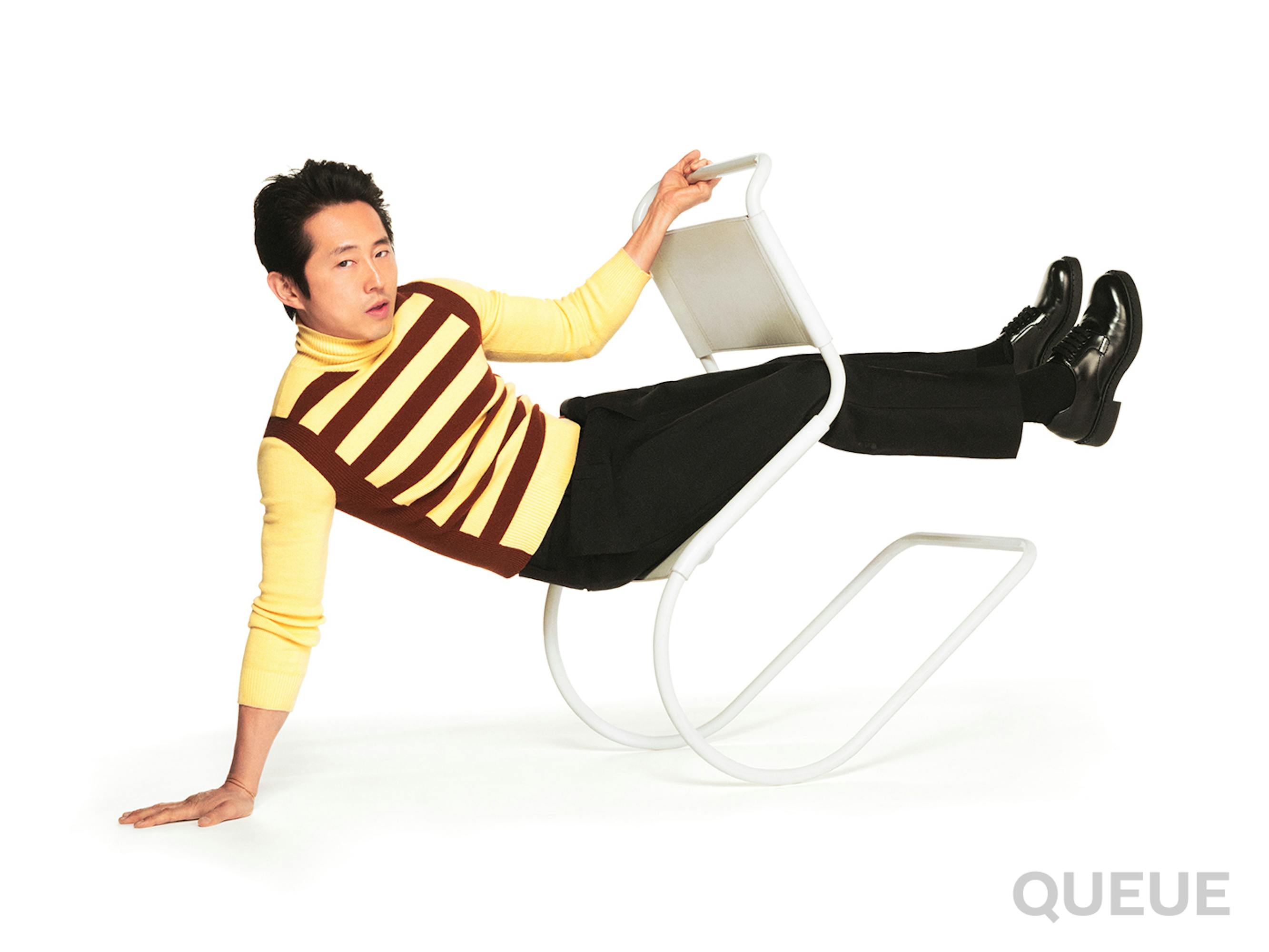 Turtleneck, trousers, and shoes by Prada.
TO ME, [BEEF] WAS A LARGE STUDY IN SHAME.
Signing on to executive produce and star, Yeun helped Danny take shape through long conversations with Lee. The actor invested the character with some aspects of his own biography, including a background in the Korean Christian church and a strong commitment to family, though the specifics of Danny's situation are entirely unique. After his parents lose their
motel business, Danny vows to amass enough funds to build them a dream home; as the eldest child, he also feels obligated to be a role model to younger brother Paul (Young Mazino) who spends his time gaming, working out, and investing in crypto. 
"Danny's in a really tough spot," Yeun says. "He's crumbling under the pressure of life. He's unable to put his frustration and his anger anywhere, and it's kind of eating him from the inside. He's in a place where he desperately wants to be seen. He wants to exist in a real way . . . he wants to be alive. You're kind of catching Danny when he is at his worst, but he doesn't know that it's probably going to get much crazier."
In thinking about who might play Danny's foil, Wong was an obvious choice for Lee and Yeun. Known for such stand-up specials as Ali Wong: Baby Cobra; Ali Wong: Hard Knock Wife; and the Emmy-nominated Ali Wong: Don Wong; as well as the romantic comedy Always Be My Maybe, which she co-wrote and produced in addition to starring in, Wong could nail the series' funniest moments. But they believed she would also excel in the more dramatic scenes. "It was one of those, 'You had me at hello' moments," Wong says of being offered the role. "As soon as [Lee mentioned he was working with] Steven, I was like, 'Okay, great, I'm in.'"
In Amy, Wong plays a woman who has all the outward trappings of success yet is foundering emotionally. She owns a high-end plant boutique that's brought her a certain amount of fame. She lives in a multimillion-dollar modernist home with her blithely oblivious husband George (Joseph Lee), the son of a famous artist, and their young daughter. But she's exhausted from working around the clock and attempting to live up to the impossible expectations of her formidable mother-in-law (Patti Yasutake). 
The only light at the end of Amy's tunnel of frustration is to sell the business to lifestyle guru Jordan Forster (Maria Bello), but Amy wears herself out to clinch the lucrative sale, forced to constantly project an image of effortless perfection. On the rare occasions when she attempts to express her darker emotions to George, Amy's admonished to feel more grateful. "It's probably not hard to see — and I'll leave it up to interpretation — but this show provided me with a lot of opportunities to talk about some things that I haven't found a way to talk about onstage," Wong says.
Dress and shoes by Zaffori.
EVEN THOUGH WE PLAY THESE ENEMIES, WHAT HAPPENED OFF-CAMERA WAS THIS BEAUTIFUL FRIENDSHIP.
BEEF was shot in and around Los Angeles in early May of 2022 — navigating their emotionally taxing scenes together, Yeun and Wong relied on their offscreen rapport to keep things as light as possible while filming. "The first day on set was the scene where I discover that he's pissed on my floor and then I run after him," Wong recalls. "After the first take, we hugged, and we were laughing hysterically. That kind of set the tone for the rest of the show because, even though we play these enemies, what really happened off-camera was this beautiful friendship."
That camaraderie proved invaluable as both stars were called upon to go to astonishingly raw and vulnerable places to fully inhabit Danny and Amy. Wong found inspiration in the striking design of Amy's home — which features decorative wooden slats that, while beautiful, "make the house feel like a cage," Wong says — as well as the character's muted wardrobe. "[Helen Huang,] the costume designer, dressed Amy in a lot of neutral creams and tans, soothing colors," Wong says. "She just said, 'I thought it would be just so funny to have Amy in these calming, Zen clothes, but then have these insane thoughts.' I mean, that's a lot of Amy being stuck in this maze of her own creation. It's not a personal space [where she can] complain or feel angry or frustrated. I think that's something everybody can relate to."
For Yeun it was reaching into his past that allowed him to access Danny's well of emotions. For a scene in which his character breaks down during a church service, Yeun called up
personal experiences with communal praise. "I know that feeling of being moved to tears when I go to church," Yeun says. "I grew up in the church. I don't go now, but sometimes when I do go back, I feel that feeling. When we were shooting it, I remember coming into the room, and all the extras were people who also had attended church before, which was really wonderful. People were singing, and I remember just being like, 'Oh, I already kind of feel this emotion.'"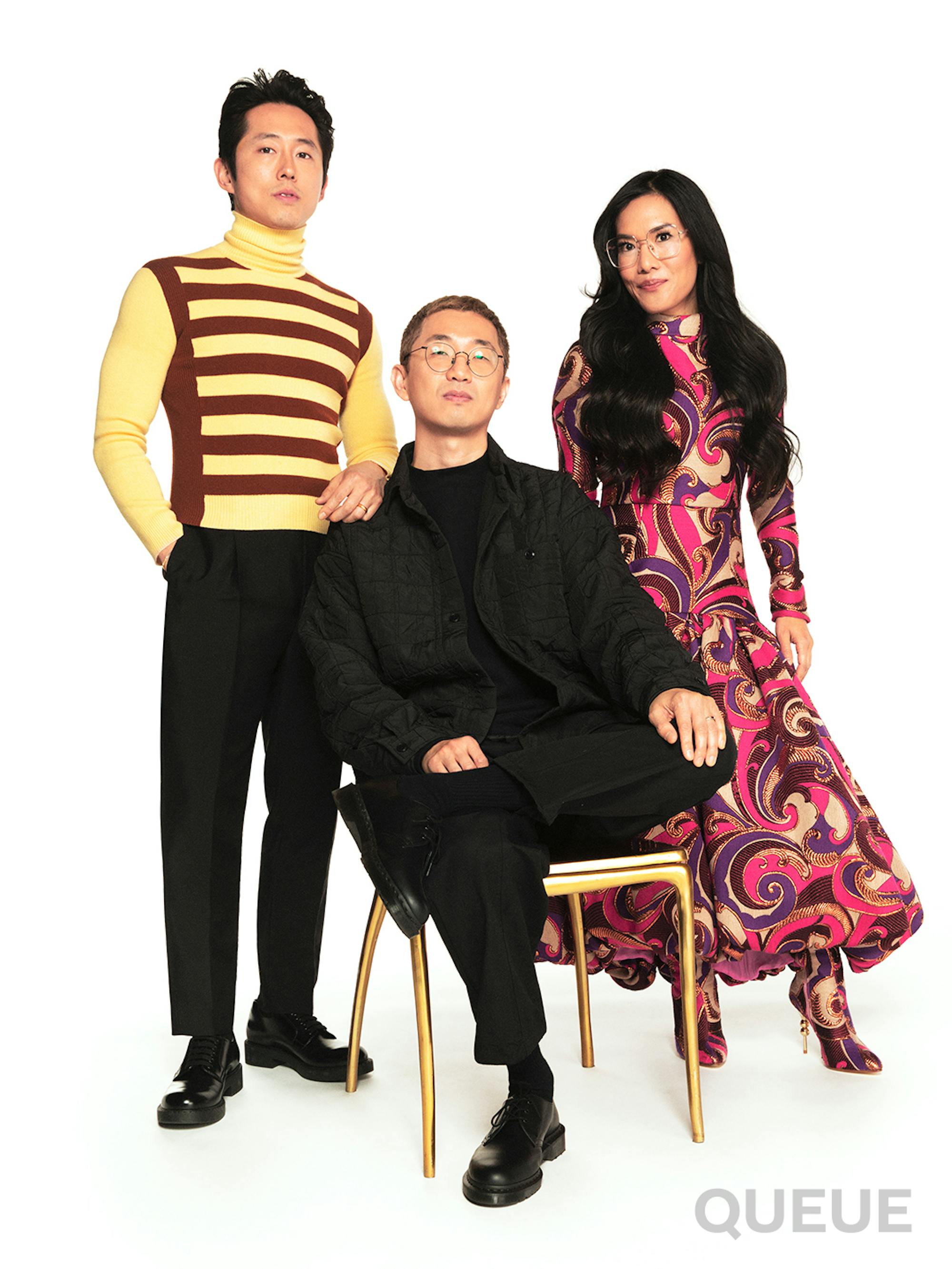 I WAS LIKE, THIS IS NOT OKAY, AND I'M GOING TO FOLLOW YOU. IT WAS A VERY IMPULSIVE DECISION. I DON'T CONDONE THAT SORT OF BEHAVIOR.
Despite knowing both actors so well, Lee says he was often surprised by the choices they made on camera, and he was ceaselessly impressed with their talent and professionalism. "Steven has such a great intuition for truth," Lee says. "He has a very precise radar for any dialogue or beats that might feel false, which is great for me as a writer because it's like having someone that can point out mistakes I've made. Ali, too, it was really a joy to watch her. For [some of the most difficult scenes], she came fully prepared. By take two, the waterworks were happening, and we were all floored."
Nearly a year after filming wrapped, BEEF is set to arrive on Netflix in early April, following a March 18 world premiere at Austin's South by Southwest. The intervening months have given the series' stars the opportunity to reflect on the experience of making thought-provoking art born out of conflict, and for each of them, the artistic payoff was invaluable. "The biggest thing I've personally taken away from it," offers Wong, "is that it's okay and necessary to take a break from stand-up. So much of my stand-up is about reflecting on what I'm feeling. I'm glad I didn't give myself that space to reflect on everything and process it [onstage], and instead, just kept my foot on the gas." 
For Yeun, the experience was one that allowed him to unearth emotions that were deeply embedded. "To me, it was a large study in shame," Yeun says of BEEF. "It was a study in speaking things that I haven't necessarily tried to hide but haven't necessarily been asked to excavate. To be able to tell the story of a Korean church without any judgment about it was very important and enriching for me as an actor and as a storyteller. It was just like, 'Oh, you can examine spaces without an agenda.' I realized that the way to be able to express those things from that viewpoint is to really try to lead from a place of loving. I think that was a really strong experience for me."