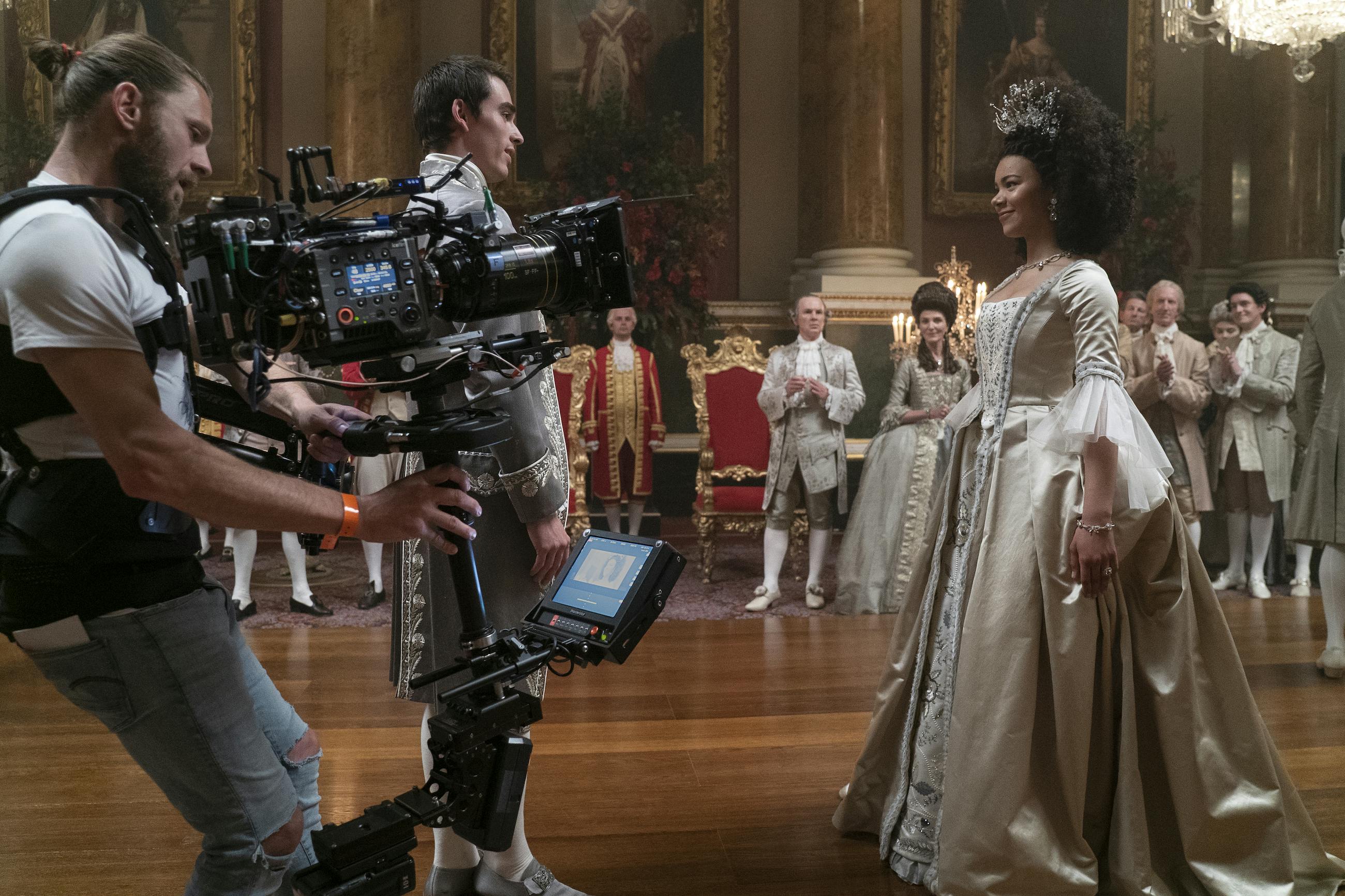 On Set with Queen Charlotte: A Bridgerton Story
Queue is on set with the Bridgerton prequel, Queen Charlotte: A Bridgerton Story.
Stepping into the title role of Queen Charlotte — originated by the inimitable Golda Rosheuvel — would be a massive challenge for any actor. But India Amarteifio (Doctor Who, Sex Education), who plays the young queen in the new Bridgerton prequel spinoff, was a perfect fit for the role. "India Amarteifio is just brilliant," says series director Tom Verica. "She provides the canvas for someone who's going to learn the rules and the ways of this world very quickly and use that to her advantage."

Queen Charlotte: A Bridgerton Story turns the clock back to the iconic queen's early years in London, beginning with her arranged marriage to King George (Corey Mylchreest). "What's really exciting about this show is finding how to bridge the character that we know, the boldness of who she is, with how young Charlotte learns to breathe and grow into the power that she now possesses," says Verica. "I had big shoes to fill," adds Amarteifio, "Not only as young Charlotte, because Golda has created an iconic role, but just entering the [series'] sphere itself." 

Like the new actor entering the exciting world of Bridgerton, Queen Charlotte: A Bridgerton Story finds the young Charlotte making her entrée into an unfamiliar London society and finding mentors and lifelong friends in the young, and newly titled, Lady Agatha Danbury (Arsema Thomas) and a young Brimsley (Sam Clemmett), always following five footsteps behind. "He is more than her right hand, he is her stability, her guidance," says Amarteifio of the queen's relationship with her ever-present servant. "Brimsley is the only person in Charlotte's life who is stable, gives her a voice of reason, and is someone to come home to, really." 
Thinking about dynasty and hierarchy and the next generation takes us into thinking about how these relationships were formed, how they last, the ups and downs of these relationships.
While charting their pasts, the new series also continues Bridgerton characters' Regency-era stories with Golda Rosheuvel's Queen Charlotte trying to figure out how to marry off just one of her many children to produce a legitimate heir, with the support of Lady Danbury (Adjoa Andoh) and Lady Violet Bridgerton (Ruth Gemmell). "Thinking about dynasty and hierarchy and the next generation takes us into thinking about how these relationships were formed, how they last, the ups and downs of these relationships," explains Andoh.

As Queen Charlotte: A Bridgerton Story producer Betsy Beers puts it, the new series is, "absolutely classic Shonda Rhimes because it is this beautifully precise and very unique combination of humor, pain, conflict, elegance, excitement — all in the face of events that seem to be unmanageable and insurmountable." And Rosheuvel issues a challenge to Bridgerton fans, "The universe just kind of cycles and swirls within itself, so it would be really interesting to see whether the fans notice little nuances and Easter eggs that we've put in both productions."