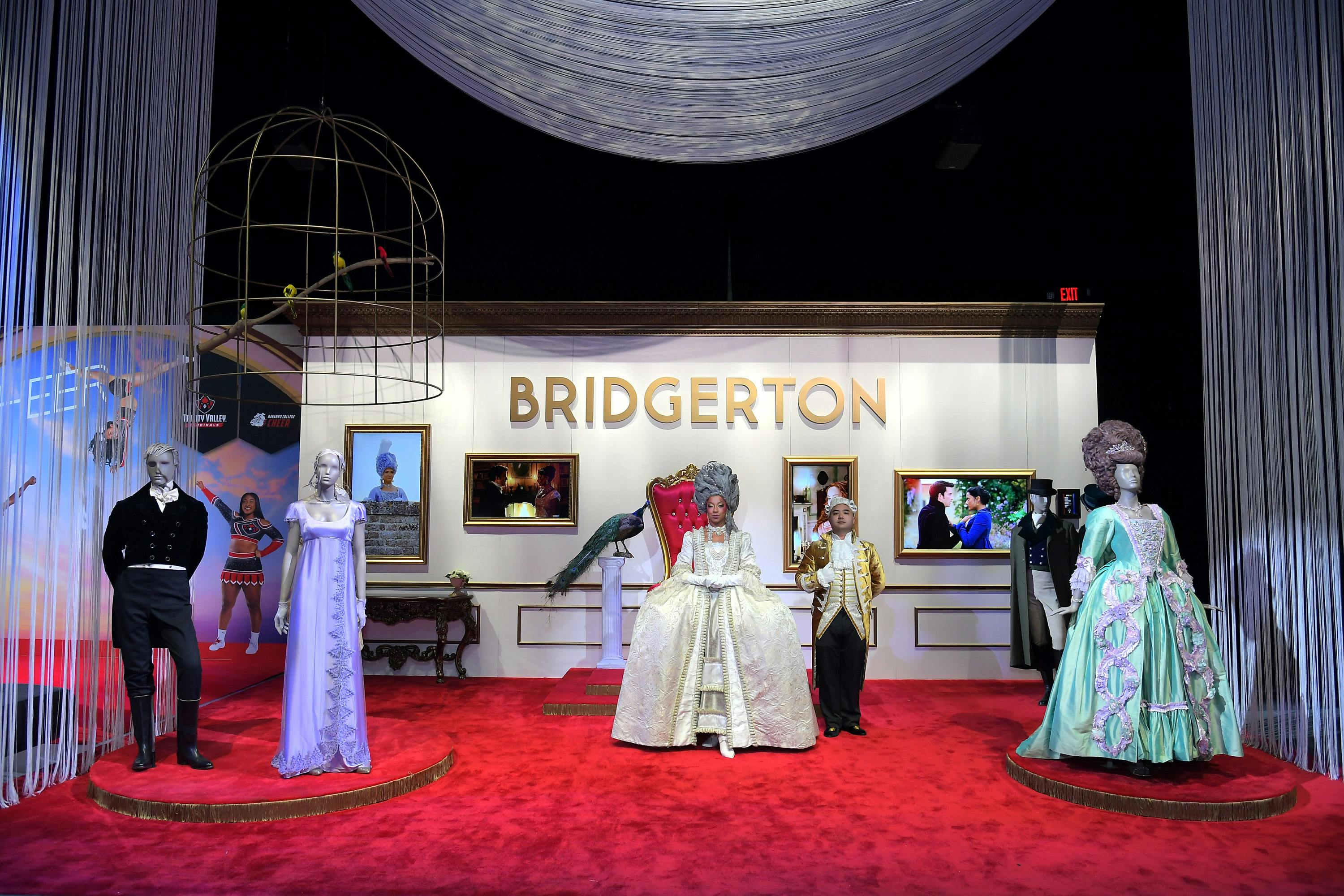 Bridgerton's FYSEE Season 2 Panel
The show's stars, showrunner, composer, and costumer dish about the season's highlights.
Emmy winner Bridgerton's second season took us further into its world of stylish Regency England romance with the story of two sisters from Bombay who turn London society on its head — in the best way possible.

Season 2 picks up nearly a year after Season 1 takes place: Just as the eldest Bridgerton, Anthony (played by Jonathan Bailey), has made his duty-driven decision to find a wife, in walk Kate and Edwina Sharma (played by Simone Ashley and Charithra Chandran, respectively). Edwina immediately catches Anthony's eye when she's named the queen's diamond — a title given to the most eligible bachelorette each season — and they begin a courtship opposed only by Edwina's older sister Kate, who's overheard Anthony talking about women in a less-than-ideal way.

But, as the saying goes: There's a thin line between love and hate. When Kate realizes what lies behind Anthony's stubborn, rakish exterior, their disdain for one another transforms into a romantic pull that neither can shake — even as Anthony becomes engaged to marry Edwina.

Along with a tantalizing new love story, Season 2 brings with it more of composer Kris Bowers's pop-tinged classical score we've come to love, more glamorous costuming helmed this season by Sophie Canale, and, of course, more revelations about our favorite characters, including the audacious Penelope Featherington (played by Nicola Coughlan), who was unmasked — for the audience, at least — as notorious gossip-sheet writer Lady Whistledown at the end of Season 1.

How does showrunner Chris Van Dusen come up with these brilliant plots? How did actors Ashley and Chandran play out such a believable sisterhood? And does Penelope harbor yet another secret? Community star, comedian, and avowed Bridgerton fan Yvette Nicole Brown hosted an FYSEE panel with Chandran, Ashley, Coughlan, Van Dusen, Bowers, and Canale to dish about the beloved show — including a surprising revelation about Season 3.

The following conversation has been edited for length and clarity.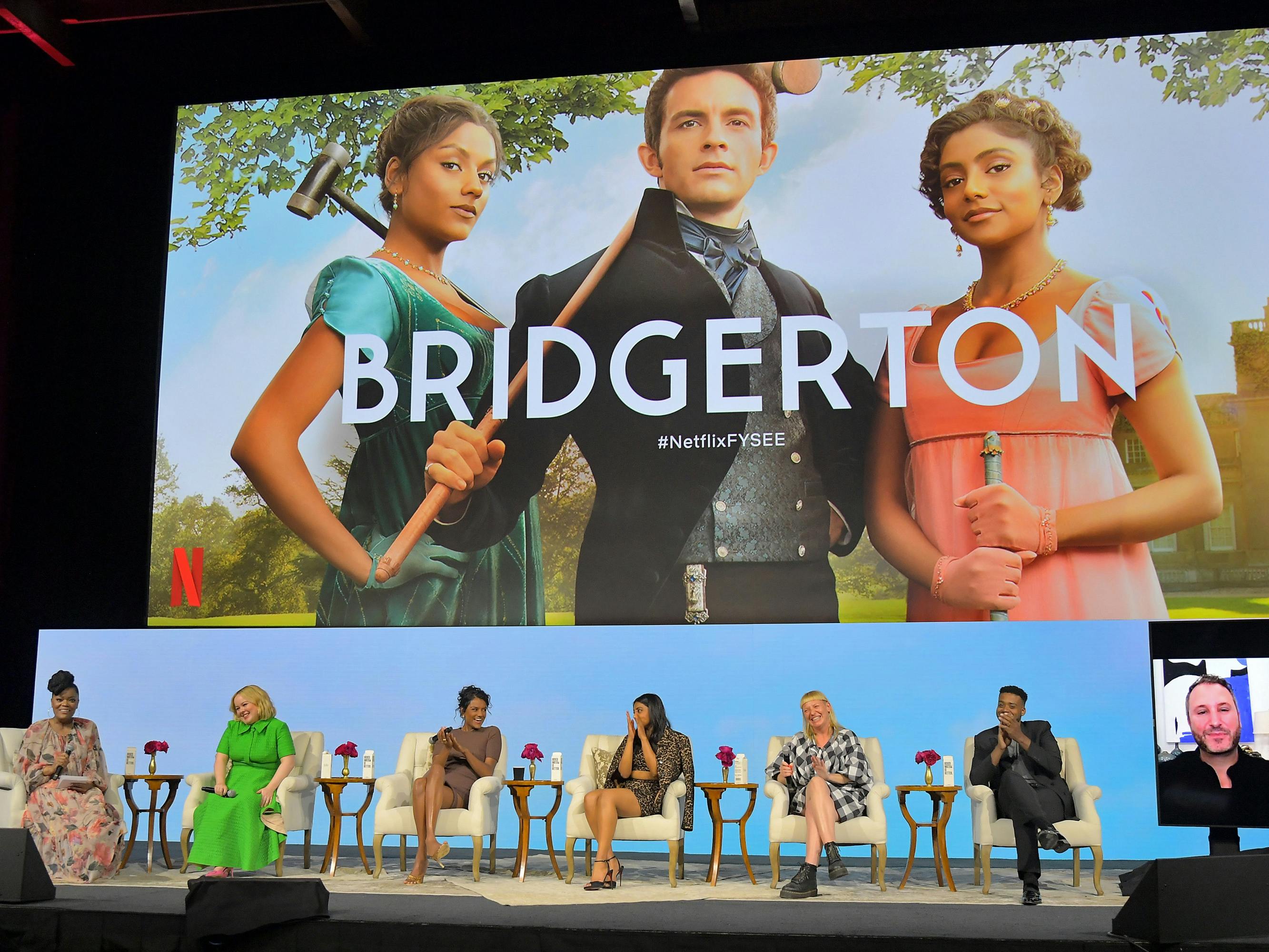 Yvette Nicole Brown: I'm going to start with Chris, the one who created this wonderful experience for us. This season brought more of the Bridgerton family drama. Can you talk about your writing process and keeping it fresh when creating a show that has been such an international sensation?

Chris Van Dusen: What was important for me going into Season 2 was making sure that all the magic the world fell in love with our first time around was not just still there, but also there in a new and exciting way. And I think the way this series has been set up, allows us to do exactly that as far as having this beautiful, familiar world we're fully immersed in, but also bringing in new characters, and new romances, and new stories season after season. And this year we got to introduce the fabulous Sharma family and switch our central romance to this incredibly fraught and sexy enemies-to-lover's love story, which was quite different from what we had in Season 1.
I'd say that's been the joy of creating this show. I tried really hard to write the second season in a bit of a bubble, as far as trying my best to tune out the whole international sensation, worldwide phenomenon part of it. But this show, it really was everywhere I looked and the expectations and the opinions about it, it was coming to me from, from all sides. Whether that was my own mother, or my now-four-year-old daughter who just wanted to be sure she'd still see a queen in Season 2. So yes, this season ended up being even bigger than Season 1. I think there's something to be said for embracing all the pressure and expectation, and using it to make the best show you possibly can.

Brown: Simone and Charithra, what was it like joining a show that was already this huge? Tell me what that was like walking on set the very first time and being like, I'm on Bridgerton. How did you feel?

Simone Ashley: I immediately fell in love with the relationship between the two sisters, and Kate and Anthony's relationship. So there was a massive part of me where I was just so engrossed in that side of it all, and the chemistry that Kate and Anthony have, that Johnny and I have. It gave me so much confidence walking into it. And I just remember the first day filming: We were filming Episode 2, the races actually, and it was a really sunny day, and there were a lot of us in [the scene], which I think helped. It was the really big ensemble scene from my chemistry reads with Johnny that just fed me so much confidence going into this, knowing it's going to be so much effort put into it, but there's that sense of once you're on set, you just let it go.

And I felt very liberated, with such generous actors to react off and beautiful costumes where you don't have to think about all of those things, you just fit into it. You're in the corset. You find the posture. We worked so hard on an accent for the Sharma family, with Jane Karen, our amazing accent coach. And we had so much fun, genuinely. I just remember by the end of that day, let alone that week, it was like, Is this what it's going to be like for the next 10 to 11 months then? Yeah, it was one of the best experiences of my life. 

Charithra Chandran: I think we can all sort of understand joining a popular show, but Bridgerton is cultural zeitgeist. It's so much more than a show. It's a social phenomenon. It was nerve-wracking and exciting for the exact same reasons. But within the first few hours of our first day, everyone made us feel so welcome and comfortable. And although there are hundreds of people on set, it feels strangely intimate. I also think that because we were filming during COVID, our work family became our family. And so I think that situation made us develop more personal and intimate relationships than we may have otherwise have. For those reasons it was super nerve-wracking, but we settled in very quickly.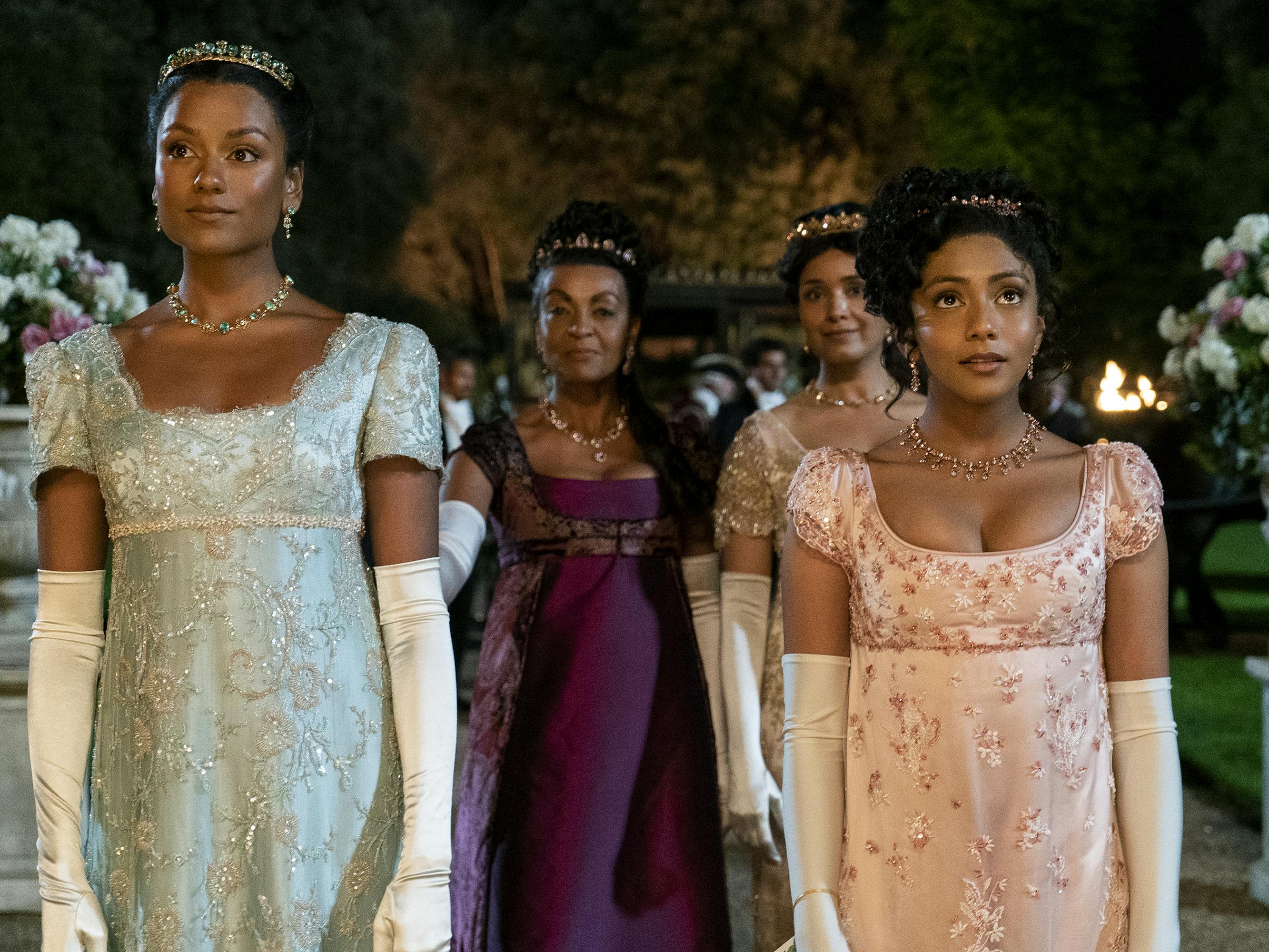 Brown: Nicola, I'm a huge fan of yours. I can't even look at you right now as I love you so. 

Nicola Coughlan: Don't pretend I didn't grab you and be like, I love Community so much. I've seen it 7,000 times.

Brown: And I was like, How do you know I exist, how? So, at the end of the first season we found out that Penelope is actually Lady Whistledown. Your Penelope has so many layers. You get to play betrayal; you get to play unrequited love. What has it been like for you to take this ride with this character for two seasons?

Coughlan: Well, in Season 1, you see her as this wallflower and you think, Oh, I get who that girl is. And then, at the very last minute, you go, Hang on a minute. It was exciting coming into Season 2, knowing I get to play all of that. And every day was a new challenge with her, because she's either the wallflower, or she's this business woman, or she's a bratty teenager, or she is someone who's like a lovesick puppy. So as an actor, it's what you pray for. Because it's something different all the time with her. But yeah, she's a complex little lady.

Brown: Takes a complex actor to be able to do it, too. Okay, Kris, the music in Bridgerton is so iconic. I remember watching and a song would be playing and you're tapping your toe, and you're like, Wait a minute, that's "Material Girl." So what has that experience been like? What's the process like coming up with this wonderful music?

Kris Bowers: So I can't take credit for a lot of the pop covers that are in there. That's the music supervisor. This season it was Justin Kamps, first season was Alex Patsavas. For me, the process is really just focusing on starting with a moment that speaks to me most viscerally and coming up with a theme that I can then build throughout the season. This season was really fun to look at different characters, and different story arcs from Season 1, especially with Kate and Anthony's theme, and thinking about how that would develop in the course of this whole season. And usually I'll start with a feeling that encompasses at least the majority of the season, and then figure out how to weave that through different emotional changes in the season.

For Kate and Anthony's theme, for example, I wrote that really almost tragic piece of music, because, at first thought about this story I was like, There's no way this plays out in a positive way, or There's no way somebody's not hurt by this at some point. But then at some point I knew that it would get to be this emotional release.

I find some way to create these themes that can have these different emotional arcs and moments throughout the season. Also, in knowing that Penelope is Lady Whistledown, I'm figuring out how to play Penelope as Penelope, and also Penelope as Lady Whistledown, and Lady Whistledown as her own character, and how to figure out how to have these themes play throughout the series in a way that can connect us to these characters in a different way.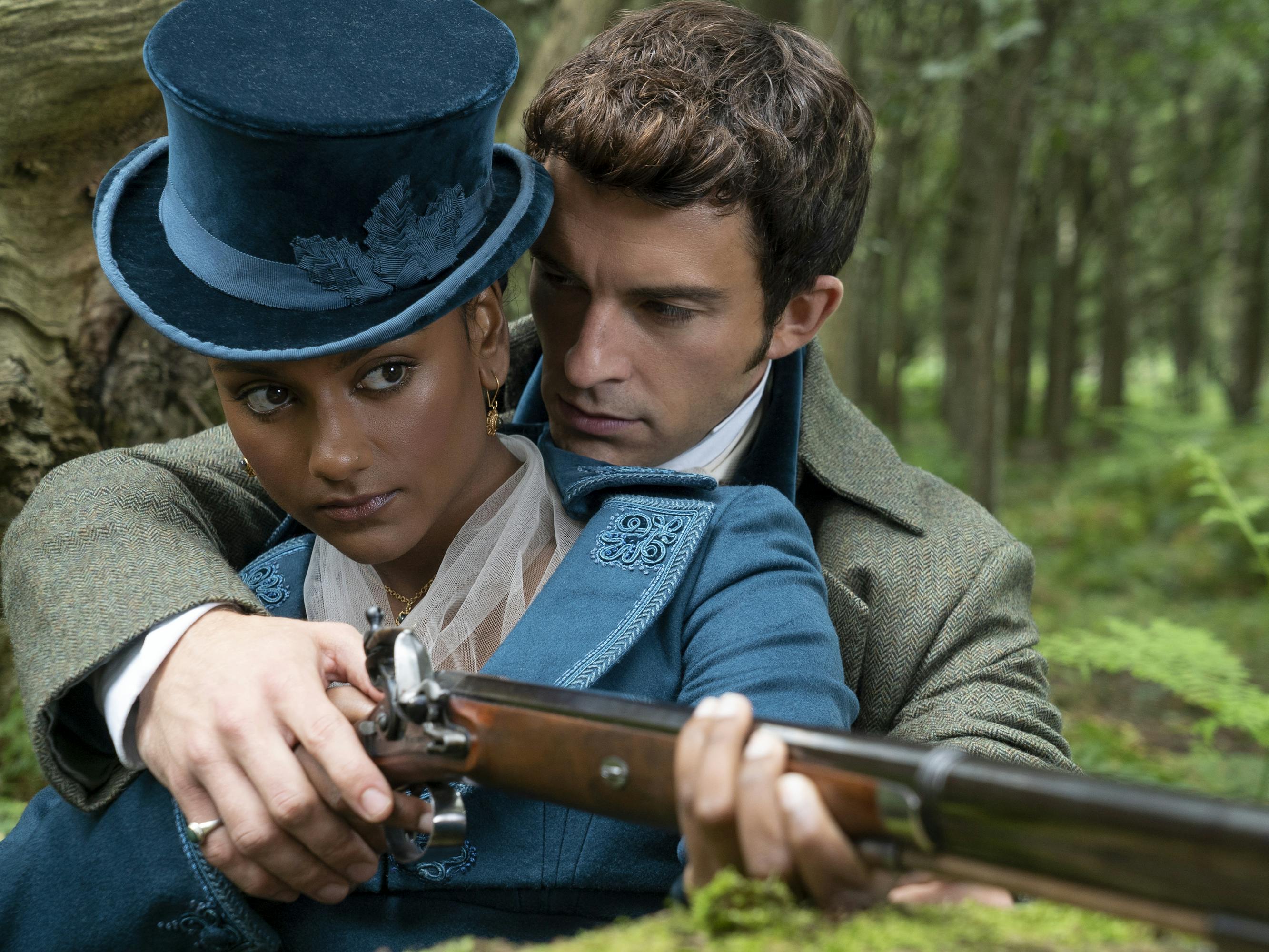 Brown: Is it true that you played on some of the cover songs? 

Bowers: So yeah, all the piano playing is me and on "Material Girl," the harpsichord; that's me. 

Brown: Sophie, these costumes. Girl, they are so beautiful. So elegant. So what were your notable influences as you're creating this? And how many different gowns do you create for each of these actresses? There are so many gowns.

Sophie Canale: There are a lot of costumes. For the men as well. I think we average making about 150 costumes every six weeks. The team is incredible. Their craftsmanship is unreal. I think we kind of gauge about 40 costumes for each principal woman for the whole show. And we average between, I would say, 8 to 28 days to make a dress, depending on the embellishment and how much work goes into it. Obviously the ball dresses are a lot more work than the day dresses.

Brown: What inspires you? Do you look at the actress and go, She should be in plum? I noticed you [Ashley] wear a lot of purples and eggplant, and you're [Chandran] in a lot of pink. So does every character have a certain color scheme, or how do you decide?

Canale: I worked on Season 1 as an assistant costume designer. So Ellen [Mirojnick] and John [Glaser] created this world of Bridgerton where you had the pastoral shades in the Bridgerton family, the citrus in the Featherington. When the Sharma family came in, I wanted to give them their own color palette. And looking at emerald colors from the jewel tones of India, I really wanted to push that forward, especially with Kate's character. Kate's on a journey throughout; you see her with a heavyweight fabric as we start Season 2 with darker colors, and she becomes lighter as we go through, and kind of understand her character more. And as she falls in love with Anthony, the use of fabrics, the colors, also lend to the emotion. In the same way Kris says — you use those elements to really portray how the character feels.

Brown: Chris, each scene is this amazing combination of visual magic and sound. As you're creating, is there a certain character that you love to write for more, and has that changed from season to season? Do you have a muse or muses?

Van Dusen: Honestly, I love writing for all these characters for really different reasons. And the underlying narrative arc of the entire show is really this question of whether love can conquer all. Season 2 looks at that question through the lens of familial duty. And you especially see that with what's happening with Anthony and Kate this season, and with such obscenely talented actors, writing scenes for the two of them, it's been such a privilege. I could write those kinds of supercharged and deeply emotional scenes all day, and I love that. 

But then, there are the scenes we get to write on the show like making Jonathan Bailey fall into a lake in a very tight, very wet white shirt. And making him sit in hot steaming baths all day, and utter his now infamous line about being "the bane of my existence, the object of all my desires." Those I would say are also some pretty good times, speaking from a writer's perspective, and then watching Johnny do them and say them, which always somehow manages to be 100 times better than I ever thought it would be. 

But I'm also not sure if anything in my career will ever come close to writing lines for Dame Julie Andrews [who voiced Lady Whistledown], and ending up with really snarky, borderline bitchy things for Julie to say, and then hearing her say them in her most signature, bright Julie Andrews kind of way — that has really been everything. So, clearly, I love that too.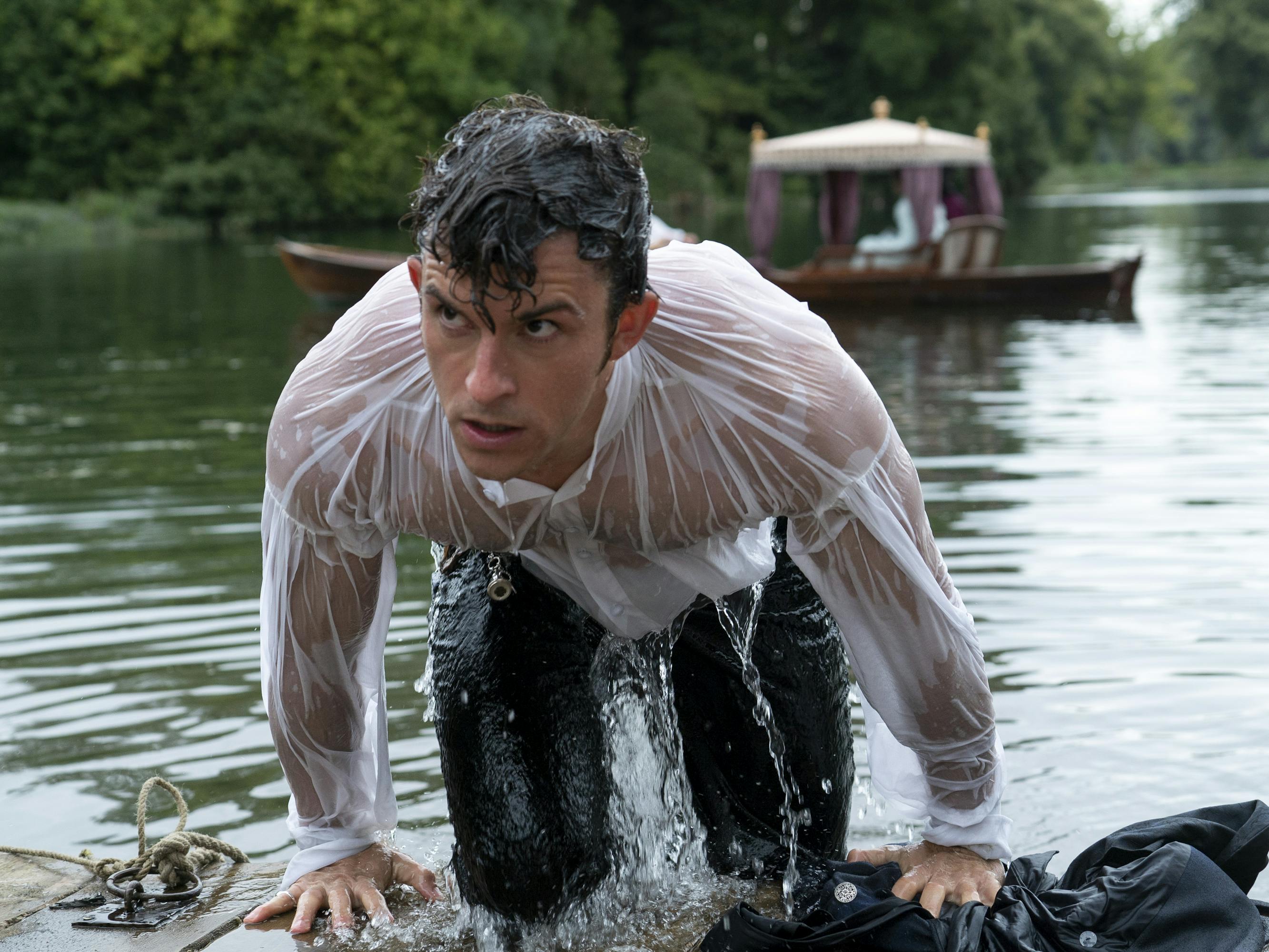 Brown: Simone and Charithra, you two play sisters. I believe it. I believe that you grew up together and you've known each other your whole lives. Did you take time before the season to say, Let's just hang out for a couple of weeks, or did you just get on set and act?

Ashley: We didn't have enough time prior to filming. We kind of just went straight into it. We had one rehearsal. I can't speak for Charithra, but most of the time I got to know Charithra was on the makeup truck. Charithra would be playing songs and we'd be in the chair at like 4 or 5 AM getting ready for the day, talking about the scene, going through our lines. I was always incredibly observant with how I felt, how I was relating with Charithra, always listening to her. The makeup bus is a very safe space, I think, for an actor, and it's an incredibly intimate space. I always say this and I'll continue to say it: Kate learned so much from Edwina, and I learned so much from Charithra.

That, for me, was the development of this sisterly relationship. And I think it's what we see in all of the female relationships within this show. The conflict, the contrasting opinions between women, but at the end, it always concludes that we are united. 

Chandran: I agree with everything Simone said. COVID meant we couldn't actually meet in person unless absolutely necessary. And I think that we really benefited from sort of a natural chemistry that we shared. And I remember one day, maybe four weeks into shooting Season 2, a wonderful supporting artist came up to the three of us and said, "So how long have you guys known each other?" And we were like, "Four weeks, not too long." And he was like, "It feels like you guys have known each other for years."

And I think I'm so grateful that we just kind of had those natural relationships. Also when you're filming a TV show like Bridgerton, there is just a lot of downtime. And so you naturally develop a relationship over time, spending the moments in between takes, and the whole cast and crew is like a family. 

Brown: Well, it shows up onscreen 100%. Kris, do you have a favorite piece of music from this season?

Bowers: I mean, Kate and Anthony's theme is definitely a favorite just because of how much it goes through these different emotional ups and downs throughout the season. I'd say a lot of music in Episode 1 was a lot of fun. There's a cue called "sharpening my knives," which is the reintroduction of Lady Whistledown's theme, and Lady Whistledown's theme is one of my favorite themes from the show. It was fun to reinvent that theme, and also to turn that into something else once we come to see Penelope as Lady Whistledown.

There's also a cue called "accidental eavesdropping" when it's the first ball, and it's Kate hearing Anthony talk about how he feels. That was a lot of fun because the cue has to act as this piece of music that they're dancing to, but also kind of comment emotionally on this moment that's happening outside. And then "the real work begins," which is a cue that plays when Anthony and Edwina have their first dance. It's charged with a lot of the context that we have as an audience going into that moment. So I feel like those are some of my favorites this season.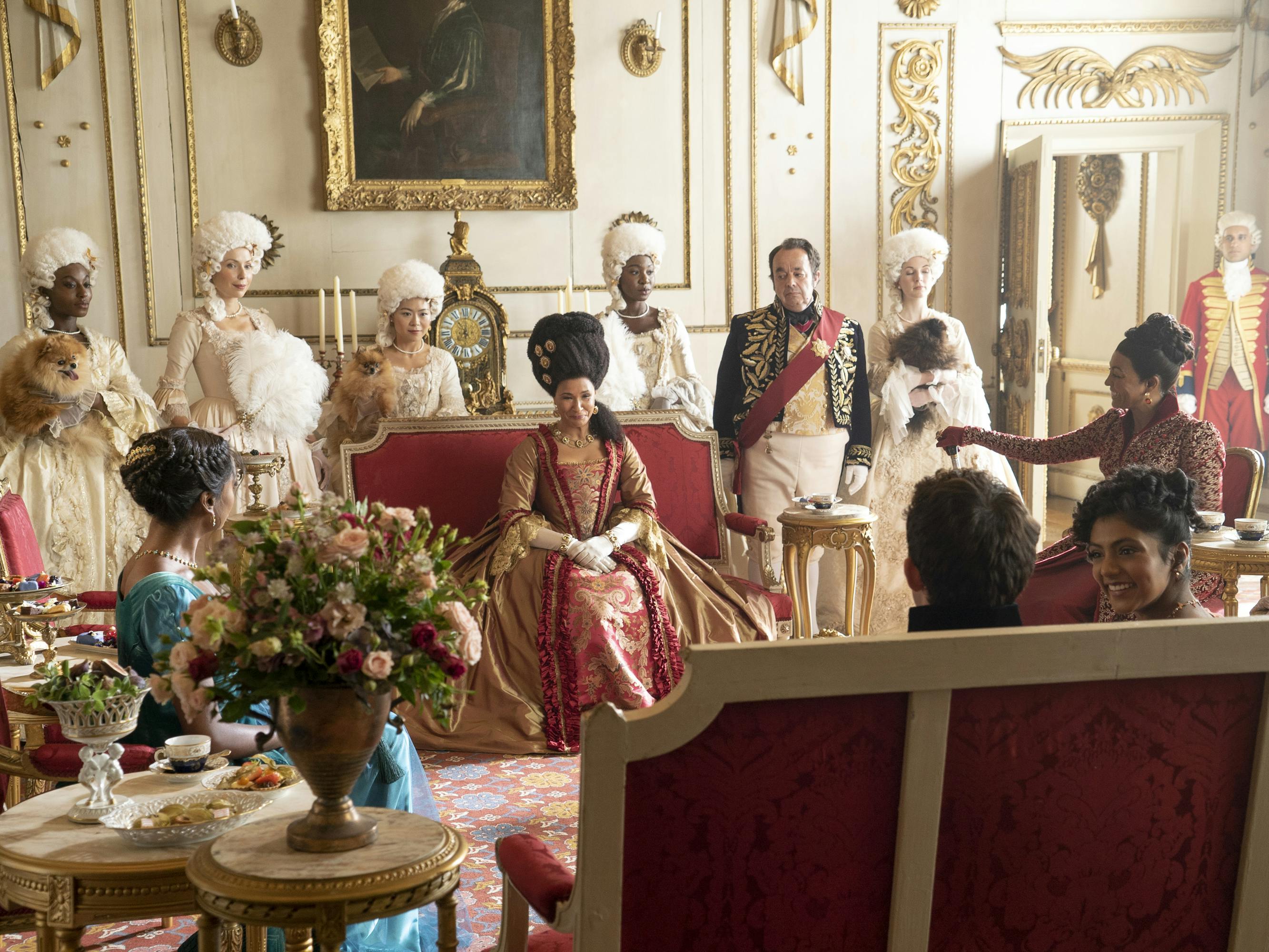 Brown: Nicola, how do you think your character Penelope has changed and developed throughout Season 2? What do you admire about her, and what advice would you give her?

Coughlan: "Stop lying," would be my first thing.

Brown: She lies a lot. She lies a lot.

Coughlan: "You're going to get very stressed out by all this lying, Penelope," would be my first thing. I think I always describe Season 2 as her Britney Spears season. She's not a girl, not yet a woman. I think she thinks she's far more because she's really smart, but she's not street smart. So she's like, I'm the puppet master and I could do all of this, and then it's all sort of falling apart around her. I think what I like about her is her unapologetic ambition, because she's very conflicted in a lot of ways, but when she's in Whistledown mode, she goes, I'm a business woman. I'm doing this, I'm really good at it, and I'm going to figure out how to make that happen. That's really cool.

It was so unusual for a woman of that time to have her own business, and to be able to navigate all of that. So I love that about her. I also love how much she loves. When you see her with Eloise and with Colin, she deeply loves them both so much. But what I also like, and it's a running theme with Shondaland characters, they're not afraid to make women unlikable sometimes. Because, why do women always have to be nice? If only Walter White was a bit softer, we could really . . . We don't need to do that. We shouldn't do that for women.

Brown: This is what I love about this show. Well, I love a lot of things about this show, but one of the main things I love is how women are written. Every version of us is seen, all of our foibles, everything that's great, everything that's scary; it's all there. And anyone taking the ride can pick a character and go, That's me today.

Coughlan: 100%. And also women, not of one age. Not of one color. All of those things. This show, I'm so proud of it.

Brown: It's a wonderful thing. Sophie, can you speak to us about how all the other departments work together. Like hair and makeup, and wardrobe, how do you all come together to create a look for the show and for each individual character

Canale: I think it all comes down to communication, and having Chris as a great leader and Will Hughes-Jones, who's the production designer. I would communicate with him a lot about the color of the set. So then we are making sure that the costumes are working within those environments. Also there's Erika [Ökvist], hair and makeup designer; we want to make everyone look together. So it's all down to communication. And Jeff Jur who's the D.O.P. We had such a great relationship in having an understanding from my point of view of how lighting works with costumes. So it's all about being on the same page.

Brown: Chris, is there something that you'd like all of us to know about Bridgerton Season 2 that's special, that means something to you?
Van Dusen: I don't think Bridgerton would be Bridgerton without the colorful world that the show is set in. And it's a multi-hued and multi-ethnic and beautiful world. And it's for a modern audience at the end of the day. And so we wanted modern audiences to relate to it, which meant that we wanted anyone to be able to see themselves reflected up on that screen. And so was always going to reflect the world that we live in today. And in Season 2, I wanted to further build upon that and expand that. And I think we did that with the introduction of the Sharmas. And what we are saying at the end of the day with this show, is that we're giving everyone a voice, and we're allowing everyone, no matter where you're from, a happily ever after. And these are not stories about violence or trauma or things like that, these are stories about romance and love. And what we're saying is that everyone is worthy and capable of having those very things.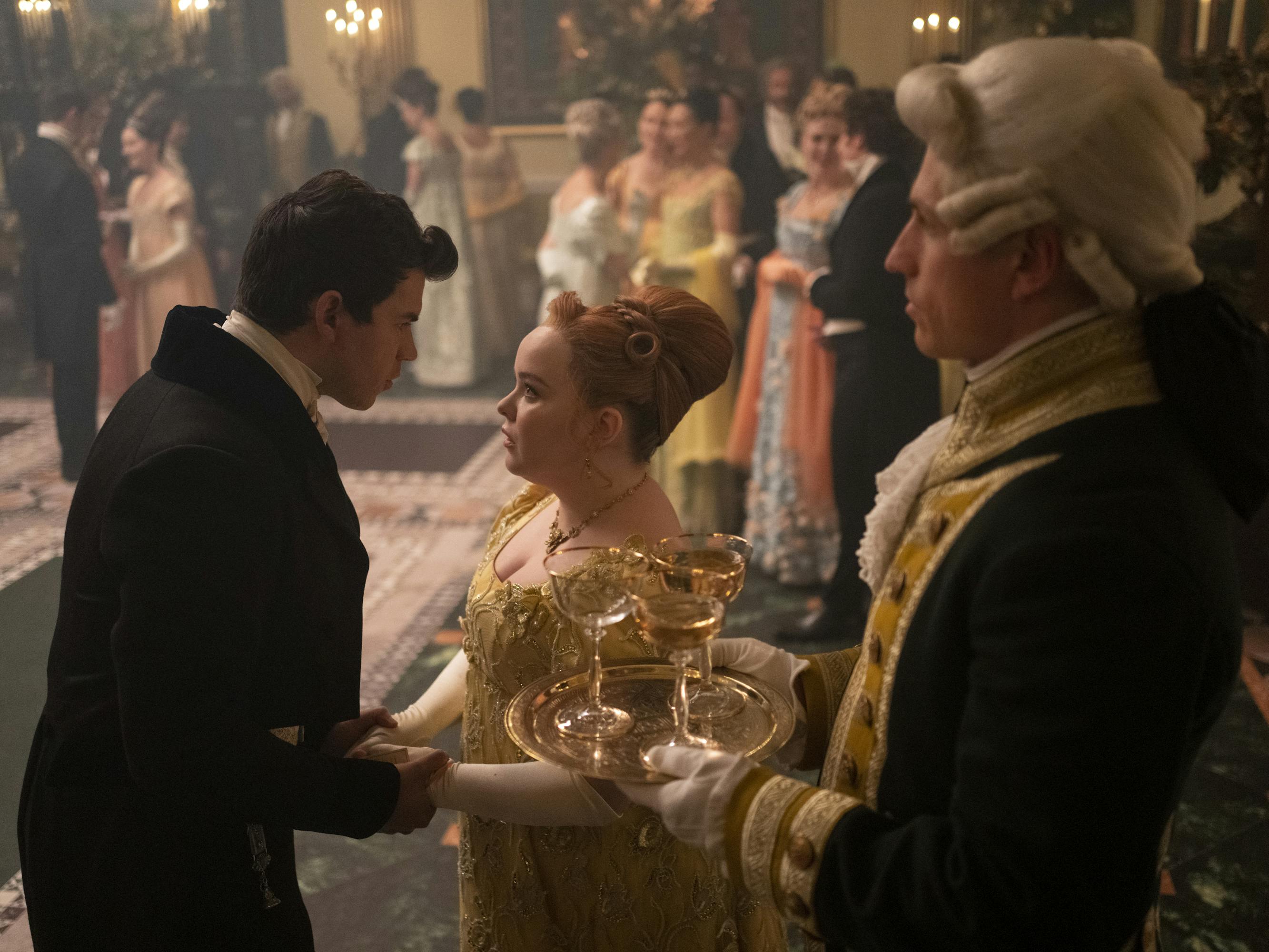 Brown: Well, listen, we're winding down, but I couldn't possibly end without giving Lady Whistledown the last word. Nicola, is there something that you'd like to share with us about Season 3?
Coughlan: So, like Lady Whistledown, I have been keeping a secret for quite some time. I'm so nervous. I can confirm to you all that Season 3 is Colin and Penelope's love story.

Brown: We're calling them Polin. We're calling them Polin.

Coughlan: I have kept that secret since, like, two weeks into Season 2.

Brown: So how do you feel about this news? I'm so excited, but this isn't about me. How do you feel?

Coughlan: Terrified. It's crazy.

Brown: Why are you terrified? Let's talk about it.

Coughlan: It's scary. I mean, I was chatting earlier and I was saying that Colin and Penelope are like the Ross and Rachel of Bridgerton, but Penelope's Ross. She's desperately in love; he has no idea. And Luke Newton's [who plays Colin] not here, but I mean, what a sweetheart, what a gorgeous scene partner. Also, even more awkward that I've known him for like three years, thinking about all the scenes we have to shoot. But I have had the run through of the whole season and it is incredible. I'm so excited. We start shooting really soon. 

Brown: I feel like my dreams have come true in this moment. I've been rooting for you all, and I'm glad that he's finally going to come around, because he got on my nerves this season. Well, listen, I thank you all for coming, and I wish you all the best during Emmy season. I hope that some really great things happen for all of you. You're so talented. And Season 3 is going to be really great.