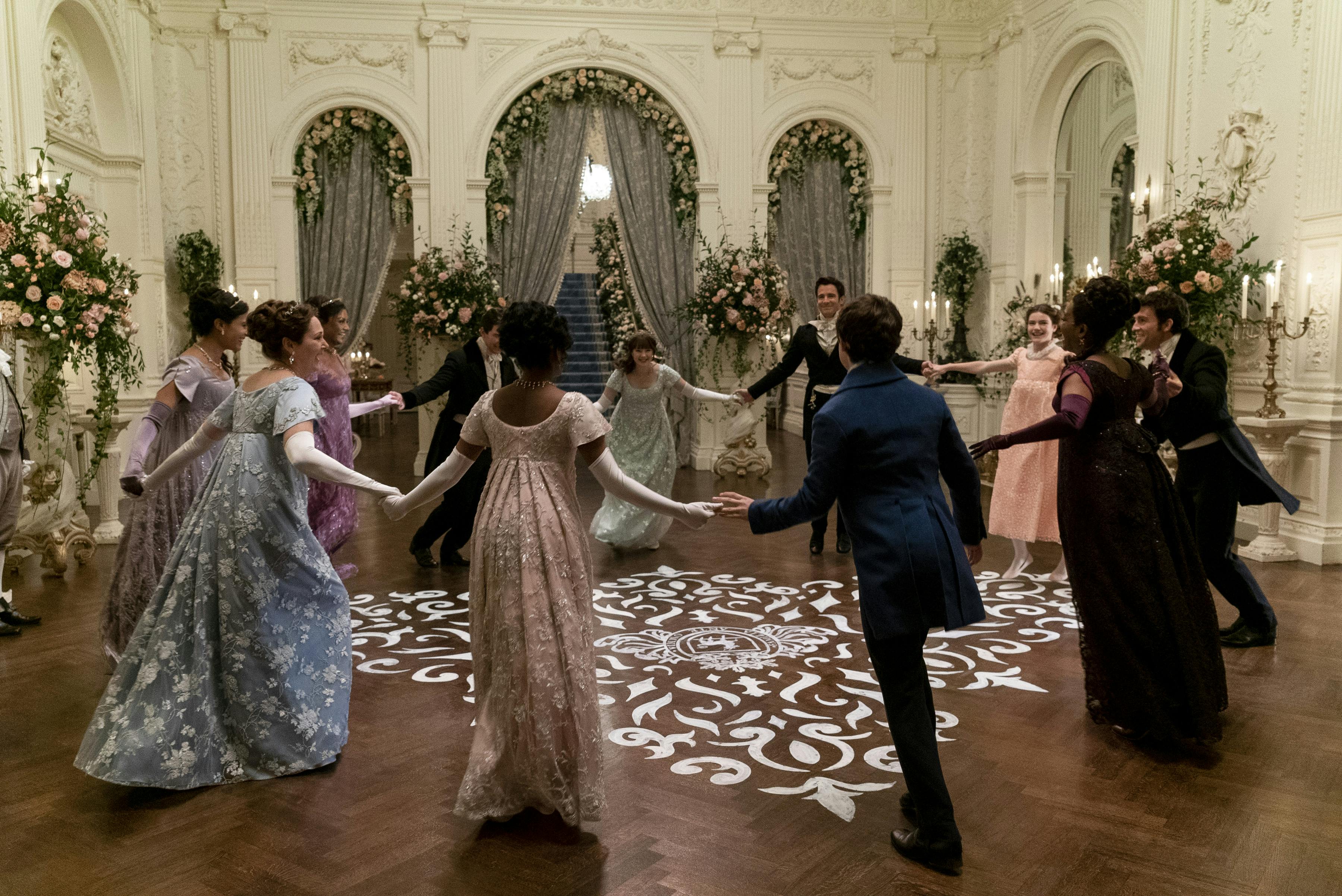 Bridgerton's orchestral covers of beloved pop songs floated effortlessly through Season 1 of the series, keeping millions of gleeful fans engaged in the bawdy Regency-era drama. For some it was Ariana Grande's "thank u, next" as Viscount Anthony Bridgerton escorted his eligible sister Daphne through crowds of ineligible suitors. Others couldn't look away as Celeste's "Strange" played during Duke Simon Basset and Daphne's steamy wedding night. And who could forget the couple's honeymoon montage to the tune of Taylor Swift's "Wildest Dreams?" The addictive covers of modern favorites escorted us through the highs and lows of the marriage season, adding to the intrigue, chemistry, and thrill of each ball and every romance. 
Alexandra Patsavas, the music supervisor for Season 1, first teamed up with Shondaland on the pilot of Grey's Anatomy, and has worked on all of the studio's projects since. "Defining music as a character has always really been a part of the Shondaland ethos," she says. Together with Grammy and Emmy-nominated composer Kris Bowers, showrunner Chris Van Dusen, and executive producers Betsy Beers and Shonda Rhimes, Patsavas and the music team relied on experimentation to find the perfect balance between traditional and contemporary sound. The result is both celebratory and catchy, fit for the illustrious balls and the outsized characters who occupy them.
Bridgerton's second season — chock full of sexual tension, naked viscounts, and forbidden love — is armed with an equally distinctive roster of pop covers. This courting season sees eldest Bridgerton sibling Anthony pursuing a wife while wrestling with past trauma and present responsibility. Threatening his rigid way of life are the Sharma sisters, Kate and Edwina (the queen's diamond-of-the season), who arrive in London, along with their mother, their corgi, and their own family secrets.
Joining the team as lead music supervisor this season is Justin Kamps (Lucifer), who rose to the challenge of such a suspenseful, sexy, and highly anticipated storyline. For a show where choreography and movement is front and center, the rhythm was critical when building the soundtrack for the drama-laden ballroom scenes. Season 2's lineup of covers also features a range of well-known pop stars: Alanis Morissette, Nirvana, Madonna, Rihanna, and Harry Styles, among them. Kamps also worked in new types of music: "We have these amazing characters [in] Kate and Edwina, and we wanted to really represent them and their culture. It seemed like a great moment to highlight a genre of music that we had not featured to this point: Bollywood," says Kamps, referring to the use of "Kabhi Khushi Kabhie Gham" in Episode 6.
Most deserving of a dramatic soundtrack was Season 2's passionate and forbidden central romance between Kate Sharma and Anthony Bridgerton. A Vitamin String Quartet cover of Robyn's "Dancing On My Own" kicks off their journey, describing the characters' independent and emotionally closed-off approach to life, and Midnight String Quartet's take on Miley Cyrus's "Wrecking Ball" plays to end the lovers' journey, encapsulating Kate and Anthony's undeniable impact on each other. 
Although Bridgerton's compositions are string arrangements, the original songs' lyrics complemented the scenes and character arcs they accompanied. Like the Duomo cover of P!nk's "What About Us" that mirrors the existential stress at the end of Episode 6: "We just had this wedding blow up, and everyone's kind of gossiping," says Kamps. "Ultimately it leaves Kate and Anthony in the chapel feeling like, What about us? What's happening here?" For scenes as pivotal as the pair realizing their attraction, Kamps describes leaning into Bridgerton's raison d'etre: "We're hearing a string quartet version of 'How Deep Is Your Love' that just adds a whole other connection to modern times, which allows it to be sultry and sexy in ways that using something traditional wouldn't necessarily be able to do."