Easter Eggs
BRIDGERTON'S POP CULTURE OBSESSION
Queue rounds up everything you missed in the second season of the Regency-era soap.
Over-the-top balls, scandalous secrets, and sexually-charged eye contact galore — Season 2 of Bridgerton had all the hallmarks that have made the hit series such a beloved fan-favorite since its 2020 debut. But what audiences might have missed on first viewing are the copious cultural references scattered throughout the season's refreshingly inclusive take on Regency-era England. From nods to the Sharma sisters' (Simone Ashley and Charithra Chandran) Bombay roots to style points from contemporary icons like Beyoncé and Kylie Minogue, Season 2's production design, costuming, and hair and makeup drew inspiration from an array of intriguing sources. So settle in for a second viewing of the juicy, drama-​packed season and see if you can spot the clever homages woven into the luxe tapestry of Bridgerton.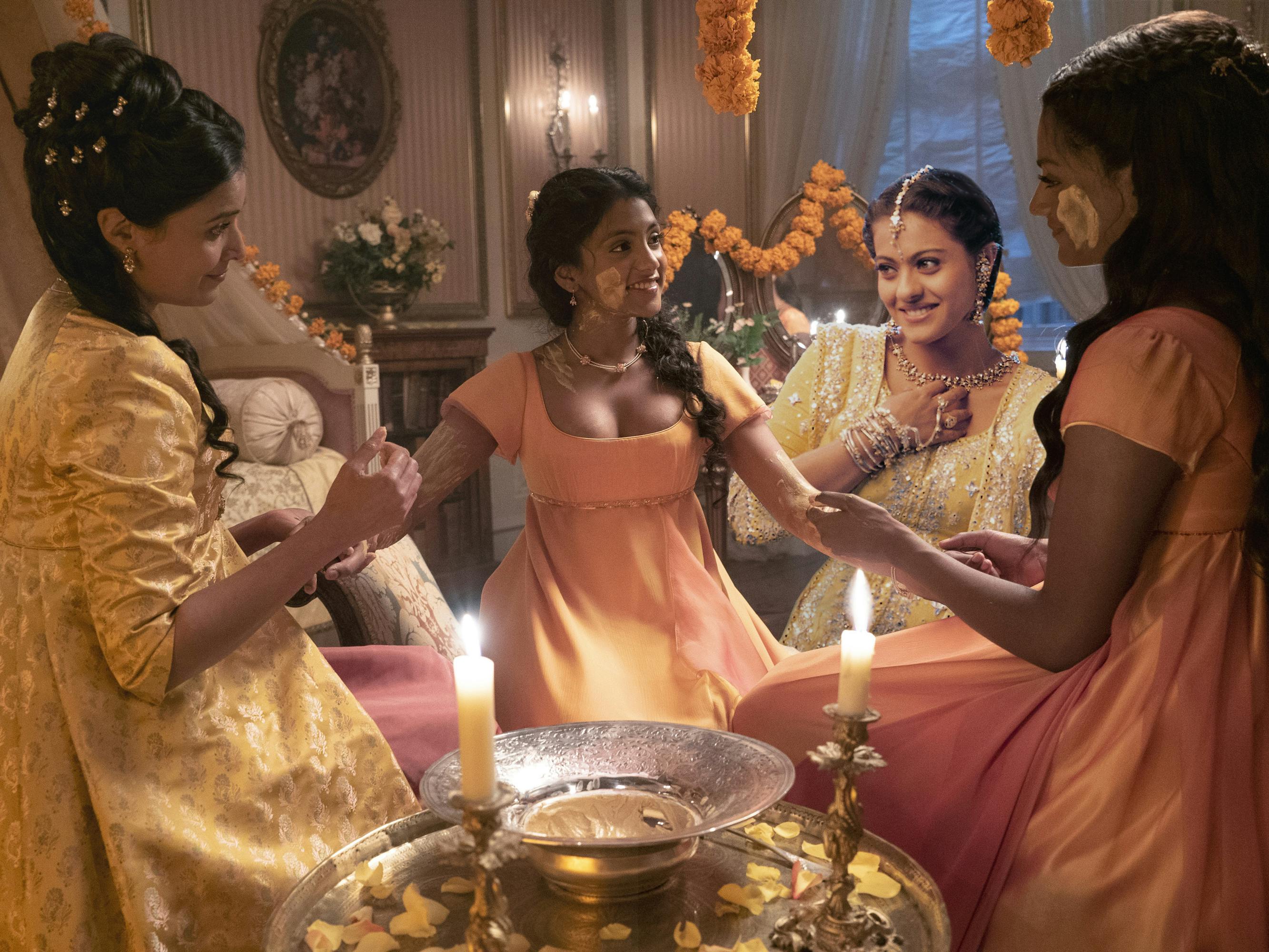 The season pays homage to Kate and Edwina Sharma's homeland in multiple ways. "We aim for nods to the culture," Edwina actor Charithra Chandran told Queue. "The Sharmas are immigrants. They're not only brown, but more importantly, they're Indian . . . It's wanting to be true to that." In Episode 6, Kate and her mother (Shelley Conn) spread fresh turmeric paste on Edwina's arms as part of a pre-wedding Haldi ceremony to the tune of the title track from one of Bollywood's biggest movies, Kabhi Khushi Kabhie Gham. "We have these amazing characters [in] Kate and Edwina, and we wanted to really represent them and their culture," Kamps says. "It seemed like a great moment to highlight a genre of music that we had not featured to this point: Bollywood."
Bridgerton's tea, both the gossip and the drink, is real and piping hot. Kate mentions to Lady Danbury (Adjoa Andoh) how much she hates English tea and later she prepares her preferred India-originating masala chai while visiting the Bridgerton family at their country home, Aubrey Hall.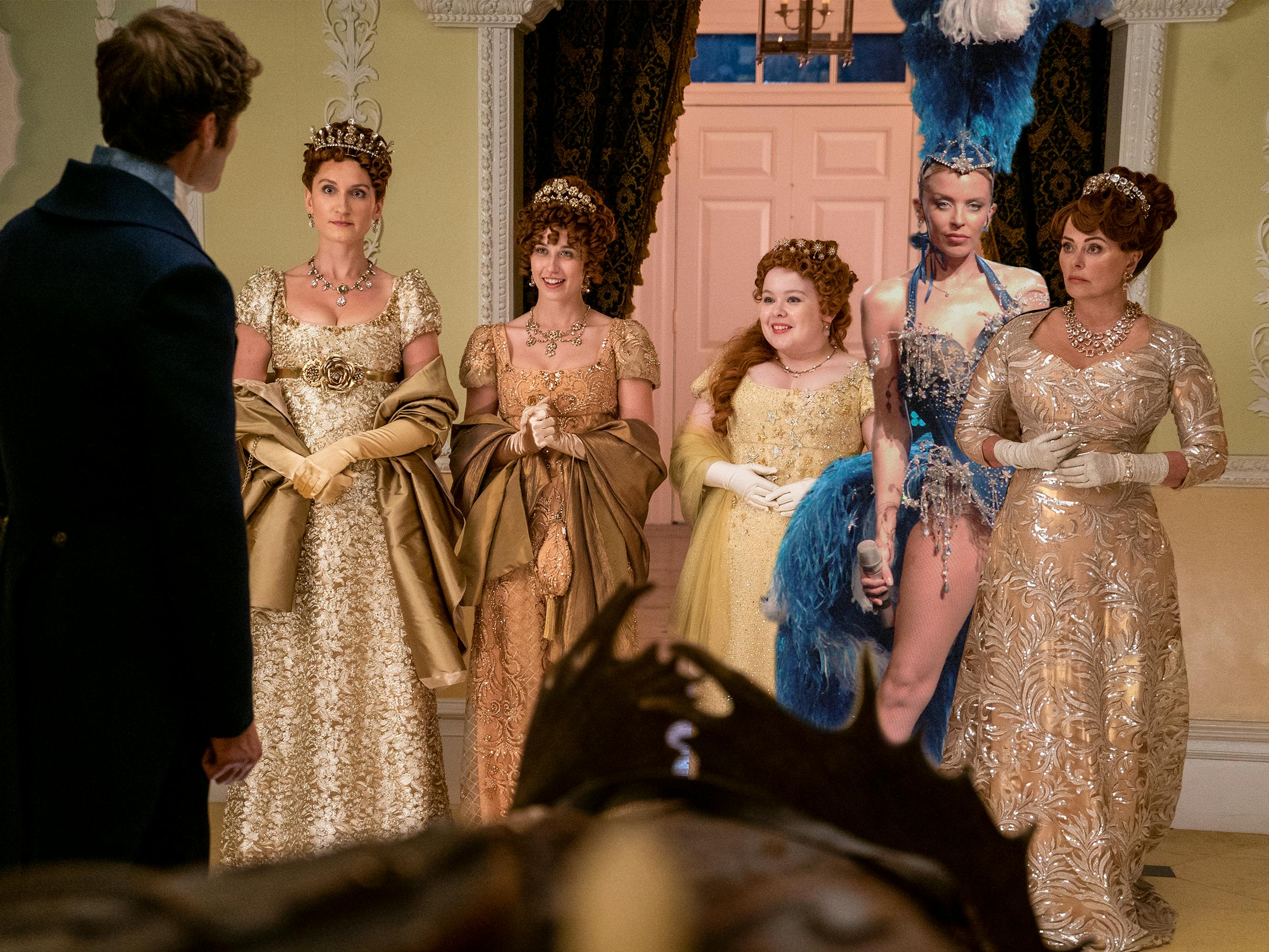 The Diamond Ball brought out the more glamorous side of our two favorite Featheringtons. Penelope's (Nicola Coughlan) sequined, yellow gown was inspired by a John Galliano design worn by pop icon Kylie Minogue on her 2005 tour. Her sister Philippa's (Harriet Cains) frock featured more than 14,000 crystals in four shades of gold. With the introductions and peacocking unfolding to an orchestral take on "Material Girl," one could only imagine what Madonna would have worn.  
For Queen Charlotte (Golda Rosheuvel), late hair and makeup designer Marc Pilcher was influenced by another queen, Beyoncé:  "When I researched Queen Charlotte and found out that she was of African descent, it gave me so much scope to create her beautiful looks. I used the silhouettes of the period, but in a celebration of her ethnicity, I used locs, braids, and Afro-textured styles. Her giant Afro was in the shape of a Gainsborough wig, but influenced by Beyoncé as Foxxy Cleopatra in Austin Powers in Goldmember."
To create Lady Featherington's (Polly Walker) look, the costume, hair, and makeup teams drew from mid-twentieth-century styles as embodied by actors Elizabeth Taylor and Deborah Kerr. The indomitable woman of the house has a wardrobe full of attention-grabbing patterns and bright colors that evoke the 1950s.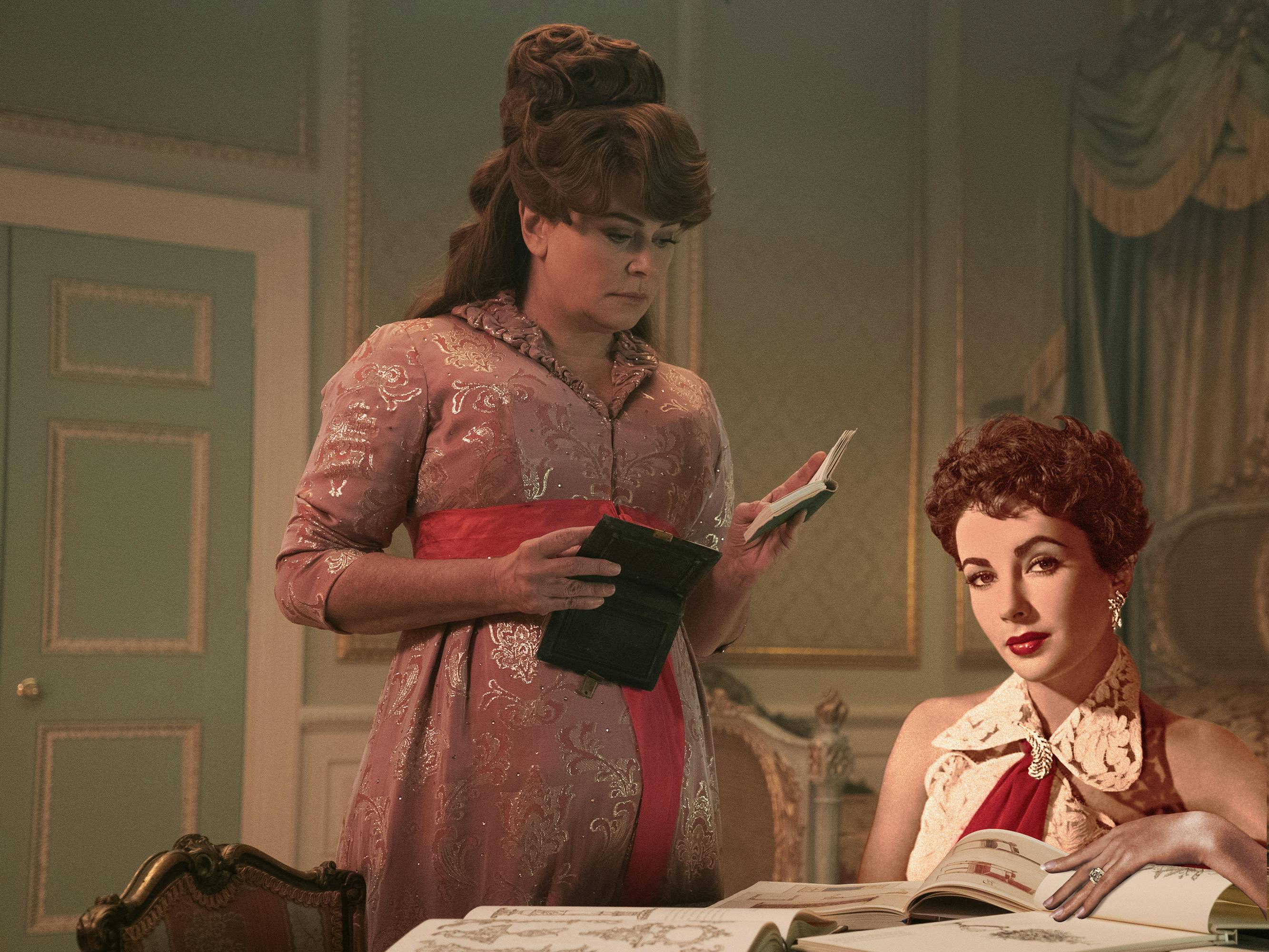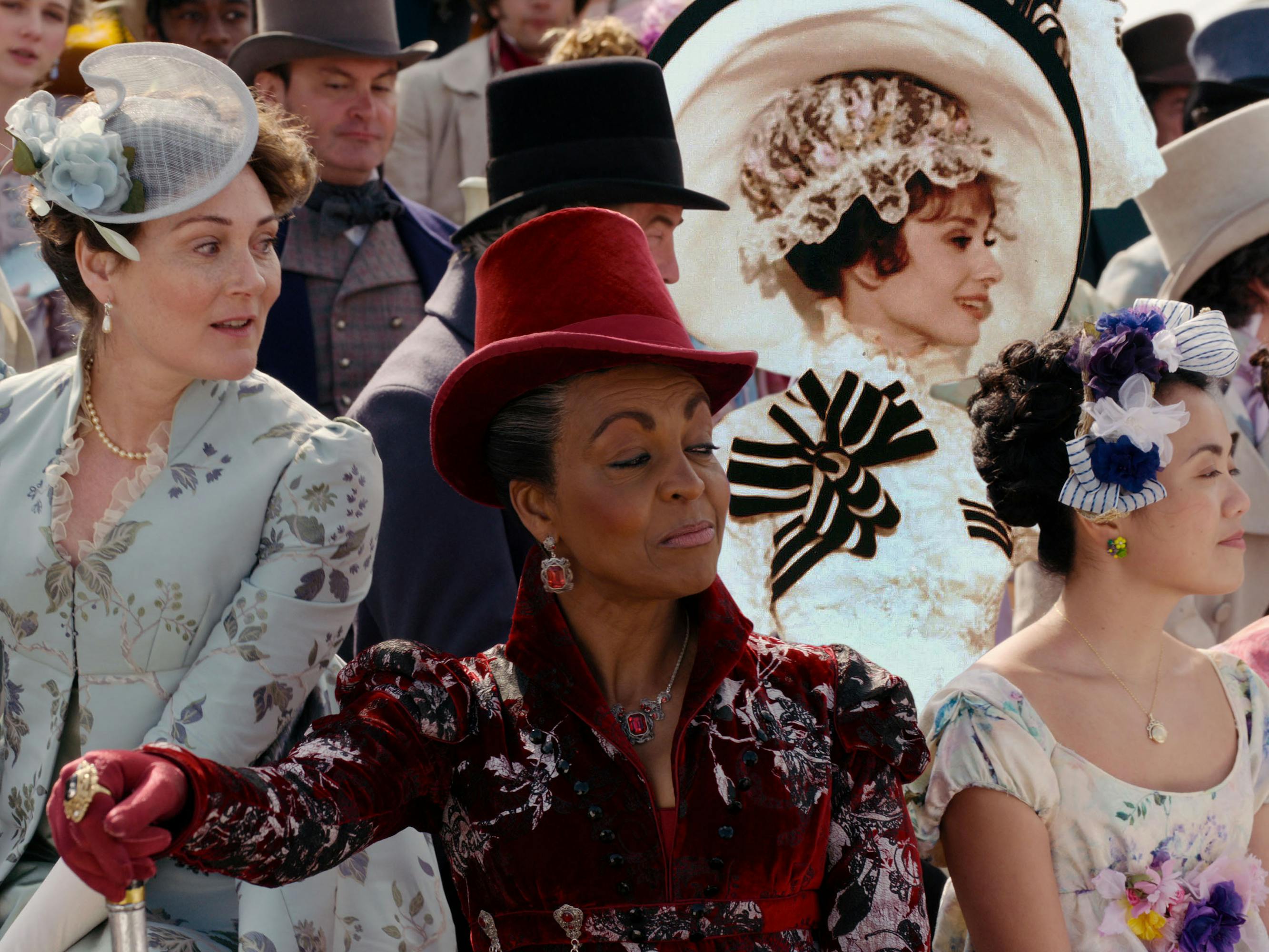 Season 2's sequence at the Royal Races was inspired in part by the classic 1964 Audrey Hepburn musical My Fair Lady. Also worth noting, the 250 horse-drawn carriages featured throughout the season are the same ones used in Season 1. Horse master Steve Dent paired each actor with a specific horse at the outset of the series, and the stars and their animals became so attached that Dent's pairings carried over into the second season.  
Lady Bridgerton's (Ruth Gemmell) Hearts and Flowers Ball sees Kate Sharma and Anthony Bridgerton (Jonathan Bailey) share a steamy dance to an orchestral take on Robyn's "Dancing on My Own." Choreographer Sean "Jack" Murphy based their dance on the eighteenth-century allemande, which incorporates plenty of arm movement, to heighten the scene's sensuality. 
CAREFULLY CHOSEN SCORE
Music supervisor Justin Kamps chose "Dancing on My Own" as Kate and Anthony's first dance to underline the independent, closed-off qualities of both characters. For their last dance, Kamps opted for Miley Cyrus's "Wrecking Ball." Said Kamps, "The song describes what Kate and Anthony are to each other. They come into each other's lives like a wrecking ball. They have all these plans to follow duty, and then the desire between the two of them just overwhelms everything and blows up their lives."