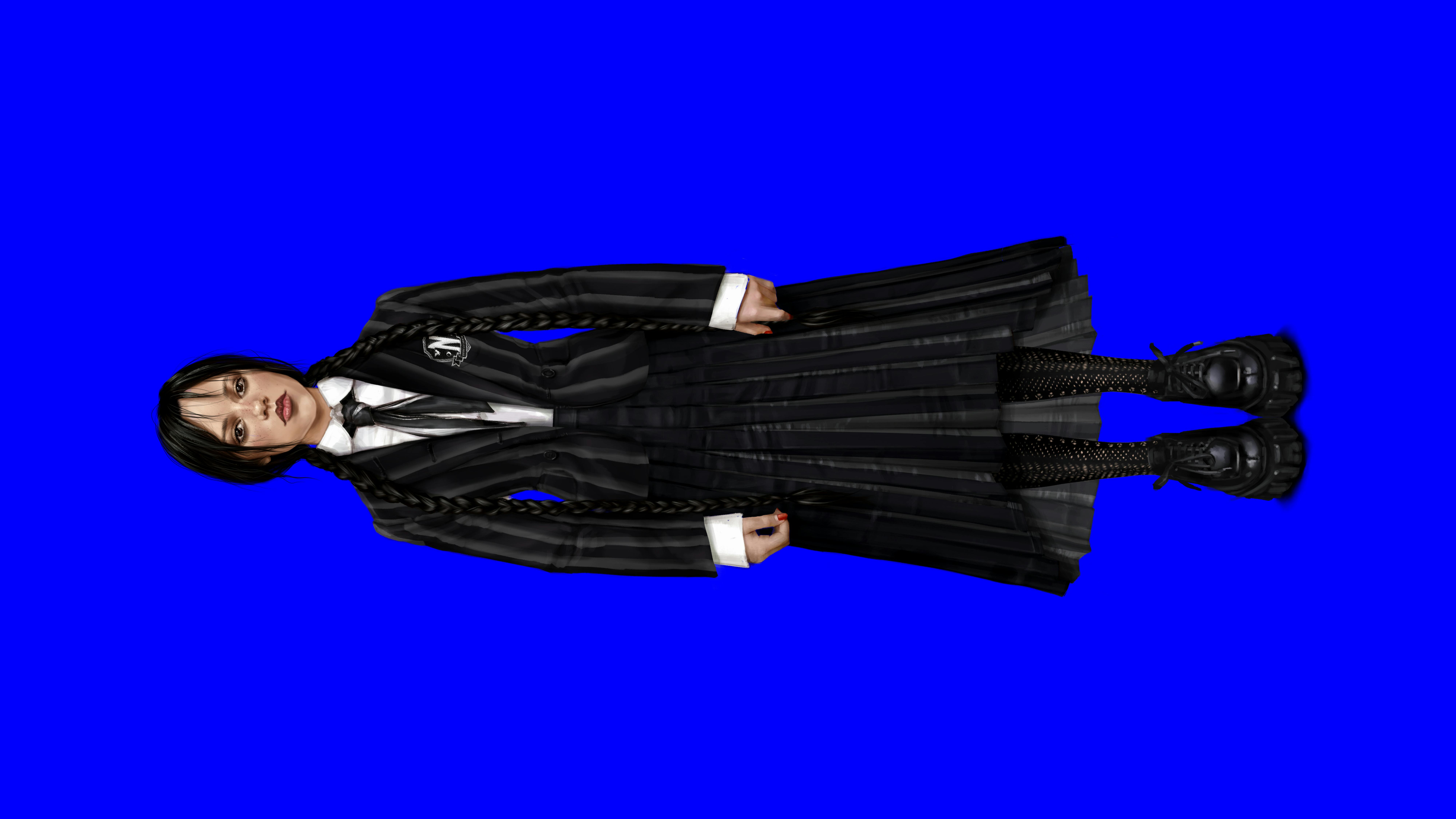 High school goth never looked this good — Colleen Atwood's striking, fashion-forward costumes for Wednesday blend vintage and contemporary looks, yielding one killer aesthetic.
As Colleen Atwood considered how to approach the costume design of Wednesday — the hit series centering the eldest child of the macabre Addams family — she chose to begin with a nod to history. "When you do a project like this, you pay homage to what the audience thinks the character is, and the iconic Wednesday image is the little floral dress with the white collar — it's been in animation, in [illustrator] Charles Addams's drawings, all the previous incarnations of Wednesday," Atwood says.
So, when actor Jenna Ortega's Wednesday first strides through the hallways of Nancy Reagan High School, she's dressed in an updated version of her traditional ensemble — black dress, white collar, black patent leather shoes. But neither that look nor her time at that particular school lasts long. Instead, the young heroine is quickly shipped off to her parents' (Catherine Zeta-Jones and Luis Guzmán) alma mater, Nevermore Academy, an institution serving outcasts of all stripes, where Wednesday begins to fully come into her own, sartorially and otherwise. "I felt able to contemporize the character, to associate it with young girls today," Atwood says. "She'd always sort of been this fixture of a girl — you really didn't know her."
Atwood was the ideal candidate to help develop a contemporary teenage identity for the character, who originated in Addams's cartoons for the New Yorker roughly eight decades ago. A four-time Oscar winner known for films ranging from 1991's psychological thriller The Silence of the Lambs to the 2002 musical Chicago to 2016's lavish fantasy Fantastic Beasts and Where to Find Them, Atwood is a towering figure in the world of costume. She is also famed for her long-running collaboration with Wednesday's Tim Burton, which stretches back to 1990's Edward Scissorhands and includes 12 films (see sidebar).
Wednesday creators and showrunners Miles Millar and Alfred Gough had always imagined their series as playing out like an eight-hour Burton film, in which Wednesday becomes entangled in a campus murder mystery; once they recruited the legendary director to helm the first four episodes and executive produce the series, Atwood and co-designer Mark Sutherland signed on a short time later. "Tim and Colleen have an incredible shorthand and made sure every one of Wednesday's costumes was iconic," says Millar. "No detail was too small. Everything about her look was intentional."
Ortega had been cast in the role by the time Atwood joined the production, which allowed the designer to take the performer's specific proportions into account early in the process of creating Wednesday's wardrobe. Before shooting had begun, Atwood and Burton staged a still photo session with both the star and actor Emma Myers, who plays Wednesday's werewolf roommate Enid Sinclair, at Burton's home in England. Working with hair and makeup artists, they homed in on the characters' contrasting styles — bright, extroverted Enid prefers clothing in a riot of saturated hues while Wednesday is "allergic to color," as Morticia warns her daughter's roommate on first meeting. "Tim and I wanted to play with just who these two people were together," Atwood says. "It was a balancing act because they really were in a lot of scenes together, and the dynamic between them was really important to the story."
Atwood began with the Nevermore uniforms: a striped, structured jacket worn over a crisp white shirt and sweater vest, paired with a pleated skirt — a look inspired in part by observing real-world teens in London. "Driving around, it was really interesting to see how different kids wore their uniforms — the same jacket looked different on 10 different people," Atwood says. To set Wednesday apart from the other students, the costume designer stripped back the color of her costume and modified the silhouette. "I [made] hers a more minute jacket with a longer skirt, which is sort of Victorian in its shape," Atwood says. "By putting her in black and white and in a simpler kind of style, it separates her from the world that she's observing."
Additionally, Atwood created a full range of casual pieces for Wednesday — striped polo T-shirts, black hoodies, oversized knit sweaters — to make her clothing feel modern and approachable. "Wednesday's style is sort of a combination of outsider fashion mixed with a classic style," Atwood says. "It was a real combo of designer [apparel] mixed with inexpensive, appropriate clothes for people that age. I did an oversized sweatshirt and little shoes and all kinds of [other] clothes for her outings. She was kind of cool and hip like the other kids."
Throughout, Atwood hewed to a palette of black, white, and gray for Wednesday's looks, frequently selecting textured fabrics or materials to give the wardrobe added depth and dimension on camera. "I definitely play around with black, the way it's juxtaposed against what's around it," she says. "I was allowed to have white with the black, which was helpful because then you could note different things graphically and have fun with them [within] that imposed limitation."
More like this
A LONG-STANDING COLLABORATION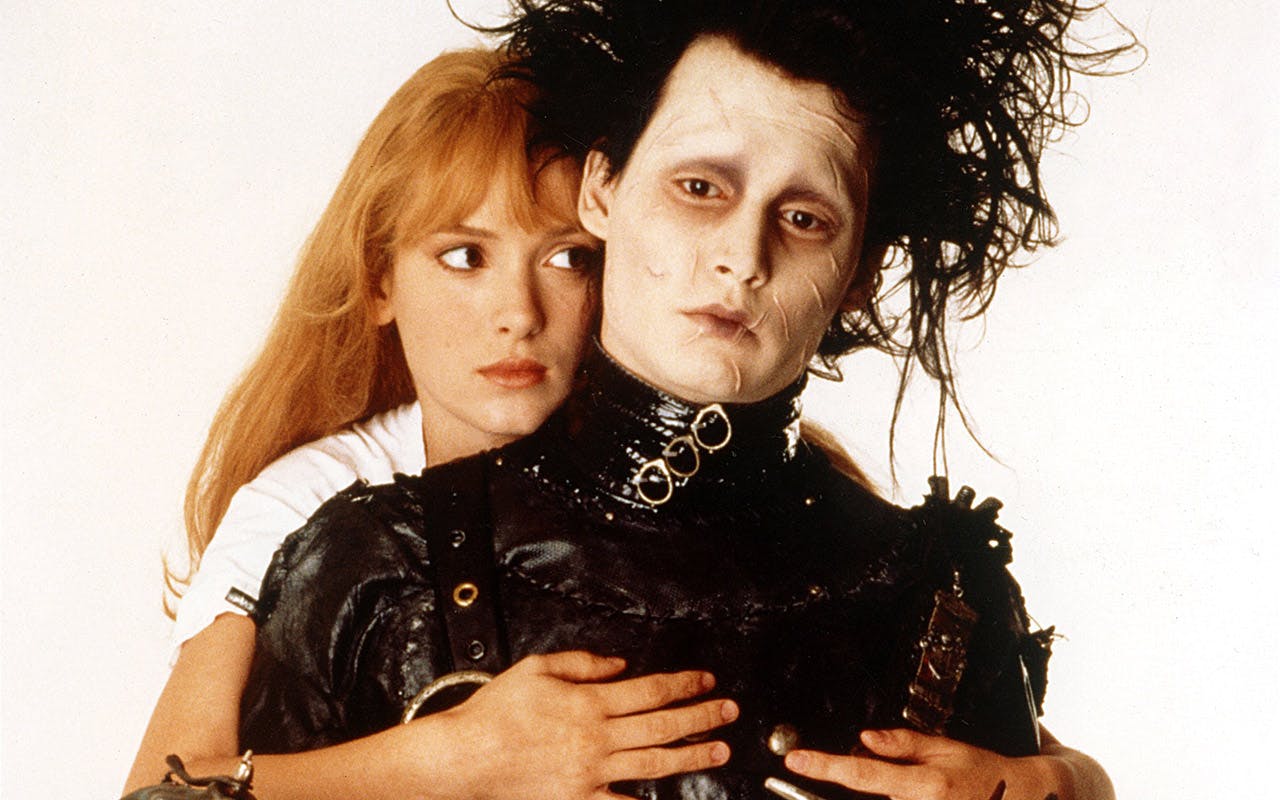 For the showstopping dress Wednesday wears to the school's annual Rave'N Dance in the fourth episode — a sequence that inspired so much social media ardor even Lady Gaga posted her own tribute — Atwood discovered a vintage Alaïa piece that she modified. "I was on Bond Street in London, walking down the street, and I was outside the Alaïa store, and I saw the dress on display," Atwood says. "I was like, I'll never do any better than this. This is kind of it. And so I bought it. I took a couple ruffles off the top — I knew creatively that [Wednesday] wasn't a ruffle kind of character. Then I took some volume out of the skirt just so it was manageable for her and a better scale for her height."
Although Wednesday's costumes couldn't feel more different from Enid's, Atwood did rely on geometric, angular patterns for both characters — though the fabrics she chose for Enid's costumes pointed to the girl's inner wolf. "I was looking for things that could have a lupine texture, furry," Atwood says. "It was the season that mohair came back, and I got really lucky with the great knits that were out there."
Despite the series' more outré trappings, Atwood says she wanted the costumes to underscore the humanity of even the most fantastical characters — Wednesday is, after all, an endearingly twisted coming-of-age tale. Notes Atwood: "You have so many things going on that are sort of spooky but human. I wanted to keep it real so you believed it, and it didn't become some big costume thing that was more about odd horror costumes than real people with odd proclivities."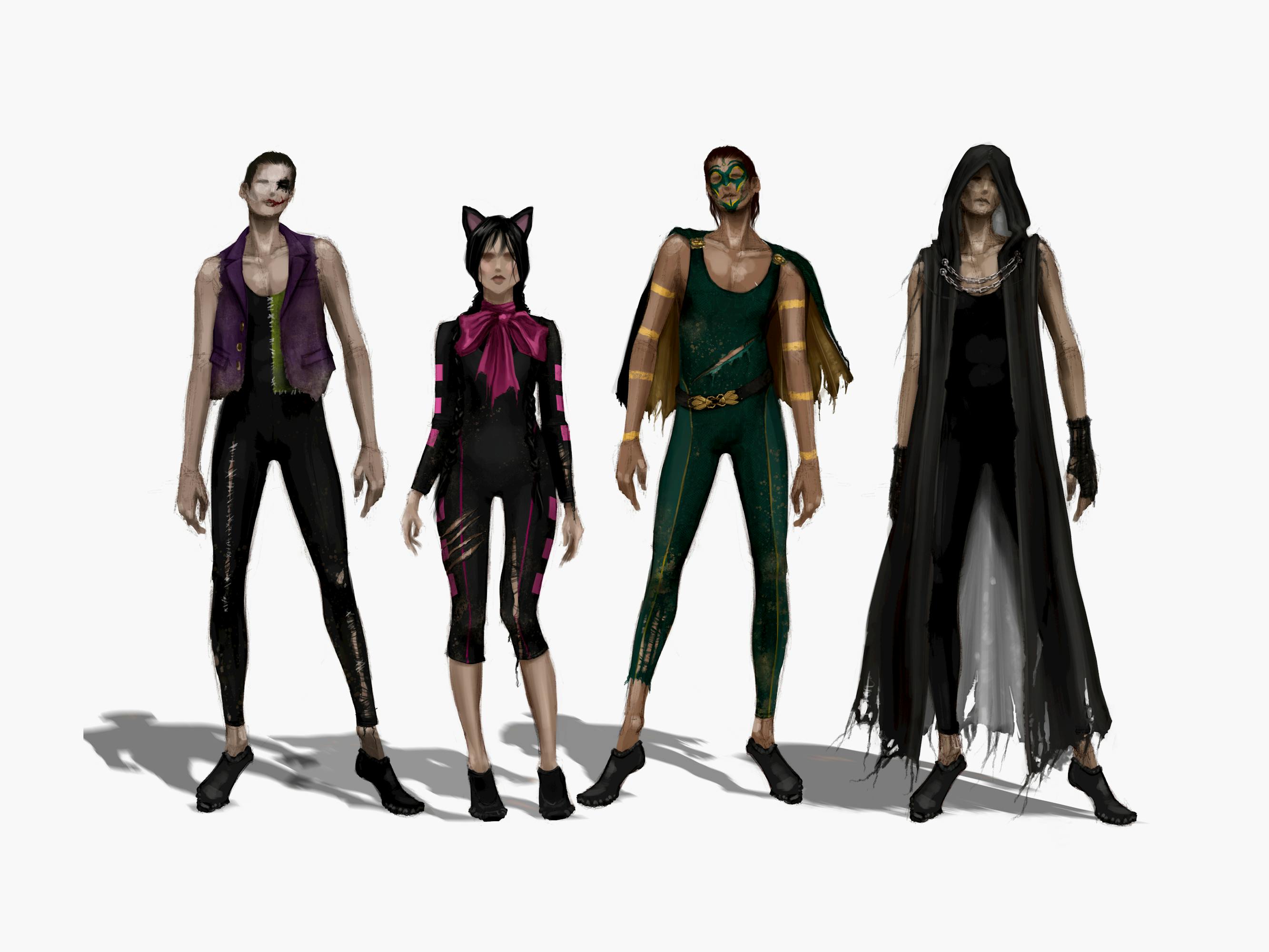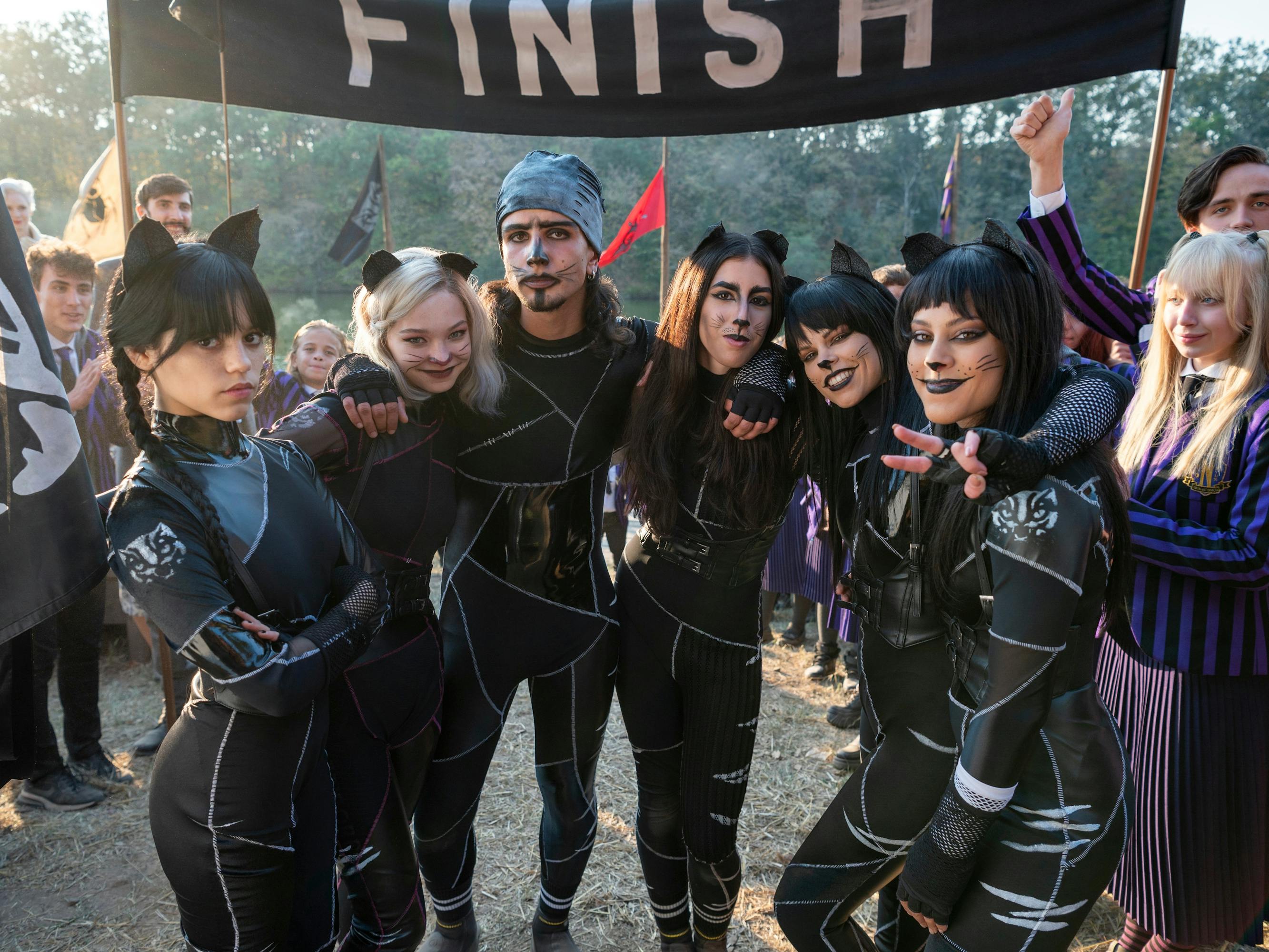 "We have a similar sensibility in that we're both about what isn't there as much as what is there," Atwood says of working with Burton. "I think that aesthetic thing that we share is what makes our working relationship work. We have a long history of collaborations with many different styles of projects."
The designer and the director initially bonded more than three decades ago, when Atwood went to Burton's offices at Warner Hollywood Studios to interview for the costume designer job on his bittersweet suburban fable Edward Scissorhands — at that point, Atwood had worked with filmmakers including Michael Mann and Jonathan Demme, while Burton was just coming off his 1989 blockbuster Batman. Atwood recalls, "At the end of the interview, he offered me the job in the room."
The rest is Hollywood history. Atwood received 3 of her 12 Academy Award nominations for her work on Burton's movies — 1999's Sleepy Hollow, 2007's Sweeney Todd: The Demon Barber of Fleet Street, and 2010's Alice in Wonderland — which earned her the third Oscar on her mantle. For Queue, Atwood recounted some of the highlights of their collaboration over the years.