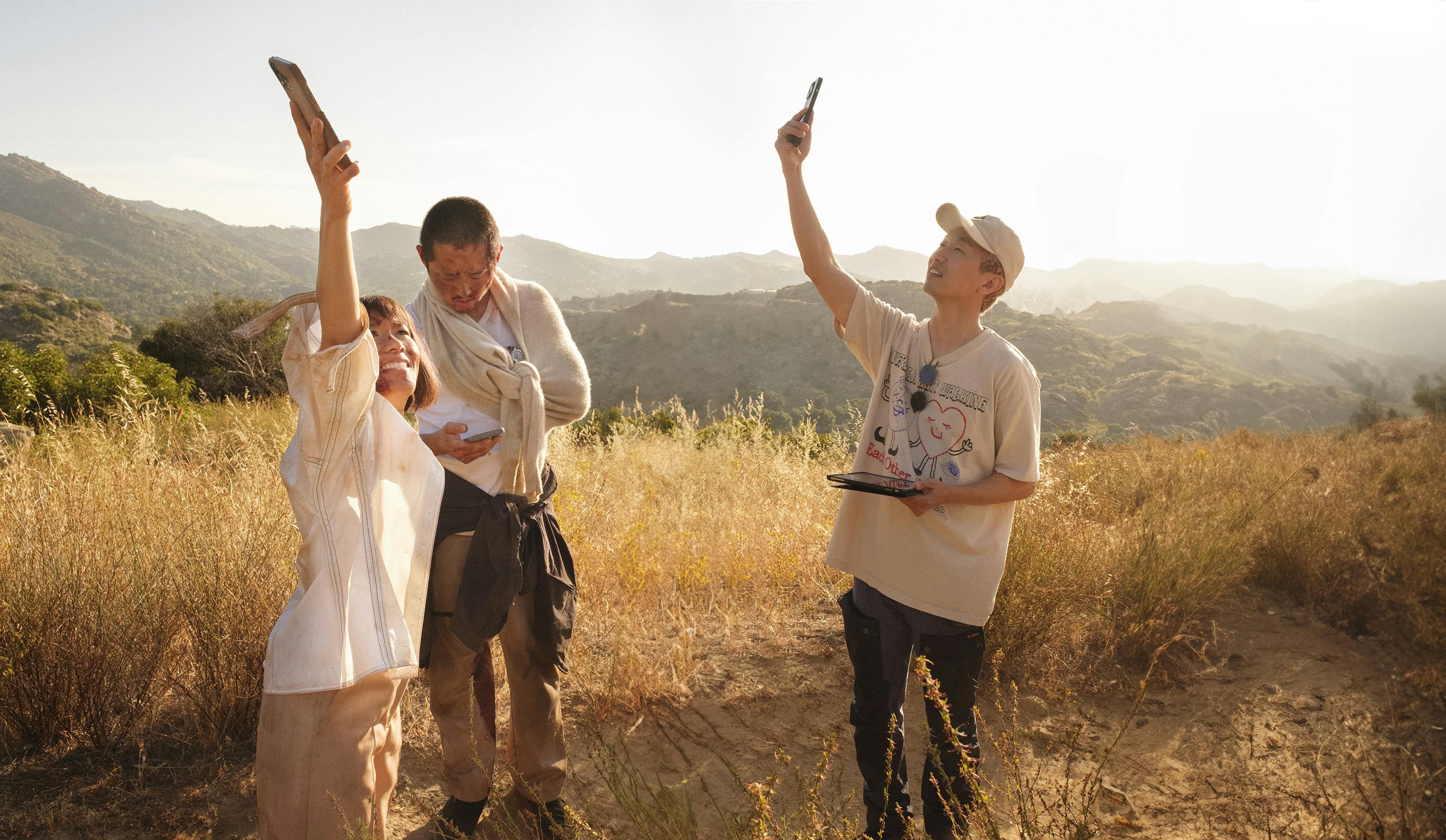 LEE SUNG JIN REACHES HIGH
BEEF's writer and creator infuses humor and depth into his unlikeable characters.
Sometimes inspiration strikes in the most unexpected of places. An incident of road rage, a commonplace experience in Lee Sung Jin's home of Los Angeles, sparked the creator, executive producer, and showrunner's series BEEF, but his story was fueled by equally unlikely inspirations, ranging from the sci-fi writings of Ursula K. Le Guin, the intelligence of crows, and Lee's favorite comedy of all time, The Sopranos. "I know The Sopranos is technically considered a drama," explains the showrunner, "but I've watched it six times through and I laugh more every single time because so much of the comedy is coming from the characters. I wanted to make a show that wasn't necessarily laughing at jokes or punchlines, but rather laughing at the broken ways we all think."
The Emmy-nominated writer leaned into this idea of character comedy in what might otherwise be considered drama for BEEF. Lee's hit limited series, which follows — in his words — "a failing contractor with a chip on his shoulder and not a lot going on in his life," Steven Yeun's Danny, and "an emerging businesswoman with her own business and a beautiful family," Ali Wong's Amy, who meet in a fit of road rage that escalates and "quickly becomes more about dealing with some personal issues that they very much needed to resolve." Buoyed by a soundtrack of 90s alternative angst, to complement Danny and Amy's millennial mindsets, Lee's characters learn to indulge in their darker sides and find a sense of satisfaction in their new feud. 
Lee has had plenty of experience writing unlikeable and endearing personalities in his notable 15-year career, starting with one of his earliest gigs on cult-favorite It's Always Sunny in Philadelphia, which follows a gang of hilarious ne'er-do-well bar owners on their escapades around the city. Later he skewered the brilliant goofballs of tech, writing for the Emmy-nominated Silicon Valley, and developed the persona of a persistent, oddball rapper and his entourage for edgy comedy Dave.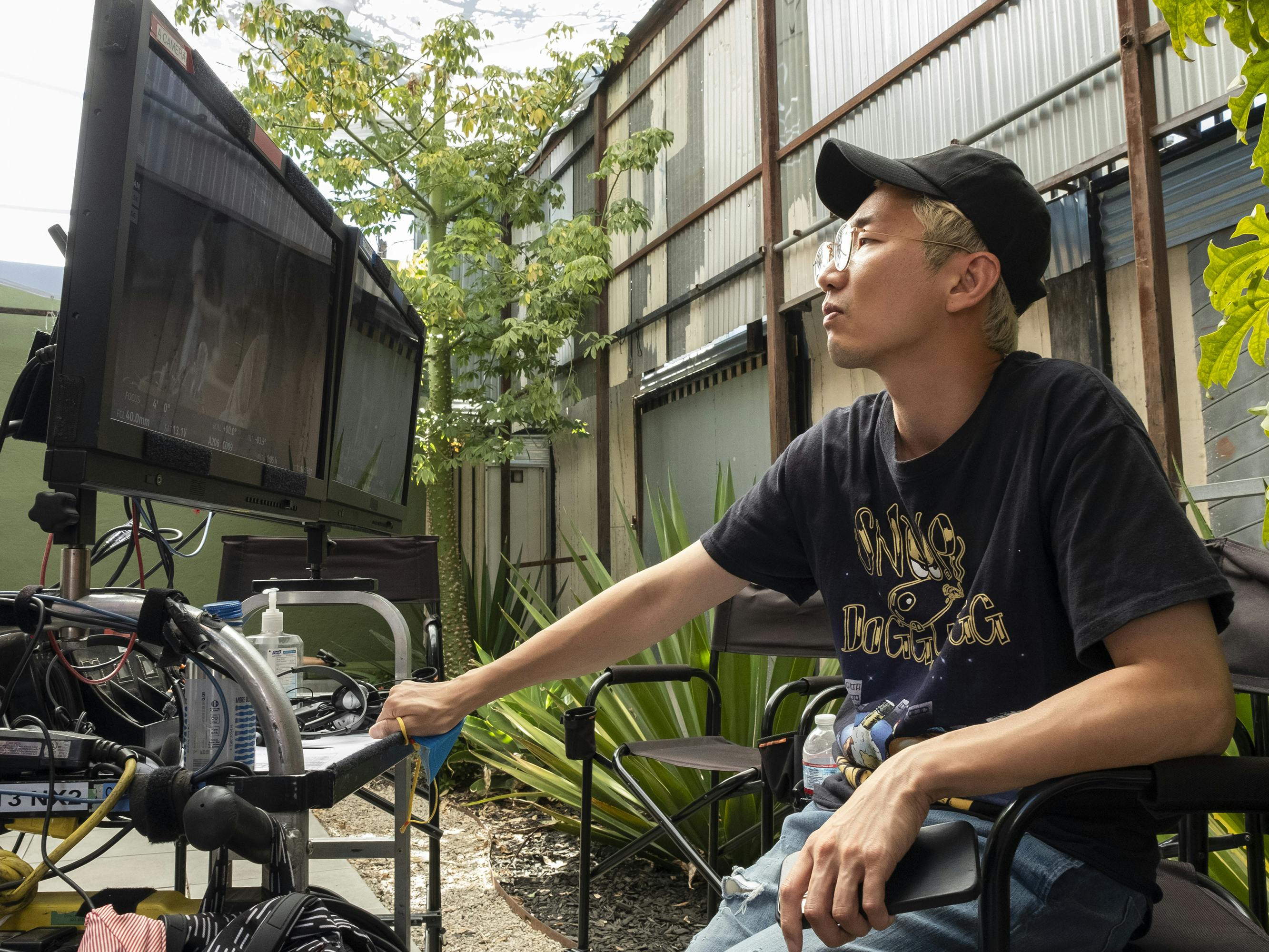 In many ways, BEEF, which marks Lee's first stint as showrunner, is the culmination of these character studies, infused with the writer's own brand of humor and the guiding philosophy of a Le Guin quote, supplied by Yeun: "To oppose something is to maintain it." Remembers Lee, "Steven loves dad quotes for things and so that came up during the pitch process and it really helped me. When I get stuck in scenes, I'm like, Oh yeah, it's just one character going too hard on something that makes the other person react with equal measure." 
Indeed, when Amy gets in a fight with her mild-mannered ceramicist husband (Joseph Lee), she heads to the Koreatown club where Danny and his younger brother Paul (Young Mazino) are drinking and vandalizes his pickup truck. Danny turns around and douses Amy's car in kerosene, lighting a match before realizing that her daughter is strapped into the car seat and running off ashamed. 
Every retaliatory action begets an equally terrible, if sometimes hilarious, reaction in the world Lee's created. Even the series' firestarter — road rage — returns at the tail-end of the penultimate episode, along with a few grudge-holding crows, forcing Danny and Amy together for the final time and setting the stage for a gratifying and trippy conclusion. 
Yeun and Wong, who both served as executive producers, also had a hand in crafting their onscreen personas. The actors were already friends of Lee's and had worked with him on Lisa Hanawalt's award-winning animated series Tuca & Bertie, and the writer called on their "good intuition and radar for what's truthful" throughout BEEF's development. "I'd talk to Ali about even Fumi's character [played by Patti Yasutake], and she would talk to me about some of her ex-boyfriend's mothers, and Steven would share things about brother dynamics he's observed or people that he knows," says the writer. "All of that very much influenced [their] characters from the beginning. They're very much part of the whole process." 
While BEEF's protagonists couldn't be more different on the surface — floundering versus successful, struggling versus wealthy — they share the same simmering resentment toward family obligations and an anger at the world. "The more you're just leading with character, you're just seeing what would really happen in their lives," says Lee. "When you think about someone like Danny, it made a lot of sense that he would want to go back to the Korean church, that it would be a comfort blanket that he seeks out."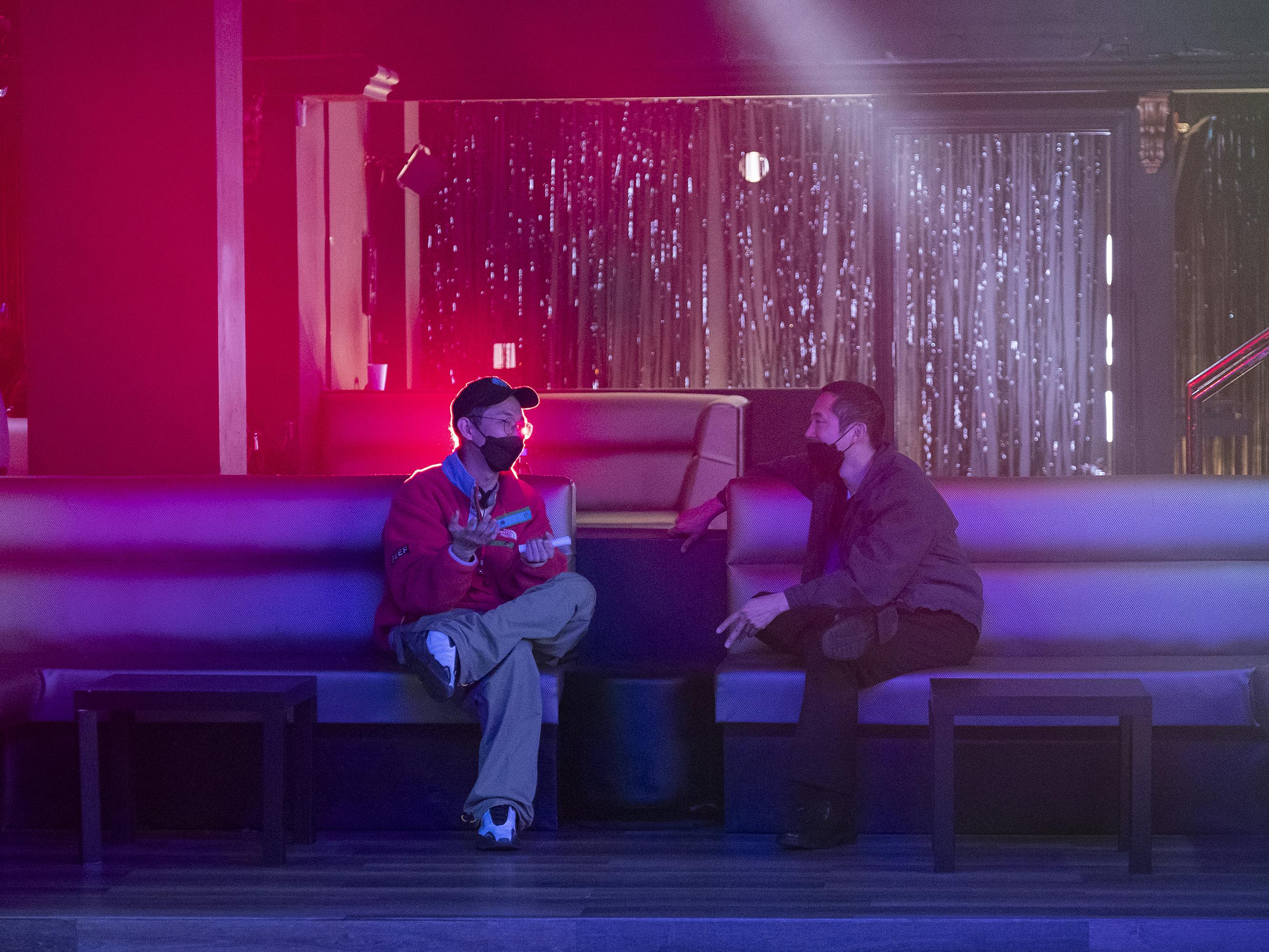 Once Danny makes the pilgrimage to his ex-girlfriend's Orange County church, he gets involved in a series of schemes in an attempt to support his family, but their failure only drives him further from his dreams. Even his younger brother Paul — who's being catfished by Amy — doesn't want to follow in his footsteps. "It made a lot of sense that he had a chip on his shoulder and a lot of burdens," says Lee. 
Amy, on the other hand, is a self-made entrepreneur from a poor Vietnamese family, who marries the son of a well-known Japanese artist, rich only in status. "Why would someone be trapped in a maze of their own creation?" the writer asked himself as he developed the character. "Which led to Koyo House [Amy's business] and creating something that gets away from you." 
Amy finds herself shouldering the financial burdens of her family, under pressure from both her mother-in-law, Fumi, and Jordan (Maria Bello), the wealthy woman she hopes desperately to sell her company to, in order to retire early and enjoy the life she's built for herself. Lee stokes the tension between Amy and Danny over the series' ten episodes, so that when they eventually find equilibrium in BEEF's finale, the result is cathartic, not just for the unhappy protagonists, but for the audience, too.
And yet, despite the darkness, Lee's series is still, at its heart, a comedy, driven by the alchemy of two talented actors coming together to portray equally repressed and obsessive well-drawn characters. As Wong told Queue, "Once [Steven and I] started rehearsing, even though we're supposed to be enemies, after every scene, I was like, 'This is so flirty.' I think BEEF is this dramedy thriller that could kind of also work as a romantic comedy."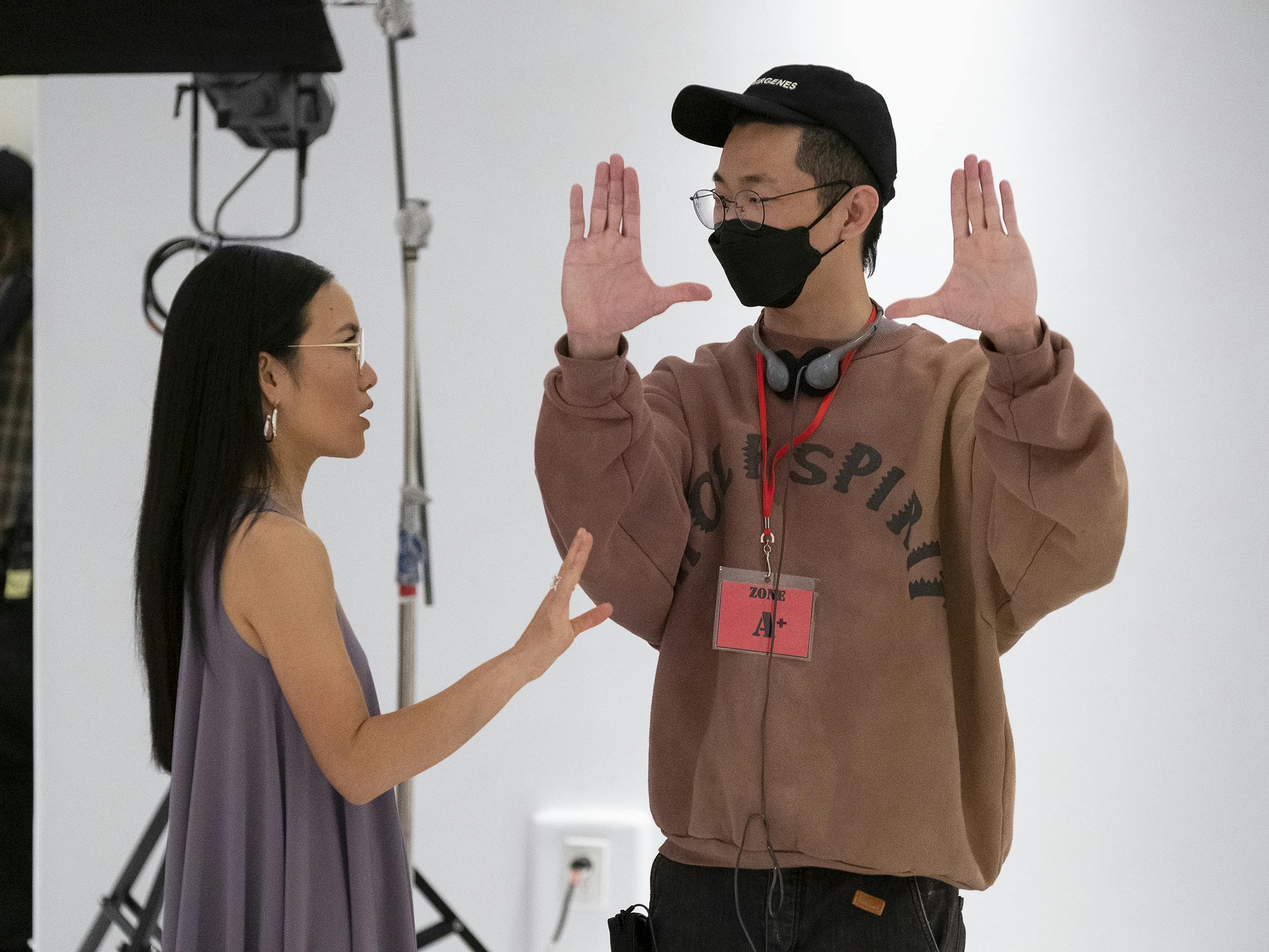 Much like James Gandolfini's mafia kingpin Tony Soprano, Yeun, Wong, and the entire BEEF cast bring incredible depth and complexity to their roles, so while it would be difficult to
fully love them for their twisted revenge plots, it's impossible not to relate to their flaws and find humor in their often self-serving undertakings. 
As Yeun described to Queue earlier this year, the characters served as a prescient reminder that we all have faults: "Road rage incidents like that don't necessarily have one perpetrator and one victim — both people feel like they're victims, and they're perpetrators at the same time. That was such a beautiful assessment of how it feels like these days — that we all want to kind of find someone to blame, but maybe we're more similar than we're not." 
In the end, BEEF is both comedy and thriller, existential and hilarious, thanks to Lee's writing — which has earned him an Emmy nomination — and the invaluable input of his team, including Yeun and Wong. The showrunner sums up the series by pointing to its north star, a quote from psychoanalyst Carl Jung: "One does not become enlightened by imagining figures of light, but by making the darkness conscious." From this, Lee took "Figures of Light" to title the season finale, which snagged Lee an Outstanding Directing Emmy nomination as well, with the series earning a total of 13 nominations. "You have two people who have suppressed a lot of their shadows," says the writer of Danny and Amy, "and in excavating them, hopefully they're going to reach a higher place."
All interviews included in this piece were completed prior to July 14, 2023.