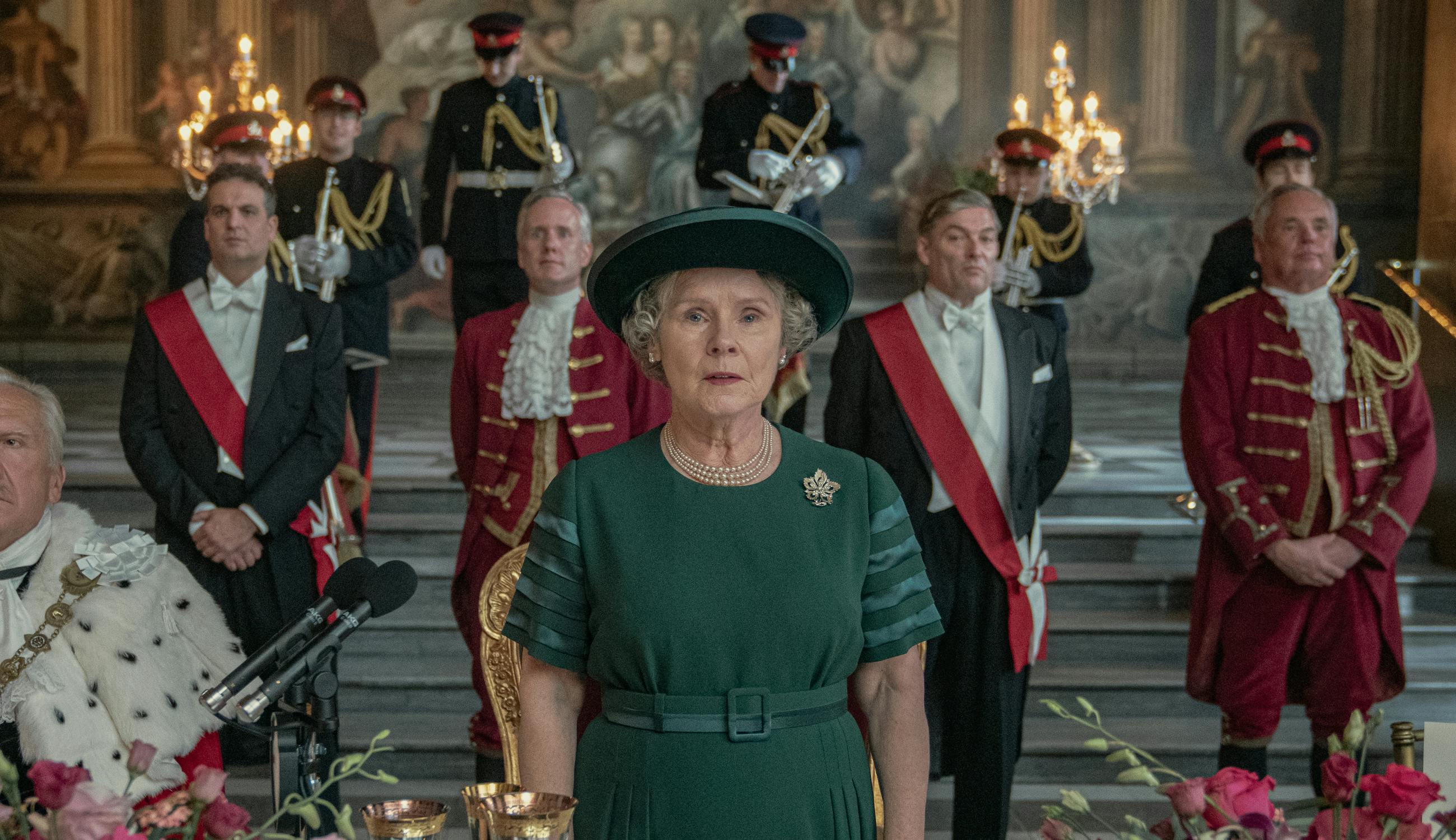 Season 5 of the Peter Morgan monolith introduces the third and final cast to take The Crown into the twenty-first century.
Dominic West and Elizabeth Debicki's early days playing Prince Charles and Princess Diana on The Crown were spent on Aristotle Onassis's former yacht, floating off the coast of Spain, filming scenes inspired by the royal couple's Mediterranean cruise in 1991 — a trip that had been pitched as a second honeymoon to the press. "We were in Majorca for a week, which was bliss," says West. "I thought, If this is what it's like, then please can we do two more seasons?"

Although the experience of filming Peter Morgan's stately drama might have been punctuated with moments of unimaginable glamor for the actors, the years depicted in the series' fifth and sixth seasons are fraught with hardship for the House of Windsor. Taking place from 1991 to 1997, Season 5 is a time of reckoning. As Diana and Charles move toward divorce, and other members of the monarchy examine their roles and their marriages, the public is questioning the relevance of the institution itself. Says creator and writer Peter Morgan, "It felt, in the early 90s, like a family in crisis, and the thing about the monarchy is if the family is in crisis, then it naturally spills over." This season is also more of an ensemble piece than in the past. "You could feel the story broadening out," Morgan explains.

With its fifth season, The Crown introduces its third and final cast, whose members will see their characters through to their fictional conclusion. Imelda Staunton picks up where Olivia Colman left off as Queen Elizabeth, with Jonathan Pryce stepping in as Prince Philip; Lesley Manville is Princess Margaret, Claudia Harrison is Princess Anne, and Olivia Williams plays Camilla Parker Bowles. Also newly introduced to the cast and narrative are Prime Minister John Major (Jonny Lee Miller), Diana's future love interest Dodi Fayed, played by Khalid Abdalla, and his father Mohamed Al Fayed (Salim Daw), as well as writer Andrew Morton (Andrew Steele), television journalist Martin Bashir (Prasanna Puwanarajah), and Margaret's former paramour Peter Townsend (Timothy Dalton).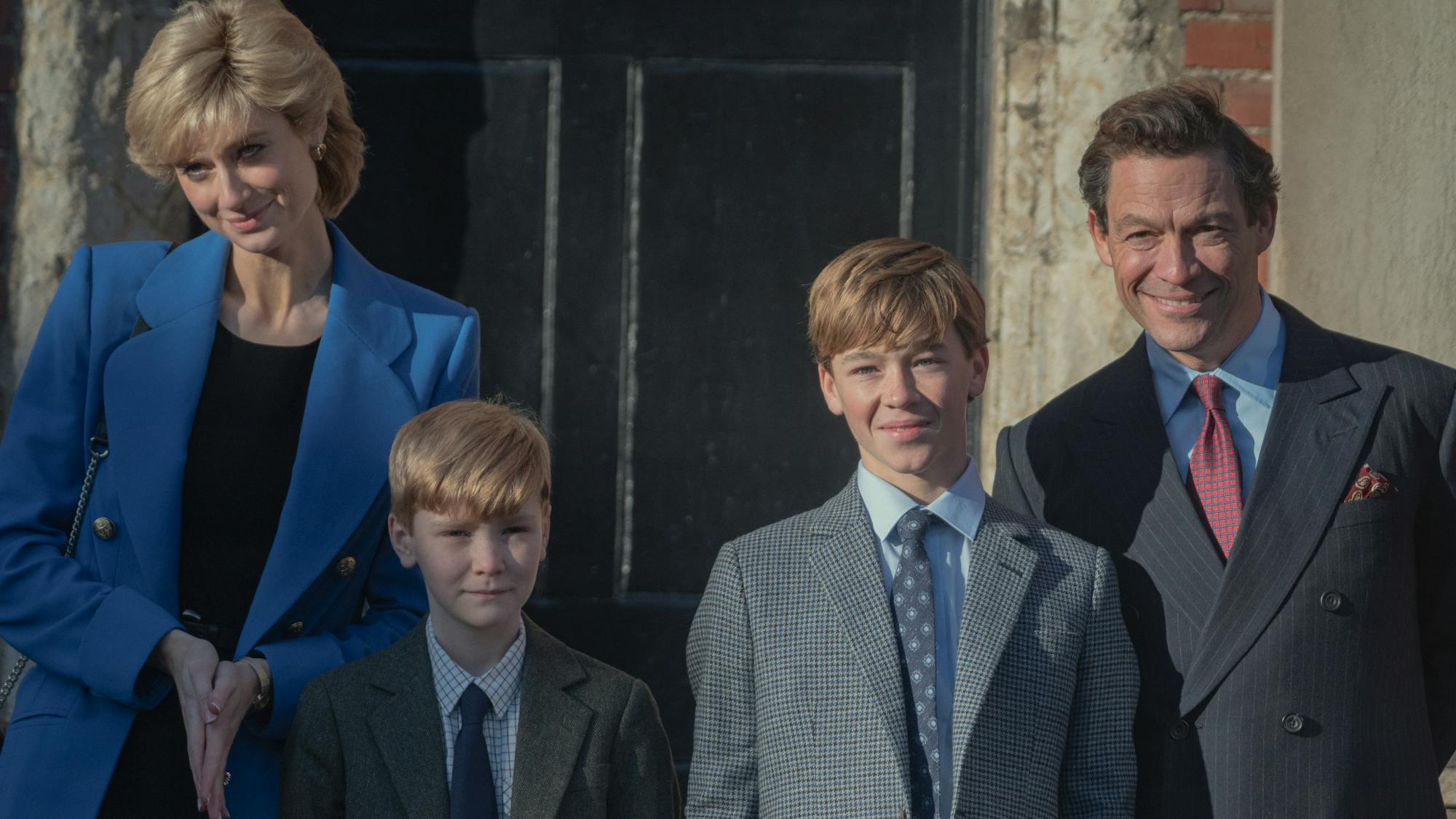 But front and center are the Windsor women, each trying to find her way amid deepening rifts. "I think so many of the stories that Peter explores in The Crown are about women surviving and evolving and being profoundly challenged," Debicki reflects, "and finding themselves strong enough to endure it." Leading the charge is Staunton's Elizabeth, who remains stoic despite those unraveling around her. "She has many issues to deal with, which makes for very good writing, and hopefully very good viewing," says Staunton. "There are a lot of things to tackle rather than the Queen going about her duties." Staunton admits to being less than steady when it came to saying yes to the part, despite her impressive resume and long-established friendships with both Pryce and Manville. "Not only have I got the Queen, I've got Claire Foy, I've got Olivia Colman," Staunton says of her predecessors, both of whom won Emmys for the role. "So you have to go through that and accept it, and fear for your life, and then that goes away and you just go forward." 

Staunton's onscreen husband felt his own anticipatory anxiety about playing Philip, a role for which Tobias Menzies won an Emmy last year. "I was kind of split about it," he concedes. "Half of me thought, That's a great idea, [but] what made me the most nervous is the public's perception, and whether I could come anywhere close to it. I think the other cast at the beginning [of The Crown] had an easier job because it was not too close to people's memory." 

Any trepidation the actors might have felt was gone by the time they stepped in front of the cameras, where they found themselves in their element. "You're not sitting there going, How are we going to make this work?" says Staunton. "You just go, This is a great scene, we need to do this justice." Laughs James Murray, who plays Prince Andrew, "You get Jonathan and Imelda and Lesley talking about the time that they won this award or the time they played Hamlet, and you go, Uh huh. Does anyone want a tangerine?" Adds Harrison, "You sort of make jokes on set, Well, this used to be a brilliant series before I joined it."
Arguably, the greatest pressure was on the actor taking up the mantle of playing Diana following Emma Corrin. Not only did Corrin win a Golden Globe for the part, but Debicki would be playing Diana in the 1990s, a decade in which she was the most photographed woman in the world. It was also when Diana herself was courting the public, clandestinely participating in Morton's biography, and seizing control of her own narrative on camera during an interview with BBC's Bashir. "As an actor, your only moments of total bliss are those 20 minutes when someone offers you a role and you think it's everything you've ever dreamed of," says Debicki, who starred in 2020's Tenet. "For 20 minutes, no one could touch me." Then came the second-guessing, she says: "The thing about the making of this show is there are so many stages of thinking, Are you sure you want me to do it? And then you think, I can't do it." 

Debicki dove into her character's "bible" of facts provided by head of research Annie Sulzberger, and also studied archival footage. "I'm Australian," she explains. "I don't have an inbuilt, genetic understanding of these people, or even the importance of this family." But after working with movement coach Polly Bennett and benefitting from the wizardry of hair and makeup designer Cate Hall and costume designer Amy Roberts, she was the only one with lingering doubts. "I remember the moment I saw Elizabeth as Diana," Manville says. "We were in Scotland, and it was my first day of shooting. Imelda and I were sitting out on the terrace with our lunch in boxes. I looked up as Elizabeth walked through, and I nearly choked. It was really spooky, like [Diana] had risen from the dead." Manville wasn't the only one dazzled by the transformation. Says executive producer and director Jessica Hobbs, "When we did street scenes and she stepped out of the car, people would go crazy. You'd hear them screaming, 'Diana! Diana!'"
I looked up as Elizabeth walked through, and  I nearly choked. It was really spooky, like [Diana] had risen from the dead.
Lightening the mood was the offscreen levity shared by the ensemble, with Staunton and Pryce's joke-telling challenging the younger cast to snap back into character. "The hardest thing was to stop laughing," says Sam Woolf, who plays Prince Edward. "Jonathan and Imelda are naturally funny and so experienced that they can find the humor in whatever the situation is and still maintain their ability to take the work seriously." Debicki had a harder, albeit equally delightful, time with West, especially in the initial scenes they filmed together. "I'm sure most of that's been cut," she says, "because predominantly, I just cackle when I'm with him, even if it has to be serious."

By the time the royal actors decamped to the same hotel on location in Scotland, says Woolf, "We were like a family." Their camaraderie is palpable onscreen. Even when the characters are at odds, there is an inherent kindness in their portraits. "We're not making a documentary about the royals," Manville points out. As executive producer Suzanne Mackie explains of The Crown's creative approach, "We never sit in judgment. We're always sympathetic and try to understand." Ultimately, the actors found their way into character by understanding that they are playing members of a family — however curtsied to — who are, as West says, "ordinary people." 

The Crown family is now happily reunited filming the sixth and final season, fears firmly in the rearview mirror. Debicki, for one, sees her own journey reflected in that of Diana, whose story she describes as an evolution. "It's so easy to back away from having to grow because it's scary," she says. "This show presented an opportunity to constantly re-confront the challenge. I learned so much from the other actors and the directors, and from being in a kind of contact with this amazing, remarkable person. It was a gift."