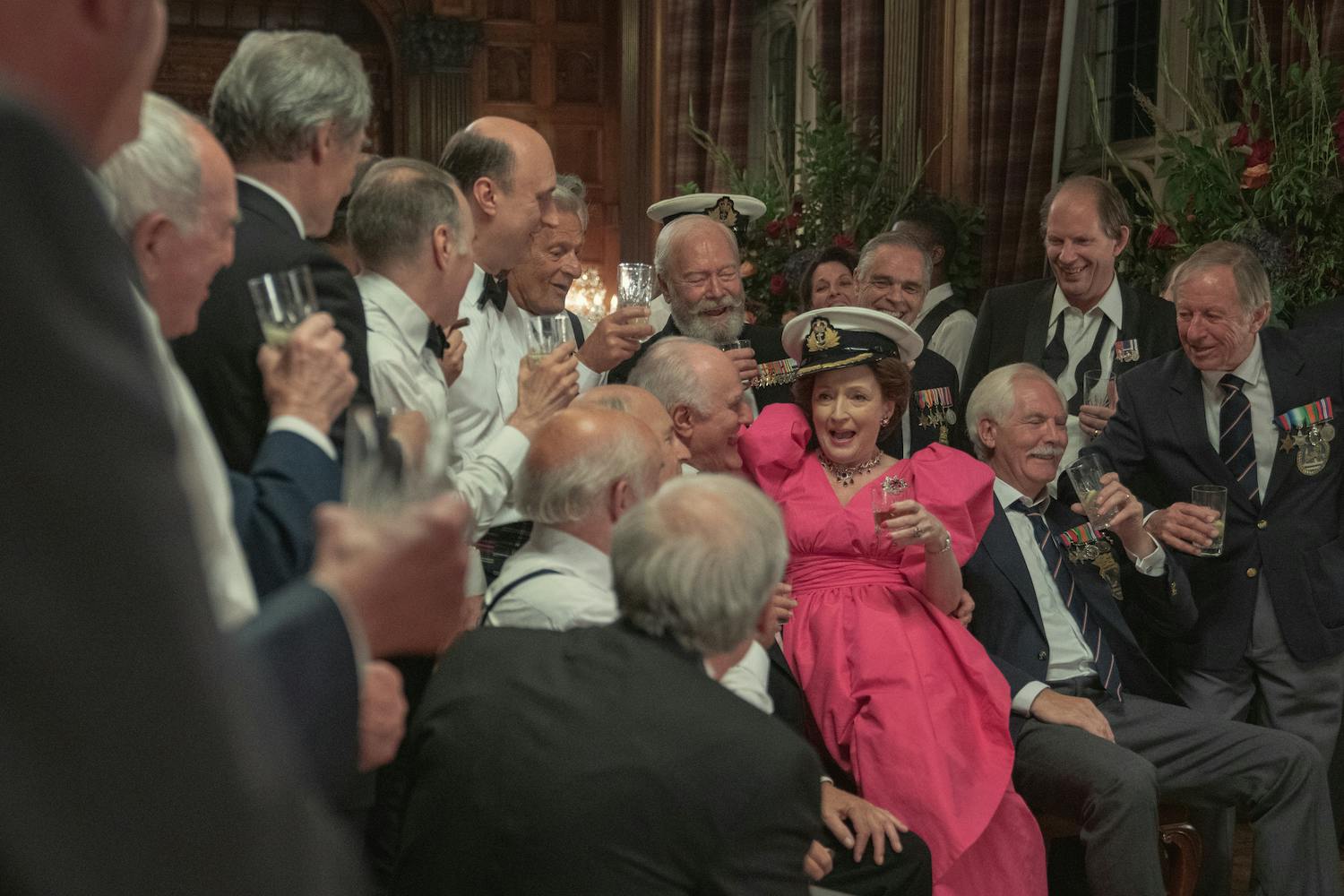 Wardrobe Department
The Crown serves the 90s
A dive into the sartorial looks of the 90s monarchy in Season 5 of Peter Morgan's royal drama.
The 1990s were a golden age for Anglophiles. It was the time of "Cool Britannia," when bands like Oasis, Blur, and the Spice Girls were bringing British music to the masses, David Beckham was the biggest sports star in the world, and films like Four Weddings and a Funeral and Trainspotting were a hit with critics and moviegoers. For many, if a singular image could sum up the decade, it would be Geri "Ginger Spice" Halliwell performing at the BRIT Awards in a Union Jack minidress. 

Despite the prevailing sense of positivity and optimism in Britain, it was a dark period for the royal family. "It's the time of John Major, the Andrew Morton interviews, annus horribilis, and the so-called War of the Waleses," says Peter Morgan, series creator, and writer of award-winning drama The Crown, which is set to enter its fifth season. The upcoming episodes see the family at a critical tipping point, with Queen Elizabeth, now played by Imelda Staunton, watching more than one of her children's marriages break down, her beloved home at Windsor Castle catch fire, and the press feed off of the strife. "For the first time, in the 90s, people started to look at and investigate what was going on in the royal household a lot more," says Staunton.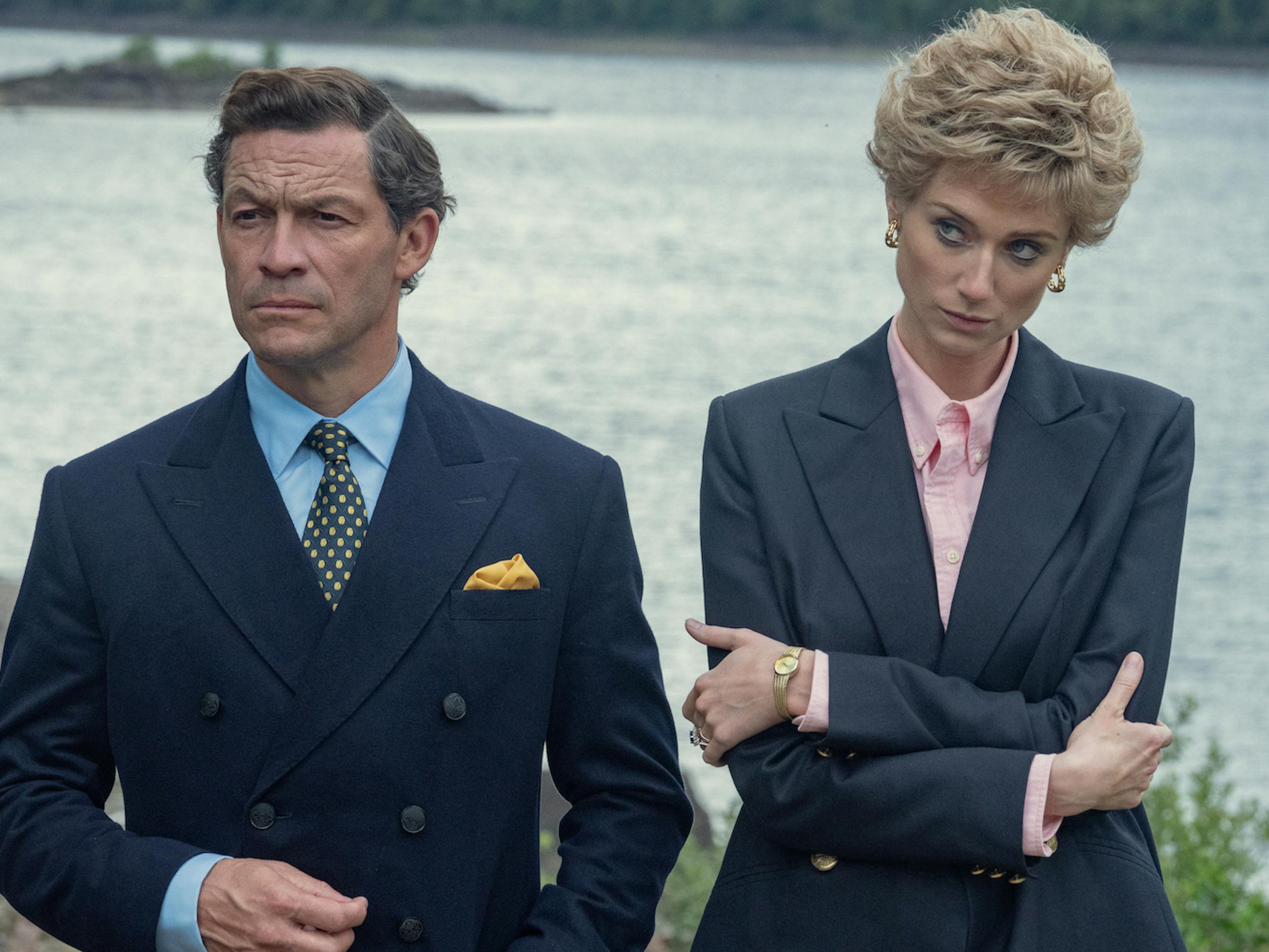 The production, known for its immense research and attention to detail, took on the task of recreating this tumultuous time for the royal family. Color was key for homing in on the period. "The 90s, palette-wise, were interesting," says director Jessica Hobbs. "I know the younger generations love that period now, but for those of us who lived with it, it's like, I can do without seeing pastels ever again!" For costume designer Amy Roberts, color has always been an integral element to defining each era of The Crown. "Season 3, which is the first one I did, was pinks and yellows, and quite lighthearted in a way. Then it got darker with Season 4 and the marriage of Diana and Charles," she notes. "This one now, with our amazing new cast, is a whole different ball game. This one felt more melancholic, more autumnal. We have an older royal family and queen, and everything's going really wrong."

For Roberts, the color of each character's costume should reflect the tone of the scene — as when Princess Margaret, played by Lesley Manville, re-encounters the early love of her life, Peter Townsend (Timothy Dalton). "There's a scene where she is going to meet Peter Townsend at a ball, and we talked about, What would you do if you're going to meet what could have been the love of your life, years on?" Roberts says of her conversations with Manville. "We both decided she would just go for it, so I put her in really hot, hot pink. She would have thought, I'm putting this on; this is my armor."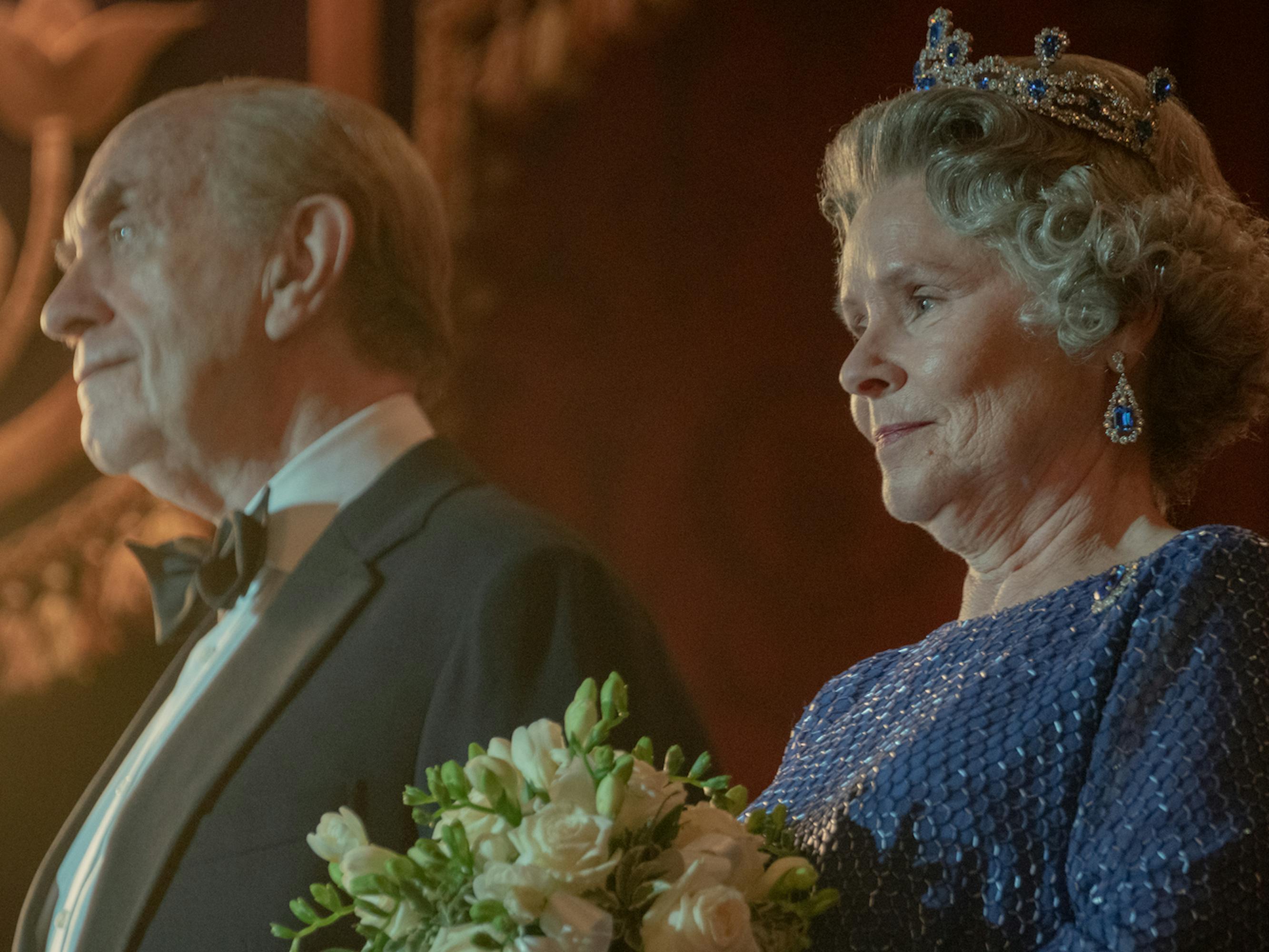 The male characters in the series might have less opportunity to dress in the bold colors associated with the era, but boxy shoulders and strategically placed hairpieces helped transport them back in time. Finding the right hair for Dominic West's Prince Charles took some trial and error for hair and makeup designer Cate Hall. "I had a wig made for him because he'd just done another job, and he had all his hair cut off," says Hall. "We tested both his own hair and the wig, and the wig made him look like an accountant from a mid-level bank. It didn't look like a wig, but it definitely didn't look like Prince Charles." Hall found the right fit by side-parting West's natural hair and adding a small hair piece to create a square shape and bring him into the 90s. 

In terms of hair, makeup, and costume, transforming actor Elizabeth Debicki into the most photographed woman in the world at the time represented one of the greatest challenges and most exciting creative opportunities. "The first wig we had made was that very iconic crop in the early 90s — which is one of the least flattering hairstyles ever," Hall says. "Only Elizabeth Debicki or Princess Diana could pull it off. [But] when you see her transformation through the series into her final look, which is so modern and so glossy, the Diana that we all remember from the last years of her life, I don't think we'd have got there intellectually without going through that early 90s look."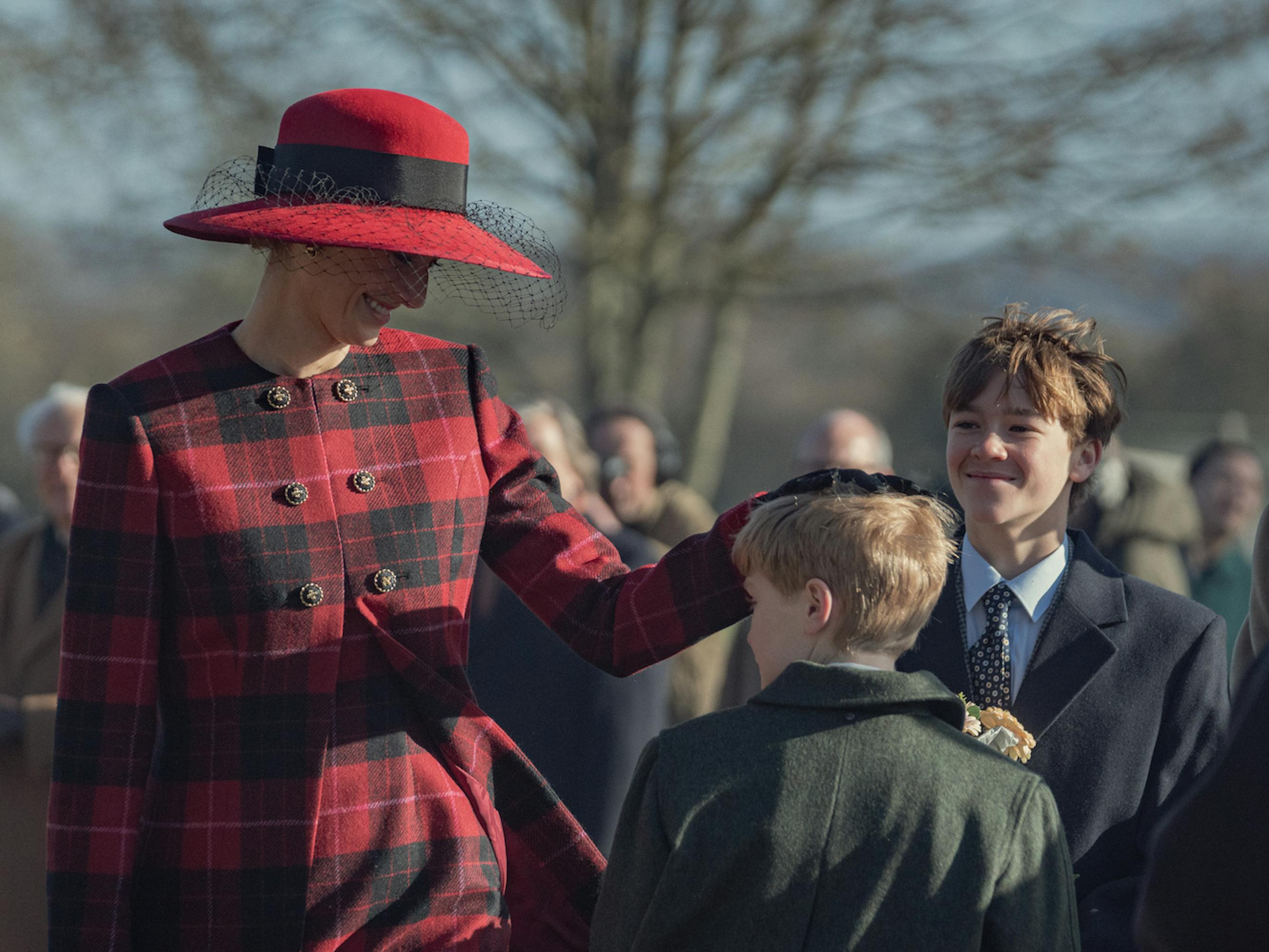 From evening gowns to denim, Season 5 sees Diana in recreations of her most memorable outfits, including the iconic "revenge dress" that sits alongside Ginger Spice's Union Jack minidress in the pantheon of 90s looks. The hair, makeup, and costuming all aided Debicki in telling the story of Diana's later years. "​​The beautiful thing about what we got to do in this era of her wardrobe was that so much of the story, for me anyway, is about the evolution of a human becoming able to be themselves, and trust their worth, and move away from establishment and move away from other people's ideas of themselves," says Debicki. 

Although the royal family isn't thought of as a bastion of modernity, Diana and the era she ushers in on The Crown certainly pushes them to the edge of a new century, and Roberts, Hall, and their teams spent months researching photos, magazines, movies, and culture from 1990 to 1997 to familiarize themselves with every pertinent detail from that time. But no matter the amount of reference available, the spectacular results they achieve onscreen wouldn't be possible without the incredible talent of the craftspeople behind The Crown. "You do all of that [research], and then just chuck it away, just throw it all out the window," says Roberts, "because then you've got to put yourselves out there as designers."