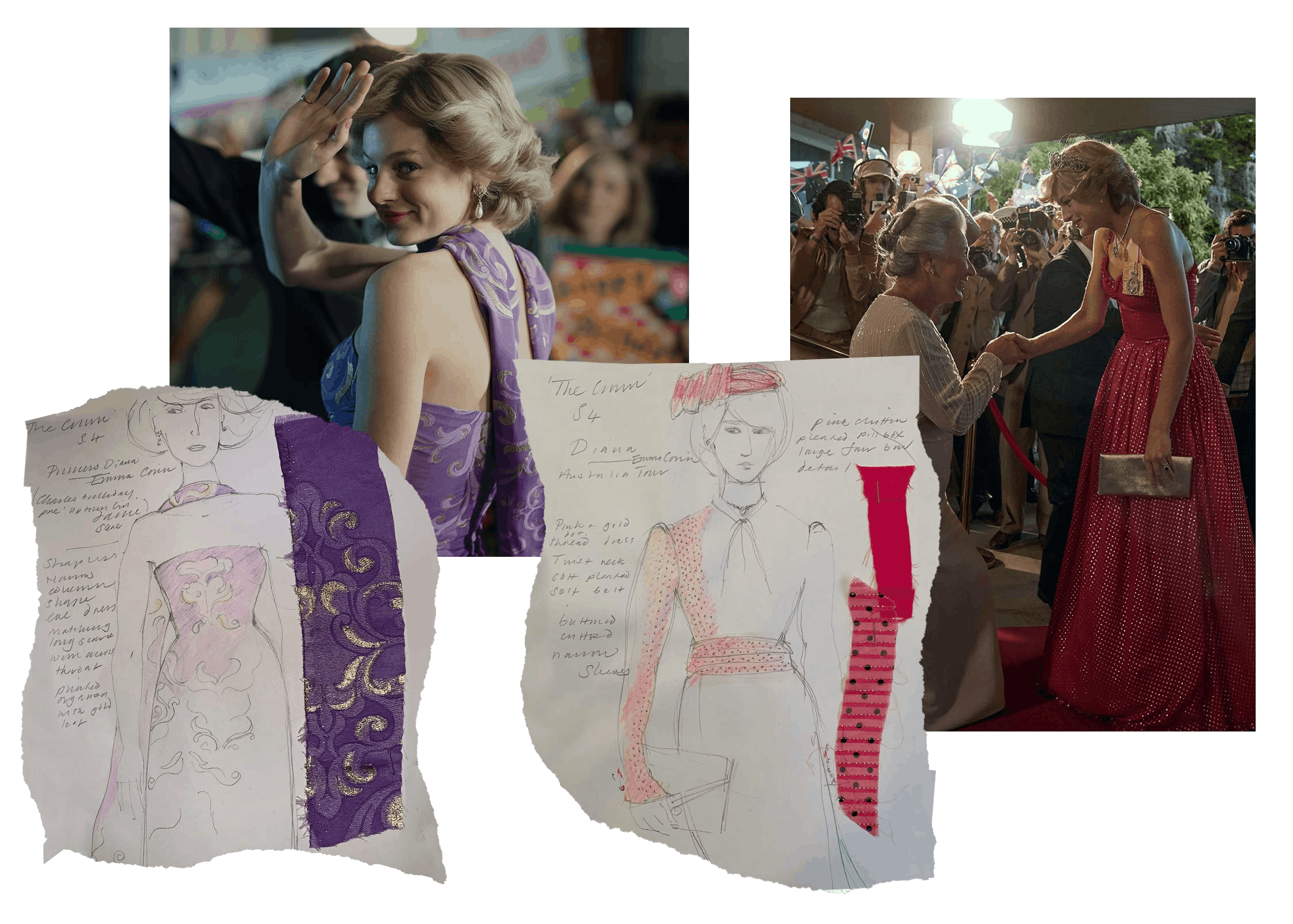 Transforming the People's Princess
Emmy-nominated Cate Hall, Amy Roberts, and Emma Corrin talk about creating The Crown's Princess Diana.
If Emma Corrin had any jitters about portraying a historical figure as widely known and universally beloved as Diana, Princess of Wales, they certainly didn't stop her from delivering a performance that's nothing short of mesmerizing. Stepping into the role for Season 4 of Peter Morgan's highly acclaimed drama The Crown, Corrin appears to effortlessly channel the young royal who meets and marries Prince Charles (Josh O'Connor) while still in her teens. Soon, she finds herself trapped in a media whirlwind struggling to bear the weight of an unhappy union, motherhood, and celebrity.
Charting Diana's path from shy adolescent to international icon, Corrin not only captures Diana's presence and her mannerisms, she also bears an astonishing physical resemblance to the People's Princess. The series' Emmy Award-winning costume designer Amy Roberts and Emmy-nominated makeup and hair designer Cate Hall helped shape Corrin's physical transformation from innocent teenager to worldly sophisticate who captured hearts around the globe. With Corrin now a best actress Emmy Award-nominee for her work on the series, Queue spoke with the star, Roberts, and Hall about their tripartite creative partnership.
Queue: What did you know about Princess Diana before taking on these roles on Season 4 of The Crown?
Emma Corrin: I don't actually have any living memory of her because she died when I was about three years old. But actually that served me quite well because it meant that I only had general impressions of her. I hadn't really ever had cause or reason to, I suppose, build my own ideas about how she might have been. 
Cate Hall: The really critical thing for us with Diana is that she starts as a teenager, essentially, and she ends up as a media savvy woman.
Amy Roberts: We first see Diana as a little tree creature, in costume for a performance of A Midsummer Night's Dream, and we last see her in a glamorous, black velvet gown. She has this air of, I'm going to fight you lot. It's as simple as that — from a tree to this extraordinary, glamorous girl at the end. Then, there's everything in the middle. As everything gets more toxic and her marriage is in a terrible state, she slowly gathers strength. When she travels to New York on her own, which was horrendously frightening, she comes to the realization that people adore her. She's got something amazingly special. She becomes more put-together and sexy, and she wields some power. So, it was an incredible visual journey for me and Cate, and it was very exciting.
Corrin: There was a really interesting balance that I had to find the whole way through, but especially in the last few episodes. There's this insane line that she treads between strength and vulnerability the entire time.
When you realized the season was going to take place in the early 80s, how did that impact Diana's looks including palettes and colors?
Roberts: Well, my heart sinks because I was in my thirties in the 80s — I know very well what the 80s was like. It's not particularly beautiful, but I just love it. But once you start doing your research, you see that the color palettes were interesting in the 80s. Remember, we'd done Season 3 of The Crown, which was set in the 60s and 70s, and we could bring color into that. This season was sort of still about color, but there was a different depth to it.
Hall: I completely agree. I definitely didn't feel like visually I had any love for the 80s, but I had a nostalgia for it. I used loads of my family photos in my research. It ended up being so nostalgic that I just wanted everything Amy rolled out. I would be like, "I love this."
Corrin: There are a few things that I wore as Diana, like the jumpers and sweater vests, that I wanted to keep. And in the later episodes, I think there was a Y.S.L. bomber jacket I loved?
Roberts: Yeah, you loved that. Remember the little Liberty print waistcoat and skirt?
Corrin: I was obsessed with that combination, and I only wear it for a fraction of a second in the series. It's so good.
Emma, as an actor, how do putting on the costumes and getting into the hair and makeup, help you become this character? Are these the final pieces that fall into place?
Corrin: I always describe it as sealing it up. I feel like getting in costume and makeup zips me in, literally. You've got all this stuff that you've thought about and you've processed — all the character work you've done, all the voice work, the scripts, and everything they've given you — then, when you're in your trailer and you see your costume hanging up, you think, Okay. This is where I'm going in the scene. When you're in hair and makeup, putting on the wig for that particular moment, it really seals you into your character. Particularly with the wigs, when we were simultaneously filming Episode 3 and Episodes 9 and 10, that was quite a constant shift day-to-day between young Diana and old Diana. I really enjoyed that because it reminded me of where I was taking her and where we'd been. The costume and makeup definitely help.
Were there other ways that the three of you worked together to give audiences insight into what was going on in Diana's mind in these different periods of time?
Hall: We were trying to do this "beauty makeup," so she would have her armor. She would have a strong lip. She'd have blue eyeliner and loads of mascara — but a pallor, as well. We tried to contrast this tailspin she was in with her also being a media icon. Again, it was the tightrope we were trying to tread all the time between her looking like a knockout, but also looking completely on the verge of a breakdown. So, we would sometimes use red on the inside of the eye to create that mood. We were always trying to convey fragility and strength. It was beauty makeup, but with a twist — and bigger hair.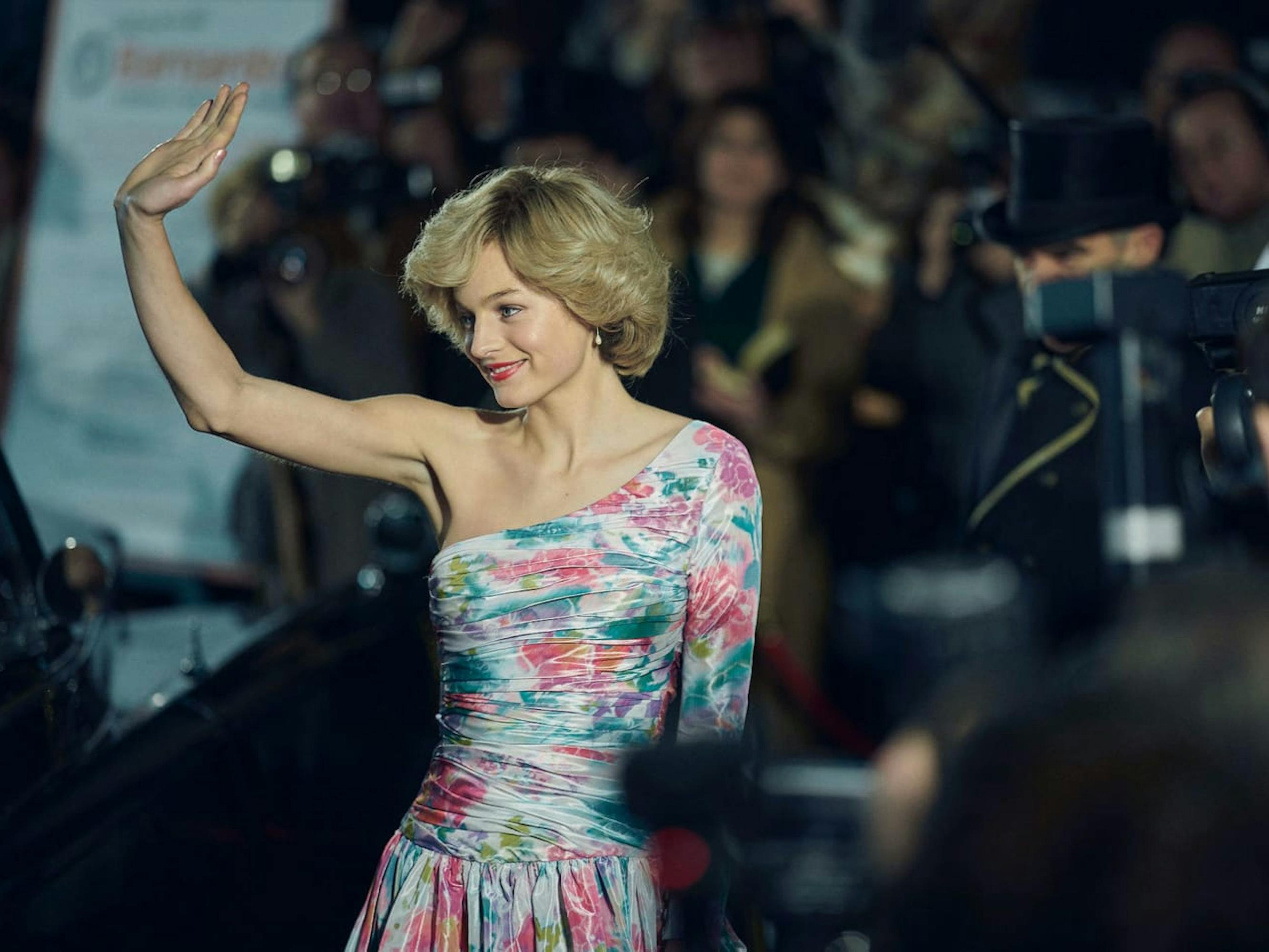 Emma, what was your reaction the first time you saw yourself in the full Diana hair and makeup? It's eerie to see you in the series — you really capture her essence.
Corrin: I remember other peoples' reactions more than mine. There was a moment in the wig fitting and behind me were some pictures of a young Diana. We were cutting the young Diana wig first. I remember we'd just about finished, and I'd been there for four hours, so I had completely lost concentration. I was looking at my phone or something, and tilted my head a particular way, and hair stylist Debbie Ormrod was like, "Oh my God. Wait, stay there." I was like, "What?" She took a picture — I think I've got it in my phone — of young Diana and me with the finished hair. I could see the uncanny resemblance in the mirror. Actually, it was mad.