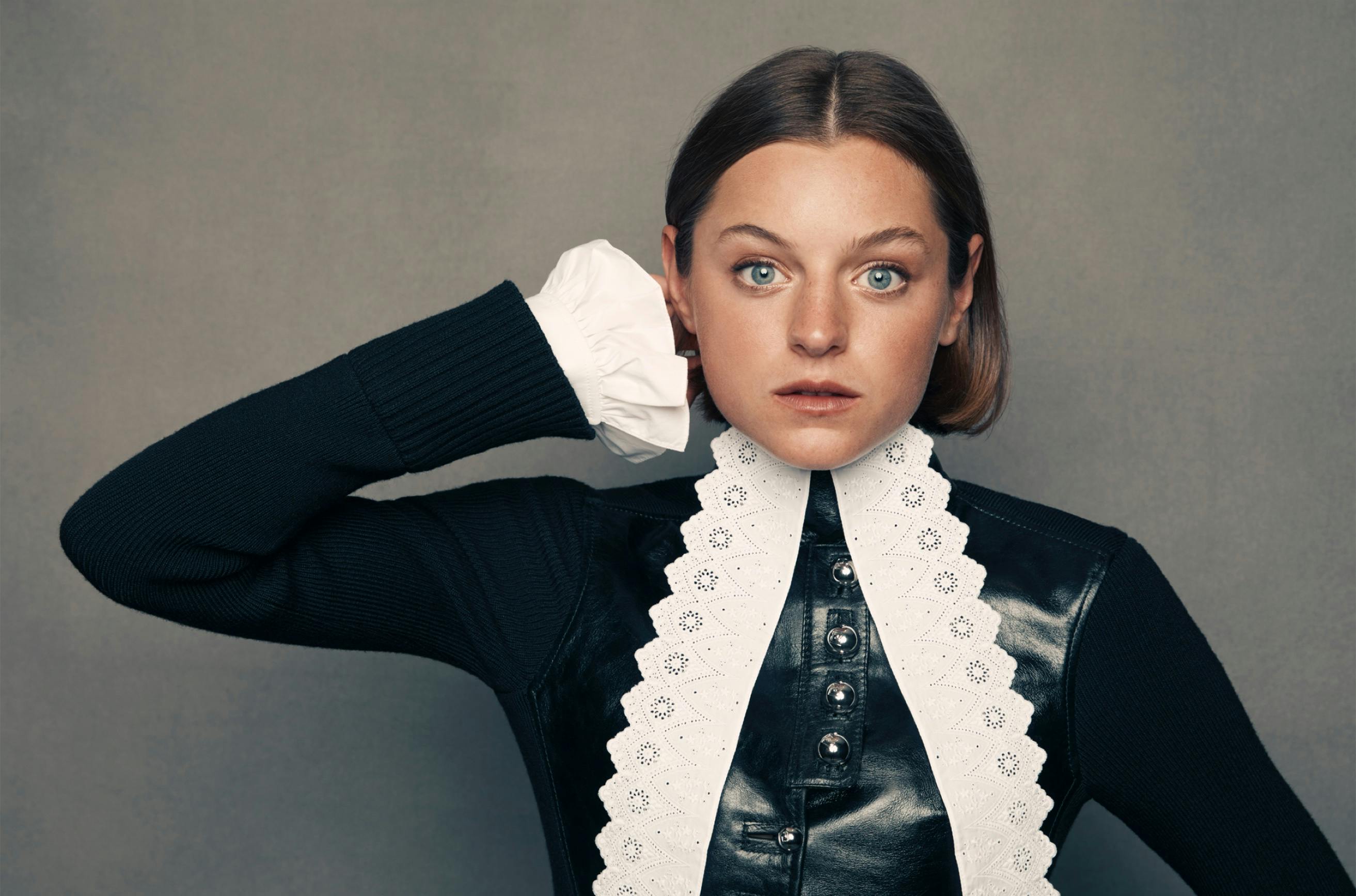 As far as proposals go, Emma Corrin's invitation to join the fourth season of The Crown was indeed fit for a princess. "I got taken to this insane manor house, which of course I'm used to now," the actor says with a laugh. "But back then it was like, Woah, this is crazy." After she finished reading an audition scene with Josh O'Connor, who plays Prince Charles, Corrin remembers director Benjamin Caron getting down on one knee: "He said, 'Will you be our Diana?'" Naturally, Corrin said yes.
Her turn as the Princess of Wales, ages 16 to 28, has earned applause from both Diana devotees and those less familiar with the royal. She plays a young woman trying to find her way in the world, at various points vulnerable, steely, joyful, and stricken. Diana is trapped by a troubled marriage and facing impossible public scrutiny. In Corrin's hands, she is entirely relatable and deeply sympathetic.
Emma Corrin wears Paco Rabanne.
The courtship between Corrin and The Crown was a long one. The first call came when Corrin had just graduated from Cambridge University and moved to London, where she was couch surfing and trying to find work. Her agent said The Crown was looking for people to read Diana's lines while they auditioned actors for the role of Camilla Parker Bowles.
"I was so new, it wasn't really intimidating," Corrin remembers. Her agent told her who would be in the room: The Crown's creator, Peter Morgan, executive producer Suzanne Mackie, and Caron. "I didn't know who any of those people were," Corrin explains. "My agent was like 'O.K., that's probably a good thing. You won't scare yourself.'"
She decided to approach the opportunity as an audition. She memorized the scene despite being told she could reference the script, and she enlisted her mother, a speech therapist, to help her work on sounding like Diana. Corrin spent the morning of the reading speaking her lines from the corner of the audition room. That afternoon, the director asked her to move in front of the camera.
"She was extraordinary," remembers Mackie. "As she walked out, we all looked at each other and said, 'We think we may have just found our Diana.' I just knew in my bones." Adds Caron: "She was the only person I really wanted. She had that amazing quality of vulnerability and strength. But of course, you have to be sensible."
By "sensible," he means thorough. It would be almost eight months before Corrin got the call to audition at the manor. During that period, she filmed the TV series Pennyworth and tried not to worry about her prospects with The Crown. She already possessed an actor's necessary ability to stay the course, although her experience was essentially limited to theater productions at Cambridge. Even the rejections she received from acting schools after graduating from her all-girls boarding school never made her doubt her path.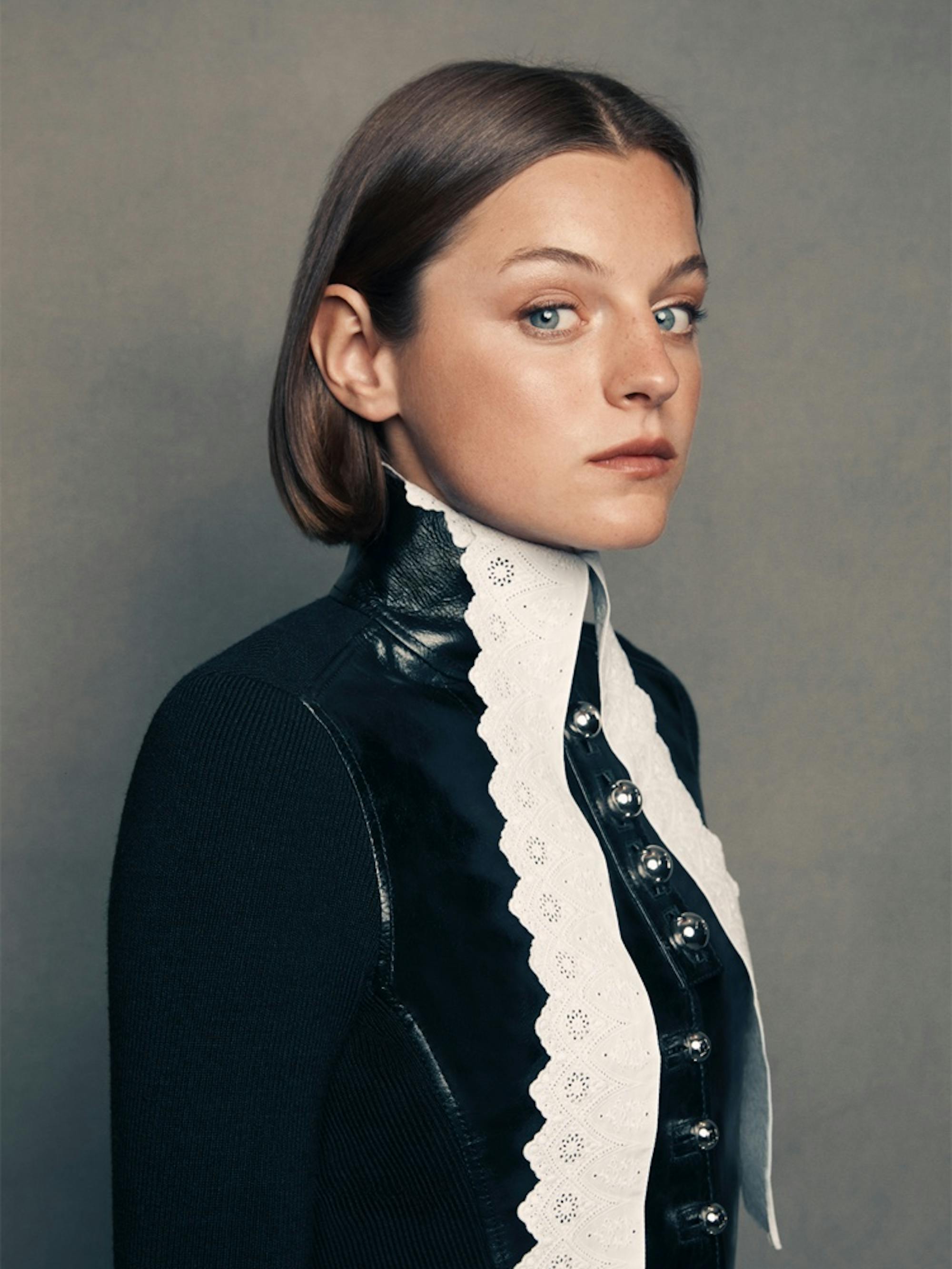 Corrin was raised with her two brothers 30 miles from London, in Royal Tunbridge Wells. "I spent the majority of my childhood living in a fantasy world," she says. "I would create worlds for myself through writing, or by going outside for days on end, living in things I'd built in the woods, and getting my two brothers to play fantasy worlds with me. It was always about acting. I think that requires some kind of blind faith and determination."
She drew on both of those qualities from the moment she learned the part of Diana was hers. She spent the subsequent six months buried in research — she was, after all, only a year old when Diana died in 1997 — and jokes that she watched the documentary Diana: In Her Own Words a hundred times. "I don't cry easily at things," she says, "but I was in absolute tears by the end of that film." She worked with dialect and movement coaches, and took tap, jazz, and ballet lessons. She also memorized a binder containing hundreds of pages of information prepared by members of The Crown's research team.
The course in all things Diana allowed Corrin to go into filming with confidence. "I had done the research, and now I could set it aside and concentrate on the material I had in front of me," she reflects. While the series opens with Diana as a dreamy teenager, it goes on to follow her descent into isolation and depression. "She went into it with such different expectations from the reality of what she met on the other side," says Corrin.
As for the actor's experience: "There were intense days. With Diana, it was dark so much of the time." In one scene, in which Charles tells Diana he doesn't love her, Corrin explains that: "My expression, which is basically just frozen, is totally natural. I was so terrified to hear someone being like that to someone else." Equally challenging was performing "All I Ask of You" from The Phantom of the Opera, which Diana videotaped herself singing as a misguided anniversary present for Charles. "Diana goes through something hugely emotional, reaching out to Charles to show him she loves him," Corrin says. "It was terrifying. They got in the actual cast of the West End production to support me, and it was incredibly exposing to be on this stage with these professionals. I can sing, but I hadn't done it for a while. I thought I wouldn't be able to do it."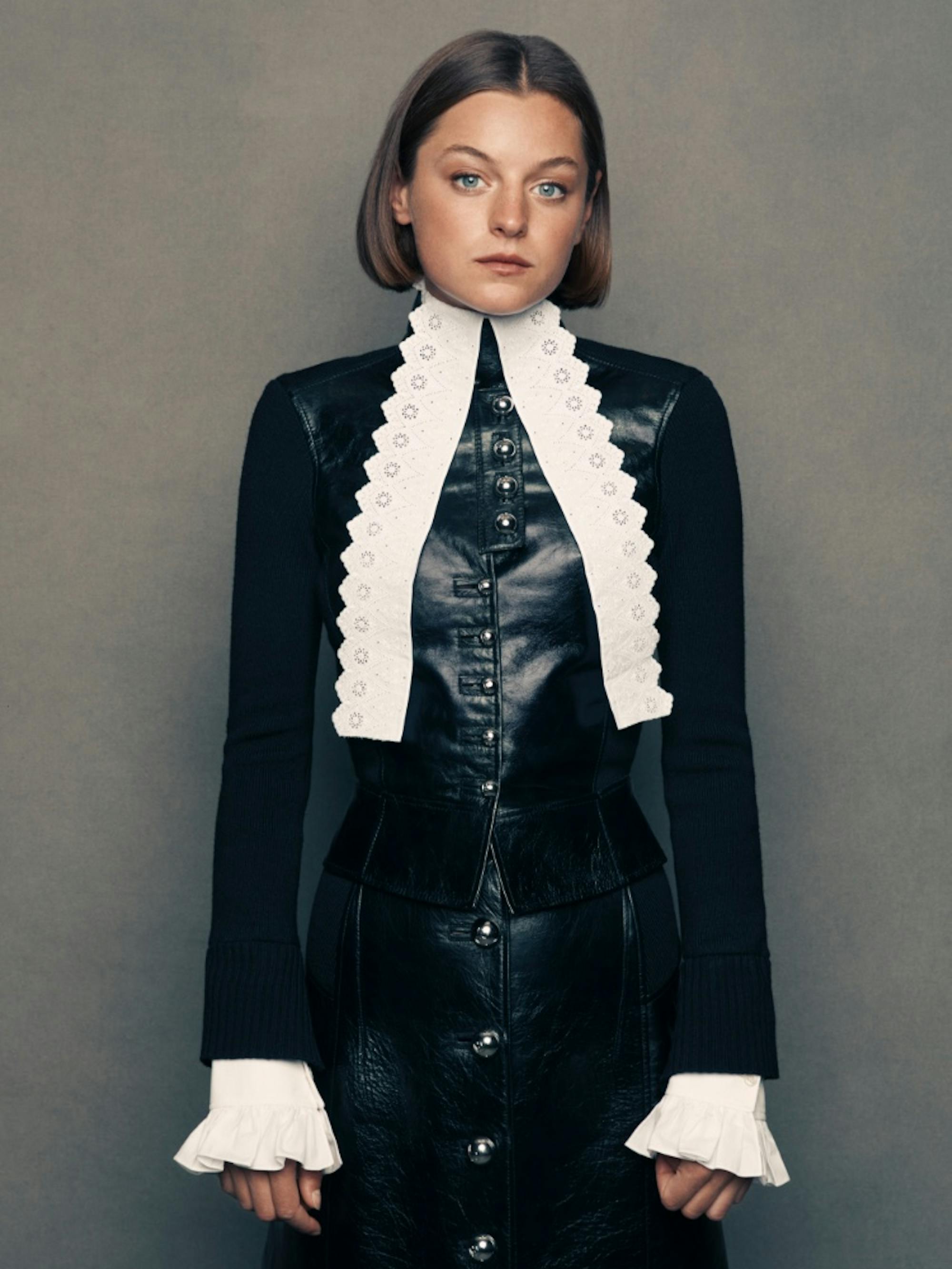 To shake off the role's emotional intensity, Corrin turned to dance, just as Diana had. For one scene in which Diana lets loose, the filmmakers offered Corrin a choreographer. She turned them down, opting instead for improvised moves to Cher's "Believe." (In the episode, the period-appropriate "Song for Guy" by Elton John plays instead.) "Everyone was like, 'That looks so therapeutic! I want a go!'" Corrin remembers. "It's the kind of expression that I can really relate to. I love dancing in that way." She also relied on the support of the cast: "When I first joined the show, Olivia Colman came up to me and said, 'This is the happiest job ever. You're going to have the best time.' And I really did."
Corrin now hands the role over to Elizabeth Debicki, who will play the older Diana for Seasons 5 and 6. "I felt ready to say goodbye," she says of her relationship to her character. "I felt like I found her at a very particular time and I left her at a very particular time." As she considers her next project and waits out COVID lockdowns at home, she is spending time with her newly rescued dog, christened Spencer in a nod to Diana's family name. She's also having the surreal experience of managing her growing fame over Zoom.
"Apart from my flatmates and some friends and family, it seems very removed," she says. "But I also think that there is something to be said for that. The most important thing to me is always the work. This way, everyone has to focus on that and not on what I'm wearing at a party. And you know what? It's quite nice."