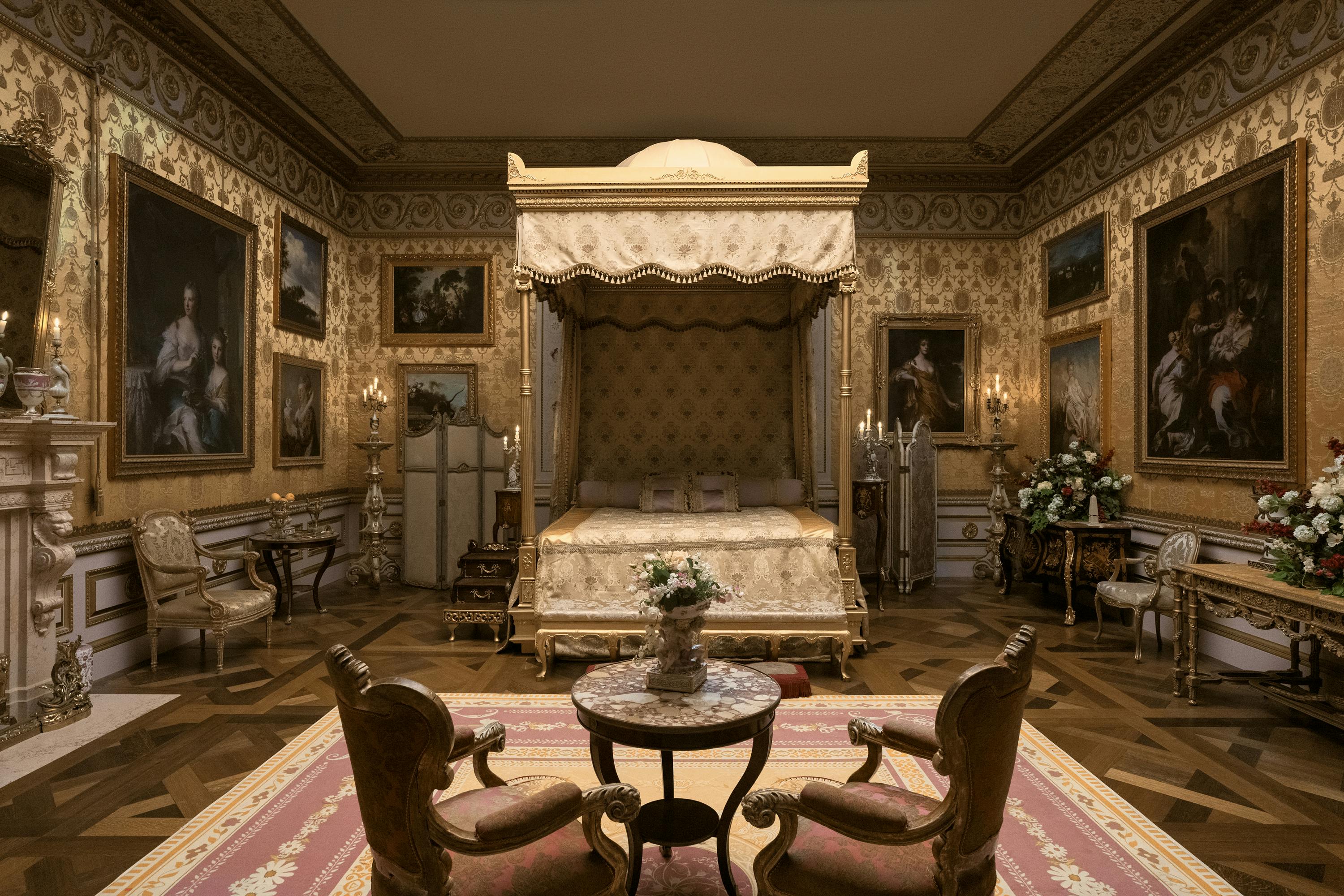 The craftspeople of the Bridgerton ton — David Ingram, Lyn Elizabeth Paolo, Kris Bowers, and Alexandra Patsavas — discuss creating the breathtaking world of Queen Charlotte.
With her tart remarks and towering hairdos, the character of Queen Charlotte, originated by Golda Rosheuvel, has reigned over two seasons of Bridgerton, capturing audiences' hearts with her larger-than-life presence. Now, Queen Charlotte: A Bridgerton Story, the six-episode prequel written and created by Shonda Rhimes, takes on the monarch's early days, her epic love story with the ailing King George, and every inch of juicy drama in between.
Queen Charlotte was born out of Rhimes's self-professed obsession with the eighteenth-century figure, who is rumored to be the first royal of African descent. Holding court as the titular character and her astronomy-loving husband are India Amarteifio (Sex Education) and Corey Mylchreest (The Sandman). Rounding out the cast are newcomer Arsema Thomas as a bold, young Lady Danbury, and Freddie Dennis (The Nevers) and Sam Clemmett (Cherry) as the king and queen's right-hand men who are engaged in a secret relationship.
Bringing such a complex, decades-spanning, and sexy story to the screen would have been impossible without an exceptional below-the-line team. From the ton's messy attempt at integration to the king and queen's contentious separate housing — not to mention every lavish ball — award-winning production designer David Ingram created spaces that both drive the narrative forward and are resplendent to behold. Lyn Elizabeth Paolo, who has been rewarded for her work on the series with an Emmy nomination, got creative with Georgian-era silhouettes to better fit Charlotte's independent, dynamic spirit. Shondaland's veteran music supervisor Alexandra Patsavas chose songs to adapt into orchestral covers that were written, performed, or made cultural juggernauts by women of color. Composer Kris Bowers sampled work from Black eighteenth-century composers and poets to create a score worthy of the epic love story at the heart of Queen Charlotte.
Journalist Sam Sanders spoke to the department heads about their symbiotic work environment, how they paid tribute to the real-life stories, and their favorite contributions to the one-of-a-kind series, which was also nominated in the Period Hairstyling and Voice-Over Emmy categories. "We had a dream team on this show," Paolo says of her fellow craftspeople. "I really don't want to work with anybody else."
An edited version of the conversation follows.
Sam Sanders: There was a Queen Charlotte. There was a King George. Tell me the mental and creative calculus in deciding how closely to adhere to history and when to not let things get in the way of your good story.
David Ingram: It's quite interesting to explore the two characters through architecture and where they lived. You look at the facts of the structure: He bought Buckingham House for Queen Charlotte, but then he lived in Kew Gardens. So you have this broad-stroked foundation that you work from. 
From here, you allow the audience to engage in the character's journey. You start breaking away and making sure that the color palette and everything actually help drive the story forward. I kept Queen Charlotte in golds, and for King George, he started in royal reds, but then as he declined, he went into more walnuts and browns and more nurturing colors. You're balancing fact and emotions so the audience can buy the reality and also engage in it emotionally.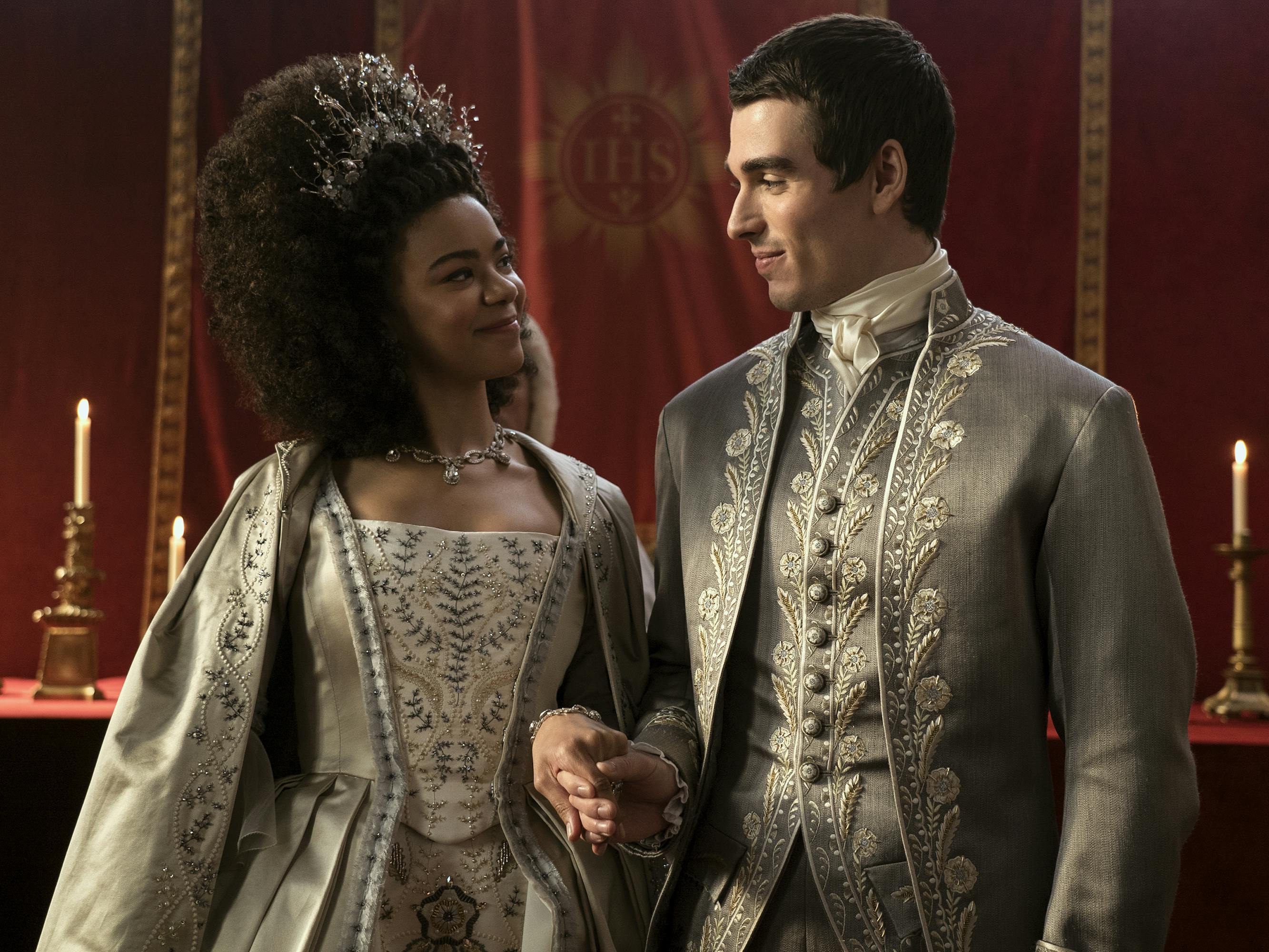 You've got covers from everyone from Beyoncé to Alicia Keys and SZA. Which song was the hardest to Queen Charlotte, Bridgerton-ify?
Alexandra Patsavas: I think it's important [to ask], how are we going to connect it to Bridgerton but make it distinct? And the way we went about that was to introduce these covers that focused on songs made famous, written, or sung by women of color, alongside [music from] iconic composers of the Georgian era. And then, finally, how are we going to coexist and make sure that we fit into Kris's beautiful score? I think the hardest song was probably the wedding night: Kris Bowers and Tayla Parx wrote a stunning song for the wedding, and I think that was the only thing that could have fit there.
Kris Bowers: That was a really fun challenge because it came from a conversation where we talked about Black composers of that time period to use as another reference point. Alex actually gave me a bunch of scores by a Black composer named Joseph Bologne, Chevalier de Saint-Georges and it was incredible to have all these scores to pore over. The music for that song is directly inspired by him and his music. And then I worked with Tayla. We looked at a lot of different Black poets at that time, and she found a couple of lines that inspired her to write a couple of fragments of lyrics. It was fun to find a way to pull from that era both musically and lyrically, or poem-wise, and then, like Alex said, basically score the scene as well as possible with this song that we wrote.
David, when you are creating the world that these characters live in, it has to feel specific to that time, but also feel relatable to people watching these shows in 2023. What is the first to-do item on your checklist when you're building one of these worlds?
Ingram: You've got to know what the architectural correctness is for paintings, furniture, fabrics, and when you're crossing the line. What I wanted to bring was a high level of detail, which was probably not period correct, but I did find a book on an architectural interior designer of the time called Robert Adam, and he had some interesting motifs. I embellished a lot in his motifs and designs: If you look at the final ball, that floor design is a Robert Adam design taken from a ceiling motif. I used that as a running theme, and he gave me something that I could lean on that was period correct, but I could embellish it. So you find certain things that speak to you and it breathes a life of its own.
What did you find out about this time period that you really didn't know before?
Paolo: I read so many books about Charlotte and George and their relationship and how in love they were. Also how they tried to raise their children in a very different way than royal families before them had, how they nurtured their children, and how intelligent they were. They spoke so many languages, they were so well-read, and they did a lot for charity. They opened the very first library for the poor in England, and they built homes. All you ever hear about is the madness of King George, and you don't really hear about Charlotte at all — she was this really remarkable woman. It's sad to me that this woman has been erased, in a way, because of her husband, and their life together was amazing. So I love that we've, in our own way, because I know it's not historically correct, reintroduced her to the world.
Bowers: It was fascinating to learn that George had a relationship with Handel — I think he even commissioned a festival that Handel wrote a piece for. Learning that Charlotte played harpsichord as well. I didn't want to use harpsichord because it has such a distinct sound, but fortepiano is kind of the next [best] thing essentially. 
What moment are you most proud of in the show — a costume, a song, a set? I want you to brag on yourselves a little bit.
Paolo: I feel like the final ball in Episode 6 has to be my favorite. The music is amazing, and I still cry every time I watch it. [Ingram's] amazing set at Blenheim [Palace], and the living statues, which I just want to say: They were not statues, and I want to give a shout-out to the people that stood on the plinths for twelve hours over those days. And that just speaks to Shonda and how well she writes, and to the whole team, our lovely actors, and [cinematographer] Jeff Jur, who just shot it so beautifully. We're not kidding when we say these things about each other.
Patsavas: To work on this show is just so enjoyable, and to see it come to life in the cuts was just . . . you rarely get to work on something that feels so special. It wasn't a single moment. It was that Alicia Keys contributed her beautiful song, SZA, and, of course, not one, not two, but three Beyoncé songs are in the series. I'm very proud of that and feel so privileged and thrilled to be able to use those iconic songs. 
Bowers: My scoring process is really a response to what I'm watching — everything I'm writing is directly influenced and inspired by the way these people look, the way the spaces look, the way that they're acting. I couldn't be proud of any piece of score if it wasn't alongside the progress of these stories and these characters and these worlds. The thing that I was most excited by, in the end, was the theme between Charlotte and George. Composing for a series, I'm not really sure how a piece is going to feel by the end. Their theme first appears when he meets her in the courtyard and it sounds a certain way, and it has so many different moments, like in the observatory, but then develops into a different version in the final episode where they're under the bed having that conversation. I rewatched it with my wife and I felt emotional watching that scene.