Netflix stars answer Queue's questions about creativity and craft.
From The Sopranos to The Closer to Grey's Anatomy, Katie Lowes has guest-starred in, well, most TV shows. But the actor is perhaps best known for her portrayal of fixer Quinn Perkins on Shonda Rhimes's award-winning series Scandal. Lowes returns to Shondaland in the Netflix show Inventing Anna, which chronicles the rise and fall of Anna Sorokin, the so-called "SoHo swindler" who had been posing as a German heiress and using the last name Delvey. 
On Inventing Anna, Lowes finds herself in the role of Rachel Williams, a Vanity Fair photo editor who takes a luxurious Moroccan vacation with Anna and ends up footing the entire bill. As Rachel's attempts to get Anna to reimburse her go nowhere, she decides to fight back the American way — in court. For Queue, Lowes discussed how she prepared to play such a complicated character, and what it was like to work on Inventing Anna.
Queue: What was your first role and how did it feel to book the gig?
Katie Lowes: My first role was AJ's date to a wedding in The Sopranos. I had one line. I don't remember the character's name, though.
What film or TV show made you fall in love with acting?
KL: I think the first TV show that made me fall in love with acting was Three's Company. I loved John Ritter. I loved laughing, and I just watched it all the time.
What do you remember about the first time you saw yourself on camera?
KL: The first time I saw myself on camera, I was so bummed because my part had been cut out. And that was my first foray into acting, where you're like, Oh right, you can get completely cut out of things.
What was it like working with the cast of Inventing Anna?
KL: Working with the cast was incredibly inspiring, magical, and just special. I mean, to do scenes with Julia Garner, Laverne Cox, Anna Chlumsky, Jeff Perry, Arian Moayed, and Alexis Floyd — they're just some of the best actors I've ever gotten to work with. And that's saying something because I was on Scandal with Kerry freaking Washington.
How did you prepare for the role ahead of filming?
KL: I did a lot of preparation work before I played Rachel Williams. I did not meet her, but in today's day and age, it's so easy to find people on Instagram or Googling around, which we all do. And so I definitely did that with Rachel. And then, at a certain point, I really left all of that alone and focused mostly on the script that Shonda Rhimes had written, and treated it as my Shakespeare, my Bible. I needed to play the Rachel character that she created, that was on the page. For me, so much of that was found in being able to shoot in Morocco and actually shoot in the location where Anna Delvey conned Rachel Williams out of $62,000. I could really put myself in Rachel William's shoes, and what she was feeling at that time, and really empathize with her circumstance.
What's one word you would use to describe your character?
KL: Naive.
What would you say you have in common with your character?
KL: I have a lot in common with Rachel Williams. She's super hard-working, loyal, smart, trusting. And I do think that this is the first time in her life — and it's sad — where she figures out that everyone is not all good. It was easy for me to relate to times in my life where I realized that not everyone is trustworthy. It's a really interesting story because what I loved the most about playing with Rachel is that where she ends up is nowhere near where she begins. She learns a lot, and she grows a lot throughout the series, for better or for worse, by being friends with a con artist.
What is most different between you and Rachel?
KL: I think what's different between me and Rachel is our upbringing, our perspective, and our pride.
What was one scene that was most challenging or memorable to film?
KL: I think the most challenging scene to film for Rachel was in Episode 9, when she's on the stand and she's being cross-examined by Anna Delvey's lawyer, played by the incredible Arian Moayed. I knew, from reading her testimony, that Rachel was incredibly emotional while she was on the stand, and I knew I had to go to a lot of dark places and be able to stay there for a bunch of days, because it took days to shoot those scenes. So, those days were definitely challenging.
Which Inventing Anna character would you most like to partner within a game?
KL: I think I would probably partner with Vivian Kent, played by Anna Chlumsky.
Which Netflix star from another show or movie do you think could be your best friend
KL: Scandal was on Netflix, and Kerry Washington's one of my best friends in real life. Can I say that?
What's your favorite comfort watch on Netflix?
KL: Love On The Spectrum. I watched it last night.
What's one thing you always bring to set?
KL: I always bring a cell phone charger because you're there long hours, baby.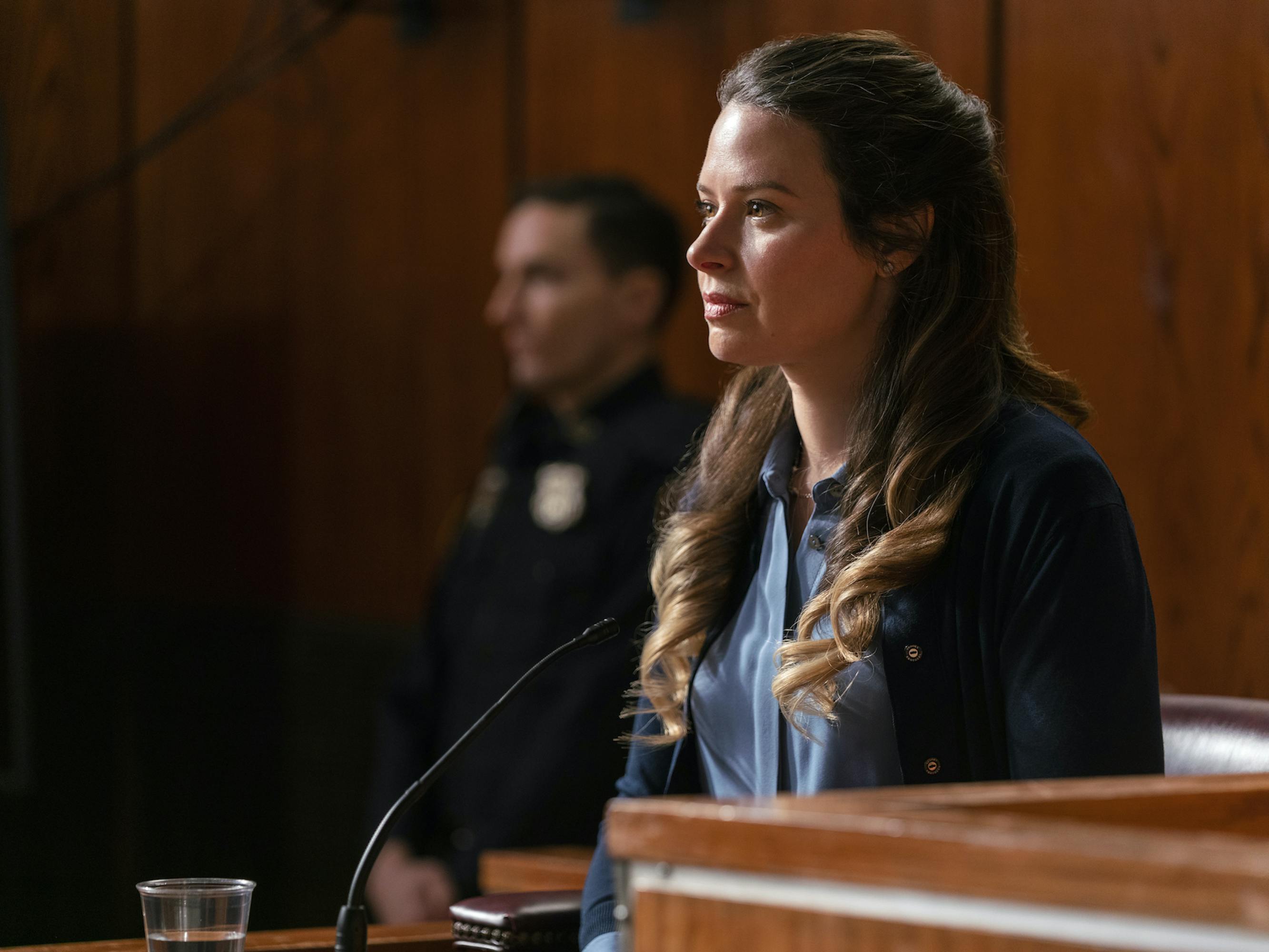 Do you listen to any music to get in the zone while filming?
KL: I especially got into the zone, while shooting Inventing Anna, listening to rap and hip hop.
Do you have any secret talents?
KL: I can touch my tongue to my nose. I can play piano. I can sing opera if I've had enough rest. I can play the flute. I can still do a cartwheel at almost 40 years old, and, honey, that is a special challenge.
Very impressive. What's one thing about yourself you don't think your cast members know yet?
KL: I don't think my cast members know how much I want to be a travel agent. I love travel. I love planning trips. I love planning trips for friends and family because I'm a Virgo and I just love to plan.
What is your dream role or project?
KL: Anything Shonda Rhimes writes, forever and ever.