Netflix stars answer Queue's questions about creativity and craft.
Anna Delvey, the SoHo swindler, was living large before stories of her deception hit the news. When she was revealed to be Anna Sorokin — not a German heiress as she claimed to be, but of Russian descent and without a trust fund — her art-world acquaintances disappeared, and she found herself in jail, awaiting trial. Only one friend stuck with her through it all: Neff, a concierge — and aspiring filmmaker — from one of the many hotels where Anna had overstayed her welcome. 
Shondaland's Netflix series Inventing Anna follows Anna Sorokin (Julia Garner), as she strives to fund her new social club, and Vivian Kent (Anna Chlumsky), a reporter who begins interviewing Anna as she awaits trial and delves deep into her life. Playing Anna's strong-willed and confident friend Neff is Alexis Floyd. The multi-talented actor, singer, dancer and producer began her television career on The Bold Type, playing campaign manager Tia Clayton. Floyd sat down with Queue to talk about her favorite moments from Inventing Anna and what it was like to work on the show.
Queue: What was the film or TV show that made you fall in love with acting?
Alexis Floyd: In terms of television, watching Monk with Tony Shalhoub was something else. I had just never seen that kind of depth. I grew up on Disney channel, and we love it, no shade, but there was just something about the complexity of this character and the fun that he had with such focus and seriousness. I was like, What does it feel like to do this?
What was your first role or big break?
AF: I think I will attribute my big break to The Bold Type, a show on Freeform. I played a woman named Tia, and that was my first opportunity to film something on site in Montreal and having this atmosphere to be focused and dive into the craft in a really concentrated way. So, I'm very thankful for that, it changed everything.
What do you remember about the first time you saw yourself on camera?
AF: Ooh, the first time I saw myself on camera, I think I was 15, doing a film locally in Cleveland, Ohio where I'm from. And I remember saying, "Girl breathe." I really had to try to give myself that note — I still give that note to myself today. 
When did you first encounter the Anna Delvey story? 
AF: I'm a bit of a social media recluse, so I didn't encounter it prior to finding the project, but I remember when the project came my way and I started to Google just "Anna D — " and then it's "Delvey, Sorokin, Russian, German." I mean, the internet is just flooded with information about this woman. So, once I was in the world, I was in it. I stayed up all night before the audition, which is not the best advice, but I just couldn't stop.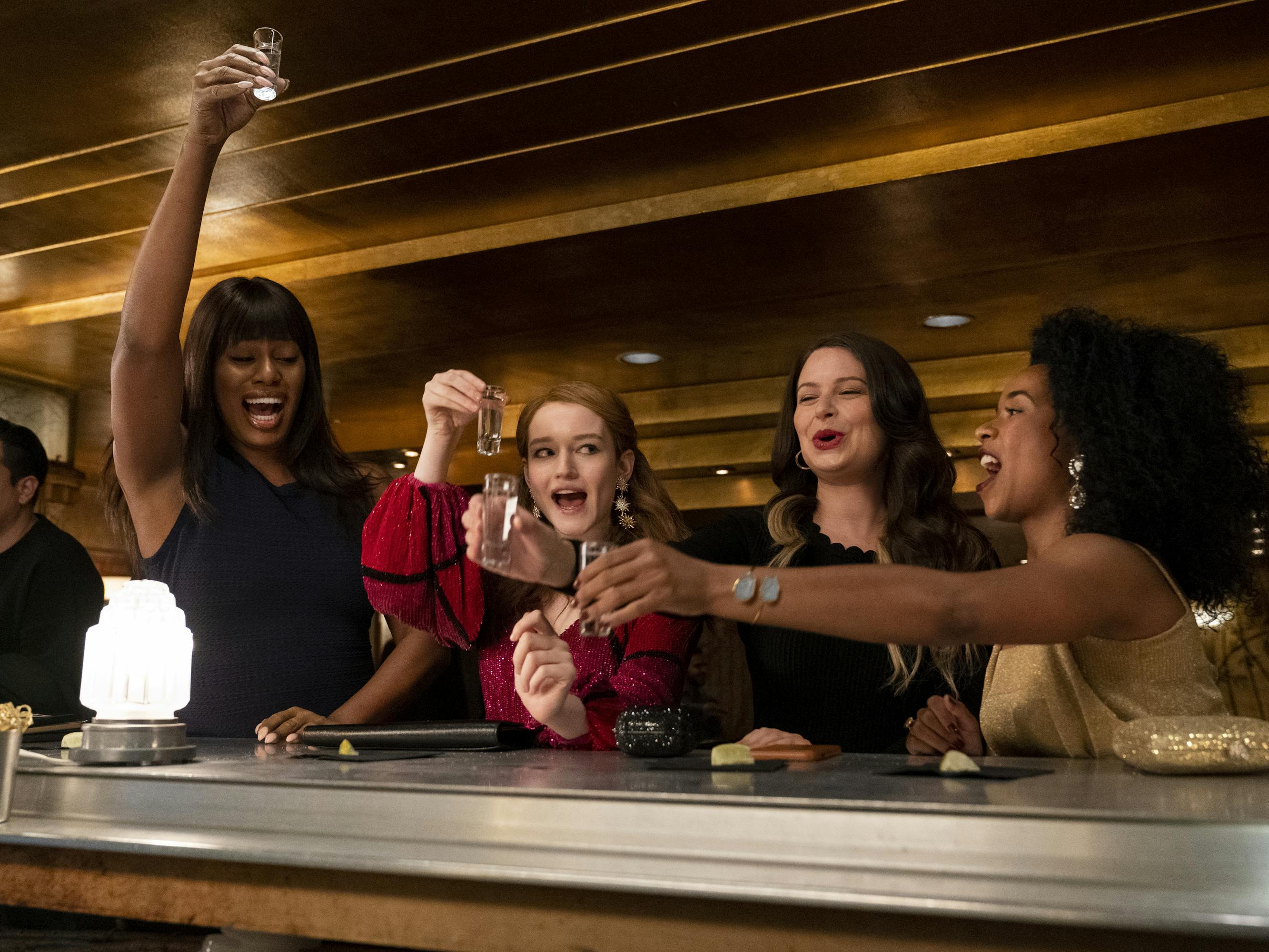 How did you prepare to play Neff? Given that she's based on a real person, did you meet or did you sort of shape the character on your own? 
AF: Yeah, it was an amalgamation of the two. I mean, the first thing I wanted to do was sit down with Neff if she felt comfortable, and she was so generous. We had dinner for three and a half hours. We found out we live a 20-minute walk from each other in Brooklyn, and throughout the process, she remained such a generous resource. It was important to me because I felt it in the script, and sure enough, upon meeting her, she is one of the most self-knowledgeable people that I've come across. So, it was sort of a marriage between bringing myself and my life experiences to meet Neff's, so that I think the woman you see onscreen is almost a celebration of our friendship, something we built together.
What was it like working with the cast of Inventing Anna?
AF: I mean, it was full of masters of their craft — all very studied, very experienced performers and actors, and incredible intelligence from everyone, but with very different energies, which was a beautiful sort of testimony to Anna's real life experience. I think she was able to bring people from all walks of life together to bring her dream to life. And then, the cast had that same sort of dream and goal as a team. In some ways, it almost felt like grad school too. I was studying everyone's process, everyone's poise, everyone's quiet confidence, and the way that they handled themselves on set. I mean, for me, this was a masterclass, full of master teachers.
Was there one scene that was particularly memorable from the filming process?
AF: The scene that jumps out to me the most was in Episode 5, right in the middle of the whole series. It's 3:00 a.m., Anna and Neff have had a night, they're in robes, lying in the hotel bed, which Neff should not be on. And they're having a sleepover. And it's one of the only moments where you see these two highly ambitious, driven women really enter a space of quietude and safety that you know is so comfortable that Anna almost reveals her true colors to Neff, and it's such a testament to the delicate vulnerability in their friendship. I just love how still it is. And it really is a celebration of the loyalty that they have to one another.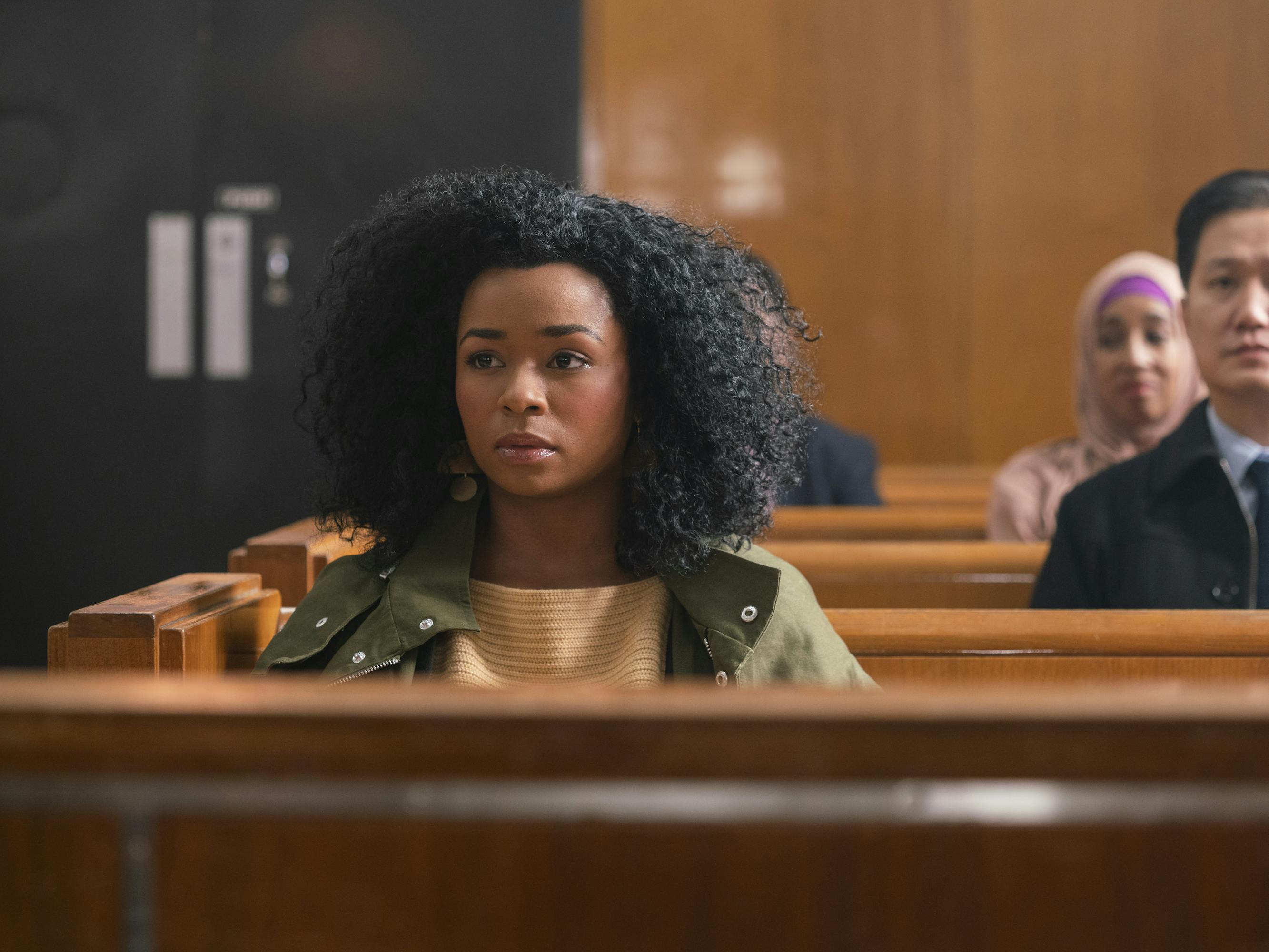 What's one word you would use to describe Neff?
AF: Confident.
What is your favorite comfort watch on Netflix?
AF: Avatar: The Last Airbender.
What was the last thing you binge watched on Netflix?
AF: The last thing I binge watched on Netflix was Ozark.
What's one thing you always bring to set?
AF: A banana — truly it's got it all.
Did you listen to any music to get into character while on set?
AF: Yes. So, Neff and Aaliyah actually share a birthday. And I know she's a huge fan of hers, so I would play "At Your Best (You Are Love)" in the trailer. I mean, I can hear it now. It was just the start to every day, whether we were starting at 7:00 p.m. or 3:55 a.m., I would begin with Aaliyah.
What is your dream role or project?
AF: You know, for me, the dream is really about the people. It's what I'm in it for — the story on the page and the people who are making it. So, the dream is a little less specific in terms of exactly what I want to do, but it's more about who I want to do it with.