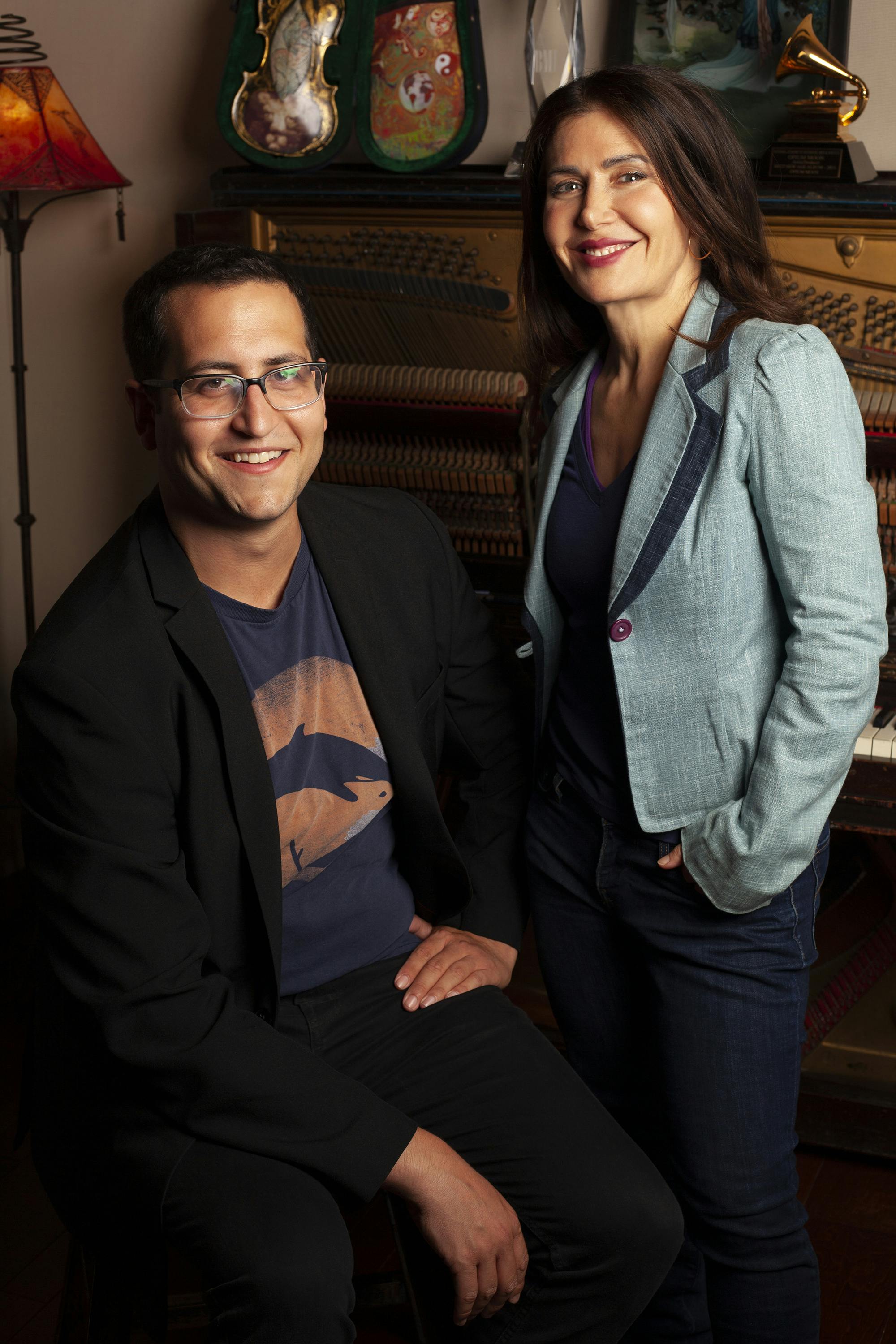 Ginny & Georgia composers Ben Bromfield and Lili Haydn discuss their Emmy-nominated original song, "Marriage Is A Dungeon."
When it first premiered, Ginny & Georgia immediately connected with audiences because of its irresistible combination of complicated yet endearing characters, compelling drama, and underlying mystery. Starring Antonia Gentry (Candy Jar) and Brianne Howey (The Passage) as the titular mother-daughter duo, writer-creator Sarah Lampert's series is an unconventional take on the family dramedy, with a distinctive score to match.
Composer Ben Bromfield (Oddballs) first came aboard the series when Lampert reached out to him to work on the score. Immediately, he thought that Grammy-winning musician and composer Lili Haydn (Transparent) would bring an essential perspective and voice to the soundscape of Ginny & Georgia. "I had always felt that the show would benefit from the creative input of a female composer, as well as the aesthetic of [her] haunting female vocals, so it was lucky that Lili was available to co-score the show," says Bromfield. 
The duo's score for Ginny & Georgia transcends genre, utilizing an arsenal of sounds, from electronic synths to twangy strings and Haydn's aforementioned vocals. But Season 2 of the mother-daughter dramedy brought the composers a fresh challenge: When the highschoolers of Wellsbury become consumed with their production of Wellington, a fictional new musical set in Victorian England, Bromfield and Haydn were tasked with creating songs for Ginny's peers to perform. The original pieces of musical theater needed to not only be convincing as a part of the school's winter musical, but also to connect with the emotional beats of the latest season. 
"We were tasked with writing several songs for what needed to sound like 'an American songbook, classic musical,' a traditional romance reimagined to have female empowerment themes," explains Haydn. "I've always felt that our two unique styles lent themselves to this fun and original spin on traditional musical theater, and I think we got to create something special with Wellington," adds Bromfield. The pair now find themselves Emmy nominees for their work, recognized in the Outstanding Original Music And Lyrics category for their song "Marriage Is A Dungeon" from the original musical-within-a-show. 
Below, Bromfield and Haydn share how they made Wellington, what it was like composing songs that mirrored the characters' inner turmoil, and the unlikely, personal inspirations for their Emmy-nominated original song. 
On how they approached writing a new musical
Ben Bromfield: One of the interesting things about writing the songs for Wellington was that we had to imagine what happens in this fictional musical. This task was left fairly open-ended for us. We had to establish the wants and desires of the three main characters, Josephine [Bracia, played by Tameka Griffiths], the Duke [Bryon, played by Agape Mngomezulu], and Lady Blair [Maxine, played by Sara Waisglass]. You can hear in the opening number, that each of these three main characters has a short verse that helps round out their motivations. Once we had a clearer idea of who the characters in the musical were, it became more natural to imagine what kind of song they would sing. 
Lili Haydn: It was important to us that it echo the heavier darker themes dealt with in the show, and it was especially gratifying to us to be able to take those heavy issues and put them in a wickedly funny earworm that has gone viral with hundreds of millions of streams on TikTok and 2,000,000 plus on Spotify.
On embracing the genre of musical theatre
LH: Ben and I are fluid improvisers, and we took our compositional skills and individual backgrounds — his in musical theater, and mine in classical, as well as the indie singer-songwriter genre — and it came together very naturally.  We love scoring the show and giving it its unique sonic world, and it was very exciting to create a musical within that show that has such a strong identity. 
BB: I had had a lot of experience earlier in my career directing and working as an accompanist for musicals, so getting to actually put pen to paper on a musical — even a "fictional" musical — was very rewarding for me.
On writing "Marriage Is A Dungeon"
LH: I listened to a lot of West Side Story and Into the Woods, and really meditated on the heavier themes of identity and defiance in Ginny & Georgia, and then I remembered my grandmother's evil older sister's last words to me, which were, "Marriage is a dungeon!" I brought that to Ben, and we just flew!
BB: The phrase itself was so evocative that it inspired us so much! I think the character of Lady Blair was influenced in part by Bernadette Peters's portrayal of the Witch in the original cast of Into the Woods. Musically, and in terms of the orchestration, the song also draws some influence from the animated musical The Nightmare Before Christmas.
On connecting to the dramatic stakes of Ginny & Georgia
BB: One of the really cool things about Wellington is how it reflects some of the broader themes of the show. The song "Marriage Is A Dungeon" is sort of a nod to the recurring theme of Georgia being trapped in marriages throughout her history, although we are reflecting that through a sort of fun house mirror with our darkly humorous song. It's sort of a killing-trauma-with-comedy effect, or a "triumph over pain." 
LH: It's very gratifying to be able to make music that is so instrumental in furthering the character's evolution! It's a lot of pressure too. Choosing just the right words and harmonies and melodies for the love song that underscores the breakup is a delicate tightrope of surrender to love, cynicism, and defiance . . . We really dove into that drama and were especially happy with the creative choice to be able to score most of that episode with the instrumentation from the musical, blending art and life and underscoring the connectedness of the musical to the larger show as we echoed its heavier overarching themes in the songs.