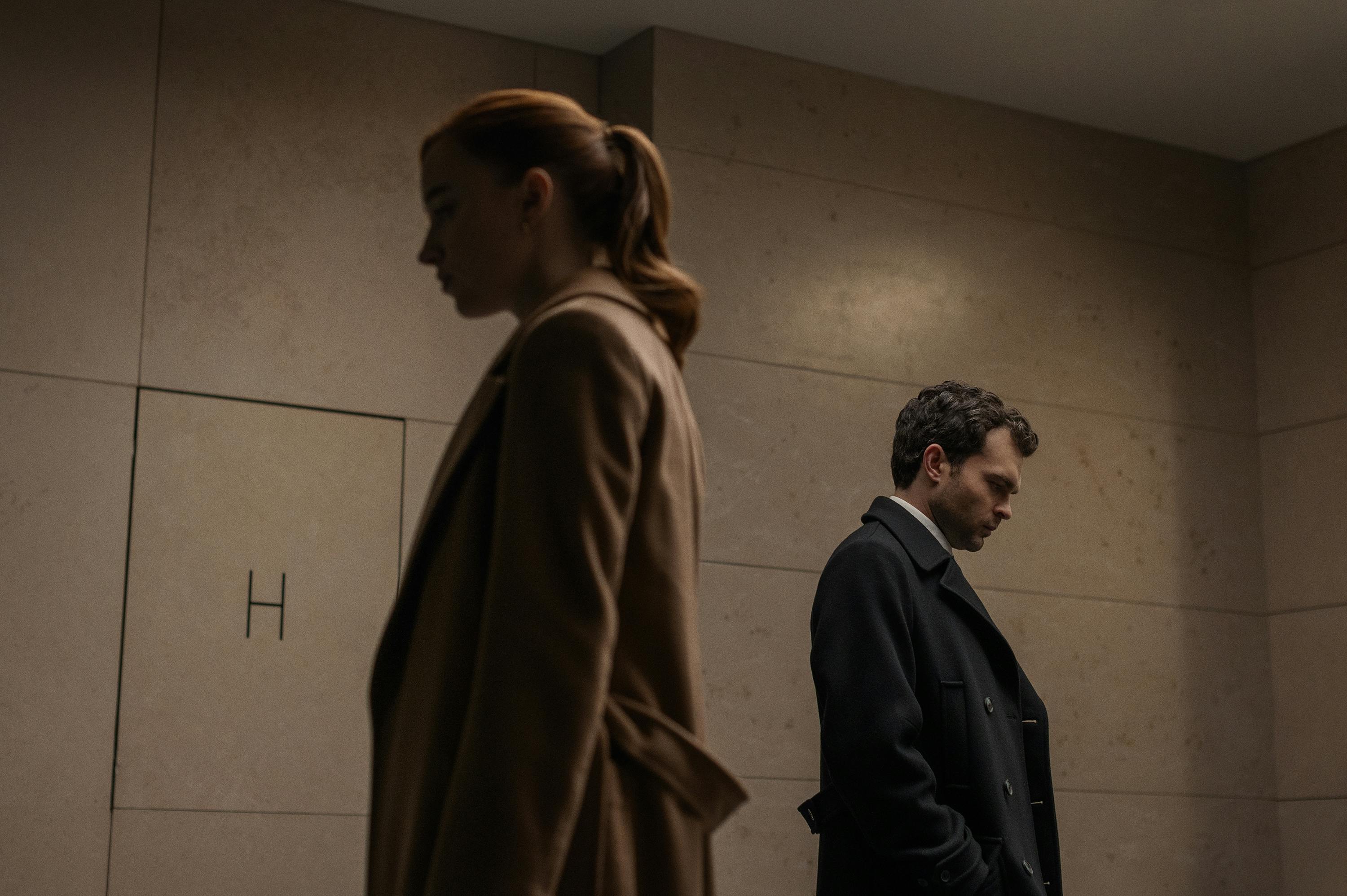 Phoebe Dynevor and Alden Ehrenreich raise the stakes in Chloe Domont's Fair Play.
Some stories simmer, lingering in a writer's imagination for years before coming to the surface. Some come tumbling out, unfiltered and raw. For first-time filmmaker Chloe Domont, Fair Play was the pertinent and personal story she had to tell. Executive-produced by Rian Johnson and Ram Bergman (the pair behind Glass Onion: A Knives Out Mystery), the film examines the way power dynamics factor into romantic relationships and how upending those established expectations can call partnerships into question. 
Emily (Phoebe Dynevor, Bridgerton) and Luke (Alden Ehrenreich, Hail, Caesar!) are a newly engaged couple sharing an apartment in New York City, where they also work together at cutthroat hedge fund One Crest Capital, though office protocol requires them to keep their personal relationship secret. When Emily and Luke find themselves in line for the same promotion, they are forced to confront the role ambition plays in their relationship. Emily simultaneously makes herself smaller to placate her fiancé, while also trying to prove herself to her superior (Eddie Marsan, Ray Donovan). 
The writer-director's debut feature is a personal narrative nestled into a twenty-first-century romantic thriller. She started writing Fair Play after noticing the way her past relationships had been impacted by her own aspirations and accomplishments, and the role male fragility plays in everyday interactions. "There are so many of us that are caught between wanting to adhere to a modern feminist society, but having still been raised on traditional ideas of masculinity and gender roles," says Domont. "That's where the conflict lies for men and women in the workplaces and behind bedroom doors. And it's still an issue because we don't know how to talk about it."
Domont, who has previously directed episodes of Billions and Ballers, deftly captures the chaos of finance; it's hard to believe she hasn't spent time embedded in a competitive hedge fund. Setting the film within the high-stakes environment of Wall Street allowed Domont to play off of the expected toxicity and unabashed workplace misogyny that is still synonymous with the industry. Domont completed an extensive research process with finance consultants, learning everything she could about the day-to-day life of an analyst. The filmmaker passed that education on to Dynevor and Ehrenreich, equipping her leads with a crash course in financial jargon and customs. "I started, to be honest, reading Hedge Funds for Dummies," says Dynevor.  
Trading in corsets for capital markets, Fair Play is a major departure for Dynevor, who had her breakthrough role in Bridgerton as Daphne, the eldest daughter of the titular Regency-era family. The global success of the Shondaland series made the Manchester-born performer an overnight star after the show premiered at the end of 2020. As Emily, Dynevor brings determination and grit to the hardworking financial analyst from Long Island who was drawn to the world of finance from an early age. Emily possesses a sheer tenacity that allows her to thrive in unforgiving Wall Street, an arena dominated by men, ego, and bad behavior, and she often finds herself the odd woman out in boardroom confrontations and after-hours debauchery.  
"I think my initial reaction, honestly, was just silence," she explains of her first time reading the film's screenplay. "It spoke to me in a way that no script really ever has." Using the backdrop of New York hedge funds, Domont's script explores how as women reach for parity in the workplace and in relationships, entrenched gender dynamics prove almost impossible to break. It's Emily's fierceness that her fiancé Luke, a fellow analyst at One Crest Capital, is drawn to, but it is that same ambition that ultimately alienates him in their relationship.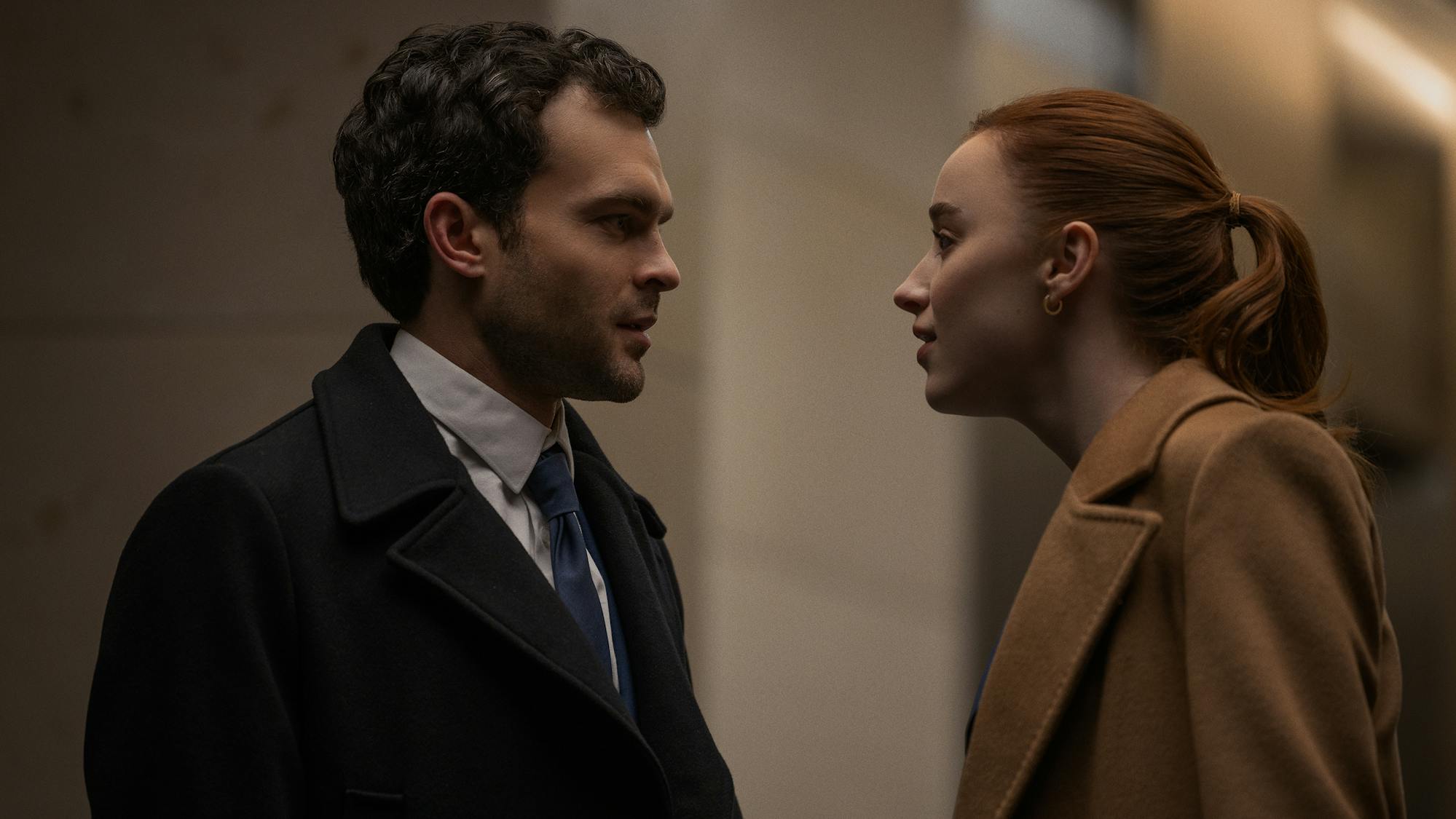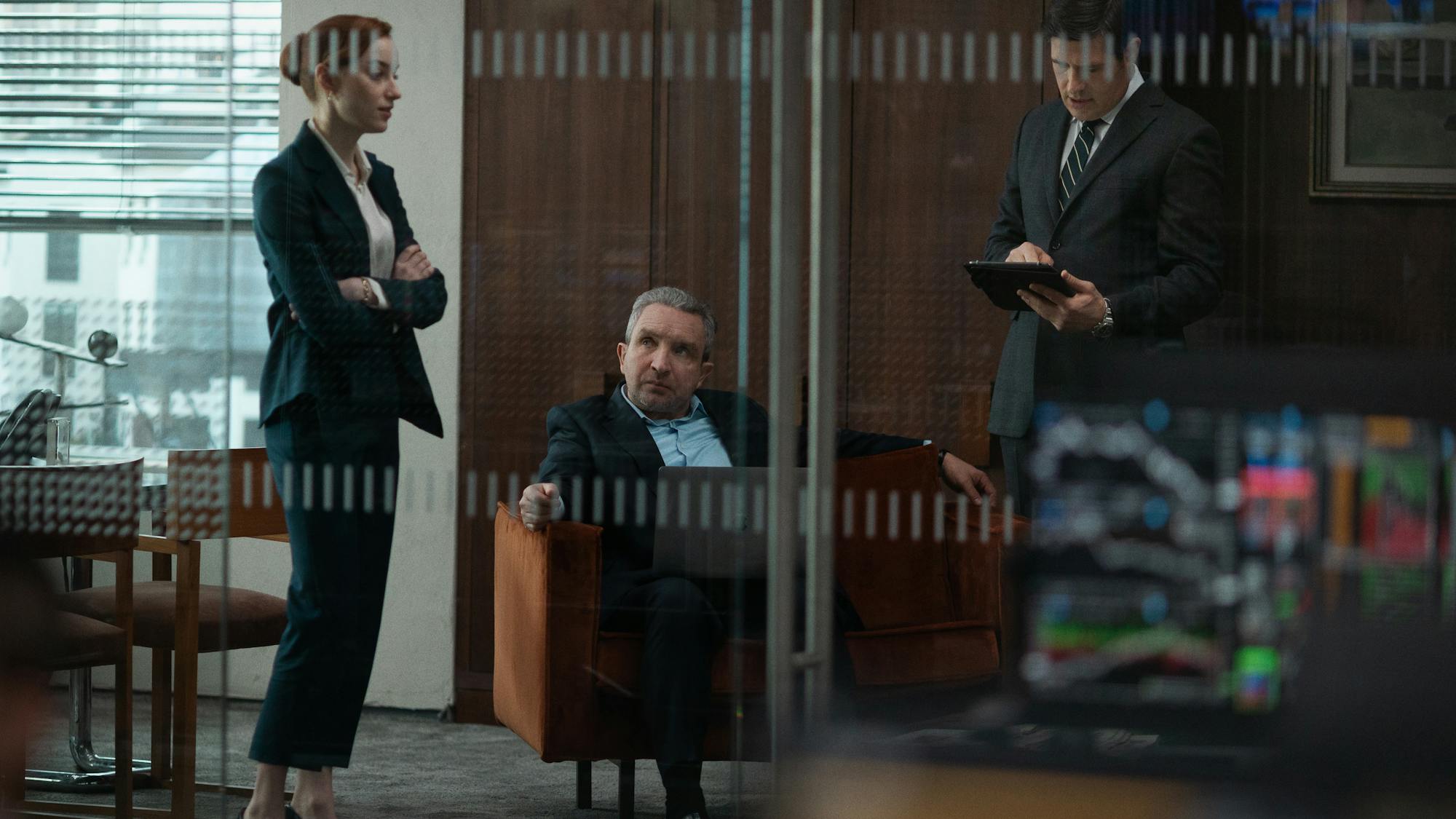 Ehrenreich felt a similar pull to the film and its timely and nuanced portrayal of gender roles. "When I first read the script, I was really struck by how personal it felt," he says. "You can kind of feel when a writer is writing something that is born out of their actual experience." Ehrenreich, known for affable
characters in Hail, Caesar!, Rules Don't Apply, and as young Han Solo in Solo: A Star Wars Story, goes against type as the initially charming Luke, whose warmth begins to chill as his partner continues to climb the corporate ladder, stepping over him in a way that causes him to internally spiral. 
Ehrenreich and Dynevor anchor Fair Play with their incendiary chemistry, evident from the first frame to the film's final, unforgettable moments. The pair built their onscreen dynamic through an in-depth rehearsal process that created a lived-in relationship and history between them. Intimacy Coordinator Samantha Murray collaborated on the more intense and darker sequences, allowing Dynevor and Ehrenreich to push the boundaries of Emily and Luke's imploding relationship. "They were both so ready to dive into this material head first without question, and they're just two of the most committed actors I've ever worked with," says Domont. 
The trio introduced Fair Play to audiences earlier this year, when it premiered at the 2023 Sundance Film Festival in Park City, Utah. "It was really exciting to have people come up [after] who were really moved," recalls Ehrenreich of the film's immediate, rapturous response. Domont's debut speaks to the current moment while also being evocatively personal. For the filmmaker, affecting viewers and starting a dialogue about the messy intersection of love, power, and sex was the goal: "Everyone is going to come out of this film feeling a certain way based on who they are and what experiences they've had. I think it will fuel conversation and debate, and I think that is essential."
All interviews included in this piece were completed prior to July 14, 2023.