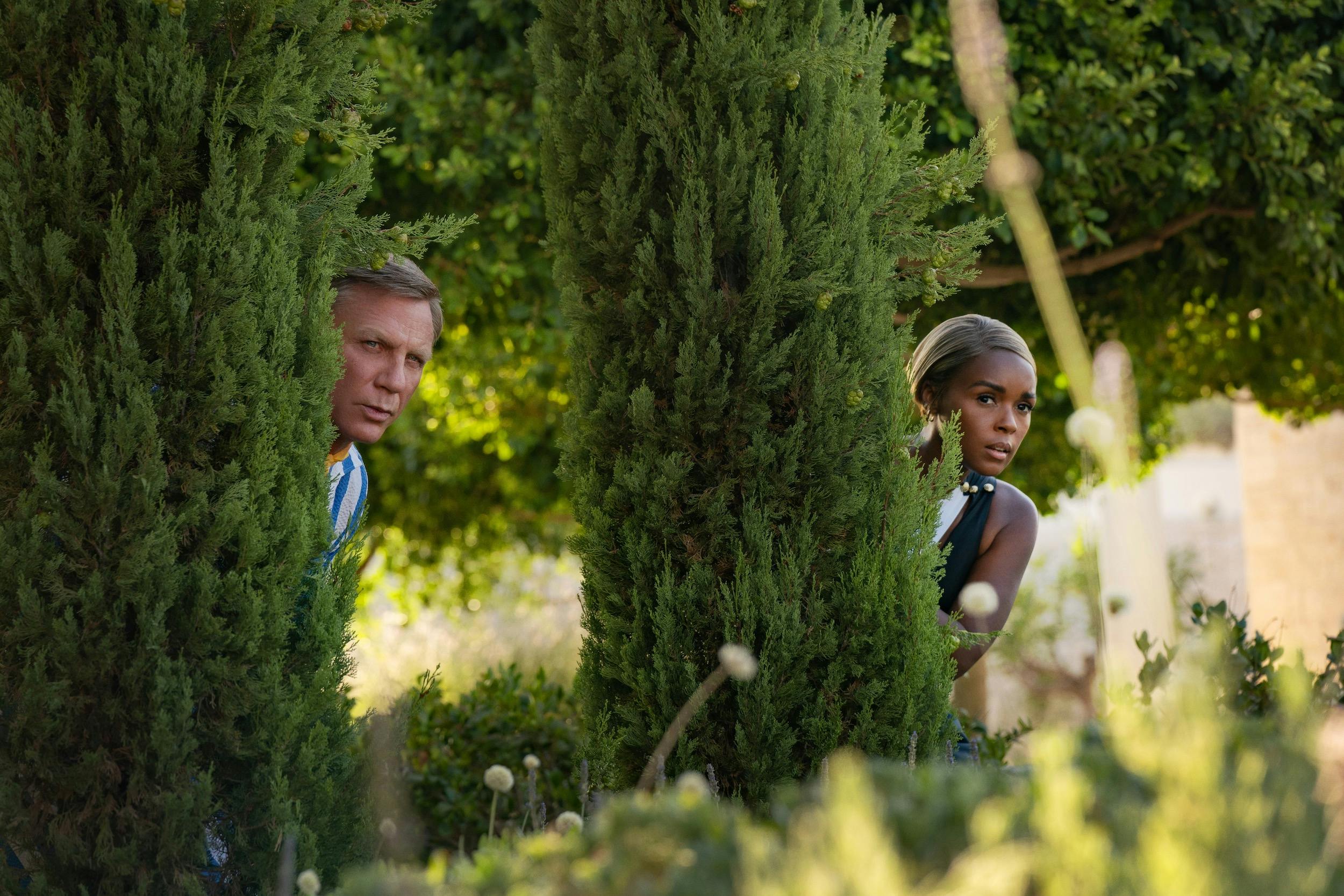 Janelle Monáe brings the intrigue to Rian Johnson's Knives Out sequel, Glass Onion.
That Janelle Monáe is thrilling to watch in Glass Onion: A Knives Out Mystery should come as no surprise to anyone. Monáe had established herself as a singular musician and artist long before delivering her unforgettable breakthrough acting performance in Barry Jenkins's Oscar-winning 2016 film, Moonlight. In biographical dramas Hidden Figures and Harriet, she's continued to demonstrate remarkable skill and range while celebrating the achievements of women of color who changed the course of history.

With her latest turn in writer-director Rian Johnson's inventive whodunit, Monáe has a chance to tap into her more playful side onscreen, playing Cassandra "Andi" Brand, an entrepreneur who's recently split from her business partner, tech billionaire Miles Bron (Edward Norton) under less than ideal circumstances. Despite their disagreement — and Bron's turning their eclectic group of friends against her — Brand chooses to accept his invitation to a three-day getaway at Bron's mansion off the coast of Greece. There, she's reunited with the cast of colorful eccentrics who are her old pals, memorably played by Kathryn Hahn, Leslie Odom Jr., Jessica Henwick, Madelyn Cline, Kate Hudson, and Dave Bautista, for a murder mystery party. Also in attendance? Southern sleuth Benoit Blanc (Daniel Craig reprising his Knives Out role).

"I watched this film by myself in a small theater, and I was laughing hysterically," Monáe says. Even though she knew every secret and plot twist, she still found herself entirely transported. "I didn't see Janelle Monáe in this role," she continues. "I just saw the characters that Rian had created, and they were actually better than what was on the page." To be clear, that's high praise coming from Monáe, a longtime fan of Johnson's work who had fallen in love with the Glass Onion script as soon as she'd sat down to read it. 

Monáe recently spoke about signing on to the role, her impeccable turns at the film's red-carpet premieres, and how both her onscreen persona and her incredible fashion sense reflect an innate love of performance.

An edited version of the conversation follows. Read more about Monáe's red-carpet fashion on page 138.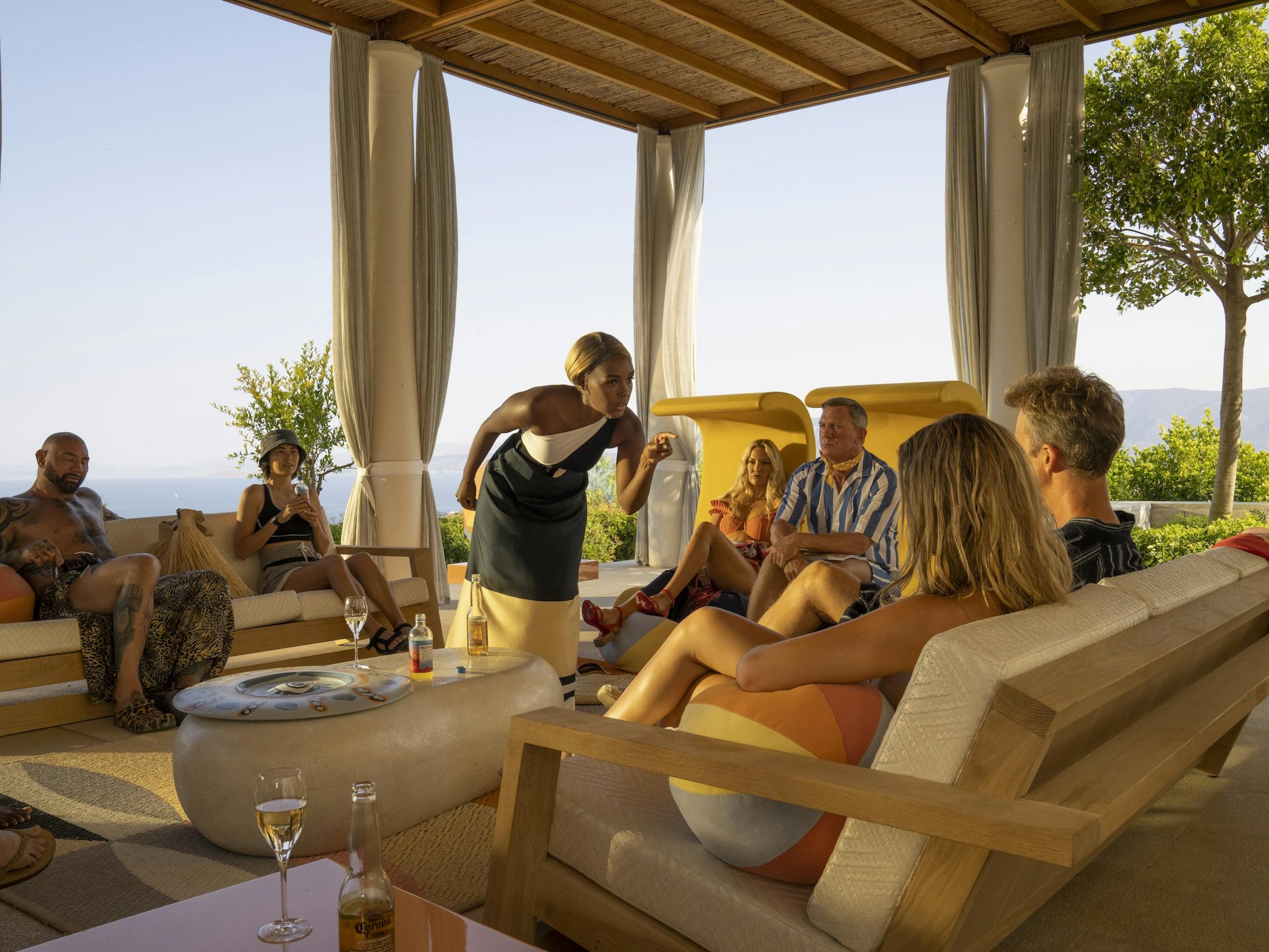 Krista Smith: There's a cinematic quality to everything you do, and I love the way Rian captured that in this film. What spoke to you about Rian Johnson and this project?
Janelle Monáe: I try my best to have fun and that's one of the words that I felt when I read the script. I had wanted to work with Rian Johnson for many moons. I came in on his film Looper. I'm a big sci-fi nerd and I just felt like Rian was doing something very innovative in that space. So I went down this rabbit hole of watching everything he had done. I had seen the original Knives Out, and I was a fan of that. And I said yes in my mind already before reading the [Glass Onion] script. If Rian Johnson reaches out to me, it's a hell yes. Rian Johnson is one of those directors and writers that just gets it. He gets tone, he gets characters, he gets world-building. I was just blown away by the script. 

You had a lot of physical comedy; how was that for you?
JM: I love comedy, and I don't think prior to this film I've had an opportunity to really show that side of me and play a character that allows for that. This character is a dream role because I got an opportunity to have those comedic moments, [but also] those deep, emotional, dramatic moments . . . I did action. I'm grateful for everything I've done prior to doing this film because I don't think I would've been prepared or had the tools to be able to go from all those different energies that my character had to possess. Every artist wants to show their range, every artist wants to be challenged. I was challenged in the best possible way.

You have such great chemistry with Daniel Craig. Can you talk a little bit about working with him?
JM: He is the ultimate gentleman, so complimentary, very fun, with a wonderful sense of humor. He would always have his camera, taking pictures of all of us. You got a sense that he was really happy that we were there with him. It felt like we were all in this big theater troupe ensemble for the summer, and we didn't want our parents to come back and pick us up. Daniel was the one who had been to that camp before. For him to see something in me and trust me with this role is no small thing. I feel like I've gained a friend for life with Daniel.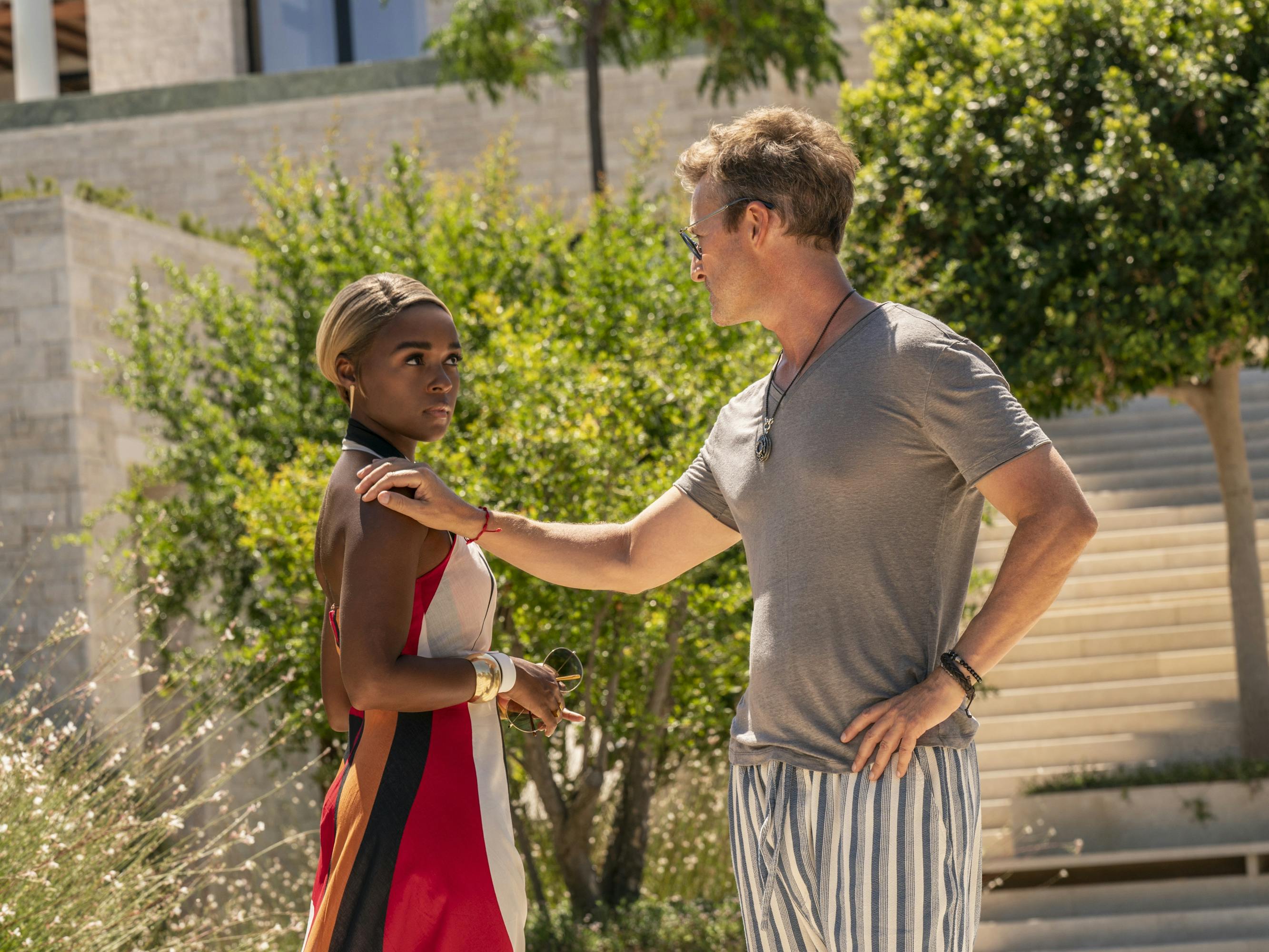 The cast told such great stories about playing mafia after hours and bonding. You always had props with you?!
JM: Oh, I am fully committed to murder mystery parties. I have them with my friends and family around the holidays. Or just a random Tuesday. And I may or may not travel with a suitcase full of mustaches and beards and top hats and canes, fully ready to be the murderer in the murder mystery game. But I always get the villager. Always. 

I know how important fashion is to you. Where does that come from? There was a time when you only wore black and white, and to see you on that carpet for that Glass Onion premiere in Toronto . . . Showstopper is the only word I can come up with right now. 
JM: No, stop it.

It's true. Then, in London, you bring the hat, you bring the red. I want you to talk a little bit about that creativity around your fashion.
JM: Well, it's changed. Early on, it was suits, and black and white. I think that's always going to be a part of my D.N.A. But I allow myself to play; when I do movies and film, I play a lot more because you're going in and out of these characters and you want people not to see the Janelle Monáe that they think they know. I'm reimagining myself. I'm learning new things about myself, and as I learn, and I grow and evolve, so does the fashion. I have to give a shout-out to [stylist] Alexandra Mandelkorn; I like to call her my creative co-pilot because we're always in cahoots about those moments. I did think about Knives Out when I was coming up with those looks. That first look in Toronto at that premiere, I named it "The Onion Goddess," "The Glass Onion Goddess of Onion Island." I got a chance to work with a designer who had a piece that spoke to that, Iris van Herpen. And then for London, Christian Siriano, who was a collaborator with me, had a couture piece that was red. And I thought about a bloody murder in London, and it just worked. It's all about fun.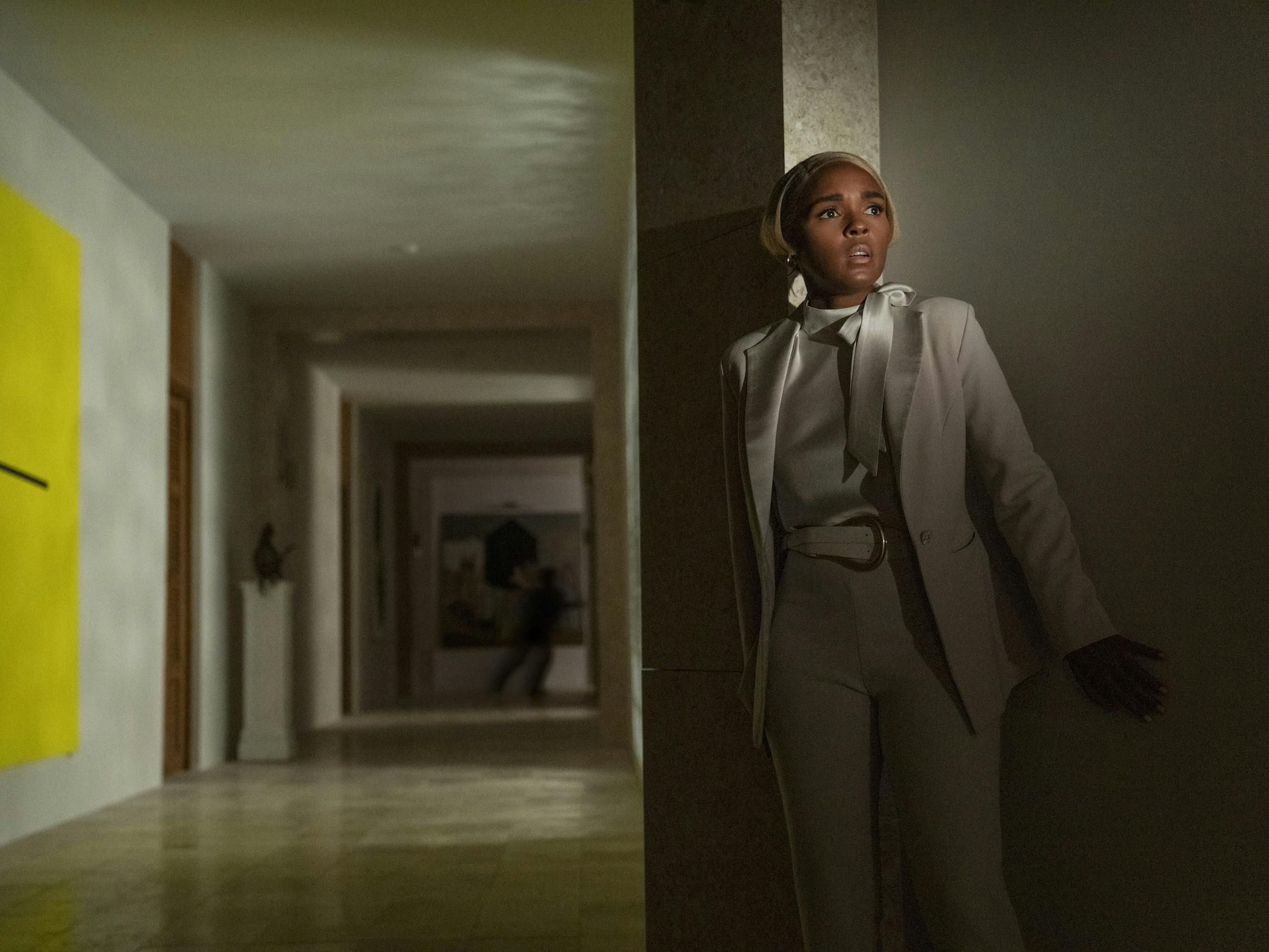 I was thinking back to the first time I ever saw you perform. I was so struck by you: by the voice, by the look, by the talent. Then Moonlight comes out of nowhere. I was blown away. By that time, you had become a full-fledged musical  artist in your own right. What was that moment for you that made you shift into movies? 
JM: Well, I studied acting. Fresh out of high school, I went to study in New York at the American Musical and Dramatic Academy. There's never been a moment where I wasn't singing on a stage, either a cover song or an original song. I was in talent showcases. At the same time, there wasn't a moment where I wasn't in a theater production, or a musical. I've grown up doing it my entire life. I think that the commonality is storytelling. Sometimes, I have a story to tell musically. It needs to be sung, it needs to go on tour. It has a world, it has characters. Then sometimes somebody writes that thing and you're like, Ah, I see myself in this world.

Moonlight was my first role, and it just made sense. The storyline, the director Barry [Jenkins] — the moment I talked to him, I was like, I really like him as a human. Once I knew who the cast was and I knew who my character was, I knew that film. When I read that script, I was on a plane in tears because I was like, The world needs to see this film. I know this story. I know these characters. They need to be brought to people's attention on a major level. I'm forever indebted to Barry and that cast and the producers for allowing me an opportunity to make Teresa my first onscreen role.

Your creative story is so incredible. Has that always been a part of you — that desire to experiment? Do you feel like there was an aha moment?
JM: My mom would probably say, I saw this coming. My mom never told me no. My parents never told me, No, you can't entertain, you can't sing, you can't act. They encouraged me by listening to me, by allowing me to listen to R&B, to gospel, to pop. They took me to see films. They took me to see Black films. They took me to see sci-fi films, opening up my mind early on to what I could do and never limiting that for me. I grew up the child of working-class parents who I saw living check to check, and putting on uniforms and all those things. Even in the midst of that, they never missed the talent showcase or missed a play that I was in.

That kind of support is so important.
JM: Absolutely.