In Glass Onion: A Knives Out Mystery, actor Kate Hudson finds herself in strange, but beautiful surroundings.
From the moment Kate Hudson read the script for Glass Onion: A Knives Out Mystery, she fell in love with the character of Birdie Jay, a model turned lifestyle entrepreneur with one too many social media scandals. "She has many flaws," concedes the Oscar nominee of her latest onscreen alter ego. "But she was vibrant and hilarious, which was really fun for me to see come to fruition."

Hudson's go-for-broke performance nearly steals the show in writer-director Rian Johnson's outrageously entertaining whodunit, which is saying something considering the movie's ensemble cast is overflowing with stars giving it their all: Daniel Craig, Edward Norton, Janelle Monáe, Kathryn Hahn, Leslie Odom Jr., Jessica Henwick, Madelyn Cline, and Dave Bautista. 

After investigating the untimely demise of a New England novelist in 2019's acclaimed Knives Out, Southern detective Benoit Blanc (Craig) makes his way to a private Greek Island, where a tech mogul (Norton) has assembled an eclectic group of guests for a seemingly idyllic weekend away. "I felt really honored to be part of it," says Hudson of the new film. "The business can be challenging, and there are a lot of times where you're like, Put me in the game, coach! Rian really gave me that opportunity to be in something."

Given her immense talent, the idea of anyone leaving Hudson on the sideline is a near-tragedy. Just four years after making her screen debut, Hudson was nominated for an Oscar for her pivotal supporting role as Penny Lane in Cameron Crowe's 2000 rock 'n' roll classic Almost Famous. Three years later, she starred opposite Matthew McConaughey in the now-iconic rom-com How to Lose a Guy in 10 Days. Since then, Hudson has divided her time between acting, parenting her three children, launching a business empire, which includes her activewear brand Fabletics, and now, in the spirit of the melodic moments of her movies past, she's recording an album. "I just want to do cool stuff and do things that I'm passionate about," says the actor. 

Hudson shares her Glass Onion experience and how she crafted a layered and beloved character in Birdie Jay.

An edited transcript of the conversation follows.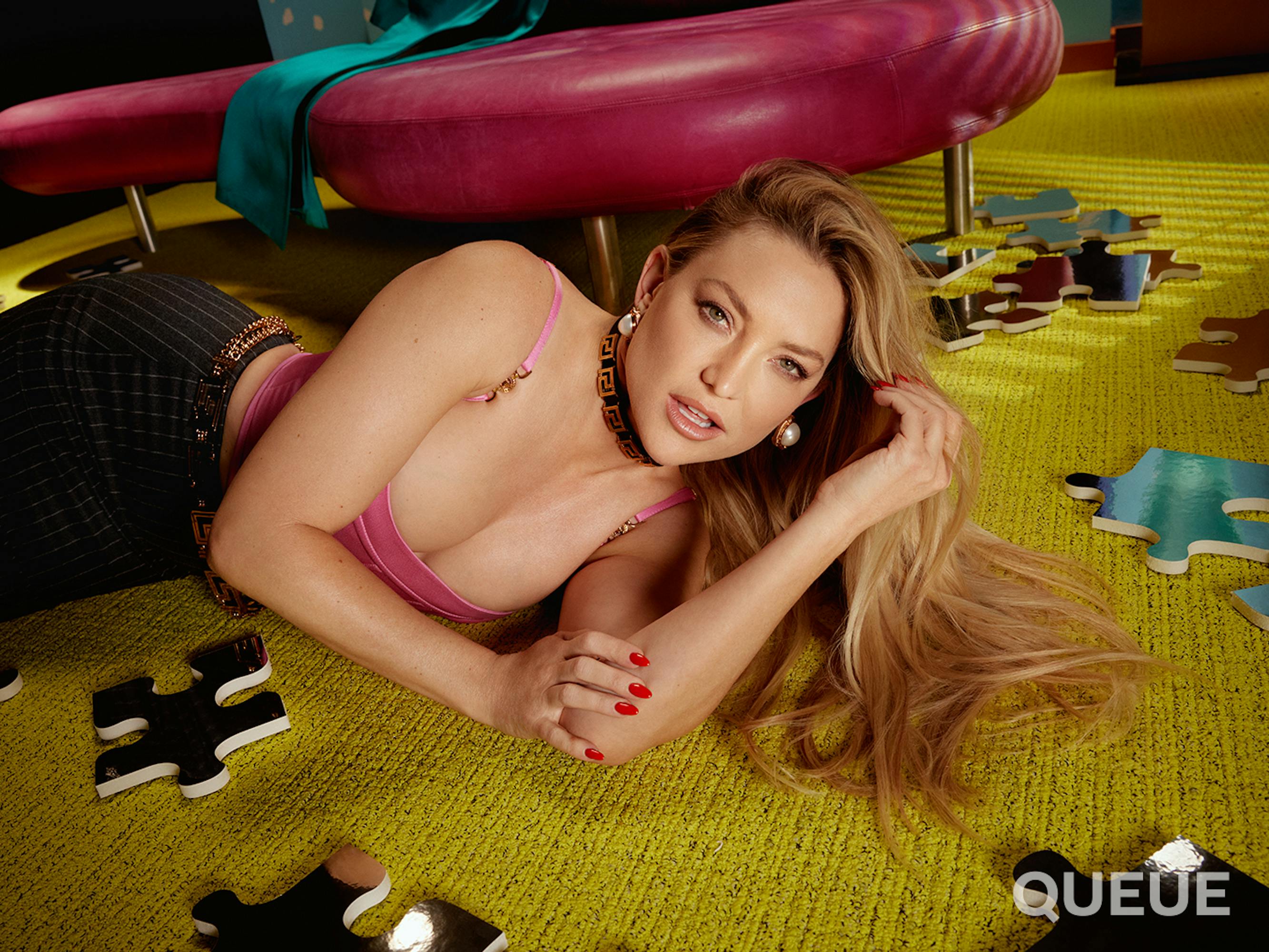 Krista Smith: Glass Onion, it's so much fun. You play Birdie Jay, a character that everyone loves. You have some zingers in this film that are amazing, but there's a lot of physical comedy here, too, which is great. You're so skilled in it.
Kate Hudson: I saw her physicality immediately. It felt like a dance to me. I love to dance, and when I was younger, I trained as a dancer. I knew I could bring that to Birdie. That was really fun for me to play with, how tactile she is. Then there's the other part of Birdie. I think she's quite tragic, actually; all these characters are tragic. When you're playing some characters that are so comedic, it's important to have that underbelly. It's where you find a glimmer of hope in a character that is so terrible and does awful things. If you can see the cracks a little bit, then you can love to hate them, and then inevitably maybe just love them. So really working on that was fun, too. Rian gave me so much opportunity to build all of those layers on this character.

What did you like best about working with Rian Johnson?
KH: Oh, he's the best. We're on these group texts, our whole Glass Onion family. He's such a good writer. I feel lucky that I even get texts from him, let alone know him, love him, and now am friends with him. He's just funny, generous, so talented (clearly), and kind. I never felt intimidated by him in any way. He was so warm and gracious. He wanted us to be center stage. There was nothing about Rian that ate up any air in the room. He only brought more oxygen.

How did you work with costume designer Jenny Eagan? Because the clothes were amazing.
KH: Jenny brought this whole other layer to Glass Onion. The colors — everyone is so specific. I walked into that fitting room, and I saw Birdie everywhere — the silhouettes, the fabrics, the glitter, the prints, all the jewelry. Birdie's entrance, to me, was so much fun to do, just getting into that costume; I don't know how you can't get right into character. I brought in my friends, and we did some custom jewelry, which was so great. Also, maybe not the smartest thing, because we're on a beach. We're like, Oh, we'll take all this fine jewelry to a beach. I'm running in these opal gold earrings and Jenny's like, Lose the earring. So that was pretty funny.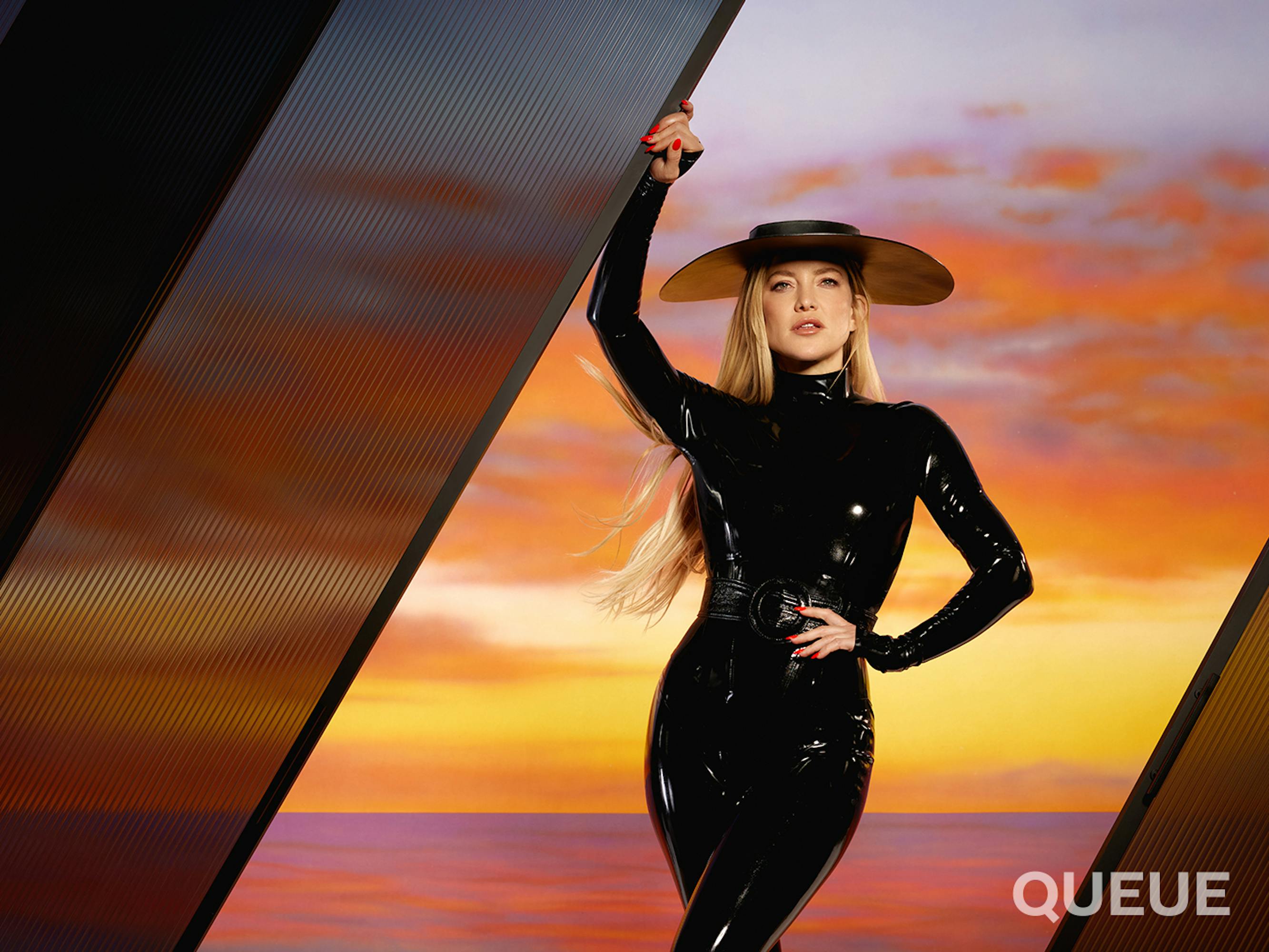 It's great to see you in this ensemble and this behemoth of a franchise.
KH: These movies aren't made very often anymore. This is a franchise, but it's a different kind of franchise, which is really refreshing. It's been a while since I've been in a production like that. I mean, I've been mom-ing and business-oriented. Then to be back in this creative space with all these amazing actors, I was like, This is why I love it. This is why I'll always love it. I think some people, after working in our industry for a long time, can feel exhausted by the process and beaten down a little bit by the amount of criticism. Because especially for women, it can get really hard. It's why I think you see so many women stepping away after a while — they just need a break because there is so much scrutiny. I don't know how I've figured out how to cut all that noise out. But I think I'll always want to be a part of this weird, wild, creative world called moviemaking. This movie was really a reminder of what the best of that is for me — working with these incredible actors — which always puts you on your best game. This was the dream. Every once in a while, Kurt [Russel], my dad will say, "Every 10 years you get the good one." That's what this experience was for me, for sure.

What was your very first job?
KH: Party of Five. I was 16. My mom actually let me do it because it was only a couple of days off of school. But I started auditioning at 16, and then my first job-job was this little weird movie called Ricochet River in Bend, Oregon. The memories I had of that movie are more vivid than memories I had of other films that I've done.

Were your parents discouraging at all or were they encouraging?
KH: They're super encouraging. Their only concern was the why, What is it that you find so appealing about this life? As I know now, if you have a performer child, you know it from the beginning. Ryder, he's 18 and definitely going down the same road. It's in your blood, and you can see it in your kids. I think that was what they knew about me. They just wanted to make sure that I wanted to do it because I really loved the craft, not because it was about notoriety, or validation, or fame. Kurt asked me, If I told you you'd spend the rest of your life doing community theater and you'd be supplementing your finances doing another job, what would you say? I'm like, I would be doing community theater. He's like, Then you're in the right business. I think that's the right way to look at it because it's so tumultuous.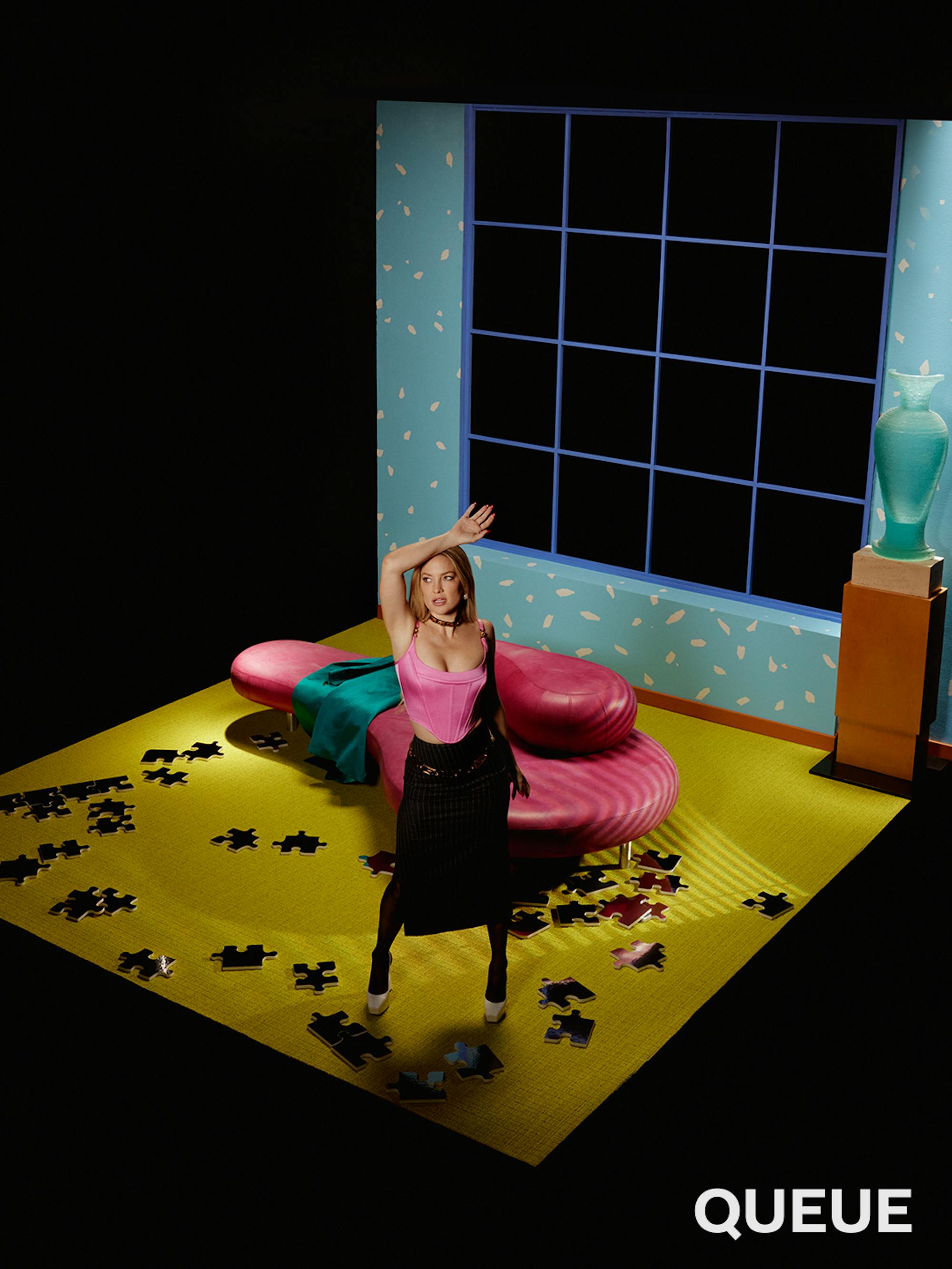 I remember vividly when everyone knew who Kate Hudson was — obviously Almost Famous. That was giant. 
KH: That movie holds up so much that even Ryder's friends are quoting it or knowing who I am through that film, which is, to me, just such a testament to that movie. The fact that it holds up like that and then every generation is discovering it, it's so cool.

You were nominated for an Oscar for that movie.
KH: I was. It was such a whirlwind. And simultaneously I had fallen madly in love, which really grounded me during that time because I just wanted to be cozied up with my husband, now ex-husband [musician Chris Robinson]. It was a great balance to what was happening. 

Did anybody say to you, "Kate, what are you doing? Don't get married, don't fall in love now. You have to focus only on work."
KH: No, I think people asked my mom more than they said anything to me. And my family is like, Hey, you're going to do what you're going to do. We grew up in a patchwork family and yet we're so close, so we're doing something right. I know it's not traditional and I've certainly followed the non-traditional way of life. You either embrace it or you create a problem.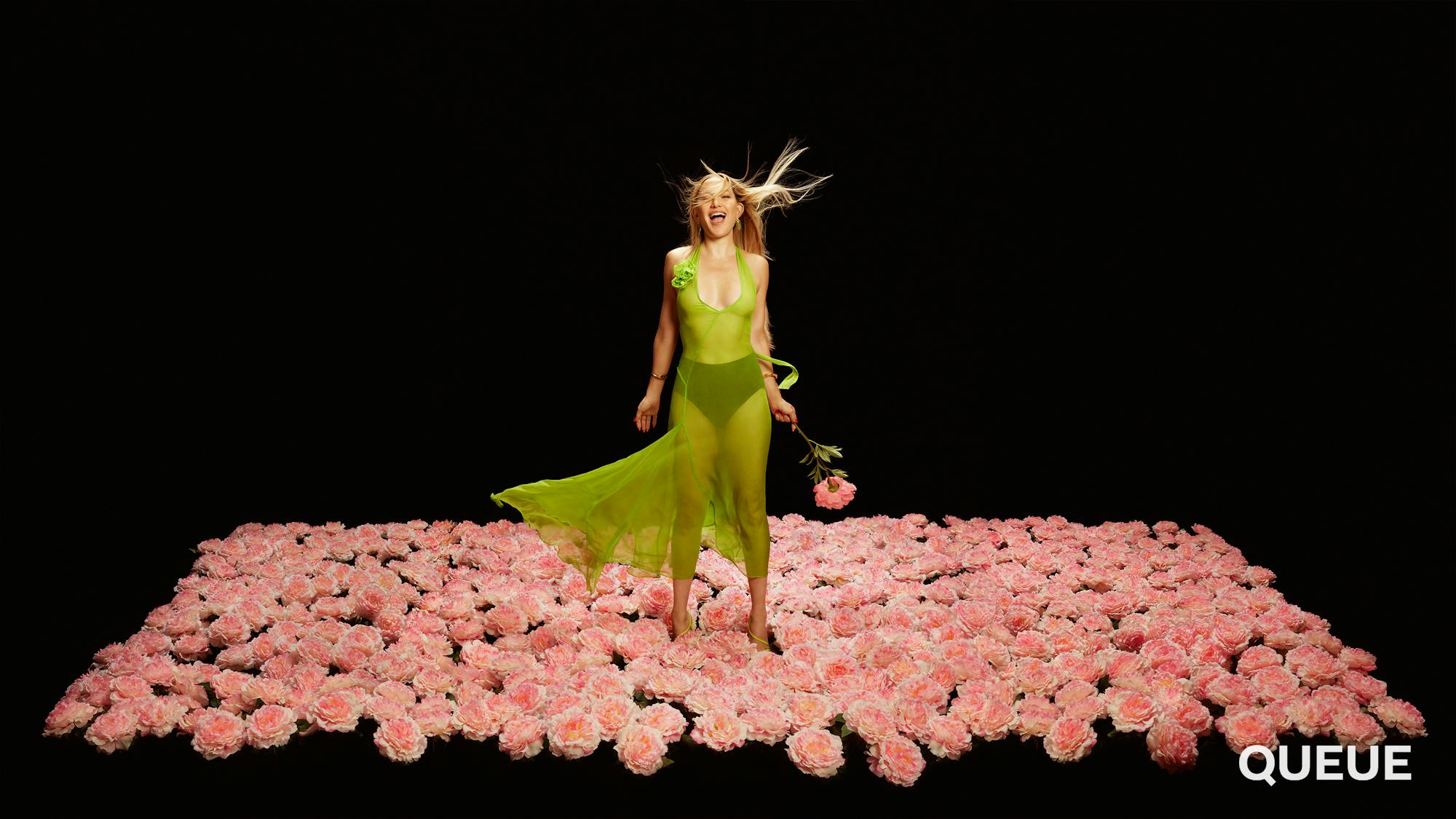 It is incredible from the outside to watch because you were just such a star — everyone was obsessed.
KH: When How to Lose a Guy in 10 Days came out and was so successful, I had a lot of awesome offers to continue living in that rom-com genre and that world. That's how people really wanted to see me. As an actor, that's a very hard thing to do because you're like, Oh, I want to make people feel good, but there's this whole other side of me. I like the character actor. I really like that place. I like transforming. That, to me, is so much fun.

You mention growing up in a non-traditional environment and emulating that life as an adult. What do you hope you're teaching your three children? You've done so much on your own terms, both in your film career and in business, and controlling your own image.
KH: I hope what my kids see is there's nothing calculated about what I've done. I guess I have a little bit of imposter syndrome. I want the work to always speak for itself and the success to speak for itself. I don't really want to put myself in front of it. And if something comes my way that's exciting, I'm game. But I've never been calculated in it. And I like it that way. I don't ever want to be too loud in my business world. I'd much rather be loud as Birdie.