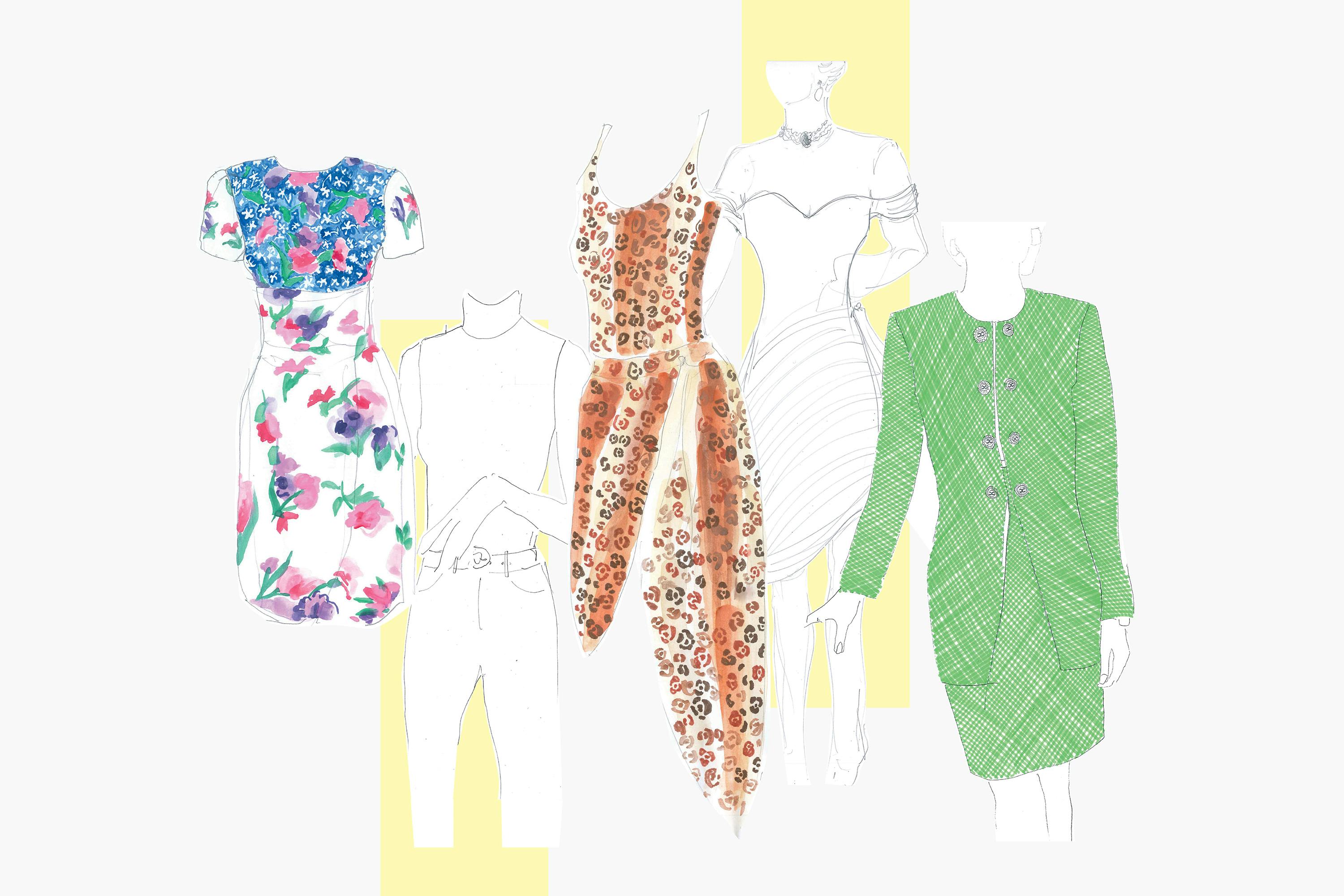 The Crown's Wardrobe Department
Costume designers Amy Roberts and Sidonie Roberts outfit a rapidly changing royal family in Season 5 of The Crown. 
One of the pleasures of The Crown lies in the dance between meticulously researched authenticity and creative license. How well does an actor capture Princess Diana's head tilt, or Queen Elizabeth's careful composure? What can an imagined tense conversation behind closed doors dare to envision about a royal family whose commitment to privacy and duty is rocked by increasingly explosive revelations? 
The costumes are crucial to the multi-award-winning series' delicate blend of fact and fiction. Recreations of immediately recognizable outfits rub shoulders with newly conceived garments that capture the essence of the time, and of the person wearing them. "You read these amazing stories and then do masses of research," costume designer Amy Roberts explains. "There's so much out there because we're dealing with the royal family and it's well documented, even more so as we get nearer to the present day. You do all of that, and then just chuck it away because then you've got to put yourselves out there as designers." 
Season 5 of The Crown covers the years 1991 to 1997: a tumultuous period encompassing both great global change (the fall of the Soviet Union, the transfer of sovereignty in Hong Kong, the rise of New Labour in the U.K.) and increased public scrutiny of the royal family in light of its disintegrating marriages, incendiary interviews, and messy internal rifts. For the costume team, this meant an extraordinary wealth of archival material to draw on, but also a fresh sartorial mood. Unlike the previous season, which featured light colors and pastels, "this one felt more melancholic, more autumnal," Amy Roberts says. "We have an older royal family, a queen where everything's going really wrong, like the disappointment of her children getting divorced. The annus horribilis, which we deal with, sums it up." 
Annus horribilis was the term used by the queen in her 1992 Ruby Jubilee speech to mark 40 years on the throne, in reference to a trying year in which three of her children were going through divorces and part of Windsor Castle caught fire. Consequently, Elizabeth actor Imelda Staunton, grave during her speech in a green dress with silk stripe inserts on the sleeves, is "more staid" than the monarch we've seen previously. She's also ever more somber than her sister Princess Margaret (Lesley Manville), who is nursing regrets over her long-lost love Peter Townsend (Timothy Dalton) by wearing hot pink and elaborate textiles custom-designed by associate costume designer and head buyer Sidonie Roberts.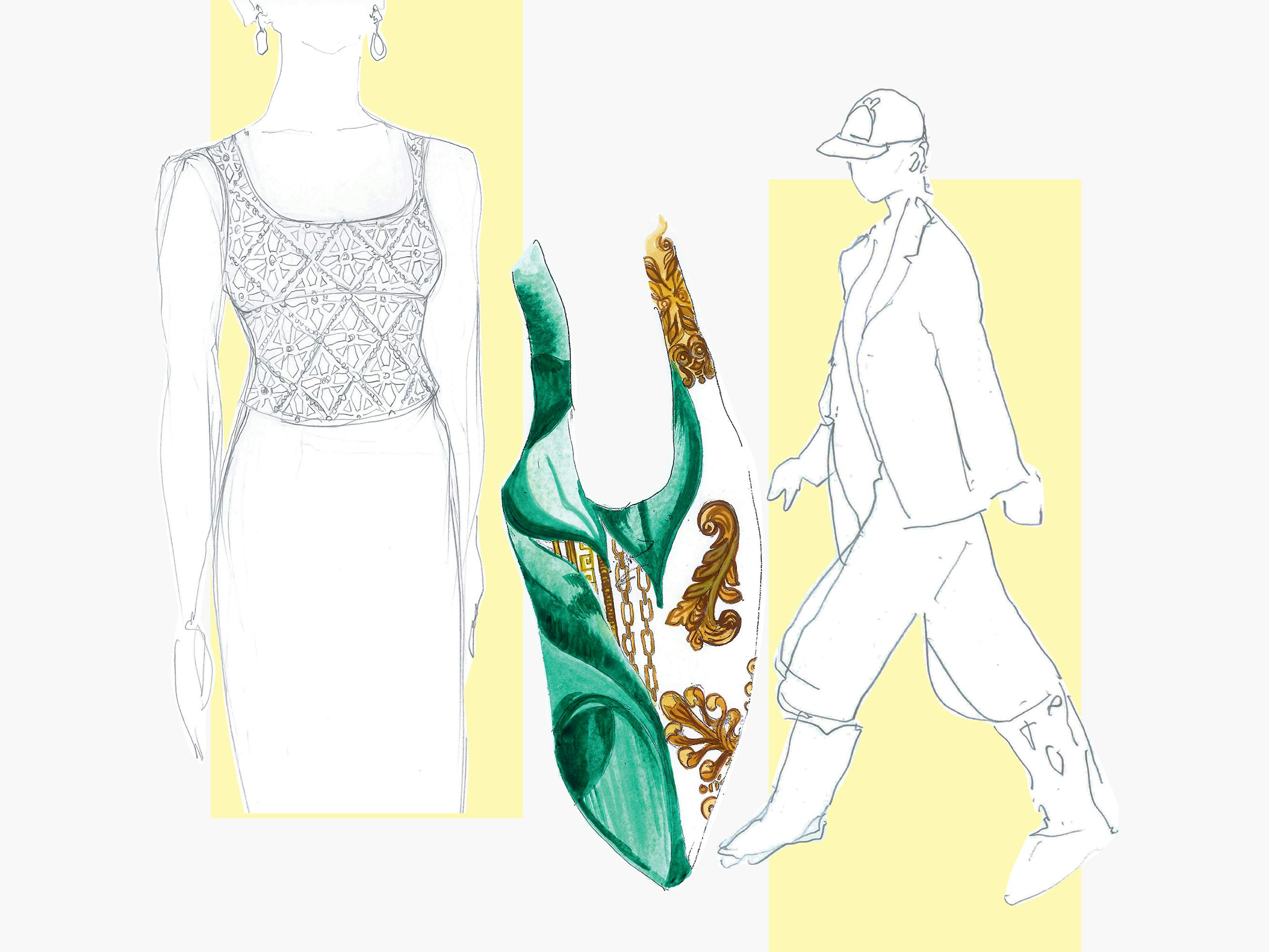 Although Season 5 captures an aging, and sometimes faltering, generation of monarchy, it also ushers in a fast-moving time when the worlds of fashion and mass media were rapidly developing — bringing in new silhouettes, faster news cycles, and a heightened awareness of the power of dress. For Diana, played this season by Elizabeth Debicki, it was a period of great flux and even greater scrutiny as her marriage fell apart ever more publicly. "There's just this incredible amount of content that we have access to," Debicki says. "Diana was the most photographed person in the world at that time."
Debicki, like Emma Corrin in the previous seasons, has been faced with a monumental task: revisiting a series of world-famous images and moments and injecting them with new life. Where Corrin tackled Di's wedding (complete with meringue dress) and early years of marriage, Debicki steps into the princess's shoes as a woman at once more confident and more undone by the family who has constrained her every move. Her wardrobe is bolder, sleeker. Less pie-crust collars, more leopard print and tailored column dresses. "The beautiful thing about what we got to do in this era of her wardrobe was that so much of the story, for me anyway, is about the evolution of a human becoming able to be themselves, trust their worth, and move away from establishment," Debicki says. Also like Corrin, Debicki has earned an Emmy nomination for her portrayal of the People's Princess.
The season toggles between Diana's private wardrobe — that solitary and "more casual space" — and her era-defining looks. "Obviously, we have these iconic moments like the revenge dress," Debicki says. "And there are so many images of her that are so synonymous with the 90s as well . . . the workout gear and these tracksuit pants and cowboy boots and trucker caps that she wears when she's with the boys on the beach."
The so-called "revenge dress" was a deceptively simple black chiffon off-the-shoulder design by Christina Stambolian, worn to a Vanity Fair fundraiser for the Serpentine Gallery in 1994. It wasn't just its suggestion of take-no-prisoners star power or (for the times) risqué glamor that
made it so memorable, but its appearance on the same night as an ITV interview revealing Prince Charles's infidelity. It's the perfect example of clothes not just as something expressive, but also as resoundingly and resolutely communicative.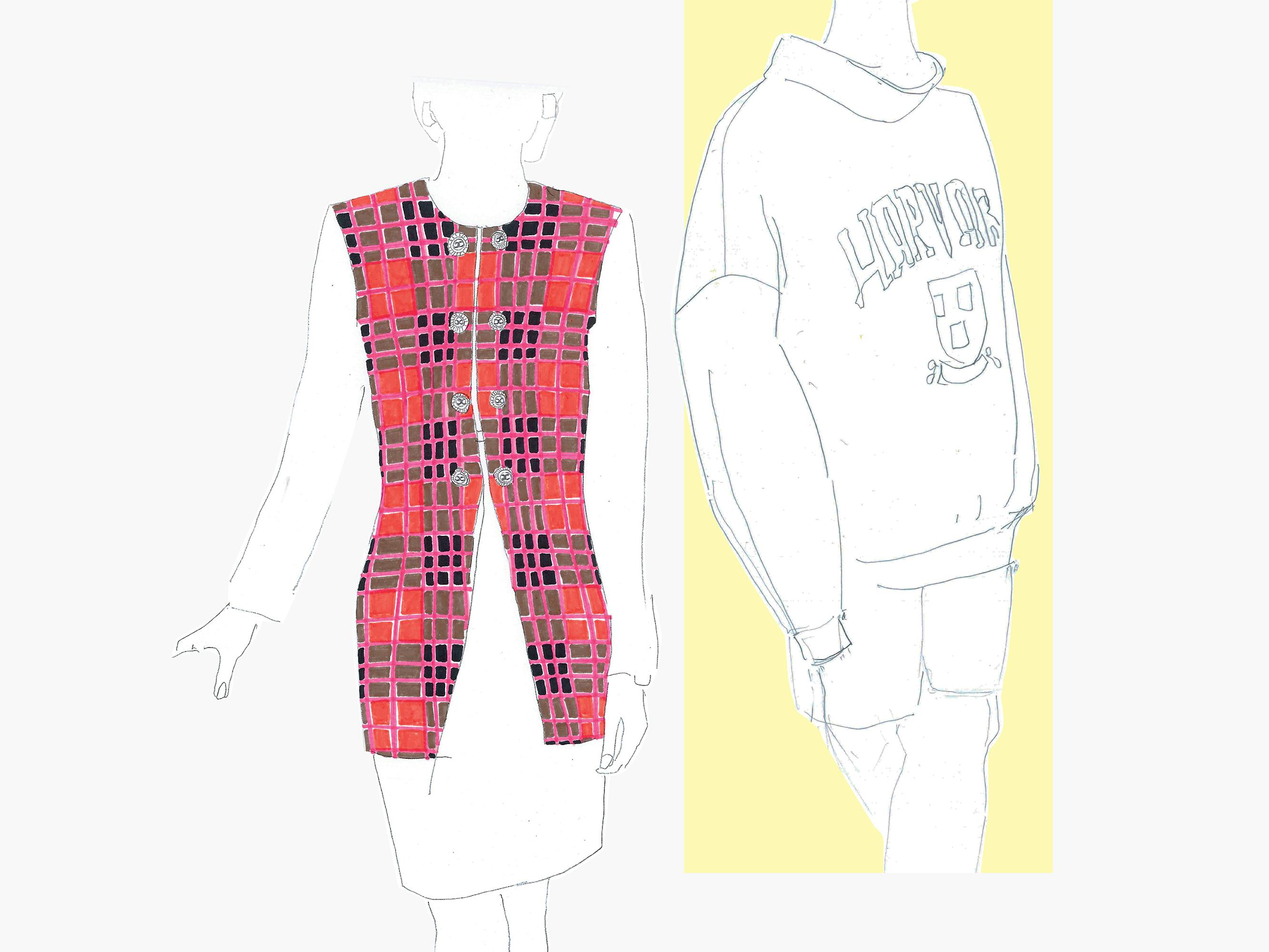 Every actor on The Crown is quick to acknowledge the talent and the dedication of the teams who bring them visually into character — or, as Manville puts it, "the genius elements of hair, makeup, and costume that go toward bolstering that process [of] representing and getting the spirit of the person right." From Camilla Parker Bowles's (Olivia Williams) lambswool sweaters full of moth holes and Charles's beautiful ties and big-shouldered blazers to the queen's sensible off-duty shoes, no detail is overlooked. The costumes are also nothing without the hair, which hair and makeup designer Cate Hall spent weeks tweaking to get right — with wigs costing upward of £5,000 each. White streaks, mohair baby hairs, and fake scalp skin form the perfect crop for Diana in her bold new era: every flick and parting matters. 
Like the seasons before, Season 5's craftsmanship has caught Emmy voters' attention, with the series accruing a total of six nominations. In addition to Debicki's Supporting Actress nomination, the series was nominated for its cinematography, casting, costumes, hair, and in the Outstanding Drama Series category. 
It is not merely a game of perfect mimicry, but the right kind of embodiment. Some cast and crew members might recall the uncanniness of Debicki as Diana — the crowds looking on during filming of street scenes and shouting Diana's name. But The Crown has never claimed to be an exercise in resurrecting ghosts. As Dominic West, who plays Prince Charles, observes, "What The Crown has always done so cleverly is not try to imitate the characters but to evoke them."
Evocation is a challenging art. You can copy a hemline with great diligence, but how do you conjure the spirit? What kind of commitment, not just to fidelity but also to understanding the nuances of character and dress (private impulses, clashes between tradition and modernity, the sartorial semaphore of celebrity) does that require? As Staunton commented on an episode of The Crown: The Official Podcast just after the series was released, "What I found incredibly moving are my costumes . . . [because of] the care and the love and the precision."
In The Crown, every costume holds an intimate, and imaginative, history. 
All interviews included in this piece were completed prior to July 14, 2023.