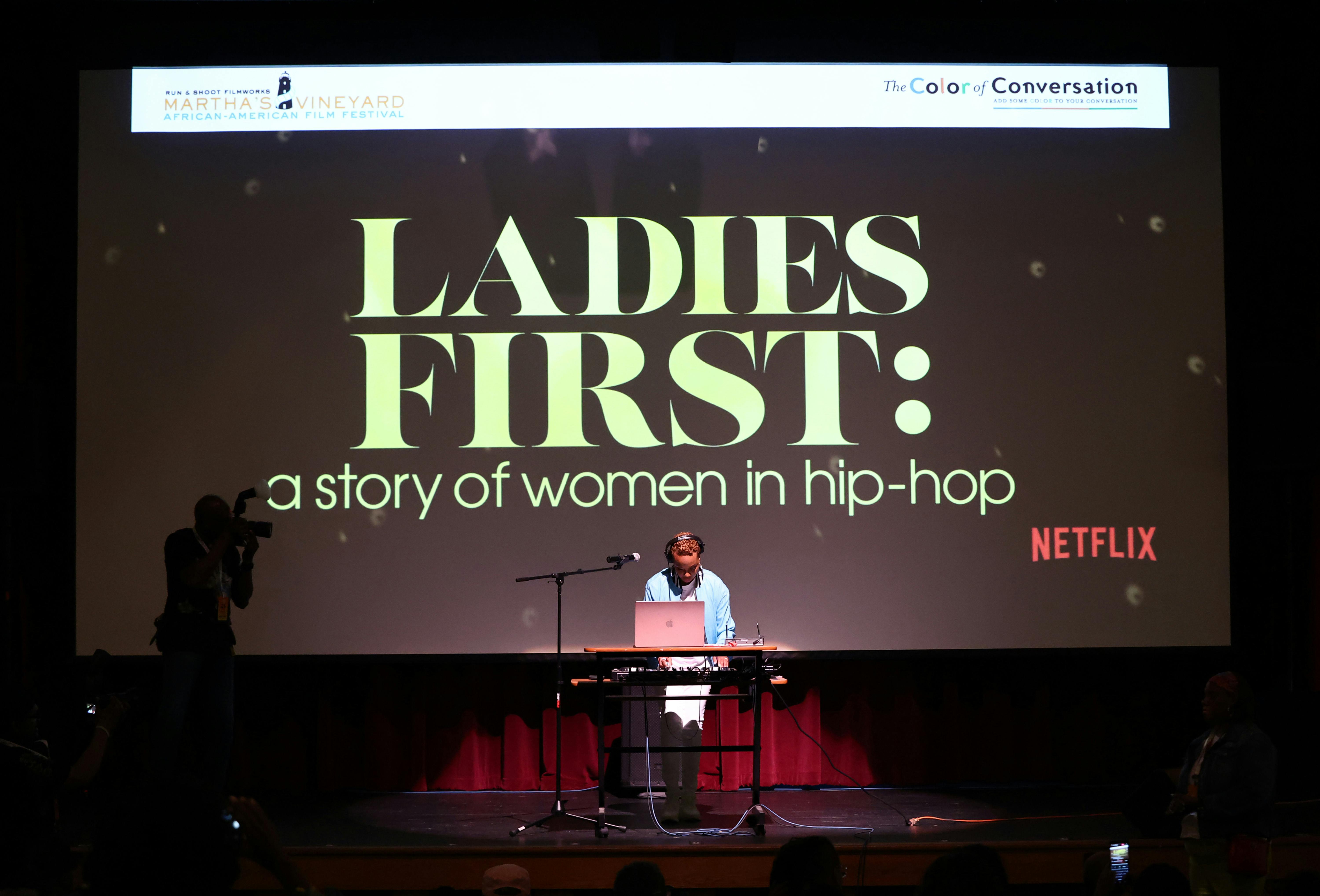 Martha's Vineyard African American Film Festival
Ladies First, Stamped from the Beginning, and Rustin kick off the 21st annual film festival.
Netflix kicked off the 21st annual Martha's Vineyard African American Film Festival with an opening night screening and celebration that reverberated across the island. Ladies First: A Story of Women in Hip-Hop, a four-part documentary series served as the evening's centerpiece. Tied to the 50th anniversary of the birth of hip-hop, the documentary series charts the glitzy highs and overlooked lows of female rappers past and present, with intimate reflections from onscreen talent including Queen Latifah, Roxanne Shante, and Saweetie to name a few.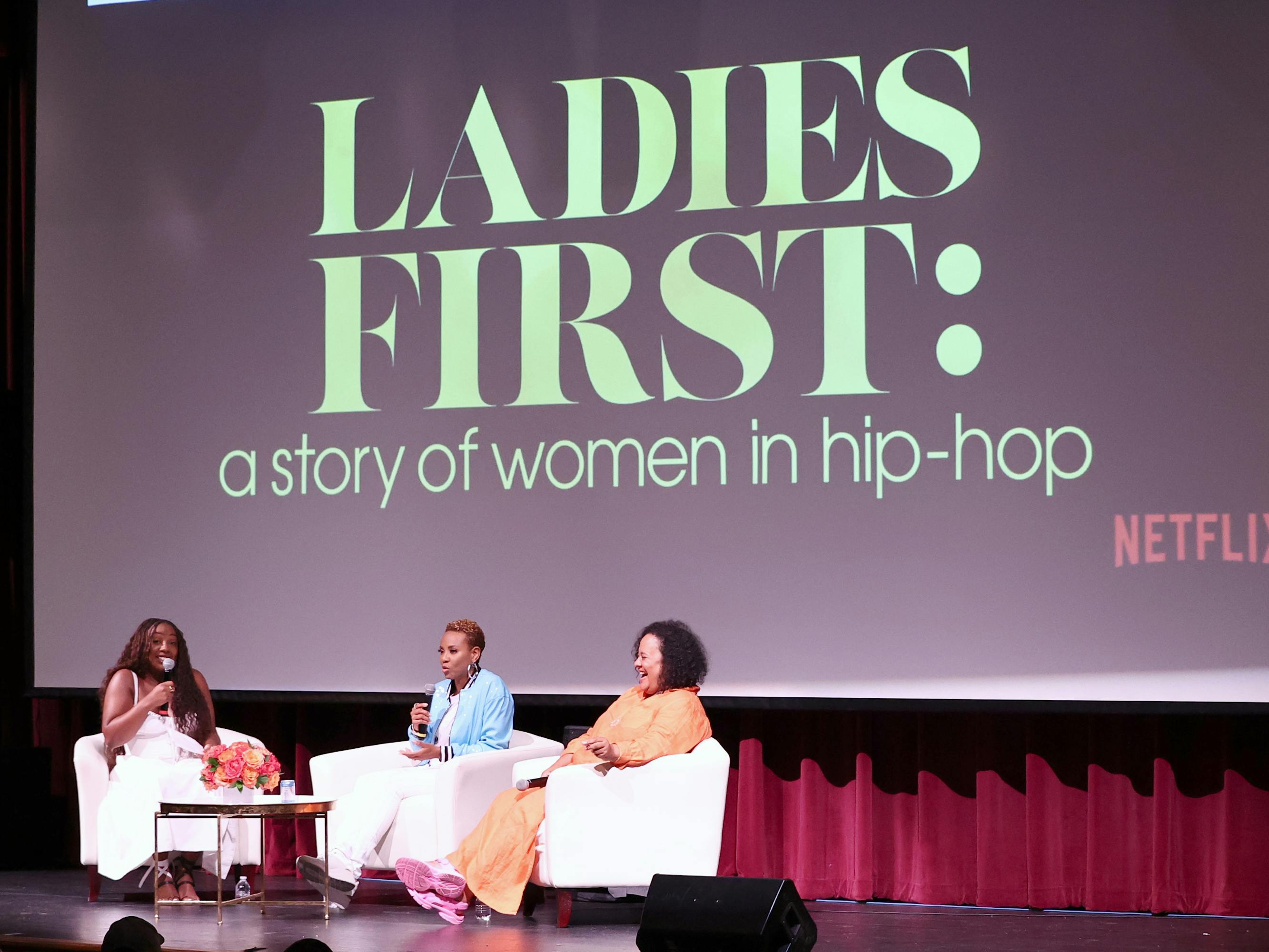 As attendees filled the Martha's Vineyard Performing Arts Center, they were greeted by a nostalgic hip-hop set from MC Lyte, the legendary rapper who also served as the series' executive producer. The advanced screening of the first episode was capped off with candid conversation with filmmaker and writer dream hampton, Lyte, and The Cut's editor in chief Lindsay Peoples. 
Earlier in the evening in conversation with Queue, hampton, who directed an episode and served as executive producer, spoke about the fraught gender dynamics that still plague the genre even in middle age: "Anyone with eyes, and who's not wedded to some idea of what hip-hop should be — super male — can see that this is the most interesting period for hip-hop." 
[Ladies First: A Story of Women in Hip-Hop is available to stream now on Netflix.]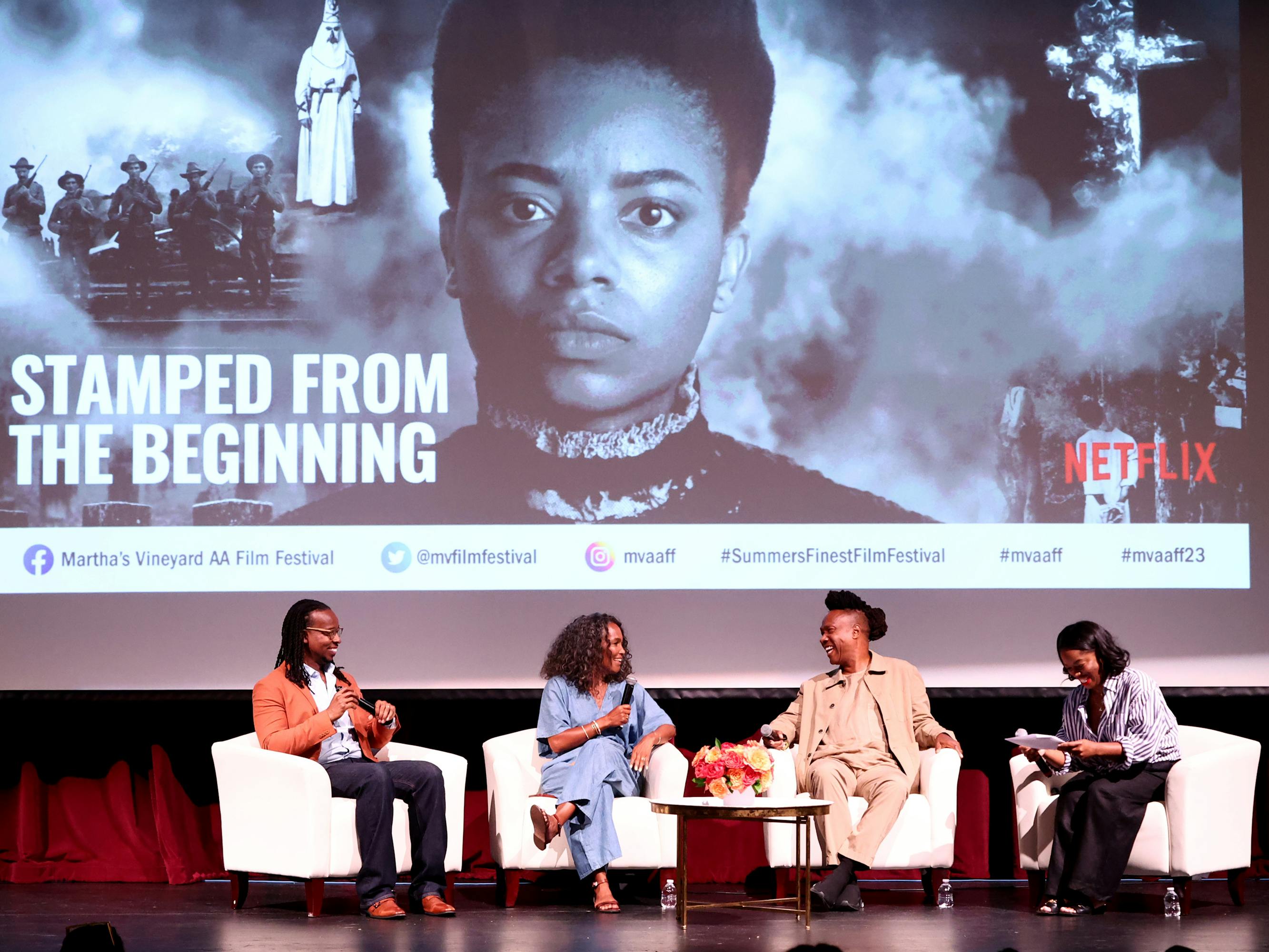 Crowds gathered again at the M.V.P.A.C. auditorium for an exclusive look at clips from Stamped from The Beginning, the upcoming documentary from director Roger Ross Williams that examines the history of racism and anti-Black ideas. The film, produced by Williams and his One Story Up banner and executive-produced by Dr. Ibram X. Kendi and Mara Brock Akil, is an adaptation of the 2016 New York Times best-selling novel of the same name penned by Kendi. 
Even from the early clips, it was evident that Williams leaned into bold filmmaking choices to bring the book to life in unique ways, employing live-action and animated recreations, decidedly modern musical moments, and an elite roster of on-camera talent including Dr. Angela Davis and Brittany Packnett Cunningham. 
In a roundtable conversation, Williams, Kendi, and Brock Akil discussed the process of adapting the original Stamped book, which provides an extensive historical overview within its 600 plus pages. 
"I had to use every single tool in the toolbox," says Williams. "It's a tour de force of a movie that utilizes animation, live action, archive, V.F.X. Everything is in this movie. The book is so dense and enlightening, so the artistic treatment of it has to be equally enlightening, innovative, and groundbreaking."
[Stamped from The Beginning will make its world premiere at the Toronto International Film Festival on September 9th, and will stream on Netflix in late fall 2023]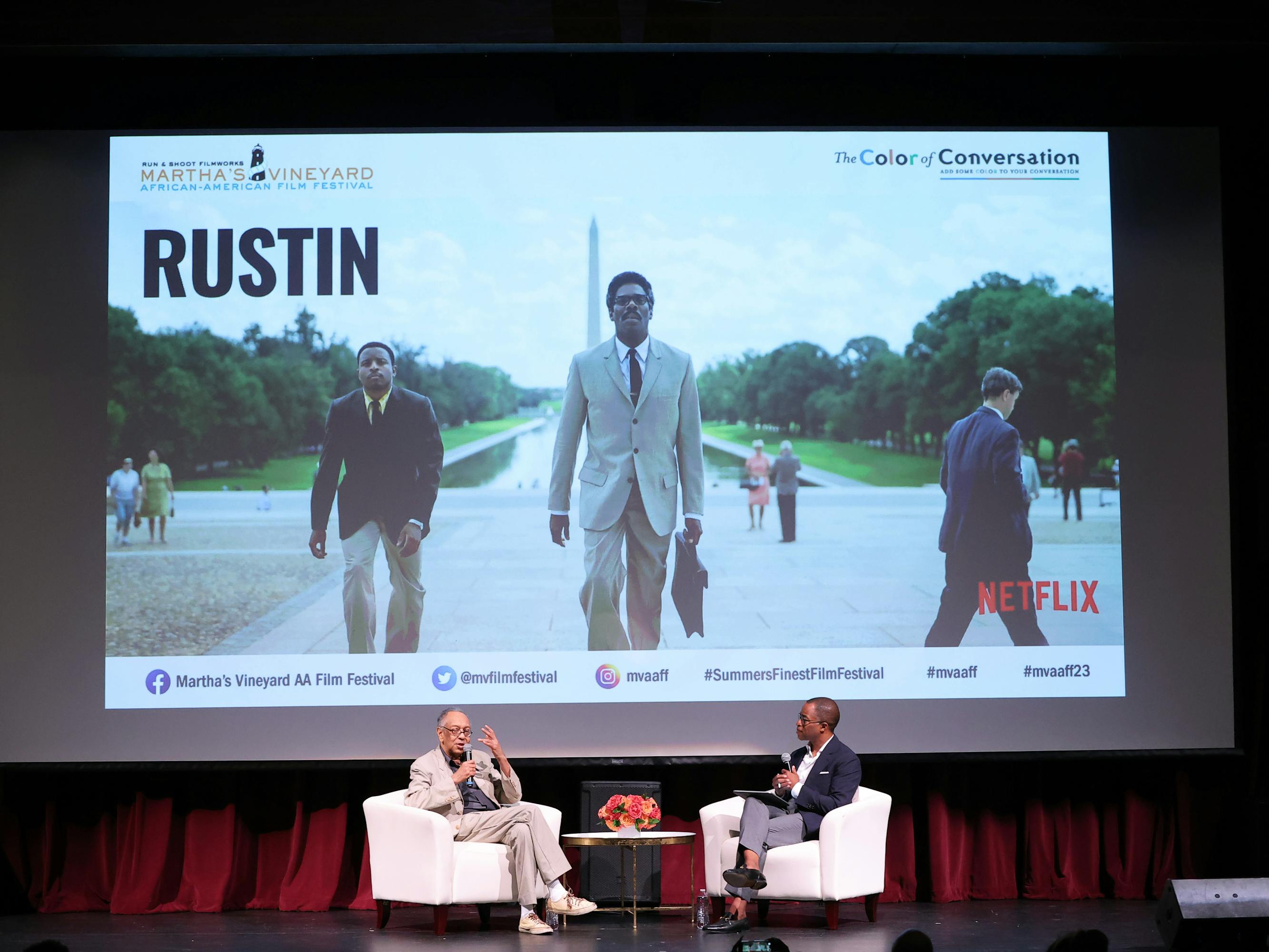 Rounding out the events at the festival was a clips-and-conversation for Rustin, the feature-length film celebrating the work of Bayard Rustin, the unsung organizer of the March on Washington for Jobs and Freedom, which took place on August 28, 1963. 
Starring Colman Domingo in the title role and featuring an all-star cast of stage and screen heavyweights — including Glynn Turman as A. Philip Randolph, Jeffrey Wright as Adam Clayton Powell Jr., Chris Rock as Roy Wilkins, and Da'Vine Joy Randolph as Mahalia Jackson, to name a few — the film provides a snapshot into Rustin's life in the lead-up to the historic march. Rustin marks DGA award-winning director George C. Wolfe's second feature with Domingo, who also starred in Ma Rainey's Black Bottom in 2020. 
At the MVAAFF event, which drew a packed auditorium of festival attendees of all ages and garnered a rousing standing ovation, audiences were granted a sneak peek of the film, in addition to a moderated conversation with director Wolfe and MSNBC on-air talent Jonathan Capehart.
In conversation with Capehart, Wolfe talked about capturing the humanity and greatness of Rustin's existence as a Black, openly gay organizer in the midst of the civil rights movement, and the interpersonal politics at play behind the scenes of the NAACP within the film. 
"I think all art is there to empower people," says Wolfe. "Bayard was an extraordinary man. I'm really incredibly fascinated when ordinary people do extraordinary things. We have monuments, they're very important and we go to them and look at them in awe. Art is not a monument. It is wonderful to see people struggle with the awkward, foolish, magnificent, wonderful thing that it means to be a human being."
[Rustin will be in select theaters on November 3rd and will stream on Netflix on November 17th.]