The directors, producers, and real-life inspirations behind the sports drama talk about NYAD, and the enigmatic woman at its center.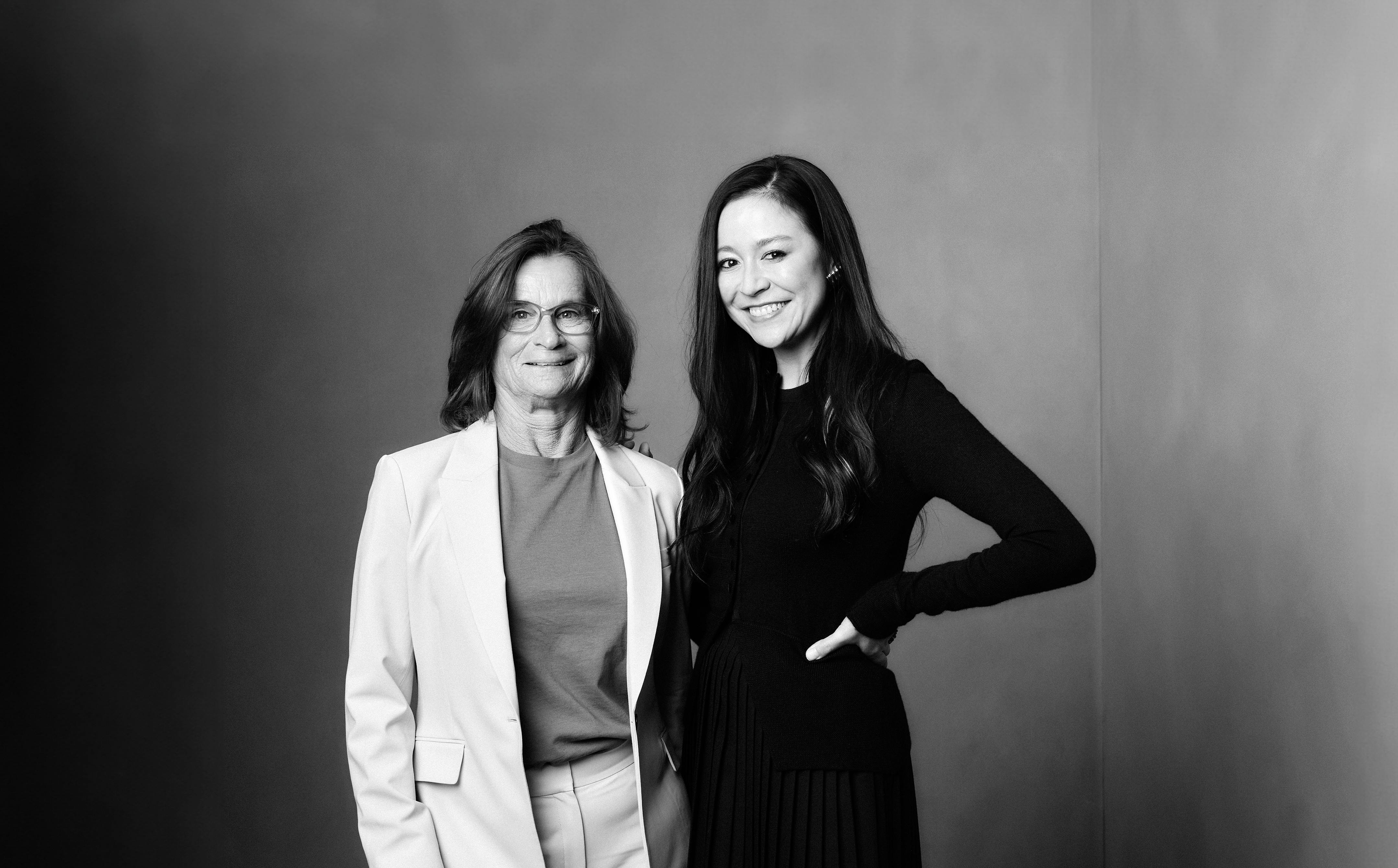 From her 1975 swim around Manhattan to her attempts to make it across the treacherous open water from Havana, Cuba to Key West, Florida, long-distance swimmer Diana Nyad has never failed to captivate. The athlete and activist's astonishing second act gets cinematic treatment in NYAD, the narrative debut from Academy Award-winning filmmakers Elizabeth Chai Vasarhelyi and Jimmy Chin (Free Solo, Meru). Based on the swimmer's memoir Find A Way, the biographical drama starring Annette Bening as Nyad follows the former athlete who, at age 60, recommitted to her lifetime goal of completing the 110-mile journey. "I remember when this swim happened in 2013 and I was absolutely captivated," recalls Vasarhelyi of the feat. She and her behind-the-camera and in-real-life partner Chin had been looking for the right story for their first narrative film, and Nyad's journey seemed like the perfect fit for their filmmaking sensibilities. 
Nyad's once-in-a-lifetime achievement could not have been possible without her support team, led by fellow athlete and close friend Bonnie Stoll, played by Jodie Foster. The two had shared a close relationship for decades prior to Nyad asking Stoll to be her coach for her reentry into the world of long-distance swimming. While Stoll, a former racquetball star, had no prior experience in the water, Nyad knew that Stoll would be the only choice to join her on her new chapter. As much as it is an exploration of what it takes to do the impossible, NYAD is a celebration of their enduring friendship. "Not many people have a friend like [Diana] and everyone should have one. She is loyal and her love is unconditional," says Stoll.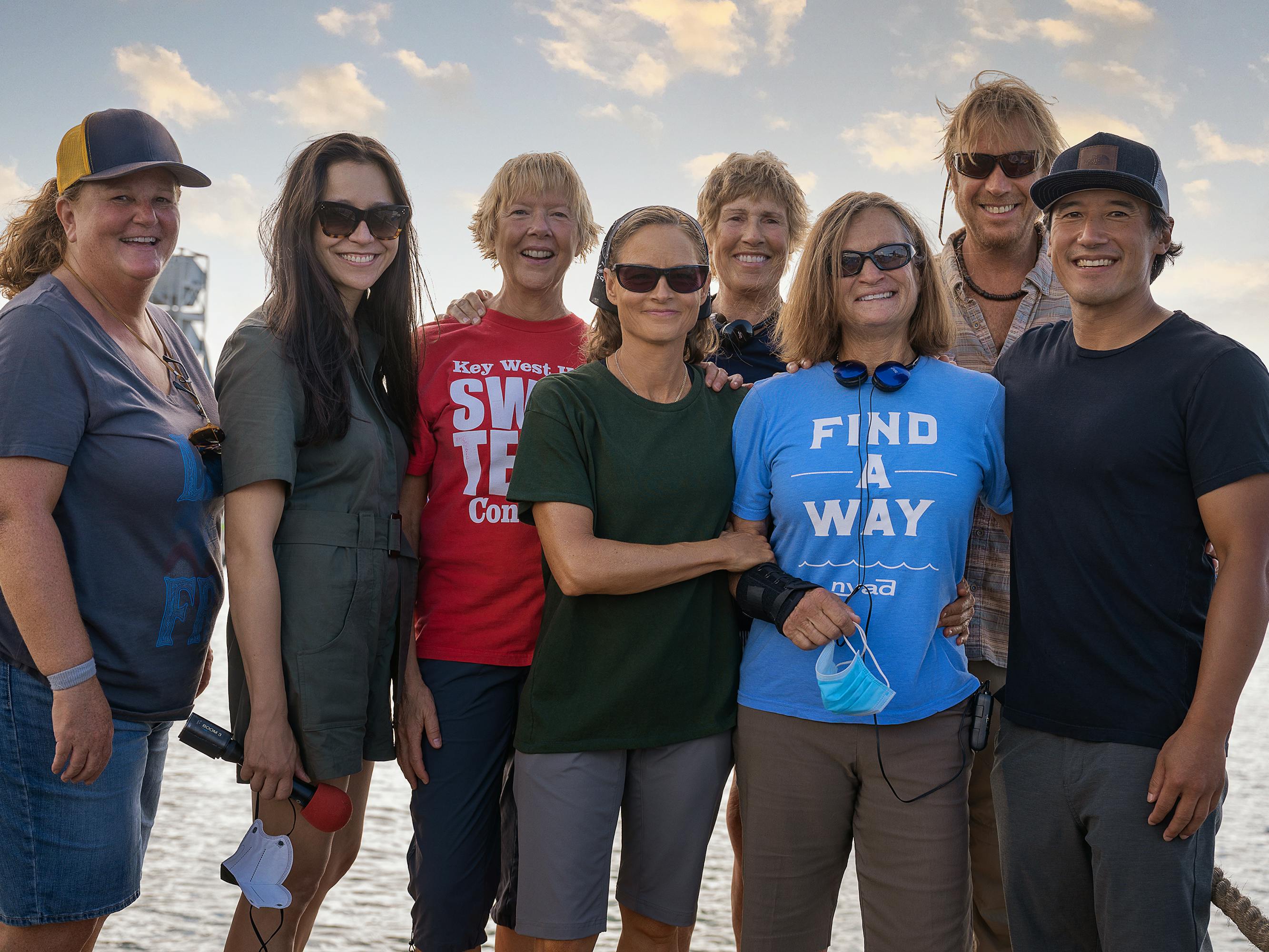 Photograph by Kimberley French
The real-life women were an important part of the filmmaking process, building personal relationships with Bening and Foster and spending invaluable time with them as they embarked on their own transformations. "For Jodie and Annette, it was incredibly valuable. They made it their job for months and months to inhabit these characters," says Vasarhelyi. "I don't see that very often, where world-class athletes have the opportunity to hang out with world-class actors and really have that mind meld moment. [Diana] and Bonnie were both incredibly gracious and open, and also brave and trusting with this story." Nyad and Stoll found themselves being studied by some of the most lauded performers of their generation, while getting a front-row seat to their impeccable transformations. "[Jodie] had me read for her so that she could get my voice intonations," Stoll recalls of the Academy Award-winning Foster. "I am not good at sitting, but I sat with her for hours. No one else could get me to sit for that long! And we remain good friends."
At their film's world premiere at the 50th Telluride Film Festival in Colorado, Vasarhelyi, Stoll, and Chin, alongside some of their NYAD collaborators, reflected on why they so deeply connected with Nyad's journey, the challenges of making an open-water epic, and what it was like working with two acting titans.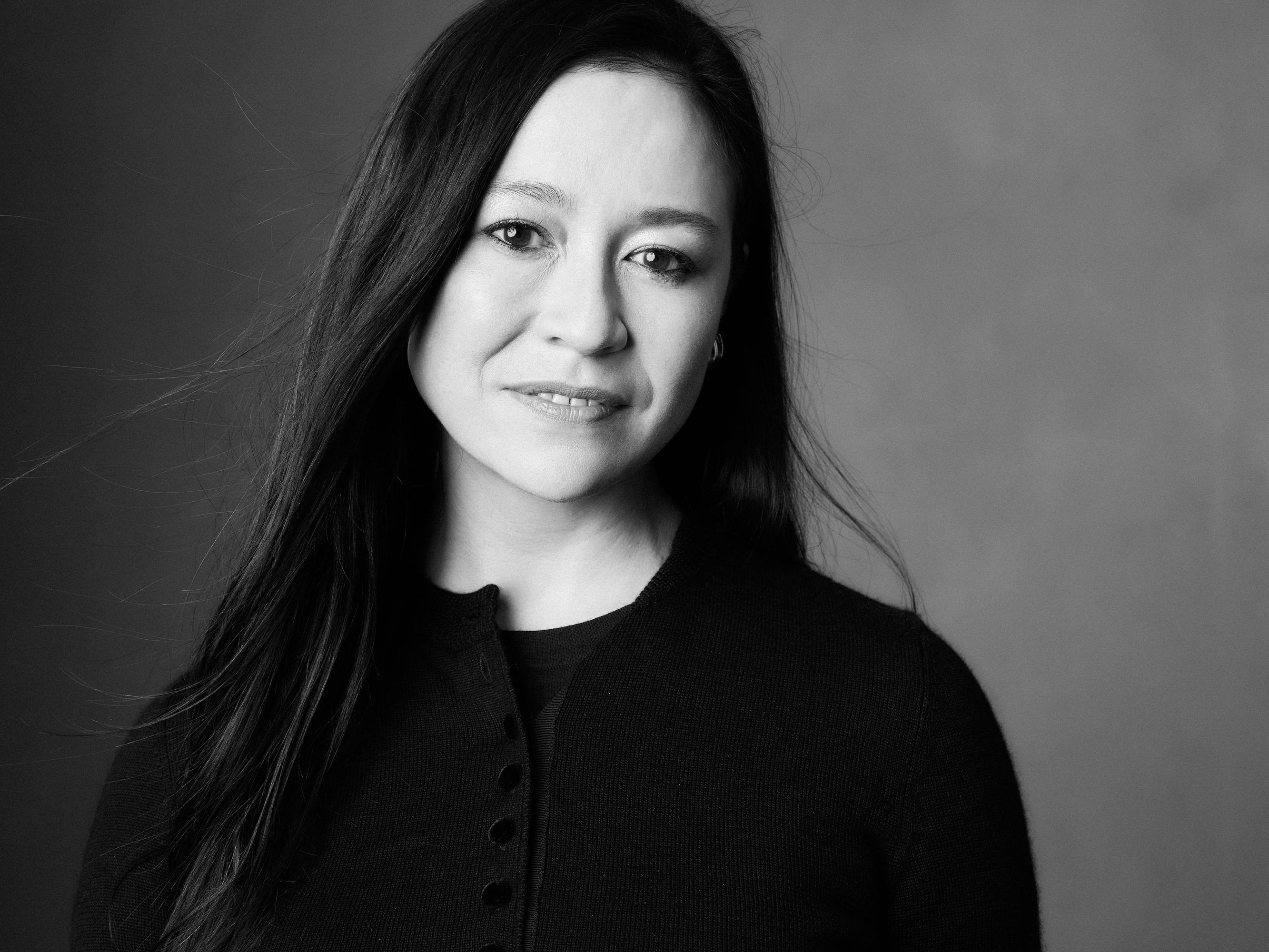 THE DRIVING FORCES OF NYAD
Elizabeth Chai Vasarhelyi, co-director: Diana's story is very much in the spirit of the films we're most interested in. How individuals can push the limits of potential, how [by] doing the right work and having an audacious dream, you can achieve your dreams. And I think Jimmy and I had been really looking for a film where we could have a woman at the center. 
Jimmy Chin, co-director: When we find something that we both fall in love with and there's that perfect intersection of the things that we're interested in, that's kind of a driving force. We love these kinds of stories, but we also love the subtext of friendship. 
Andrew Lazar, producer: Diana's story is incredible. The drive and the friendship she had with Bonnie, it was totally evident in the book.
Teddy Schwarzman, producer: There was just something incredible, not only the friendship, but the perseverance. You've seen a lot of traditional biopics of underdogs struggling, but I think Diana is an incredibly complex character who is larger than life. And yet, because of everything that she was and everything that she is, [she] was able to achieve what she did. 
Vasarhelyi: It always had to be Annette, and it always had to be Jodie. There was an enormous amount of work to be done, and Annette Bening, being Annette Bening and such a consummate professional, I think she understood what she was signing up for, and there was some hesitation because she's always been very athletic, but she's not a marathon swimmer. None of us are. So she considered [it] very, very seriously. And then, because she wouldn't take it unless she would do the work, she trained for over a year. And you can see it in every single frame of this film. We had world-class stunt people on set, but Annette wouldn't have it because she wanted the stroke to be consistent.
Bonnie Stoll, Nyad's best friend and coach: And Annette's still swimming every day.
Vasarhelyi: And Jodie, my gosh, Jodie trained and trained and trained. And she really was a great fairy godmother to this whole film. 
Stoll: I learned what hard work [this] is. Jodie and I spent a ton of time together, which for me was a pleasure. But the very first time we sat down in my backyard for three hours — and I'm going to tell you, I have A.D.D. and I don't sit down for three hours much without getting up. But she's a pro. She did her homework. We spent a lot of time, not just in the backyard, but going places together. And Annette joined us and Diana joined us. We have a really nice bond with these two women for sure. Forever.
Christopher Tellefsen, editor: What both Annette and Jodie brought to it was so strong. The choices were so rich and the blend was so rich. Diana — all her early swims were very, very well documented, and there are massive amounts of archival footage. And it was a wonderful challenge editorially to blend that. As far as the friendship goes, they were electric in terms of their dynamic, and that was something that was exciting to me.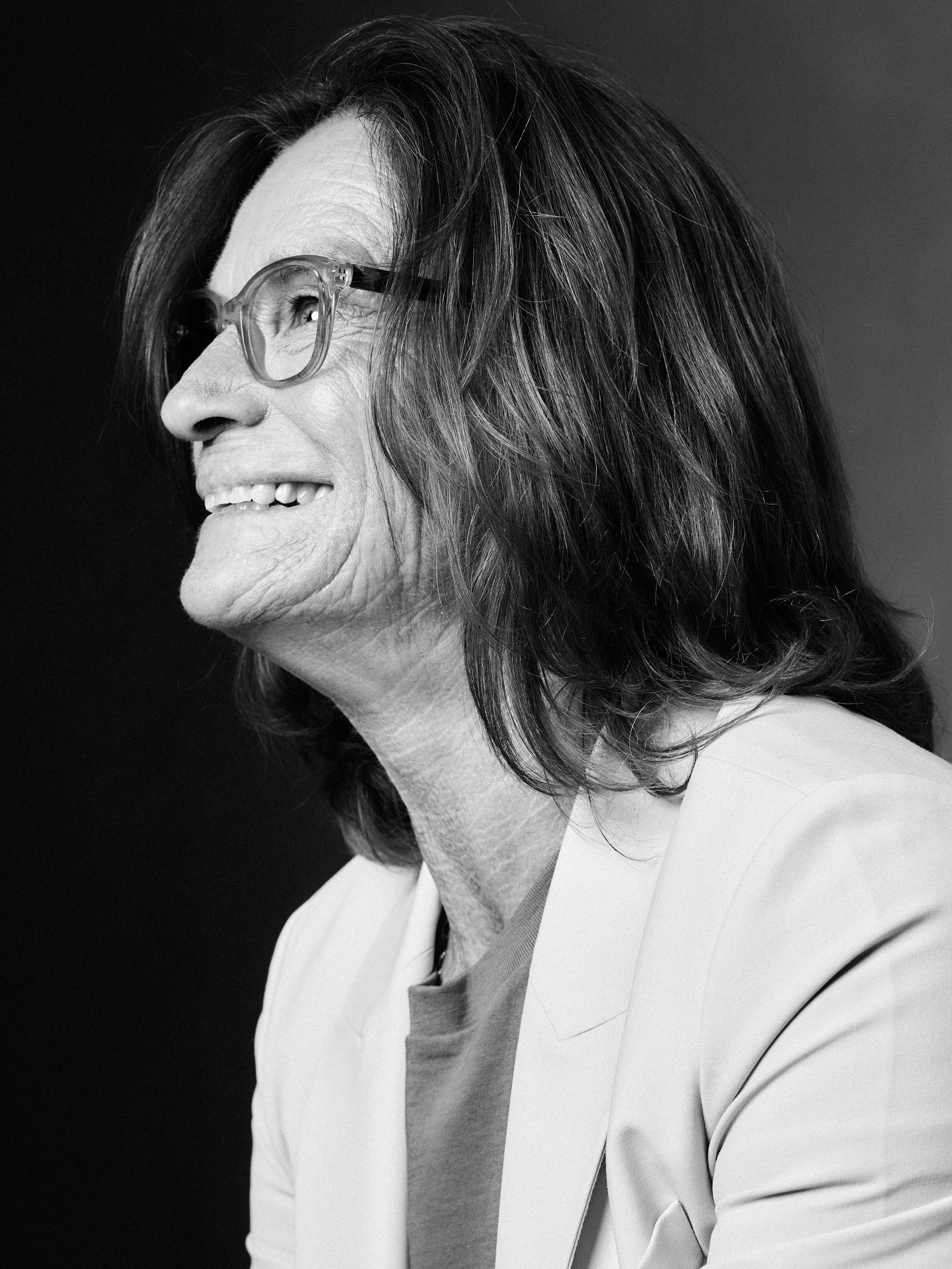 Chin: Obviously we've shot in a lot of very difficult environments on El Cap and the Himalayas, which we thought were really difficult. No one mentioned how difficult it is to shoot in water. Our first day on set, we have 450 to 500 people on set. And we're at this tank, and we've got Jodie and Annette out there on the boat. We find out we don't have enough time to take a boat over to give notes for every shot. So we're standing out there and we have to give our first notes in front of 500 people to Jodie Foster on a megaphone. And it was like, "Jodie, do you mind doing that one more time?" I mean, it was pretty funny.
Lazar: This was a challenging movie, multiple decades, water, multiple locations. And even though Chai and Jimmy are amazing directors, as a first narrative, they bit off a lot. I think they performed it with grace and amazing skill.
Chin: The through line for a lot of athletes, world-class or at the top of their sports or fields, is that, like Diana, they think outside of the box, and outside of the box is normal. They don't accept what has been done before and the way it's been done before — [they have] that commitment and belief that you can do something.
Vasarhelyi: And I would say, as a non-athlete, I think that's very true for artists too. And really anyone would probably identify with this idea of having this crazy dream and putting in the work and being obsessed with it and wanting to see it come to life. And I think that was one of the reasons why we were able to work with such wonderful professionals, be it Annette Bening, Jodie Foster, our D.P., Claudio Miranda, our composer, Alexandre Desplat, Chris Tellefsen . . . I mean, everyone really rose to the challenge. I don't know how different artists at that level of their game are from these outrageous athletes, because it all involves creativity and drive and work and also a great humanity.