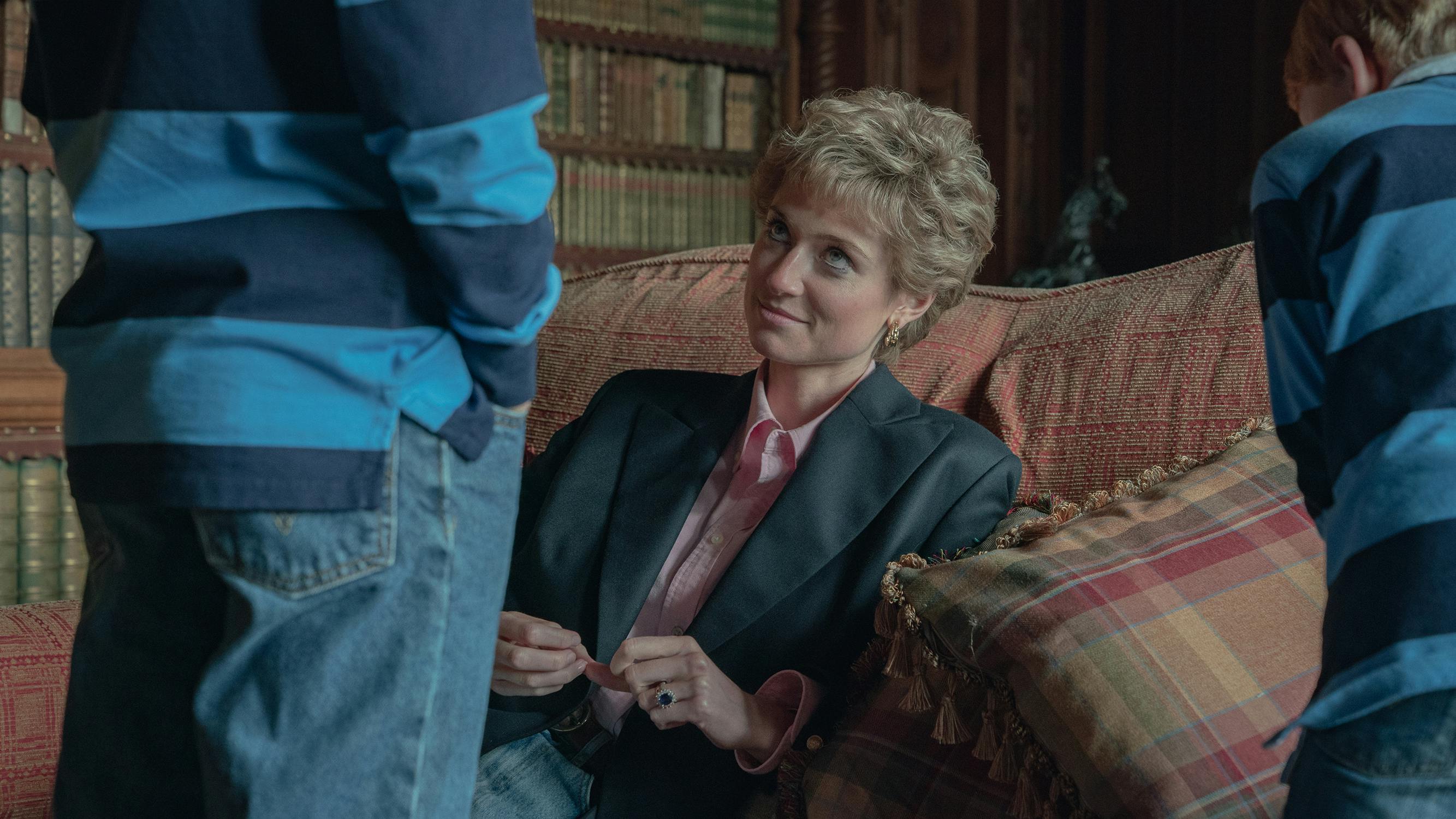 Elizabeth Debicki Nails Diana's Idiosyncrasies
The Crown cast and crew weigh in on how the actor embodies the People's Princess in Season 5 — and earned an Emmy nomination for her work.
From the first stolen shots of early production, Elizabeth Debicki's embodiment of the People's Princess has taken viewers' breaths away. "It's . . . chilling is not the right word, but it is slightly overwhelming when you first see her walk in," says Jessica Hobbs, the Emmy-winning veteran director of The Crown. "Everyone in the room kind of stops. You just feel like you're looking at Diana. . . . When we did street scenes and she stepped out of a car, people would go crazy. You'd hear them screaming, 'Diana! Diana!'"

The Australian actor, who follows Emma Corrin's Emmy-nominated Season 4 portrayal of Diana, definitely had her hands full in taking on one of the most photographed, beloved women in the world — during one of the most difficult periods of her life. "As an actor, your only moments of peace and total bliss are those 20 minutes when someone offers you the role on the phone and it's everything you've ever wanted and dreamed of," Debicki says. "But then you think, Great, but how do I do it?"
Season 5 of creator and showrunner Peter Morgan's series charts the unprecedented ups and downs of Buckingham Palace from 1991 to 1997: more than one highly scrutinized royal divorce, two tell-all interviews, and the British people's slowly disintegrating trust in the monarchy. Princess Diana rose from the ashes of this period of uncertainty and loneliness, coming into her own as a woman, mother, fashion icon, and global public figure.
The Crown cast and crew were awed by how Debicki embodied Diana's most specific and stylish idiosyncrasies — from mastering her demure posture to reenacting existing footage such as the Panorama interview where Diana acknowledged Prince Charles's affair — as were Emmy voters, who honored Debicki with an Emmy nomination in the Outstanding Supporting Actress in a Drama Series race. Here, Debicki and fellow The Crown team members weigh in on one of the most powerful women in history. As costume designer Amy Roberts puts it, "It's Diana that tells us a story."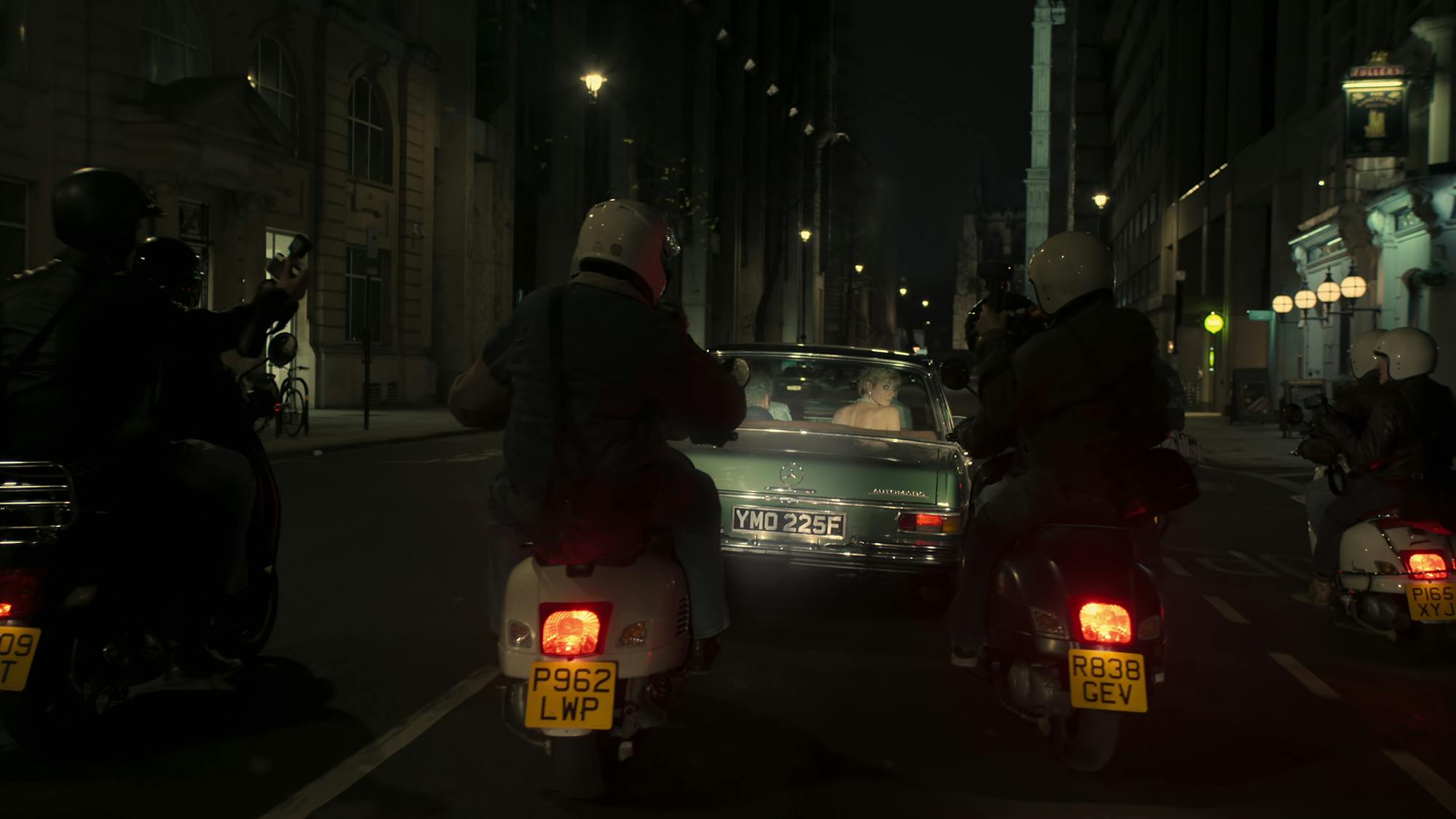 "I feel Diana invented the word 'celebrity,' almost. She was her own version of Instagram. And even if you didn't read magazines, gossip columns, or whatever, you were exposed to her. Diana-mania seemed to permeate everyone's lives." — Natascha McElhone, who plays Penny Knatchbull
"On Seasons 5 and 6, because of Diana and the paparazzi around her and also because of the period, it's a little bit more cutty and more observational. When Diana's life gets absolutely crazy, when she doesn't have a moment without being followed by paparazzi, the whole pace goes up. It's very perceptible how the tension and the pace and the cuts get more intense. And I think that really helps to deliver the anxiety she was going through." — Adriano Goldman, Cinematographer
"Obviously, in the 90s, everything had started to be filmed, and also it was the birth of the 24-hour news cycle, so there's just this incredible amount of content that we have access to. Diana was the most photographed person in the world at that time. As an actor, you open the portal and this huge tsunami of information comes at you. I happily swam around in it." — Elizabeth Debicki, who plays Princess Diana 
"I think Elizabeth's performance is astonishing. To dramatize and play that extraordinary series of events — I know there's a lot of coverage of that period of Diana's life in different films and TV shows, but I think the angle that this show takes is extraordinary and illuminated in every sense by Elizabeth's performance." — Olivia Williams, who plays Camila Parker-Bowles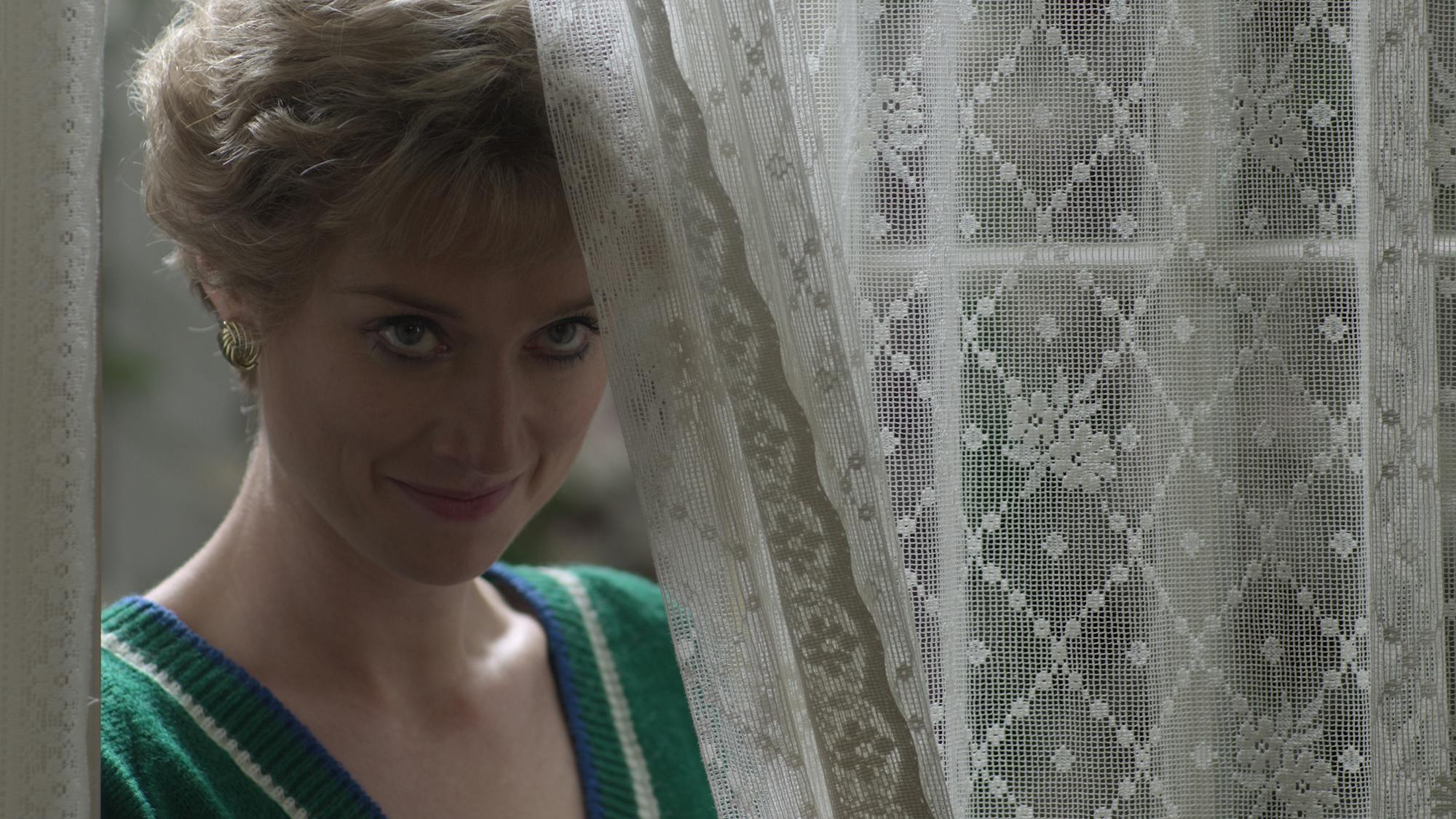 "The gaze thing is really interesting, because if somebody found out I was playing Diana, even my plumber, they'd all sort of go, 'Oh, Diana,' and then I'd go [Debicki gestures] and look up there. And so I thought, Okay, I have to figure out why she's doing this, and that was the place I started from." — Elizabeth Debicki, who plays Princess Diana
"I remember the moment I saw Elizabeth Debicki as Diana. We were in Scotland, and it was my first day of shooting. Imelda and I were sitting out on the terrace at the back of the house. I looked up as Elizabeth walked through, and it was such a weird sensation. I nearly choked on my lunch. It was really spooky, like she'd risen from the dead. I thought, If anybody in the village sees her, it could be a very disturbing experience." — Lesley Manville, who plays Princess Margaret
"I remember the first camera test we did; it was the worst day of my life. She came in looking just like Princess Di and sounding just like Princess Di, and I walked in dressed up as Charles but I don't look anything like him, I don't really sound anything like him, I don't move like him "I've got little legs like him, but that's it. I went, 'Oh my God, it's amazing, it's uncanny.'" — Dominic West, who plays Prince Charles
"Elizabeth is an extraordinary actress, and her Diana is incredible. She's a superstar and so fearless in where she'll go in her fragility. She shines, and yet she can be quite broken and brittle and warm and compassionate — it's a really fantastic performance." — Suzanne Mackie, Executive Producer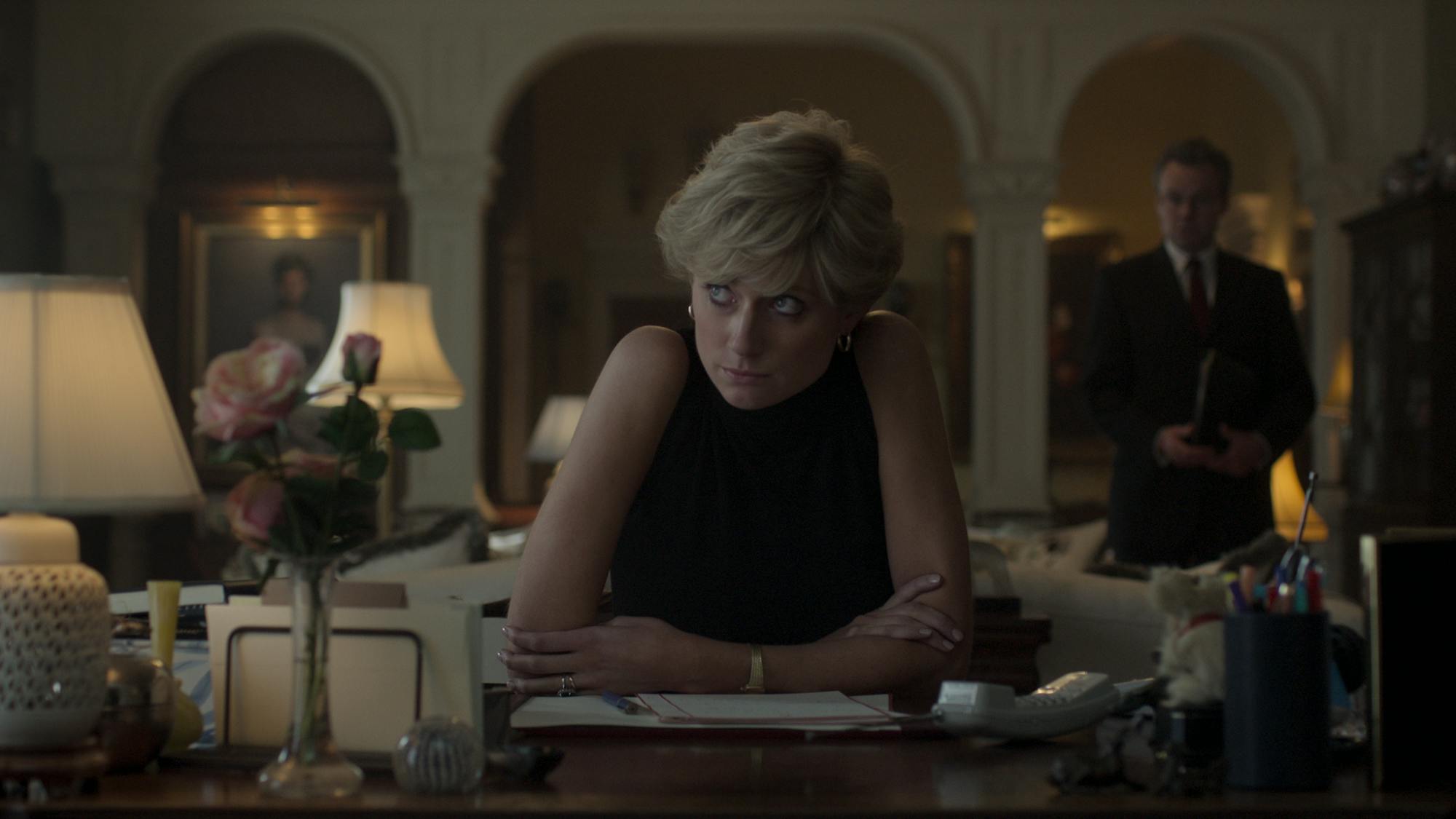 "There were three of us in this marriage, so it was a bit crowded."
"[The 1995 Panorama interview] was one piece [of footage] that I did allow myself to obsess over. I found it to be a very interesting, quite deep well to swim around in, and it's the most research I've ever done as an actor. I probably watched it for about nine months, not every day. Peter's choice to base so much of the story around this interview, after what we learn about the manipulation that was used to procure it, I felt that it was my responsibility as an actor to both make a representation of it that was authentic, but also use it to sort of help tell that story of how manipulated she was at that point. I would listen to it a lot while I was cooking. I would watch it in the car. I was very obsessed with it, and then I just sort of did it one day, and that was a very nice release to have it out of my mind." — Elizabeth Debicki, who plays Princess Diana
"Elizabeth is an extraordinary human being. She's an extraordinary actor, but for anybody stepping into that role, it is understandably terrifying. The biggest thing for Elizabeth was enabling her to feel free enough to take all of the work that she'd done — and she had done months of preparation — and be able to throw that away so that she could be in the scene without constantly referring to the tape playing in her head of the Diana that she'd watched and studied for so long. It was finding that energy and freedom and she found it very quickly." — Jessica Hobbs, Director
"My understanding of why she would choose to do [the Panorama interview] was an attempt to control a narrative that felt like it was otherwise spiraling out of her control. If you can tell your own story in that situation, perhaps people will understand what you have been through and will be more likely to empathize with you. They might understand why you may need to break away from certain systems and why you may need more freedom than you've been given. I think it was her attempt to tell her story in the most transparent way she could, hoping that would translate to people watching it." — Elizabeth Debicki, who plays Princess Diana