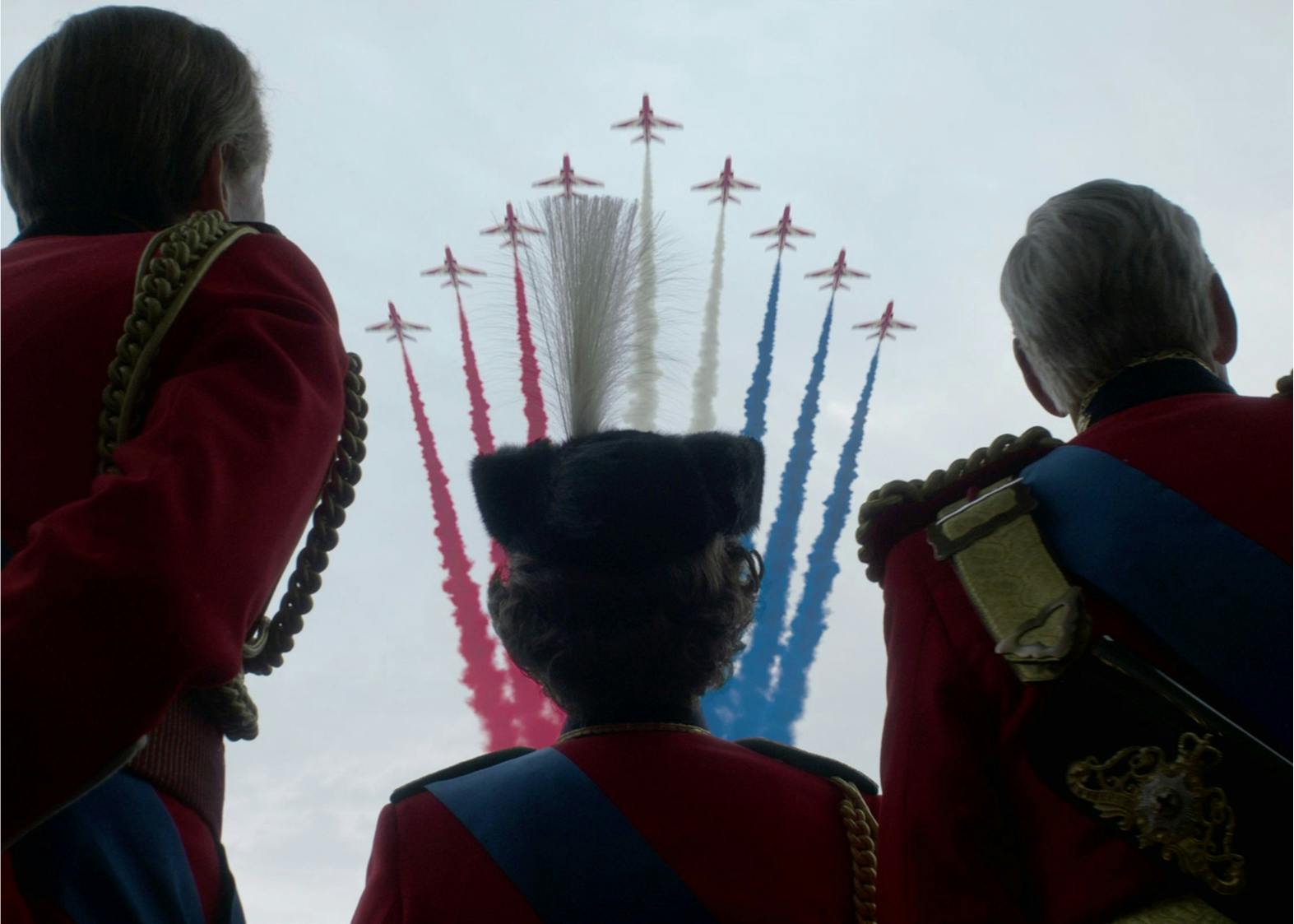 On August 27, 1979, the Irish Republican Army planted a bomb onboard a fishing boat belonging to Lord Louis Mountbatten, Queen Elizabeth's distant cousin and great-uncle to Prince Charles. Once the device was triggered, Mountbatten, his 14-year-old grandson Nicholas, and a local boy named Paul Maxwell who worked on the boat were killed instantly in the resulting blast. That tragedy figures prominently in the Season 4 premiere of The Crown, Peter Morgan's highly acclaimed drama about the lives of the British royal family, and it became one of the most challenging sequences for the artisans at British effects shop Framestore to undertake.
Visual effects supervisor Ben Turner and his team created a fully computer generated (C.G.) underwater shot of the bomb blast that sends the boat splintering into pieces and Mountbatten, played by Charles Dance, to his demise. The visual effects utilized for the stunning sequence are seamless, an achievement that makes Turner especially proud. "I think it is quite funny when people don't realize how much visual effects work there is in The Crown," Turner says. "That's something that I pride myself on, that lots of people don't know that we've done anything. That's the side of visual effects that I really like — all the invisible stuff that just goes unnoticed."
The digital magic that helped make the premiere episode, "Gold Stick," so memorable did not go unnoticed by the Television Academy, however — Turner and his Framestore colleagues were nominated for an Emmy for their work on the episode. Turner recently spoke to Queue about working with director Benjamin Caron to shape the explosion as well as how VFX were employed to extend the episode's Buckingham Palace environments, enhance key crowd scenes, and even replace actors' faces when necessary.
Queue: The explosion sequence begins with the camera underwater, looking up at the underside of the boat before the detonation. Were those shots more difficult to create because you're not only dealing with the boat and the explosion itself but also the color of the water and the movement of the waves?
Ben Turner: Yes. It definitely changed our approach, and I would probably agree that it made it more challenging. But I really liked the idea that our director, Ben Caron, had to see it from that perspective. I think it made it a lot more cinematic, and really shocking as well, because it comes out of nowhere. We ended up doing the whole thing fully in C.G. and seeing it through the water, which added a level of complexity. We first had to believe that we were under the water, so we had to see our boat through the murky depths. We then obviously had to see a believable pyrotechnic fireball-type explosion, but obviously, the prism of the water makes that look different to how it would look above water. We played around a lot with the refraction and the different color variations that you get as a really hot thing cools down. We did an above-water explosion as well. So, there were two explosion shots, one from beneath the water and one from above, like a drone angle.
That's something that I pride myself on, that lots of people don't know that we've done anything. That's the side of visual effects that I really like — all the invisible stuff that just goes unnoticed.
And you also created the entire backdrop of the scene leading up to the explosion — the water, the horizon, the sky — using visual effects.
BT: When we went to shoot it on location in far North Scotland, the weather was bad, which meant that we had to shoot the whole scene in Keiss Harbour against a green screen. The water was too rough to send actors out on a boat, but it wasn't too rough to send me and some crew out in a boat. We shot some footage at the location that we could then use to replace the green screen background for that scene. It worked really well, although I did nearly throw up in the process of getting those plates.
You also helped shape the sequence that opens the episode, which sees Olivia Colman as Queen Elizabeth II riding out from the gates in military regalia for the Trooping of the Colour ceremony.
BT:BT: Ben wanted it to feel really big in terms of scale. We had some extras on the day, but they were all crowded around the railings and the fence on the set because that's the only place we have to put them physically at Elstree Studios. We ended up getting rid of the extras entirely — a lot of the time, at those Trooping of the Colour events, the crowd is kept at a distance and in designated areas. Because our extras were a bit closer, they would've blocked a lot of the view of the scale of the occasion.
We had a large crowd in our C.G. world that we placed on the Victoria Memorial, which is the big statue outside of the palace gates. We're with Elizabeth in that moment as she trots out on her horse, and there's a big roar when she emerges, so we wanted it to feel grander in scale. For some reason, we found it felt bigger if we pushed all the crowd back and increased their number. It made it feel more intimidating somehow. Then we also extended the Palace grounds and added lots of scale just to help expand that world as we're intercutting with the archival footage and the voiceover speech from one of the leaders of the IRA.
Was crowd work also required for the equestrian scenes in the episode, in which Erin Doherty's Princess Anne competes at the Badminton Horse Trials to qualify for the Olympics?
BT: Yes. We filmed those at Hickstead showground in Sussex, a big show jumping arena just outside London. We had some crowd on the day, but we would never be able to have enough extras to fill all those seats, and so we ended up doing a lot of that work digitally. What we tend to do once or twice every season is have a purely visual effects day at the studio where we get a lot of supporting artists in different costumes and we film them doing different things against a green screen so that we can populate them into different scenes. One of those scenes for us this season was Anne's equestrian bid to get into the Olympic team. So, there were huge grandstands of people that needed filling, and that was all done in post using crowd elements that we'd shot. We also added in various matte painted elements, marquee tents, and refreshment stalls.
Digital face replacement was used in that sequence as well. Could you explain why and how you achieve something like that?
BT: We did a little bit of face replacement on Princess Anne because Erin Doherty was pretty good at doing bits and bobs of horse riding, but I think doing the show jumping required was understandably a bit beyond her. We had a horse riding double for her, and on a few shots, we did a bit of facial placement on our actress. We used a combination of some deep fake technology, which is a new way of doing that sort of thing, with some more traditional facial-placement techniques using a shot of our actress that was recorded at the right angle to match the horse-riding double. Then you clean up the background to remove the double's head, and you are able to effectively cut out our actress's head and track that onto the double's body.