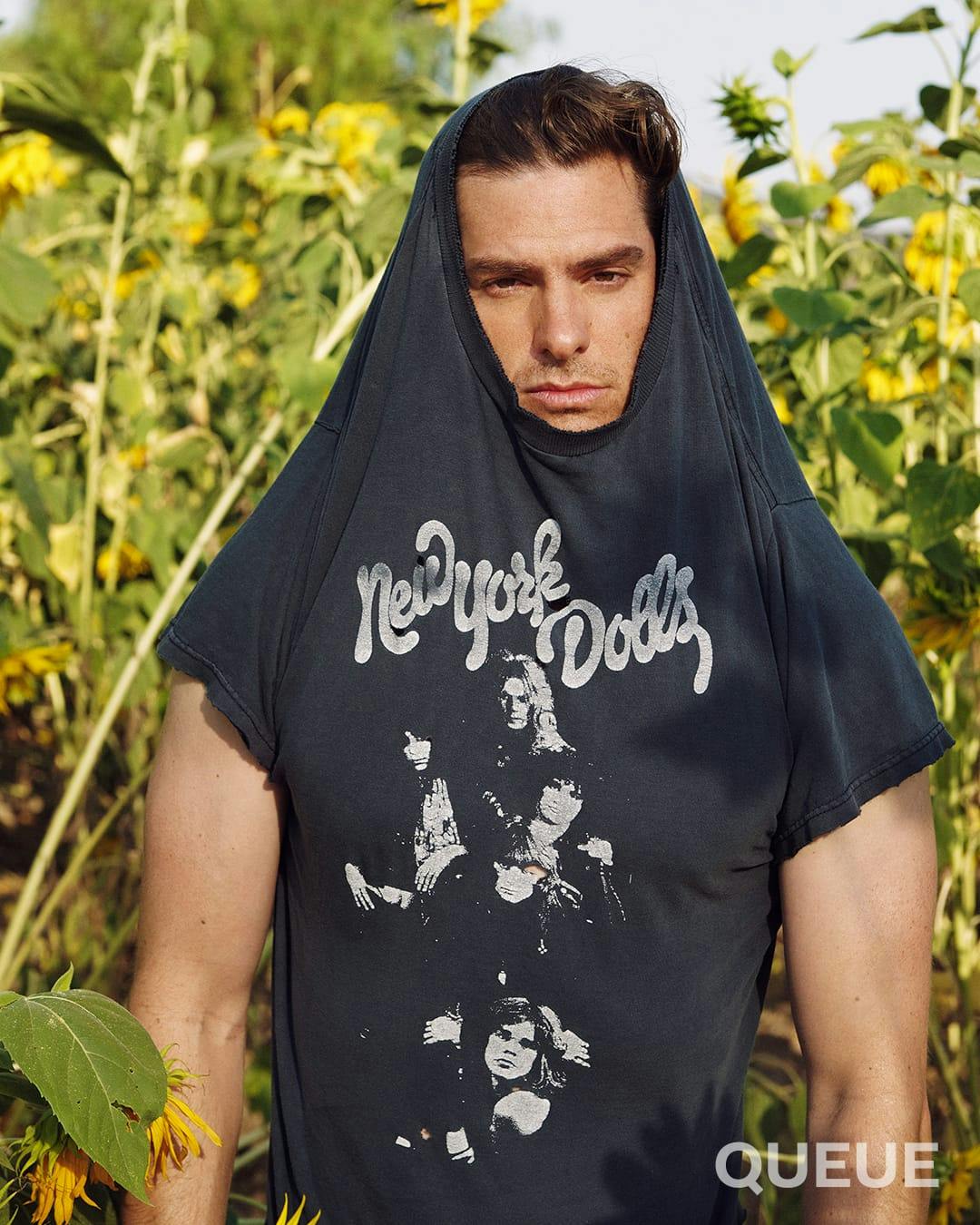 The actor reaches new heights in the film adaptation of Jonathan Larson's musical tick, tick . . . BOOM!
It's frankly disarming just how good Andrew Garfield is in the forthcoming film adaptation of tick, tick . . . BOOM!
In the new film, Garfield stars as Jonathan Larson, the real-life theater wunderkind who died tragically of an aortic aneurysm on January 25, 1996, the night before his era-defining musical Rent debuted off-Broadway. Months after his death, Rent moved to Broadway, where it ran for 12 years and 5,123 performances before closing in 2008. Since then, the Pulitzer Prize-winning musical remains omnipresent in the cultural consciousness as a foundational arm of the modern musical theater canon.
But it was Larson's tick, tick . . . BOOM! that first caught the theater community's attention, setting his professional trajectory in motion. The autobiographical musical began as a one-man show that debuted in 1990. The film opens that same year and sees Larson waiting tables in New York City as he writes what he hopes will be the next great American musical. With his 30th birthday fast approaching, Larson begins to experience intense anxiety, wondering if he will ever achieve his creative goals.
Garfield channels the once-in-a-generation talent in every possible way — physically, emotionally, and spiritually, the actor truly becomes Larson. That feat is perhaps more remarkable considering that Garfield had no musical theater training before undertaking the role — he hadn't even seen Rent. Yet the actor says that coming to the film with no preconceived notions about Larson and his towering legacy proved to be a good thing. It enabled him to separate the man from the myth.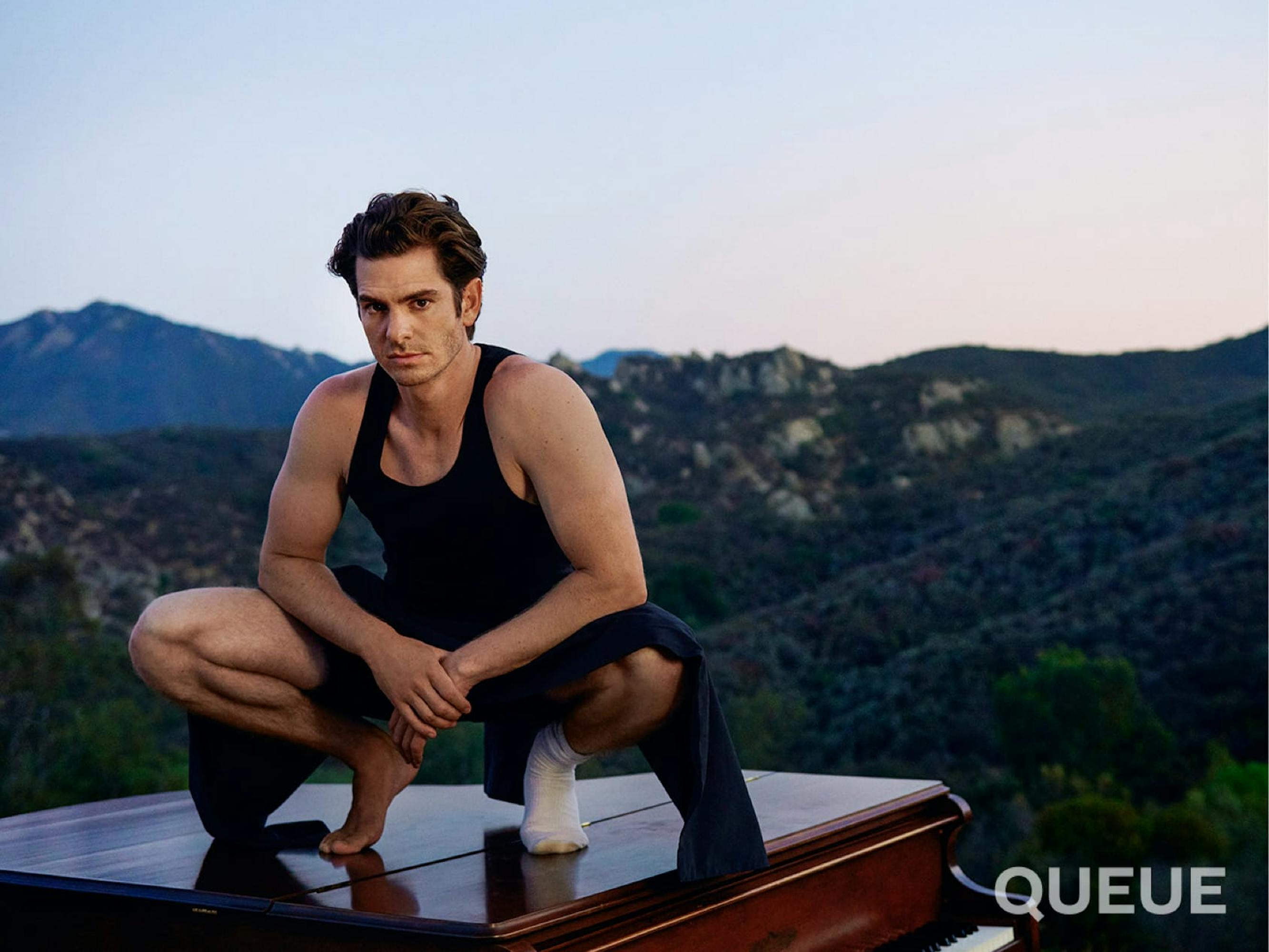 JACKET BY DUNHILL; SHORTS BY LEVIS; TANK BY CALVIN KLEIN; SOCK BY UNIQLO
"It was obviously imperative to play the character in a way that wasn't just a lionizing idealization of who he was, which wouldn't have served him. I don't imagine his spirit would have been happy with being glorified in that way because he was imperfect and he owned his imperfections," Garfield says. "That was one of the things that made him so loved and adored — that he leaned into all of his human frailty."
Since his breakthrough role in Robert Redford's 2007 drama Lions for Lambs, Garfield has forged an impressive career starring in such films as The Social Network, Silence, 99 Homes, and Hacksaw Ridge (his work in this 2016 World War II film earned him a best actor Oscar nomination). He also swung into action as comic-book superhero Peter Parker for 2012's The Amazing Spider-Man and its 2014 sequel.
On stage, Garfield earned his first Tony Award nomination in 2012 for his turn as Biff Loman in Mike Nichols's Broadway production of Death of a Salesman. His first win followed in 2018 for his performance as Prior Walter in the revival of Tony Kushner's landmark play Angels in America.
The one thing Garfield hadn't done, however, was sing — not professionally, anyway. Nevertheless, he convinced tick, tick . . . BOOM! director Lin-Manuel Miranda — a musical theater legend in his own right, with this film marking his feature directorial debut — that when cameras rolled, he'd be ready. 
On the eve of tick, tick . . . BOOM!'s release, Garfield spoke at length to Queue's Krista Smith about his experience bringing Larson to the screen. The late artist's creative zeal and thirst for life not only proved deeply inspiring for the actor, but it also helped him navigate profound personal tragedy.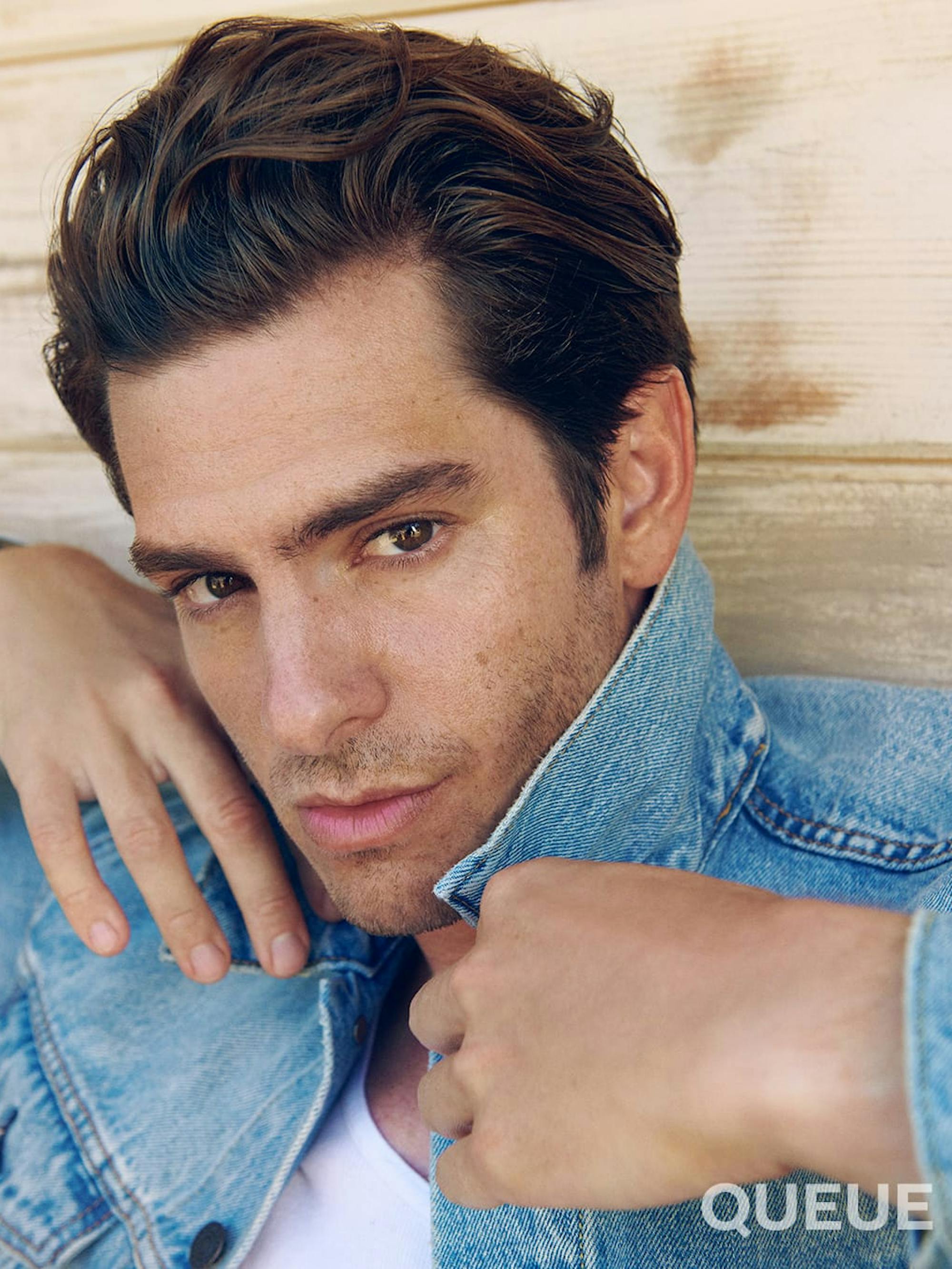 Krista Smith: I can't stop thinking about this film, tick, tick . . . BOOM! Did you always know of Jonathan Larson? Presumably you would have seen Rent at some point?
Andrew Garfield: I had the strange advantage of coming to this project without much baggage, if any, to be honest. Musical theater was not something in my lexicon or my consciousness. I had heard the music from Rent, but had never seen the film or performance. Slowly, I started to develop this very intimate relationship with Jon Larson, at first through Lin-Manuel, and then through my own immersion into his world. I was speaking to his friends, listening to the backlog of his music, and reading anything that I could get my hands on. I think I came to it in a way that wasn't reverent. That might have been an advantage because I didn't feel this tremendous pressure that I might've felt if I'd been a huge Rent-head. It maybe enabled me to love him in a deeper way, in a more realistic way. I got to know the man and not the legend.
Now Jon inhabits a quite large chamber of my heart. He's become a guiding light for me as a revolutionary artist, as someone who was kind of countercultural in his creativity, and as someone who was terrified of the direction the world was going. He was an ecological activist, a gay rights activist, a women's rights activist, and an activist artist. He was also incredibly funny, satirical, deeply affecting, passionate, and always turned up to 11. He had this incredible connection with the creative source and just allowed it to flow through him.
Even though this takes place in the 1990s in New York, and it's centered around what was happening in the world at that time with AIDS exploding and everything that was happening to the younger generation then — it still feels so urgent. This idea of the ticking clock, the artist's integrity, and the question of, What are we doing with our time? How did those ideas resonate with you as an artist?
AG: I think what you said is so spot on. There's no real mystery as to why teenagers in this country, theater kids, want to do two musicals right now — Hamilton and Rent. It's the first time that these young people have taken to the streets to protest, found that activist voice, and found that rage. There's an indignant, righteous anger at a culture and society that is for the few and not for the many. There's a kind of clarion wake-up call in all of Jonathan's work, like you find in Hamilton or In the Heights. So, there's a real lineage between Lin-Manuel and Jon. The urgency of this film, the urgency of Jon's life, the urgency of the need for revolution — it all speaks to the fact that our time here is finite. We get to be the masters of our own destiny. We've got to say "no" to the status quo, to systemic oppression, to things that do not serve the deepest parts of us. I think all these things have been bubbling for a while in our culture. This pandemic combined with the rising awareness of how sick, and broken, and toxic the systems that we're living under are, all of that is colliding. It's devastating. But then you look at someone like Jon Batiste, a great musician who has been taking to the streets on marches. You see what Bo Burnham just did with Inside or what Michaela Coel did with I May Destroy You — they're all in the lineage of Jon Larson. If there is a spirit world, Jon Larson is looking down going, "Yes, yes, yes!"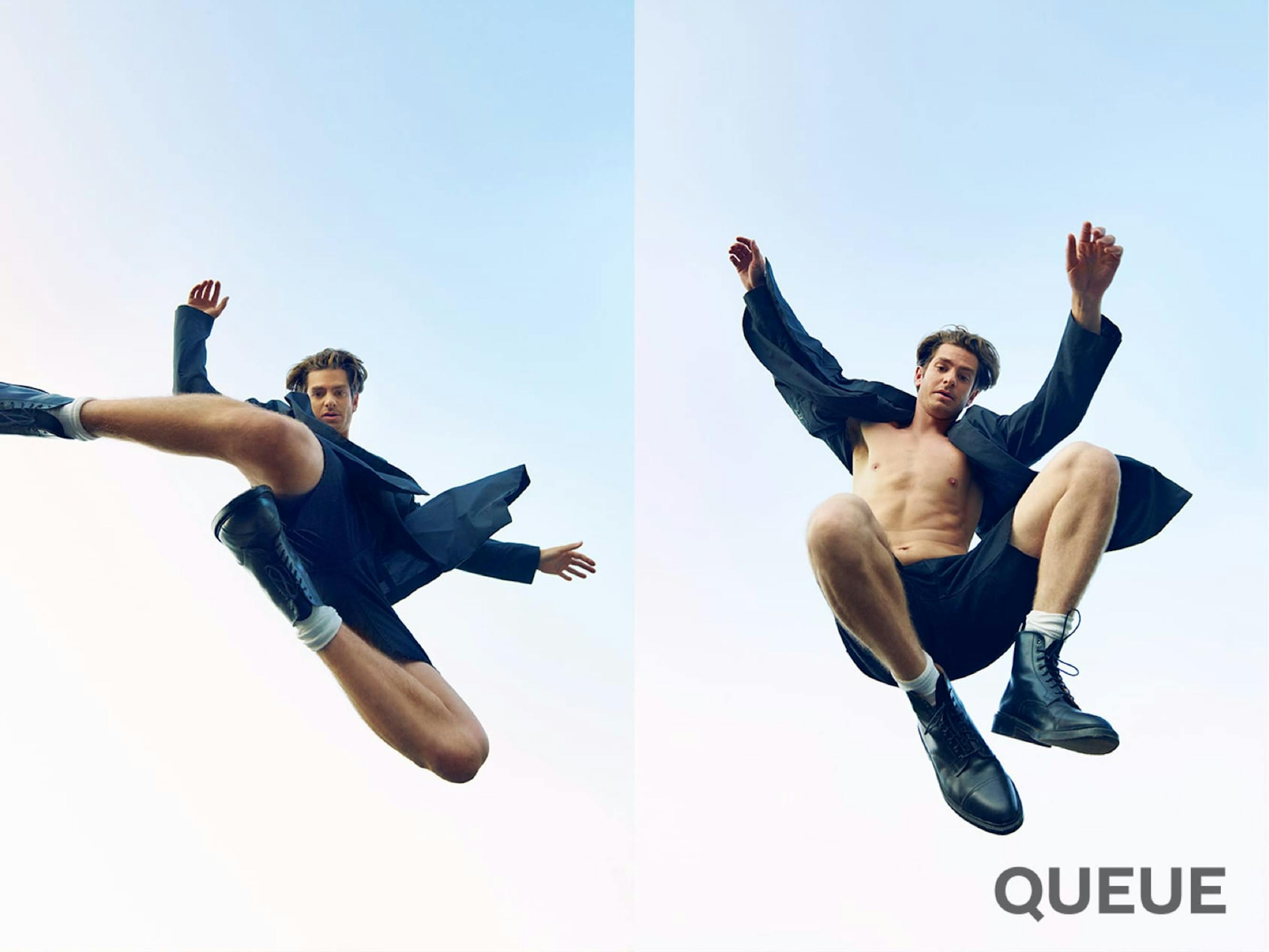 Jacket by Dunhill; Shorts by Levis; Tank by Calvin Klein; Boots by Thom Browne; Socks by Uniqlo
I want to talk about the joy of creating, the joy I had watching Andrew Garfield. Talk to me about the singing and dancing.
AG: The joy is vital. Another aspect of Jonathan Larson as a human being, as far as I understand, was his joy of life, his joy of community, his joy of breaking bread together, his joy of creating together, and his celebration of the miracle of us all being alive, spinning all over the galaxy together. He was tapped into that. He would do these peasant feasts every so often at his little downtown apartment where everyone would bring a dish. He would set up all these rickety tables and chairs and then go and make crêpes on the roof, and dance, and make music. He was a pied piper in that way. 
To be a musical theater performer — the dancing, singing, and the thoroughbred racehorse-shape you have to be in — you use your body, your voice, your soul and your heart, to express what it is to be a human being. As an actor, I've always known that commitment. But then you do musical theater, and it just goes up a level because you get to express with your heart on your sleeve in a way that is beyond naturalism and beyond the ordinary. I absolutely loved it.
My favorite number is the one in the apartment. It's a celebration of the small victories, of friends being together, alive, and having an apartment that was bigger than one room — that was worth an entire musical number. It worked so beautifully.
AG: We had an amazing choreographer, Ryan Heffington, who lots of people know now. He's been doing amazing stuff during lockdown. He's a remarkable artist. He created some beautiful choreography that we got to do. 
I also remember an important moment in rehearsals — it was the first time I met Alex Lacamoire, who's Lin's right-hand and does the composition and arrangement for all of his music. He was working with the actors — Vanessa Hudgens, Joshua Henry, Robin de Jesús — then it came my time to sing. This was about a year before we started shooting, so I was just starting my work. I was at the front, with the other three sitting behind me. I remember getting through a couple of the phrases, and it wasn't good. But everyone behind me was so supportive; they knew they had to make me believe that I could get to where I needed. I had this mix of shame and pure love and joy. Afterwards, I turned to everyone and said, "Hey, I don't want to let this moment pass, but this is my favorite thing I've ever done. I love you guys so much." 
I have a bunch of wind in my sails from these geniuses, and they're not going to let me fail. That proved to be the ethos from then on. I felt it with Lin from the outset. There was this musical theater optimism, a selfless generosity, and an awareness that if you work at it, you'll get it. If you're encouraged, your voice will open up. If you're shamed and criticized, your voice will close down. I could reduce it to that — encouraging you to trust your own instrument.
The urgency of this film, the urgency of Jon's life — it all speaks to the fact that our time here is finite.
People might not realize you were a gymnast when you were younger. Your father was a swim coach. Physical stuff was very much part of your childhood. When you were starting out, you had said there was nothing like the joy you experienced when you completed a backflip. And I feel like I'm hearing you say that making tick, tick . . . BOOM! was like completing that first backflip. Can I really do this? This is impossible. Am I really going to be able to do this? And, Yes, I did it.
AG: I love that as an analogy. Isn't that the gift of getting challenged and finding the next mountain that seems impossible to climb? As I think about it, there definitely have been lots of those moments throughout my career so far — most recently, with Angels in America. You've crawled inch by inch by inch by inch, thinking, Well, there's no way of doing this, then, lo and behold, you're on the peak of the mountain. As I get older, it's harder to find things that I haven't done and get the opportunity to do them. As artists and as human beings, how do we stay on the edge of ourselves, permanently expanding and growing and having our consciousness stretch and our sense of self stretch without those sorts of challenges?
Fear is an intrinsic part of an artist's life. When I talk to actors and filmmakers, it's the fear of, I don't think I can do this, so I have to do it, and, This part scares me, that drives them. How do you deal with fear? What does fear mean to you? How does it manifest for you, Andrew, now at age 37? 
AG: It's a very pertinent question right now for everybody, obviously. Everyone has had such a different experience this last year and a half of reordering the psyche, reordering priorities. Everything changed for me just before COVID, when my mother passed away. She had been sick for a long time with pancreatic cancer. She fought for a year and a half, and then it was her time to go. I've lost people, but there's something else that happens when it's a parent, specifically, your mother. She was someone who had a real lust and longing to live fully. And like all of us, she had her own limitations and fears around whether or not she would allow herself to do that. So, I'm in the rubble of that. It's the worst thing I can imagine going through at this point in my life. So, part of me is saying, in response to your question, "Well, what is there to fear now, if that thing that was the most terrible thing imaginable has now happened?" It's hard to fully accept. But I think it's given me a bit more of an integrated acceptance of living with fear and stepping into the type of fear that says "You have to go there" because that's where you are going to grow. 
I got the privilege of bringing all of that experience that I had lived through with my mother into this project. I got to tell Jon's story and talk about the urgency and the sacredness of life . . . and the shortness of life. I got to sing my mother's song while singing Jonathan's songs, as well as my own song and those of Jonathan's friends. So, tick, tick . . . BOOM! became bigger than I could ever have imagined in terms of a spiritual experience. My mother, Lynn Garfield, is very much in this film in spirit through me and through Jonathan.