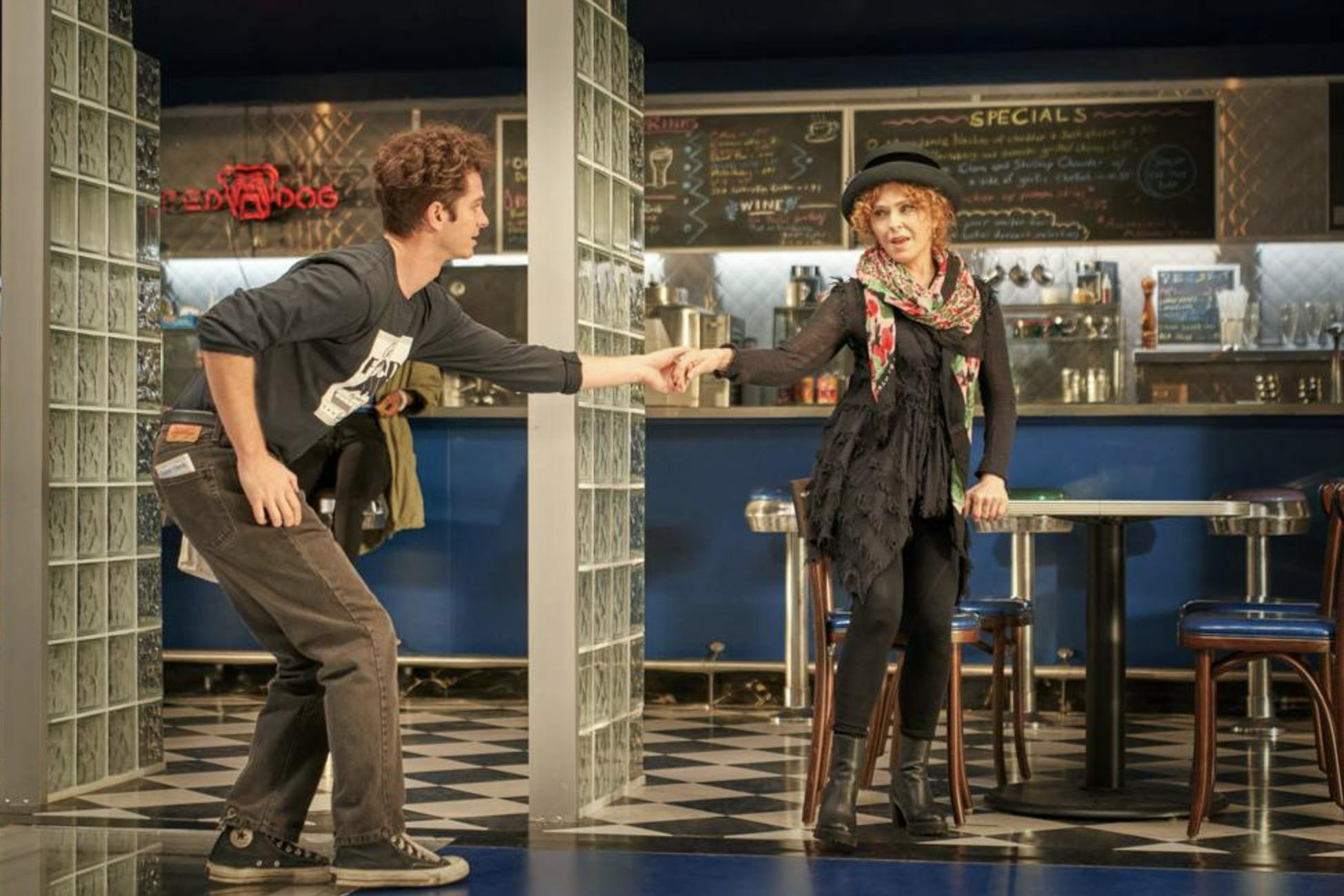 LIN-MANUEL MIRANDA AND BERNADETTE PETERS
The tick, tick . . . BOOM! director and theater legend celebrate Jonathan Larson's legacy.
It was 1997 when a 17-year-old Lin-Manuel Miranda stepped into the Nederlander Theater and saw Jonathan Larson's rock-opera RENT for the first time: His life was never the same. "That's when I went from sort of loving musicals to having the audacity to think I could write one one day," says the creator of In the Heights and Hamilton.
Miranda wasn't the only one who was profoundly affected by RENT. The Pulitzer Prize-winning musical changed the Broadway landscape with its gritty story of struggling Bohemians in 90s New York City and its urgent celebration of love amid the AIDS crisis. Tragically, Larson never got to witness the show's stratospheric success — he died in the early morning hours before RENT's Off Broadway premiere.
When producer Julie Oh presented Miranda with the opportunity to pay tribute to Larson by directing an adaptation of his earlier musical tick, tick . . . BOOM!, he didn't think twice: "I just said, 'Your search is over. I'm the only person who can direct this.'"
The writer and performer — who had played Larson in an Off Broadway production of tick, tick . . . BOOM! — deeply connected with the semi-autobiographical story of a young artist at a crossroads. "I saw tick, tick . . . BOOM! and it felt like a private message in a bottle to me from the person who got me writing musicals in the first place," Miranda says. "It felt like Jonathan saying to me, 'This is harder than you think it's going to be, but it's worth it if you really love it.'" 
To play Larson, Miranda cast Academy Award-nominee Andrew Garfield, who brings the playwright's exuberance and creative charm to the screen in a transformative performance. The film's supporting ensemble features both rising talent and legends from the world of musical theater — including Tony Award-winning icon Bernadette Peters.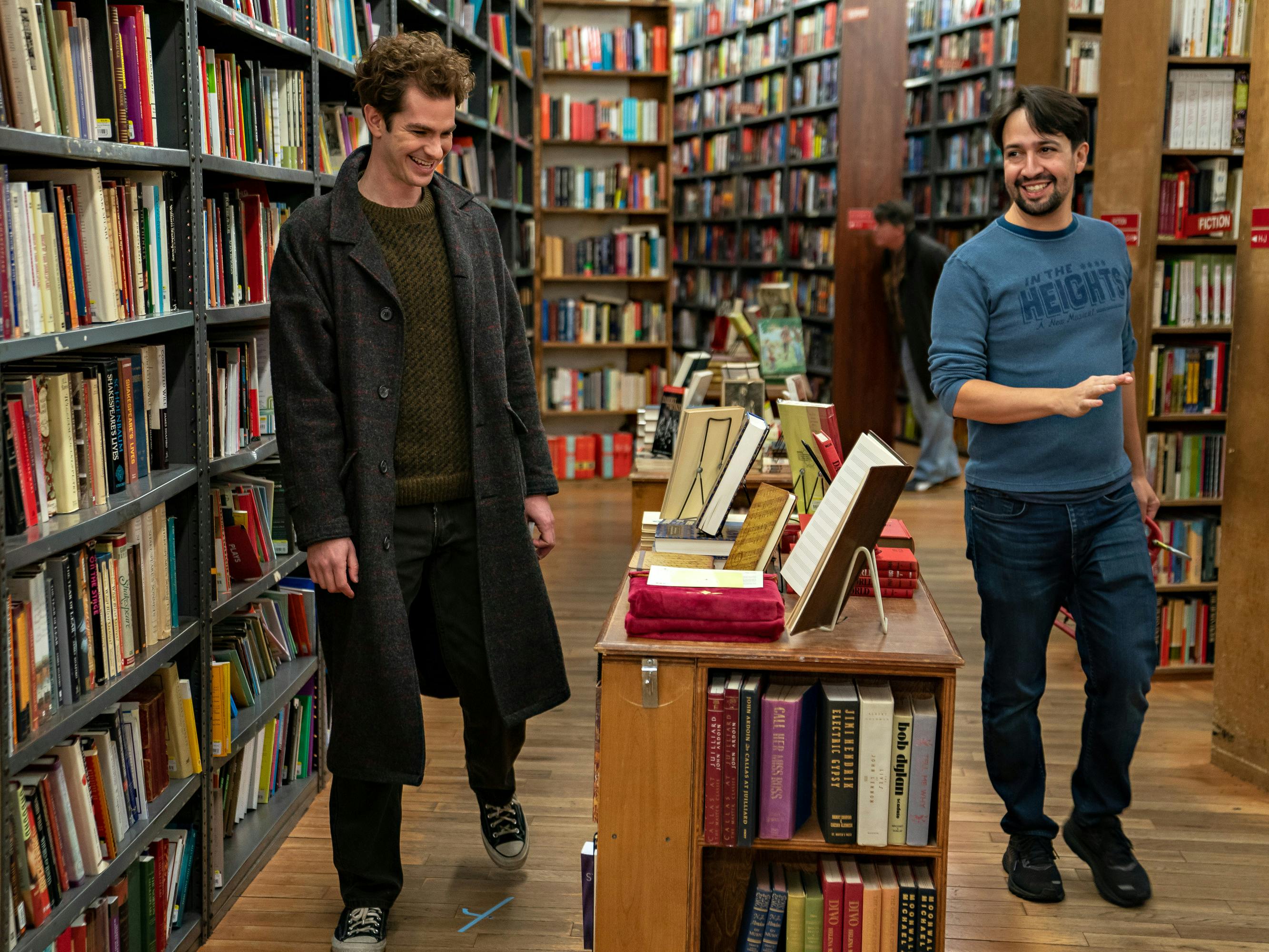 Bernadette Peters: I know this project is so close to your heart. Is it fair to say that when you saw RENT it changed your life?
Lin-Manuel Miranda: It is beyond fair to say that. I loved musicals growing up. I knew I wanted a life working on and making musicals, but I didn't know I was allowed to write one until I saw RENT for my 17th birthday. It was the first really contemporary musical I had seen. It took place just downtown from where I lived. It was about artists trying to figure out how to make a living doing what they loved, and it was the most diverse cast I'd ever seen in a Broadway show. It just made me feel like there was a place for me in this world I loved so much, beyond the school plays I was doing.
BP: This film tells such a relatable story about someone having a dream and having to consider giving up on it. That's an agonizing decision. Have you had an experience like that?
LMM: Absolutely. And I think we all have the experience of that classmate or colleague who you think is the most talented person you've ever seen and then they don't pursue it. And you're the one who is still pursuing this dream while your friends kind of grow up and get "real jobs." You're the one still banging your head against the wall, against impossible odds. 
BP: Here you are, years later, making your directorial debut with tick, tick . . . BOOM! How did this project come to you?
LMM: Every project I've done since Hamilton has been the film school I couldn't afford when I was in college. I worked for Rob Marshall on Mary Poppins Returns. I produced Fosse/Verdon with Tommy Kail, and we made eight mini-movies about two of our greatest artists, Bob Fosse and Gwen Verdon. I got to shadow Jon M. Chu while he was directing In The Heights. That was the grad school I always wanted and never had. When I finished filming Mary Poppins Returns, producer Julie Oh came to me and said, "I have the rights to tick, tick . . . BOOM! Would you ever be interested in directing?" I've never responded to an email so fast in my life. Obviously, I have affection for Jonathan and the way his art changed my life, but also I know something about being a songwriter trying to survive in New York in [your] 20s, and I know something about this world. This project came along right when I needed it, and it's been the guiding focus of the past few years.
BP: Your choice of Andrew Garfield as Jonathan is fabulous. He had never sung before, so he had to learn how to sing and play the piano, and he does it like he's been doing it for years. Why was he your first choice for this role?
LMM: I knew I needed a theater animal to play Jonathan Larson, and I was lucky enough to see Andrew play Prior in Angels in America at the National Theatre in London. To see Andrew at the center of that, with incredible vulnerability and openness, I just thought, That guy can do anything. 
BP: He's so brilliant in this film. And I know that you and screenwriter Steven Levenson worked hard to honor Jonathan's legacy. What was your favorite part of the research process?
LMM: The research process was really joyous because we talked to his friends, his family, his ex-girlfriends, his collaborators, and they all painted a really consistent picture of Jonathan. It was really beautiful — and they knew we weren't going for sainthood in making this movie. Jonathan wrote a semi-autobiographical version of his life when he wrote tick, tick . . . BOOM!, and the fun for us of filling in the gaps, of talking to Ira Weitzman, who fought with him over how many musicians he could have in his readings, or talking to his best friend, or talking to Roger Bart, who sang backup for him when he would perform it as a one man show — and who we have represented by Joshua Henry in the film — that was joyous. The other joyous part was hearing all of this Jonathan Larson music that the world hasn't heard. We went down to the Library of Congress, and I remember thinking, If I do my job right, this movie will say "Score by Jonathan Larson" at the end of the movie. Not just the songs, but every piece of incidental music. There's a scene where you hear a talk radio news theme song: That's a CNN jingle that Jonathan wrote that CNN never bought. So we really tried to use this film as a springboard for all of this Larson music that's been sitting in the archives.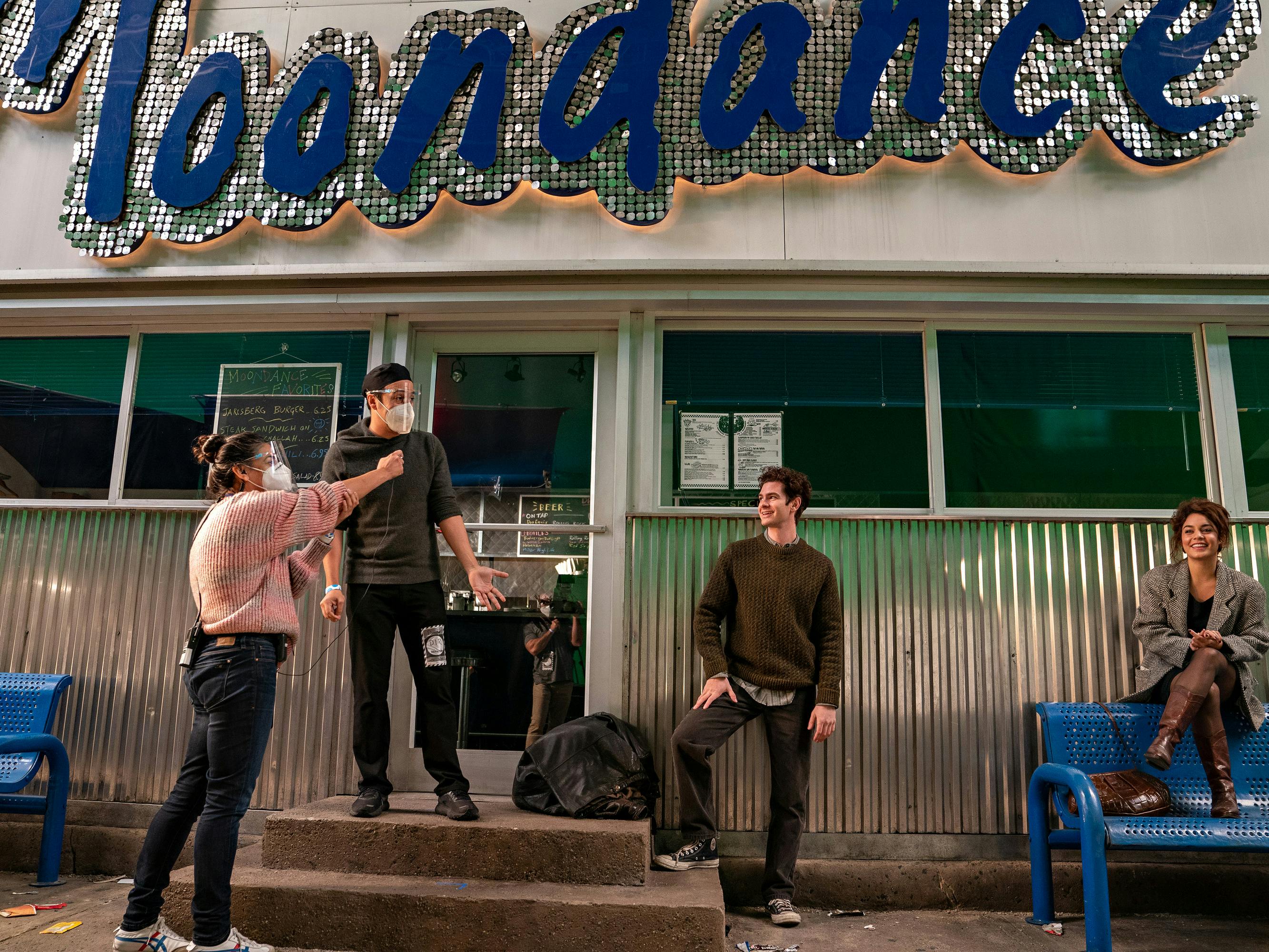 BP: It's so much fun to know that as you see the movie. Which was your favorite scene?
LMM: The scene that I think everyone who watches will think of as their favorite — and certainly is one of mine — is the diner sequence. Jonathan wrote this love letter to Sunday in the Park With George, his own version of "Sunday," where he freezes his most stressful moment, which is Sunday brunch at the Moondance Diner, where he waited tables. For you, Bernadette, to say yes to [appearing in that scene], having been part of the original Sunday in the Park with George, was meaningful. My thinking was that Jonathan only ever heard himself singing this as a one-man band, so let's get the choir of Jonathan Larson's dreams, with you at the center of it, for the film. It was such a thrill to work with these legends in our field who were all so wonderful and generous, extending to even getting Michael Starobin, the original orchestrator of Sunday in the Park with George, to orchestrate that song in our movie. It was really a labor of love.
BP: It's a beautiful sequence and everyone is glowing in it. And I'm sure Jonathan's very happy.