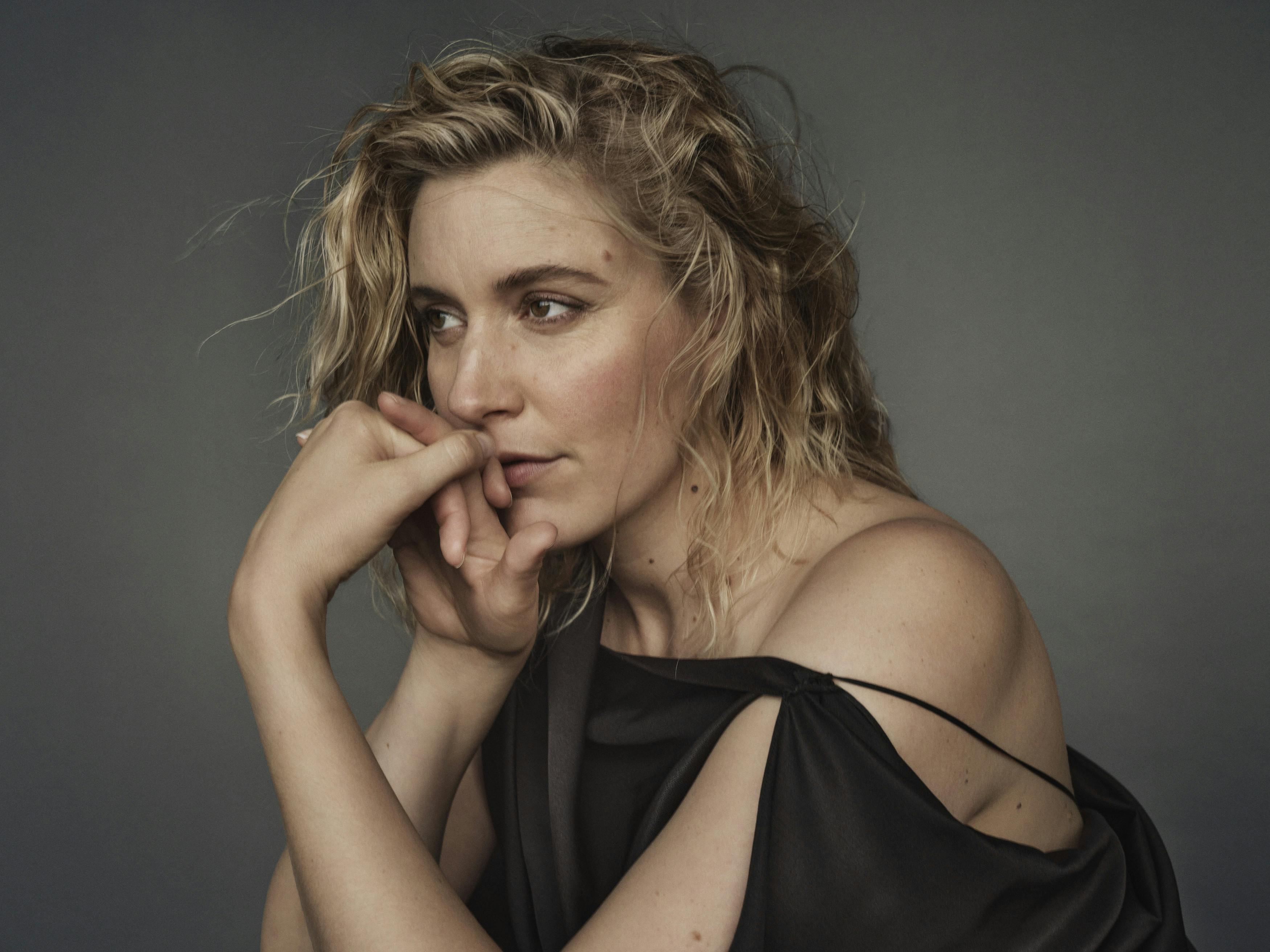 Behind the camera, Greta Gerwig has thrived as a director. With Noah Baumbach's adaptation of White Noise, she returns to acting.
The last time Greta Gerwig was working in front of the camera was six years ago when she starred alongside Annette Bening and Elle Fanning in Mike Mills's Oscar-nominated coming-of-age tale 20th Century Women. So, when Gerwig makes her entrance in White Noise, writer-director Noah Baumbach's inventive adaptation of Don DeLillo's modern literary classic, it feels especially exhilarating — we're just so glad she's back.

The heady, wildly ambitious 1980s-set disaster comedy about toxic consumer culture and existential terror features Gerwig as Babette, the frazzled, amiable wife to Adam Driver's midwestern college professor Jack Gladney. Babette is struggling with profound anxiety long before a noxious cloud of chemicals known as the Airborne Toxic Event descends on their town, forcing the couple and their blended family from their suburban Ohio home. In her sweatpants and spiral perm, Babette attempts to cope with an overwhelming fear of death by zoning out on a mysterious, unapproved drug called Dylar.

Gerwig's clearly a natural, yet she says the performance required coming to terms with anxieties of her own. "Acting, you feel like you've opened your chest, and all of a sudden, your heart is just beating out for everyone [to see]," Gerwig says. "And that's a quite uniquely terrifying experience, which I hadn't had for a while. Doing it with Noah, that's the best version of it. So, it was a good return, even though this is terrifying."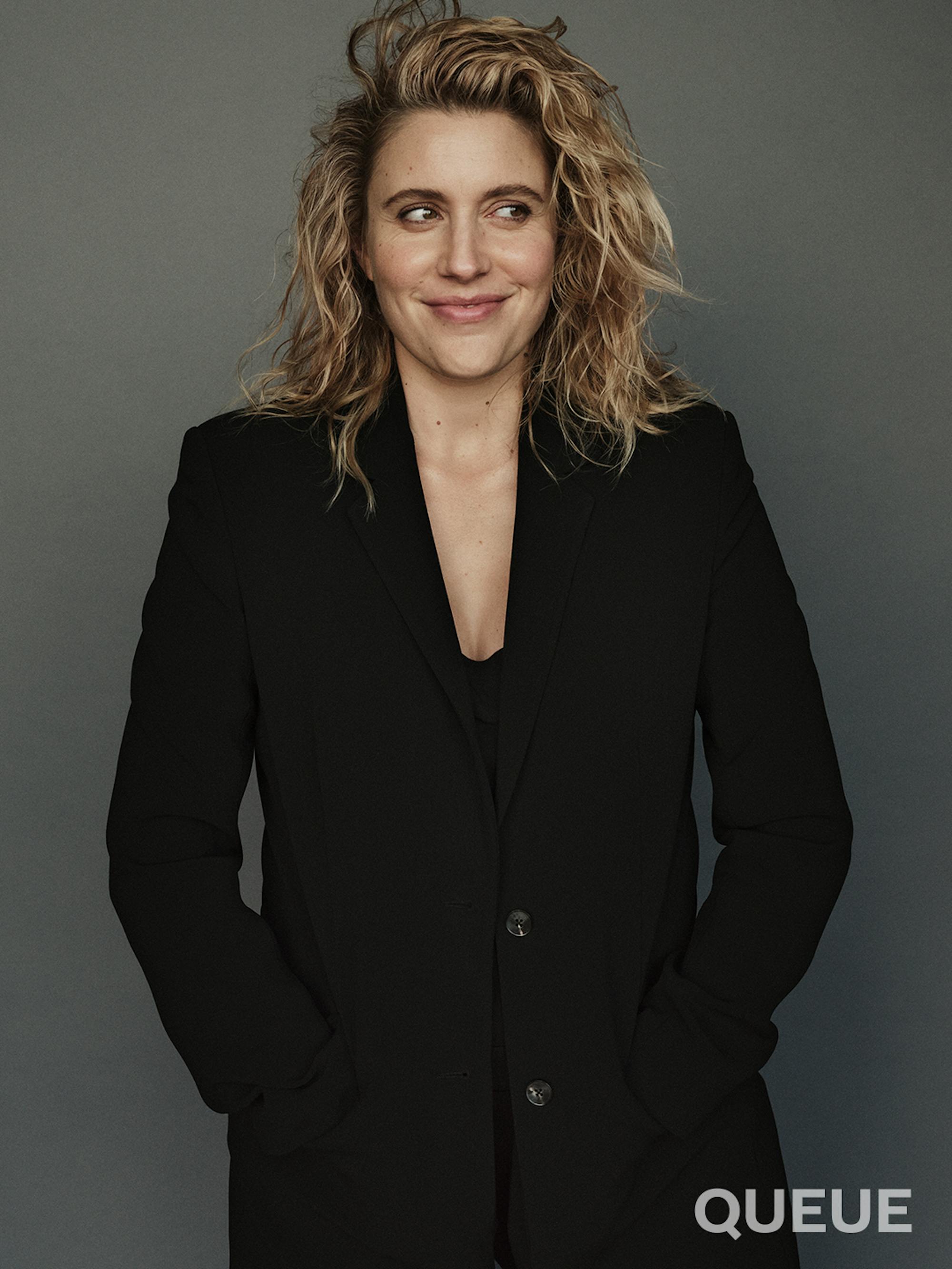 Together, Gerwig and Baumbach have developed a creative shorthand stretching back to 2010 and the release of writer-director Baumbach's unconventional romantic drama Greenberg. The film stars Ben Stiller as a depressed Angeleno who returns to the West Coast from New York where he falls for his brother's personal assistant, Florence, played by Gerwig.

It was a breakout role for the young actor, who earned raves as the daffy, delightful character. Greenberg followed on the heels of her naturalistic performances in acclaimed, micro-budget features like 2007's Hannah Takes the Stairs and 2008's Baghead, and elevated Gerwig as an indie film darling. Subsequent collaborations with Baumbach followed (see sidebar). [Editor's note:In 2019, Baumbach and Gerwig welcomed their first child.] 

In recent years, Gerwig has distinguished herself as a gifted writer-director with 2017's Oscar-nominated Lady Bird, and 2019's Oscar-winning Little Women, based on the landmark novel by Louisa May Alcott. Next, Gerwig is directing the fuchsia fantasia Barbie, starring Margot Robbie as the iconic blonde and Ryan Gosling as her beau Ken, from a script she co-penned with Baumbach. "Directing is vulnerable, of course," Gerwig says. "But it's funny. In the moment, you have a machine in front of you, so you can feel kind of safe in the machine of it."

An edited version of the conversation follows.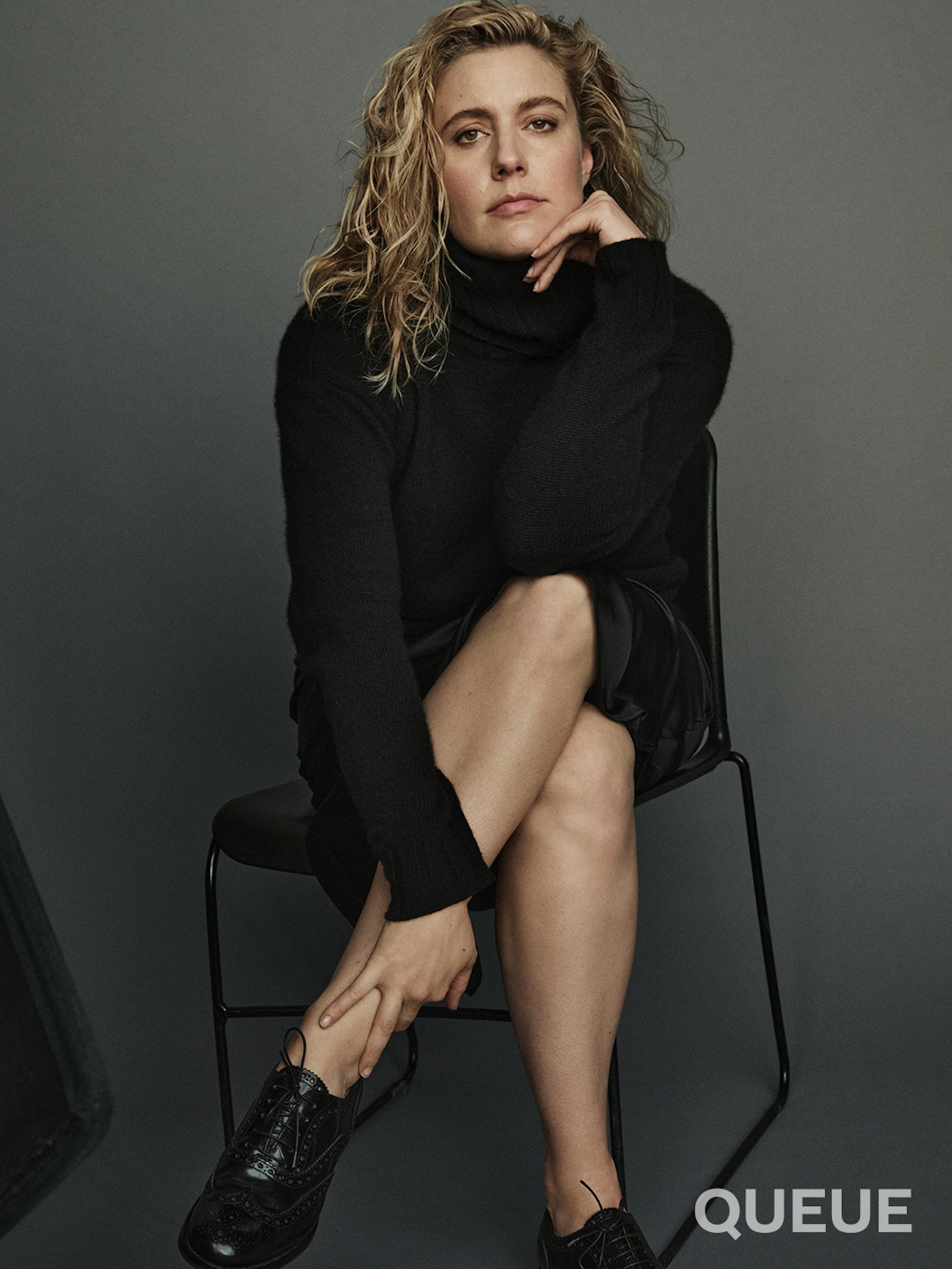 Krista Smith: I responded to this film on many levels, which I think is the point of the film. When did you first read this novel?
Greta Gerwig: I'd read it the summer after my freshman year of college. It was one of those books that always felt mysterious and grown-up. I remember I would underline things on every single page because I thought it was so funny and so wicked and so true about the world. There was something about the heightened absurdity of academia in it that was perfect for me because I was at Barnard College at Columbia. I was suddenly around all this heightened academia, which I'd never been around before. So Don DeLillo, both glorying in the ridiculousness of it and making fun of it and celebrating it all at the same time, was perfect for where I was. Like any great work of literature, if you read it at any time, it feels like it's talking about right then. And that's what I felt because I had just moved to New York City in 2002 after 9/11 and the disorientation of mass destruction and tragedy — it felt like it was being answered in this heightened, Brechtian way in this novel.

What stuck with you over time?
GG: There were specific lines that stuck with me. It's in the film, but the line, We feel that California deserves the natural disasters it gets because they invented the concept of lifestyle. I think, being from California, that was [particularly resonant]. The idea of the most photographed barn in America was so absurd and wonderful. What does it even mean to go look at the most photographed barn in America? It's so chock-full of things.
We spend so much of our lives trying to pretend that chaos doesn't exist, and then it comes for you, one way or another.
The fact that Noah was able to adapt Don DeLillo's novel White Noise is just incredible. Obviously, he's been working on it and thinking on it, and there's this fantastic character in Babette. Do you raise your hand, basically, and say, I want to play Babette? 
GG: Well, yes. He had started writing it in earnest when we were in lockdown in New York for the pandemic. I was so excited about him adapting it, and then he said, "Well, who should play Babette?" And I said, "Me." But I think I really only said it because everything felt unlikely. It felt unlikely that we'd ever even leave the apartment again with ease. It felt like a safe thing to say. Then that thing that felt safe to say because it was fantasy became reality because Noah continued to write it. 

Then at one point, I met with Adam Driver and Noah. We all sat together and read the script out loud. That's when it was really like, Oh, my God. I think I would really do this. I loved Babette. I had an instant picture of her in my mind. I knew exactly what I wanted her to look like — her hair, the glasses, the way she dressed, the way she was, everything. And then, I just had this sense that Noah was playing with cinematic tropes and different cinema genres — whether it was disaster movies, family movies, sci-fi movies, all these different things — he was playing with the iconography of that cinema. Babette fell into the iconography of the 1980s film mom, like Teri Garr in Close Encounters [of the Third Kind]. She's always in a tizzy about something, and then underneath it, she's sleeping with this strange German man for pills. Something about deconstructing the archetypal mother that we've seen in movies was fantastic.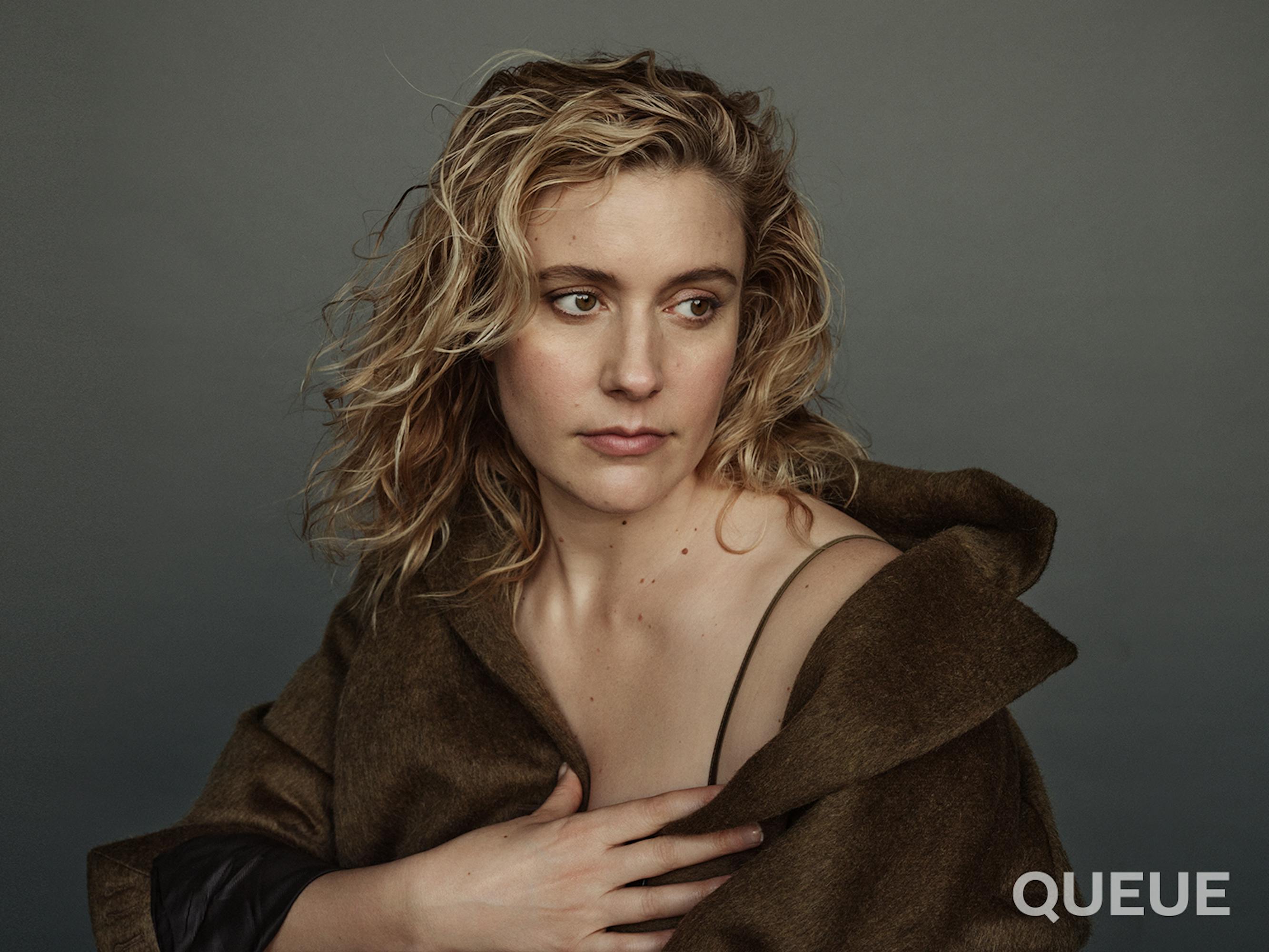 The perm is unbelievable. It immediately sets you into this character and time and place. And the sweats. But what you said is so true; it feels so prescient. When I watch White Noise, I'm like, Oh my God. This is everything I'm thinking about — death, life, religion, children, all of it. It is so interesting to me that something that was written in the 80s feels like it could have been written during the pandemic.
GG: I guess chaos is always close at hand. That is one of the things that Don DeLillo is homing in on. That there are these moments, whether it's an airborne toxic event or a pandemic, where the chaos that's just behind the order pokes through, and you have to reorient yourself. We spend so much of our lives trying to pretend that chaos doesn't exist, and then it comes for you, one way or another. One thing that was wonderful about the character, though, and about the relationships in the movie, is that in the midst of this destruction and this chaos, it is a comedy of re-marriage. They find each other again. They don't find each other through it all being perfect. They find each other after the toxic cloud and after revelations of infidelity and pill-popping and everything. It's hopeful in its absurdity. Adam's last line in the movie, which he says as they're walking into the grocery store, is "Out of a sense of large-scale ruin, we keep inventing hope." I think it both relishes in the absurdity of human beings and also is totally delighted by our absurdity.

So, Adam: The two of you worked together in Frances Ha, one of my favorite films of yours, and now you're reunited. Obviously, this relationship between Babette and Jack is at the core of the film. Were the stakes so much higher than they were on earlier collaborations? Not to mention that you're already stepping into a formed relationship between Noah and Adam as director and actor, with White Noise being their fifth film together.
GG: It's true. To be honest, my relationship with Adam, it's so long. We've known each other since we were 21, 22 because he was at Juilliard at the same time that I was at Barnard Columbia. I've never not known him in the sense that we came up at exactly the same time. I remember when we started rehearsals for White Noise, I said, "Adam, did you ever think that I would be the person you'd still know?" And he was like, "No. Only you're in this movie." And then, of course, Noah and he had such a body of work together. Even though Noah and I are partners, it was intimidating because they have an artistic marriage of a kind. Suddenly, I'm stepping in as another dimension of that. It's an interesting question because I did feel that they have some sacred, separate bond that I was both part of and not part of. It was something where we had to re-figure out the gravity of everything and see how it all fit together. They have their own secret language and world, Adam and Noah. They're in their own artistic cocoon together.
How much has changed from your first impression of auditioning for Greenberg to where you are now with Noah as a creator?
GG: In a funny way, so much of it is the same. I remember when I first read Greenberg, I knew I was going to love it. It was this overwhelming feeling because I felt like I could have written it on some level. I had this deep sense of, I know exactly how this should be played. I could just hear the language. I guess because of my background in theater and whatever, how I'm wired, the rhythm of language is really important. I remember reading Greenberg, and I was like, That's it. That sort of accidental, awkward poetry of how much people hide themselves in language. And I still feel that way. When I read one of Noah's scripts, my first feeling is envy.

It feels like something I didn't do but maybe could have done. I think as we've evolved, it's always changing. But the thing that's remained constant in our writing — we've done Frances Ha together and Mistress America together, and we wrote Barbie together — is there's always a dialogue going on about each other's work. But when we work together on something that's both of ours, it creates a third thing. I've never written a song with [another] person, but I imagine that's what it feels like for songwriting duos. You slip into a way of being that's only really available to you with that one other person.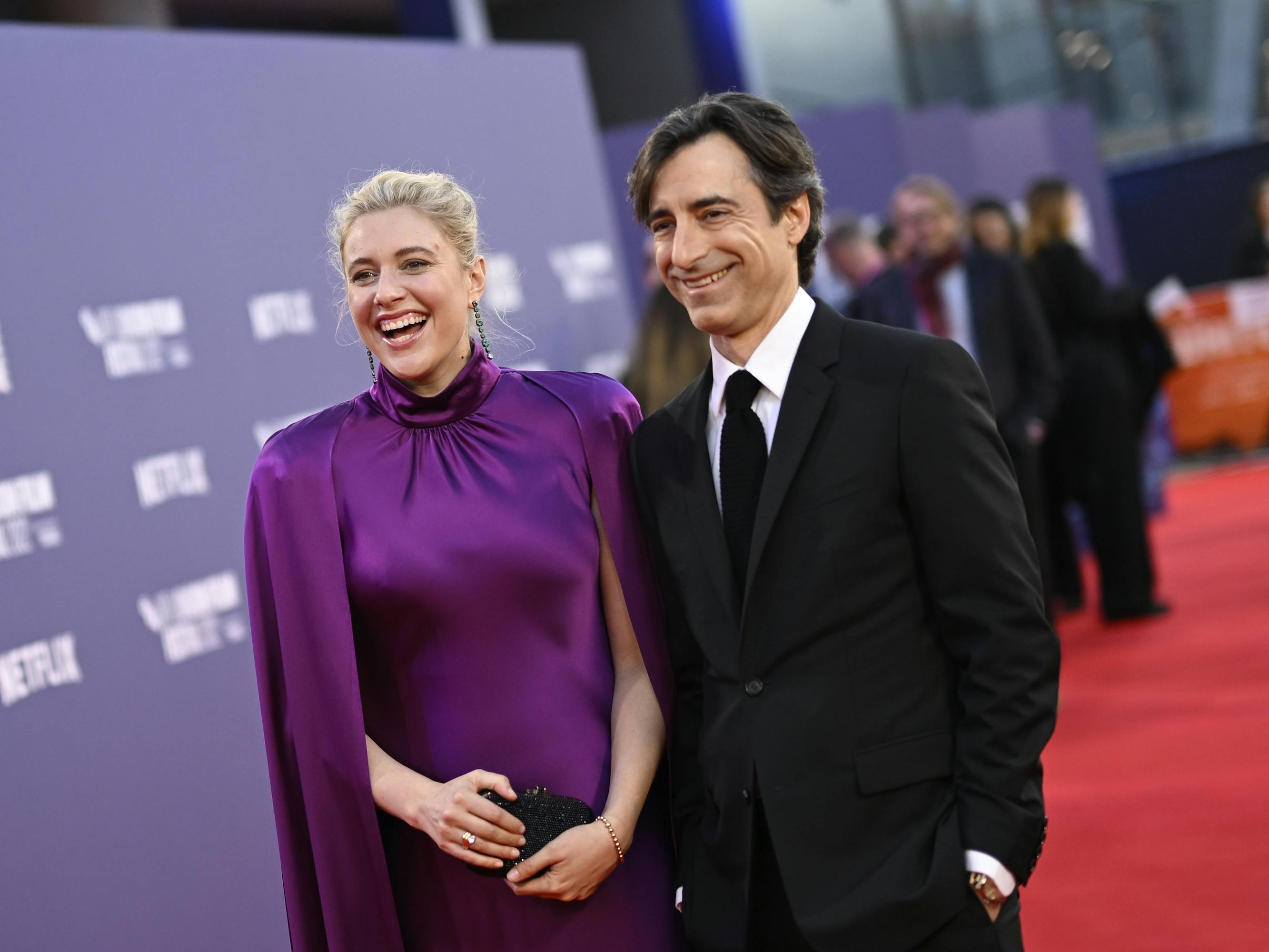 An Oeuvre of Their Own:

Together, Greta Gerwig and Noah Baumbach have fashioned a shared cinematic language — cerebral, insightful, and dry — creating singular films that thrum with their own unique rhythms.
Greenberg (2010)
Baumbach centered his sixth feature on a disaffected 40-year-old man (Ben Stiller) in the throes of a midlife crisis who encounters a 25-year-old woman (Gerwig) as free-spirited and bright as he is tightly-wound and cynical. Thanks to an astonishing, effervescent performance, Gerwig's work in the film not only put her on the mainstream map after her early indie days, it also paved the way for the couple's ongoing artistic partnership.
Frances Ha (2012)
Gerwig again channels her irrepressible charm into the title role of a New York twentysomething working at a dance studio who finds herself unmoored from life yet makes every effort to embrace joy. As an actor, Gerwig demonstrates that her facility with physical comedy is equal to her dramatic skill, not to mention her way with an expertly penned line of dialogue. Notably, those lines come courtesy of a screenplay she herself wrote with the film director's Baumbach, their first behind-the-camera collaboration.
Mistress America (2015)
The duo's subsequent New York-set screenplay cast Gerwig as would-be restaurateur Brooke who befriends her soon-to-be-stepsister, Tracy (Lola Kirke), who is having trouble adjusting to life at Barnard (Gerwig's real-world alma mater). Although Tracy becomes enthralled with Brooke, assuming her to be the apotheosis of Manhattan chic — despite her Times Square address — she soon realizes that Brooke's far less pulled-together and accomplished than her outwardly brash persona might suggest.
White Noise (2022)
For his most ambitious film to date, writer-director Baumbach cast Gerwig as Babette, wife of Adam Driver's neurotic college professor Jack, in his adaptation of Don DeLillo's quintessential postmodern novel, a book long considered challenging to adapt in Hollywood circles. As the loving, deeply fallible matriarch of a large blended family, Gerwig's Babette serves as the story's vibrant, beating heart.