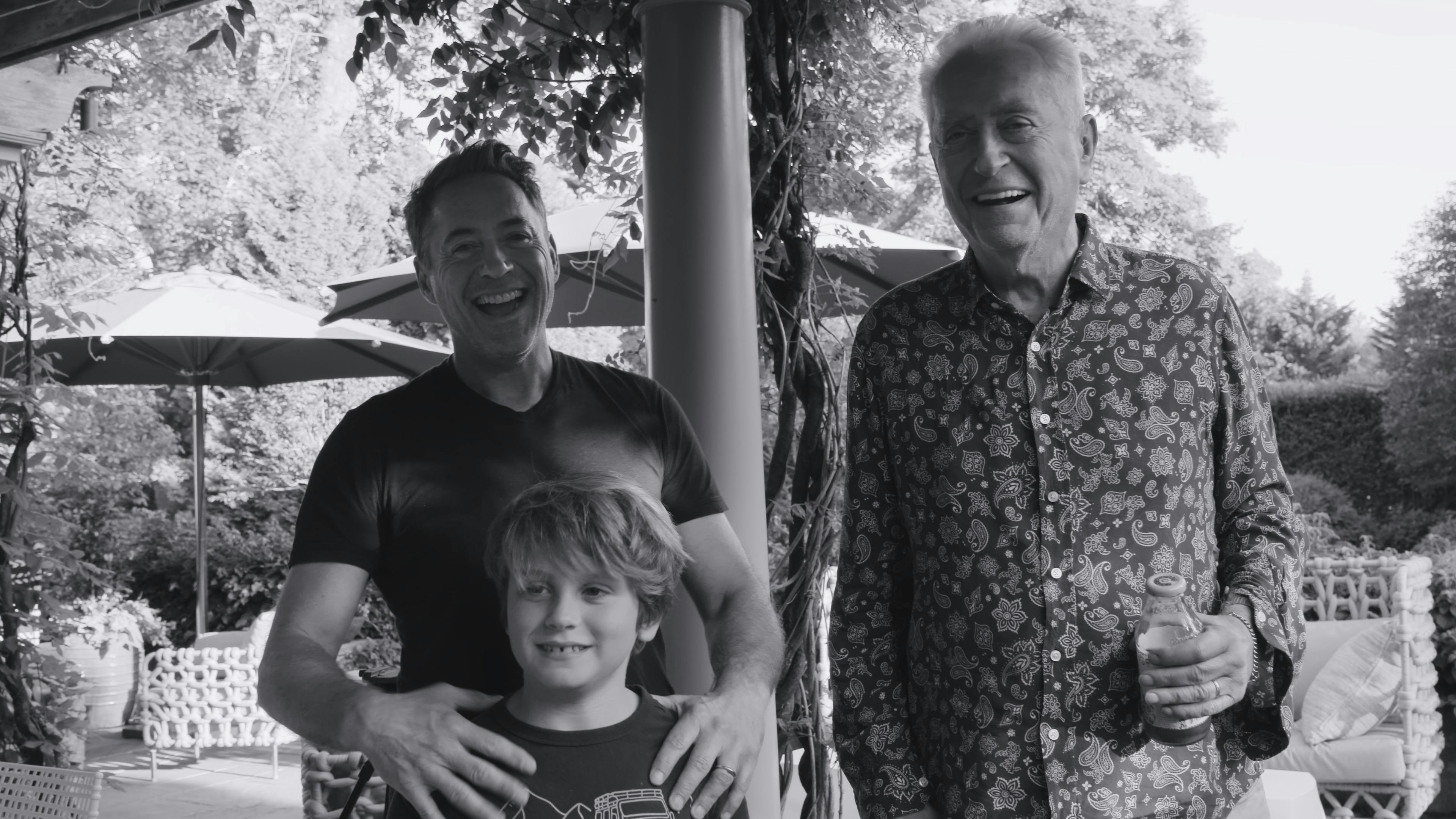 "Everything turns into everything, sooner or later," says Robert Downey Sr. in "Sr.", the black-and-white documentary celebrating the avant-garde director's life and legacy. "Things will turn into something else, which turns into something else." Downey Sr. is giving advice about filmmaking in general, but also aptly describing the film in progress, one where he regularly asserts himself as director, disrupting any linear narrative, and charming everyone involved with his irreverence. 

Not that this is unusual; Downey Sr.'s films, like 1969's Putney Swope and 1972's Greaser's Palace evade easy definition, swirling somewhere between satire, absurdity, and obscenity in a mad, artistic whirlpool. Pushing away commercial success and producing most of his films on a shoestring budget, Downey Sr. is a director's director, inspiring the likes of Paul Thomas Anderson (Boogie Nights) and earning a spot in the Library of Congress's exclusive National Film Registry with Putney Swope. Another perhaps obvious legacy of Downey Sr.'s is his son, two-time Oscar-nominee Robert Downey Jr., who made his acting debut playing a puppy in his father's film Pound before transitioning into successful teen films like Weird Science, hit series like Ally McBeal, and later superhero stardom as Marvel's Iron Man, Tony Stark. 

Before becoming a director, Downey Sr. led a storied life, enrolling in the army with the last name Downey — believing he'd fare better with his stepfather's Irish last name rather than his own Jewish surname, Elias — and spending much of his military service in the stockade for bad behavior. It was there that he began writing, which eventually led to directing. "Sr." is directed by Chris Smith (American Movie), but features entertaining backseat directing by Downey Sr., and cinematography, editing, and producing by Kevin Ford (The Pathway). Together, the filmmakers unearth clips from the director's archives and follow Downey Sr. through his twilight years, chronicling his relationships with his family and his worsening Parkinson's Disease, up until the director's 2021 passing.

"Sr." is an admixture of a documentary about a director with the director's own singular vision, escaping genre, like much of his oeuvre, but coming together in a uniquely magical way that elevates quotidian scenes to high art. Smith indulges the legendary director's artistic whims: At one point, the camera lingers on a motorcycle club passing along the boardwalk of Rockaway Beach simply because Downey Sr. finds them fascinating. Downey Jr. (or Robert as he's also referred to) whips out the lederhosen to perform a German song his father loved. 

Following an intimate screening of the film in Los Angeles, producers Downey Jr. and Susan Downey, his wife, along with Smith and Ford, joined film critic Pete Hammond for a conversation about their remarkable documentary and its beloved subject.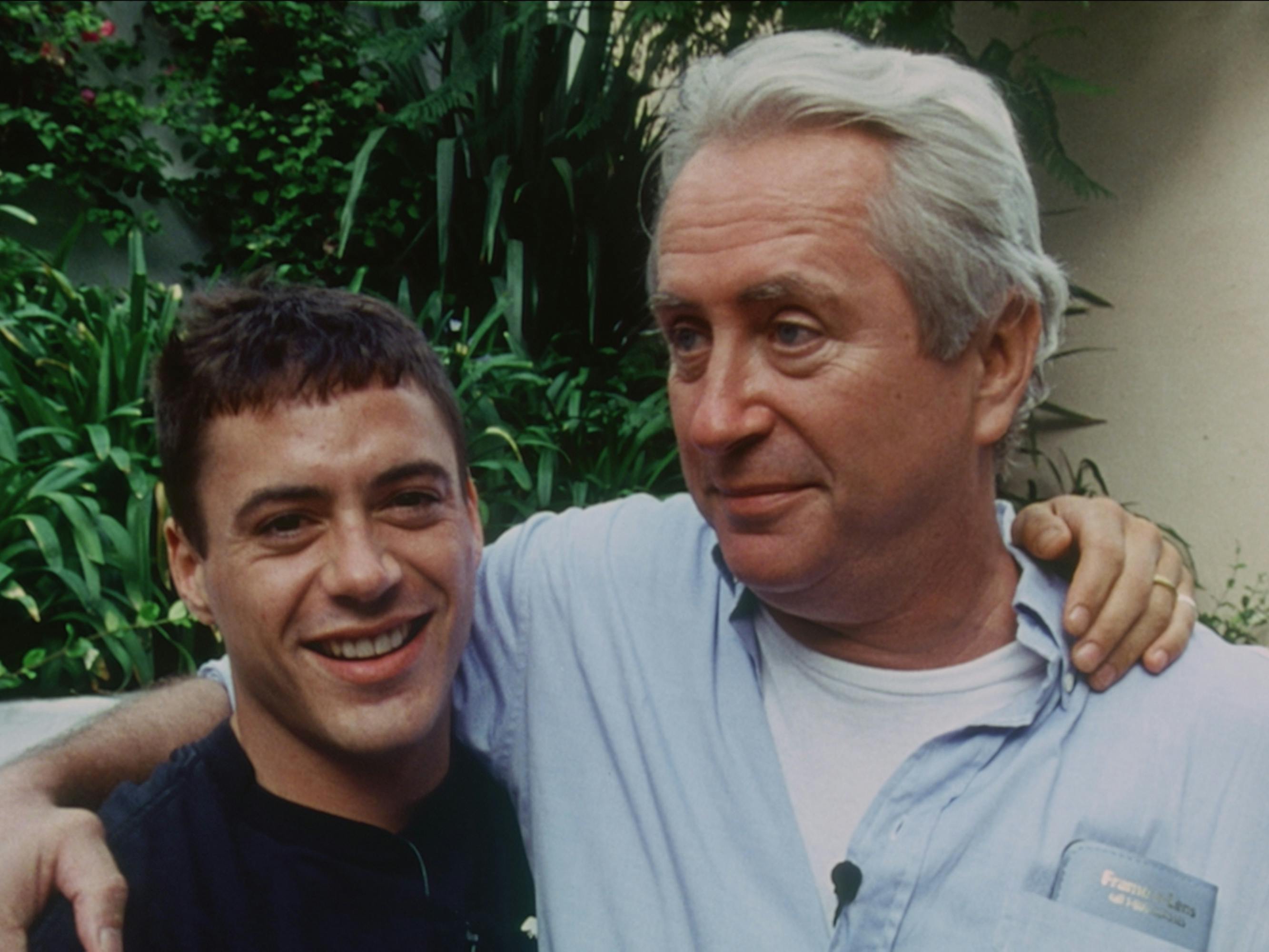 Pete Hammond: The last time I saw you all was at the Telluride Film Festival, where this [documentary] had its world premiere. Robert, what was it like to finally see it in front of an audience?
Robert Downey Jr.: It's funny the docs that play well for an audience and this one definitely does. It feels nice to get that validation and really feel people relating to it. It ceases to be about the subject matter and becomes this touchstone. I think what we've all been super pleased with is that this just works on an experiential level.

Susan Downey: We didn't even know what the film was going to be. Is anyone going to give a shit beyond us? And we watched and we were like, Wow, this is a really interesting portrait of an artist that's inspiring; [it shows] the way that Sr. sees the world. 

Downey Jr.: It's crazy because my dad took me to Telluride with this movie called Two Tons of Turquoise to Taos Tonight, I think, in 1975. So, it was like this 45-year circle for us going back there. And then that night, it was just really crazy. I see this guy sitting in front of me and he's tearing up, and I was just looking around going, Wow.
Tell me how this came about. This is maybe the most personal film you've been involved in, I would think, in your career.
Downey Jr.: Susan and I are pretty close, and the crazy thing is Kevin and I worked together before and we've been looking for something to do with Chris. And I won't go into the storied, incongruent background of this, but pretty much right away, my dad's like, Let's do this other project [compiling clips of his films, directing scenes]. There was a certain point where Susan was like, What have you done? How are we going to wrangle this? Because she's a sequential thinker and . . .

Downey: You say it like it's a bad thing. We were huge fans of Chris's and he had some interest in doing something on Robert [Jr.]. Robert had no interest in doing something on himself, but he did have an interest in doing something on his dad. We didn't know what it was going to be, and I didn't know if this was just some folly that we were entertaining for his dad, or if this was Robert really trying to figure out something, or if it was going to be about something bigger. The truth is, it was all of those things because when we set out to make it, and even when we had early internal screenings, Sr. was still mobile and there was no thought that this was going to land where it did. So, it was one of the most evolutionary organic processes that we've certainly ever been a part of. And as Chris always recognizes, Sr. is the one who guided us through it in terms of just following the film and seeing what happens. 

Chris, what's amazing here is there are two directors on this movie. You have the credit here, but you are also dealing with an amazing director, who's also directing it in his own way.
Chris Smith: Well, you had to let yourself go. With documentaries, part of the fun is that it is an organic process that you can't control. You look at an interview frame and you obsess about things being right, and I think Sr. really hammered home the idea that none of that matters. When we were shooting in the theater and the siren was going, anyone would wait for the siren to go by [before continuing]. But he was like, Oh it's great, it's part of it. And now, when I'll be shooting stuff, the sun will move and light will come in. And I used to be like, let's stop and address that. And now I'm like, We can let that go. Maybe that's actually more real or relatable. There are a lot of things that I took away from this that made the whole process of filmmaking a lot more enjoyable because it wasn't so rigid.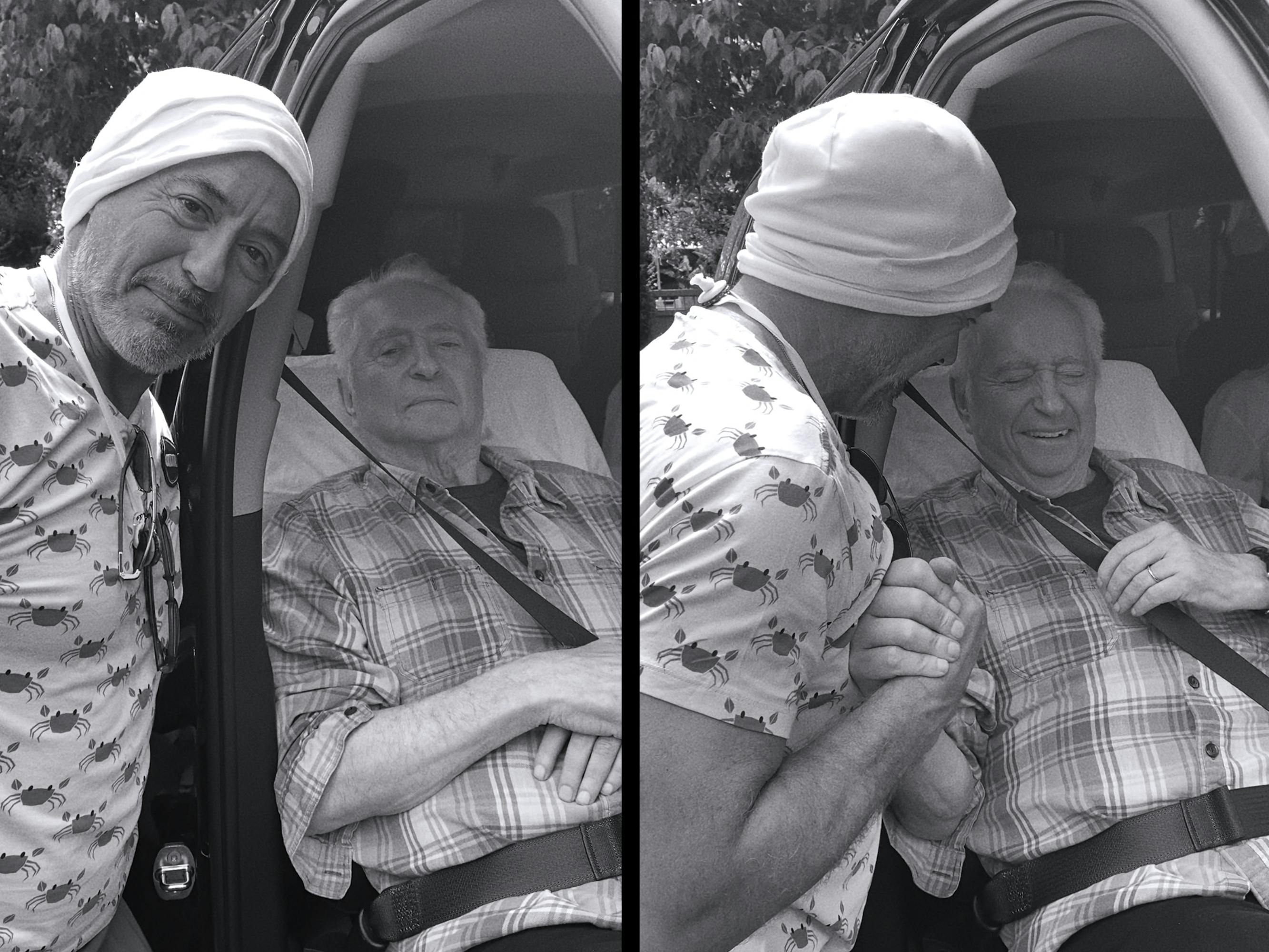 Kevin, I love the fact that it's in black and white. The very first thing I ever saw of Robert Downey Sr. was, as probably for most people, Putney Swope. And I said, "This is being shot in that spirit." 
Kevin Ford: So, on the first day of filming, when Chris and I were up there with Sr., we sat him down and we said, Do you trust us? He said, No. And there was just silence in the room, kind of awkward. And he goes, But if Robert sent you guys, I guess you're okay. Let's see what happens. So, we wanted to meet Sr. halfway, wanted to earn that trust. And so, when we were reviewing the footage, we just flipped it over to black and white and suddenly it felt like we were entering his world a little bit.

You were also the editor here. So was he. It's like he's made his latest film here. This was not only a wonderful way to introduce people to him that don't know Robert Downey Sr., but also part of his filmography.
Ford: Definitely. You see Sr. working on his own project. Just for clarity, his project really was just a collage of his whole entire cinematic history. It was all of his stuff. So, he wanted to sit there and go through every single movie that he had ever made and pull out highlights and clips and then find ways to intercut that with outtakes from our documentary. He looked for things that we were throwing on the editing room floor, and if any of us had thrown something out, he was all the more eager to look at it, including additional stuff of [Robert's] German song. 

Downey Jr.: There's a 40-minute cut of that song.

I love that it's generational. Your father, your children, including Exton. It's very touching to watch that and to have your son repeating lines that you did [in Pound].
Downey Jr.: It's the highest honor. When I was coming up in the 80s, everybody would come at me with Downey Sr. lines and there's a whole subculture of that. Exton wanted to be part of this, and we wanted to be careful and not exploitative, but man, this kid really delivers in act three. Exton's 10 now, he was eight or nine when we shot that. And when he's grown up he's going to have this document of himself and it's just this great thing. We used to have family albums and now we have, in this case, a very odd documentary.
But I think making anybody tell their story is a way of processing wherever you're at because it's always in the context of the beginning and an end, just like any good movie, like any good story.
You talk about people tearing up at that screening. There was that, but there was so much laughter. I know Robert Downey Sr. and some of his films, but I did not know all those shorts and I was laughing hysterically. One thing this will do is introduce whole generations to his previous work.
Downey: You brought up a good point, which is the laughter. That was something that is a real message from Sr. to everyone. It's part of the message that we discovered when we threw in that bit from Greaser's Palace at the end before the credits start. And you see it when he appreciates the absurdity of the German song. The thing that he's handed down, other than the observational quality and picking up on all the little things in life that add up to the big things, is to find laughter every day. And that was something that was important when Robert was growing up and it's something that has been brought into our household and we hope that people take that from the film and bring it into theirs.

The idea of side-by-side conversations with your father, that was the right way to go. It was really an interesting technique and it was fun to watch. Can you talk about how you came up with that?
Downey Jr.: I just still had some questions [for him]. But I really just found out one thing, which was when he was in the clink, some guy in the Army stockade told them to start writing. There were a couple ahas there. But I think making anybody tell their story is a way of processing wherever you're at because it's always in the context of the beginning and an end, just like any good movie, like any good story. 

Ford: I'll choose my words carefully because I'm speaking about Robert, but his dad loved him so much and that this team created an opportunity to fill his life with cinema to the very end was everything. And his dad knew that that's what was going on. And sure, there were dueling cuts and all this nonsense. But really what was going on was when he was watching the German song or when he was making the edit: his life was filled with joy in a time when he was declining. It was a tough time. There was a lot of medical stuff going on. And it just gave me the perspective of being a part of our team, of just thinking, I hope that I love something that much that I'm holding on to that life till the very, very last second. And he said, We got to hurry because my window's closing, in one of those final edit sessions. So, the fact that we actually got to a point where Sr. called his project done gave us permission to finally close up our own shop as a team.