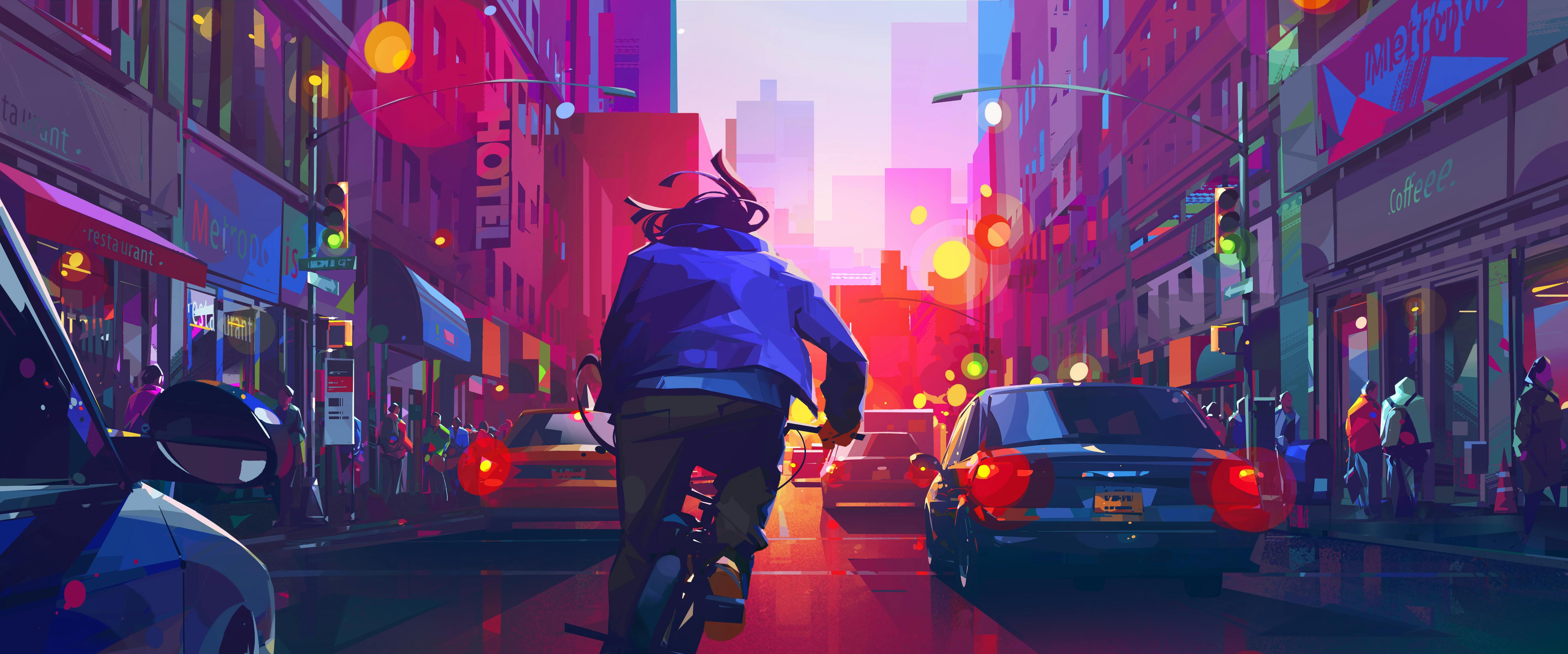 When Scott "Kid Cudi" Mescudi and executive producer Kenya Barris began discussing Entergalactic, naturally Mescudi — a Grammy-winning musician and producer — played Barris a song. "When I was coming up with the concept of this show, I was like, Yo, I want a song that truly embodies the tone, and 'Enter Galactic' from [my album] Man on the Moon is a love song. It's simply about me meeting this girl that I like and doing shrooms for the first time." Barris understood the vision: "That was the first song I heard and I was like, Oh shit, I get it. This is a Black love story."
Entergalactic, at its core, is a rom-com, hitting all the beats of the genre — the meet-cute, the will-they-won't-they back and forth, and a New York City that is as much of a character as it is a backdrop. The story centers on Jabari (voiced by Mescudi), an artist and illustrator who has made a name for himself via Mr. Rager, a character he has painted all over the city, and Meadow (voiced by Jessica Williams), a fine art photographer who is also on the cusp of success. Along for the ride are Jabari's friends Jimmy and Ky, voiced by Timothée Chalamet in his first animated role and Ty Dolla $ign in a scene-stealing turn.  
The television event reunites Mescudi with Ian Edelman, creator and writer of How to Make It in America, the show that launched Mescudi's acting career. Where Mescudi and Edelman's first project together was set in a downtown scene firmly rooted in reality, Entergalactic, true to its progenitor, soars into the realms of magical realism — a trippy, impressionistic, and animated ode to New York City and the subcultures that they love. The characters of Entergalactic live in a world tinged with psychedelia. But the New York Jabari and Meadow live in is also a relatable one, filled with omnipresent ads for dating apps, open-floor-plan offices, moments of self-doubt, and artistic roadblocks. The signature animation style and Mescudi's sublime music allow Entergalactic to take the genre on a heady, ethereal journey of self-discovery and love. In its own inimitable way, Entergalactic underscores the surreal nature of falling in love. For Mescudi and Barris, falling in love is magic. It's hilarious. It's hard. It's uplifting. It's, well, Entergalactic.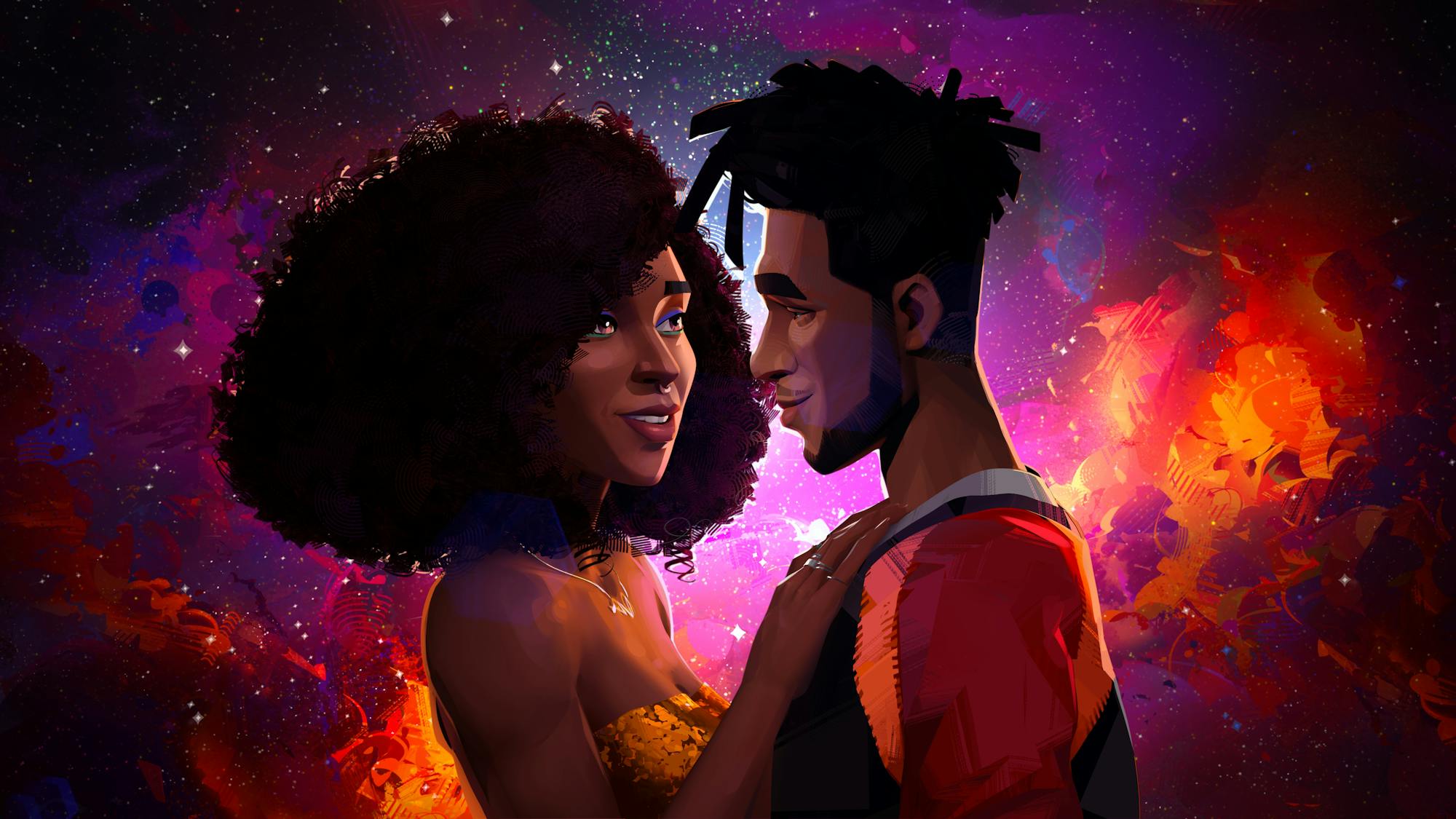 The Plot
Jabari has recently been signed by a publisher to create a comic based on Mr. Rager, his signature character. He's moving up in the world — specifically, to a new loft in Manhattan. As Jabari's life goes from tagging walls and working at the sneaker boutique Flight Club to creating art in an office with a whiteboard, he relies on his close-knit friends and Mr. Rager, who comes to life at key moments in his journey, to keep him grounded. Jabari navigates the downtown New York art scene, riding through the city on his Mongoose bike, occasionally running into his ex, city legends, and possibly the love of his life: Meadow, a photographer, who just so happens to be his neighbor.
The Meet Cute
New York is a city of opportunity and chance encounters. There's no telling who you might run into on the street, at a party, or even in the elevator. For Jabari and Meadow, love is closer than they think. Like, right down the hall. Fate has a funny way of putting people into your life at sort of the right moment. Jabari and Meadow have to decide if the timing's right, or if they're better off focusing on their work. Fate and New York City real estate can only do so much when it comes to bringing two people together.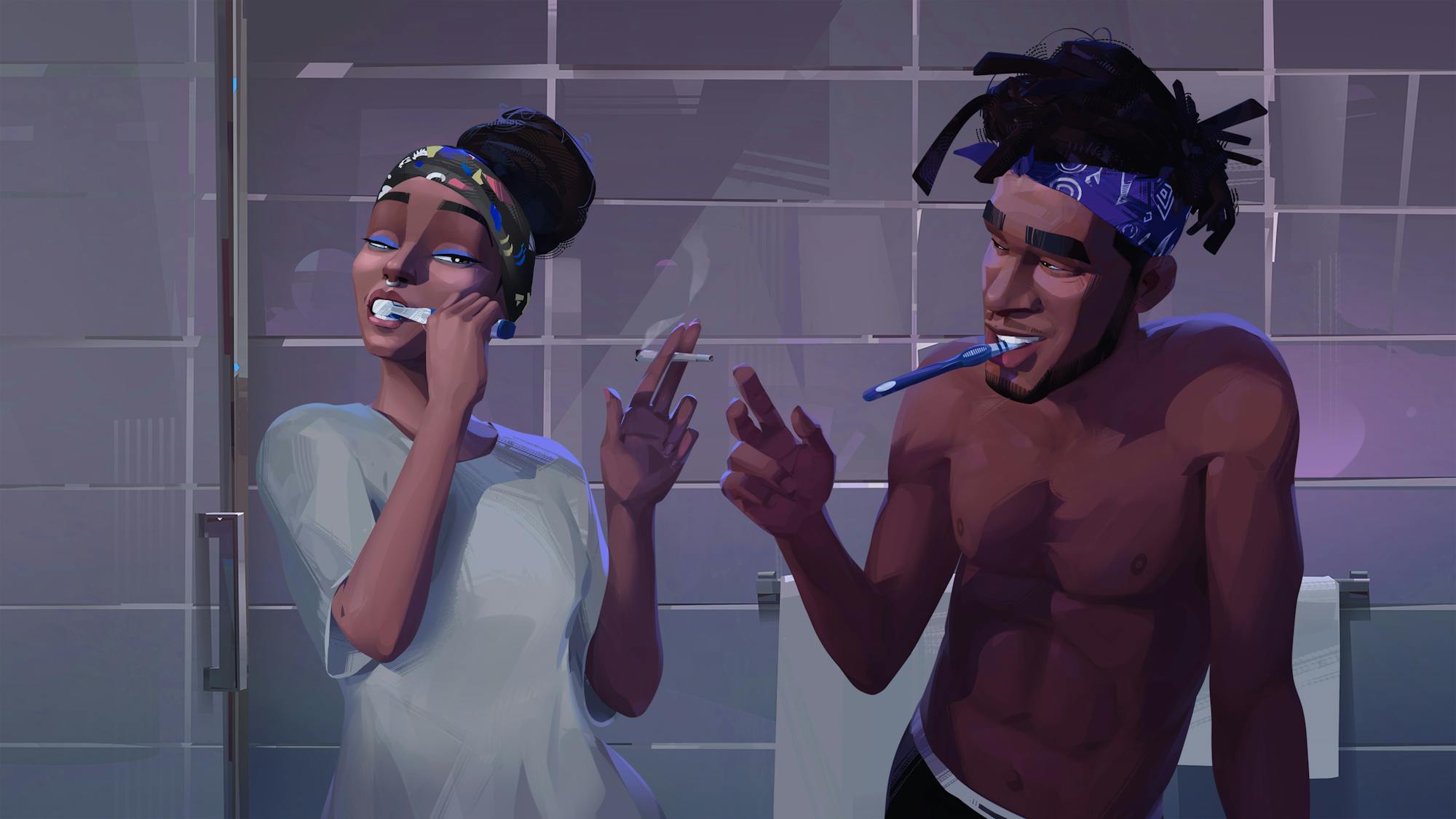 Searching for a Real Love
Entergalactic puts a unique spin on the rom-com genre. As Mescudi puts it, "I had this idea to tell this Black love story, because I feel like there's a void when it comes to Black love stories in the industry. Young, modern dating . . . I wanted to really show what it's like and also show real love between two really great people." Barris echoes this sentiment, "We, especially Black men,  just don't get a chance to express ourselves. Everything is put into a box. We're only supposed to be this way. I feel like everything [we've done] has been about pushing the boundaries of what kind of love stories we can talk about." Jabari and Meadow are two ambitious artists who have built up a few walls between themselves and the world. There's an obvious and palpable chemistry as they begin to navigate their new friendship, but is it really a good idea to start dating someone who lives in the same building? Oh yeah, and there's the ex, Carmen (voiced by Laura Harrier).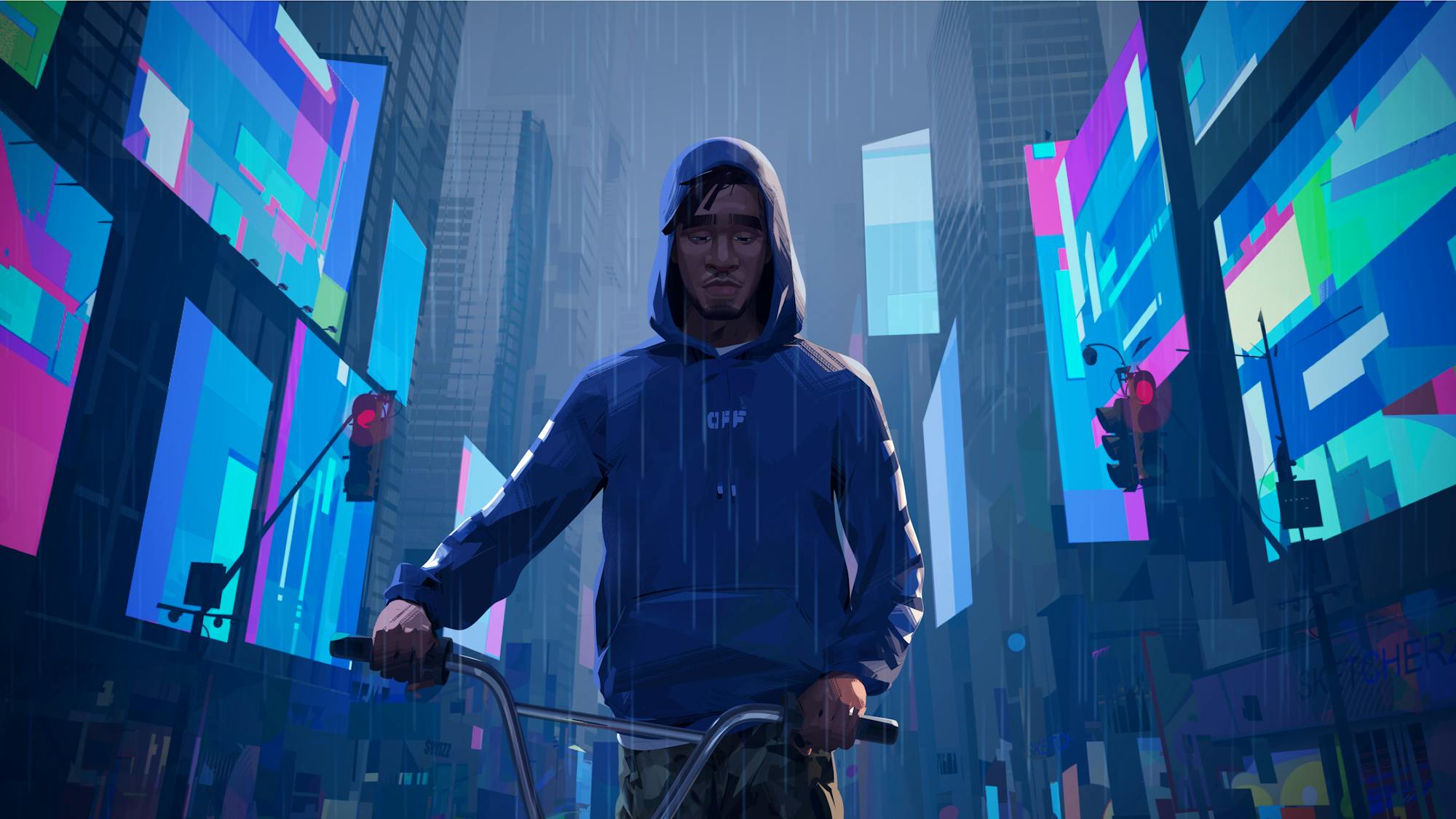 High Fashion
The characters in Entergalactic are dressed by none other than the late, great Virgil Abloh. The fashion designer lent the television event his talent as costume designer because, for Mescudi, "When it came time to do Entergalactic it was imperative to have the details that I wanted, like how Jabari looked, how the characters weren't going to wear the same thing, how they were going to be fresh in different fits each time you saw them. And who is fresher than Virgil? It was really key for me to put in everything that I embody, with the culture, the music, and the fashion."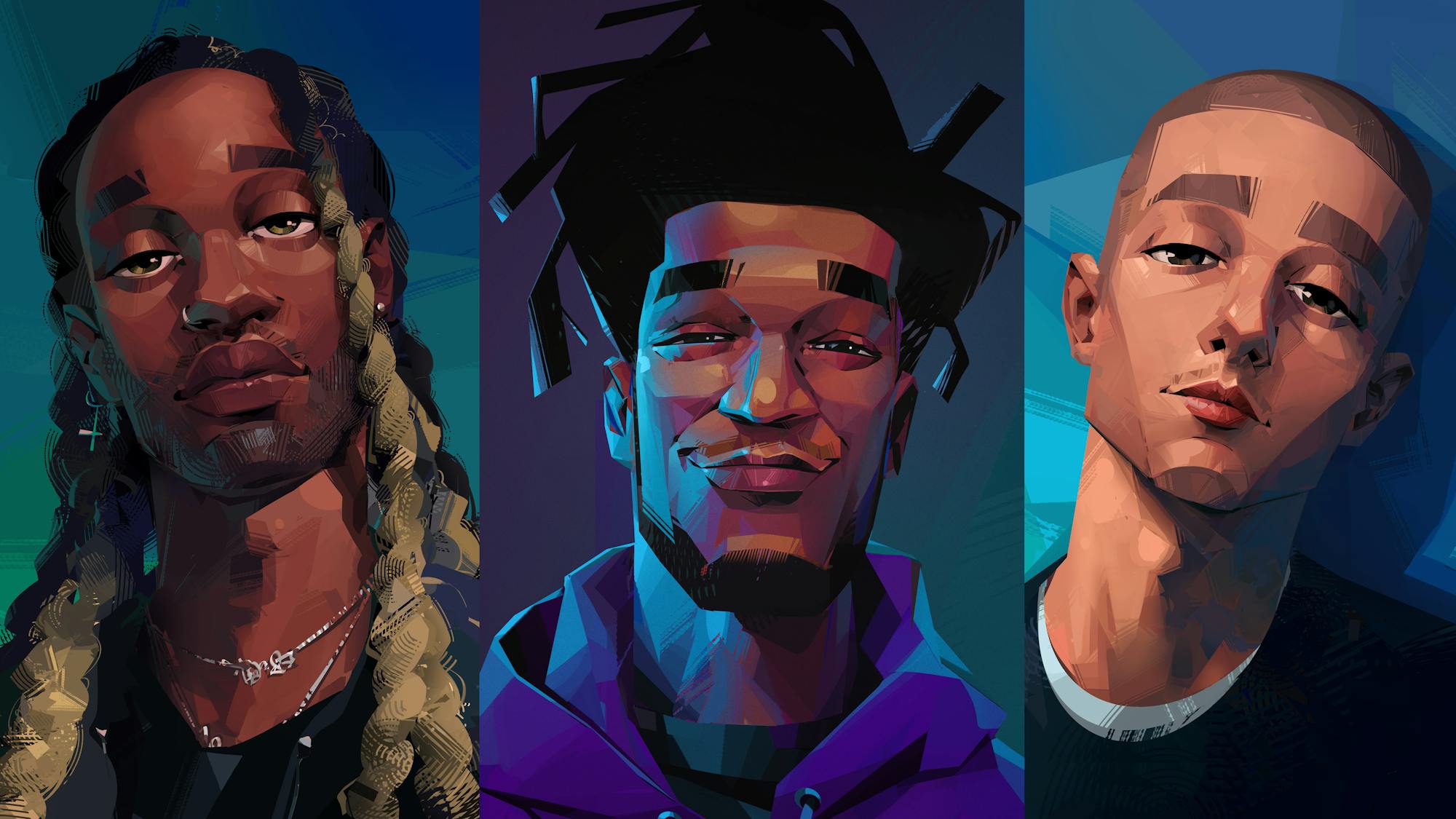 Jabari's Homies
There's nothing like having good friends who always have your back. You need friends to give you great advice, terrible advice, unsolicited opinions on interior design, and occasionally drag you to a bougie party when you're feeling sorry for yourself. For Jabari, there's Jimmy, his close friend, confidant, and weed plug. Then there's Ky, Jabari's Chelsea-boot-wearing, Vespa-riding buddy that always has a story to tell. Jabari, Jimmy, and Ky are as different as three friends could be, but somehow, together, they just make sense.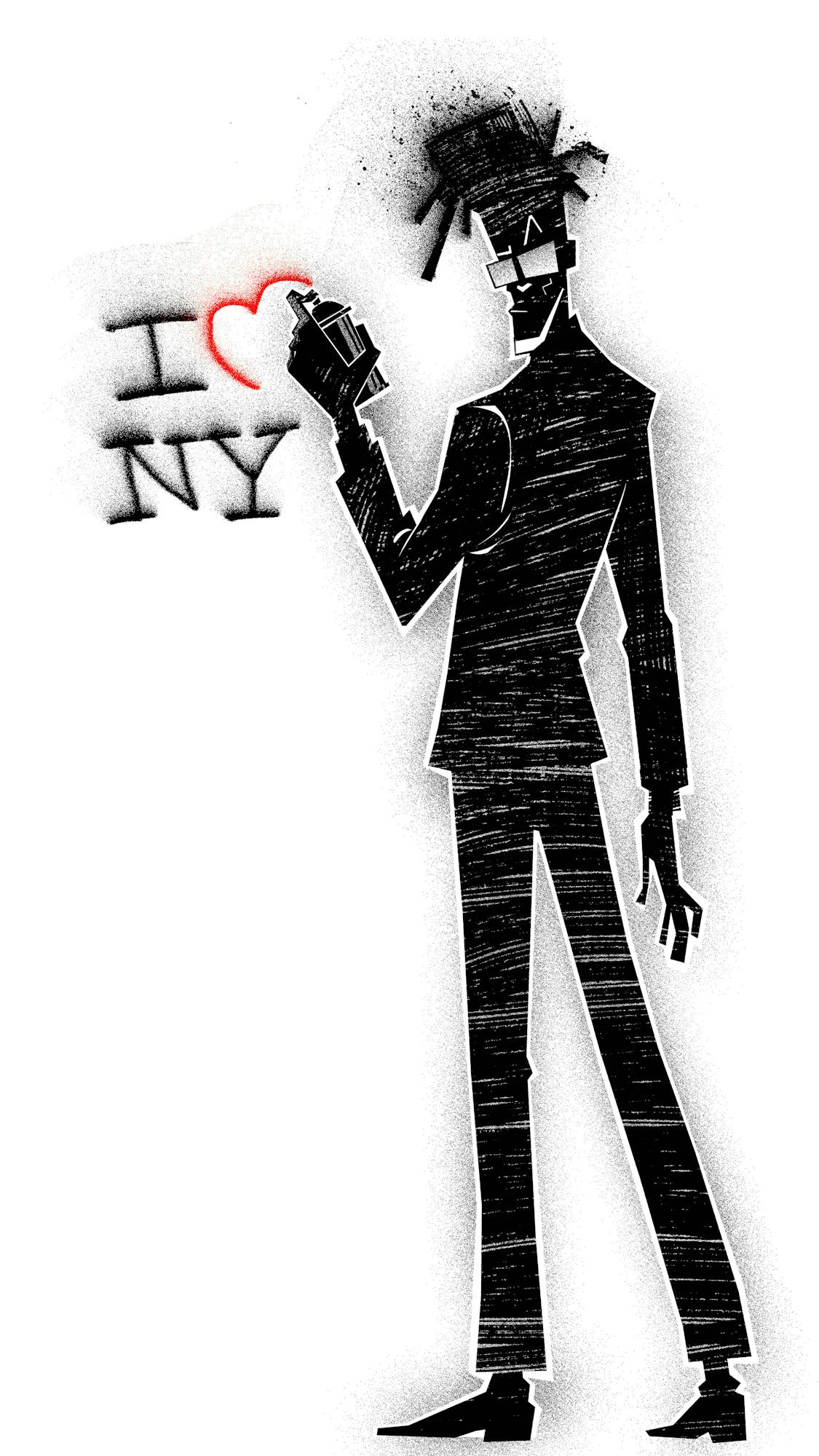 Mr. Rager
Jabari's primary medium is spray paint on city walls. Mr. Rager, the character he creates and who earns him notoriety, is painted almost exclusively in black and white, standing in stark contrast to the color-drenched visuals that populate the television event. Voiced by the legendary Keith David (Coraline), Mr. Rager serves as a sort of anti-establishment moral compass and a mystic guide for Jabari.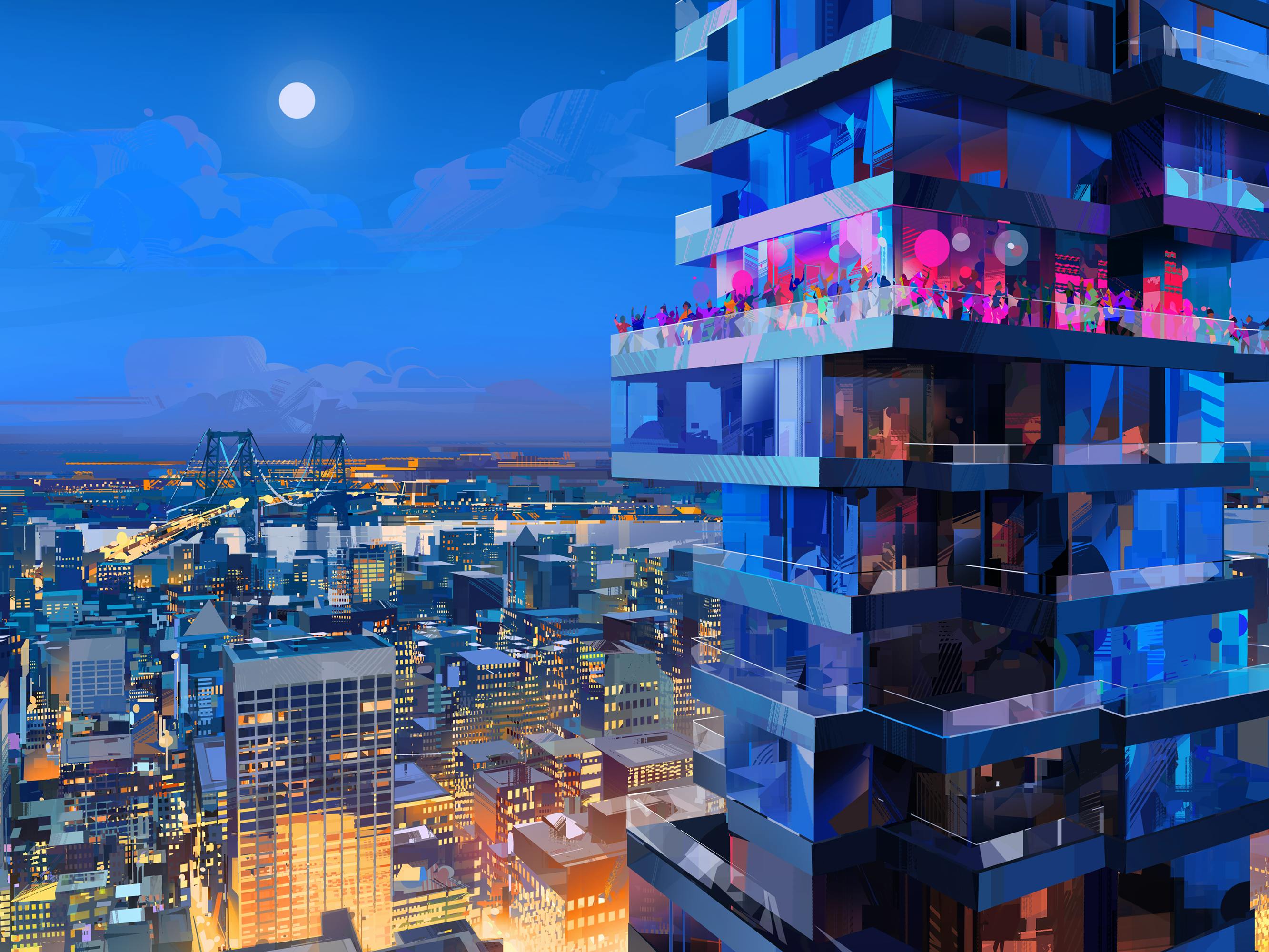 The City Doesn't Sleep
In a lot of ways, Entergalactic is a love letter to New York City. Mescudi has created a stylized slice of city life replete with random run-ins on the street in Chinatown, art galleries, amazing sunsets, and parties with very specific themes. There are even ubiquitous ads for the dating app "Stush" all over the city, showing up on buses, wheat-pasted posters, and benches. Jabari stashes his bike on fire escapes and cruises through stagnant N.Y.C. traffic. These hyper-realistic details ground the action of the television event  and allow for the more magical and psychedelic moments to really shine.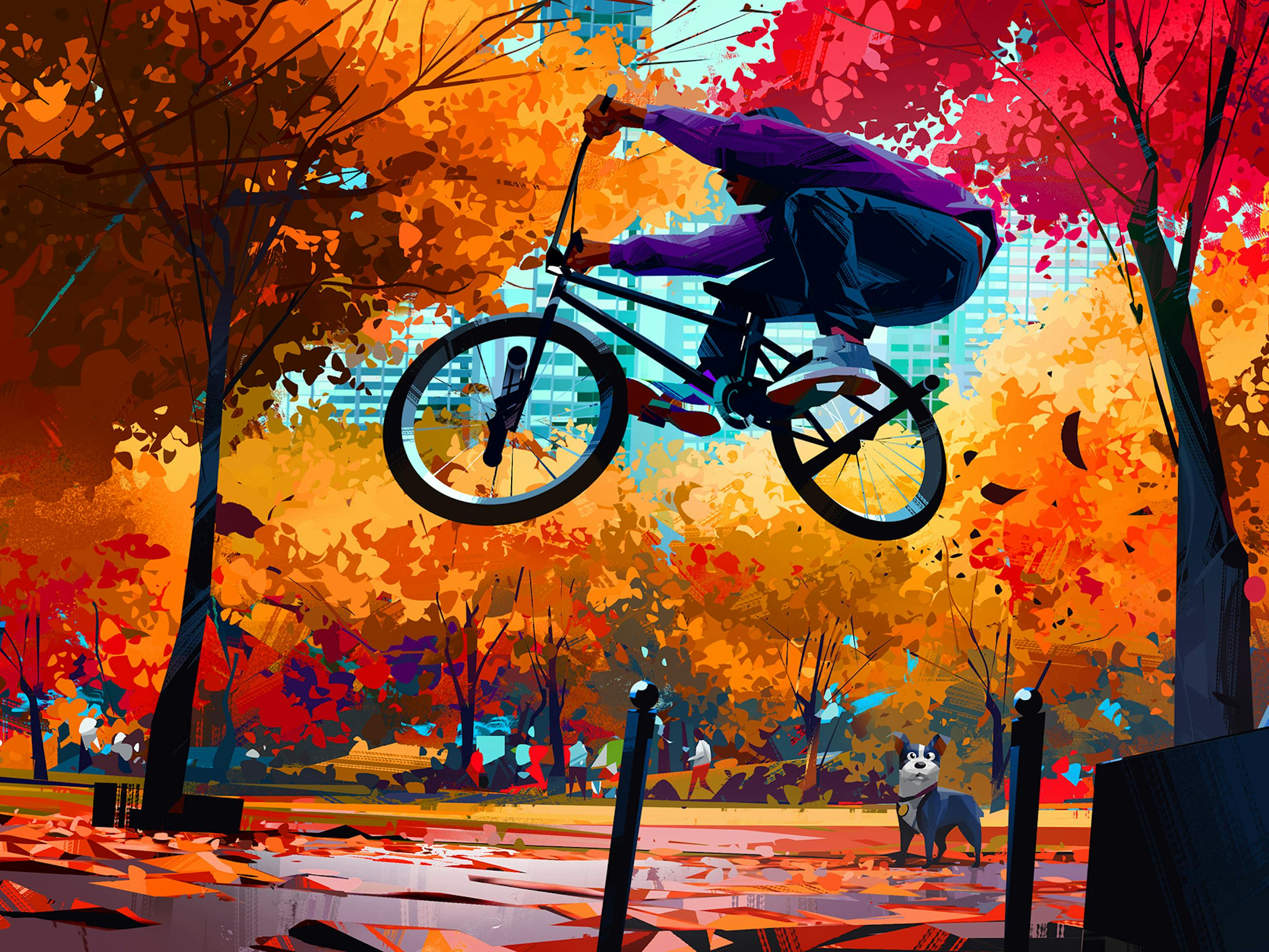 Style Abounds
Often bathed in a swirl of purples, pinks, and soft oranges reminiscent of the album art for Man on the Moon, Entergalactic's animation is a blend of realistic depictions and vibrant colors. There's a real sense of magic in the visual language of Entergalactic, with recognizable New York City landmarks and quotidian objects bathed in digital watercolors, imbuing a sense of romance and wonderment to a world set firmly in reality. This style takes the audience seamlessly from the peripatetic nature of day-to-day life in New York to dreamlike sequences that reflect how a Kid Cudi hum sounds and feels. As otherworldly as the animation can be, the characters are incredibly realistic. Skin tones, eye colors, and hairstyles are all so true to life. As Barris put it, "You become immersed in it. You forget that you're watching animation."