Chris Williams grew up on monster movies and action-adventure heists. With The Sea Beast, he turns the genre on its head.
It was a different type of animal that made The Sea Beast filmmaker Chris Williams first fall in love with animation at age five, specifically the white-tailed hero of Disney's 1942 classic, Bambi. "The world [of the film] is so inviting and charming but then it has this real gut-punch moment when Bambi's mother is killed," Williams says. "That's one of these incredible moments that everybody has seen and been affected by. This sweet movie that casts such a delightful spell also has this incredible potency."
That same combination of enchanting yet emotionally compelling storytelling not only drives Williams's latest feature — a rousing, seafaring adventure about a plucky protagonist who upends the hunt for a mythic creature and changes the course of hunting history — but it's also become a hallmark of the animator's films. In his storied two-plus decade career, Williams has co-written and co-directed such acclaimed movies as 2008's Oscar-nominated Bolt and 2014's Oscar-winning Big Hero Six, and co-directed 2016's blockbuster Moana, alongside legends Ron Clements, John Musker, and Don Hall. 
Although The Sea Beast hearkens back to Williams's previous work, it also stakes out exciting new creative territory for its writer-director-producer, who set out to capture the epic scale of beloved classics like King Kong, Raiders of the Lost Ark, and even Lawrence of Arabia with his swashbuckling tale. Set in a world where monster-hunters are heroes, the story begins when the young and not-to-be-stopped Maisie Brumble (voiced by Zaris-Angel Hator) stows away on a ship setting out to capture "the greatest and most terrible thing in the sea." An orphan who lost her parents on a hunting quest of their own, strong-willed Maisie quickly butts heads with the infamous voyager Jacob Holland (voiced by Karl Urban) — she views their quarry as a living being deserving of empathy; he sees only a leviathan to be slain.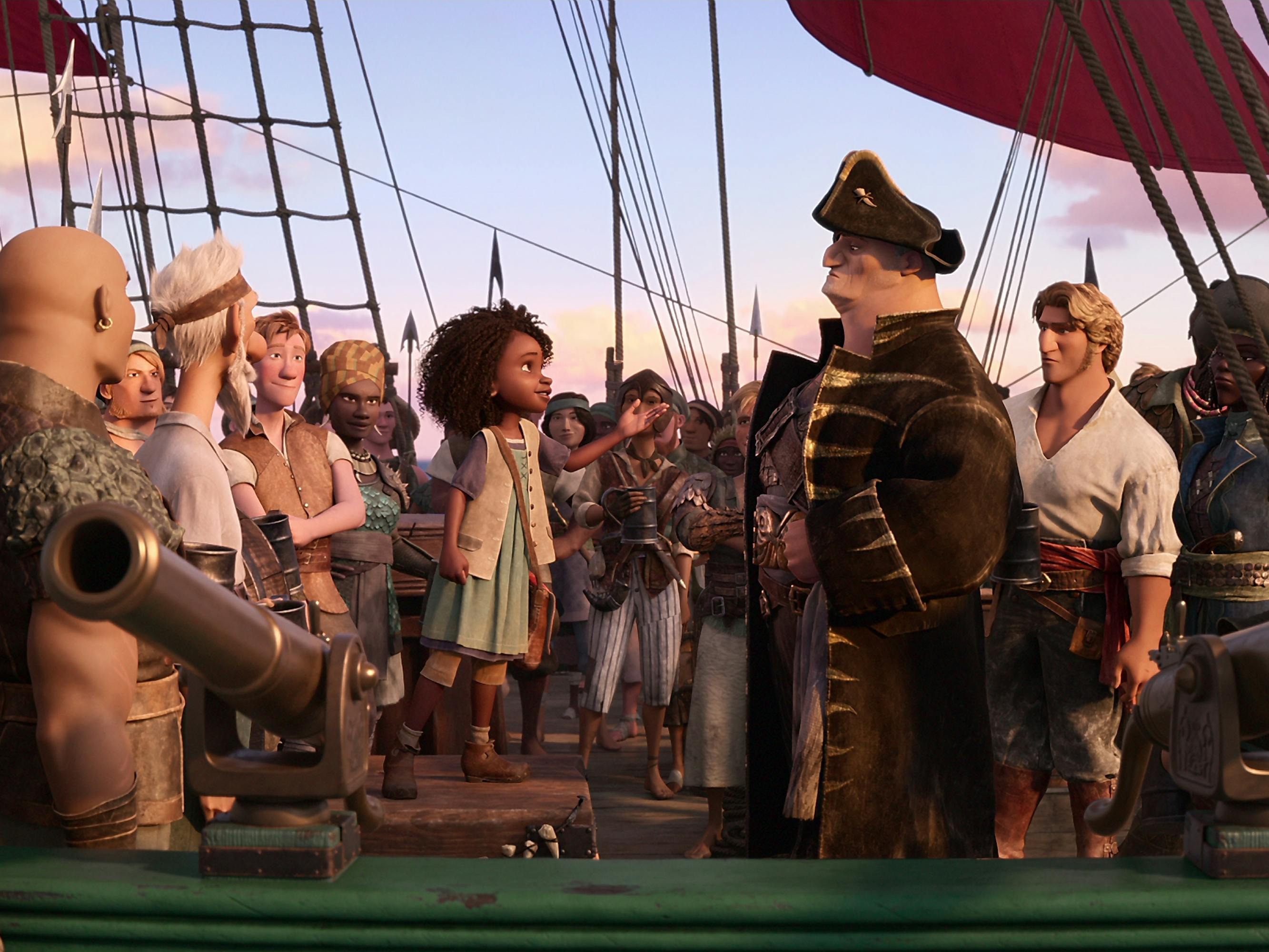 "Maisie was a perfect pairing for [Jacob] because she's this bulldozer — she's someone who goes after what she wants, and she's not going to let anything get in her way," Williams says. "He ends up back on his heels, a little flustered. It's fun to take these big prototypical heroes and have them stumble." After one of her rebellious choices leaves the pair alone with the titular sea beast, both characters learn more about the fabled creature, throwing everything Jacob believes about the hunt into question.
For Williams, The Sea Beast was a years-in-the-making passion project, one driven by the animator's interest in stories that scratch the surface of the unexplored: "There was something about the idea of the uncharted island, or this place of mystery, where you got to go beyond the horizon, and who knows what you're going to find there — there are these incredible discoveries. There's something about the unknown that I found so exhilarating, so captivating." 
As he was writing the script, he sought to create a wholly believable world set in a fictionalized version of centuries past, so he avoided any dialogue or cultural nods that might shatter that illusion: "We wanted people to really believe in and get totally lost in this world, so we knew that we wouldn't have any jokes that were modern references or anything that broke the spell." Still, in conceptualizing smart and sensitive Maisie and her push-pull dynamic with brawny, jaded Jacob, Williams envisioned a thoroughly modern relationship that would inspire audiences, particularly younger viewers. 
As he's gone on to fashion his own big-hearted oeuvre over the decades, Williams has been especially excited to see the ways in which live-action and animated filmmakers are pushing each other to tell the boldest and most relevant stories possible, with artists from both worlds taking advantage of ever-improving visual effects technology. "As we continue as an industry, we want to challenge and support each other," Williams says. "We want to make better and better stuff. We want to push boundaries and push genres and say that animation is not a genre, it's an art form. How far we've come and all the walls we've knocked down between now and then are really incredible. I'm just grateful that we've come as far as we have, and we will continue to push to help people's perceptions evolve."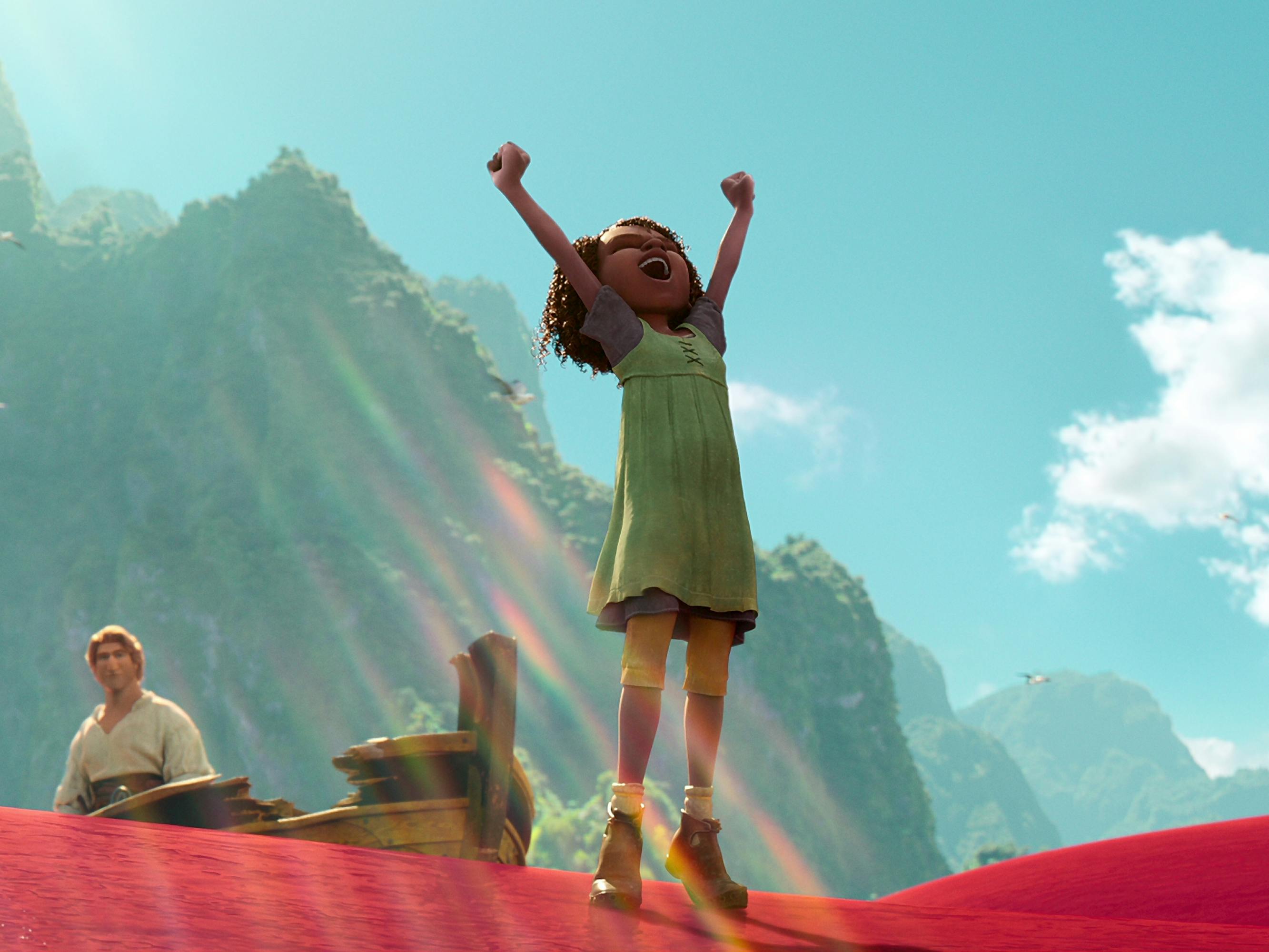 "She is someone that can really go after what she wants, has strong opinions, and is passionate enough to really pursue her dreams," Williams says. "Ultimately, she's someone that can change the world because she has the superpower of a nimble way of thinking about things and is adaptable to new ideas. To be able to look at old problems in new ways and to question things as only young people can is a superpower in and of itself. That's something that I think we all need right now in this world." The determined young girl leads by example, teaching Jacob and his crew that true power comes from mutual respect and connection, not violence, ego, or dominance over the natural world and its creatures.  
Williams, of course, knows something about the importance of pursuing youthful passions, given that his early love for filmmaking and animation led him to a rewarding career. "My dad bought a camera, and we would make little stop-motion films together when I was probably 9 or 10," he says. "I would create characters and try to make little comic strips. I just really had this compulsion to tell stories visually." Studying animation in college, he found inspiration in Hayao Miyazaki's work, and after graduating, he landed a role at Disney, where he first interned on 1994's The Lion King, and went on to work as a storyboard artist on features including 2002's Lilo & Stitch, and 2013's Frozen.
As he's gone on to fashion his own big-hearted oeuvre over the decades, Williams has been especially excited to see the ways in which live-action and animated filmmakers are pushing each other to tell the boldest and most relevant stories possible, with artists from both worlds taking advantage of ever-improving visual effects technology. "As we continue as an industry, we want to challenge and support each other," Williams says. "We want to make better and better stuff. We want to push boundaries and push genres and say that animation is not a genre, it's an art form. How far we've come and all the walls we've knocked down between now and then are really incredible. I'm just grateful that we've come as far as we have, and we will continue to push to help people's perceptions evolve."