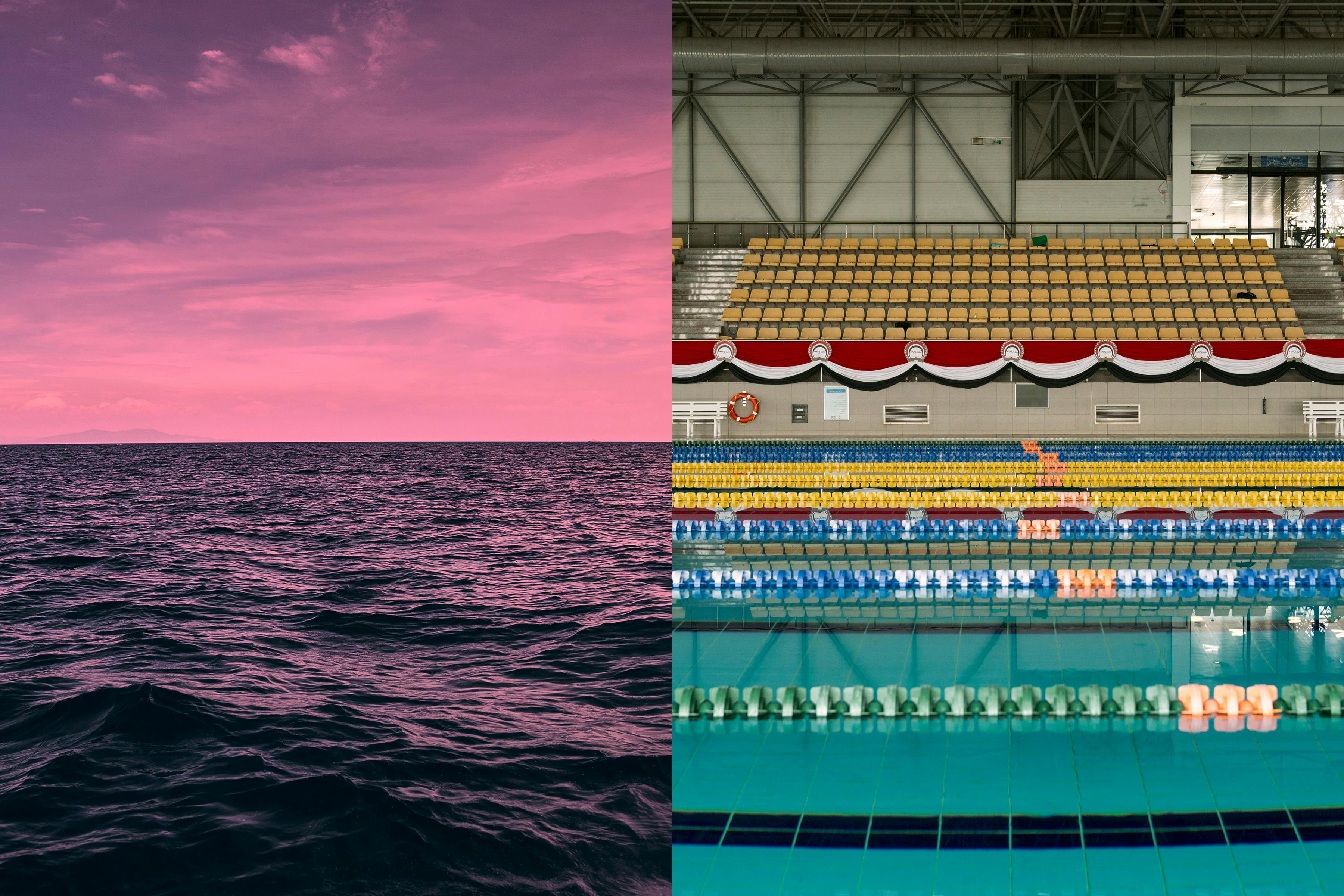 With The Swimmers, director Sally El Hosaini commits the Mardini sisters' epic tale of migration and resilience to film.
When the producers of The Swimmers reached out to award-winning director Sally El Hosaini with the script for the uplifting new drama — which charts the epic journey of aspiring Olympic athletes Sara and Yusra Mardini, who as teenagers, escaped from their war-battered homeland of Syria and fled to Berlin, Germany, to continue their training — they weren't even sure the lauded British Egyptian filmmaker would return their email. "We saw My Brother the Devil (2012) and closely monitored her, but whenever we talked to her about anything we sent, she turned us down," says producer Eric Fellner (Working Title). "And then she read this." 

El Hosaini was riveted by the script and its depiction of the remarkable true story of the sisters and their tenacity. The film culminates in 2016, with Yusra getting selected to swim in the Rio de Janeiro Olympics, and Sara pursuing advocacy work to support other refugees. "I got so excited because for me, they were the types of young women who live in the Middle East but never make it to our screens," says El Hosaini. She explained that the Mardinis were "the type of young women that I can relate to who are like my friends and the people I grew up with. It's not just the story of an underdog who has a dream and makes it to the Olympics. It's about a very obvious hero who becomes an Olympian, but then also it's about the unsung hero, the shadow sister, who doesn't make it and yet goes on to do something just as heroic." 

Not only was the director excited to see familiar young women onscreen, El Hosaini, having had sisters who swam competitively growing up, also related on a more personal level. Sara was comforted too, knowing she and her sister's story was in good hands. "After Sally was picked, I knew that I didn't need to have as many conversations," Sara Mardini says. "She knows it. She experiences it, you can see it on her face and in her eyes when we talk about these things."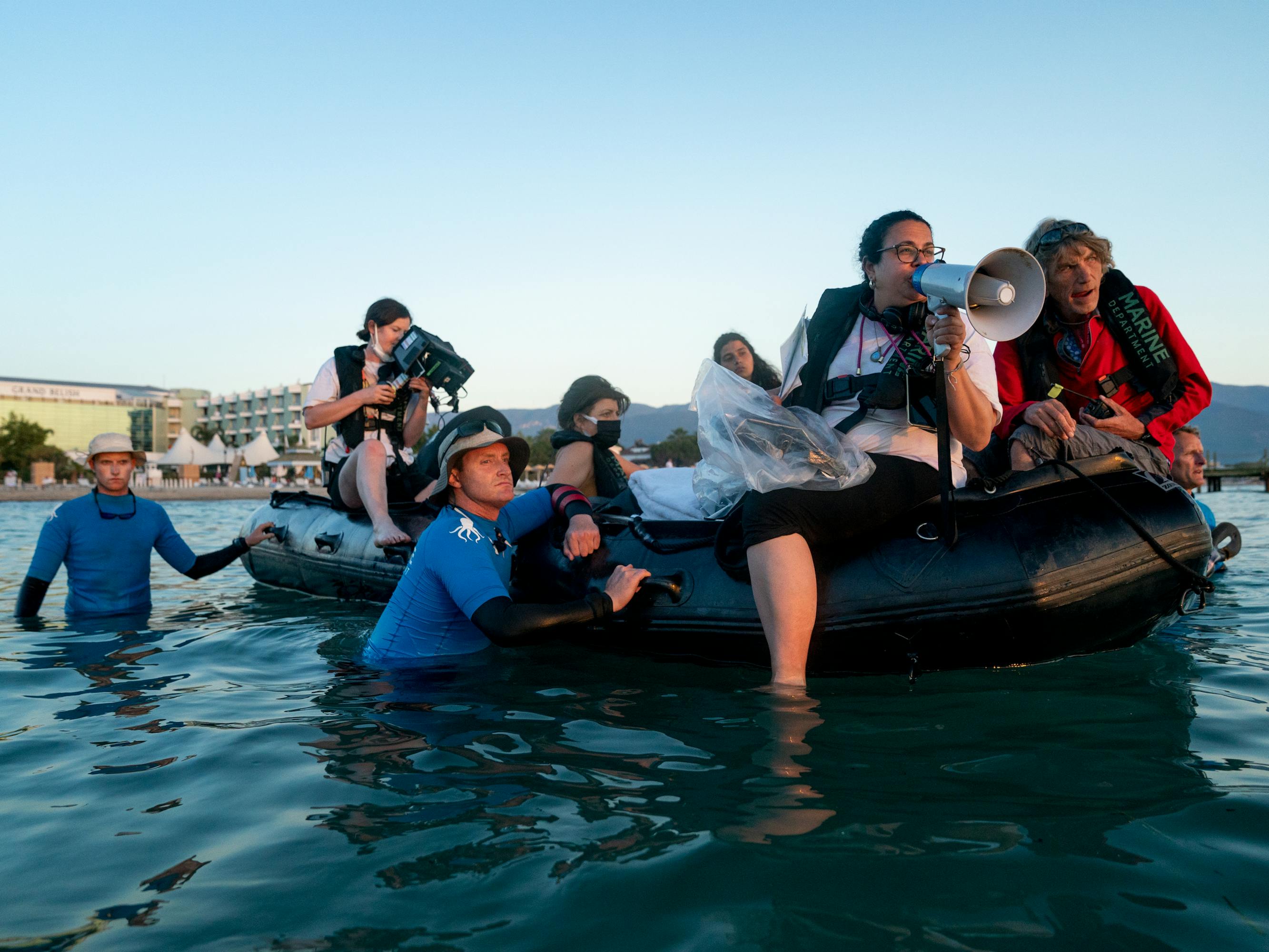 For the director, The Swimmers boiled down to a story of sisterhood, persistence, and the tendency of war to hasten maturity. "This is a story about two young women who have been given the freedom to make decisions about their own lives. War turns everything on its head, and they're allowed to travel on this journey without a parent figure," says El Hosaini. "It's the first time they taste this kind of freedom and are able to make decisions about their lives themselves, not just small decisions like, Should I turn left or right? Should I trust that person or no? but bigger decisions. They're able to become heroes. For me, it's an emancipation story." 

El Hosaini collaborated with celebrated screenwriter and playwright Jack Thorne (Harry Potter and the Cursed Child, Enola Holmes) who penned the script through months of meeting with the Mardini sisters. "She's where the film begins and ends," Thorne says of his co-writer and director. "There are lots of people who care that we tell the right story, but there are also lots of ideas as to how the story should be told. You need someone in the middle of it who has incredible clarity. Sally's got one of the finest minds I've ever worked with."

The director reached back into her memories of growing up in Cairo, Egypt to bring specificity to the cultures and backgrounds of the characters. "I was able to bring an authenticity to Yusra and Sara, embedding the truths into [the script] that I knew from growing up in Egypt, and the young women I knew," says the director, adding, "And maybe a little irreverence that others would [perhaps] feel sensitive about. What I really like is the fact that we see their difficult sides, the jealousy, the competition between them, and the really tough emotions, not just the palatable ones." 
I was able to bring an authenticity to Yusra and Sara, embedding the truths into [the script] that I knew from growing up in Egypt, and the young women I knew.
Determined to accurately capture the refugee experience in The Swimmers, El Hosaini reached out to someone who would understand the harrowing undertaking on both a personal level and a cinematic one. Syrian filmmaker and associate producer for The Swimmers Hassan Akkad had captured his own journey from Syria to the U.K. on camera for the BAFTA-winning BBC documentary Exodus: Our Journey to Europe and became an invaluable source of truth for everything from Arabic dialects to the details of each transfer along their route. "Sally wanted the dialogue for any Arab to sound genuine, not to sound like someone used Google Translate." Akkad describes. "It had to come across as original, genuine, and real, and Sally gave me the freedom to use words that Syrians use in their conversations." 

When it came time to cast the sisters and the characters that accompany them on their journey — the cousin who travels alongside them, the assortment of refugees the sisters befriend, and the German swim coach who trains them for the Olympics — El Hosaini re-teamed with her My Brother the Devil casting director Shaheen Baig (Peaky Blinders, Giri/Haji). "The authenticity of the casting," Baig says, "was the most important thing for Sally and me to make sure that we were being as truthful as we could." 
For the role of older, rebellious sister Sara, El Hosaini immediately thought of French Lebanese actor Manal Issa (Parisienne, Memory Box). "She and Sara share a lot of characteristics in terms of their spirit and who they are as human beings in the world," the director says. Luckily, Manal loved the story — "What's really nice about the script is that it shows every side of sisterhood. It's not about perfect sisterhood, it's about natural interactions." — and suggested her own younger sister, Nathalie Issa, for the role of Olympic swimmer Yusra. Nathalie wasn't certain she wanted to pursue acting, but she connected strongly with The Swimmers's themes: "I was like, I don't want to do it. I don't know how to swim. I want to focus on my studies. I helped my sister do her [audition] tapes for the film, and became quite interested. So I did the self-tape and met with Sally. Two years later, I was cast."
The real-life Mardini sisters advised along the way, connecting with the Issas and rounding out the script with El Hosaini and Thorne. Yusra also makes a cameo in the film, playing the swimming double for herself when her technical expertise was required. "It was super weird to double the girl that is playing me," she laughs. "But I'm still glad that even for five seconds I am in the movie. I'll tell everyone!" 

Throughout the process, El Hosaini ensured that authenticity was never forfeited, and her closeness to the culture and the subject matter also lent the actors a sense of relief that they would not be misinterpreted or have to explain or defend cultural choices. "Sally is amazing. Having parts of the script in Arabic was a very big step," says Manal. "She has a very good eye. She understood every subtle thing, and I was happy because in this shoot, we had no conversation about religion, or being Arab."

As we watch the sisters grow through their harrowing experiences, we also get to witness their friendships, joy, and even arguments, which allow The Swimmers to transcend its fictional retelling to a place of real emotional depth and a deeper understanding of the refugee experience. Adds Sara, who today works to support refugees from ongoing crises, "It's a privilege to be chosen from a million people to have our story told, but we're not different," she says. "We're not more special than any other refugee, and I think that's what this movie is going to show."