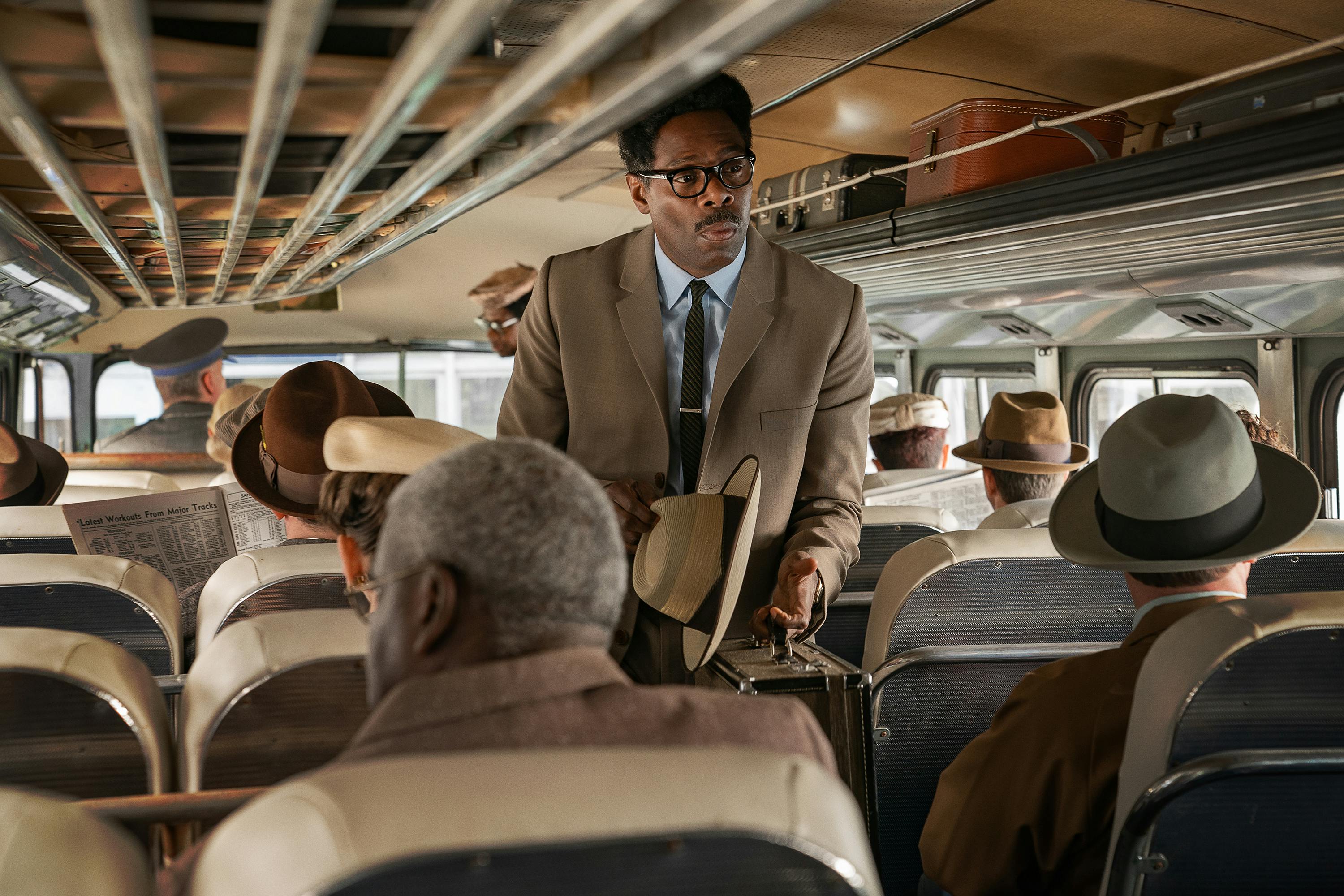 Colman Domingo portrays civil rights legend Bayard Rustin in this biographical drama.
For far too many, the name Bayard Rustin means little to nothing.
Despite the fact that the activist was the mastermind behind 1963's historic March on Washington for Jobs and Freedom — the very march where Martin Luther King Jr. gave his infamous "I Have a Dream" speech — among many other major civil rights efforts, Rustin's import has been lost (or hidden, perhaps) in the annals of history.
"Every time I turn around, I tell someone I'm playing Bayard Rustin, and they're like, 'Who?'" says actor Colman Domingo, known for supporting roles in projects like Ma Rainey's Black Bottom, If Beale Street Could Talk, and an Emmy-winning turn in Euphoria. "And it's shocking 'cause this man was so significant to [improving] everyone's struggle — for the plight of women, the plight of gays and lesbians, the plight of Black folks. How is it possible that we don't know his name?"
The forthcoming release of the biographical drama Rustin will surely help burnish the activist's legacy — it also stands to raise Domingo's professional profile, with the actor delivering an unforgettable performance in the title role, his first leading turn in a feature film in a nearly 30-year acting career.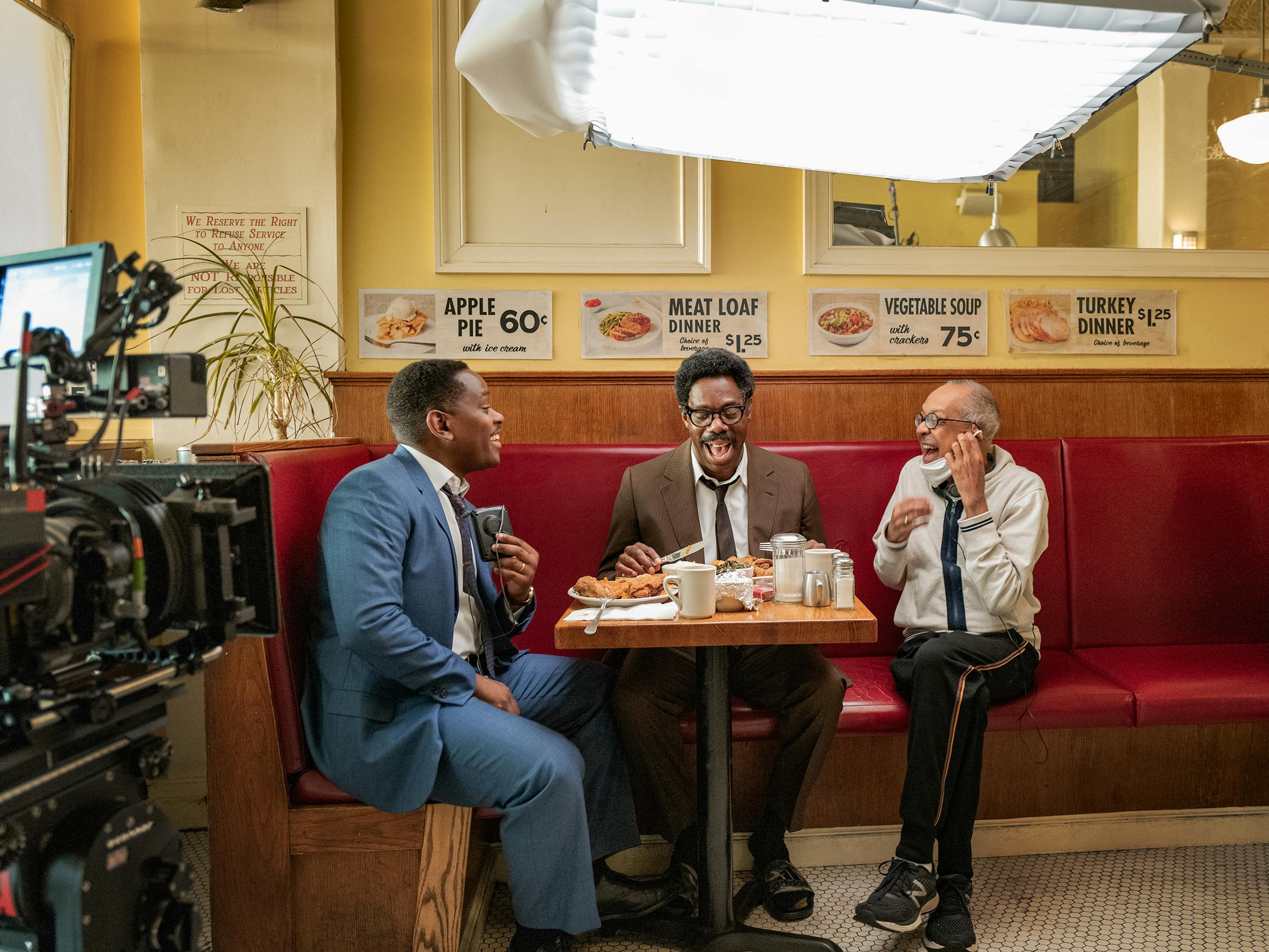 Rustin revisits the height of the civil rights era in the lead-up to the march. It details the struggles the trailblazer had to overcome, especially as a gay Black man, to change the course of history. Bold and unflinching, it also reflects the complicated relationship Rustin had with King (Aml Ameen, The Porter) and other leaders of the period. Working from a script by Julian Breece (When They See Us) and Oscar winner Dustin Lance Black (Milk), Domingo reteams with Ma Rainey's Black Bottom director George C. Wolfe for Rustin. "[It's] really a lot of fun working with somebody who is fearless and has the wit, the command, the charisma, and the showmanship that the lead character had as well," Wolfe says of Domingo. 
The picture also features a spectacular ensemble that includes Chris Rock as NAACP leader Roy Wilkins, Glynn Turman as March on Washington co-organizer A. Philip Randolph, CCH Pounder as organizer and educator Anna Arnold Hedgeman, Audra McDonald as organizer and co-founder of the Southern Christian Leadership Conference Ella Baker, Jeffrey Wright as pastor and politician Adam Clayton Powell Jr., and Da'Vine Joy Randolph as gospel singer Mahalia Jackson.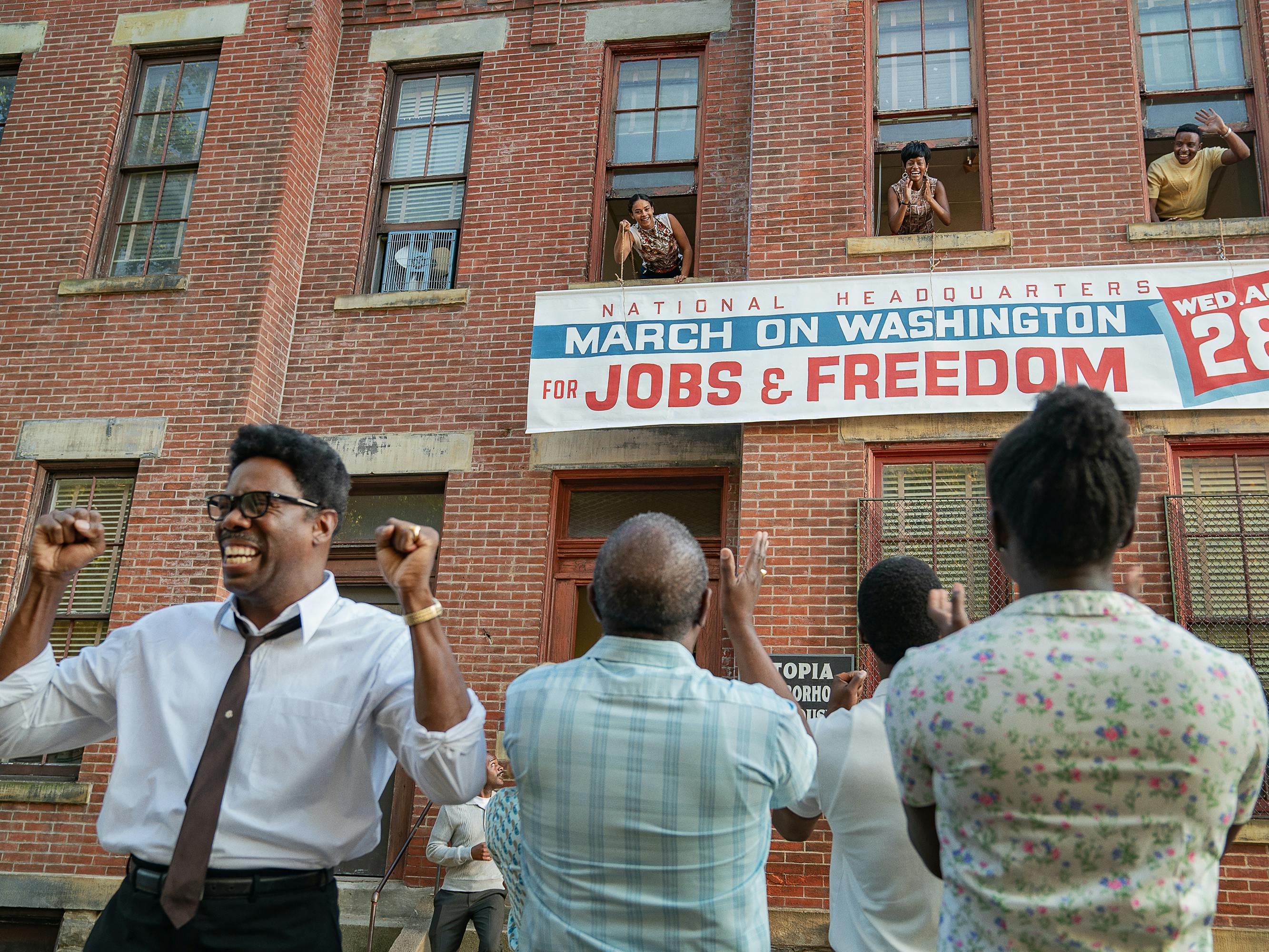 Academy Award winner Bruce Cohen, Tonia Davis, and Wolfe produced the film, which is also executive-produced by Higher Ground, the production company of former President Barack and First Lady Michelle Obama. (In 2013, the former president posthumously awarded Rustin the Presidential Medal of Freedom.) Rustin also sees Directors Guild of America and Tony award winner Wolfe reuniting with many of his Ma Rainey's Black Bottom behind-the-scenes collaborators, including Oscar-nominated production designer Mark Ricker; Oscar-nominated editor Andrew Mondshein (The Sixth Sense); and Grammy Award-winning musician and composer Branford Marsalis. Tony-nominated costume designer Toni-Leslie James created
a historically accurate wardrobe for the film. Together, their work beautifully honors the legacy and humanity of a true pioneer. 
Rustin arrives at an especially fraught cultural and political moment. L.G.B.T.Q.I.A.+ visibility and acceptance are at historic levels, yet state legislatures across the country are restricting what can be taught and discussed in schools when it comes to gender and sexuality and the truth of Black history, which is American history, too. Giving Rustin his flowers via the big screen treatment is critically important.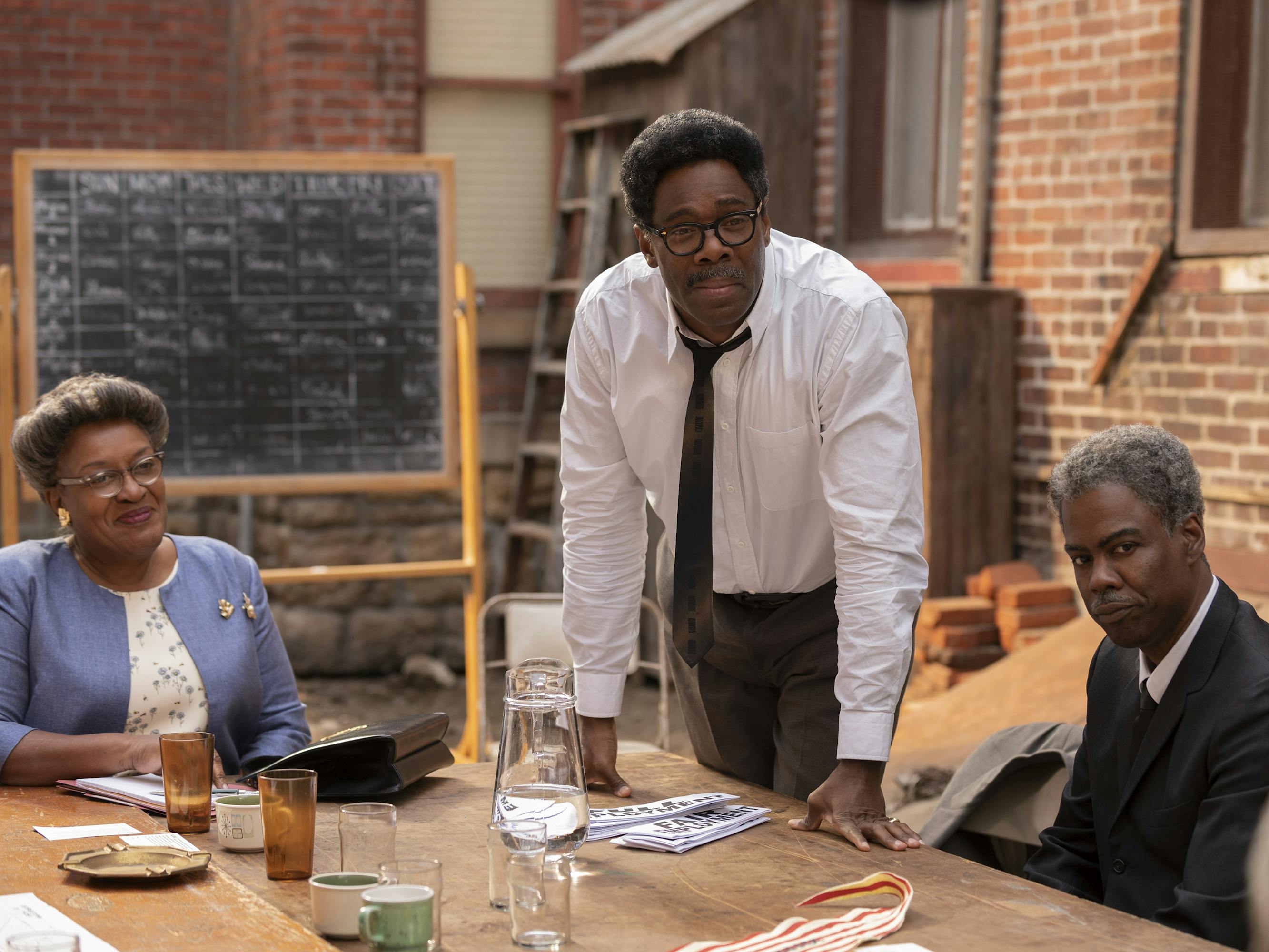 "I think that we're ready for Bayard Rustin's story because L.G.B.T.Q.I.A.+ people, we've been marginalized for so long, and our stories are coming to the light as we all have stepped out of the darkness and demanded that you see us for exactly who we are, and see all of us," Domingo says. "I think the time has been coming, for a very long time, to make this movie, to take Bayard Rustin out of the shadows of American history, and to look at his profound impact on so much when it comes to our culture and our politics and our policies and our activism."
The role and responsibility is "an extraordinary honor," he adds, noting that many people have said over the years that he'd be perfect to embody Rustin. Domingo's goal was to render
the character "as complex and human and interesting as the man himself."
Rustin was, after all, one of one. In addition to organizing the March on Washington — which is credited with helping to pass the Civil Rights Act of 1964 — he helped pioneer the Freedom Rides, fortify the labor movement, and actually introduced King to the Gandhian tenets of nonviolence for which the preacher became well-known. 
"He was an original in every single way, and someone who didn't put limitations on himself and also thought outside of the box," Domingo continues. "After this film comes out, I would like to never hear, 'Who was Bayard Rustin?'"
All interviews included in this piece were completed prior to July 14, 2023.