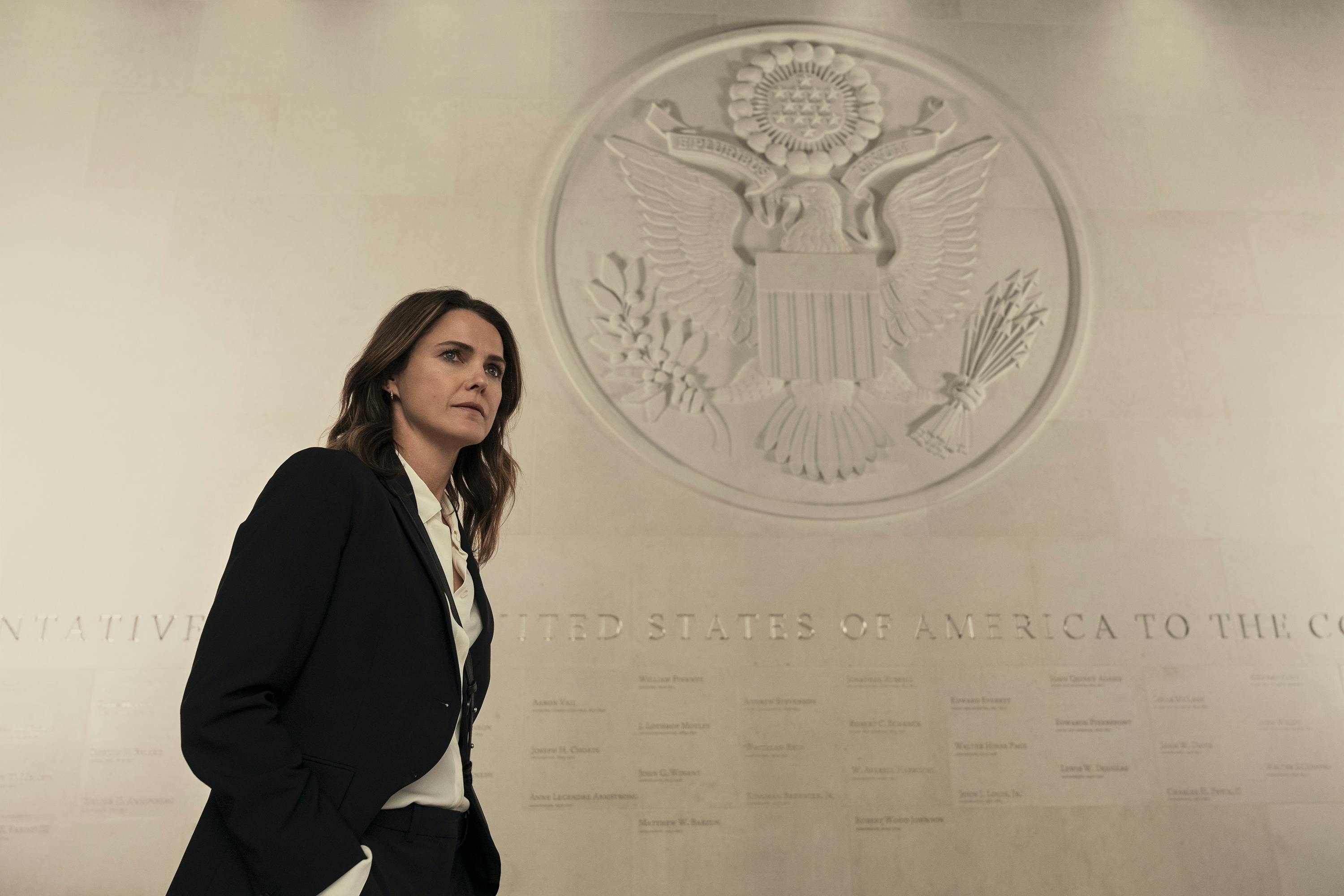 In The Diplomat, Keri Russell finds an opportunity to portray levity, drama, and complicated femininity. 
When it comes to accepting a job, Keri Russell admits she's a hard sell. There's the quality of the script to consider, of course, but she'd also prefer to remain close to the comfort of the Brooklyn home she shares with her partner, actor Matthew Rhys, and her three children. Content to curl up with a book, hang out with her family, and hop on her bike to run errands, "I don't say yes to a lot of things," admits the no-nonsense actor. "I tend to hide out in my house a lot."
But even for Russell, there comes a tipping point, which worked to the benefit of writer, creator, and producer Debora Cahn, whose resume includes Homeland and The West Wing. When she reached out to Russell about The Diplomat, an edge-of-your-seat tale she created about a savvy career foreign service officer who is headed to Afghanistan but gets rerouted instead to become the U.S. Ambassador to the U.K., Russell was in the middle of the Christmas holidays. "I was cooking lunch for three sets of grandparents, with all the kids, and everyone was in town. I was probably drunk by noon every day just to manage the cooking, the cleaning, the stress," the actor says with a laugh. Cahn interrupted the holiday festivities to pitch the project via Zoom, and "I was like, 'It has to be in New York!'" Russell remembers. "She said, 'It shoots in London.' I was like, 'I'll go to London!'" 
Russell's adventure across the pond has her starring as Kate Wyler, an experienced diplomat with a passion for the intricacies of Middle East politics. When the president of the United States posts her to London — with the secret agenda of vetting her as a possible vice president — she takes on the glad-handing duty grudgingly. Despite the political tension and international intrigue, the series also allows the actor to show off her comedic side, especially in scenes with her enraging but utterly charming husband Hal, a fellow ambassador, played by Rufus Sewell.
Russell, now 46, became famous for her pitch-perfect, Golden Globe-winning portrayal of young angst, playing an innocent college student in the series Felicity. More recently, she sparkled with steely intensity starring opposite Rhys in The Americans, garnering more Golden Globe and Emmy nominations for her role as an undercover Russian spy living in the suburbs during the Cold War. Although these two series account for ten years of her professional life, the actor insists that, especially since COVID, "I'm drawn to the light, the bright." Reuniting onscreen with The Americans's Margo Martindale and Rhys, she co-starred in Elizabeth Banks's dark comedy Cocaine Bear; and she always answers a call to team up with friend and Felicity co-creator J.J. Abrams, appearing in two films he's directed: 2006's Mission: Impossible III, in which she meets her demise thanks to an explosive that's implanted in her head (more on that later); and 2019's Star Wars: Episode IX - The Rise of Skywalker. Whenever he asks, "I drop everything," she says. "I totally get his sense of humor." 
So it's no surprise that when it came to The Diplomat, Russell was drawn to its moments of levity. "This is a drama," concedes the star, who also earns her first executive producer credit with the series and an Emmy nomination to boot. "But it has a lot of funny in it. I couldn't say no."
An edited version of the conversation follows.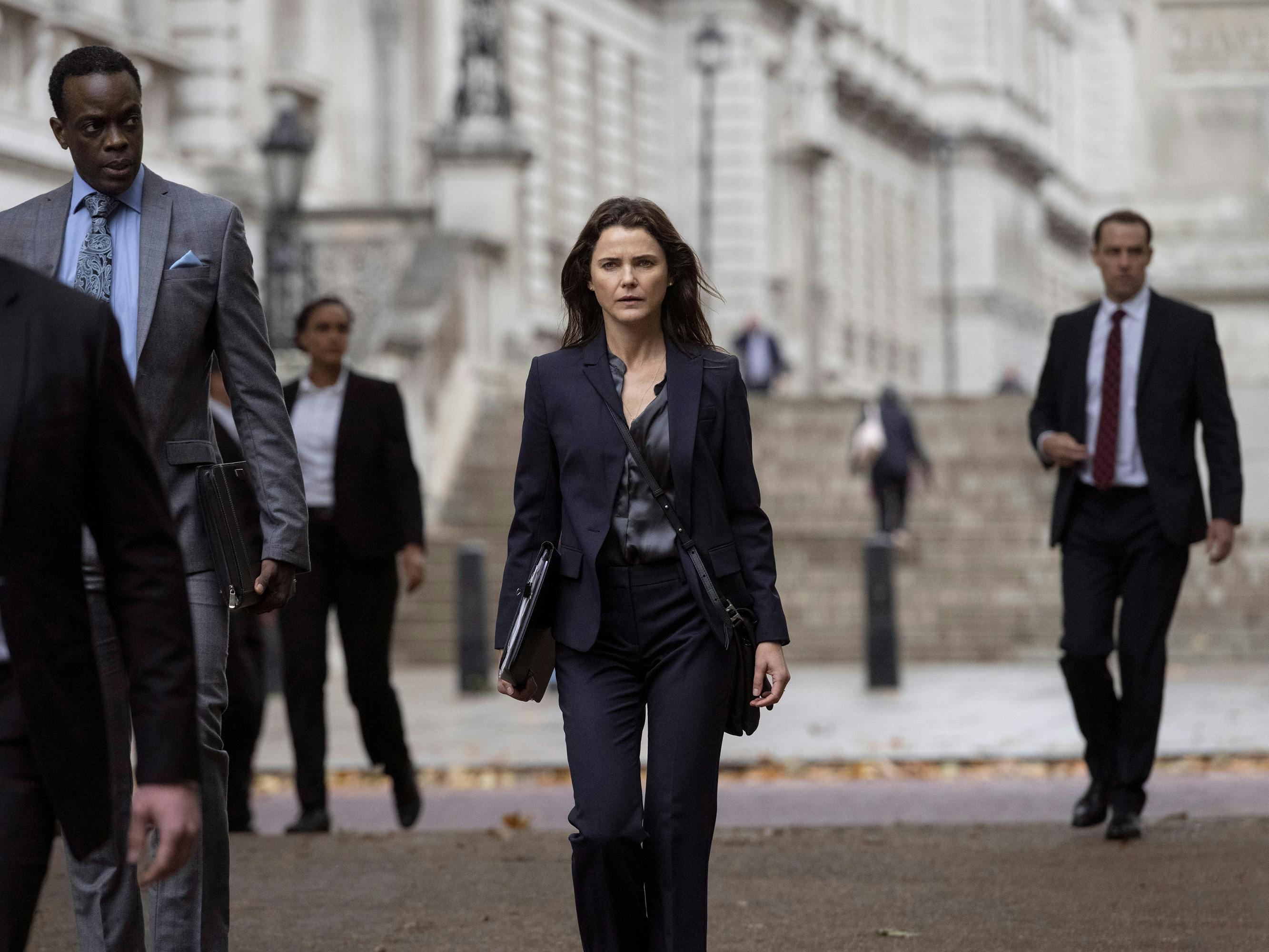 Krista Smith: Your character, Kate, is brilliant and funny, but she seems so relatable. Her hair's a mess, she's easily frustrated, and she's ambivalent about her marriage to Hal, to say the least. How important was it to you to play someone like that?
Keri Russell: I read so many scripts where every time there's a woman, she's a brain surgeon and a professional trumpet player and she's a great mom and she is funny and sassy and you're like, "Shut up." You don't have to be all those things. I want people to be less strong all the time. One of Kate's weaknesses is that she is in a really complicated relationship, and she can't seem to get herself out of it. That's on her, and it's O.K. watching someone work it out.
What's your take on Hal?
KR: He's my favorite character in the series. He's supposed to be this big, swaggering, charming guy who can talk to anybody. Either you love him or hate him. I love Kate's specificity of, "He's an asshole, but he doesn't cheat." Debora always says that long-term relationships can be transcendent, but also torture. That's what the show is about — these long-term relationships between countries and people. If you can stick it out, it can be this incredible thing. But it's hard work, and things go badly.
Kate bridles at putting on dresses — and making appearances. Can you relate?
KR: It's so great when you don't have to be the pretty one, when your clothes don't have to fit perfectly. Other people get to be the pretty people, and that's awesome. I felt the same way during Felicity. I'd rather just be the gross one — there's freedom in that.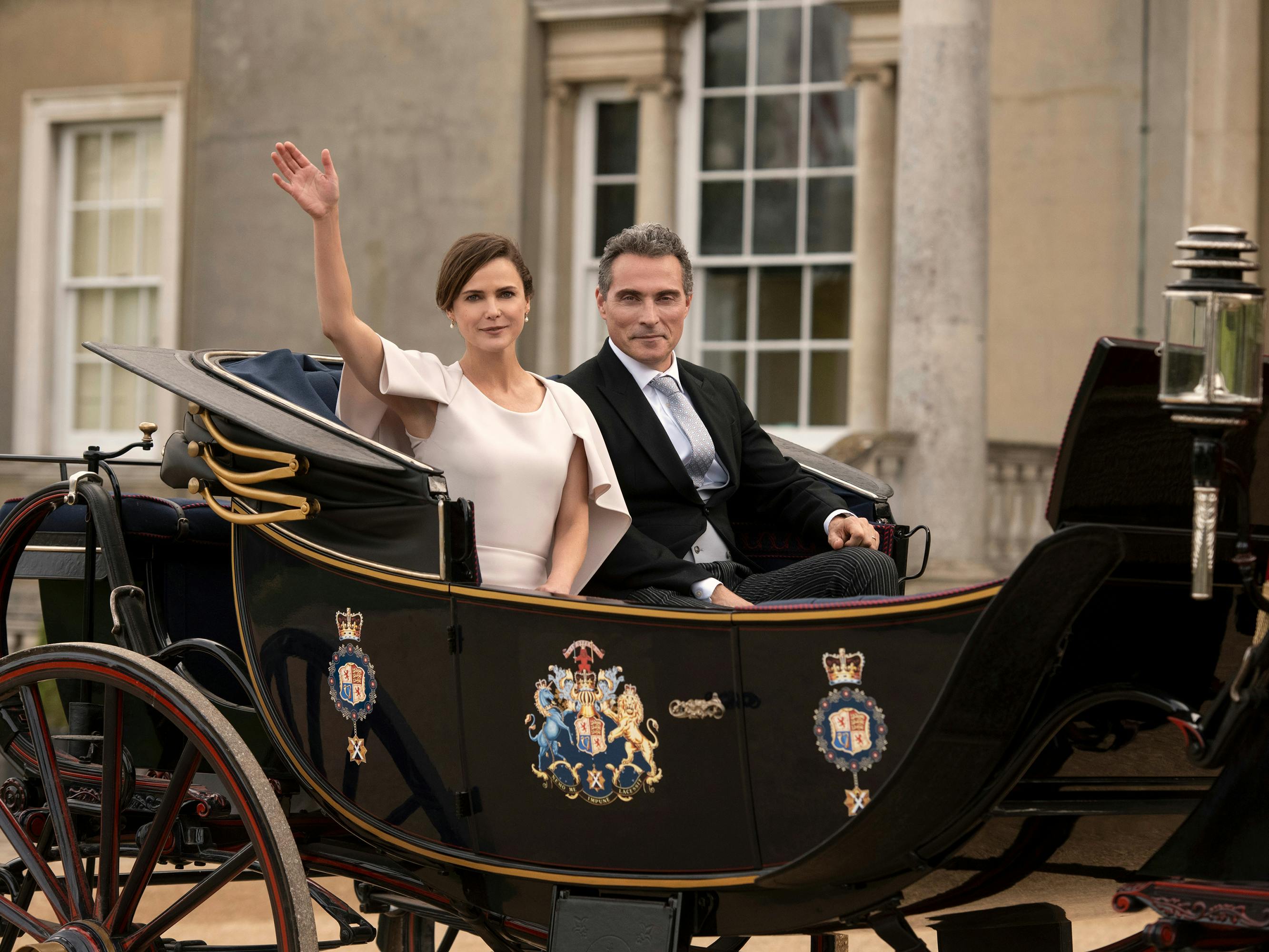 One of the joys of The Diplomat is the brilliant dialogue, but the language can get pretty dense when Kate is talking politics. What was that like for you?
KR: So much sweat, so much armpit sweat. All those abbreviations of state departments alone — I just looked at Debora, What the fuck? Who do you think I am? It does not come naturally to me. But that's part of the joy. I wish I had a photographic memory. If I could have a superhero quality, that's what I would dream about for this show.
From Felicity, Star Wars, and The Americans, you have a huge range of fans in terms of age and taste. What do people say when they meet you on the street? 
KR: People are generally pretty cool. But one of my favorite tidbits isn't what people say to me. John Krasinski and Emily Blunt are our neighbors — our kids are in school together. John said that [his phone shows] my face exploding, with my eye going crazy, in that scene from Mission Impossible whenever Will Arnett calls because they saw that movie together. I was like, "That's amazing."
Do your kids realize how cool their mom is?
KR: My 11-year-old, who's kind of mature, was bored, so I said, "I was on a show, Felicity, and you might actually like it because it's big girls doing things that you like." She watched about 15 minutes and said, "Mom, that's so cringey. So cheesy." Eye roll central. I was like, "Wow, O.K." I did bring River, who is 16, and a pack of teenagers to see Cocaine Bear because I thought it was so irreverent and ridiculous and stupid. They did laugh at that. But they don't care about what I do. Maybe when they're 40.
All interviews included in this piece were completed prior to July 14, 2023.