Oscar winners Jessica Chastain and Eddie Redmayne collaborate on The Good Nurse, the true story of a nurse who helped catch a serial killer.
Eddie Redmayne and Jessica Chastain are easily two of the most widely respected, tremendously skilled actors of their generation. Oscar winners both, the performers have demonstrated an astonishingly chameleonic ability to disappear into almost any role, building impressively diverse resumes over the past two decades. Redmayne has starred in such films as The Theory of Everything, The Danish Girl, and The Trial of the Chicago 7, while Chastain's credits include Interstellar, Zero Dark Thirty, and The Eyes of Tammy Faye, to name just a few. They also happen to be friends offscreen. So, when the opportunity arose to star opposite one another in the true-crime drama The Good Nurse, a story about the woman who helped bring serial killer Charles Cullen to justice, both eagerly agreed.

Looking back now, though, both Chastain and Redmayne admit that they'd privately wondered how their real-life rapport might be affected by long hours on set. "It's complicated because you don't know," Chastain tells Queue. "You really like someone in real life and then all of a sudden you show up on set and you go, Oh wait, everyone's process is different. And Eddie's playing a character that kills people. If he was Method, it could be quite a complicated work relationship, but he was just as lovely as he is every day." Adds Redmayne, "For the darkness of this movie, we had an extraordinary time making it. We both have young families. We were in New York. I adore her husband; she gets on very well with my wife. The storytelling was so intense that to be able to have that [familiarity] outside of it was wonderful — but also, the thing is, she's fucking good."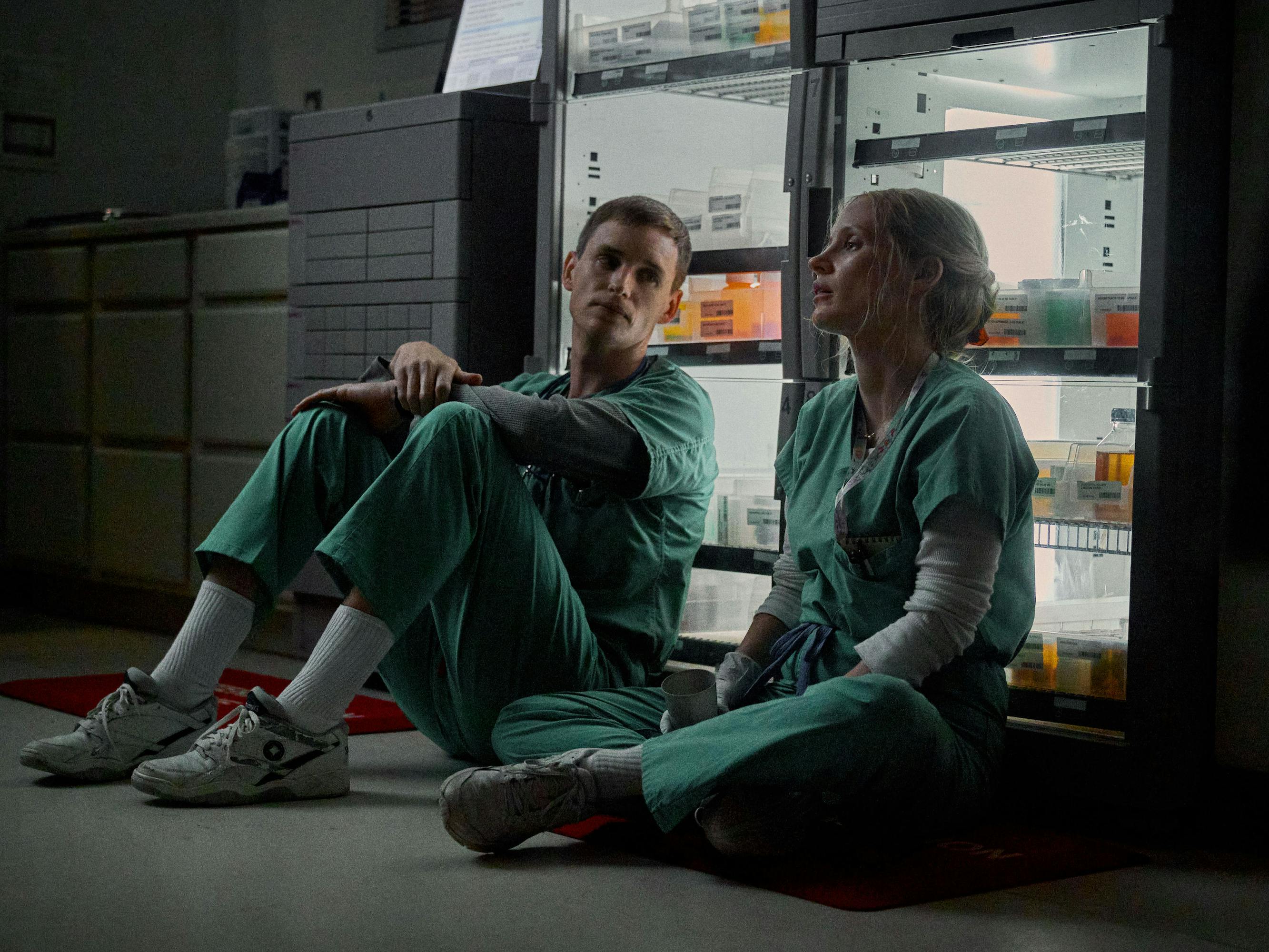 Photograph by JoJo Whilden
To be fair, both actors prove their talents yet again in the gripping new thriller, which marks the English-language debut of Danish writer-director Tobias Lindholm (A War, Another Round) and is adapted for the screen by Krysty Wilson-Cairns (Last Night in Soho, 1917) from Charles Graeber's nonfiction book The Good Nurse: A True Story of Medicine, Madness, and Murder. Chastain plays Amy Loughren, a New Jersey nurse and single mom struggling with a life-threatening heart condition, who befriends the affable Cullen, portrayed by Redmayne, after he starts his new position at her hospital. But Loughren begins to wonder about her quiet, unassuming co-worker after the death of one patient draws the interest of law enforcement. Before long, she notices mounting irregularities and errors in Cullen's charting, which, taken together, point toward a deeply disturbing truth.
Cullen confessed to 40 murders but is believed to have killed more than 400 people between 1987 and 2003 while working in hospitals in the northeastern U.S., making him one of the twentieth century's most prolific serial murderers. That he was able to operate within the medical establishment undetected for so long is the stuff of nightmares. "Nurses are extraordinary, and they work phenomenally hard, and they get paid far too little," Redmayne says. "And there was a shortage at the time as well, in the 90s, so Charlie Cullen was able to slip through the net. He was a very good nurse, so there was a brilliance to his capability, but then that was weaponized, and that's what's so frightening."
Prior to working on The Good Nurse, Chastain had been unfamiliar with Cullen's reign of terror and Loughren's courageous efforts to expose his crimes. For her, the opportunity to bring deserved attention to such a heroic woman made the role irresistible. "I play a lot of complicated female characters, but I also like to show how incredible women are, and Amy absolutely is incredible," Chastain says. "She's a real-life superhero. There are so many stories out there that aren't being told about people who work every single day to keep us safe and healthy — Amy's story was so moving to me that I really wanted to celebrate her."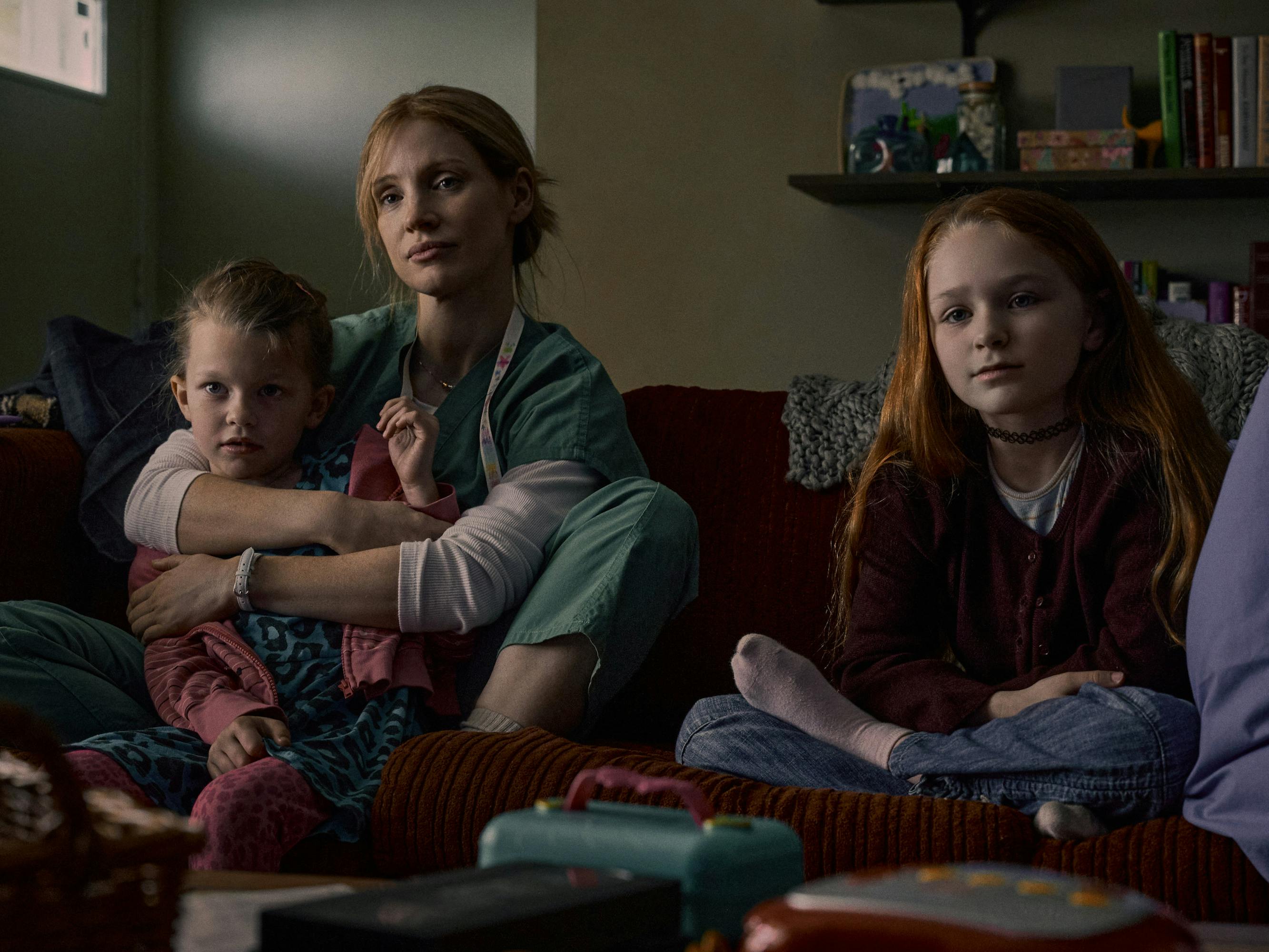 Photograph by JoJo Whilden
Before filming began, both actors went through nursing training set up by the production, learning everything from the history of nursing to the proper technique for inserting an IV, practicing on mannequins. "For me, it was very important because so much of Amy is that she loves her job and she doesn't even think about it," Chastain says. "You don't want to think about it when you're doing something you've done hundreds of times a week. I needed to get to the point that I was just so comfortable in the [hospital] scenes it just felt like she was breathing."
In addition to focusing on mastering the movements required to appear convincing as a nurse, Redmayne also developed a specific manner of speaking and a physicality to inhabit the character of Cullen. "One of the things I found most useful was that Charles Graeber describes having spent a lot of time with the real Charlie Cullen, and how he had the shape of a question mark," Redmayne says. "That was his interpretation, but I found that very helpful, both in a physical element, but also in an emotional one. This person was this weird hybrid of being translucent and skinless and vulnerable, while also being a total closed book. Anonymity was his tool, and he got great power and a kick out of being sort of anonymous. So, how do you make a character present while also being anonymous? That was the conflict for me."
As captivating as Redmayne is in the role, both the actors and Lindholm took care to ensure that the story always remained firmly rooted in Loughren's perspective — the real Loughren even visited the set to advise the stars and offer any input the filmmakers required. "I wanted to put viewers in Amy's shoes to allow them to understand the emotional connection between Amy and Charlie and have them doubt things as they happened as Amy did because of that connection," Lindholm says. "We didn't want to go too deeply into Charlie's secrets. A lot of serial killer movies try to provide a logic behind the killings, but I don't believe any logic or reason can be found in Charlie's motives. The only thing we could do was to give honest moments and turn the sum of those beats into a kind of truth."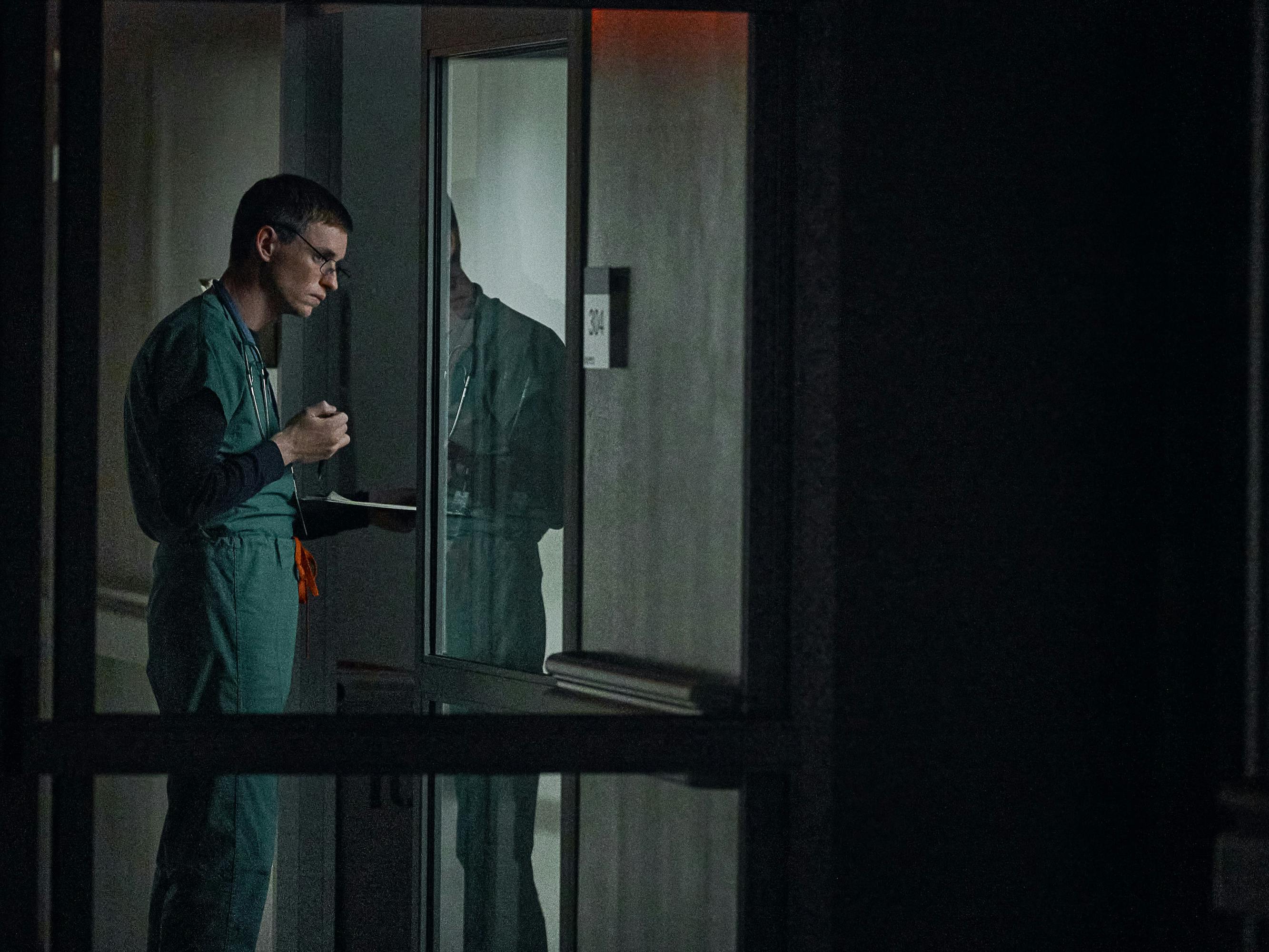 Photograph by JoJo Whilden
Remarkably, Redmayne transformed into Cullen only when required during filming — a gift for which Chastain felt especially thankful. "Everything changes about Eddie in this film, but he didn't torture me when he was doing it," she says. "It wasn't like, Oh, I have to be in this character the whole time. He didn't slip into Charlie until [Lindholm called 'Action'] and we were actually doing the scene. I found it to be such a generous way of working because he could still show up and do it and not have to hurt us with the negativity of the character . . . I know he's always afraid things can go wrong, and he does get quite nervous. He's hardest on himself, but I think that's maybe why his work is so good."
Redmayne says his performance wouldn't have been the same without Chastain's support. "Jess's effortlessness and optimism and confidence really changed the way that I approached it," Redmayne says. "She's so assured and she is such an optimist, and I am the opposite of those things. She wouldn't let me self-doubt, which is something that quite often creeps in when I'm working. She's like, Don't be ridiculous. She galvanized me and gave me the confidence to really play, and I'm so grateful for that."