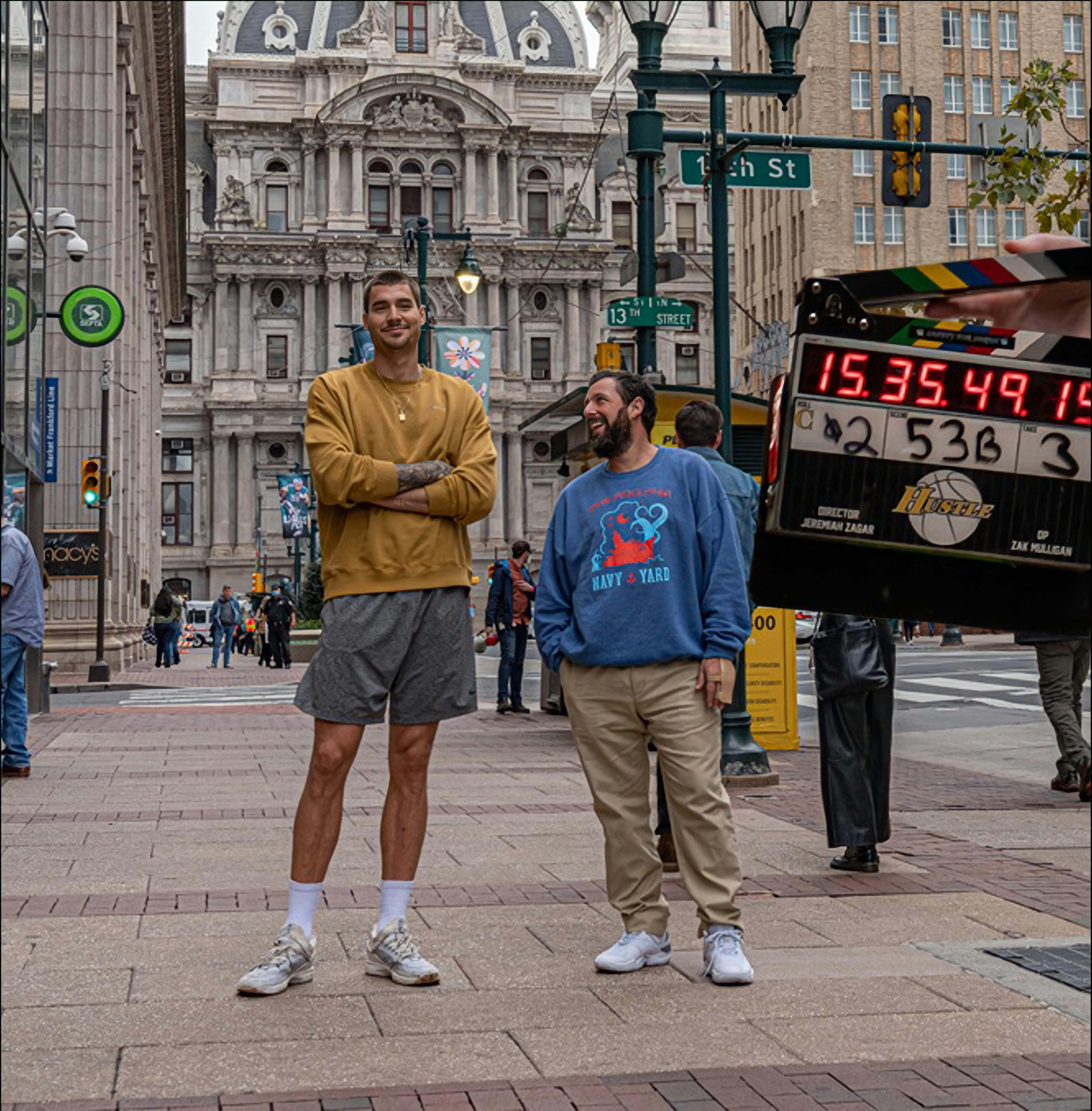 An Ode to Philadelphian Basketball Fans
Adam Sandler sought authenticity in his heartwarming drama about underdogs in basketball drama, Hustle. Landing documentarian and native Philadelphian Jeremiah Zagar as the director was a slam dunk.
Adam Sandler was on the hunt for a director for his uplifting sports drama Hustle, one name came to mind: Jeremiah Zagar. The documentarian's narrative feature debut We the Animals had marked Zagar as a talent to watch — the tale of three brothers navigating a childhood rife with turmoil and volatility took home the NEXT Innovator Award at the Sundance Film Festival and was the most nominated film at 2019's Independent Spirit Awards. "My agent said, 'Adam Sandler is a fan of We the Animals, and he would like to talk to you,'" Zagar recalls. "I said, 'Sure, give him my number.' Two seconds later, he called me."
An avowed basketball fan, Sandler spoke with passion about the project he was co-producing with N.B.A. legend LeBron James, in which he planned to star as Philadelphia 76ers scout Stanley Sugerman, a down-on-his luck recruiter who finds a potential superstar on a scouting trip in Spain. But securing Zagar required a full-court press. Sandler expressed his admiration for the director's work and explained his intention to integrate professional players and commentators into the film — he needed someone who could bring a sense of lived-in realism to the story. 
Sandler sent over the script as soon as the call ended. Then, Zagar turned down the job. Yet the more he sat with the screenplay, the more the Philadelphia-native realized that Hustle would offer him a chance to grow as a filmmaker while also highlighting the city he loved.
Zagar brought a Julius "Dr. J" Erving-level of finesse to Hustle, capturing both on-court ball movement and sideline coaching drama with precision. The director spoke to Queue about working with Sandler, the importance of hometown pride, and how he and his team made actors out of real-life ballers — including Utah Jazz power forward Juancho Hernangómez who shines as Sugerman's discovery Bo Cruz, Minnesota Timberwolves's 2020 first-round pick Anthony Edwards, Atlanta Hawks's point guard Trae Young, and six-time N.B.A. All-Star and Philadelphia native Kyle Lowry.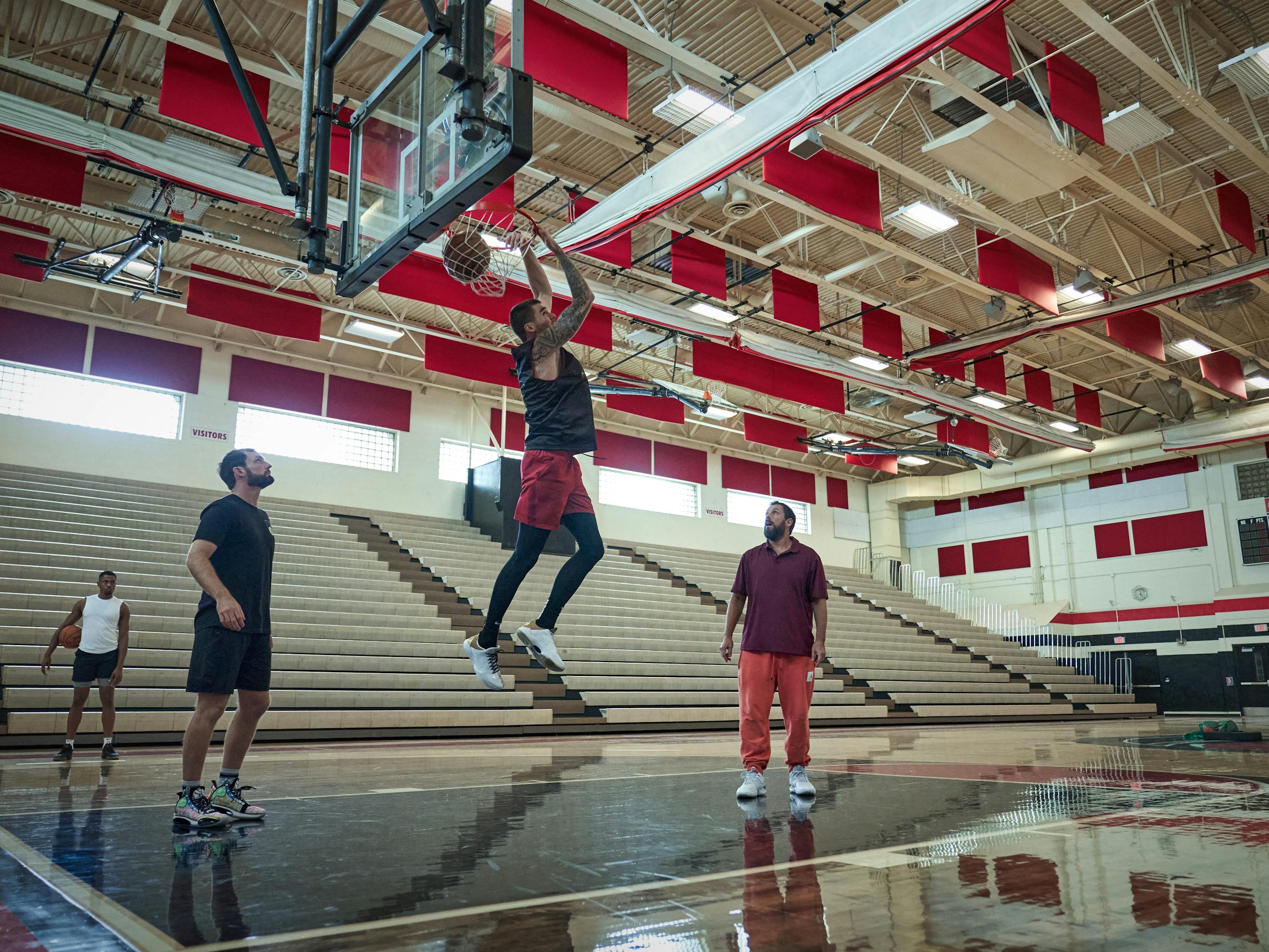 Queue: What made Philadelphia the perfect backdrop for Hustle?
Jeremiah Zagar: Queen Latifah and Adam Sandler are a Philadelphia-style couple, and they look like people from that area. They have that quality of Philly people — regular people, real people, salt-of-the-earth kind of people. I also think Philly sports teams are so storied. You love the Sixers, the Eagles and you love them because they're underdogs and I think that's a wonderful part of the story in some ways. Stanley is an underdog, and Bo is an underdog. The city is a great parallel to their story. 

How special was it to be able to direct this film in your hometown?
JZ: You want to hear a story? We were shooting in the middle of the night in front of City Hall, and we had blocked out the entire street — the entire block of 12th and Market. That's probably the busiest street in the city, and we blocked it out in the middle of the night, and I was like, "This is my street. I own 12th and Market! This is crazy!" It was beautiful — feeling a connection to the city, and that we could honor it in a way that was atypical of other sports films and films in general. I think we did some new things, showed some new places, and I think it will be iconic in that way. 

What was your process of working with a great cast of seasoned actors alongside professional athletes?
JZ: The athletes worked with our acting coach, Noëlle Gentile, for months, if not years. That's everybody from Dr. J [76ers Hall of Famer, Julius Erving] to Kenny Smith to Juancho and Anthony Edwards [who plays Bo's rival]. I think what actually happens is they see these actors who have done it for so many years and they see how wonderful they are. They see how much fun they're having, and they want to do the same, so they make each other better. Adam wanted to work with real basketball players because they made it authentic. The basketball players wanted to work with real actors because it made their acting better and I think they go together in a beautiful way.  

How was it working with Sandler?
JZ: I think he had a deep connection to the character, and it was beautiful to watch. To watch someone who is so seasoned and such a legend do his thing. For me, you just have to cast the movie right and let it do its work. That's what we're talking about with seasoned actors like Adam. I think there are more things for me to do with someone like Juancho who has never done it before. Adam is just as good as it gets. I don't think he gets enough credit for what an amazing dramatic actor he is.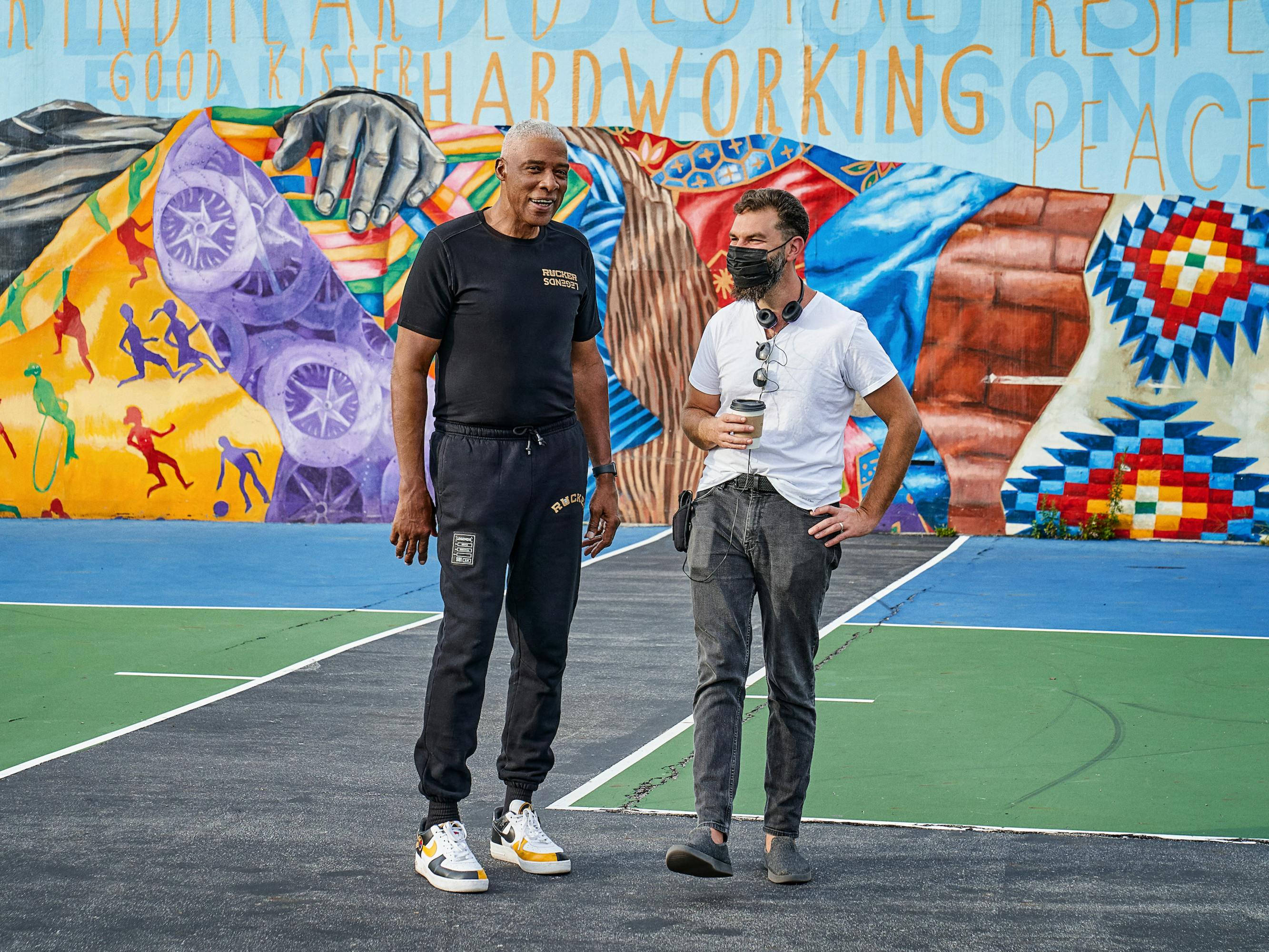 Hustle features performances from N.B.A. talent past and present. Walk us through the process of casting the right athletes for the film. 
JZ: Juancho auditioned and he kind of did it on a whim. He then got on a Zoom with Noëlle and me, and he was amazing. Noëlle brought him to a place that was so exciting, and we knew he was the right guy. Adam saw Anthony Edwards — Juancho's teammate at the time — do a press conference and he suggested Anthony. After Noëlle worked with Anthony, we knew the same thing — he was amazing. To watch Anthony on set with Juancho was a revelation. The way they were able to hit their marks, and the innate charisma in both, was awe-inspiring. 

Was there any difficulty in shooting these action scenes and still having them look and feel authentic?
JZ: First of all, we had an amazing basketball team. Mike Fisher [our basketball coordinator] and his team — they're all basketball aficionados and that helps. We decided to shoot them in a very detail-oriented and fluid way — almost how you would shoot a documentary. We would rehearse the whole game and shoot the game as a backbone for the scene, so you saw it as if it were really happening. Then we would fill in the pieces to make it subjective, either from Stanley or Bo's point of view. 

We had all of these crazy tools. We had a little remote-controlled car that had a camera on it, called a terro. We had a thing called a Charlie bar that sticks out from the subject so they can make direct eye contact with the viewer. We wanted to give the audience basketball that they wouldn't see on TNT, [something] that would bring them into the game, so the game would feel as real and immediate as it felt for a ballplayer. It's also elevated by Dan Deacon's unbelievable score and the incredible sound design that Tom Paul and Elmo Weber mixed. 

What would you say was the most enjoyable part of making this film?
JZ: The most enjoyable part was working with the people that I've worked with for years and meeting new people that I hope to have in my life for years to come. People like Zak Mulligan, the cinematographer, or people like Noëlle. People like Jeremy Yaches, [one of] my producer[s]; Keiko Deguchi, my editor; and then Juancho and Anthony Edwards, getting to know these people has been so wonderful — that's made my life richer.