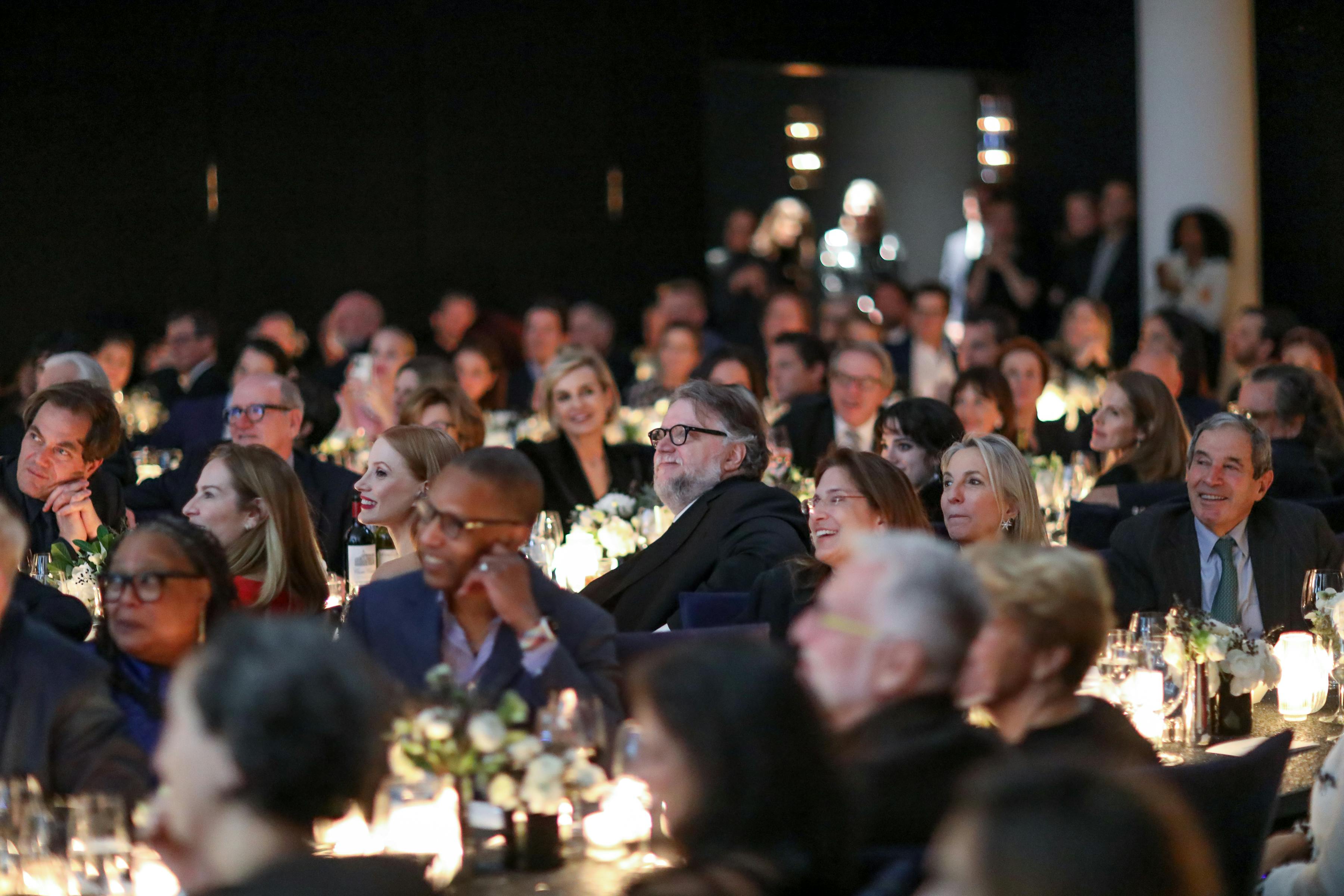 MoMA Film Benefit Celebrates Guillermo del Toro
The Guillermo del Toro: Crafting Pinocchio exhibit honors Guillermo del Toro, his first-ever stop-motion animated feature, and three decades of visually stunning misunderstood monsters.
Over the past three decades, Guillermo del Toro has distinguished himself as a singularly gifted, inventive filmmaker. His visually stunning tales transport audiences to fantastic worlds where noble, misunderstood monsters exist alongside cruel bureaucrats and ill-fated conmen. His new film, Guillermo del Toro's Pinocchio, continues that tradition and at the same time, represents the latest creative highwater mark in a remarkable career. The lifelong passion project arrives as the Oscar winner's first stop-motion animated feature, one literally years in the making.
The incredible behind-the-scenes artistry that went into the film is the subject of an extensive new exhibition, Guillermo del Toro: Crafting Pinocchio, at New York's Museum of Modern Art, which opens to the public Sunday, December 11. The institution feted del Toro himself as the guest of honor at the 2022 MoMA Film Benefit, a philanthropic event that kicked off with a high-wattage red carpet and included a seated dinner and award program highlighting del Toro's visionary work. The Film Benefit was part of a busy week of celebrations that included the movie's New York premiere on December 6, also at MoMA.
At the Film Benefit, del Toro appeared to take the whirlwind schedule in stride, telling Queue that his principal motivation is to do all that he can to bring attention to Pinocchio in time for its December 9 premiere on Netflix. "It is the desire to bang the drum for people to see the movie, and then let the movie speak for itself," says del Toro, who co-directed the animated fairy tale with Mark Gustafson (Fantastic Mr. Fox). "That's all you can do. You can say whatever you want, but the only argument for the movie is the movie — and I know the movie makes a very good argument for itself."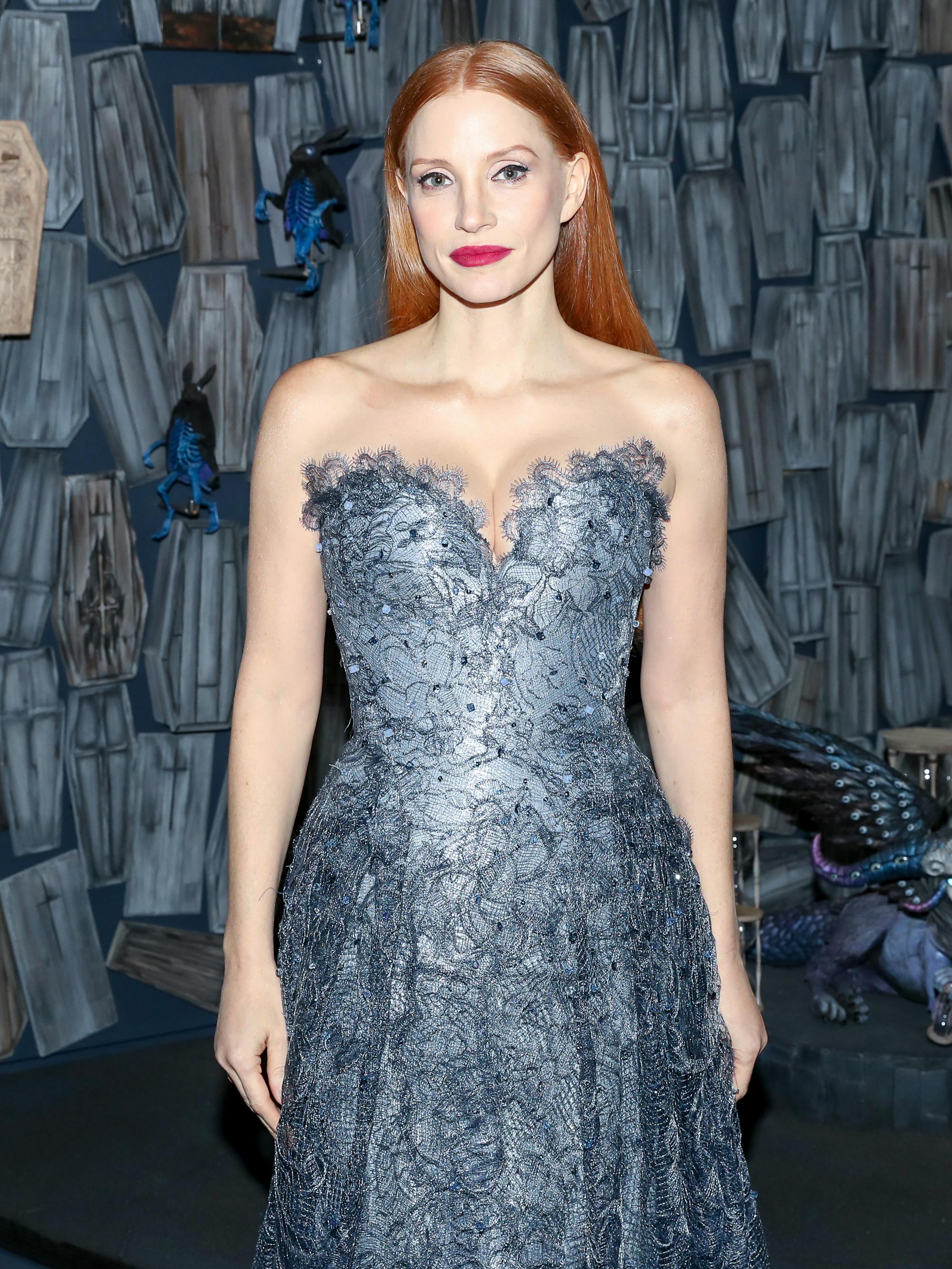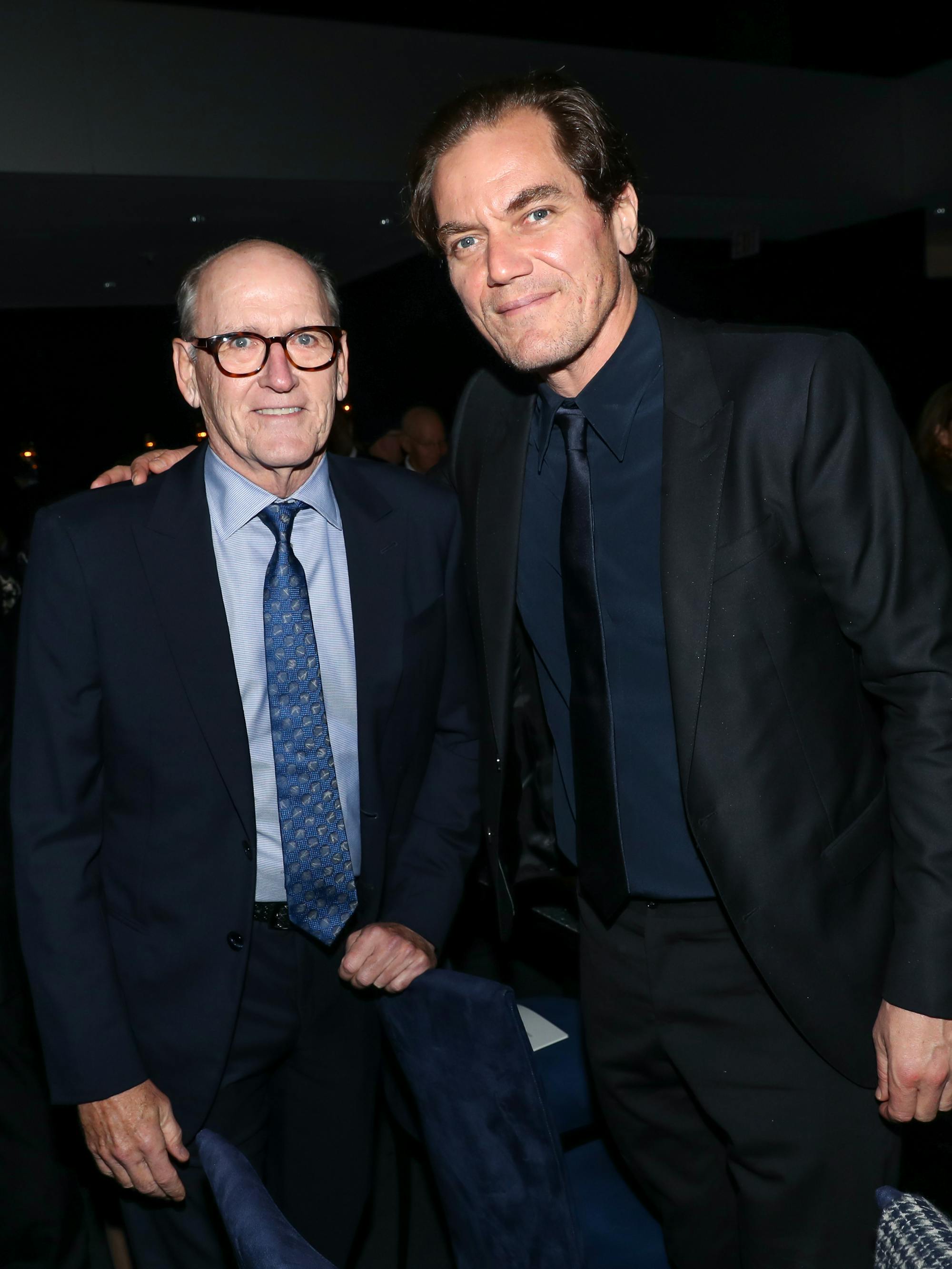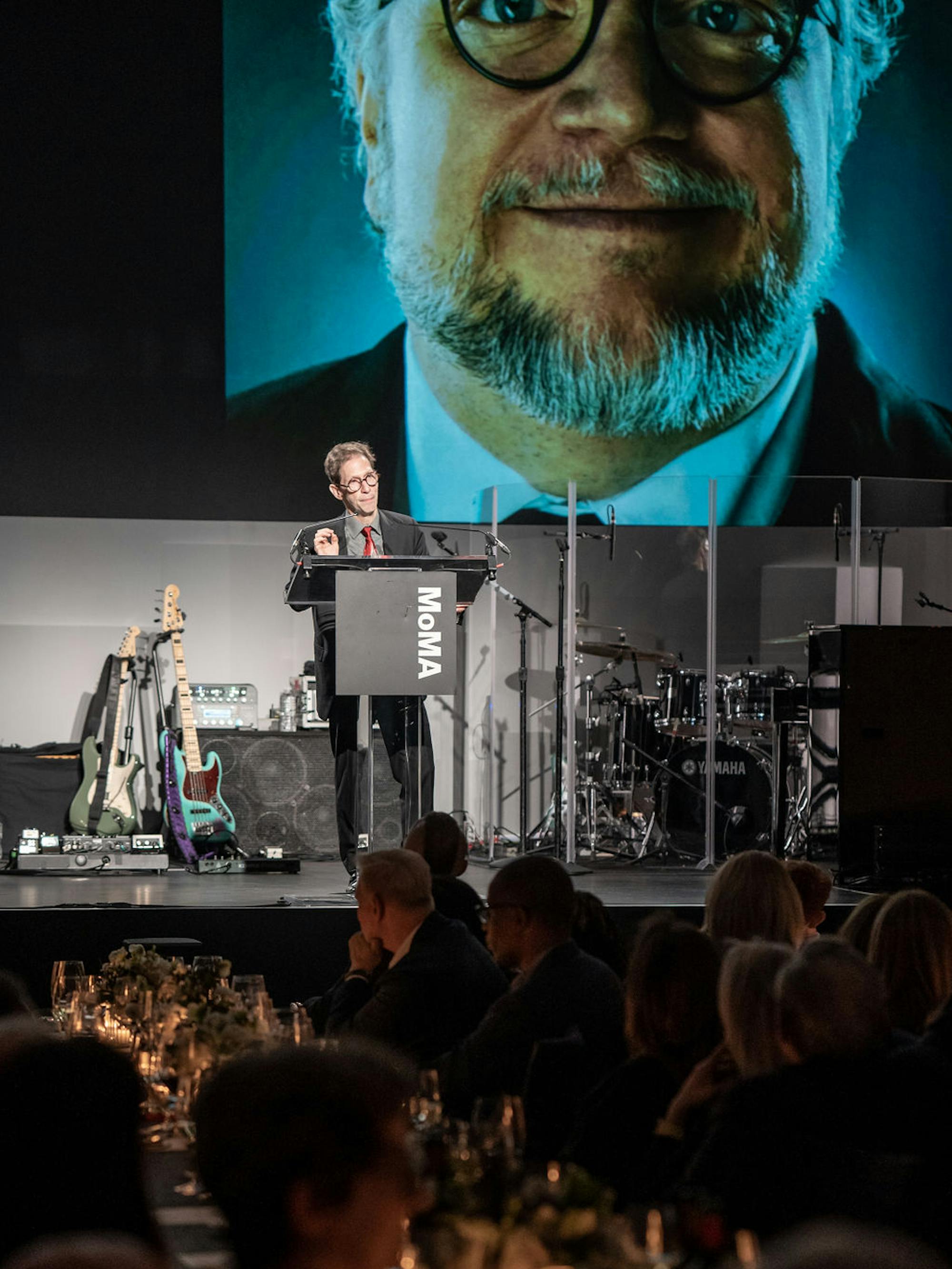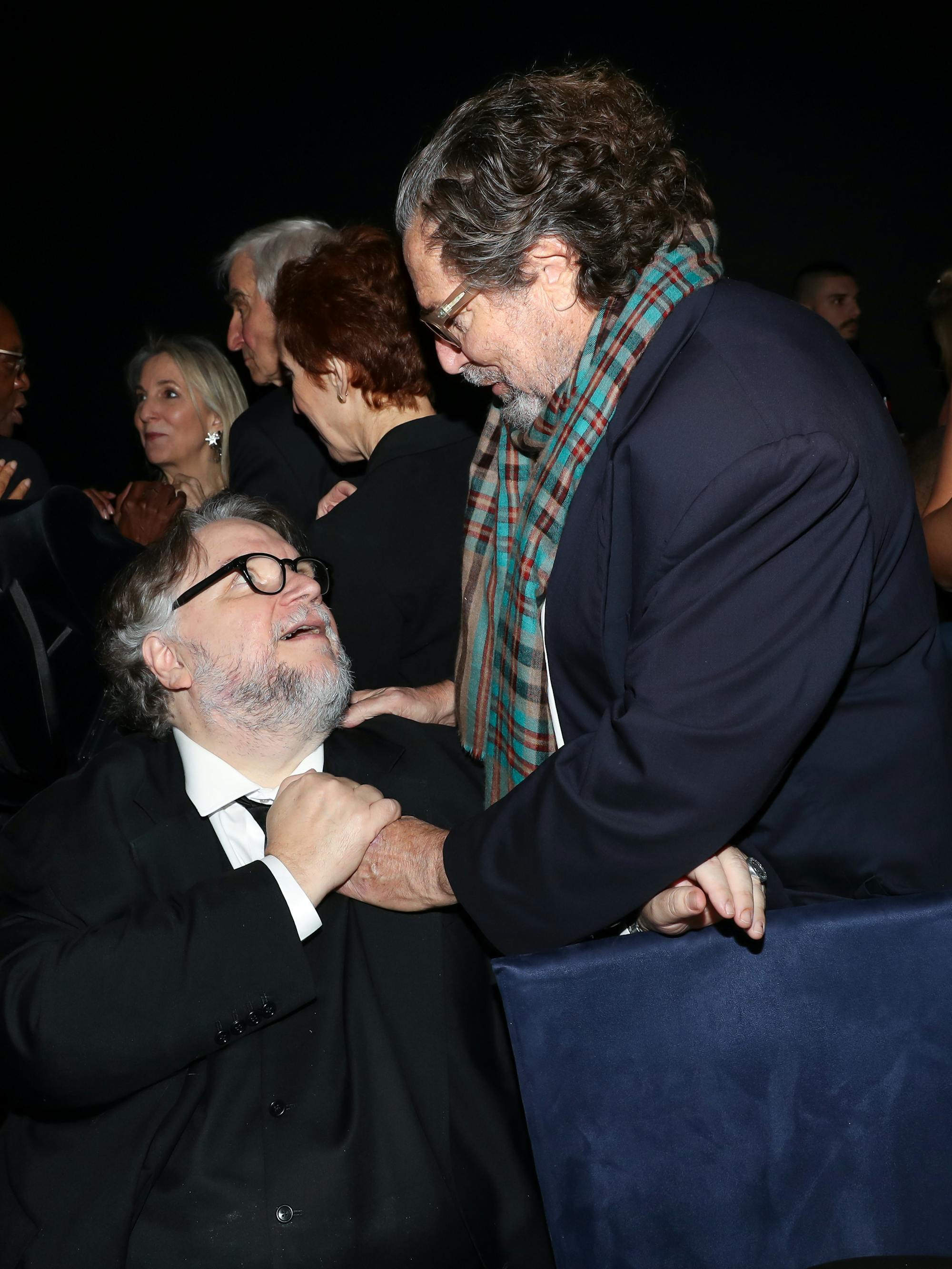 Photograph by Austin Donohue / MoMA
The many famous fans in attendance were equally excited to celebrate del Toro's latest project as well as the man himself. "It means a lot to be able to be here to support Guillermo," said Oscar winner Jessica Chastain, star of his 2015 Gothic romance Crimson Peak. "He's not only an amazing director and collaborator that I had the great pleasure of working with, but he's my friend. Every time I see him it makes me very happy. I think he is a great artist but most of all, a great person."
Chastain also noted how exciting it was to see the classic Italian fable retold by del Toro. "I know the story is 140 years old, but his version feels like the definitive depiction of Pinocchio," she said. 
Oscar nominee Richard Jenkins (2017's The Shape of Water, 2021's Nightmare Alley) also attended the gala, as did venerable filmmakers Julian Schnabel (At Eternity's Gate) and the Coen Brothers (The Ballad of Buster Scruggs). Pinocchio's cast members were represented as well: On hand were Gregory Mann, who plays both the title character and Carlo, the doomed son of woodcarver Geppetto; Stranger Things's star Finn Wolfhard, who voices the role of Pinocchio's rival-turned-friend Candlewick; and Tim Blake Nelson, who plays all four of the Black Rabbits, characters who exist in a plane known as Limbo where the physical embodiment of Death (Tilda Swinton) resides.
Pinocchio finds himself in Death's chambers on more than one occasion in the film, which del Toro wrote with Patrick McHale (Over the Garden Wall) and set in Benito Mussolini's Fascist Italy. After the little wooden puppet is brought to life, his riotous, chaotic spirit prompts him to venture out into the world, where he unwittingly gets himself into a constant stream of predicaments. Geppetto is forced to set out on a journey to find the troublesome boy and to gain an understanding and appreciation for his prodigal son.
"The movie is about love, forgiveness, and how brief our lives are," del Toro told Queue. "It's about how we, as a society, are constructed of imperfect beings, imperfect fathers, imperfect sons, and we can bypass that. We can love and become real humans."
During the ceremony, del Toro received even more well wishes courtesy of video tributes from Swinton; Ewan McGregor, who plays Pinocchio's erudite narrator, Sebastian J. Cricket; and Cate Blanchett, who portrays the monkey Spazzatura and who starred alongside Bradley Cooper in Nightmare Alley. Cooper also congratulated del Toro with a video message, as did Alejandro González Iñárritu — the Oscar-winning writer-director of BARDO, False Chronicle of a Handful of Truths, who has been friends with del Toro for decades.
Del Toro attended the Film Benefit with Kim Morgan, his wife and the co-screenwriter of Nightmare Alley, and his daughter Marisa, delivering his own remarks before the evening concluded with a musical performance by H.E.R.
Now in its 15th year, the MoMA Film Benefit, presented by CHANEL, raises money for the acquisition and preservation of key film works and provides funding to support the Museum's film exhibitions. Previous honorees have included Penélope Cruz, Martin Scorsese, Alfonso Cuarón, Kathryn Bigelow, and Tim Burton, among others.