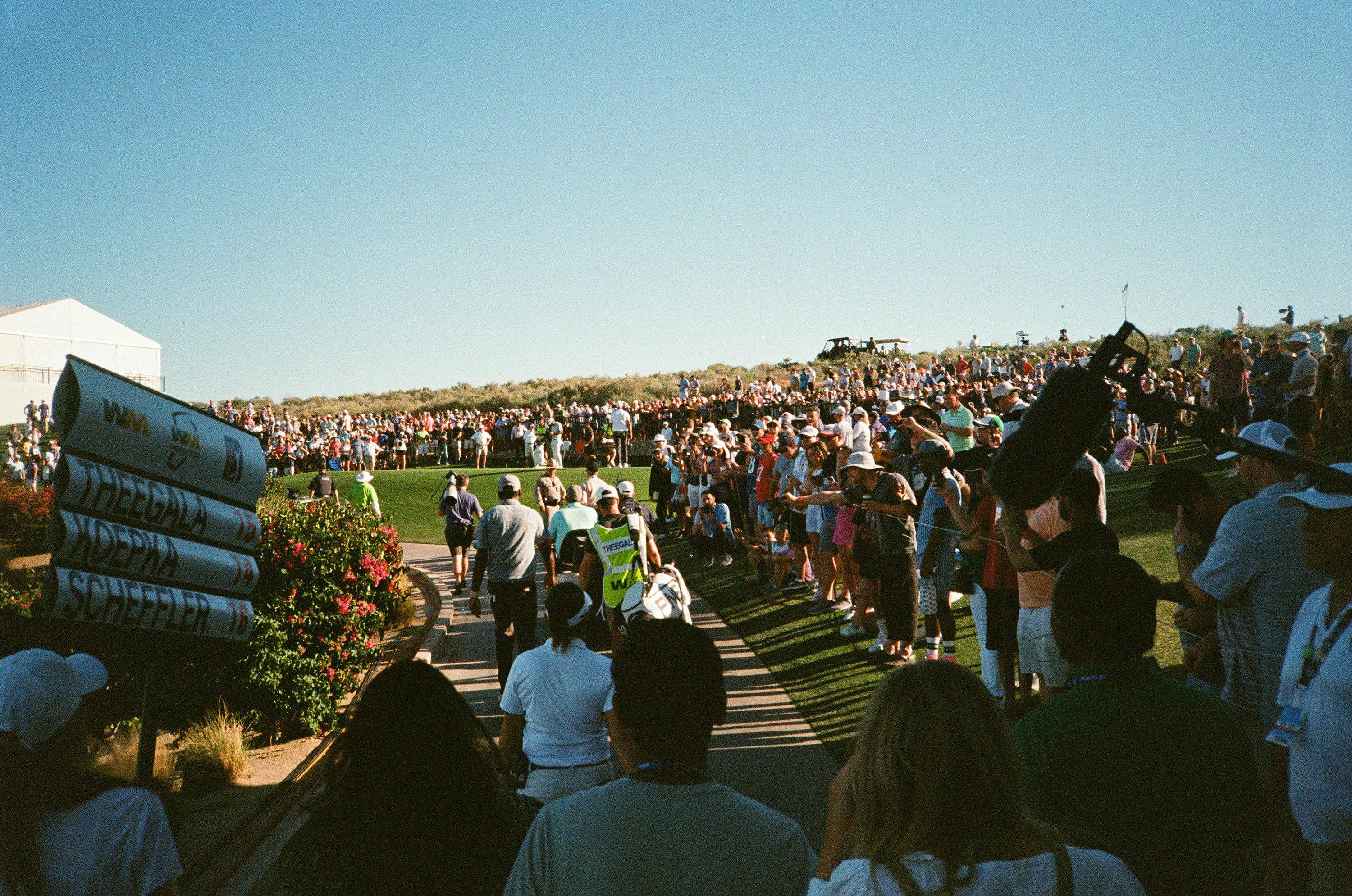 Producers Chad Mumm and Paul Martin go beyond the green in their docuseries Full Swing.
After years of trying to make a project about the PGA to no avail, producer Chad Mumm finally scored a green light, naturally, on a golf course.
Mumm, a long-time superfan of the sport and TV producer (Retro Tech, Mind Over Murder, Glad You Asked), had proposed a series that would appeal to golfers and nongolfers alike: a no-holds-barred, full-access exploration of the Professional Golfers' Association of America and its players. "I played golf with some executives from the PGA TOUR and I'd say, 'We should do a documentary series, but it's got to be warts and all. You're not going to have editorial control.' And they'd [say], 'Yeah, thanks, see you next year,'" says Mumm of these early pitches. 
It wasn't until 2019 when, during a round of golf, Mumm convinced the PGA TOUR and its new commissioner, Jay Monahan, to take on a raw and honest exploration of the golf world. "We got together on the first tee," explains Mumm, "and over the course of 18 holes we hashed out what this show would become." 
From that initial conversation on the green, Mumm and Vox Media Studios, the production studio where Mumm serves as chief creative officer, joined forces with producer Paul Martin and Box to Box Films, the brain trust behind Formula 1: Drive to Survive, to create Full Swing. The eight-part series follows a diverse group of professional golfers — including Rickie Fowler, Jordan Spieth, Tony Finau, Joel Dahmen, and Collin Morikawa — throughout one season of the rigorous and high-stakes PGA TOUR. Full Swing also happened to have cameras rolling during an unprecedented time for the golf world: Midway through filming in 2022, the conflict between the PGA TOUR and the rival LIV Golf League came to a head, with golfers resigning from the PGA TOUR to participate in the new tour.
The series, which was renewed for a second season shortly after its release on Netflix, tracks the golfers through their highest highs and their lowest lows both on and off the green, giving space for the competitors to get vulnerable and candid about their ambitions, setbacks, and personal values. "It's such a lonely sport, [and Full Swing is] a way to see real human stories and the pressure these players are under — it's unbelievable," says Mumm. 
At a recent Full Swing screening in Los Angeles, Mumm and Martin joined sports journalist and Fore Play host Dan Rapaport to discuss how they gained access to some of the biggest names in golf during one of the most pivotal years in the sport's history. "It's just about trying to distill the sport down to those moments where everything pays off," Martin told the audience. "That's what makes [a] sport that is six, seven, eight months old by the time it appears on Netflix still exciting." 
An edited version of the conversation follows.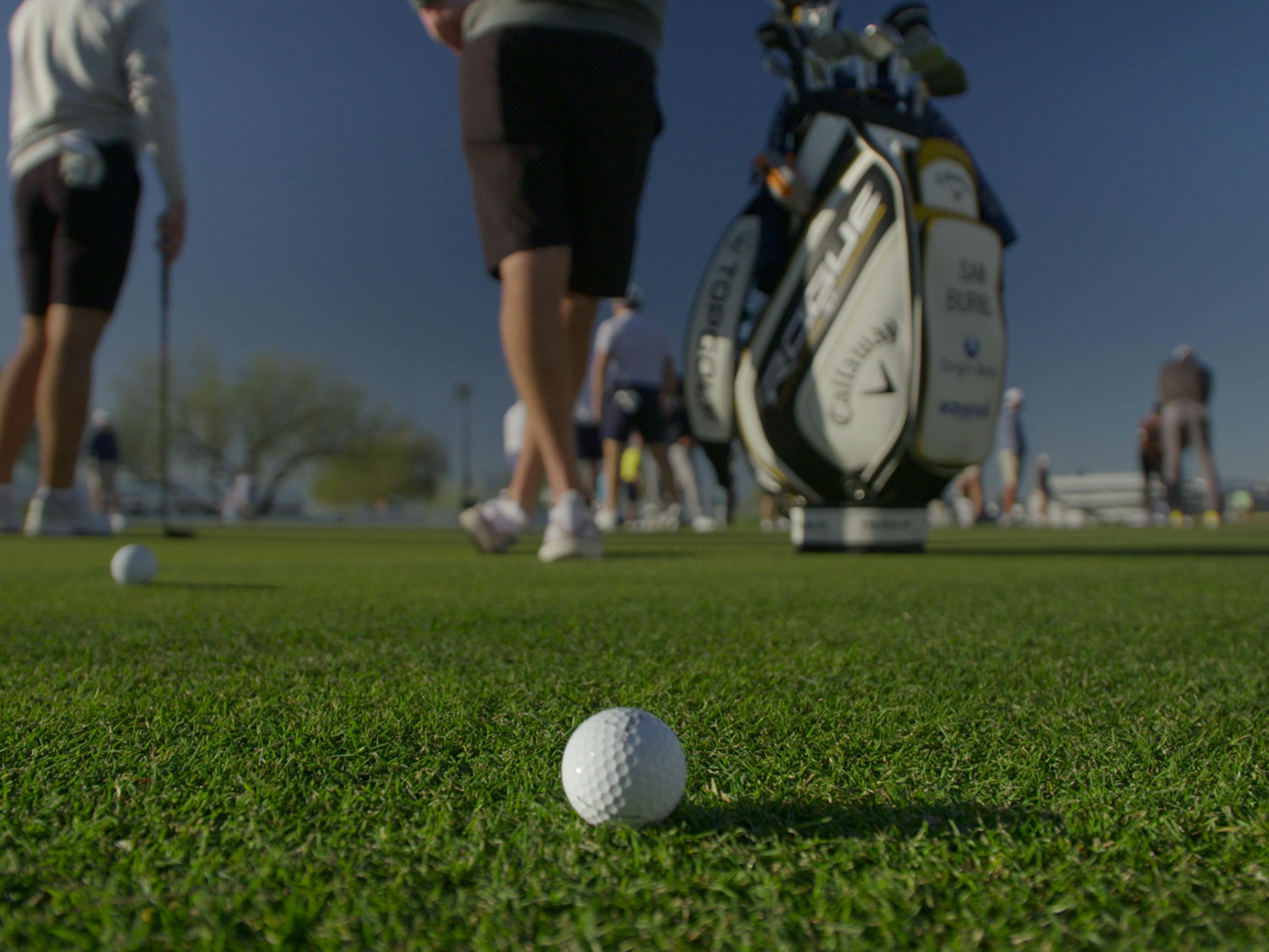 Dan Rapaport: Paul, you've been a driving force behind [Formula 1: Drive to Survive]. One of the incredible things that the show has been able to do is appeal to people who weren't Formula 1 fans before. And the impact that it's had on the sport in this country — they've got three races now, it's on ESPN. How important was it for this show to follow in that mission of [reaching] outside the core golf audience? 
Paul Martin: I think it was really important. I'm not a golf nut. When the opportunity came to talk about this show, initially we were pretty skeptical because it wasn't a sport that we necessarily were really into. And then we met Chad [Mumm] and obviously Chad's passion for golf and this project came through. 
We had an extraordinary trip to the Bahamas where we sat down with about 20 golfers over two or three days and just did these audio interviews where we really got under the skin of what's it all about. It was really the Brooks Koepka interview where we came out and we [thought], Wow, I've never seen an athlete be so raw about the fact that his golf game's falling apart and therefore his life's fallen apart. And it was really that interview that convinced me that there was an amazing show to be made. We just felt that if you tap into that, audiences will come whether they're golf fans or not. 
These guys let you into their homes, they show their children. How did you build that trust with players for them to open up like that?
Chad Mumm: I think a lot of the players had watched Drive to Survive, so they had a framework for what this could be. And I think, frankly, they've worked their whole life to get to the top of this sport, and it would be cool to see [their] sport get that treatment. We got out there and just told them that if it was important to them, it was important to us and it had to be authentic. It was, "We want you to feel like at the end of the year when this show comes out, you can watch it and you can [think], That's what my life was like." The ups, the downs, all of it. And at the end of the day, it is a trust exercise and we never take it for granted. We say to our teams every time we shoot, it's like you have to earn that trust every single day. 
I remember when I was first hearing about the show, I was also a little bit skeptical. Formula 1 is Ferraris going 200 miles an hour [in] Monte Carlo and golf is not that. How did you approach making the actual golf action itself sexy? 
PM: The challenge with these shows is, how much sport can you really take in the episodes? And for us, if there's too much, then the sport just becomes boring because everyone does know the result, and everyone knows who wins tournaments, and they can go to look it up. So you really have to constantly distill the sport and use it to pay off the story or to be additive to the story. 
You picked a pretty good year to make this show. I remember when everything was happening, I think there was a lot of skepticism that this would be a PGA TOUR production or that it would ignore the LIV Golf schism. That's really a once-in-a-generation dynamic in our sport. How did you navigate telling a story that is so unique and so huge? 
CM: Well, I think there was just no avoiding it. I think the first call to the PGA TOUR was just, "Hey, did you see the news? This is happening." And we were going to tell it because it was happening to our characters. And that was the whole model from the beginning: If you let us into your lives, let our cameras in, if it was important to you, it was important to us. 
It turned out several members of the cast left in the middle of the season, some resigned their PGA TOUR cards, some left and then sued the PGA TOUR, and it was chaos. But we'd invested a lot of time into those relationships and we said, "Look, if it's important to you why you're going, we want to understand. We want to follow that story all the way to its end and fitting conclusion." And all of a sudden you had this almost unbelievable macro storyline that just added all this top-down pressure into a sport that's already full of it, and it just made for an unbelievable year. 
Golfers are a unique breed. What surprised you or what's been your takeaway about working with golfers versus other athletes? 
PM: I think they are all different. The athletes within every sport are slightly different. Just because we've made Drive to Survive, we didn't come into golf saying, "Okay, everything that works on Drive to Survive, let's drop it onto golf." You have to take your time and really get to know the sport, get to know the athletes, get to know the golfers. 
I think they are all different, and I think that you have to embrace those differences and understand those differences before you can even think about what the shows are going to be. On all the shows that we do, we take a long time to really get to know and feel like we understand what they're going through as athletes to then tell the most authentic, best version of it. 
What do you think is in this show that would appeal to someone who has no real interest in golf outside of this?
CM: It's a lifestyle that's different from a lot of other pro sports because it's entirely individualistic. That was actually what drew me to golf as a vehicle for a doc series in the beginning because there's no lonelier sport — there's also no more individual sport. And unlike tennis, to win a golf tournament, you've got to beat 165 players. You don't have to win seven matches in a row, you literally have to beat everybody. You could play four great rounds, best golf of your life, and still get beat. 
Outside of them hitting these 350-yard drives and flying around in private jets, they have pretty mundane normal lives at times too. And because golf is slow, the families are there the whole time, which I think is also a little bit different. The last people you see before you tee off for the biggest round of your life is your wife and your kids. And then, as soon as you step off the 18th hole, there they are again. There's no cooldown period, you're just on. And so we've spent a lot of time with those families during these rounds. I think people don't expect to come to a golf show and cry, but there are some real, emotionally powerful moments. 
Full Swing has been renewed for Season 2, which is great news. Have you guys noticed that having now done it and [now that the players have] seen the product, it's a little easier? Does that allow you guys to dive a little deeper into some stories? 
CM: I wish.
PM: It can walk both ways, honestly. We've experienced it on Drive to Survive — what happens is that you don't get the "gimmes" that you get in Season 1. You have to work a little bit harder. I think that they know all the tricks, they realize the power of radio mics now. Whereas before you're like, "Just put it on and, can we hear you from . . . " "No, we can't hear you from anywhere like that." Now they're, "Oh, you really could." You have to show them the on-off switch and things like that. 
Ultimately, they see how fans are engaging with the sport in a really new and different way. The good that they see [in] the show far outweighs the fact that you put something in there that they'd rather hadn't been in there. That's the nature of the show. 
CM: They respect that, I think. 
PM: It's in a good place. And I think whenever you do these shows, you have to have that moment where you have to let them all vent a little bit. [There are] little gripes that they have to get off their chest, they have to vent, and then you move forward and you make a great Season 2.