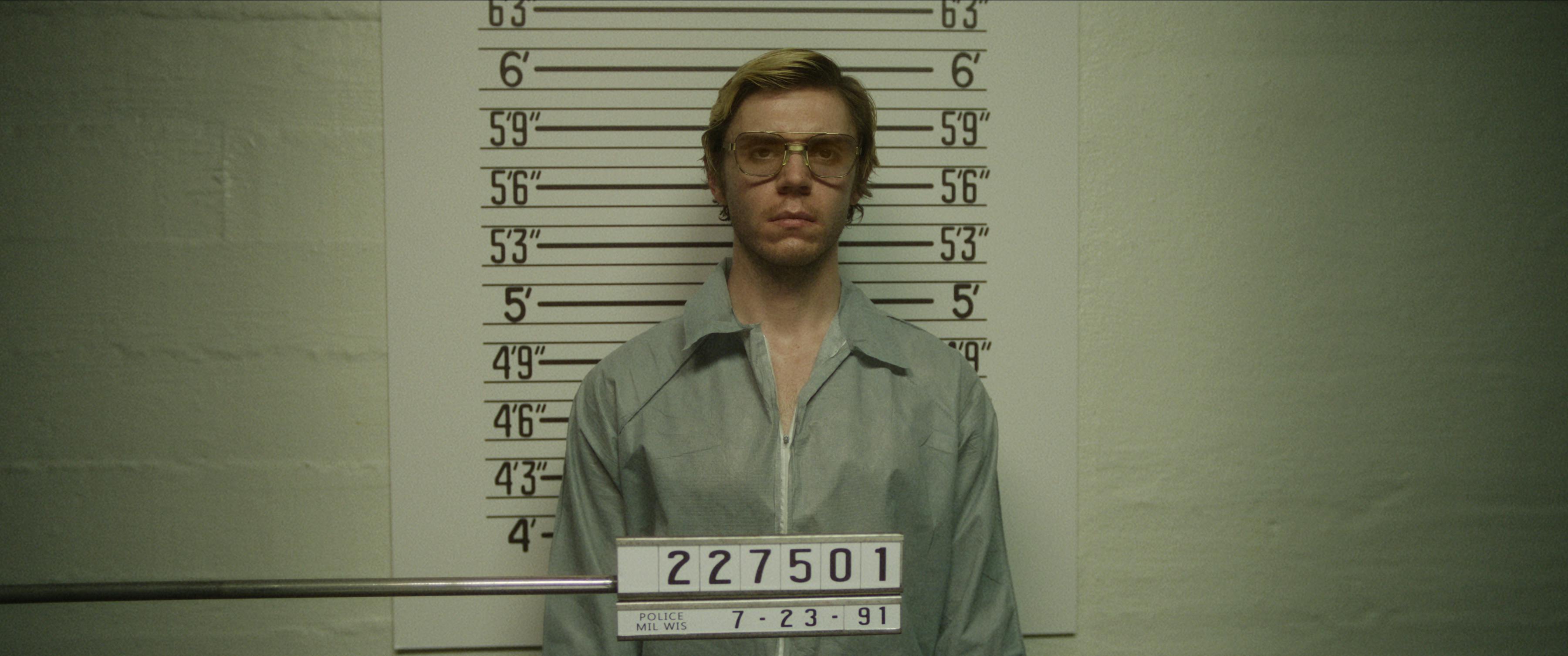 Evan Peters surrenders to the darkness of Ryan Murphy's DAHMER - Monster: The Jeffrey Dahmer Story.
For Evan Peters, the transformation into serial killer Jeffrey Dahmer started with his hands. Even before the cameras rolled on DAHMER - Monster: The Jeffrey Dahmer Story, the actor tied lead weights to his wrists as a way to mimic Dahmer's unusual posture. "I studied how he moved," Peters shared in a roundtable conversation with Ryan Murphy and the cast of DAHMER. "He had a very straight back. He didn't move his arms when he walked. It was important for me to get how that felt. In the beginning, I wore [the] wardrobe — [the] shoes and jeans and glasses — and I had a cigarette in my hand at all times, just trying to get all of these externals [to be] second nature."
Still, the physical burden of portraying Dahmer was nothing compared to the psychological toll of delving deep into the mind of a man who took the lives of 17 people — many of them young gay men of color — between 1978 and 1991. Peters watched hours of footage — every interview he could get his hands on — and even listened to a 45-minute audio loop of Dahmer talking every day to nail the killer's diction and capture his mindset. "I read as many articles, books, timelines, confessions as I could. I watched as much of him as I could. I listened to him as much as I could," said the actor during a recent FYSEE event.
Created by Murphy and Ian Brennan, who count The Watcher, Halston, and Glee in their list of collaborations, DAHMER investigates its subject's past, while exposing the systemic racism, homophobia, and institutional failures that enabled Dahmer's killing spree for more than a decade. As part of that mission, the show also gives voice to Dahmer's many victims, including his father, mother, and stepmother (played by Richard Jenkins, Penelope Ann Miller, and Molly Ringwald, respectively) and the long overlooked Glenda Cleveland (Niecy Nash-Betts), Dahmer's next-door neighbor who tried to warn the authorities about his suspicious behavior but was repeatedly ignored. 
This complex and nuanced version of the story proved compelling for Peters. "To me, it was just really important to do 120% the entire way through. It felt like the material deserved it, so I pushed myself," he explained.. That dedication has already paid off, earning the actor a Golden Globe Award for Best Actor in a Limited Series.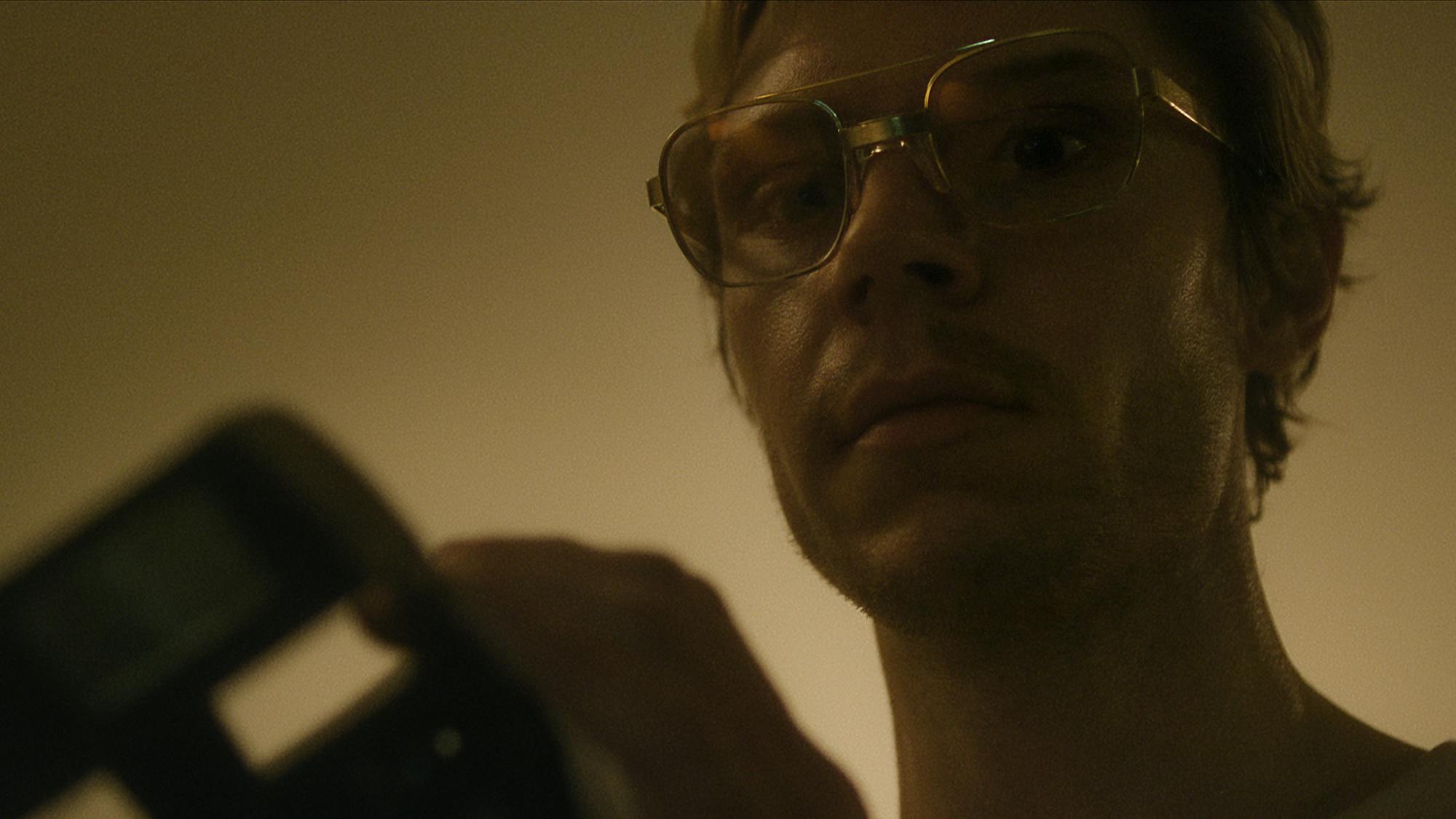 It's this fearless commitment to even the darkest of roles that separates Peters as such a remarkable performer. Murphy, who discovered the actor when he auditioned for American Horror Story: Murder House as a 17-year-old, was so impressed by him that he rewrote the season to showcase Peters's talent. DAHMER marks their 11th collaboration: Peters has appeared in almost every installment of Murphy's American Horror Story, with roles ranging from his breakout as the troubled teen Tate Langdon to a frat boy resurrected by a coven of witches (American Horror Story: Coven) and a mass murderer-turned-hotelier whose idea of a fun Halloween is hosting a dinner party for serial killers (American Horror Story: Hotel), which included a version of Dahmer (played by actor Seth Gabel). He also starred in the debut season of Pose, Murphy's award-winning collaboration with Brad Falchuk and Steven Canal, as Stan Bowes, a yuppie striver working for Donald Trump who begins an affair with trans sex worker Angel (Indya Moore). 
Outside the Murphy-verse, Peters has also made an indelible mark. In 2018, he was nominated for a British Independent Film Award for his turn in Bart Layton's American Animals, based on the true story of a group of Kentucky college students who planned a heist of their library. His scene-stealing performances as Peter Maximoff (a.k.a. Quicksilver) in X-Men: Days of Future Past and X-Men: Apocalypse were so memorable that he was tapped to play an alternate version opposite Elizabeth Olsen in the Emmy-winning and Golden Globe-nominated Marvel series WandaVision. These roles led up to his Emmy-winning portrayal of Detective Colin Zabel in Mare of Easttown, opposite Kate Winslet's Mare Sheehan.
I really struggled with whether to dive into it or not. I [couldn't] imagine a harder role to do.
Given their history, it's no surprise that Murphy kept coming back to Peters when thinking about who to cast as Dahmer. "We did several months of casting, and I think we must have read a hundred guys," Murphy said. "There were many great contenders. And I just kept thinking, If only Evan would do this." He almost didn't. When Murphy first approached Peters with the idea, he hesitated. "I really struggled with whether to dive into it or not," Peters admitted. "I [couldn't] imagine a harder role to do."
Peters eventually took up the challenge and began the work of familiarizing himself with Dahmer's horrific deeds. "The psychological [aspect] was the most difficult part," he said. "He had a confusion about why he even wanted to do what he did, and his understanding that it was wrong and self-medicating with alcohol. It felt like it opened up a key to playing him in that it was really a deterioration into a compulsion that he couldn't control anymore and just completely lost himself. Once I learned that, I tried to really map out the arc over the series." Most important to Peters was that his portrayal did not veer into a caricature of Dahmer. "I really wanted to strip it all down," he said. "Everybody was on board with telling it matter-of-factly so that the facts of the case would sort of tell the story itself."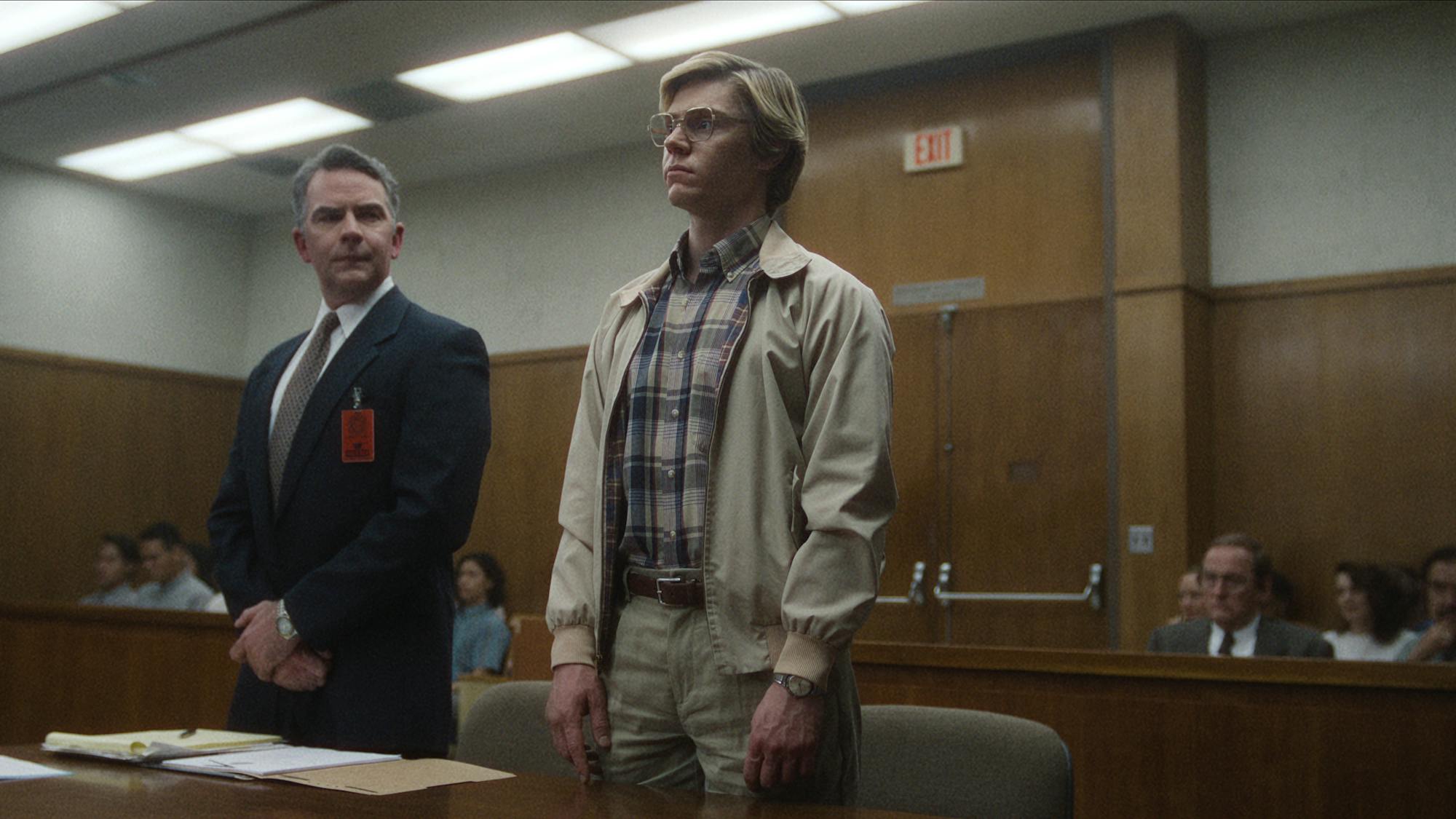 With that in mind, he collaborated closely with hair designer Shay Sanford-Fong to track the character's physical and mental evolution from the 1970s into the early 1990s. "We told a story through [Jeffrey's] hair," Sanford-Fong shared during a Netflix FYSEE panel with Peters and the rest of the cast. "A lot of it had started with him being a teenager — the 1970s vibe — going into the 1980s from the military cut to the longer style. The more attacks there were, the greasier he got. He started to look a lot more uncut. So, the progression through the series, you could see where he was going darker and darker with each episode."
That haunting progression meant that Peters retreated further and further into the character as filming went on. In fact, some of his castmates now joke that they're only now discovering the real person behind the actor. "I didn't really get to know Evan until after filming," Nash-Betts said during the FYSEE panel. "I thought [he] didn't like me. And I said, 'Well, everybody likes me. What's going on?' Then I realized he had to stay in his process because if he loved me like he does now, we wouldn't be able to create that tension on camera." Little did she know, Peters longed for the two to hang out. "I'm a huge fan of yours and I would see you on set and I'd be like, 'God dammit, I wish I could just hang out and talk,'" he said. "But I knew that I would fall in love with you instantly, and I wouldn't be able to do the scenes."
I put in so much negativity and darkness to portray the character. I have to get back into the light, and start filling myself back up with comedies and romance.
Miller, who plays Dahmer's mother Joyce, was effusive in her praise for Peters's talent. "Your commitment to this role was so incredibly impressive and powerful and truly mesmerizing," she told him during the roundtable. "I have worked with [Robert] De Niro, [Marlon] Brando, Al Pacino, and you're right up there." (Fittingly, Murphy said he pitched the role as being "in the tradition of Robert de Niro in Taxi Driver.") The award-winning series has been renewed for two more seasons as an anthology — the next installment will focus on Lyle and Erik Menendez, convicted of killing their parents in 1989. 
In the aftermath of DAHMER, Peters is proud of what he's accomplished but also ready to leave the character behind. "I've been fortunate enough to be able to take some time off and decompress," he said. "I tried to really shake it all off. I went back home to St. Louis, saw my family and friends, and watched Stepbrothers. Just change up the psyche." Playing Dahmer has made him want to consciously seek out joy. "I put in so much negativity and darkness to portray the character," he said. "I have to get back into the light, and start filling myself back up with comedies and romance."